Florida Official Awaits Justice Department's Response To Medical Marijuana Patients' Gun Rights Lawsuit This Week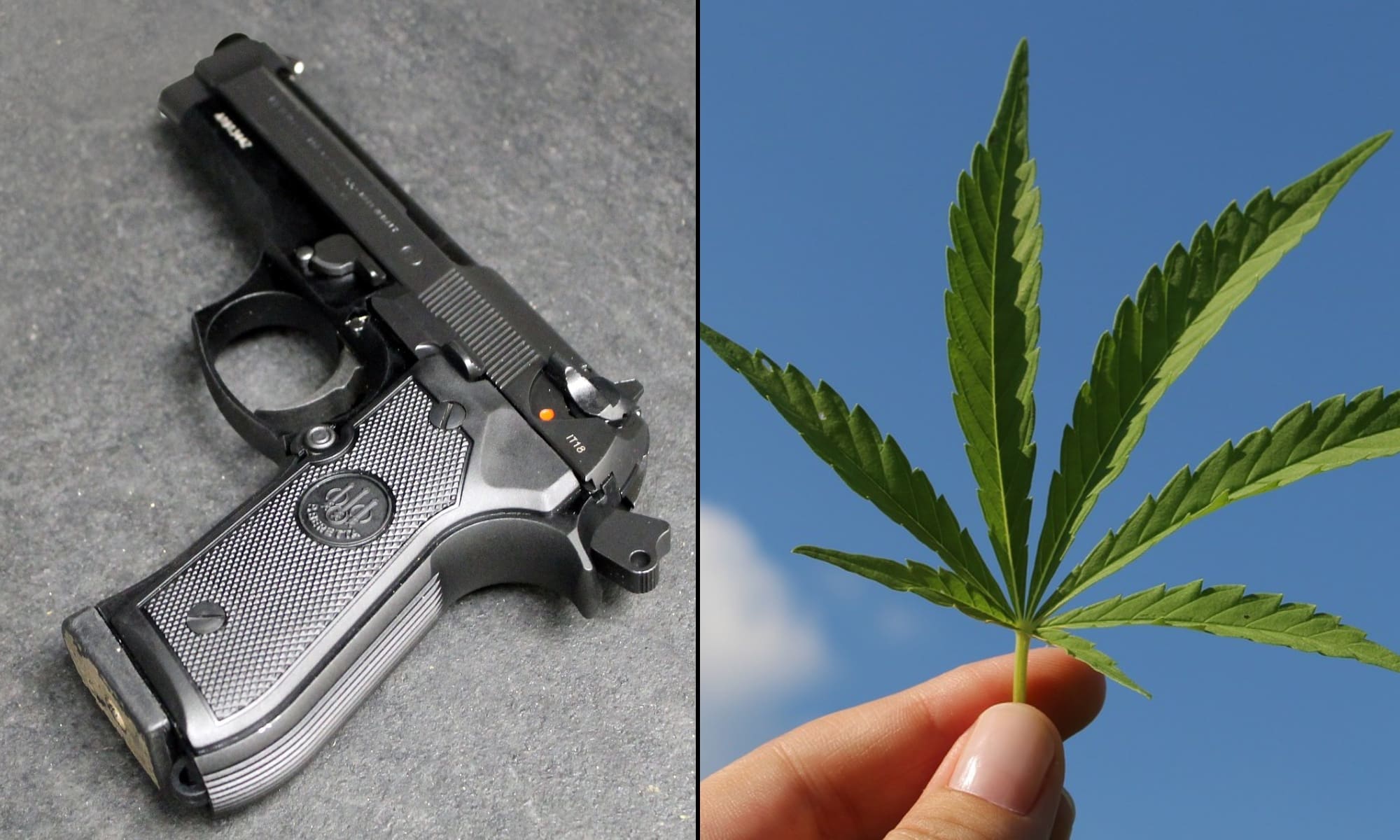 The Justice Department is due this week to respond to a marijuana lawsuit filed by Florida's top agriculture official, who is also running as a Democratic gubernatorial candidate. The case concerns the constitutional rights of medical cannabis patients to purchase and possess firearms.
Florida Agriculture Commissioner Nikki Fried spoke to Marijuana Moment about the case, how cannabis has played into her race for governor and the federal government's drug testing policy for marijuana in a phone interview on Friday.
She also pushed back against anti-cannabis comments recently made by Gov. Ron DeSantis (R), previewing how the issue might be argued before voters in November if she wins her party's nomination to challenge the incumbent governor.
In the meantime, the federal lawsuit at hand comes at a critical time for gun policy in the U.S., with another wave of mass shootings fostering skepticism about any proposal that isn't overtly restrictive. But Fried, as well as key gun control advocates, are making the case that this challenge, if successful, would promote firearms safety.
"This is not about guns, per se," Fried said. "This is about the fact that, for decades, marijuana patients have been discriminated against—that they see their rights not being completely afforded to them, whether it is on housing or access to banking or employment. And this is one of their other rights."
As it stands, in order to buy a gun, people are required to fill out a federal form that explicitly asks about the use of illegal drugs—including cannabis. Those who admit to marijuana use are ineligible to make the purchase and could face up to five years in prison if they lie, regardless of state cannabis laws.
That's a major problem, Fried and other advocates say, because it creates an incentive for people who are lawfully using medical cannabis in their state to either fill our the form falsely, seek out firearms in the illicit market or simply accept the denial of their constitutional rights.
Removing that marijuana stipulation from the federal background check form, in contrast, would bring more people above board and promote safety, Fried says.
"If we can work with the [Biden] administration on changing this, it will actually make sure that everybody has to complete a thorough background check when it comes to purchasing a firearm," the commissioner said. "And so the reality of the end result is that people will be more safe."
It took some work to educate the gun safety community about this particular issue. Fried has an established record as a gun reform advocate, and so when activists initially heard about this proposal to give medical cannabis patients lawful access to firearms, some balked. The commissioner participated in roundtables to help inform those who were reluctant, and key advocates have come around to the idea.
Now the ball is in the Justice Department's court. It's deadline to file a response in the case is set for this week, but it's unclear how it will react even as White House officials have recently recognized that the policy of blanket cannabis prohibition has failed.
A spokesperson for the Bureau of Alcohol, Tobacco, Firearms and Explosives (ATF), which is listed as a defendant in Fried's lawsuit, said the agency is "unable to comment on this while in litigation" in an email to Marijuana Moment on Monday. The Justice Department did not respond to a request for comment by the time of publication.
Fried said that her office has had "little communication with the Department of Justice since we filed" but has reached out to Biden administration officials in an attempt to educate them on the topic.
"We had offered a conversation with any of their attorneys, or even somebody from the White House, to continue briefing them on it," she said, "because, at the end of the day, what we are looking for is for federal government to take action on on cannabis reform."
Attorney Will Hall, who is representing the commissioner in this case, told Marijuana Moment that he expects DOJ to take one of two approaches to the litigation this week: either submit a response on the merits or file a motion to dismiss.
In the recent past, on cases pertaining to drug policy such as in an ongoing lawsuit about the legality of safe drug consumption sites, the Justice Department has requested deadline extensions.
"If they file a motion to dismiss, that's not at all uncommon, but we'll see," Hall said. "Whatever they think is most appropriate. Neither [scenario] would surprise me, frankly."
Fried brought the lawsuit alongside two medical marijuana patients in the state, as well as Neill Franklin, a retired police officer and former executive director of the Law Enforcement Action Partnership (LEAP) who has declined to use medical cannabis despite its therapeutic value for pain he experiences because of the potential gun rights ramifications.
The lawsuit states that the DOJ and ATF's "irrational, inconsistent, and incoherent federal marijuana policy undermines Florida's medical marijuana and firearms laws and prevents Commissioner Fried from ensuring that Floridians receive the state rights relating to them."
Denying Second Amendment rights to people who lawfully use medical marijuana in compliance with state law "does not survive any level of appropriate legal scrutiny," it says.
A key component of the legal challenge is based on a unique interpretation of a congressional spending bill rider known as the Rohrabacher-Farr Amendment, which prevents the Justice Department from using federal funds to interfere in the implementation of state medical cannabis programs.
By preventing people like Franklin from using medical marijuana without risking the loss of their right to buy firearms, the federal government is effectively violating that rider by blocking Florida from adding new patients to grow its program, the suit says.
The suit seeks to enjoin the federal agencies from enforcing the gun ban based on state-legal medical marijuana use on the basis that the policy violates the Second Amendment and the congressional rider.
It also specifically challenges the justification of the ban, arguing that marijuana use does not make a person more inclined to violent or dangerous behavior.
"I just don't think that fits any level of scrutiny that really would be applied," Hall, a former prosecutor, said of the idea that cannabis makes people inherently more dangerous.
The attorney also said that "it's certainly possible" that Congress takes up the medical cannabis and gun rights issue apart from this lawsuit, and that he'd encourage lawmakers to take ownership over the problem.
In 2020, ATF issued an advisory specifically targeting Michigan that requires gun sellers to conduct federal background checks on all unlicensed gun buyers because it said the state's cannabis laws had enabled "habitual marijuana users" and other disqualified individuals to obtain firearms illegally.
There have been previous efforts in Congress to specifically protect medical cannabis patients against losing their right to purchase and possess guns, but those efforts have not been enacted.
Fried, for her part, has made marijuana reform a key component of her office's focus, as well as her gubernatorial campaign.
For example, she drew a sharp contrast to her stance compared to that of incumbent DeSantis, who recently complained that he doesn't like the smell of cannabis while saying he does support the idea of ending cannabis criminalization.
"Ron DeSantis doesn't understand the cannabis space," Fried said. "He doesn't understand that this is a healthcare issue, that this is criminal justice reform, economic opportunities. He doesn't understand it, and instead wants to say that there is a pungent odor attached to it."
"I certainly want to question, does he not go into cigar bars?" she said, adding that "the fact of the matter is that [in] our own state, polling is over 70 percent for full legalization. So his own personal opinions are getting in the way of good policy that the people on the ground want."
Separately, the department Fried currently oversees recently announced a scholarship essay contest where Florida students from grades 4-12 are being invited to brainstorm new uses for hemp.
Fried has publicly stated that she's a medical cannabis cardholder in the state, and she previously lobbied on behalf of a plant farm that was later bought out by a major cannabis company before she became the Florida's top agriculture regulator.
She frequently talks about her advocacy for cannabis policy reform on social media, and she has investments in a marijuana company.
Regulators in her office have criticized Oregon hemp businesses over hemp products that they say contain rocks and sticks and have failed to meet regulatory guidelines on allowable THC content. Instead, consumers should buy local products made in Florida, Fried's department said.
In 2018, the national bank Wells Fargo fired Fried as a client because her campaign has received donations from "lobbyists from the medical marijuana industry."
In the interview with Marijuana Moment, the commissioner also criticized a recent letter from the federal Environmental Protection Agency, reminding workers that they're barred from using cannabis regardless of state policy changes.
"That's the wrong direction. It's the wrong direction for our country," she said. "Are we asking people whether or not they downed a bottle of alcohol the night before [going on the job]?
Fried's major Democratic primary opponent, U.S. Rep. Charlie Crist (D-FL), has also worked to align himself with the cannabis reform movement, and he's taken special interest in the workplace protections aspect of marijuana, filing standalone legislation to provide protections for federal workers who consume cannabis in compliance with state law. But the bill has never received a hearing or a vote and has not been refiled so far this Congress.
Crist was also among more than a dozen congressional lawmakers who requested earlier this year that President Joe Biden grant mass clemency for people with federal marijuana convictions.
Medical Marijuana Legalization Linked To Reduced Drunk Driving And Safer Roads, Study On Auto Insurance Data Suggests