Where Presidential Candidate Seth Moulton Stands On Marijuana
Rep. Seth Moulton (D-MA) announced on April 22, 2019 that he was competing for the 2020 Democratic nomination and dropped out of the race on August 23.
An Iraq War veteran who has sponsored legislation to reform cannabis policies at the U.S. Department of Veterans Affairs (VA)—and who endorsed marijuana legalization prior to the voters of his state enacting it—the congressman earned a "B+" grade from NORML. Here's a closer look at his record on cannabis.
This piece was last updated on August 29, 2019 to include the candidate's statements and policy actions on marijuana since joining the race.
Legislation And Policy Actions
Moulton has been the chief sponsor of six marijuana-related bills, all of which focus on medical cannabis for military veterans.
During the 115th and 116th Congresses, he introduced bipartisan legislation that would require the VA to survey veterans about medical marijuana and another bill that would direct the department to provide training on cannabis to primary care physicians.
The congressman also filed a bill that would protect veterans from losing VA benefits due to marijuana use that's in compliance with state law.
This week I introduced legislation that aims to reform VA medical marijuana practices. We should support our veterans who seek alternatives to highly addictive opioids ravaging our communities. https://t.co/sKhVY9rw3t

— TeamMoulton (@teammoulton) November 15, 2018
"Veterans want an alternative to opioids, and Congress should support them," Moulton said in a press release about the package of bills. "Let's not kid ourselves: people are using marijuana—including our veterans. Rather than ignoring this reality, Congress should let doctors talk with their patients about it, and we should learn more about cannabis so it can be safely used and properly regulated."
"We have a long road ahead of us until medicinal cannabis is fully-researched and legal, but a few steps now will speed that along. Veterans deserve the best healthcare in the world," he said. "This is a step in that direction."
Outside of filing those bills, Moulton has signed on as a cosponsor of over a dozen other pieces of cannabis legislation, including bills that would remove marijuana from the list of federally controlled substances and exempt state-legal marijuana activity from the Controlled Substances Act (CSA).
Moulton has also cosponsored bipartisan bills that would shield banks that service state-legal marijuana businesses from being penalized by federal regulators and another to provide for tax fairness for the cannabis industry.
Other legislation he has signed onto would require the federal government to study the effects of state legalization laws, direct the VA conduct clinical trials on medical cannabis for veterans, shield federal employees from being fired for state-legal marijuana use and allow students to retain federal financial aid if they're convicted of cannabis possession and complete a drug rehabilitation program.
He also cosponsored bills that would allow VA doctors to recommend medical cannabis for veterans and to require the Justice Department to approve additional marijuana manufacturer licenses for research purposes.
Legal marijuana companies lack access to banking – making it more difficult for states to track tax revenue and posing a threat to public safety. That's why I'm supporting @RepPerlmutter's SAFE Banking Act #HR2215. https://t.co/WXK1aSnaaU

— Seth Moulton (@sethmoulton) February 27, 2018
The first piece of marijuana legislation that Moulton cosponsored was the Compassionate Access, Research Expansion, and Respect States (CARERS) Act, which would amend the CSA to protect medical marijuana patients and place cannabis in Schedule II.
In terms of votes on amendments, the congressman has a consistent track record of supporting reform on the House floor. In 2015, he voted in favor of amendments to protects states that have legalized marijuana for medical and recreational purposes, as well as states that have legalized CBD and industrial hemp. He also voted for amendments to allow VA doctors to recommend medical cannabis in 2015 and 2016.
On The Campaign Trail
Moulton wrote an op-ed for The Washington Examiner in which he advocated for legislation providing access to medical cannabis for veterans.
"There are places we have to strictly enforce drug laws and places we need to liberalize them, but there's no question that the vast majority of cities and countries that have decriminalized drugs have seen an improvement in their addicted populations," he said. "It's time for change."
"Ultimately, making the VA a place where veterans can discuss and maybe someday access cannabis, will help our country evolve on this issue too. Through that evolution, I believe we will be able to tackle bigger challenges together—like ending the fundamentally-unjust process of locking people up for possessing marijuana, and, in effect, sentencing them to a lifetime of fewer job opportunities. I support releasing people who are in jail for marijuana possession and expunging their records, especially because Americans in more than half the states in the nation voted to decriminalize this."
He included adopting a "holistic approach to treatment, including alternative therapies like mindfulness, exercise, & cannabis" in a mental health plan he released in May 2019.
—Make mental health check-ups as routine as physicals for active-duty military & veterans
—Require mandatory counseling for everyone returning from a combat deployment
—Adopt a holistic approach to treatment, including alternative therapies like mindfulness, exercise, & cannabis

— Seth Moulton (@sethmoulton) May 28, 2019
The same month, Moulton said that people in prison for marijuana should be released and have their records expunged.
The congressman said that when he was enlisting in the Marines, he was asked about his cannabis use and that he was privileged to have been accepted after telling the truth that he did previously consume marijuana while others may be denied. He made the admission while advocating for an amendment that would provide military reenlistment waivers for those who only used marijuana once, which cleared a congressional committee in March and was later approved by the full House.
"I've seen the statistics of how unbelievably unjust these laws are applied," he told Business Insider in June 2019 while discussing racial disparities in marijuana enforcement.
"Our criminal justice system is historically unfair," he tweeted. "One thing we can do to address it is legalize marijuana and make sure those with minor marijuana offenses—who are overwhelmingly people of color—have their records cleared."
Our criminal justice system is historically unfair. One thing we can do to address it is legalize marijuana and make sure those with minor marijuana offenses—who are overwhelmingly people of color—have their records cleared. pic.twitter.com/CUpUPJLRFW

— Seth Moulton (@sethmoulton) June 20, 2019
Moulton also delivered a keynote address via video for a cannabis conference.
The congressman told The Boston Globe that he is open to decriminalizing drugs beyond cannabis and that he supports legalizing safe injection sites where people can use illicit drugs like heroin in a medically supervised environment.
"There are places we have to strictly enforce drug laws and places we need to liberalize them, but there's no question that the vast majority of cities and countries that have decriminalized drugs have seen an improvement in their addicted populations," he said.
In an interview with Newsy, Moulton said that he is "absolutely open to exploring" legalizing drugs like psilocybin but that more research is needed.
"This is part of our job in Congress is, rather than being black and white about these issues when we don't even understand the facts, this is a good example of something where I just need to learn the facts and understand more about it," he said.
Previous Quotes And Social Media Posts
Moulton isn't especially prolific when it comes to talking about marijuana on social media as compared to some other candidates, but what he has said bodes well for reform advocates.
Importantly, he publicly endorsed Massachusetts's cannabis legalization measure ahead of Election Day in  2016—something that fellow 2020 contender Sen. Elizabeth Warren (D-MA) declined to do.
"I support legalization, but we do need to make sure it's done right," he said at the time. "We have an obligation to regulate it and make it as safe as possible."
"One of the advantages of legalization is it will force us to come to terms with things already happening in Massachusetts today, like people driving under the influence of marijuana and kids using it," he told WBGH. "If you're not buying your marijuana from a dealer who sells heroin, who sells opioids, it's much less likely to be a gateway drug. The problem is now that it operates in the shadows."
After voters approved the legalization initiative, Moulton said that the state legislature should "dramatically raise the taxes" on marijuana to raise revenue and help fund law enforcement efforts, and he said there's "a lot of work to be done" that "needs to start right away."
"There's a lot that the state legislature needs to do," Moulton said. "My whole reason for endorsing this was that we've got to bring marijuana out of the shadows and actually regulate it. That's up to the state legislature. So I think this is an important step in the right direction because, let's not kid ourselves, people were getting access to marijuana today and they were getting access to it yesterday as well."
Moulton often talks about bringing cannabis "out of the shadows" so that it can be regulated. And he criticized the lack of operating dispensaries in Massachusetts, observing that cannabis will still be sold and consumed in jurisdictions that aren't allowing the shops.
"The reality is, we're not going to make marijuana go away by pretending that it's not in our community," he said in 2018. "What we ought to be doing is figuring out ways to regulate its use responsibly because otherwise it's going to be used in the shadows."
"It's not my role as a United States representative to come and tell Peabody what to do, but I'm certainly entitled to my opinion and that is my view of this issue," he said. "I think we've got to wake up to the world that we're in and be responsible about regulating these substances that are a part of our community—and can be used safely, if used appropriately—rather than outlawing them and pretending that they're not going to be here at all."
The congressman also applauded the Salem for accepting marijuana businesses, saying that the city was "leading the way."
MA's 1st medical marijuana dispensary opened in Salem on Weds – a big step for those suffering from painful diseases. http://t.co/Pjnat7dx5v

— Seth Moulton (@sethmoulton) June 27, 2015
"I think the demand that we see proves what I have said all along: People are using marijuana and they want to use it legally, and we should allow them to use it legally and safely with the proper regulation, rather than pretend by outlawing it, people are going to stop," he said.
Speaking about legislation he filed with respect to veterans and marijuana, Moulton said in 2018 that "it's clear that this is where things are going" and noted his support for Massachusetts's legalization initiative. He said "we need to realize people are going to use marijuana whether we like it or not, so let's make it legal and let's regulate it to make it safe."
While testing the waters in the primary state of Iowa in March 2019, Moulton talked about his support for cannabis decriminalization and said that it can help veterans suffering from post-traumatic stress disorder and also serve as an alternative to opioid painkillers.
Marijuana May Alleviate America's Opioid Crisis. My view: Legalization & regulation can help but we must be careful. https://t.co/0X0a8ZjWYo

— Seth Moulton (@sethmoulton) September 24, 2016
He also talked about his veterans bills on the Cannabis Economy podcast, saying he and fellow sponsor Rep. Matt Gaetz (R-FL) "want to make it very clear to everybody—to veterans, to healthcare providers—that if you're using cannabis, you should talk about it."
We shouldn't kid ourselves – veterans use marijuana. We have an obligation to make it safe, regulate it, and protect the benefits of vets who would like to discuss it with their doctors. @mattgaetz and I intro'd legislation that would do all of the above. https://t.co/XctzfJq9gk

— Seth Moulton (@sethmoulton) January 30, 2019
"You should be able to have an honest, transparent conversation with your healthcare provider so that they can give you better health care," he said.
Moulton criticized then-Attorney General Jeff Sessions after he rescinded Obama-era guidance on federal marijuana enforcement priorities.
This is the opposite of what we should be doing. Let's not kid ourselves – people will be using marijuana regardless of what Attorney General Sessions says. We have an obligation to regulate it and make it as safe as possible.
https://t.co/5JSGMLMnU4

— Seth Moulton (@sethmoulton) January 4, 2018
"This is the opposite of what we should be doing. Let's not kid ourselves—people will be using marijuana regardless of what Attorney General Sessions says," he wrote. "We have an obligation to regulate it and make it as safe as possible."
His House reelection campaign subsequently put out a survey claiming that the Trump administration "wants to crack down on possession—hurting those in need of medicinal marijuana and putting new businesses in jeopardy" and posed the question: "do you think the Trump Administration should be interfering with states marijuana laws?"
Personal Experience With Marijuana
Moulton said he has tried marijuana "a couple times" while he was a student at Harvard University, but he added that he "certainly didn't qualify as a pothead."
In March 2019, the congressman said "I've used weed, and I'm not in prison."
Seth Moulton asked about marijuana laws: "I've used weed, and I'm not in prison. Why? Because I didn't get caught, and it probably doesn't hurt that I'm white. That's the sad reality of criminal justice in America today."

— Dave Weigel (@daveweigel) March 19, 2019
"Why? Because I didn't get caught, and it probably doesn't hurt that I'm white," he said. That's the sad reality of criminal justice in America today."
One month later, he repeated that point during a CNN town hall event.
"I smoked weed when I was younger," he said. "I didn't get caught, but if I had, I would've been fine. Because I'm a white guy."
Marijuana Under A Moulton Presidency
Moulton has made marijuana reform—particularly for veterans seeking medical cannabis—somewhat of a priority during his time in Congress. He hasn't added his name as a cosponsor to broad, equity-focused bills like the Marijuana Justice Act, but he has repeatedly said that the country should regulate cannabis sales to bring it out of the shadows.
And having endorsed the legalization measure in Massachusetts prior to its approval by voters in 2016, Moulton would be in a position to take similar leadership on the issue if elected president.
Where Presidential Candidate Eric Swalwell Stands On Marijuana
Bernie Sanders Talks Marijuana With Killer Mike, Danny Glover And Ben & Jerry's Founder
Sen. Bernie Sanders (I-VT) led a panel during a presidential campaign stop in North Carolina on Friday where he and surrogates—rapper Killer Mike, actor Danny Glover and Ben & Jerry's founder Ben Cohen—discussed marijuana reform.
At one point, Cohen said that he was arrested after being caught smoking cannabis while he was in school but the police only charged him for littering—a discretionary decision that he said he likely wouldn't have been afforded if he was black. He speculated that without that privilege, the incident could have cost him loans that allowed him to build his ice cream empire.
Sanders, a 2020 Democratic presidential candidate, opened the conversation by asking Killer Mike to weigh in on the impact of the drug war, particularly on communities of color.
The artist said the "war on drugs, we now know from history, has been a tremendous failure" and that it "was never a war on drugs, it was a war on progressive white kids and black people."
He discussed the racist origins of prohibition, the role cannabis criminalization has played in mass incarceration and emphasized the need to include restorative justice in a legal marijuana system.
"But we have a greater opportunity, and the greater opportunity is this: marijuana is going to be legal in our lifetime," he said. "Beyond getting a little stoned in the morning, which I didn't do this morning because I knew I had to come see you guys, marijuana provides through hemp paper, alternative to plastics, it provides jobs, resources, dispensaries."
Watch the conversation about cannabis, starting at about 11:20 into the video below:
"We have an opportunity this time to take the people that are exiting jail, have expunged records and creating a pathway as wide as this aisle directly to legal marijuana and creating economic sustainability in the same communities that were robbed of that opportunity," he said.
"As for me and my stoner friends, we'll be buying Ben & Jerry's and voting for Bernard Sanders."
Glover joked that Mike's plan is the "real green new deal that we need right here," riffing off the name of climate change agenda backed by Rep. Alexandria Ocasio-Cortez (D-NY).
"What we're talking about now is repairing the wrongs that were done on our communities, and we have a senator who's going to be the president, who's saying that we're not only going to repair the wrongs of the war on drugs but we are going to bring back an era that we are organizing in our communities," the actor said.
Cohen highlighted racial inequities in marijuana enforcement and broader societal structures, starting by noting that his parents were only able to enter the middle class with the help of a government program providing low-interest mortgages that black people were not entitled to. That program allowed him to go to a good school, he said, where he got busted for cannabis at one point.
"In the midst of getting my higher education, one summer I was smoking some pot with some friends on a beach and the cops caught us," he said. "We were handcuffed and they took us to the station and they ended up giving us a ticket for littering a lighted cigarette butt on the ground."
"But I am well aware that if I was black, I would've ended up with a criminal record that would have prevented me from getting the loans that we needed to start Ben & Jerry's," he said. "It's really clear to me that if I was black, there wouldn't have been a Ben & Jerry's. I'm conscious of that, I think about that, and that's one of the big reasons I'm supporting Bernie because he's going to put an end to that system."
The criminalization of marijuana has been a disaster for communities of color.

We will legalize marijuana, expunge past convictions and invest revenue from legal marijuana back into those communities. pic.twitter.com/x7xrzw1Eu4

— Bernie Sanders (@BernieSanders) September 21, 2019
Sanders closed the panel discussion by asking audience members to raise their hands if they knew someone arrested for marijuana, or were themselves arrested. He did a similar exercise at a campaign rally in South Carolina earlier this week.
After hands shot up, the senator said "this is what the war on drugs has done in this country."
"It has criminalized so many people in this room. This is amazing," he said. "The war on drugs has been incredibly destructive for millions and millions of people in this country and we're going to end that war on drugs and we're going to make marijuana legal."
Cory Booker Pledges To Back Only Marijuana Bills With Justice Focus As Banking Vote Approaches
Photo courtesy of Facebook/Bernie Sanders.
Former Federal Prosecutor's Marijuana Legalization Measure Advances In South Dakota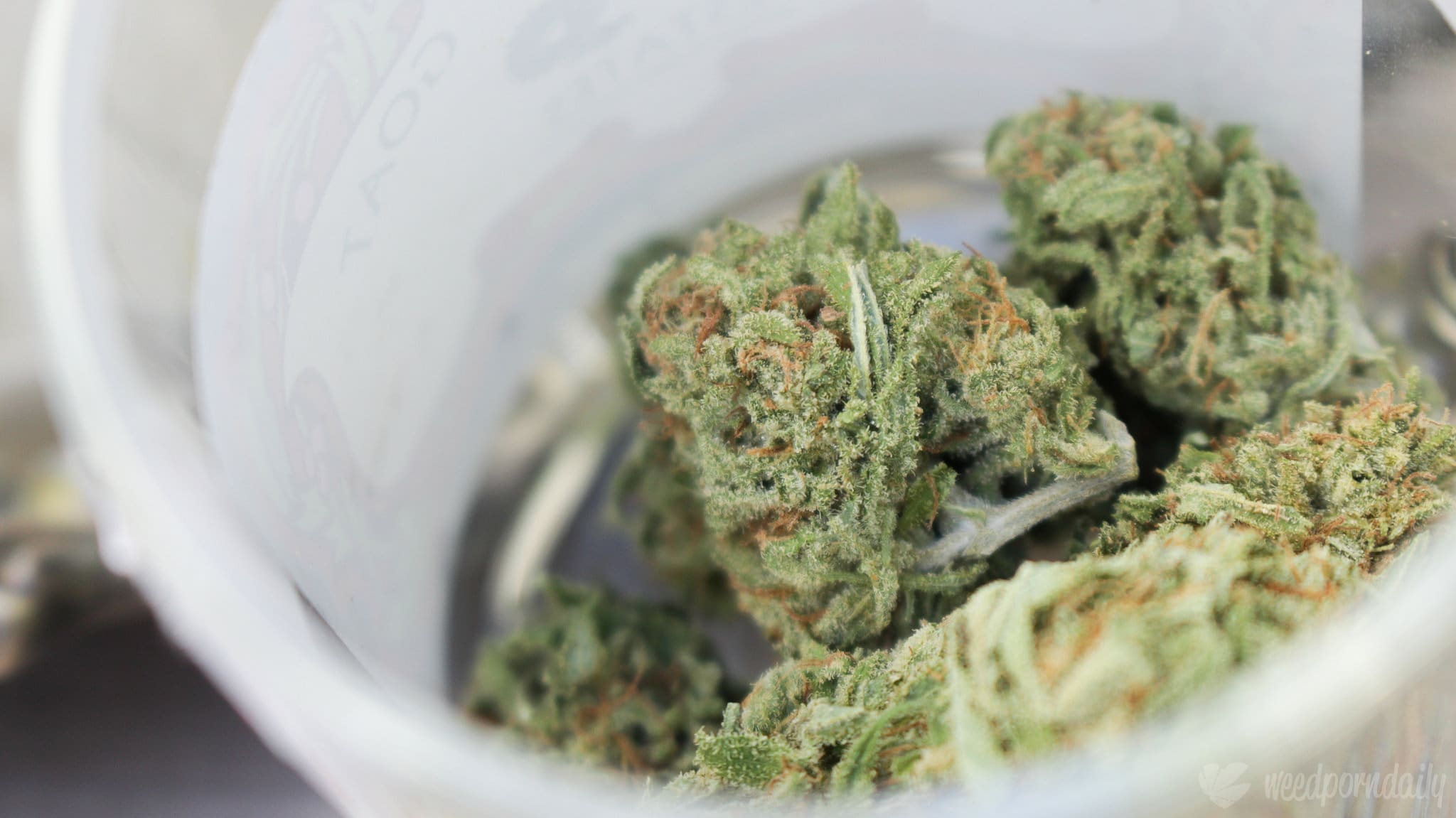 A measure to legalize marijuana in South Dakota—introduced by a former federal prosecutor and backed by a leading national cannabis advocacy group—was recently cleared for signature gathering.
Brendan Johnson, who served as the U.S. Attorney for the District of South Dakota and whose father represented the state in the U.S. Senate until 2015, filed the initiative in June. It received an official explanatory statement from the attorney general last month and its backers were given the green light to start collecting signatures last week.
"We are excited to move forward with these ballot initiative campaigns," Johnson told Marijuana Moment. "South Dakota voters are ready to approve both medical marijuana and legalization at the ballot box next year."
The Marijuana Policy Project (MPP) is supporting the proposed constitutional amendment, as well as a separate statutory initiative to legalize medical cannabis in the state that was approved for signature collection last month.
The former federal prosecutor's measure, which is being steered by the committee South Dakotans for Better Marijuana Laws, would allow adults 21 and older to possess and distribute up to one ounce of marijuana. Individuals would also be allowed to cultivate up to three cannabis plants. The South Dakota Department of Revenue would be tasked with issuing licenses for manufacturers, testing facilities and retailers.
Sales would be taxed at 15 percent under the initiative, and revenue would be used to fund the program's implementation, with additional monies going toward public education and the state general fund.
Beside legalizing marijuana, the amendment would also instruct the legislature to enact legislation to legalize hemp and medical cannabis. If the separate statutory medical marijuana legalization initiative, being coordinated by the group New Approach South Dakota, qualifies and passes as well, that latter requirement wouldn't be necessary.
"The Marijuana Policy Project strongly supports the South Dakota campaign," MPP Deputy Director Matthew Schweich, who led the organization's efforts in support of previous legalization campaigns in Maine, Massachusetts and Michigan, told Marijuana Moment. "Across the country, and even in conservative states, voters are demanding marijuana policy reform. Our goal is simple: to effectuate the will of the people when elected officials choose to ignore it."
Petitioners for the proposed constitutional amendment must collect 33,921 valid signatures from voters to qualify for the 2020 ballot. For statutory initiatives, 16,961 signatures are required. MPP's involvement will likely bolster the campaign's prospects of meeting that goal.
It's already clear that marijuana reform measures are going to face resistance from certain quarters, with Gov. Kristi Noem (R) vetoing a hemp legalization bill in March and the state's Republican party urging residents not to sign ballot petitions.
"Our campaign, South Dakotans for Better Marijuana Laws, will be working from now until Election Day 2020 to earn the support of South Dakotans from every corner of the state," Johnson said.
California Lawmakers Use Cryptocurrency To Buy Marijuana From Dispensary
Photo courtesy of WeedPornDaily.
Cory Booker Pledges To Back Only Marijuana Bills With Justice Focus As Banking Vote Approaches
With a vote on marijuana banking issues imminent in the House, Sen. Cory Booker (D-NJ) emphasized on Friday that he will not support cannabis legislation that doesn't include restorative justice components.
In a tweet that linked to an earlier Marijuana Moment article on his cannabis stance, the 2020 Democratic presidential candidate wrote that "any marijuana legislation moving through Congress must include restorative justice for those most harmed by the War on Drugs in order to get my vote."
As I said earlier this year, any marijuana legislation moving through Congress must include restorative justice for those most harmed by the War on Drugs in order to get my vote.https://t.co/Y1dOwgHbm2

— Sen. Cory Booker (@SenBooker) September 20, 2019
The statement comes at a critical moment in the marijuana reform movement. House leadership announced on Friday that the first full floor vote on a standalone piece of cannabis reform legislation—a bill to protect banks that service cannabis businesses from being penalized by federal regulators—will be held next week. But that development has also created controversy, with several advocacy groups arguing that a vote should be postponed until more wide-ranging reform legislation is passed.
Although Booker didn't directly reference the banking bill his his tweet, its timing seemed to suggest that he sides with those groups—which include the ACLU, Human Rights Watch and Drug Policy Alliance—and that he wouldn't support the Secure and Fair Enforcement (SAFE) Banking Act as written.
Booker's Senate press secretary confirmed to Marijuana Moment in an email that his boss's Twitter post was sent directly in reaction to the House banking news.
While some have made the case that the bill would help promote social equity by improving access to banking services for minority business owners, for example, others view the legislation as primarily benefiting large cannabis firms.
Throughout his campaign, the senator has emphasized the need for inclusive and comprehensive marijuana reform. He determined that a bill to protect state cannabis programs from federal intervention that he formerly cosponsored didn't meet that standard and did not attach his name to the latest version.
"At this point it's too obvious and urgent and unfair that we're moving something on marijuana on the federal level and it doesn't do something on restorative justice," he told VICE in April. "I want that bill to have some acknowledgement of the savage injustices that the marijuana prohibition has done to communities."
"I get very angry when people talk about legalizing marijuana and then give no light to how marijuana law enforcement was done in ways that fed upon poor communities—black and brown communities. This is a war on drugs that has not been a war on drugs—it's been a war on people, and disproportionately poor people and disproportionately black and brown people."
Booker also said that he wants to couple conversations about legalization with talk of expunging prior cannabis convictions "in the same breath."
The senator's potential future opposition to a House-passed cannabis banking bill could prove problematic as its supporters work to shepherd the legislation through a chamber where it already faces an uphill path under anti-marijuana Majority Leader Mitch McConnell (R-KY) and skepticism from other GOP lawmakers.
House Marijuana Banking Vote Officially Scheduled For Next Week, Leadership Announces
Photo courtesy of Senate Democrats.