Presidential Candidate Files Three Bills On Medical Marijuana For Military Veterans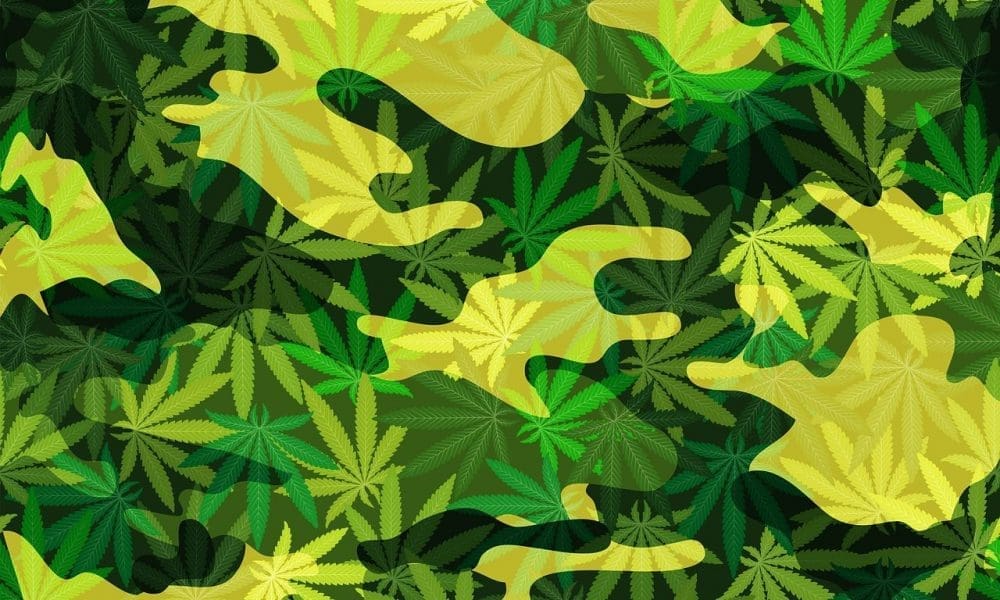 Rep. Seth Moulton (D-MA), who is seeking the Democratic Party's 2020 presidential nomination, filed three House bills concerning medical marijuana for military veterans on Friday. And, in an interview, Moulton said decriminalizing drugs more broadly can have positive effects.
The text of the new legislation has yet to be released, but the short titles are identical to versions of the bills the congressman introduced last year. Here's what they'd accomplish, according to a press release from Moulton's office:
"To provide for a Department of Veterans Affairs (VA) policy on medicinal cannabis, and for other purposes."
This piece of legislation would not only codify into law a current Department of Veterans Affairs (VA) administrative policy that protects veterans from losing their benefits for using cannabis but also require the VA to "prominently" post the policy at their facilities.
"As more veterans turn to medicinal cannabis to more effectively treat their various service- and non-service related injuries, the relationship with their healthcare providers is becoming ever more important," an earlier summary stated. While the VA has a current policy protecting benefits for veterans who discuss their use of medical marijuana, "not all healthcare providers respond in a standard way and veterans still fear and experience repercussions of some kind."
"To direct the Secretary of Veterans Affairs to seek to enter into an agreement with a federally funded research and development center to conduct surveys to measure cannabis use by veterans, and for other purposes."
Moulton filed this bill in order to get the VA to conduct a national survey on how veterans are using cannabis for therapeutic purposes. There are some recent polls showing that about one-in-five veterans use medical marijuana, but those have come from advocacy groups rather than the department itself. The survey would involve veterans and VA health care providers.
"With the growing use of medicinal cannabis among veterans, the VA needs a better understanding of what veterans are doing to self-medicate various conditions," a previous summary explained.
"To require the Secretary of Veterans Affairs to provide training in the use of medical cannabis for all Department of Veterans Affairs primary care providers, and for other purposes."
This bill would establish partnerships between the VA and medical schools that offer courses on medical cannabis education for health care providers.
There are numerous colleges throughout the U.S. that are conducting research on cannabis, and a bipartisan group of lawmakers recently asked House leadership to include language shielding those institutions from losing federal funds for studying a controlled substance.
Despite the request, however, the recommended language was not ultimately included in the House education appropriations legislation.
"Veterans want an alternative to opioids, and Congress should support them," Moulton said in a press release. "Let's not kid ourselves: people are using marijuana – including our veterans. Rather than ignoring this reality, Congress should let doctors talk with their patients about it, and we should learn more about cannabis so it can be safely used and properly regulated. We have a long road ahead of us until medicinal cannabis is fully-researched and legal, but a few steps now will speed that along. Veterans deserve the best healthcare in the world. This is a step in that direction."
Moulton and colleagues filed previous versions of the veterans cannabis bills during the last Congress, but they did not receive hearings or votes.
Cosponsoring each of Moulton's new bills are Reps. Matt Gaetz (R-FL), Darren Soto (D-FL), Hank Johnson (D-GA) and Charlie Crist (D-FL).
"Medical cannabis has tremendous potential for veterans. It can reduce chronic pain, without the harmful side effects of opioids, and some early reports indicate that it may even have potential as a treatment for PTSD," Gaetz said. "Unfortunately, many veterans fear discussing medical cannabis with their doctors, for fear that their benefits will be jeopardized. I am proud to cosponsor Congressman Moulton's bills, which will protect veterans' benefits, and will advance scientific knowledge about medical cannabis. This small step will make a big difference to veterans nationwide."
The proposals are the latest in a series of legislation focused on medical cannabis and military veterans that have been gaining traction in Congress.
Last month, the House Veterans' Affairs Subcommittee on Health held a hearing on bills to let VA doctors recommend marijuana to their patients, expand marijuana research at the department and codify a policy protecting veterans from losing their benefits over cannabis use.
Two of those bills were set to get a full committee vote last week, but they were pulled from the agenda after the chairman decided to instead hold a yet-to-be-scheduled hearing focused specifically on the marijuana proposals.
It is not yet known if any of the new bills filed by Moulton will get hearings.
Beyond marijuana reform, Moulton said in an interview with the Boston Globe published on Monday that he supports allowing safe consumption sites for illegal drugs and expressed openness to broader decriminalization.
"There are places we have to strictly enforce drug laws and places we need to liberalize them, but there's no question that the vast majority of cities and countries that have decriminalized drugs have seen an improvement in their addicted populations," he said.
A group of prosecutors from major U.S. cities is currently touring Portugal to learn about the nation's drug decriminalization policy.
Where Presidential Candidate Seth Moulton Stands On Marijuana