Congressional Committee Discusses Medical Marijuana And Military Veterans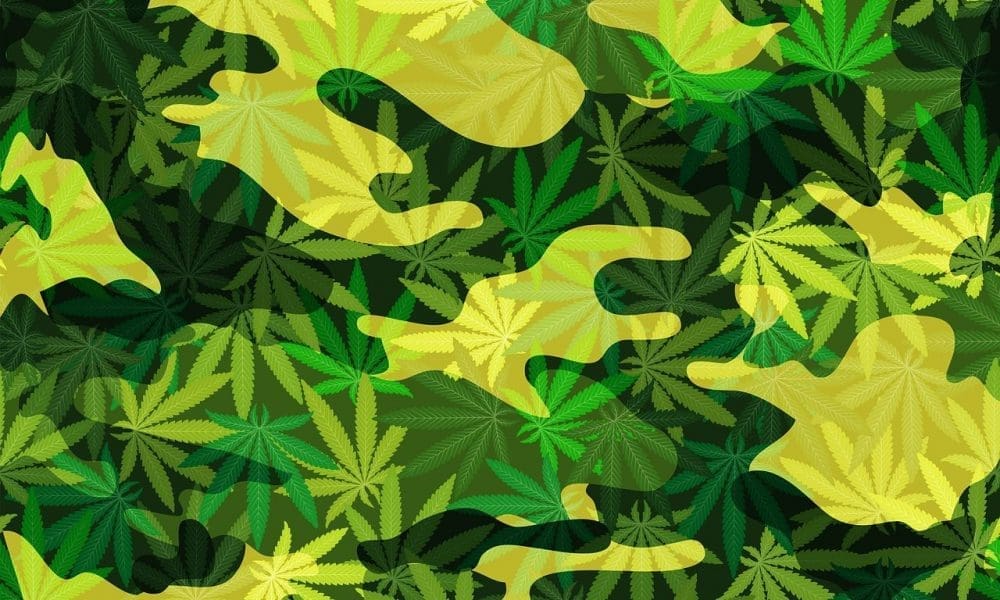 A congressional committee held a hearing on four bills that concern veterans and medical marijuana on Thursday.
The House Veterans' Affairs Committee discussed one piece of legislation that would allow doctors at the U.S. Department of Veterans Affairs (VA) to issue medical cannabis recommendations in states where it's legal. That bill was introduced by Rep. Earl Blumenauer (D-OR).
The panel also took up a bill sponsored by Rep. Lou Correa (D-CA) that would require VA to conduct clinical trials on the therapeutic potential of cannabis in the treatment of conditions such as post-traumatic stress disorder and chronic pain.
"The men and women that I meet back home vouch for the therapeutic benefits of medical cannabis and support further research into the issue," Correa said in testimony prepared for the hearing. "The legislation provides a framework for that research to ensure a scientifically-sound study on the issue."
"Cannabis must be objectively researched. Period," Rep. Mark Takano (D-CA), chair of the committee, said in support of the legislation. "Medicinal cannabis may have the potential to manage chronic pain better than opioids and treat PTSD."
Rep. Phil Roe (R-TN), ranking member on the committee, agreed that VA should be studying the therapeutic potential of cannabis for veterans but complained that the proposed bill is excessively prescriptive. The congressman, who introduced a similar piece of legislation in January, said lawmakers shouldn't "be telling the scientists how to design their studies."
Other legislation that came up for consideration was a bill from Rep. Seth Moulton (D-MA), a 2020 presidential candidate, that would provide training on medical cannabis for VA health practitioners.
Finally, the committee heard testimony on another Moulton proposal that would require VA to conduct a survey to "measure cannabis use by veterans."
Watch the hearing below:
Witnesses who testified before the committee include Adrian Atizado, deputy national legislative director of Disabled American Veterans (DAV), Travis Horr, director of government affairs with Iraq and Afghanistan Veterans of America (IAVA) and Carlos Fuentes, director of national legislative service for Veterans of Foreign Wars (VFW).
The VFW representative said the organization supports all but one of the cannabis bills. While the group agrees with the intent of allowing VA doctors to recommend cannabis, it "believe it is unacceptable for VA providers to recommend a treatment that they are unable to provide veterans and force patients to pay for the full cost of such care."
"VA must expand research on the efficacy of non-traditional alternatives to opioids, such as medicinal cannabis and other holistic approaches. " #VFWTestimony

— VFW National HQ (@VFWHQ) June 20, 2019
DAV voiced support for legislation requiring VA to study medical cannabis and also to survey veterans on their marijuana usage.
"DAV supports @DeptVetAffairs research on conditions related to military service and effective treatments to help #veterans recover, rehabilitate and improve the overall quality of their lives…many veterans report the use of medicinal #cannabis for these purposes is beneficial." pic.twitter.com/29C9WCw0Di

— DAV National HQ (@DAVHQ) June 20, 2019
And IAVA came out in strong support for the research bill. In testimony, the group said that "without research done by VA surrounding cannabis, veterans will not have conclusive answers to ways cannabis might aide their health needs. This is unacceptable."
"VA houses some of the most innovative and best-in-class research this country has to offer. It should not be shutting its doors on a potentially effective treatment option because of politics and stigma," the group said. "Our nation's veterans deserve better."
Larry Mole, chief consultant of population health services at the federal Veterans Health Administration, testified that VA opposes all four of the cannabis bills.
He expressed concerns that VA doctors would be penalized if they recommend medical cannabis, that the research requirement would be excessively onerous and that VA is already studying marijuana, that VA doctors already have access to training materials on the subject and that the proposed anonymous survey would require veterans to disclose information that could make them identifiable.
"The legislation would prescriptively define how the surveys would be conducted, but it does not provide the purpose, goals, or objectives for the surveys," he said. "We have significant concerns that veterans will not want to participate, despite the survey being anonymous."
Several committee members pressed Mole on VA's current research efforts, noting the widespread support among veterans to study the medicinal benefits of marijuana.
Rep. Mike Levin (D-CA) said that he meets with veteran constituents each week and asked the VA representative, "[w]hat am I to tell them when they ask when is this [research] actually going to happen?"
"When is this research going to occur? When is the VA going to listen to the 92 percent of veterans across all political stripes and ideologies that want to see this done?" he said.
Mole pointed to the single ongoing VA clinical trial that just recently recruited its first participant focusing on the benefits of CBD for post-traumatic stress disorder. He encouraged Levin to tell his constituents to look up the study and apply to participate if they were interested.
Rep. Andy Barr (R-KY) characterized the VA's study as "a baby steps approach" to the issue given that CBD alone isn't representative of the products that veterans are using in the commercial market.
After the House Veterans' Affairs Subcommittee on Health held a hearing on several of the cannabis proposals in April, the full committee was set to vote on two marijuana measures last month. That hearing was cancelled, however.
Blumenauer is also pursuing cannabis reform for veterans through a different vehicle: an appropriations bill that's being debated on the House floor this and next week. He introduced an amendment that would prohibit VA from "interfering with a veteran's participation in a state medical cannabis program, denying a veteran who participates in a state medical cannabis program from being denied VA services, and interfering with the ability of VA health care providers to recommend participation in state medical cannabis programs."
This was the second congressional committee hearing on marijuana-related issues this week. On Wednesday, the House Small Business Committee met to discuss challenges and opportunities for entrepreneurs in the emerging cannabis industry.
This story has been updated to include additional testimony from witnesses.
House Passes Amendments Stripping DEA Funding And Pushing FDA To Regulate CBD
Kansas Medical Marijuana Hearings Cancelled After Senate GOP Leader Reroutes House-Passed Bill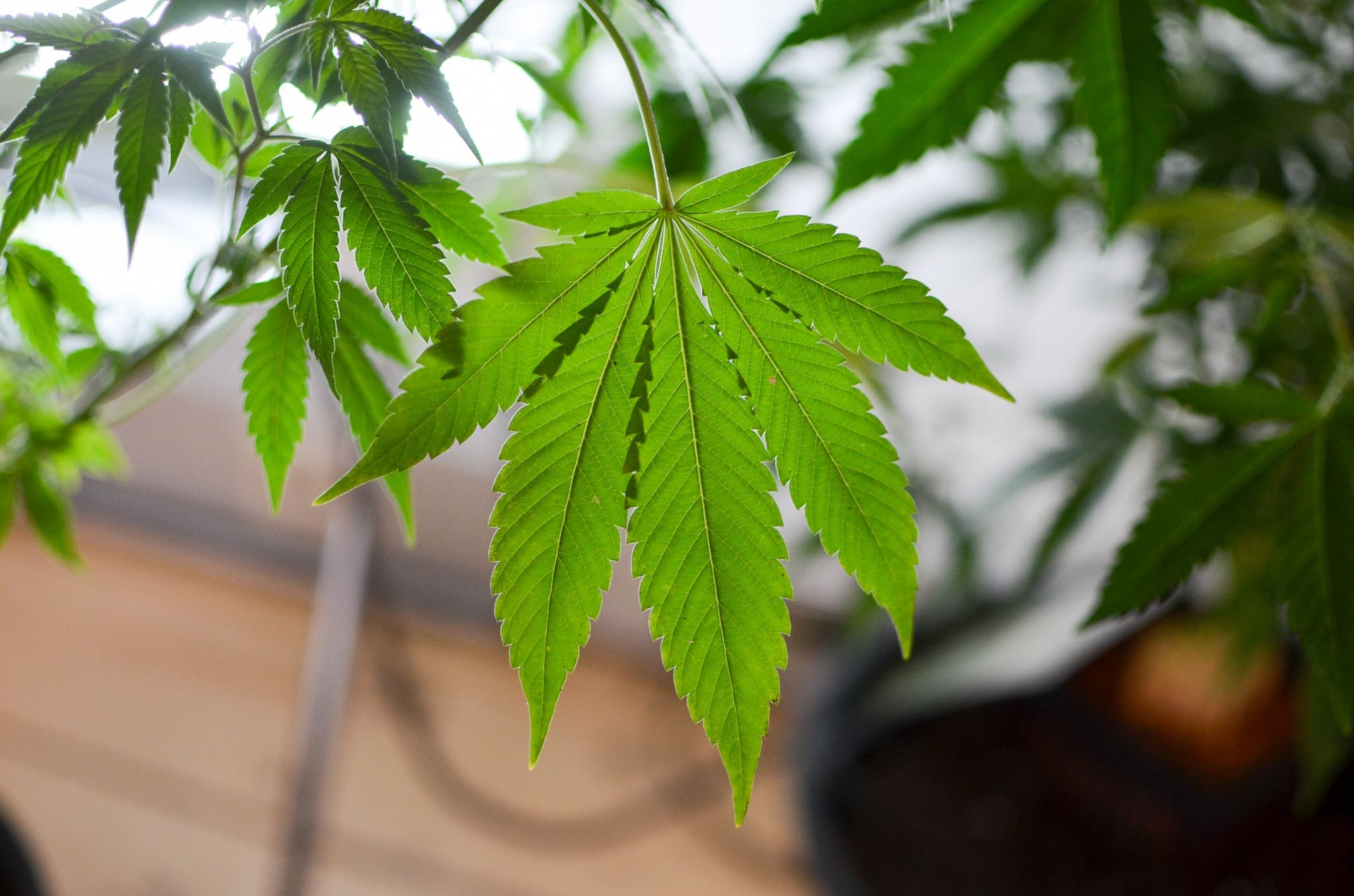 A House-passed bill to legalize medical marijuana in Kansas seems to be in jeopardy, with GOP Senate leadership moving the legislation out of a committee and into a different panel where it may sit in legislative limbo, resulting in the cancellation of hearings that were scheduled to be held this week.
Advocates are concerned about the decision by Senate President Ty Masterson (R), who withdrew the cannabis reform legislation from the Senate Federal and State Affairs Committee days before hearings were to be held on Tuesday and Wednesday. It was then re-referred to the Senate Interstate Cooperation Committee, which Masterson chairs and where the bill's fate is unclear.
This doesn't necessarily mean that medical marijuana legalization is off the table for Kansas in 2022, but it does seem to signal that the reform might need to be enacted through another vehicle, either in the legislature or at the ballot, as top Democratic lawmakers in the state are pursuing.
"We certainly hope that this action is just making sure that this bill meets any concerns that Senate leadership may have concerning this historic legislation," Kevin Caldwell, a legislative manager at Marijuana Policy Project (MPP), told Marijuana Moment. "This bill had widespread bipartisan support in the House last session. We hope Senate President Masterson quickly holds a committee hearing and advances this legislation."
When the proposal was being advanced in the House last year during the first half of the two-year session, members amended an unrelated bill that previously cleared the Senate to make it the chamber's vehicle for the policy change. Because of that, it was ruled "materially changed" last May and sent to the Senate for committee consideration.
Now there's a question of whether lawmakers will be motivated to introduce another separate bill and try to move it through both chambers, requiring another House vote. The Senate president seemed to temper expectations in recent remarks, telling The Kansas City Star that "not a single member" of his caucus has expressed that the issue "was important to them."
That's not how Kansas Democrats feel, however. House Minority Leader Tom Sawyer (D) and Assistant Minority Leader Jason Probst (D) said this month that they will be introducing proposals to let voters decide on legalizing medical and adult-use marijuana in the state. At the time, Sawyer said he was "hopeful" that the legislature might separately advance the House-passed legalization measure.
—
Marijuana Moment is already tracking more than 1,000 cannabis, psychedelics and drug policy bills in state legislatures and Congress this year. Patreon supporters pledging at least $25/month get access to our interactive maps, charts and hearing calendar so they don't miss any developments.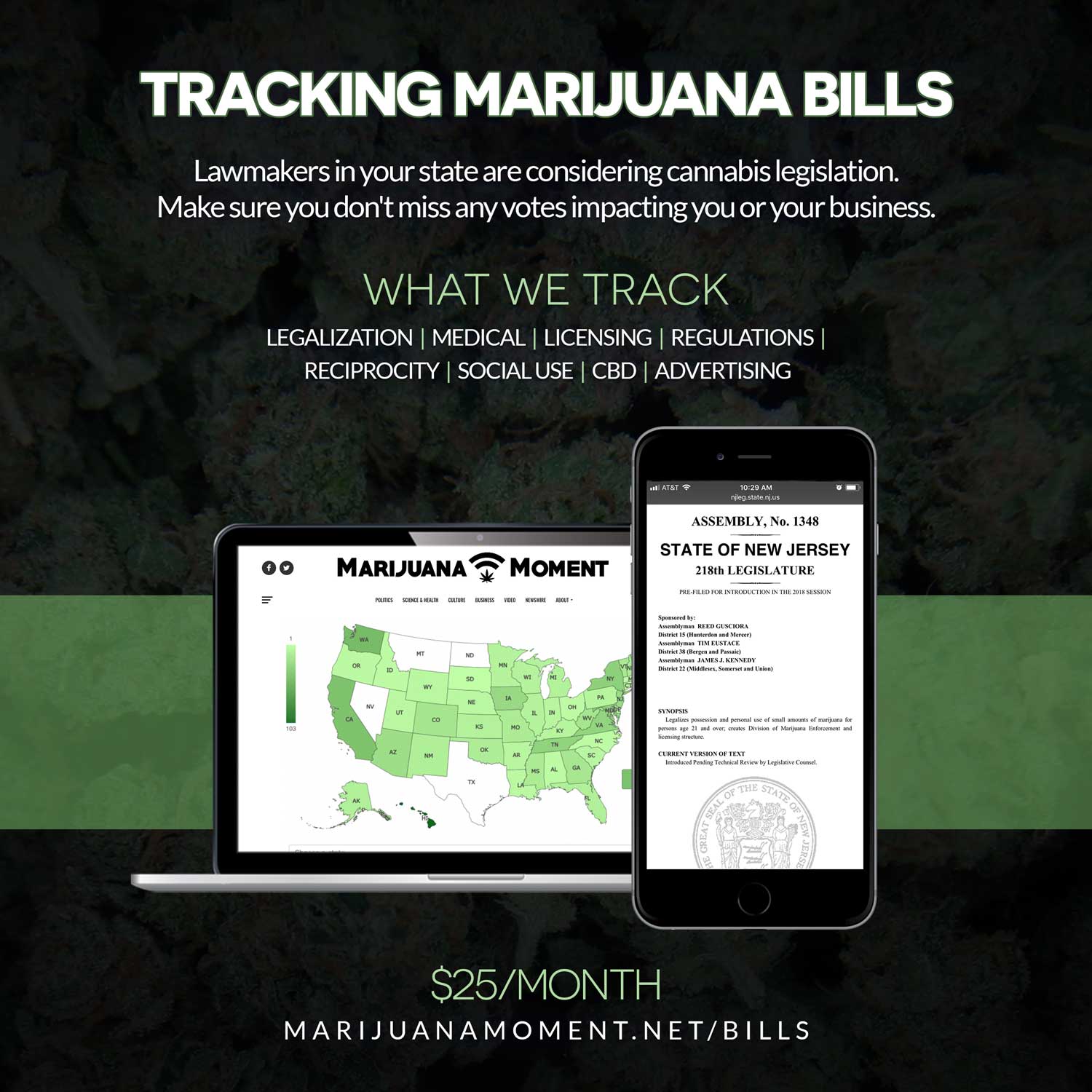 Learn more about our marijuana bill tracker and become a supporter on Patreon to get access.
—
"The people of Kansas deserve to know if senators support the overwhelming majority of people who want to alleviate patients' suffering with a medical cannabis program," MPP's Caldwell said. "Now is the time to show compassion to their fellow citizens and vote this bill out of committee."
"Kansas is one of fourteen states left without a medical cannabis program," he said. "We have faith that the Kansas Senate will pass this legislation this session and this is just another step in that process."
Michael Pirner, Masterson's communications director, told the Star that "medical marijuana legislation is not a priority of Senate leadership," but did signal the issue may still be considered before the year is over.
"The subject matter has clearly matured and we expect it to be considered at some level this session," he said. "There are many more pressing topics on the Senate agenda."
The bill as drafted contains several significant restrictions, including a ban on smokeable cannabis. Members of the Senate Federal and State Affairs Committee did get a briefing on the issue at a meeting last week ahead of the expected, now-cancelled formal hearings before the panel.
Meanwhile, the constitutional amendment that the Democratic leaders are proposing would provide for a more comprehensive program that lawmakers would need to implement.
Gov. Laura Kelly (D), for her part, wants to see medical cannabis legalization enacted, and she said at a briefing with reporters on Friday that she "absolutely" thinks the bill could pass if "everything else doesn't take up all the oxygen."
She previously pushed a separate proposal that would legalize medical cannabis and use the resulting revenue to support Medicaid expansion, with Rep. Brandon Woodard (D) filing the measure on the governor's behalf.
Kelly has she said she wants voters to put pressure on their representatives to get the reform passed.
The governor also said in 2020 that while she wouldn't personally advocate for adult-use legalization, she wouldn't rule out signing the reform into law if a reform bill arrived on her desk.
Marijuana Banking Bill Sponsor Says He's 'Gonna Get That Darn Thing Passed' Before Leaving Office
Photo courtesy of Philip Steffan.
Marijuana Banking Bill Sponsor Says He's 'Gonna Get That Darn Thing Passed' Before Leaving Office
Rep. Ed Perlmutter (D-CO) is retiring from Congress at the end of this session, but he says that he's going to work to pass his marijuana banking bill before his time on Capitol Hill comes to an end.
The congressman spoke to Colorado Public Radio last week about his decision not to run for reelection this November and his disappointment that, while the House has approved the Secure and Fair Enforcement (SAFE) Banking Act five times now in some form, the Senate has failed to advance it under both Republican and Democratic leadership.
"That one still has me pretty irritated," Perlmutter said, referring to the fact that Senate Majority Leader Chuck Schumer (D-NY) has effectively blocked his bipartisan legislation. When there was a GOP Senate majority, he was told the bill was "too big and too broad." Then with a Democratic majority, he's told that it's "too narrow and too limited."
Schumer and his colleagues who are working on a federal legalization bill have repeatedly said that they do not want to see the SAFE Banking Act pass before comprehensive reform is enacted that addresses equity issues. Supporters of the banking bill argue that the incremental policy change is necessary for promote public safety and, importantly, it stands a much stronger chance of getting to the president's desk with bipartisan support.
Nonetheless, Perlmutter said he plans to spend his remaining months in office pushing to get the job done.
"I have not given up on that one," he said. "I'm gonna get that darn thing passed this year while I still serve out my term."
Listen to Perlmutter discuss the marijuana banking legislation, starting around 10:24 into the audio below: 
Asked whether he thinks President Joe Biden would be inclined to sign the measure if it did get to his desk, the congressman said "absolutely."
"Treasury Secretary [Janet] Yellen is somebody who has been talking to me about this for years," he said. "I feel very good that it would pass. We're at 47 states that have some level of marijuana use, all the territories and District of Columbia, and they need to have legitimate banking services."
"It's just a no brainer in my opinion," he said. "And yeah, I'm a little bit irritated, but we're gonna keep working on it and get it passed this year."
The last attempt that Perlmutter made to enact the reform was by adding its language to a must-pass defense bill, but it was ultimately sidelined following bicameral negotiations and did not make it into the final version. The congressman told Marijuana Moment last month that he sees other potential vehicles to advance the bill and has spoken with House Speaker Nancy Pelosi (D-CA) about it.
Even some Republicans are scratching their heads about how Democrats have so far failed to pass the modest banking reform with majorities in both chambers and control of the White House. For example, Rep. Rand Paul (R-KY) criticized his Democratic colleagues over the issue last month.
Top Federal Drug Official Says 'Train Has Left The Station' On Psychedelics As Reform Movement Spreads
Top Federal Drug Official Says 'Train Has Left The Station' On Psychedelics As Reform Movement Spreads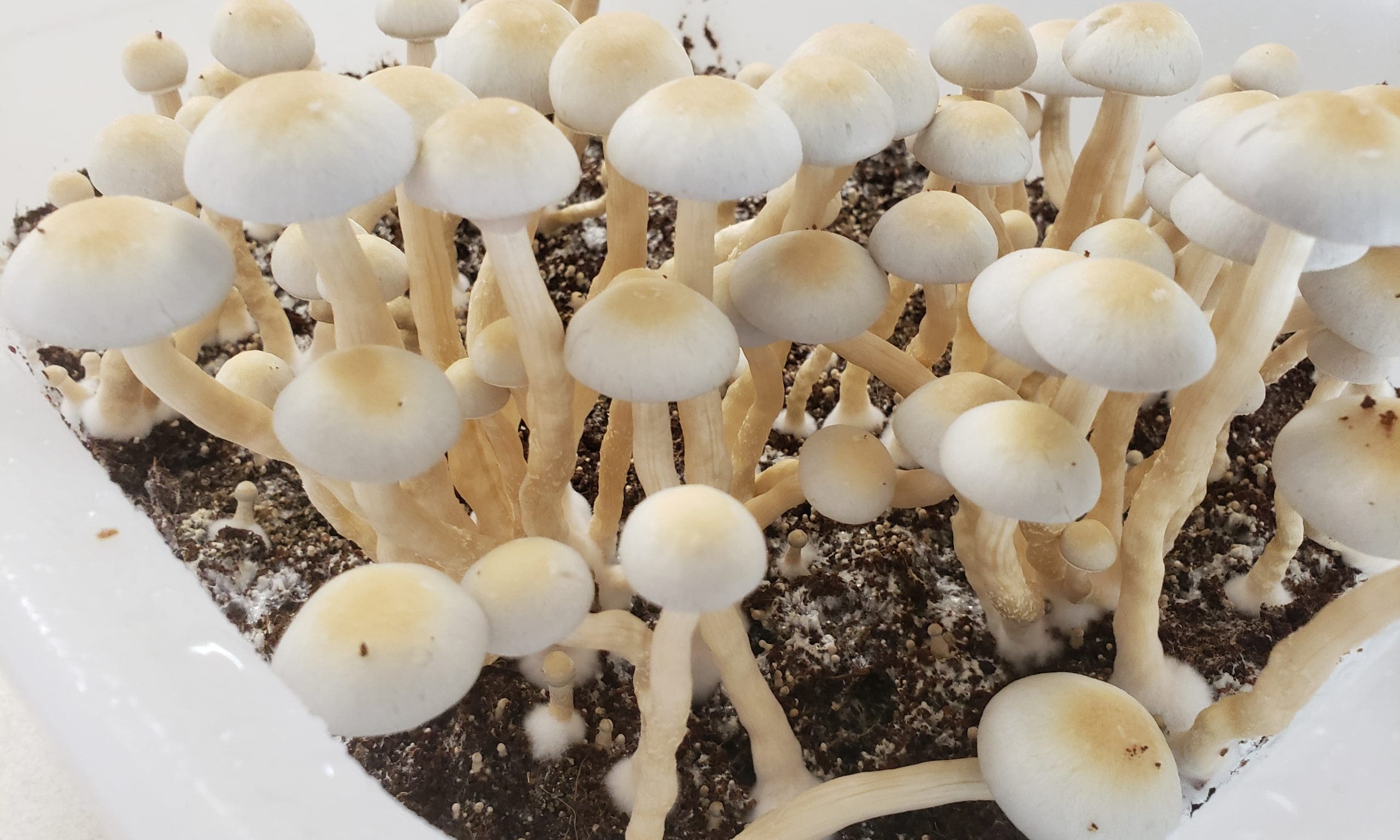 A top federal drug official says the "train has left the station" on psychedelics.
National Institute on Drug Abuse (NIDA) Director Nora Volkow said people are going to keep using substances such as psilocybin—especially as the reform movement expands and there's increased attention being drawn to the potential therapeutic benefits—and so researchers and regulators will need to keep up.
The comments came at a psychedelics workshop Volkow's agency cohosted with the National Institute of Mental Health (NIMH) last week.
The NIDA official said that, to an extent, it's been overwhelming to address new drug trends in the psychedelics space. But at the same time, she sees "an incredible opportunity to also modify the way that we are doing things."
"What is it that the [National Institutes of Health] can do to help accelerate research in this field so that we can truly understand what are the potentials, and ultimately the application, of interventions that are bought based on psychedelic drugs?" Volkow said.
The director separately told Marijuana Moment on Friday in an emailed statement that part of the challenge for the agency and researchers is the fact that psychedelics are strictly prohibited as Schedule I drugs under the federal Controlled Substances Act.
"Researchers must obtain a Schedule I registration which, unlike obtaining registrations for Schedule II substances (which include fentanyl, methamphetamine, and cocaine), is administratively challenging and time consuming," she said. "This process may deter some scientists from conducting research on Schedule I drugs."
"In response to concerns from researchers, NIDA is involved in interagency discussions to facilitate research on Schedule I substances," Volkow said, adding that the agency is "pleased" the Drug Enforcement Administration recently announced plans to significantly increase the quota of certain psychedelic drugs to be produced for use in research.
"It will also be important to streamline the process of obtaining Schedule I registrations to further the science on these substances, including examining their therapeutic potential," she said.
At Thursday's event, the official talked about how recent, federally funded surveys showed that fewer college-aged adults are drinking alcohol and are instead opting for psychedelics and marijuana. She discussed the findings in an earlier interview with Marijuana Moment as well.
Don't miss out on the @NIDAnews, @NIAAAnews, & @NIMHgov-sponsored virtual Workshop on Psychedelics as Therapeutics: Gaps, Challenges, and Opportunities, Jan. 12‒13, 2022. Learn more and register: https://t.co/S1zttkoYXq pic.twitter.com/C2Qrk6FN9a

— NIDAnews (@NIDAnews) January 10, 2022
"Let's learn from history," she said. "Let's see what we have learned from the marijuana experience."
While studies have found that marijuana use among young people has generally remained stable or decreased amid the legalization movement, there has been an increase in cannabis consumption among adults, she said. And "this is likely to happen [with psychedelics] as more and more attention is placed on these psychedelic drugs."
"I think, to a certain extent, with all the attention that the psychedelic drugs have attracted, the train has left the station and that people are going to start to use it," Volkow said. "People are going to start to use it whether [the Food and Drug Administration] approves or not.
There are numerous states and localities where psychedelics reform is being explored and pursued both legislatively and through ballot initiative processes.
On Wednesday—during the first part of the two-day federal event that saw nearly 4,000 registrants across 21 time zones—NIMH Director Joshua Gordon stressed that his agency has "been supporting research on psychedelics for some time."
Tune in today and tomorrow for the @NIH workshop on Psychedelics as Therapeutics, which will examine findings on psychoplastogens for treating depression, post-traumatic stress, and substance and alcohol use disorders. https://t.co/Qzxte5xJt9

— Joshua A. Gordon (@NIMHDirector) January 12, 2022
"We can think of NIMH's interests in studying psychedelics both in terms of proving that they work and also in terms of demonstrating the mechanism by which they work," he said. "NIMH has a range of different funding opportunity announcements and other expressions that are priorities aimed at a mechanistic focus and mechanistic approach to drug development."
Meanwhile, Volkow also made connections between psychedelics and the federal response to the coronavirus pandemic. She said, for example, that survey data showing increased use of psychedelics "may be a way that people are using to try to escape" the situation.
But she also drew a metaphor, saying that just as how the pandemic "forced" federal health officials to accelerate the development and approval of COVID-19 vaccines because of the "urgency of the situation," one could argue that "actually there is an urgency to bring treatments [such as emerging psychedelic medicines] for people that are suffering from severe mental illness which can be devastating."
But as Volkow has pointed out, the Schedule I classification of these substances under federal law inhibits such research and development.
The official has also repeatedly highlighted and criticized the racial disparities in drug criminalization enforcement overall.
Delaware Lawmakers File New Marijuana Legalization Bill With Key Equity Revisions