Congressional Committee Discusses Challenges For Small Marijuana Businesses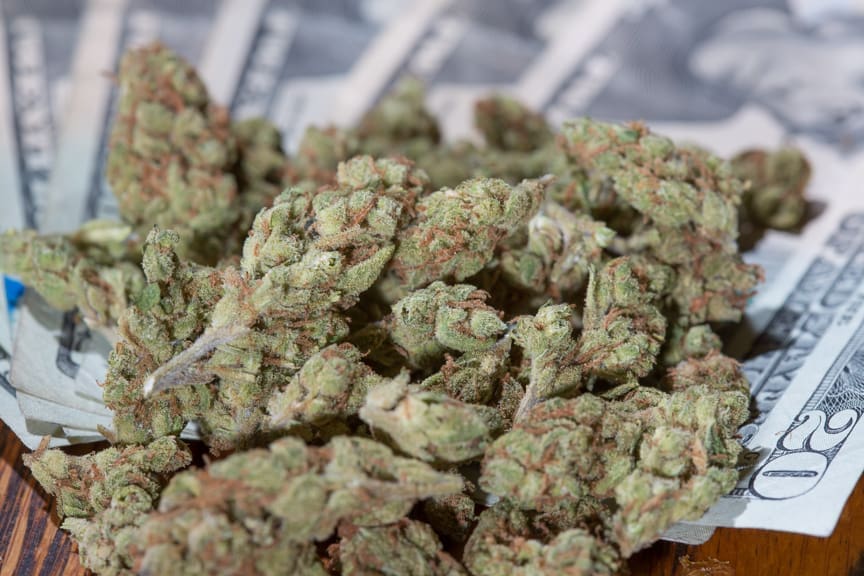 A congressional committee held a hearing on Wednesday to discuss opportunities for small businesses in the marijuana industry and the unique financial challenges those companies face under federal cannabis prohibition.
The House Small Business Committee convened for a meeting titled "Unlocked Potential? Small Businesses in the Cannabis Industry." It came as pressure mounts on Congress to free up financial services for state-legal marijuana businesses in order to increase transparency, mitigate public safety risks and protect banks from being penalized by federal regulators.
One area that the panel focused on was access to resources provided by the federal Small Business Administration (SBA), which includes low-interest loans for small businesses and guidance for entrepreneurs.
Watch the hearing below:
"Entrepreneurship and small business owners are essential to America's ingenuity," the National Cannabis Industry Association (NCIA) said in testimony submitted to the committee. "These businesses enable economic development, provide high-quality jobs, and spur significant product innovation."
"Addressing the challenges created by conflicting federal and state laws will allow state-compliant entities to operate in a fully regulated environment and encourage the expansion of regulated markets, increase consumer safety standards, reduce availability to minors and combat illegal trafficking throughout the country," NCIA said.
In a memo detailing the issue in advance of the hearing, the committee said that the "current marijuana legalization movement presents new opportunities for entrepreneurship and business start-up in the cannabis industry."
Not only are there opportunities for businesses that directly deal with marijuana such as cultivators and retailers but also for ancillary businesses such as "payment processors, accountants, insurance agents, agriculture-technology companies, technology companies developing apps, and countless more."
Because the cannabis industry is in its formative stage, lawmakers have the chance to create policies designed to promote equity in the marketplace and ensure that communities disproportionately impacted by prohibition are given the tools to participate in the industry, the memo explains.
Consumer spending in the cannabis industry is expected to hit $23 billion by 2022. Today, the Committee will question experts on how we can help ensure that small businesses can fully participate in this emerging legal industry. pic.twitter.com/bAybUfCgiB

— House Committee on Small Business (@HouseSmallBiz) June 19, 2019
Access to capital is a primary concern that was addressed at the hearing. The panel said that revising SBA policy—which currently prohibits businesses that directly and indirectly work with marijuana from obtaining certain loans—would be a step in the right direction.
SBA issued a revised policy on its loan programs earlier this year, clarifying that while direct and indirect marijuana businesses are not eligible, hemp businesses can qualify for the loans since the crop was federally legalized under the 2018 Farm Bill. The new policy stipulates that "a business that grows, produces, processes, distributes or sells products made from hemp… is eligible." That policy went into effect on April 1.
"SBA provides vital tools to the development and support of minority businesses and communities," the Minority Cannabis Business Association's Shanita Penny testified. "We believe access to SBA loans and services, with Congressional oversight, would help decrease the equity gap in the cannabis industry and keep cannabis revenues in the communities suffering the greatest economic and social harms of the War on Drugs."
"SBA access is also critical to business owners dealing with a newly, regulated, constantly evolving industry. As more mature state programs course correct and improve regulations, small businesses are often left scrambling to remain compliant when packaging or labeling regulations change, businesses must either find new sources of capital to cover the cost of the changes or face significant fines for violations."
The committee added in its memo that small marijuana businesses need assistance to "compete against well-financed conglomerates and other larger companies that have resources dedicated to locating and utilizing loopholes in laws." And cannabis firms often incur "operating and pricing challenges" in addition to the lack of access to capital.
"In order to provide for inclusiveness within the legal industry, federal policy should strive to reduce roadblocks for qualified entrepreneurs in order to encourage participation from formerly disenfranchised populations," NORML said in written testimony. "Particularly, in consideration for enterprising individuals who would benefit most from the critical resources that [SBA] provides for job creators around the country."
Another issue that came up, which doesn't get as much attention as banking issues in the industry, is the "challenge small business owners face is recruiting and retaining workers because the talent pool is unable to keep up."
The committee noted that training and education for workers can be costly for small marijuana businesses, especially because it's not traditionally a skillset that's taught in universities or vocational schools.
"As increasingly more states legalize cannabis, it will be important for Congress and the agencies it oversees to work cooperatively to ease legislative and regulatory burdens on small businesses in states with legal cannabis," the committee memo notes. "At the same time, the entrepreneurship opportunity the legitimate cannabis industry presents for entrepreneurs from traditionally underserved communities, including minorities and veterans, must be recognized."
"However, small businesses in states with legal cannabis are currently struggling to fund and operate their businesses, due in part to conflicting federal and state guidance. Accordingly, this hearing will offer Members an opportunity to hear about the challenges faced by 'ancillary' or 'indirect' cannabis businesses, and how Congress can help remedy those challenges. Furthermore, the hearing will enable Members to explore ways to ensure a newly-legalized cannabis industry reflects our nation's diversity, and is able to fairly compete with foreign and large companies."
Other witnesses who appeared before the committee include Veterans Cannabis Coalition's Eric Goepel and Dana Chaves, who is an executive at First Federal Bank and also chairs NCIA's Banking Access Committee.
One of the most surprising pieces of testimony came from a representative of the conservative think tank the Heritage Foundation. Paul Larkin, a senior legal research fellow with the organization who otherwise raised concerns about cannabis reform during the hearing, said that "if Congress were to legalize recreational marijuana use, it should require that states own and operate distribution facilities." The comment raised eyebrows, leaving some wondering why a representative of a right-leaning institution like the Heritage Foundation would essentially float socializing the marijuana market.
Though there was not a specific piece of legislation that the committee discussed, a source told Marijuana Moment last month that there are plans to introduce a bill this summer to tackle the small business issues at hand. Committee Chair Rep. Nydia Velazquez (D-NY) signaled at the hearing that she'd lead that effort.
"Despite growing economic opportunities around legal cannabis, factors like federal law enforcement, conflicting rules among the states and our current banking regulations are hindering the ability for entrepreneurs and small business to fully engage in this new industry," the congresswoman said. "I am currently working on legislation that will work to open some of the agency's programs to businesses in areas where the industry is legal."
ICYMI: In her opening statement at today's hearing, Chairwoman @NydiaVelazquez spoke about the plight of small cannabis firms and the need for dialogue on how we can better support these entrepreneurs. pic.twitter.com/u1G1pIqizA

— House Committee on Small Business (@HouseSmallBiz) June 19, 2019
"The trend of legalization at the state level is not going to slow down, which will lead to more jobs in many sectors of our economy and we need to see what role the federal government can play," she said.
Rep. Steve Chabot (R-OH), the panel's ranking minority member, repeatedly pressed witnesses on whether they were aware of various harms of marijuana as shown by certain studies, though he seemed to acknowledge that pro-reform attitudes are winning the day.
"All the stuff that we've talked about here is inconsistent with federal law. It's illegal if the law was enforced at the federal level," he said. "And that's something that I think probably the Congress ought to take it up and make a decision to let people know what they can do… I think we owe that to the public. And I don't know which way the vote would go."
I hear from farmers in #NY19 about the need for new industries & opportunities to counter the down farm economy. In @HouseSmallBiz, I asked what steps the FDA should take to make it easier for dairy farmers to work in the hemp industry & spur economic growth in rural communities. pic.twitter.com/Ug87sMY8TI

— Congressman Antonio Delgado (@repdelgado) June 19, 2019
"I've been around a long time. It seems like the older generation more feel that [marijuana should remain illegal]," Chabot said. "The younger generation seems to be just the opposite. And a lot of things have changed in the country in recent years, and that seems to be one of them."
Florida Agriculture Commissioner Nicole Fried also submitted written testimony for the hearing. She argued that "America's emerging cannabis industry has the potential to lift up every community from coast to coast" and that "now is the time for Congress and our federal government to empower small businesses and embrace the economic revolution of cannabis that puts American jobs, families, and livelihoods first."
Today, I shared this statement with Chair @NydiaVelazquez & Ranking Member @RepSteveChabot for @HouseSmallBiz hearing on cannabis industry.#Cannabis can create billions in economic potential and hundreds of thousands of jobs — that's why we need Congress & federal govt onboard. pic.twitter.com/qeNTT2KCVq

— Commissioner Nikki Fried (@NikkiFriedFL) June 19, 2019
This congressional hearing is one of two focusing on marijuana policy that is scheduled for this week, with another concerning veterans and cannabis set for Thursday.
This story was updated to include quotes from the hearing and written testimony.