Senators File Marijuana Bill Following Trump Pledge To Respect State Legalization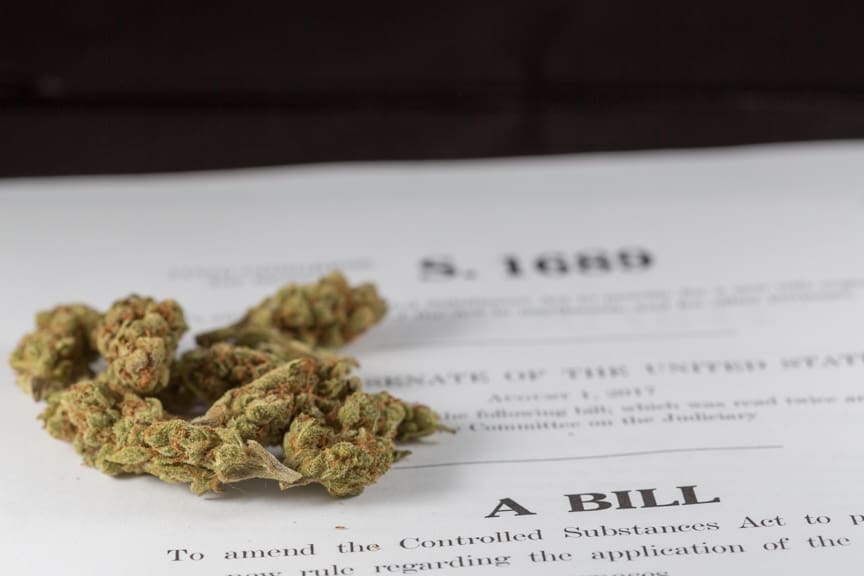 U.S. Sens. Elizabeth Warren (D-MA) and Cory Gardner (R-CO) held a press conference on Thursday to discuss a far-reaching bill they are filing to end the federal war on marijuana.
The move comes after Gardner cut a deal with President Trump to support such legislation in exchange for the senator ending a blockade on Justice Department nominees he began in protest of U.S. Attorney General Jeff Sessions's decision earlier this year to rescind Obama-era guidance generally protecting state cannabis laws.
Watch Warren and Gardner discuss their marijuana bill below:
The draft bill, details of which Marijuana Moment first reported last month, would amend the federal Controlled Substances Act to exempt state-legal marijuana activity from its provisions.
The Strengthening the Tenth Amendment Entrusting States (STATES) Act would also protect banks that work with legal cannabis businesses and legalize industrial hemp. It has seven initial cosponsors.
Details On Bipartisan Senate Marijuana Bill To Be Filed Soon
Gardner said at the press conference that he spoke to President Trump about marijuana on Thursday morning and that he remains supportive of an approach that respects state laws.
"We can't go backwards. We can only go forwards," the president said, according to Gardner.
Warren told the Boston Globe that Senate Majority Leader Mitch McConnell (R-KY) "has pledged to allow a vote on the bill."
She added that that it was Sessions's move to rescind the Obama-era guidance that spurred lawmakers to work across the aisle to find a solution to enact statutory protections for local cannabis policies.
"Outdated federal marijuana laws have perpetuated our broken criminal justice system, created barriers to research, and hindered economic development," Warren said in a press release. "States like Massachusetts have put a lot of work into implementing common sense marijuana regulations – and they have the right to enforce their own marijuana policies. The federal government needs to get out of the business of outlawing marijuana."
"In 2012, Coloradans legalized marijuana at the ballot box and the state created an apparatus to regulate the legal marijuana industry.  But because of the one-size-fits-all federal prohibition, state decisions like this put Colorado and other states at odds with the federal government," Gardner added. "The federal government is closing its eyes and plugging its ears while 46 states have acted.  The bipartisan STATES Act fixes this problem once and for all by taking a states' rights approach to the legal marijuana question. The bipartisan, commonsense bill ensures the federal government will respect the will of the voters – whether that is legalization or prohibition – and not interfere in any states' legal marijuana industry."
Our bill does not legalize marijuana. Instead, it allows the principle of federalism to prevail as the founding fathers intended and leaves the marijuana question up to the states. Learn more here: https://t.co/gRckNUKSic

— Cory Gardner (@SenCoryGardner) June 7, 2018
Companion legislation is also being filed in the House by Congressman David Joyce (R-OH) and Congressman Earl Blumenauer (D-OR), along with 14 other cosponsors.
"We should trust the people of the states, like Ohio, who have voted to implement responsible common-sense regulations and requirements for the use, production, and sale of cannabis," Joyce said in a press release. "If the people of these states have decided to provide help for those veterans and others suffering from pain and other health issues, we should allow them access without government interference."
We should trust the people of the states, like Ohio, who have voted to implement responsible common-sense regulations & requirements for the use, production, & sale of cannabis. Proud to introduce the STATES Act with Rep. Blumenauer @CoryGardner @SenWarren https://t.co/t5eKgVuQzq

— Dave Joyce (@RepDaveJoyce) June 7, 2018
"For too long the senseless prohibition of marijuana has devastated communities, disproportionately impacting poor Americans and communities of color. Not to mention, it's also wasted resources and stifled critical medical research," Blumenauer argued. "It's past time to put the power back in the hands of the people. Congress must right this wrong."
For far too long, lives & resources have been wasted because of the failed War on Drugs. Congress must right this wrong & end marijuana prohibition. Proud to have been part of this effort. https://t.co/UDKI0piZp9

— Earl Blumenauer (@repblumenauer) June 7, 2018
In a news advisory, Warren's office said the legislation will "ensure that each state has the right to determine for itself the best approach to marijuana within its borders." It also "extends these protections to Washington D.C., U.S. territories, and federally recognized tribes, and contains common-sense guardrails to ensure that states, territories, and tribes regulating marijuana do so safely."
Earlier on Thursday, Warren and Gardner discussed their cannabis bill in an appearances on MSNBC and Fox News.
.@SenWarren on her with marijuana bill @SenCoryGardner: "We want to take on solving this problem." pic.twitter.com/a3loR3Nht2

— Fox News (@FoxNews) June 7, 2018
.@SenCoryGardner on his bipartisan marijuana bill with @SenWarren: "This is allowing the states to determine for themselves what they are going to do." #DailyBriefing pic.twitter.com/e9BYwbDCHG

— Fox News (@FoxNews) June 7, 2018
By outlawing marijuana, the federal government puts communities of color, small businesses, & public health & safety at risk. My new bill with @SenCoryGardner will let states, territories, & tribes decide for themselves how to regulate marijuana – without federal interference.

— Elizabeth Warren (@SenWarren) June 7, 2018
No veteran with chronic pain, child with a rare disease, or person struggling with a terminal illness should be denied the treatment they need. Millions of Americans currently access medical marijuana under state law. My new bill with @SenCoryGardner will help protect them.

— Elizabeth Warren (@SenWarren) June 7, 2018
No qualified scientist should have to struggle to conduct basic research on marijuana. Their findings could spur medical advances or counter the opioid epidemic. I'm introducing a new bill with @SenCoryGardner that could make it easier to study marijuana's medical uses.

— Elizabeth Warren (@SenWarren) June 7, 2018
A majority of Americans support legalizing marijuana. It's time for Congress to listen, and pass this new bipartisan legislation. https://t.co/sljqUoMlCN

— Elizabeth Warren (@SenWarren) June 7, 2018
"Thanks to the leadership of Senators Gardner and Warren, the movement to end the federal government's failed policy of cannabis criminalization has truly become a bipartisan effort," Justin Strekal, political director for NORML, said in an interview. "Given that a majority of states now regulate marijuana use and six out of ten voters endorse legalizing the plant's use by adults, it is time that members of Congress take action to comport federal law with majority public opinion and the plant's rapidly changing legal and cultural status. U.S. Attorney General Jeff Sessions must be restrained from having the ability to infringe on the rights of states that have successfully implemented marijuana legalization, be it for medical or responsible adult use."
It is unclear if or when the new legislation will be voted on, but the development adds to significant momentum for cannabis reform on Capitol Hill and in states in recent weeks.
U.S. Senate Majority Leader Mitch McConnell (R-KY) filed a bill to legalize industrial hemp and fast-tracked it on the calendar, skipping the committee process, and said he intends to attach the language to the larger Farm Bill.
Minority Leader Chuck Schumer (D-NY) said he would soon introduce legislation to remove marijuana from the Controlled Substances Act and has pledged to support McConnell's hemp bill.
Activists collected enough signatures to place marijuana measures on November ballots in Michigan and Utah, and advocates in Missouri filed signatures to qualify cannabis questions as well. Oklahoma voters will consider a medical marijuana initiative this month.
See the full text of the new bill below:
Senate Marijuana Bill by tomangell on Scribd
And here's a one-pager explaining the bill's provisions:
States Act One Pager by tomangell on Scribd
Photo courtesy of Edward Kimmel.
South Carolina Lawmakers Approve Medical Marijuana Bill In Subcommittee Vote
A South Carolina Senate subcommittee voted Wednesday to advance a bill that would legalize access to medical marijuana. The legislation, known as the Compassionate Care Act, now moves to the full Senate Medical Affairs panel for discussion and a possible vote.
The subcommittee vote of 5 to 1 came after lawmakers approved several amendments to the bill. Some of those changes include narrowing the list of medical conditions that would qualify a patient to legally use medical cannabis, banning certain workers from being able to access the treatment and requiring physicians to have specific qualifications before being able to recommend marijuana.
"I want to thank the law enforcement officials, business leaders and physicians who worked with members of this subcommittee to ensure that this medical cannabis bill reflects the will of the overwhelming majority of South Carolinians … but to also draw a bright line against the recreational use of cannabis," said Sen. Tom Davis, the bill's author.
Advocates say they're happy the bill is moving, but are expressing concerns about the changes that were adopted. Judy Ghanem, the executive director of patient advocacy group Compassionate SC, said she worries the bill will ultimately limit how many people will actually be able to access cannabis for their medical needs.
"The main concern that we have is, will enough doctors actually be recommending [medical cannabis] and will enough patients be able to get the medicine," she told Marijuana Moment in a phone interview.
The original text of the bill authorized primary care physicians to recommend cannabis to their patients with debilitating medical conditions. "There might not be as many specialists that are willing to recommend as there would be regular physicians," Ghanem said.
"Concessions have to be made, and we understand that, but from a logistics standpoint, we need to have a law that's workable," she continued. "We hope that it's not narrowed any more than it is now. We're still going to be happy that patients will get the medicine, but that doesn't mean we're not going to do everything we can to increase the number of patients that can have access."
Also on Wednesday, a group of faith leaders held a news conference at the State House to show their support for legalization.
The bill still faces an uphill battle, as opponents from the State Law Enforcement Division (SLED), S.C. Sheriffs' Association and S.C. Medical Association have all said they won't get behind the legislation without the Food and Drug Administration's stamp of approval on medical marijuana.
"Never before have we determined what medicine is by popular vote or legislation," SLED Maj. Frank O'Neal told the Post & Courier.
This is the fourth year the Compassionate Care Act has been introduced in the South Carolina legislature. Last year, it was approved by both the Senate Medical Affairs Committee and the House Medical, Military, Public and Municipal Affairs (3M) Committee, but it did not receive floor consideration in either chamber before the session ended.
A January poll found that a majority of South Carolinians support legalizing medical marijuana.
South Carolina Lawmakers Pre-File Four Marijuana Bills For 2019
Photo courtesy of Chris Wallis // Side Pocket Images.
FDA Chief Warns CBD Rulemaking Could Take Years Without Congressional Action
The outgoing head of the Food and Drug Administration (FDA) suggested on Tuesday that it would take several years for the agency to come up with rules around allowing hemp-derived cannabidiol (CBD) in food products—unless Congress steps in.
At a Brookings Institution event, FDA Commissioner Scott Gottlieb recognized that there's strong interest among the cannabis industry and lawmakers in developing a regulatory framework through which CBD from hemp could be extracted, sold and introduced into the food supply. The problem is that "CBD didn't previously exist in the food supply, and it exists as a drug under the statute."
"It can't just be put into the food supply," he said, arguing that current law only allows the FDA to "contemplate putting a drug that wasn't previously in the food supply into the food supply if it goes through a rulemaking process."
That rulemaking process can take two to three years for conventional products, and so because CBD is "more complex"—due to its association with marijuana—and has already been approved by the FDA as a drug to treat epilepsy (in the form of Epidiolex), it could theoretically take much longer to develop those regulations.
"We've never done this before," Gottlieb said. "It would be a highly novel rulemaking process."
In the meantime, the FDA is putting together a "high-level work group" that will work to identify "some potential legislative pathways might be to create a framework for allowing CBD into the food supply."
Gottlieb said he expects the group to release some recommendations by the summer, as Business Insider first reported.
The commissioner said the work group will be formally announced within the next week and would involve a public meeting to solicit comments from stakeholders.
While Congress might have intended to permit the marketing of hemp-derived CBD through the 2018 Farm Bill, the commissioner indicated that additional legislation that specifically addresses CBD regulations would be necessary to allow the ingredient in the food supply. He said there's precedent for such actions, citing legislation around human growth hormone and fish oil.
"I think you need to come up with a framework that defines concentration levels, where you would create some kind of cut off, and that would be up to the agency to do," he said. "Congress would obviously give directions to the agency to do that."
"CBD in high concentrations isn't risk-free, and in low concentration, it probably is safe—I don't want to make a declaration here. It's also a question of whether it's providing any kind of therapeutic benefit in those concentrations, although people seem to believe that it has some value. But this is a process that the agency would have to work through. I think the most efficient way to get to a pathway would be through legislation, probably that would just be legislation that would specifically address CBD."
Gottlieb made similar comments in response to questions from members of a House Appropriations subcommittee last month, where he announced that the agency would hold a public meeting in April to gather input from stakeholders on CBD regulation.
In the new comments, the commissioner also added that he felt the Drug Enforcement Administration (DEA) would have to "formally de-schedule" hemp-derived CBD before moving forward with regulatory changes, in spite of the fact that the agriculture legislation shifted regulatory responsibility for the crop and its derivatives from the Justice Department to the U.S. Department of Agriculture.
"I think the prevailing view is that the plain language of the statute [of the Farm Bill] intended for that, but I'm not sure that DEA has done that yet," he said. "But that's another step that would have to take place. DEA would have to formally de-schedule CBD derived from hemp."
The desire for clarity around CBD's legality post-Farm Bill passage has been widespread. For example, the U.S. Postal Service issued an advisory earlier this month spelling out rules for mailing hemp-derived CBD. Representatives from state agriculture departments also heard talk about "alternative approaches" to regulating the compound at a conference last month.
In his remarks at Brookings, Gottlieb announced that the CBD work group would be co-chaired by Amy Abernethy, FDA's principal deputy commissioner, and Lowell Shiller, the agency's acting associate commissioner for policy.
In the meantime, it is clear that lawmakers want FDA to move on the issue.
"Every meeting I go into on Capitol Hill, almost every meeting, I get asked about this," Gottlieb said.
U.S. Postal Service Issues Advisory On Mailing Hemp-Derived CBD
Photo courtesy of YouTube/Brookings Institution.
Beto O'Rourke Says Prosecute Pharma Execs And Legalize Marijuana
The federal government should end the prohibition of marijuana and prosecute pharmaceutical executives who recklessly marketed addictive opioid painkillers, Beto O'Rourke argued at a rally in New Hampshire on Tuesday.
The 2020 Democratic presidential candidate received enthusiastic applause in response to the pitch from the crowd in the early primary state, which has been hard hit by the opioid crisis.
"We're going to acknowledge an incredibly warped system of justice in this country," the former congressman said, singling out Purdue Pharma, the maker of OxyContin, over its products' role in the addiction problem.
"The vast majority of those who are addicted today began with a legal prescription," he said. "Those executives understood the addictive properties of what they sold and did not share that with the public, and not a single one of them has done a single day in jail."
"Yet, we have the largest prison population on the face of the planet, disproportionately comprised of people of color, far too many there for possession of a substance that is legal in most states of this country, marijuana."
Watch O'Rourke's marijuana and drug policy comments, about 20:00 into the video below:
The candidate expanded on the unfairness, noting that rates of cannabis use are roughly the same for different races but "only some are more likely than others to be arrested, to serve time, to upon release be forced to check a box" rendering them ineligible for student loans and making it more difficult to secure employment.
"We need real criminal justice reform," he said. "We need to end the prohibition of marijuana, expunge the arrest records for everyone arrested for possession of something that's legal in so many other places, and make sure that we have a full prosecution and accountability for those who are responsible for the deaths of tens of thousands of Americans in this country."
"O'Rourke spoke about reforming the justice system, ending prohibition on marijuana charges, ensuring universal health care & making those implicated in the opioids crisis accountable. He received the biggest cheers for promising action on climate change" https://t.co/UCRvn5Ef2c

— Beto O'Rourke (@BetoORourke) March 20, 2019
There were signs that drug reform would be a main feature of O'Rourke's campaign in the weeks leading up to his announcement, and he's quickly confirmed that suspicion on the trail. He sent out an email blast about marijuana reform before declaring his bid and he discussed ending cannabis prohibition on the day of his announcement.
But contrasting the unchecked malfeasance of the pharmaceutical industry with the aggressive enforcement of cannabis laws represents an evolution in O'Rourke's messaging on the issue.
It's not dissimilar to a talking point often heard at rallies for Sen. Bernie Sanders (I-VT), who frequently talks about the injustice of failing to prosecute Wall Street executives for their role in the 2008 financial crisis while locking up individuals for non-violent marijuana offenses.
Sen. Kirsten Gillibrand (D-NY), another 2020 Democratic presidential candidate, has also criticized the pharmaceutical industry for misleading prescribers about the risks of potent opioid painkillers while opposing marijuana reform.
"To them it's competition for chronic pain, and that's outrageous because we don't have the crisis in people who take marijuana for chronic pain having overdose issues," she said, adding that she doesn't see cannabis as a gateway to opioids. Rather, "the opioid industry and the drug companies that manufacture it, some of them in particular, are just trying to sell more drugs that addict patients and addict people across this country."
Another contender for the Democratic nomination, Rep. Tulsi Gabbard (D-HI), has also been critical of the pharmaceutical industry while supporting cannabis legalization.
She said last month that the U.S. criminal justice system "puts people in prison for smoking marijuana while allowing corporations like Purdue Pharma, who are responsible for the opioid-related deaths of thousands of people, to walk away scot-free with their coffers full."
Let States Decriminalize Heroin And Cocaine, Presidential Candidate Hickenlooper Says
Photo courtesy of Facebook/Circa.