Senators Approve Medical Marijuana For Military Veterans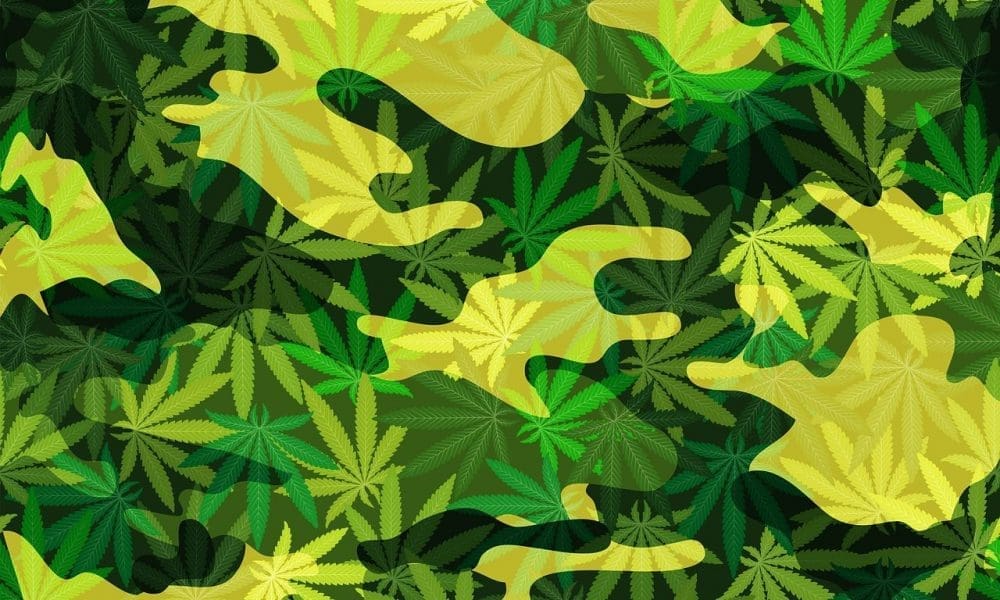 A key U.S. Senate panel voted on Thursday to allow doctors with the Department of Veterans Affairs (VA) to issue medical marijuana recommendations to military veterans.
The Senate Appropriations Committee approved the amendment, offered by Sen. Steve Daines (R-MT) and Jeff Merkley (D-OR), on a voice vote.
The measure "simply allows veterans to discuss that option [medical cannabis] with their VA doc or physician," Daines said during a brief debate.
Merkley added that it is an "incredible inconvenience for veterans to be told they have to seek out a whole new medical system" to get cannabis recommendations.
The move comes one day after the House Rules Committee blocked floor votes on several amendments concerning medical cannabis access for veterans.
In past years, previous versions of the cannabis recommendation measure have been approved by the full House and Senate, but have never been enacted into law. The new amendment approved by senators also protects veterans from being denied VA services as a result of their participation in a state medical marijuana program.
Under current VA internal policy, government physicians are barred from filling out medical cannabis recommendations for veterans, even in states where it is legal.
If the measure approved by senators on Thursday is included in final Fiscal Year 2019 spending legislation for the VA, the department would no longer be able to enforce its ban on medical marijuana recommendations.
In a press release about the Appropriations Committee vote, Daines said, "Veterans should not be discriminated against when they seek care at the VA. They deserve access to the treatment that best suits their medical needs, just like they would receive at a non-VA clinic."
Read the full text of the veterans cannabis amendment:
SEC. 249. None of the funds appropriated or otherwise made available to the Department of Veterans Affairs in this Act may be used in a manner that would—
(1) interfere with the ability of a veteran to participate in a medicinal marijuana program approved by a State;
(2) deny any services from the Department to a veteran who is participating in such a program; or
(3) limit or interfere with the ability of a health care provider of the Department to make appropriate recommendations, fill out forms, or take steps to comply with such a program.
Top New York Health Official Embraces Marijuana Legalization
Fully legalizing marijuana in New York is the right policy, state Health Commissioner Howard Zucker said at a press conference on Monday.
NEWS: NY Health Commissioner Howard Zucker on recreational marijuanaL: "The pros outweigh the cons and the report recommends a regulated legal marijuana program be available to adults."

— Nick Reisman (@NickReisman) June 18, 2018
Zucker said a much-anticipated report from the state's Department of Health will include a recommendation to regulate and commercialize cannabis in New York. That report is expected to be released within days, according to Spectrum News. However, Zucker declined to specify the exact release date.
Our @LydiaHuNews reports that New York State Health Commissioner Howard Zucker would not commit to timeline for releasing @NYGovCuomo commissioned report on legalizing recreational marijuana. Says only it will be "soon." Zucker adds that the pros of legalization outweigh the cons

— Zack Fink (@ZackFinkNews) June 18, 2018
"The pros outweigh the cons, and the report recommends a regulated legal marijuana program be available to adults in the state of New York," the health official said.
What's more, the commissioner also recognizes the potential for marijuana to help individuals suffering from opioid addiction, which will soon become a qualifying condition to obtain a medical cannabis recommendation, he announced.
Breaking: New York Health Commissioner Howard Zucker says prescription opioid use will be added to the state's medical marijuana program as a qualifying condition. Simply put, if you have an opioid prescription, you can get a medical marijuana card.

— Bethany Bump (@bethanybump) June 18, 2018
"This is a program we have grown responsibly," Zucker said. "We feel this is another way to add the program forward."
The health commissioner's comments reflect a growing consensus among New York government officials. Last month, the New York Democratic Party adopted a resolution that endorsed that regulation and taxation of recreational marijuana.
New York Gov. Andrew Cuomo (D) has made statements revealing an evolution in his views on cannabis reform in recent weeks. The governor, who formerly referred to marijuana as a "gateway drug," said the "facts changed on this issue and the facts changed quickly."
The news from the health commissioner also comes about a month after New York City Mayor Bill de Blasio (D) announced that the city would "overhaul" its marijuana enforcement policies.
I'm announcing today that the NYPD will overhaul its marijuana enforcement policies in the next 30 days. We must end unnecessary arrests and end disparity in enforcement.

— Bill de Blasio (@NYCMayor) May 15, 2018
"We must end unnecessary arrests and end disparity in enforcement," de Blasio wrote.
This story is developing and will be updated.
Photo courtesy of Chris Wallis // Side Pocket Images.
Oklahoma Senator Claims Medical Marijuana Is Just For "Getting High"
A U.S. senator from a state where polls indicate his constituents will legalize medical marijuana this month is calling cannabis's therapeutic value into question.
"Marijuana is not used for anyone on chronic pain other than just getting high and to escape from the pain," Sen. James Lankford (R-OK) said in a Friday interview.
"Marijuana's not used for pain. It's used for the high and it's used for other purposes."
Oklahoma voters will see a measure to make medical cannabis legal on this month's June 26 primary ballot. A survey last month found that likely voters favor the initiative by a margin of 58 percent to 30 percent.
Oklahoma Medical Marijuana Advocates Confident About This Month's Ballot Vote
But Lankford isn't on board. And recently he has become one of the only members of the U.S. Senate to consistently voice opposition to marijuana law reform.
Last week, for example, he tried to strip language from a Justice Department bill that protects state medical cannabis laws from federal interference.
But sensing that he did not have enough votes to pass his amendment, he withdrew it before asking colleagues to do on the record with yeas and nays.
Senate Committee Keeps Medical Marijuana Protections In Place
At a separate hearing earlier last week, Lankford called marijuana a "gateway drug to opioid abuse."
In the new interview with KOCO-TV, the anti-cannabis senator questioned whether the Oklahoma ballot measure is truly medically focused.
"It's not just allowing people to smoke it for medicinal purposes," he said. "They can have any purpose. They can say, 'I have a headache.' They can say, 'my left toe hurts every other Thursday.' They can go to a veterinarian, a doctor a chiropractor, any number of medical people of any type. A dentist, whatever it may be, and they can write a script."
"We have all kinds of issues in Oklahoma right now. We have all kinds of struggles. I don't see how any of them get better if more parents and more grandparents are smoking more marijuana."
Lankford also recently appeared in the TV ad opposing the medical marijuana measure.
An opposition group, SQ 788 Is Not Medical, announced last week that it has raised nearly half a million dollars to support an advertising campaign against the measure.
Meanwhile, the state Republican Party in neighboring Texas endorsed marijuana decriminalization, expanding medical cannabis, legalizing industrial hemp and federally reclassifying marijuana at its convention this past weekend.
Photo courtesy of Gage Skidmore.
A Guide To Vermont's New Marijuana Legalization Law
In January, Vermont became the ninth state to legalize marijuana—and the first to end cannabis prohibition through an act of lawmakers, rather than a ballot initiative. But with the law set to take effect on July 1, questions remain about how the recreational system will actually function.
What you need to know
Vermont Governor Phil Scott (R) signed the adult-use legalization bill, H. 511, into law on January 22. The governor said that he had "mixed feelings" about the legislation, but added that he believed "what adults do behind closed doors and on private property is their choice, so long as it does not negatively impact the health and safety of others, especially children."
The law permits adults 21 and older to:
Possess up to an ounce of cannabis, or five grams of hashish.
Grow "two mature and four immature marijuana plants" on private property in a secured enclosure that's kept out of public sight.
Those plants wouldn't count toward the one ounce possession limitation.
If you don't own the property, you'd have to get the property owner's permission before cultivating cannabis.
"Consumption of marijuana in a public place or in a vehicle is prohibited as is possession of an open container of marijuana in a vehicle, and violations are subject to civil penalties," a summary of the bill text explains. There are also penalties for providing or "enabling consumption" of marijuana to individuals under 21.
The legislation doesn't explicitly address marijuana "gifting," which has served as a way to circumvent market restrictions in certain legal jurisdictions like the District of Columbia.
Employers are still allowed to enforce policies against consuming, cultivating or displaying marijuana in the workplace.
Are you an employer with questions about VT's recreational marijuana law that goes into effect 7/1? Today, we released a guidance for employers on how to navigate the law. Comments? email our Civil Rights Unit at [email protected] #vtbusinesseshttps://t.co/Xl955mOZNq

— Vermont AG Donovan (@VTAttorneyGen) June 14, 2018
If an employer has a no-tolerance drug policy, employees can be fired for violating that policy even if they use cannabis outside the workplace. However, the Vermont Attorney General's office cautioned employers when it comes to penalizing medical cannabis patients suffering from debilitating conditions in a recent guidance report:
"Under [Vermont's Fair Employment Practices Act], it is unlawful for any employer, employment agency, or labor organization to discriminate against a "qualified individual with a disability." Discrimination means not only intentional mistreatment of a disabled employee or applicant, but also failure to provide a reasonable accommodation to that individual… employees carrying a medical marijuana card and those dealing with substance abuse issues may be protected under VFEPA's disability provisions."
The new system does not provide access to cannabis seeds or products at dispensaries, as is the case in other states where recreational marijuana is legal. And that's where things start to get tricky.
Where are adult users supposed to obtain cannabis or seeds to grow their own plants if there's no legal retail system in place? If you're a registered medical marijuana patient, who does have access to dispensaries that sell cannabis and seeds, then you could hypoathetically circumvent that issue; but for adults outside the medical system, the conflicting regulations could create headaches.
"Legalization advocates argue that people who are interested in growing marijuana probably have access already," The Burlington Free Press reported. "The main difference after legalization, they say, will be the lifting of penalties and stigma."
The winding road to non-commercial legalization in Vermont
While Vermont made history in January by becoming the first state to pass a legalization measure through the legislature, it wasn't necessarily a smooth path to reform. It's taken about two years, since the state Senate first voted in favor of a tax and regulate legalization bill—which the House ultimately rejected.
Even as recently as April, Vermont lawmakers attempted to rally support for a commercial legalization bill but were defeated in a floor vote. But House Speaker Mitzi Johnson (D) and others cautioned that the timing wasn't right, considering the fact that the governor had just signed the non-commercial legalization bill into law just three months prior.
Lt. Gov. David Zuckerman (D) told Vermont Public Radio in April that regardless of the fate of the eleventh-hour effort to move a tax and regulate legalization bill forward, it would only be a matter of time.
"This vote does not reflect the sentiment of the people, and when the sentiment of the people is reflected in this body, it will move forward," Zuckerman said.
Are medical marijuana patients being left behind as the state prepares to implement its recreational system?
Though adult users won't have a legal way to obtain cannabis or seeds under the law, there are a number of other differences in how laws apply to medical patients and recreational consumers. For example, adults over 21 are allowed to grow up to six plants outdoors, whereas medical patients can grow up to nine plants—but they're required to keep their grows indoors.
Also, while harvested cannabis doesn't count toward a recreational user's one ounce possession restriction, harvested plants do count toward medical patients two ounce possession restriction.
"I've heard concerns from several medical cannabis patients and their loved ones that they cannot get clear guidance from anyone in state government regarding how many plants they are allowed to grow for their own use, and how they may grow them," Dave Silberman, a Middlebury, Vermont attorney and pro bono drug policy reform advocate, told Marijuana Moment.
"Many patients are wondering whether these rights can be 'stacked,' such that, for example, a married couple consisting of one registered medical patient and one non-patient could legally grow four mature plants (two for "adult use" and two for "symptom relief")," he said.
There is currently a bill being considered in special session that aims to reconcile some of these regulatory differences, according to The Burlington Free Press. Among other things, the bills seeks to impose "locked container transport" requirements that are currently in effect for medical patients but do not apply to adult users. It would also clarify the state's prohibition on providing cannabis to individuals under 21 under the recreational system, as medical patients may be under 21 and the law doesn't offer assurances to medical caregivers that they wouldn't be penalized under the new law.
"Vermont's homegrow law is a great first step, but is incomplete," Silberman said. "Despite the failure to move [a more wide-ranging legalization bill, H. 490] forward this past session, I'm optimistic that we'll be able to move forward quickly in 2019 with a comprehensive bill to establish a regulated market and clear up the inconsistencies between the current 'adult use' and 'medical' regimes, as more and more legislators are coming to understand the reality that it's the same damned cannabis either way."
In the meantime, beginning on July 1, adults over 21 in Vermont will finally be able to legally use, possess and grow marijuana without a doctor's recommendation.