Senators File Marijuana Bill Following Trump Pledge To Respect State Legalization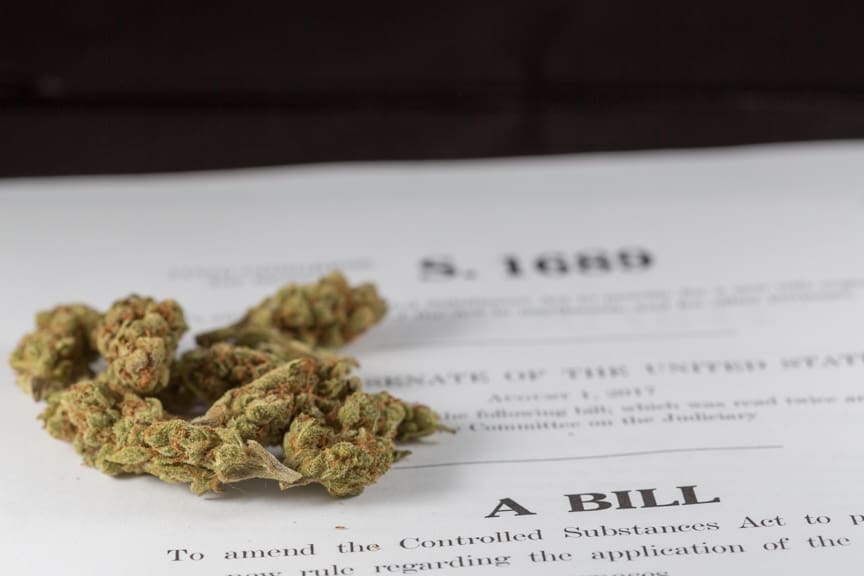 U.S. Sens. Elizabeth Warren (D-MA) and Cory Gardner (R-CO) held a press conference on Thursday to discuss a far-reaching bill they are filing to end the federal war on marijuana.
The move comes after Gardner cut a deal with President Trump to support such legislation in exchange for the senator ending a blockade on Justice Department nominees he began in protest of U.S. Attorney General Jeff Sessions's decision earlier this year to rescind Obama-era guidance generally protecting state cannabis laws.
Watch Warren and Gardner discuss their marijuana bill below:
The draft bill, details of which Marijuana Moment first reported last month, would amend the federal Controlled Substances Act to exempt state-legal marijuana activity from its provisions.
The Strengthening the Tenth Amendment Entrusting States (STATES) Act would also protect banks that work with legal cannabis businesses and legalize industrial hemp. It has seven initial cosponsors.
Details On Bipartisan Senate Marijuana Bill To Be Filed Soon
Gardner said at the press conference that he spoke to President Trump about marijuana on Thursday morning and that he remains supportive of an approach that respects state laws.
"We can't go backwards. We can only go forwards," the president said, according to Gardner.
Warren told the Boston Globe that Senate Majority Leader Mitch McConnell (R-KY) "has pledged to allow a vote on the bill."
She added that that it was Sessions's move to rescind the Obama-era guidance that spurred lawmakers to work across the aisle to find a solution to enact statutory protections for local cannabis policies.
"Outdated federal marijuana laws have perpetuated our broken criminal justice system, created barriers to research, and hindered economic development," Warren said in a press release. "States like Massachusetts have put a lot of work into implementing common sense marijuana regulations – and they have the right to enforce their own marijuana policies. The federal government needs to get out of the business of outlawing marijuana."
"In 2012, Coloradans legalized marijuana at the ballot box and the state created an apparatus to regulate the legal marijuana industry.  But because of the one-size-fits-all federal prohibition, state decisions like this put Colorado and other states at odds with the federal government," Gardner added. "The federal government is closing its eyes and plugging its ears while 46 states have acted.  The bipartisan STATES Act fixes this problem once and for all by taking a states' rights approach to the legal marijuana question. The bipartisan, commonsense bill ensures the federal government will respect the will of the voters – whether that is legalization or prohibition – and not interfere in any states' legal marijuana industry."
Our bill does not legalize marijuana. Instead, it allows the principle of federalism to prevail as the founding fathers intended and leaves the marijuana question up to the states. Learn more here: https://t.co/gRckNUKSic

— Cory Gardner (@SenCoryGardner) June 7, 2018
Companion legislation is also being filed in the House by Congressman David Joyce (R-OH) and Congressman Earl Blumenauer (D-OR), along with 14 other cosponsors.
"We should trust the people of the states, like Ohio, who have voted to implement responsible common-sense regulations and requirements for the use, production, and sale of cannabis," Joyce said in a press release. "If the people of these states have decided to provide help for those veterans and others suffering from pain and other health issues, we should allow them access without government interference."
We should trust the people of the states, like Ohio, who have voted to implement responsible common-sense regulations & requirements for the use, production, & sale of cannabis. Proud to introduce the STATES Act with Rep. Blumenauer @CoryGardner @SenWarren https://t.co/t5eKgVuQzq

— Dave Joyce (@RepDaveJoyce) June 7, 2018
"For too long the senseless prohibition of marijuana has devastated communities, disproportionately impacting poor Americans and communities of color. Not to mention, it's also wasted resources and stifled critical medical research," Blumenauer argued. "It's past time to put the power back in the hands of the people. Congress must right this wrong."
For far too long, lives & resources have been wasted because of the failed War on Drugs. Congress must right this wrong & end marijuana prohibition. Proud to have been part of this effort. https://t.co/UDKI0piZp9

— Earl Blumenauer (@repblumenauer) June 7, 2018
In a news advisory, Warren's office said the legislation will "ensure that each state has the right to determine for itself the best approach to marijuana within its borders." It also "extends these protections to Washington D.C., U.S. territories, and federally recognized tribes, and contains common-sense guardrails to ensure that states, territories, and tribes regulating marijuana do so safely."
Earlier on Thursday, Warren and Gardner discussed their cannabis bill in an appearances on MSNBC and Fox News.
.@SenWarren on her with marijuana bill @SenCoryGardner: "We want to take on solving this problem." pic.twitter.com/a3loR3Nht2

— Fox News (@FoxNews) June 7, 2018
.@SenCoryGardner on his bipartisan marijuana bill with @SenWarren: "This is allowing the states to determine for themselves what they are going to do." #DailyBriefing pic.twitter.com/e9BYwbDCHG

— Fox News (@FoxNews) June 7, 2018
By outlawing marijuana, the federal government puts communities of color, small businesses, & public health & safety at risk. My new bill with @SenCoryGardner will let states, territories, & tribes decide for themselves how to regulate marijuana – without federal interference.

— Elizabeth Warren (@SenWarren) June 7, 2018
No veteran with chronic pain, child with a rare disease, or person struggling with a terminal illness should be denied the treatment they need. Millions of Americans currently access medical marijuana under state law. My new bill with @SenCoryGardner will help protect them.

— Elizabeth Warren (@SenWarren) June 7, 2018
No qualified scientist should have to struggle to conduct basic research on marijuana. Their findings could spur medical advances or counter the opioid epidemic. I'm introducing a new bill with @SenCoryGardner that could make it easier to study marijuana's medical uses.

— Elizabeth Warren (@SenWarren) June 7, 2018
A majority of Americans support legalizing marijuana. It's time for Congress to listen, and pass this new bipartisan legislation. https://t.co/sljqUoMlCN

— Elizabeth Warren (@SenWarren) June 7, 2018
"Thanks to the leadership of Senators Gardner and Warren, the movement to end the federal government's failed policy of cannabis criminalization has truly become a bipartisan effort," Justin Strekal, political director for NORML, said in an interview. "Given that a majority of states now regulate marijuana use and six out of ten voters endorse legalizing the plant's use by adults, it is time that members of Congress take action to comport federal law with majority public opinion and the plant's rapidly changing legal and cultural status. U.S. Attorney General Jeff Sessions must be restrained from having the ability to infringe on the rights of states that have successfully implemented marijuana legalization, be it for medical or responsible adult use."
It is unclear if or when the new legislation will be voted on, but the development adds to significant momentum for cannabis reform on Capitol Hill and in states in recent weeks.
U.S. Senate Majority Leader Mitch McConnell (R-KY) filed a bill to legalize industrial hemp and fast-tracked it on the calendar, skipping the committee process, and said he intends to attach the language to the larger Farm Bill.
Minority Leader Chuck Schumer (D-NY) said he would soon introduce legislation to remove marijuana from the Controlled Substances Act and has pledged to support McConnell's hemp bill.
Activists collected enough signatures to place marijuana measures on November ballots in Michigan and Utah, and advocates in Missouri filed signatures to qualify cannabis questions as well. Oklahoma voters will consider a medical marijuana initiative this month.
See the full text of the new bill below:
Senate Marijuana Bill by tomangell on Scribd
And here's a one-pager explaining the bill's provisions:
States Act One Pager by tomangell on Scribd
Photo courtesy of Edward Kimmel.