Veterans Groups Want Marijuana And Psychedelics Access Through VA, They Tell Congress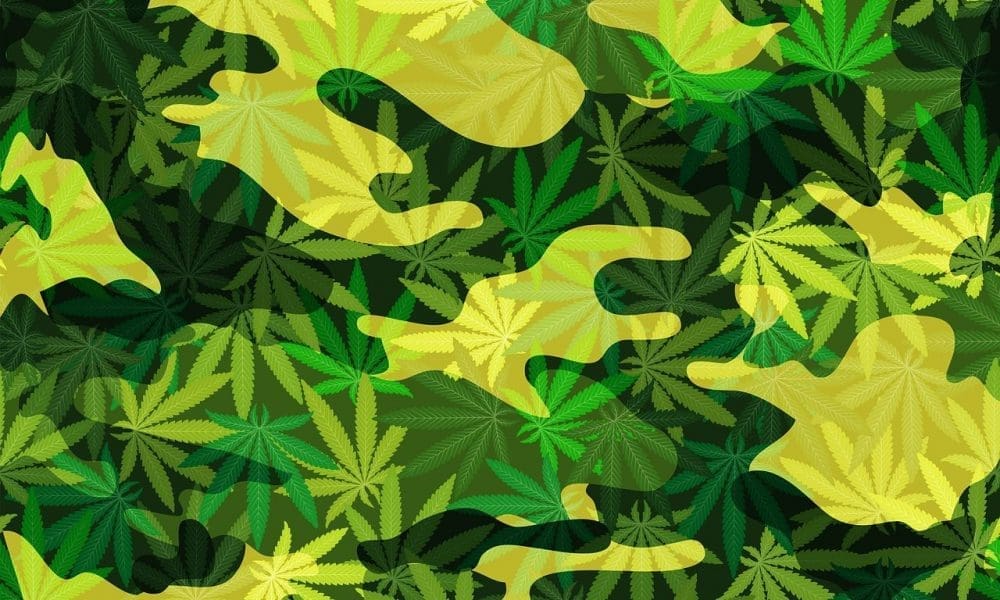 Leaders of military veterans organizations sent a clear message to congressional lawmakers this week: federal marijuana and psychedelics laws are outdated and should be reformed to give service members alternative treatment options for conditions like post-traumatic stress disorder.
During joint hearings before House and Senate Veterans Affairs Committees on Wednesday and Thursday, three veterans service organizations (VSOs) submitted written testimony backing a policy change to expand access to or increase research on medical cannabis, and one argued in favor of loosening restrictions to enable veterans to utilize psychedelics in their mental health treatment.
Cannabis's medical potential and the way that federal policy impedes research was also raised during one of the hearings by a freshman Republican member of Congress.
"The epidemic of substance use disorder and other mental health crises among veterans demonstrates the need for innovative therapies that extend beyond traditional psychopharmacological interventions," Minority Veterans of America (MVA) said in its written testimony. "As such, we believe it is necessary to include cannabis and psychedelics in the [Veterans Health Administration's] psychopharmacological repertoire."
"Research into cannabis demonstrates its effectiveness in treating PTSD and SUDs in veteran populations (although more research is needed), as well as reducing the use of opioids and opioid-related deaths," the group continued. "Additionally, research into psychedelics has demonstrated its efficacy to treat both substance use disorders and for post-traumatic stress disorder."
MVA said that while the Department of Veterans Affairs (VA) is allowing ketamine-based therapy for severe depression on a case-by-case basis, studies have demonstrated that other psychedelics have shown promise in the treatment of conditions that commonly afflict veterans and lawmakers should "consider allowing psychedelics and cannabis to be included in the psychopharmacological repertoire."
"The epidemic of substance use disorder and other mental health crises among veterans demonstrates the need for innovative therapies that extend beyond traditional psychopharmacological interventions." https://t.co/R1A3xhed5r

— Minority Veterans of America (@MinorityVets) March 5, 2021
"Additionally, we would urge the Committees to support and remove existing governmental impediments to cannabis and psychedelic research and therapies within the Department and throughout the United States generally," the organization said.
Last year, a federal commission tasked with developing recommendations to improve mental health treatment for military veterans reached a similar conclusion about the potential usefulness of psychedelics and marijuana. The panel advised that Congress and the executive branch should promote research into the therapeutic potential of these substances.
Iraq and Afghanistan Veterans of America (IAVA), meanwhile, said in its written testimony that "medical cannabis has been growing in support among the veteran population for quite some time" and "can bring relief to millions, save taxpayers billions and create thousands of jobs for veterans nationwide."
"For years, IAVA members have sounded off in support of researching and legalizing medical cannabis use for treating the wounds of war," it said, citing member surveys on the issue. "Veterans consistently and passionately have communicated that cannabis offers effective help in tackling some of the most pressing injuries we face when returning from war."
"Across party lines, medicinal cannabis has been rapidly increasing in support," it continued. "Yet our national policies are outdated, research is lacking, and stigma persists."
#IAVA CEO @JeremyButler01 joins other VSOs asking Congress for medicinal cannabis access at VA: "medical cannabis has been growing in support…can bring relief to millions, save taxpayers billions & create thousands of jobs for veterans," https://t.co/aQHryHZZQ8 #CannabisForVets

— IAVA (@iava) March 6, 2021
The group said that it will continue advocating for research into the medical potential of marijuana, but the plant's classification as a Schedule I drug under the Controlled Substances Act and "federal bureaucratic hurdles" continue to "stymie good research" while making the scientific process "stagnant, cumbersome, and convoluted."
"While not impossible, federal research into cannabis faces many bureaucratic hurdles that hinder good research," IAVA said. "We will never get a definitive answer on the efficacy of cannabis as a treatment option while federal regulations that actively undermine solid research studies remain in place. The system is antiquated and must be adjusted to match state laws and research needs."
Meanwhile, Disabled American Veteran (DAV) said simply in its testimony that it supports "VA research into the efficacy of cannabis for treatment of service-connected veterans."
These submissions come from two out of three VSO presentations that have been scheduled by the joint committees this month, with other veterans groups set to share their views with the panels on March 18.
At Thursday's hearing, Rep. Mariannette Miller-Meeks (R-IA) said she believes marijuana's Schedule I status needs to be changed, and she asked the veterans group representatives to share their views on the issue.
David Zurfluh, the national president of of Paralyzed Veterans of America, replied that "we fully support medical marijuana research" and noted that cannabis is "heavily used for pain" by military veterans.
"It's something we should look into more," he said. "I think it could be beneficial in the long run."
The Wounded Warrior Project's Mike Linnington said that his group supports a bill that the House Veterans' Affairs Committee approved last year to require VA to conduct clinical trials on the medical potential of cannabis.
"We support H.R. 712, and certainly anything that helps veterans with symptoms of post-traumatic stress disorder [and] traumatic brain injury," he said. "We need to make every available resource to them, consistent with federal laws of course."
The House panel's chairman, Rep. Mark Takano (D-CA), said it was helpful to know that Miller-Meeks, who just joined Congress this year, supports reclassifying cannabis and increasing research into its benefits, especially as a doctor and a member from the other party.
The issue has "been gathering up bipartisan support for this research for quite some time," he said. "I'm hopeful we're going to be able to move forward with something."
After Takano's panel voted last year to approved the research expansion bill and another piece of legislation to allow VA doctors to recommend medical marijuana to their patients in states where it's legal, the proposals died without a vote on the House floor.
In January, Rep. Greg Steube (R-FL) filed a new bill to codify that VA doctors can discuss the risks and therapeutic potential of cannabis with their patients and to shield veterans from losing their government benefits over marijuana use. It has not yet been scheduled for any hearings or votes.
The testimony from the veterans groups this week largely aligns with previous hearings before the joint House and Senate panels.
Going back to 2018, for example, leaders of veterans service groups called on Congress to require VA to do more to provide access to and conduct research on medical cannabis. But the psychedelics-focused testimony from MVA this year reflects a more recent public recognition that controlled substances beyond marijuana could prove beneficial to veterans and that policies around those drugs should be revisited.
Tennessee Senators Approve Medical Marijuana Bill In Committee