Veterans Groups Battle Medical Marijuana Ban On Capitol Hill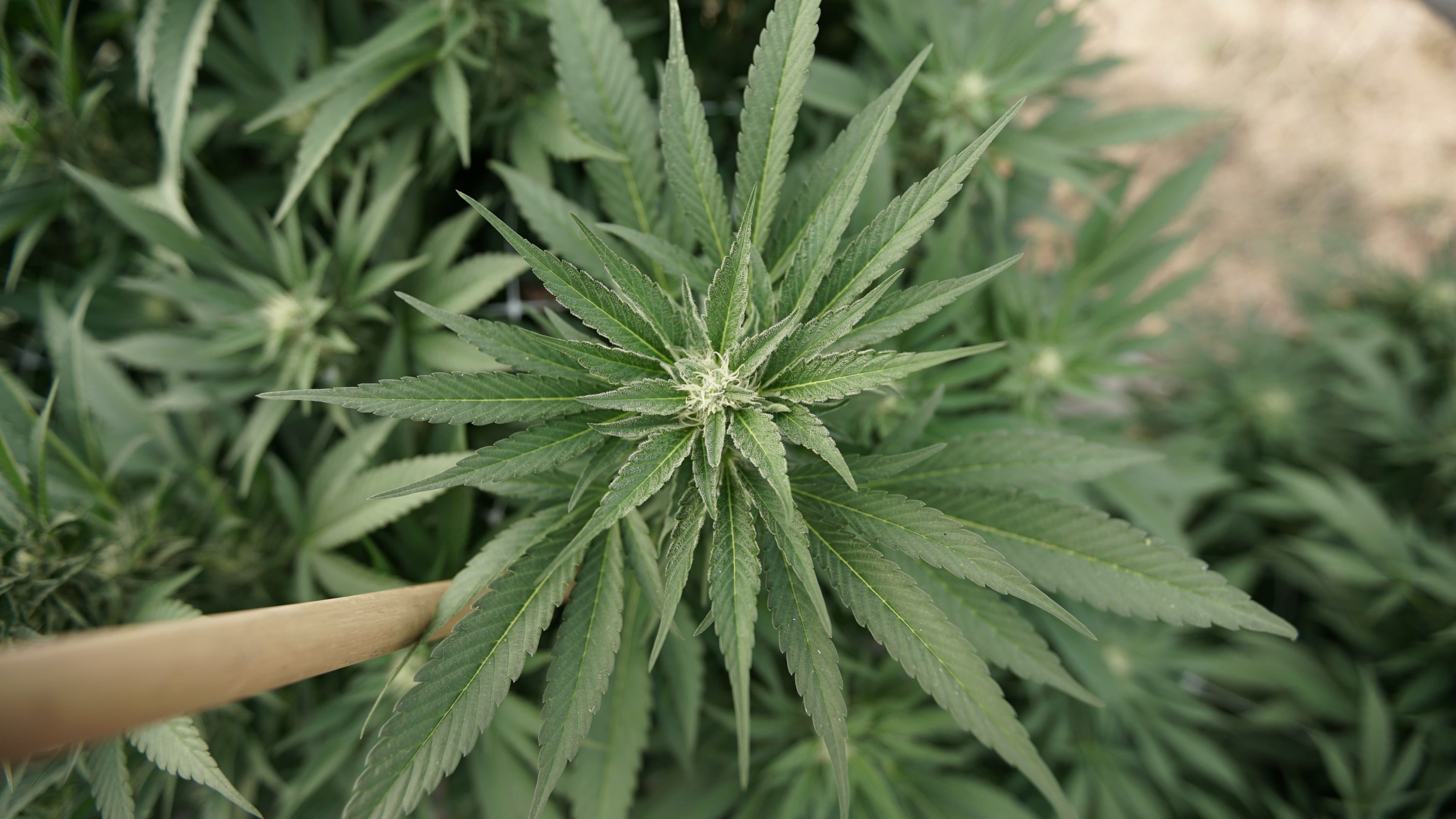 Several of the U.S.'s most prominent veterans advocacy organizations are stepping up the push for medical marijuana.
During two hearings on Capitol Hill this week, leaders of veterans service groups called on Congress to force the U.S. Department of Veterans Affairs (VA) to do more to provide access to and conduct research on medical cannabis.
"This is the year that our views will be heard on cannabis," Melissa Bryant, chief policy officer for Iraq and Afghanistan Veterans of America, said in front of a joint hearing of the House and Senate Veterans' Affairs Committees on Tuesday.
"Veterans consistently and passionately have communicated that cannabis offers effective help in tackling some of the most pressing injuries we face when returning from war," she added in written testimony. "Policies are outdated, research is lacking, and stigma persists. In 2018, IAVA members will set out to change that and launch a national conversation underscoring the need for bipartisan, data-based, common-sense solutions that can bring relief to millions, save taxpayers billions and create thousands of jobs for veterans nationwide. Those solutions must include the approval of medical cannabis for every veteran in America who needs it."
Veterans of Foreign Wars is on board as well.
"VA mental health care is making a positive impact on those who use it, but there is still room for improvement," Keith Harman, the national commander in chief for VFW, said in testimony for a separate hearing before the panels on Wednesday. "The VFW urges Congress and VA to conduct a federally-funded study with veteran participants for medical cannabis. This study should have a focus on participants who have PTSD, but should most definitely include veteran participants who are VA patients for chronic pain and oncology."
The American Legion the nation's largest military veterans advocacy group, prominently included a call for medical marijuana reform at the VA in an appearance before the committees last month.
American Legion Pushes Congress On Medical Marijuana At Hearing
"The federal government continues to list cannabis as a Schedule I drug – the most addictive and dangerous – although its addiction rates are lower than alcohol, and the less-restrictive Schedule II classification applies to opioids, which kill 91 Americans every day," American Legion National Commander Denise H. Rohan said. "By continuing to consider accumulating evidence of the efficacy of cannabis-based medicines, the federal schedule fails patients fighting debilitating conditions, including PTSD and potentially lethal opioid addiction."
Lawmakers also spoke up in support of increased access to cannabis this week.
"A lot of [veterans] have recently been telling me that they don't want opioids," Congressman Lou Correa (D-CA) said during the Wednesday hearing. "They don't want those drugs in their bodies, and they prefer medical cannabis."
While Veterans Affairs Sec. David Shulkin has consistently maintained that the VA is barred by federal law from recommending medical cannabis or even participating in research on the drug, the department quietly updated its website last month to acknowledge that it "can look at marijuana as an option for treating Veterans."
Advocates have pointed out that there is no overarching federal law blocking the VA from changing its own internal policies on marijuana.
In her written testimony for this week's hearing, Iraq and Afghanistan Veterans of America's Bryant slammed VA for not letting veterans access medical cannabis recommendations from the doctors who know them best. The group also supports the continuance of far-reaching protections that prevent the Justice Department from interfering with the implementation of state medical marijuana laws:
"However, despite strong support from across all geographies, generations and political backgrounds of veterans, progress on this issue with the VA has been slow and incremental–and lags behind the needs of veterans and the changing reality of state-level laws. In late 2017, the Veterans Health Administration issued a policy change which urged patients to discuss medical marijuana use with their doctors. The shift allows doctors and patients to determine what, if any, effect cannabis use might have on treatment plans. This policy change alleviates previous concern that admitting to cannabis use could jeopardize VA benefits, a policy recommendation noted in IAVA's Policy Agenda. But VA physicians still cannot refer patients to legally sanctioned state medical cannabis programs because of the federal prohibition. Moreover, patients are not allowed to have any cannabis on VA property, even if it is medically prescribed to them and the state they are living in allows it. And VA employees are still barred from using any form of cannabis, including medical cannabis, while roughly one-third of VA employees are veterans and may want access to cannabis as a treatment option.
"Further, in opposition to strong and rising popular opinion across the veterans community, the VA Secretary announced in early 2018 that the VA will not conduct research into whether medical cannabis could help veterans suffering from PTSD and chronic pain. This is despite protest from many in the VSO community who posit medical cannabis could serve as an alternative to opioids and antidepressants…
"IAVA will join select VSO partners in 2018 to amplify the voices of our collective members and urge Congress and the VA to pass and implement common sense legislation and policy sanctioning the use of medical cannabis by veterans. We will push to close the loopholes in VA policy which inhibit the discussion of cannabis usage between veterans and VA clinicians; current VA medical cannabis policy should be updated to allow for VA clinicians to provide recommendations and opinions to patients regarding medical cannabis programs. We urge the VA to conduct research into the use of medical cannabis as a treatment option for chronic pain and mental health injuries. IAVA also calls on Congress to pass legislation to reclassify marijuana as a Schedule III drug from a Schedule I drug. Finally, IAVA calls for support to Senate FY 2018 Commerce/Justice/Science Appropriations (S. 1662/Sect. 538) language that prohibits the Department of Justice from preventing implementation of state cannabis access laws, including for medical purposes."
Written testimony from VFW's Harman also detailed the benefits of cannabis and called for more research:
"In the past several years PTSD and TBI have been thrust into the forefront of the medical community and general public in large part due to suicides and overmedication of veterans. Medical cannabis is currently legal in 30 states and the District of Columbia. Many of these states have conducted research for mental health, chronic pain and oncology at the state level. States that have legalized medical cannabis have also seen a 15-35 percent decrease in opioid overdose and abuse. There is currently substantial evidence from a comprehensive study by the National Academy of Sciences and the National Academic Press which concludes cannabinoids are effective for treating chronic pain, chemotherapy-induced nausea and vomiting, sleep disturbances related to obstructive sleep apnea, multiple sclerosis spasticity symptoms, and fibromyalgia –– all of which are prevalent in the veteran population.
"In April 2016, the Drug Enforcement Administration approved a study on the effect of medical marijuana on PTSD, which was intended to be the first federally funded, randomized and controlled research for PTSD in the United States. That study has not gone as planned for multiple reasons, however, such as restrictions placed on possible study participants and unusable marijuana shipments from the only federally-approved grower in the United States."
The House and Senate have both passed amendments in recent years to allow VA doctors to issue medical cannabis recommendations to veterans in states where it is legal, but the measures have not been enacted into law.
Photo courtesy of Chris Wallis // Side Pocket Images.
Senators Cite Marijuana Arrests Of U.S. Citizens In Border Patrol Oversight Request
Three senators requested a review of Border Patrol immigration checkpoint actions on Tuesday, citing a past report that found a significant number of searches and seizures were executed against U.S. citizens for low-level marijuana possession.
The request to the Government Accountability Office (GAO) outlines a number of data points concerning checkpoint enforcement that the senators say are necessary to collect in order to assess compliance with the Fourth Amendment. That includes information on rationale for checkpoint stops, data collection and protocol for searches.
"In 2017, the GAO published a report that looked at, among other things, the Border Patrol strategy of placing and utilizing immigration checkpoints generally between 25 and 100 miles from the border," Sen. Patrick Leahy (D-VT) wrote in a letter to Comptroller General Gene Dodaro. "As a result of this review, the GAO found that 40 percent of checkpoint seizures were from U.S. citizens for one ounce or less of marijuana."
Though the letter—which was also signed by Sens. Patty Murray (D-WA) and Gary Peters (D-MI)—didn't specifically request information on marijuana seizures, it did inquire about the number of U.S. citizens apprehended and the reason for their arrests. It also asks, "How frequently does the agency analyze trends in drug seizures and apprehensions to evaluate its priorities at each checkpoint?"
"Comprehensive data on who receives additional screening at checkpoints, and the reasonable suspicion that undergirds these encounters, searches, and seizures, is fundamental to understanding if and how Border Patrol abides by constitutional limits," the letter states.
Leahy and Murray also called for the collection of data on "the quantities of drugs detected" during canine checkpoint searches in legislation the pair reintroduced last month.
"Unless a government agent has a legitimate reason to stop and search you—a reasonable suspicion or probable cause—Americans should not be subject to questioning and detention for merely going about their daily lives," Leahy said in a press release. "The Trump administration cannot be trusted to use its finite resources in a way that protects our civil liberties and reflects our values."
It's not clear if cannabis seizures for U.S. citizens remain prominent at immigration checkpoints since the 2017 report was released, but one thing that the Customs and Border Protection has made clear is that it doesn't matter if a stop takes place in a state that's legalized marijuana—it enforces federal law.
That applies to instances of illicit drug trafficking across the border, too. But as more states like California have legalized cannabis, border agents have seized less and less marijuana.
GOP Congressman Will Meet Attorney General To Discuss Expanding Marijuana Research
Congressman Tells Joe Rogan He Backs States' Marijuana Rights But Actually Voted Against Them
Joe Rogan debated the merits of marijuana legalization on Tuesday with a Republican congressman who ultimately conceded that medical cannabis should be federally legal and states should be empowered to set their own legalization policies.
But neither Rogan nor Rep. Dan Crenshaw (R-TX) mentioned the fact that he recently voted against a House amendment to shield state marijuana laws from federal interference and has not added his name as a cosponsor of several pending medical cannabis bills.
The congressman, a former Navy SEAL, didn't rule out the possibility of coming around to endorsing adult-use legalization but voiced several concerns about the prospect, including underage usage, the lack of technology to detect impaired driving and reduced productivity.
"I can be convinced, but I'm not there yet," he said on The Joe Rogan Experience podcast. "I'm definitely more open to just the federal legalization of medical marijuana and all the benefits that come with that. On the recreational side, I'm happy to leave that up to the states."
"My issue with recreational marijuana still—and this is not a strong opinion I have, this is not a hill I'm dying on by any means—but if we're going to change it, I want to understand what the point is, what the benefits are of it recreationally," he said. "I understand the benefits medically very well, but I want to understand the recreational benefits and I want to see how this data plays out in places like California and Colorado."
Rogan emphasized that alcohol is federally legal despite risks to young people, but Crenshaw, an avowed scotch fan, said his "counter is simply this: the alcohol issue is out of the bag" and that we're "never going to put that back in."
"My point is this: there's a normalization that occurs when you legalize something," the congressman said. "What you've done though is you normalized it for teenagers. There's a lot of people who can just live their lives extremely productively and smoke pot a lot. And there's a lot of people who can't and there's a lot of people who don't."
"Those people are lazy bitches," Rogan said.
"Don't you have to drink way more scotch to get even close to the basic cognitive incoherence that you'd be with just one bite of a brownie?" Crenshaw asked.
"You would, but not me," Rogan said. "I smoke pot all the time. I could have smoked pot before this podcast and had the exact same podcast. I could have had several hits. If I gave you several hits, you'd be obliterated."
"On a personal level, I'm just not opposed to what you're saying at all," Crenshaw said. "From a policy level though I just look at things different."
That stance is reflected in the freshman congressman's record. Despite voicing support for medical cannabis and leaving recreational legalization up to the states, he's declined to cosponsor any legislation on the former issue and proactively voted against an amendment to protect states that legalize marijuana for adult use from federal intervention.
(On another drug policy issue near and dear to Rogan that didn't arise during the interview, Crenshaw also voted against an amendment from Rep. Alexandria Ocasio-Cortez (D-NY) that would have removed barriers to research on the benefits like psilocybin and MDMA.)
Crenshaw said his perspective wasn't formed out of naivety and that he tried marijuana and didn't like it. He also argued that cannabis "does reduce productivity I think more than alcohol does."
"As a policymaker, I have to look at the whole situations. I see people like you and you're like you'd be fine, why not?" he said. "But I do have to take into account the entirety of the situation and ask myself, 'well, what is the benefit to society doing this?'"
Rogan said that marijuana facilitates community bonding and makes people happier—to which Crenshaw responded "I don't know, I think alcohol is much more of a social lubricant—it definitely makes you meaner too—but I mean as far as getting along with people and interacting with human beings."
"I'm not dying on this hill. I have questions, and those questions are unanswered," he said, adding that the "bottom line is that's a state decision" to legalize recreationally.
"As far as the battles that we should fight at the federal level, we've got to start with the medical side. I think the science is clear there," he said.
"Another reason I'm a Republican is because I believe in somewhat slower policymaking too. These conversations have to play out in society and we don't always need to solve the problem right away. I think the medical conversation is the one we should be fighting for. I think the recreational side is a few steps beyond that. We'll get to know and we'll know more."
Later in the podcast, Crenshaw defended the broader war on drugs and argued that "you might feel like you're losing all the time, but you're mitigating" drug use through prohibition enforcement.
GOP Congressman Will Meet Attorney General To Discuss Expanding Marijuana Research
Photo courtesy of YouTube/Joe Rogan Experience.
New York And Connecticut Governors Talk Marijuana Legalization On Fishing Trip
The governors of New York and Connecticut went fishing and talked about marijuana legalization on Tuesday.
The conversation comes after lawmakers in both states were unable to pass legalization legislation before their respective sessions' ends this year, despite having the support of New York Gov. Andrew Cuomo (D) and Connecticut Gov. Ned Lamont (D).
"We talked about policy issues like the marijuana issue, which is obviously also relevant to contiguous states," Cuomo said at a press conference following the fishing trip. "What Connecticut does on marijuana is relevant to New York, what New York does is relevant to Connecticut so we talked about that and a lot of issues. So we had fun."
Watch Cuomo's marijuana comments at about 5:00 into the video below:
Cuomo had described legalization as a top legislative priority for 2019 and included it in his state budget proposal. But after months of negotiations with lawmakers, the plan fell through, due in part to disagreements about how to allocate tax revenue and whether to allow individual jurisdictions to opt out of allowing cannabis businesses.
The governor did sign legislation in July that expands the state's marijuana decriminalization policy and provides a pathway for expungements of past marijuana convictions.
Over in Connecticut, Lamont campaigned on legalization during his election bid last year and described it as one of his administration's "priorities" after he took office. But as with neighboring New York, the legislature failed to advance a legalization bill beside multiple successful committee votes and hearings throughout the year.
The specifics of what the governors talked about during their fishing expedition on Lake Ontario aren't clear, but both are presumably gearing up for another round of legislative efforts marijuana over the coming year and could take lessons from each other as reform talks continue.
Another East Coast state, New Jersey, has also struggled to move legalization legislation forward, with lawmakers saying that the issue should be taken up by voters in 2020 rather than pushed through the legislature, though there has been discussion lately about another try at moving a bill before year's end. Gov. Phil Murphy (D) did sign a decriminalization and expungements bill in May, however.
Federal Data Shows Youth Marijuana Use Isn't Increasing Under Legalization
Photo courtesy of CBS 6.