Trade Associations And Civil Rights Groups Send Mixed Messages On Marijuana Banking To Senate
A coalition of trade associations sent a letter to Senate Banking Committee leadership on Thursday, urging a vote on legislation to protect financial institutions that service state-legal marijuana businesses.
But those senators are also feeling pressure from leading civil rights groups like the ACLU and Human Rights Watch, which sent an earlier letter insisting that they not allow cannabis banking to detract from more comprehensive reform that addresses social equity.
The organizations involved in the latest letter—including the American Bankers Association and Credit Union National Association—said that advancing the Secure and Fair Enforcement (SAFE) Banking Act or similar legislation is pivotal to ensuring that stakeholders receive needed clarity and are shielded from being penalized by federal regulators.
The letter, addressed to Banking Chair Mike Crapo (R-ID) and Ranking Member Sherrod Brown (D-OH), emphasized the bipartisan nature of the House passage of the bill in September and the growing movement at the state level to legalize cannabis for medical or recreational purposes.
"Our organizations support an initial legislative step that allows the legal cannabis industry into the banking system," the groups, which also include the Council of Insurance Agents and Brokers, International Council of Shopping Centers and National Association of REALTORS, wrote. "Ultimately, protecting law-abiding financial institutions and ancillary businesses from their currently untenable position and addressing increasing public safety concerns."
As more states reform their marijuana laws, however, "distribution, sale, possession, research, transaction, housing, employment, and a broader landscape of cannabis is becoming increasingly problematic" for stakeholders under federal prohibition.
"Ultimately, this creates more legal and security concerns that impact the operations and safety of businesses and consumers," they said. "Finally, the lack of an available safe harbor for cannabis will continue to challenge the full adoption and deployment of the legal hemp and CBD products market in the U.S. due to the inextricable link between hemp and cannabis."
"To resolve this, we urge the Committee to vote on the SAFE Banking Act or similar measures. Such measures are meant to create a safe harbor for depository institutions that provide a financial product or service to businesses in a state permitting the use of cannabis. A safe harbor will enable law enforcement and states to effectively monitor and regulate businesses while simultaneously bringing billions into the regulated banking sector."
12 groups including ABA just wrote @MikeCrapo @SenSherrodBrown @senatemajldr @SenSchumer urging a vote on the #SAFEBanking Act. It's time to end the legal limbo over banking cannabis in the growing number of states where it's legal. Read the letter: https://t.co/1529vIHawq

— American Bankers Association (@ABABankers) December 12, 2019
The letter, also signed by Americans for Prosperity and R Street, recognizes that creating a federal regulatory scheme for marijuana will take time but says that the SAFE Banking Act represents "a critical first step to ensure that legal cannabis marketplaces are safe, legal, and transparent."
Crapo has said that he's interested in holding a vote on resolving the cannabis banking issue in his panel before the year's end, but so far nothing has been scheduled. The chairman told Marijuana Moment in earlier interviews that there are several changes to the House-passed bill that he'd like to see but that he's worried impeachment proceedings against the president will interfere with plans to hold a vote.
All that said, pressure from civil rights advocacy groups could complicate congressional efforts to get the banking bill approved. In October, several organizations including the ACLU, Drug Policy Alliance, Human Rights Watch and Center for American Progress sent a letter to Senate leadership, as well as Crapo and Brown, demanding that "marijuana legislation considered in the Senate include provisions that will guarantee equity in the industry."
The letter, which doesn't appear to have been previously reported and was obtained by Marijuana Moment, states that while the coalition agrees the SAFE Banking Act "is an incremental step toward rolling back the federal prohibition of marijuana, it fails to help communities that have been historically and disproportionately devastated by United States' punitive drug laws."
"As the Senate Committee on Banking, Housing, and Urban Affairs considers similar legislation, we insist that the legislation include provisions that ensure equity in the marijuana industry by creating opportunities for individuals who have been prohibited from this growing business either by legal or financial means," the letter, which was also signed by the Immigrant Legal Resource Center, Leadership Conference on Civil and Human Rights and National Association of Social Workers, states.
"Indeed, this Congress has shown it understands the economic impact of legalization. But while progress on the business side of legalization is promising, it is not sufficient. Federal marijuana legislation must be comprehensive and lead with equity, addressing past and current harms to communities of color and low-income communities who bore the brunt of the failed war on drugs. We demand that any marijuana reform or legalization bill considered by the Senate] include robust provisions addressing equity. More than simply adding equity provisions to bills that address industry concerns, we need comprehensive reform that deschedules marijuana and addresses the inequities and harms continually inflicted by the failed war on drugs."
In other words, the groups are insisting on broad reform prior to a vote on a bill viewed as largely beneficial to the cannabis industry—similar to a request they made of House members prior to the legislation's passage in the chamber.
Read the marijuana banking letters from the trade associations and civil rights groups below:
Industry SAFE Senate Bankin… by Marijuana Moment on Scribd
Senate Leadership Letter Re… by Marijuana Moment on Scribd
Senators Demand Update From DEA On Marijuana Growing Applications
USDA Touts Hemp Industry's Growth But Says Challenges Remain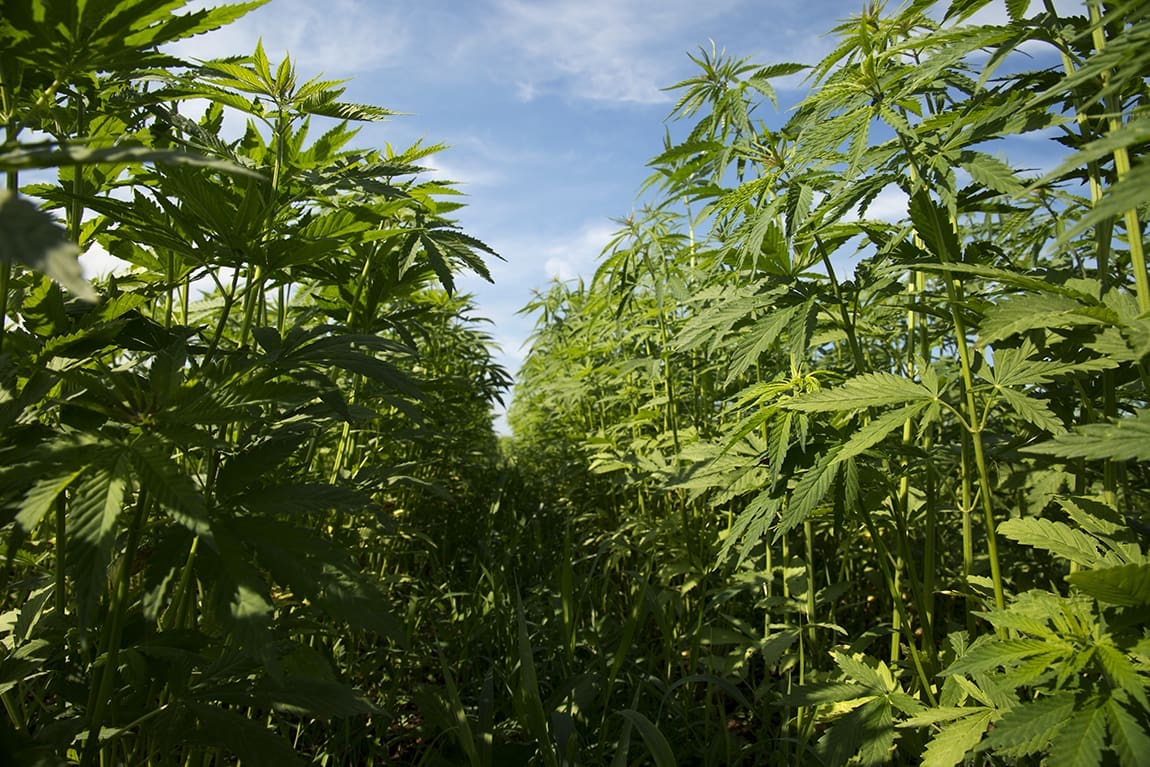 Hemp production in the U.S. has scaled up rapidly since lawmakers lifted federal prohibition of the crop, with more acres of hemp grown in the country today than at any point since the 1940s. But the fledgling industry is still very much in flux, and reporting practices that vary wildly from state to state have hampered efforts to fully understand it.
Those are the top-level takeaways of a report released Wednesday by the U.S. Department of Agriculture (USDA) that explores the economic viability of the American hemp industry as the country transitions to a legal era.
After decades of prohibition due to hemp's close relationship to its high-THC cannabis cousin marijuana, Congress in 2014 approved state-level pilot programs, allowing growers in certain states to produce and sell hemp as part of limited research initiatives. In 2018, lawmakers went further, ending federal hemp prohibition entirely. Since then, the sector has exploded.
"Under the pilot programs, United States industrial hemp acreage reported by States increased from zero in 2013 to over 90,000 acres in 2018, the largest U.S. hemp acreage since the 146,200 acres planted in 1943," the USDA study found. "By December 2019, hemp could be grown legally in every State except Idaho, Mississippi, and South Dakota."
As of last year, more than 146,065 acres of planted hemp were reported to the agency.
US industrial #hemp acreage reported by State pilot programs increased from zero in 2013 to over 90,000 acres in 2018. https://t.co/Uukn12YX4W pic.twitter.com/993VONvSu4

— Economic Research Service (@USDA_ERS) February 19, 2020
The 83-page report, "Economic Viability of Industrial Hemp in the United States: A Review of State Pilot Programs," attempts to draw conclusions about the legal, logistical and economic challenges that might arise as US farmers return to a crop that hasn't been grown in the country for generations.
One of the biggest obstacles, the study shows, is keeping everyone on the same page.
"There is no systematic comprehensive data source regarding the emerging United States hemp industry or requirement to report a consistent set of data for the pilot programs," noted the authors, who said they drew on annual reports, website information, internal USDA data, unstructured discussions with state agencies and other third-party information to compile the document.
"States collected data at various times and levels of aggregation," the study says. "For example, some States report hemp data by intended end use (i.e., grain, fiber, cannabidiol (CBD) or other extracts) while others do not report data."
Inconsistency between state requirements was one of the main obstacles highlighted by the report. USDA found that state-level hemp programs ran into a handful of common problems, starting with the difficulty of passing state-level legislation to regulate the new programs. Other problems arose in obtaining "critical production inputs," such as seeds and insecticides, or in trying to easily distinguish industrial hemp from high-THC marijuana, which remains federally illegal.
A fundamental problem, the USDA report found, was "lack of basic data and information for decision-making"—something that should come as no surprise to anyone who's watched a legislative hearing on cannabis.
Getting stakeholders involved early seemed to help smooth some wrinkles, the study found. In some states, authors wrote, "hemp legislation failed repeatedly, typically because of law enforcement concerns or lack of public support."
"Colorado and Kentucky are two examples of States that included law enforcement stakeholders early when establishing their pilot programs," the report notes. "This allowed an early basis for dialogue and shared knowledge."
Data from state pilot programs also led analysts to conclude that while industrial hemp is a burgeoning industry in the U.S., it likely won't emerge as a strong economic player in every state.
"As with other crops, it is not likely that hemp will be economically viable in every State," the study concludes. "States that moved quickly to establish pilot programs were not leading producers of competing major field crops," it found, and "growers are not likely to plant or process hemp if more profitable options exist.
Hemp-producing states could also run into competition internationally, the report says, acknowledging that the U.S. is one of many hemp-producing regions globally. "While the reintroduction of hemp production in the United States is relatively recent," it says, "hemp production has already been legal in other parts of the world," including Canada, Europe and China.
Under a recent trade deal with the U.S., China agreed to import more American-grown hemp and other agricultural products over the next two years.
For now, the rising tide of interest in hemp-derived CBD appears to be lifting all boats. "Global production was small and relatively stable until the recent worldwide interest in CBD oil," the USDA study found. "There is some demand for hemp as a sustainable natural fiber, hemp seeds and protein as a food ingredient, and hemp extracts for cosmetics and food, but CBD oil has been the primary source of demand growth."
Earlier this month, USDA officials said they won't be able to comply with a request by farmers and some state lawmakers to increase the federal THC limit on industrial hemp, which is currently defined as cannabis that contains no more than 0.3 percent THC. Advocates had asked for that limit to be increased to 1 percent, but the agency said that's a job for Congress.
They did, however, say that a new public comment period will be opened before hemp rules are finalized.
Photo courtesy of Brendan Cleak.
Businesses Are More Profitable And Innovative In States With Legal Marijuana, Study Finds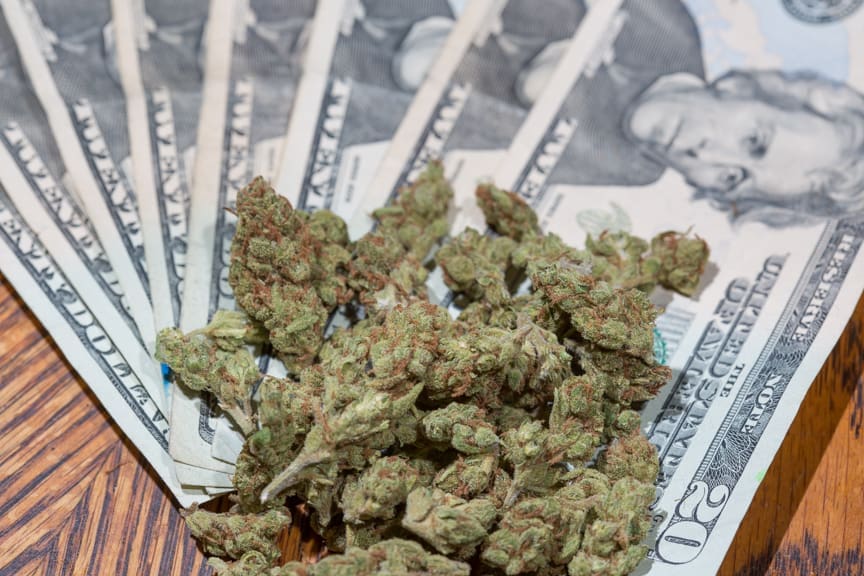 States have been experimenting with various forms of marijuana legalization for years and, according to new research, business is better where cannabis is legal.
To investigate the impact legalization has on the economy, researchers at the University of Iowa analyzed 9,810 corporations between 1991 and 2017, finding "a multitude of positive effects" after a state enacts medical marijuana laws.
"Firms headquartered in marijuana-legalizing states receive higher market valuations, earn higher abnormal stock returns, improve employee productivity, and increase innovation," the authors said.
The study, which was reviewed by Marijuana Moment but has yet to be published, found that having cannabis laws on the books can unleash the previously untapped potential of employees and helps companies attract new talent.
Corporations "become more productive and hire more productive human capital from out of state after the passage of the law," the authors wrote.
They also report that "firms earn higher net income per employee" after a medical cannabis law is passed, and "the positive impact is sustained over the next two years."
Additionally, the study found a 4.2 percent increase in company value, which translates into an average increase of the market-value of corporations by $166 million after a medical marijuana law is enacted.
"Firms experience an increase in profitability likely due to the positive shock to the human capital post-legalization," the study finds.
"State-level medical marijuana laws have a considerable positive impact on firms in the state, likely by having a positive impact on the human capital of firms."
Higher profits and more productivity aren't the only benefits a company sees after marijuana is legalized. When it comes to stock prices, companies located in states with medical cannabis fare better than those in jurisdictions where the plant is prohibited.
Additionally, the stock value of corporations in medical marijuana states increased by 4.56 percent. An "equal-weighted portfolio" composed of similar stocks located in states without a medical marijuana program showed a loss of about two percent annually.
Returns on stocks were also 4.44 percent higher per year for companies in states that have legalized.
What's the source of such financial benefits? The authors suggested that companies will ramp up innovation after marijuana laws are passed, making the company more profitable over time, compared to their counterparts in areas that don't permit cannabis at all.
"Our results imply that after marijuana legalization, firms not only apply for more patents and receive more citations on those patents, but also are more productive and efficient in generation innovation output from labor and [research and development] input," the study determined.
"We also find an increase in both entrepreneurial activity and venture capital funding in states that legalize marijuana."
Finally, the study measures the "innovation productivity" of those working, living and moving to the state, following the passage of a medical marijuana law.
"The inventors that are in the state both before and after legalization become more creative" post-legalization, the authors found.
And when it comes to attracting new talent from other states, "more inventors relocate to states after medical marijuana legalization than before passage of the law."
The benefit is two-fold for such corporations. In addition to being "able to attract more productive inventors" in states with medical marijuana "relative to states that do not legalize," existing employees also see an uptick in innovation after a cannabis law is passed, the study concluded.
House Lawmakers Caution Key Senate Chairman Not To Overhaul Marijuana Banking Bill
Company Gets Trademark For The Word 'Psilocybin,' Frustrating Decriminalization Advocates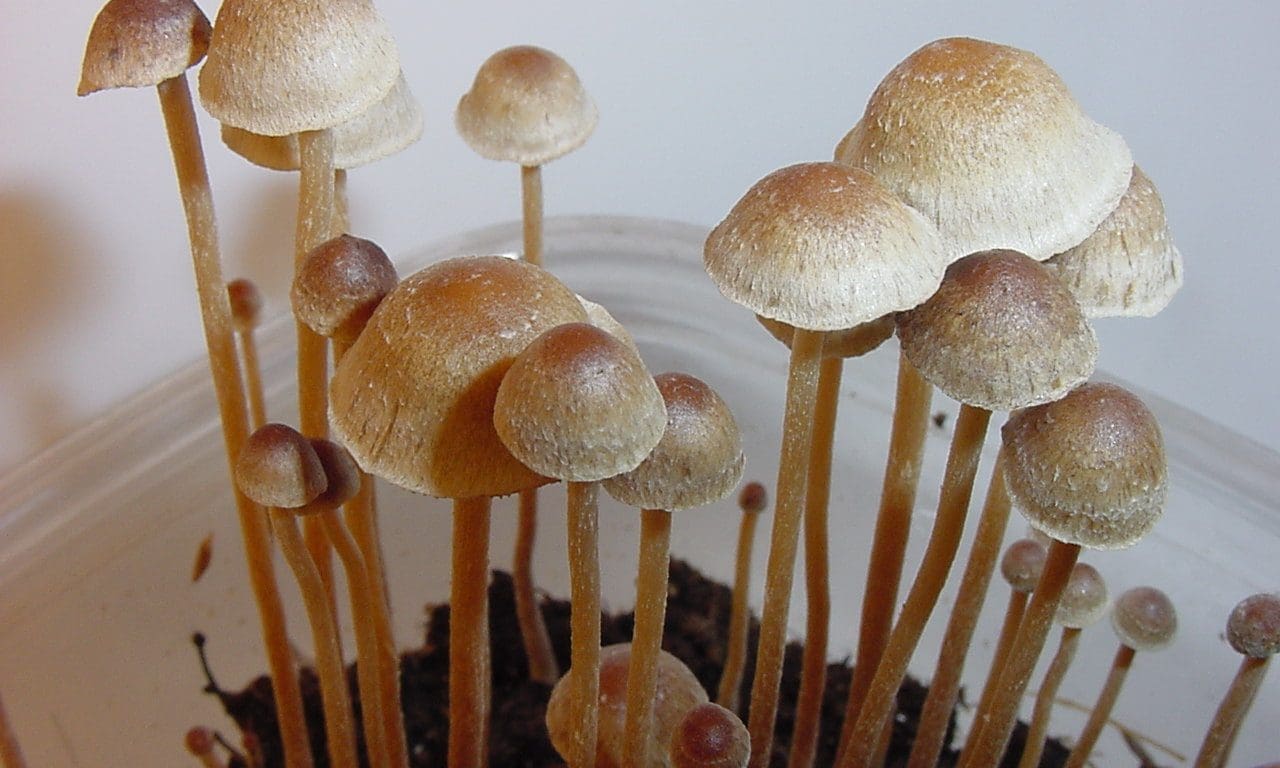 As psychedelics reform efforts pick up across the U.S., there's an increasing weariness among advocates about the potential corporatization that may follow.
That's why many found it alarming when a California-based company announced on Thursday that it had successfully trademarked the word "psilocybin," the main psychoactive constituent of so-called magic mushrooms.
Psilocybin™ is a brand of chocolates that do not contain the psychedelic itself but are meant to "begin educating, enlightening and supporting the community in upgrading their inner vibrations in order to get everything they want of their time here on earth," according to a mission statement.
Soon after founder Scarlet Ravin shared news of the trademark on LinkedIn, advocates raised questions and concerns: What does that mean on a practical level for other psilocybin organizations? Why should one brand get exclusive rights (to a certain legal extent) to the scientific name of a natural substance?
The reality of this particular trademark is more nuanced than it might appear at first glance. While it's true that the company was granted the distinction by the U.S. Patent and Trademark Office, it's specifically for educational materials and it's listed on the supplemental register, rather than the principal register, which means it would be incumbent upon the brand to prove that it has earned distinctiveness of the mark if the issue went to court.
"It's certainly good for her business to have that mark, but I think at the end of the day, it's going to be somewhat weak," Larry Sandell, an intellectual property attorney at Mei & Mark LLP, told Marijuana Moment. He added that this example is "indicative that people are trying to stake early claims to IP."
"Even if they might be somewhat overreaching, people see a potential new market here and they want to stake out their ground," he said. "It's a big next space that people are anticipating a legal market. Maybe it's where cannabis was five to 10 years ago."
Despite those legal limitations, reform advocates view the trademark as emblematic of a bigger issue—that someone would presume to take ownership of a substance that's at the center of a national debate on whether or not to criminalize individuals for using it.
Kevin Matthews, who led the successful campaign to decriminalize psilocybin mushrooms in Denver last year and is the founder of the national psychedelics advocacy group SPORE, told Marijuana Moment that he didn't doubt Ravin had the right intentions—to promote education into the substance—but he said the decision to trademark is nonetheless questionable.
"This being an open-source movement, trademarking the word psilocybin, in some ways it feels like—although I don't think this is her intention—it's lacking perspective," he said. "Does that mean we can't use psilocybin as SPORE because we're an educational non-profit and she's a for-profit branded company? It doesn't make a lot of sense to me. She needs to let go of the trademark."
Ravin said that her goal in trademarking psilocybin was to prevent the substance from being becoming the next cannabis, which she said has been corrupted from its "true spiritual, medicinal benefit" and turned into a corporate commodity.
"Knowing that psilocybin is going to be next [to be legalized] I feel strongly guided by the deepest part of my heart to really offer a sense of education of what could be when you take such a strong, beautiful medicine and to give people an education platform here and now to let them know what's coming, how to receive it, how to get the most benefit from," she told Marijuana Moment in a phone interview.
"We paved the way for this being a medicinal offering and not a consumer, recreational shitshow. That was our intention," Ravin said. "The only way that we are going to have access to mainstream consumers is by having some sort of trademark on the word so that we can use it for something that's not what it actually is."
"With this being something that we can now put into market with a box of chocolates that has no psilocybin in it, but as you can already see, it creates a platform for discussion of what the beauty of this plant can do," she said. "Me and my movement and my team, we don't own the word. We're not going to ever sue anyone who also uses the word—we're opening a doorway for ourselves and anyone that wants to see this educated upon so that we can hit people who are unfamiliar with it now with downloads to actually have this be a safe, successful psychedelic transition."
Asked to react to criticism about the trademark from advocates, Ravin said "we're all here to follow spirit guidance to show love and light, and the visions I had of doing what we're doing now was based upon breaking boundaries and breaking perceptions and allowing people to have an opportunity to sink into being one unit."
"Yeah, it might be coming out, we might be using the platform of psilocybin. We can use any platform to do this," she said. "We can use any platform to come together as a whole, and the longer that people sit in duality and say, 'oh now she's going to have a stronger voice than me is just looking at something not through their heart,' it's looking at it through ego and judgement."
"The more that we describe what we're doing, the more people I think will start to feel our unity and we'll be able to move together as a stronger force than pointing fingers and trying to separate one another," she said. "Those days are done."
Ravin said that once the Psilocybin™ chocolates are ready for market, she plans to contribute 10 percent of profits to the Multidisciplinary Association for Psychedelic Studies (MAPS), which is involved in researching therapeutic benefits of psychedelic substances.
Congressman Backs Ballot Measure To Legalize Psychedelic Mushrooms For Therapeutic Use
Photo courtesy of Wikimedia/Workman.