Three-In-Five DC Voters Support Psychedelics Decriminalization Initiative, New Poll Finds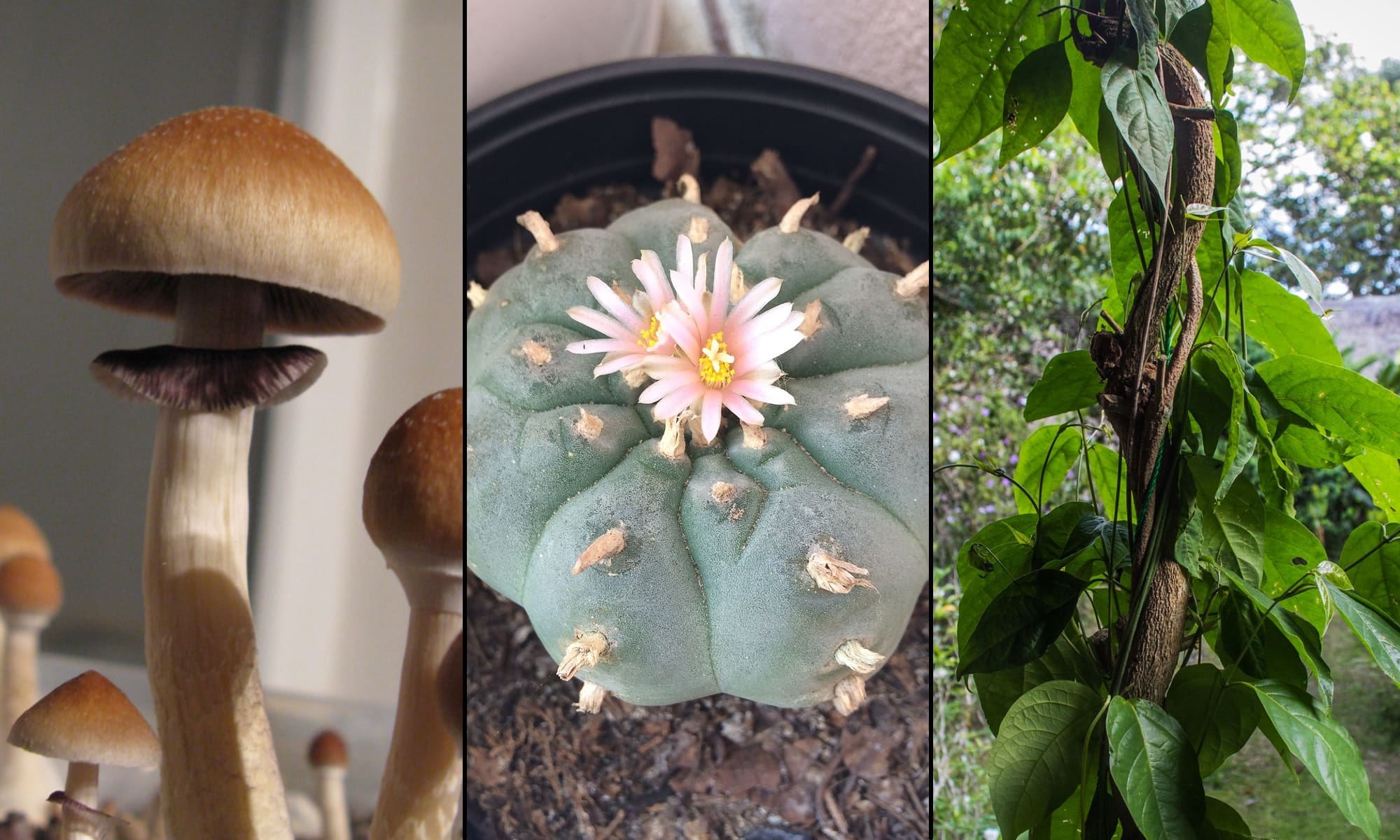 Three-in-five voters in Washington, D.C. are in favor of an initiative to decriminalize a wide range of psychedelics, a new survey shows.
Support for the measure increased significantly as more residents became informed about the proposal, rising nine percentage points since the last poll was conducted in April.
Sixty percent of survey respondents said they would vote in favor of Initiative 81, which would make entheogenic substances such as psilocybin mushrooms and ayahuasca among the lowest local law enforcement priorities in the nation's capital city. Only 24 percent said they would vote "no," with an additional 16 percent undecided.
"Today's polling shows unequivocal support for ensuring DC residents using plant and fungi medicines to overcome depression, anxiety, PTSD, and other conditions are not law enforcement targets," Melissa Lavasani, the chief petitioner of Initiative 81, said in a press release. "This polling also underpins what we learned talking to DC residents in all eight wards while collecting over 35,000 signatures to place Initiative 81 on the ballot."
"It is clear that DC residents are ready to reform outdated laws for entheogenic substances," she said. "Police priorities should reflect the growing body of research on the therapeutic benefits of entheogens rather than the failed war on drugs."
Over the last four months, awareness of the drug policy reform measure has tripled, according to FM3 Research, which conducted the poll of 620 likely D.C. voters from August 16-24.
And after residents were given more information about the proposal in the survey, support increased, with 64 percent of respondents saying they favor the initiative after hearing a "thorough, balanced exchange of pro and con arguments."
"Overall, the data show that the measure has gained impressive support in recent months, fueled by a broad grassroots organizing campaign and growing frustration with the increasingly unpopular War on Drugs that disproportionately targets Black DC residents," the firm said in their polling report.
"In sum, the survey results show a strong path to victory for Initiative 81 with continued investment in a strong campaign. District voters offer broad initial support for the measure—and growing numbers of voters have heard about the measure and its potential benefits for the district. After modeling a strong, positive campaign that depends on the negative impact the War on Drugs has had on Black District residents, more than three in five continue to say that they would vote 'yes'—underscoring the importance of broad communications with the electorate to firm up the broad initial support that voters offer."
D.C.'s Board of Elections officially announced that the psychedelics reform measure qualified for the November ballot last month.
Decriminalize Nature D.C. turned in their signatures in July following an intensive petitioning process that saw reform advocates from across the country fly in to the nation's capital to offer assistance. The campaign needed 24,835 valid signatures from registered voters to qualify the measure and they turned in about 35,000 raw submissions.
And while support appears strong among likely voters in the city, at the congressional level, the group has at least one opponent: Rep. Andy Harris (R-MD).
While not a voting resident of the District, he's made a habit of attempting to leverage Congress's control over D.C. funding to block drug policy reform. Typically that's been reserved to pushing an amendment to prevent the jurisdiction from legalizing marijuana sales, but in July, he filed a measure to undermine the psychedelics measure.
The congressman's proposal before the House Appropriations Committee would have made it so only psilocybin mushrooms would be low police priorities and only if a doctor recommended them for medical reasons. But he withdrew it rather than force a vote, and also passed up the opportunity to file the measure for consideration on the House floor.
The D.C. measure's qualification for the ballot is the latest development in an increasingly prominent psychedelics reform movement in the U.S. and beyond.
In May 2019, Denver became the first U.S. city to decriminalize psilocybin, with the approval of a local ballot measure. Soon after, officials in Oakland, California, decriminalized possession of all plant- and fungi-based psychedelics. The City Council in Santa Cruz, California, voted to make the enforcement of laws against psychedelics among the city's lowest enforcement priorities in January.
Last month, Canada's health minister granted exemptions allowing certain cancer patients to legally use psilocybin for end-of-life care.
The Canadian government will have to officially respond to a petition calling for the decriminalization of psychedelics after it recently garnered nearly 15,000 signatures—and there's legislation in the works that could make the reform happen.
Rep. Earl Blumenauer (D-OR) is formally throwing his support behind an Oregon initiative to legalize psilocybin mushrooms for therapeutic purposes and is helping to raise money for the campaign.
The Multidisciplinary Association for Psychedelic Studies announced last month that it raised $30 million in donations—including from several notable business leaders outside the drug policy realm—that will enable it to complete a study on using MDMA to treat post-traumatic stress disorder.
Meanwhile, Oregon voters will also see a separate measure on their November ballots to decriminalize drug possession and fund treatment services.
Read the poll on the DC psychedelics reform initiative below: 
DC Psychedelics Poll by Marijuana Moment
President Carter Talks About His Son Smoking Marijuana At The White House With Willie Nelson
Photo elements courtesy of carlosemmaskype and Apollo.
White House Pressed To Mediate Marijuana Finger-Pointing Between DEA And HHS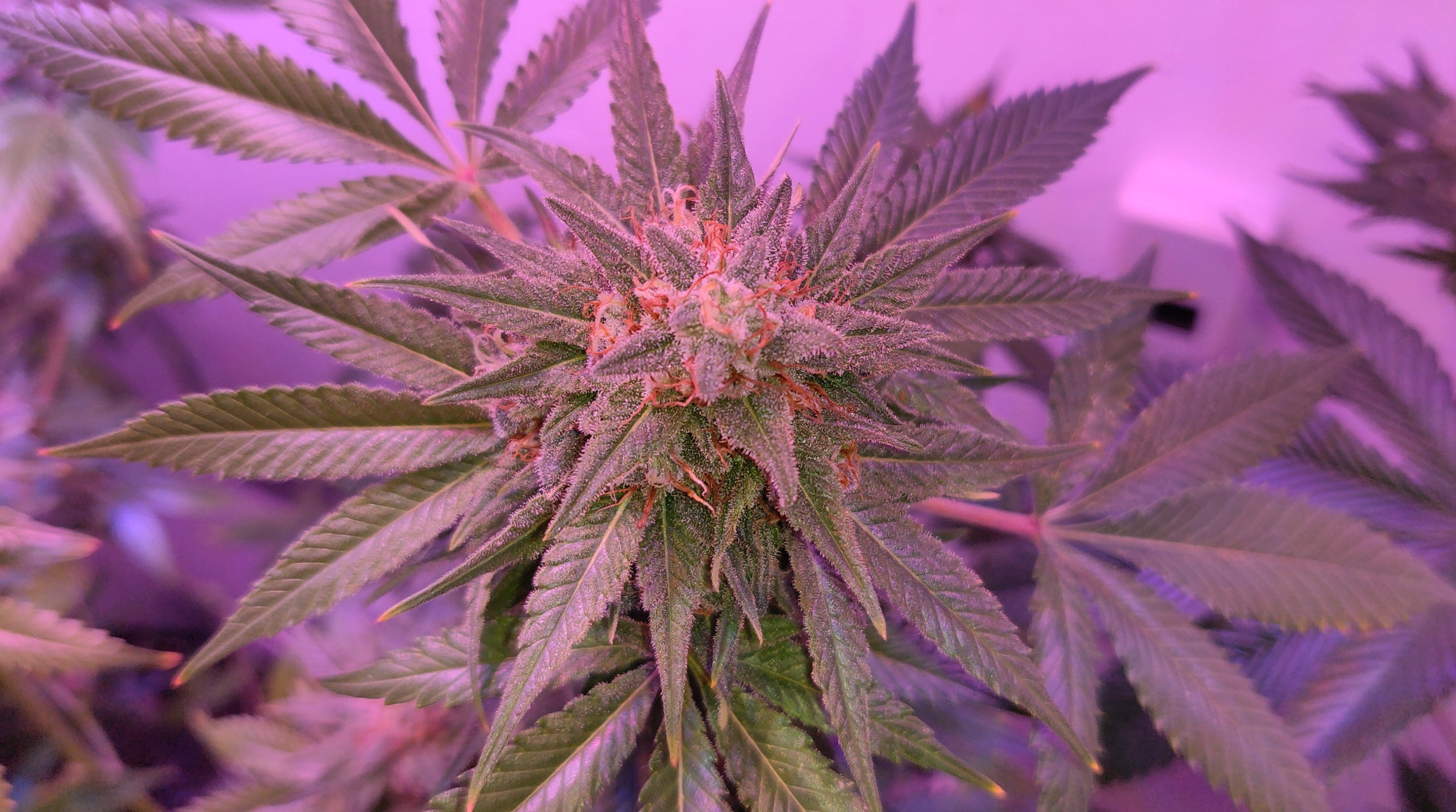 With two federal agencies in disagreement about which of them is responsible for conducting an independent, peer-reviewed study on the medical potential of marijuana, a libertarian think tank is asking the White House to intervene and settle the dispute.
The Competitive Enterprise Institute (CEI) sent a letter to a division of the White House Office of Management and Budget (OMB) on Wednesday, asking that it settle a years-long dispute over an alleged violation of the Information Quality Act (IQA) regarding cannabis.
CEI has been pushing both the Drug Enforcement Administration (DEA) and the U.S. Department of Health and Human Services (HHS) to facilitate a peer review of the scientific evidence that's been used to deny petitions to reschedule marijuana. The organization says federal law mandates such a review, but both agencies have deferred responsibility to one another.
"HHS claims DEA was responsible for IQA compliance because DEA disseminated the evaluation without HHS approval," the group said. "DEA claims compliance was HHS's responsibility because the evaluation was performed by HHS."
The reason CEI is pushing OMB's Office of Regulatory and Information Policy to resolve the issue is because they say the scientific evidence that HHS provided to DEA that's served as the justification for maintaining cannabis in Schedule I of the Controlled Substances Act is flawed, failing to account for the numerous therapeutic uses that states have approved under their medical cannabis programs.
A peer review of the data could produce alternative findings that may pave a path for marijuana rescheduling, they say.
"It's time for the façade of there bring no accepted medical use of marijuana to end in the light of actual independent scientific scrutiny." – @LibertyDevin https://t.co/O2G6PpeHR9

— Competitive Enterprise Institute (@ceidotorg) December 2, 2021
"Our view is that both agencies failed in their duties under the act. HHS should have peer reviewed the information before it sent the report to [Food and Drug Administration], given that HHS knew that information would be disseminated and relied upon for regulatory action by FDA as required by statute," the letter to the White House states. "And DEA should not have published the HHS evaluation without first ensuring that the IQA requirements had been met (arranging for the peer review itself if HHS would not)."
"For the last five years, marijuana has been entirely prohibited based on incorrect scientific information. OMB rules required independent scientific experts to evaluate highly influential scientific information disseminated and relied upon by agencies, and yet that was not done by either agency. President Biden has pledged to 'follow the science.' And that is all we have asked for that independent scientific experts be asked to follow the science and report on if they believe the scientific claims of HHS are accurate. We believe once that is done, those scientific experts will agree, along with the vast majority of states and medical organizations, that marijuana does have some medical uses and as such cannot properly be classified as a Schedule I drug."
To be sure, DEA has taken great stock in HHS's cannabis evaluation. In its 2016 denial of a petition to consider rescheduling marijuana, it heavily cited the agency's findings, which "concluded that marijuana has a high potential for abuse, has no accepted medical use in the United States, and lacks an acceptable level of safety for use even under medical supervision."
But while a peer review process might help clear up the science on marijuana, some legal experts say that it would not be enough to affect a policy change on cannabis scheduling.
"While peer review would be helpful, it will never get to the core problem with federal marijuana policy," Shane Pennington, an attorney who's been involved in lawsuits against DEA over marijuana scheduling, told Marijuana Moment.
"That is because FDA's scientific evaluation of marijuana…is warped by DEA's long-standing five-part test for determining whether marijuana has a currently accepted medical use in treatment in the U.S.," he said. "That five-part standard warps the science, and it was designed to do so."
"In short, peer review would be a great first step, but I'm afraid the problem runs far deeper," he said. "Put differently, CEI's efforts, while laudable have the pronounced downside of inviting another unelected federal agency into the mix. That is the real problem—the refusal of our elected leaders to make political decisions that affect all of us and the refusal of courts to 'say what the law is.'"
Missouri GOP Lawmaker Files Joint Resolution To Put Marijuana Legalization On Ballot As Activists Launch Separate Campaign
Photo courtesy of Mike Latimer.
Ohio Activists Prove Local Marijuana Decriminalization Initiative Had Enough Signatures To Make Ballot After Recount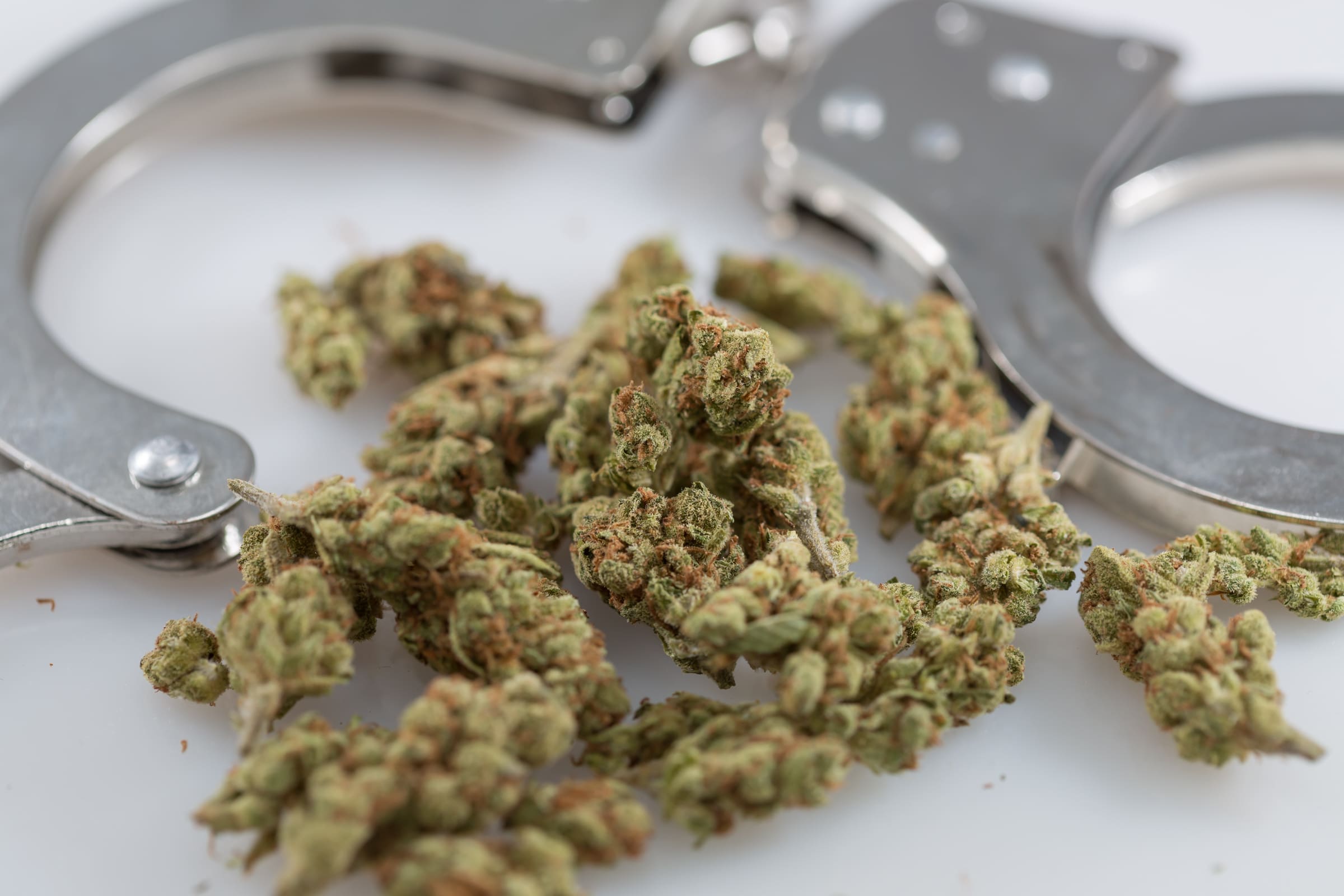 Ohio marijuana activists have successfully proved that they turned in enough valid signatures to put a local decriminalization initiative before Kent voters after having missed the 2021 ballot due to a verification error on the part of county officials.
The Portage County Board of Elections initially told the Sensible Marijuana campaign that they were four signatures short of qualifying the measure to be voted on earlier this month. But activists were skeptical and did their own investigation, ultimately finding that officials incorrectly marked several signatures as invalid.
Mark Brown, a law professor at Capital University, had the idea to reach out to people whose submissions were deemed invalid and have them complete affidavits affirming that they had, in fact, signed a petition in support of placing cannabis reform on the local ballot.
After an independent review, the board announced last month that the campaign had gathered 815 valid signatures, about 10 more than what's required to secure ballot placement, as The Portager first reported.
The plan at this point is for the elections board to notify the Kent City Council of its findings and see how the local lawmakers want to move forward. They could put the measure before voters at a future election, pass an ordinance legislatively that reflects the Sensible Marijuana initiative or take no action and likely face a legal challenge.
If officials do opt to put the initiative on the ballot, it's not clear when voters will get the chance to decide on it. Some advocates say it could appear on a May primary ballot, but others think it might need to wait until next November's general election or perhaps for a separate special election to be held earlier in the year.
Kent was one of several Ohio cities that activists targeted for last month's election. Voters in seven cities passed the measures, effectively decriminalizing personal marijuana possession.
Twenty-nine jurisdictions across the state have now already adopted local statues effectively decriminalizing possession, some of which have been passed by voter initiatives while others were adopted by city councils.
In most of the municipalities where marijuana was on the ballot last month, the text of the proposal simply said, "shall [jurisdiction] adopt the Sensible Marihuana Ordinance, which lowers the penalty for misdemeanor marijuana offenses to the lowest penalty allowed by State Law?"
Others were lengthier and spelled out changes to local statutes, specifying that "if the amount of the drug involved is less than two hundred grams, possession of marihuana is a minor misdemeanor drug abuse offense" and that "persons convicted of violating this section shall be fined $0.00."
If Kent does end up enacting decriminalization—either at the ballot or legislatively—it appears it will face some resistance from law enforcement.
Police Chief Nicholas Shearer took issue with the amount of marijuana that would be decriminalized (up to 200 grams) and said people found to be possessing more than two ounces (57 grams) would likely face trafficking charges.
"Regardless of what decriminalization efforts take place here locally in Kent, possession of marijuana is still a violation of state law, and our officers will still be expected to enforce that state law," he told The Portager.
Advocates are actively pursuing reform at the state level as well, with one campaign saying they will soon have enough signatures to force the legislature to consider legalizing marijuana.
A lawmaker who is sponsoring a separate reform proposal feels the citizen-led effort could help build momentum for a legislative approach to ending prohibition.
—
Marijuana Moment is already tracking more than 1,200 cannabis, psychedelics and drug policy bills in state legislatures and Congress this year. Patreon supporters pledging at least $25/month get access to our interactive maps, charts and hearing calendar so they don't miss any developments.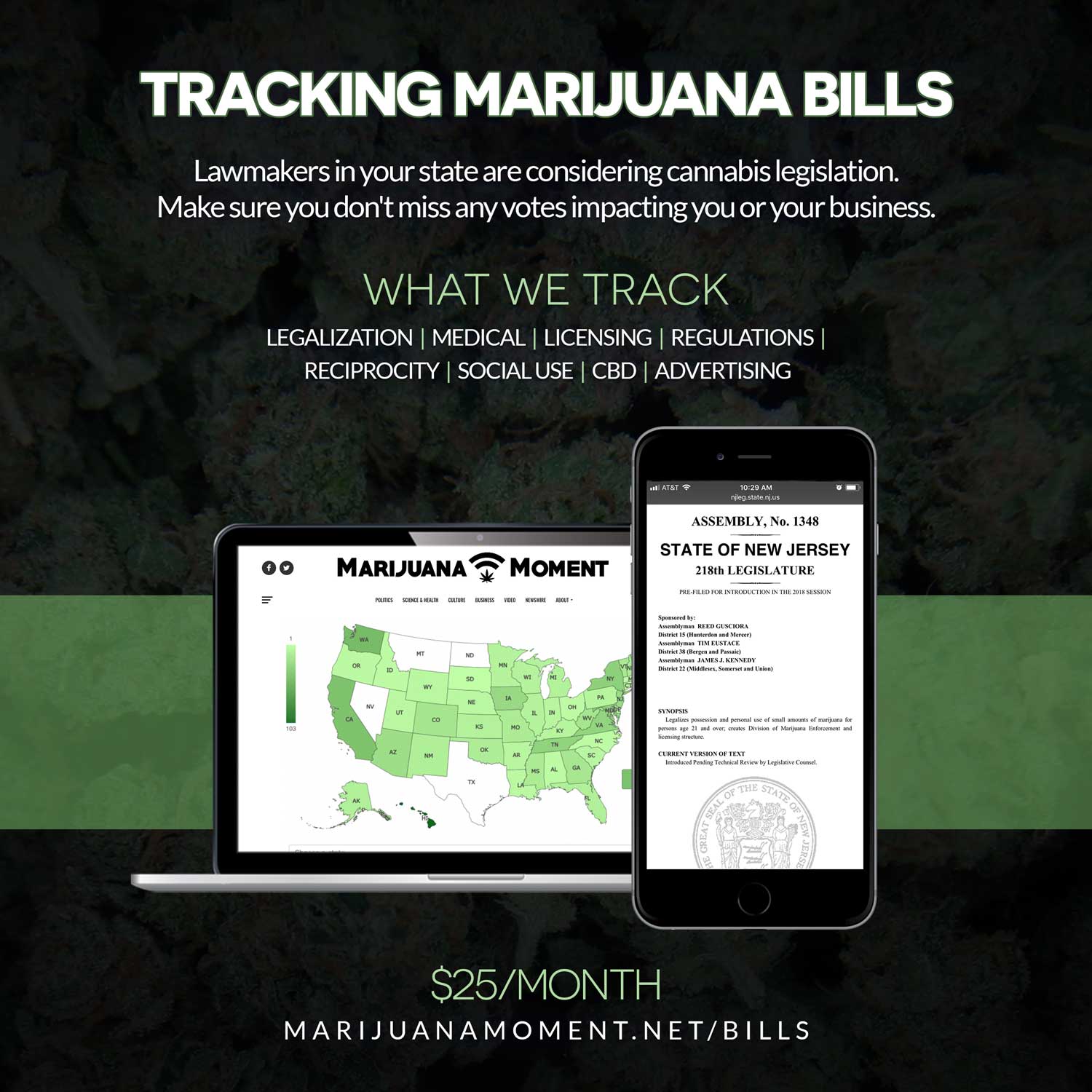 Learn more about our marijuana bill tracker and become a supporter on Patreon to get access.
—
While it's only been a few months since Ohio officials cleared the campaign to collect signatures for its measure, Coalition to Regulate Marijuana Like Alcohol spokesperson Tom Haren said recently that the initial wave of signature gathering "will be completed probably about the end of November."
The measure that legislators would then be required to consider would legalize possession of up to 2.5 ounces of cannabis for adults 21 and older, and they could also have up to 15 grams of marijuana concentrates. Individuals could grow up to six plants for personal use, with a maximum 12 plants per household.
Activists must collect 132,887 valid signatures from registered voters for the statutory initiative during this first phase of the effort. If they succeed, the legislature will then have four months to adopt the measure, reject it or adopt an amended version. If lawmakers do not pass the proposal, organizers will then need to collect an additional 132,887 signatures to place the proposal before voters on the ballot in November 2022.
Separately, a pair of Ohio Republican lawmakers announced a new bill to legalize cannabis in October. Also, a recent legislative survey found that Republican lawmakers in the state are more supportive of legalizing marijuana than their Democratic colleagues are.
Meanwhile, Ohio senators recently filed a bill to expand the state's medical cannabis program, in part by allowing physicians to recommend marijuana if they "reasonably" believe it could benefit the patient.
Missouri GOP Lawmaker Files Joint Resolution To Put Marijuana Legalization On Ballot As Activists Launch Separate Campaign
Missouri GOP Lawmaker Files Joint Resolution To Put Marijuana Legalization On Ballot As Activists Launch Separate Campaign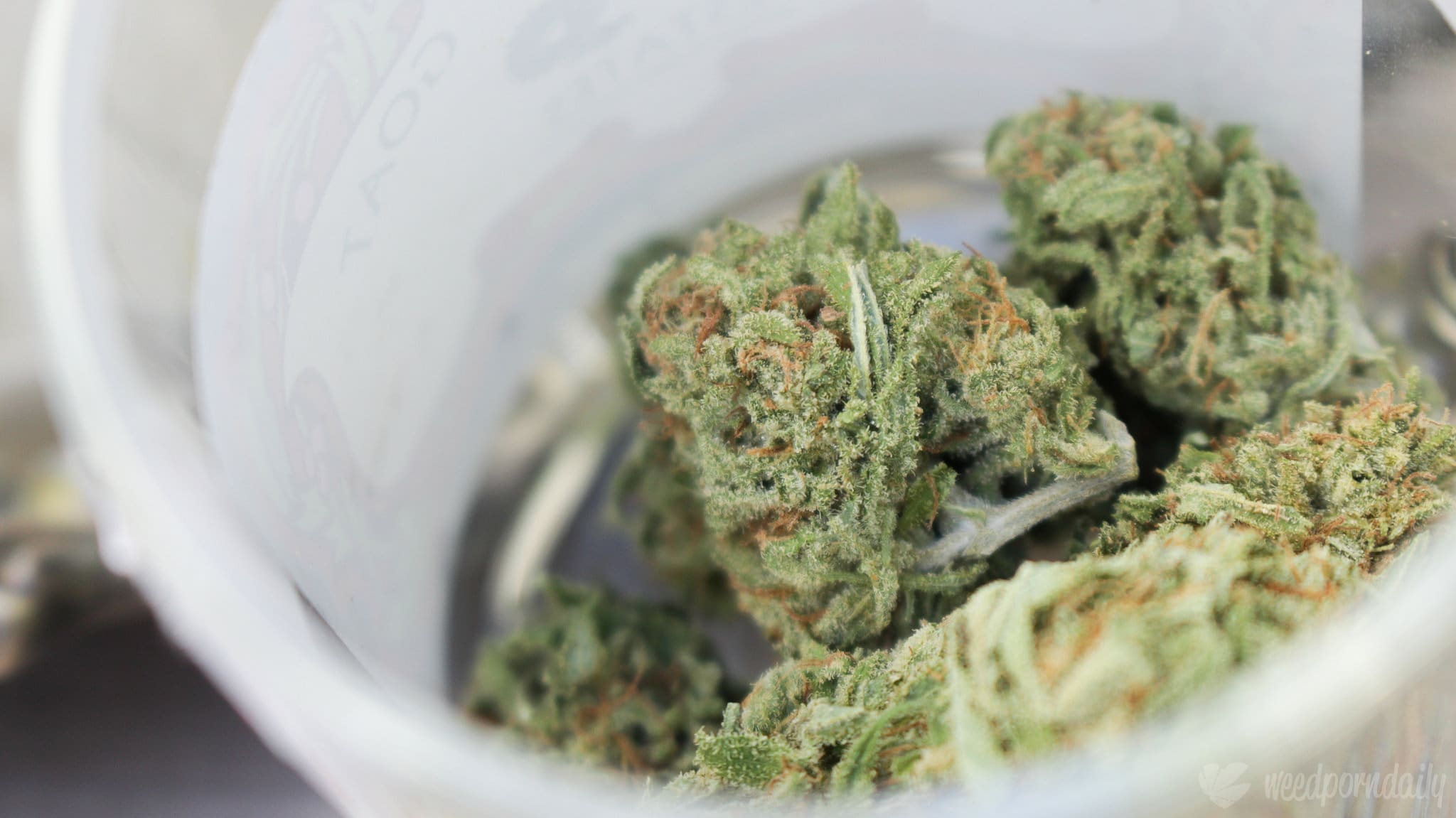 A Republican Missouri lawmaker is again making a push to place marijuana legalization on the ballot. But some activists aren't waiting on the legislature to take action to refer the issue to voters, with one campaign officially launching signature gathering on Wednesday for a separate reform initiative.
Rep. Shamed Dogan (R) on Wednesday pre-filed his joint resolution to place a constitutional amendment on legalization on the 2022 ballot. He introduced a similar proposal last year, but it did not advance.
Under the lawmaker's plan, adults 21 and older could purchase, possess and cultivate cannabis for personal use. It does not specify allowable amounts.
A 12 percent tax would be imposed on adult-use marijuana sales, while medical cannabis products would be subject to a four percent tax. Revenue would go to a new "Smarter and Safer Missouri Fund" to support veterans services, infrastructure programs like expanding broadband access and drug treatment programs.
—
Marijuana Moment is already tracking more than 1,200 cannabis, psychedelics and drug policy bills in state legislatures and Congress this year. Patreon supporters pledging at least $25/month get access to our interactive maps, charts and hearing calendar so they don't miss any developments.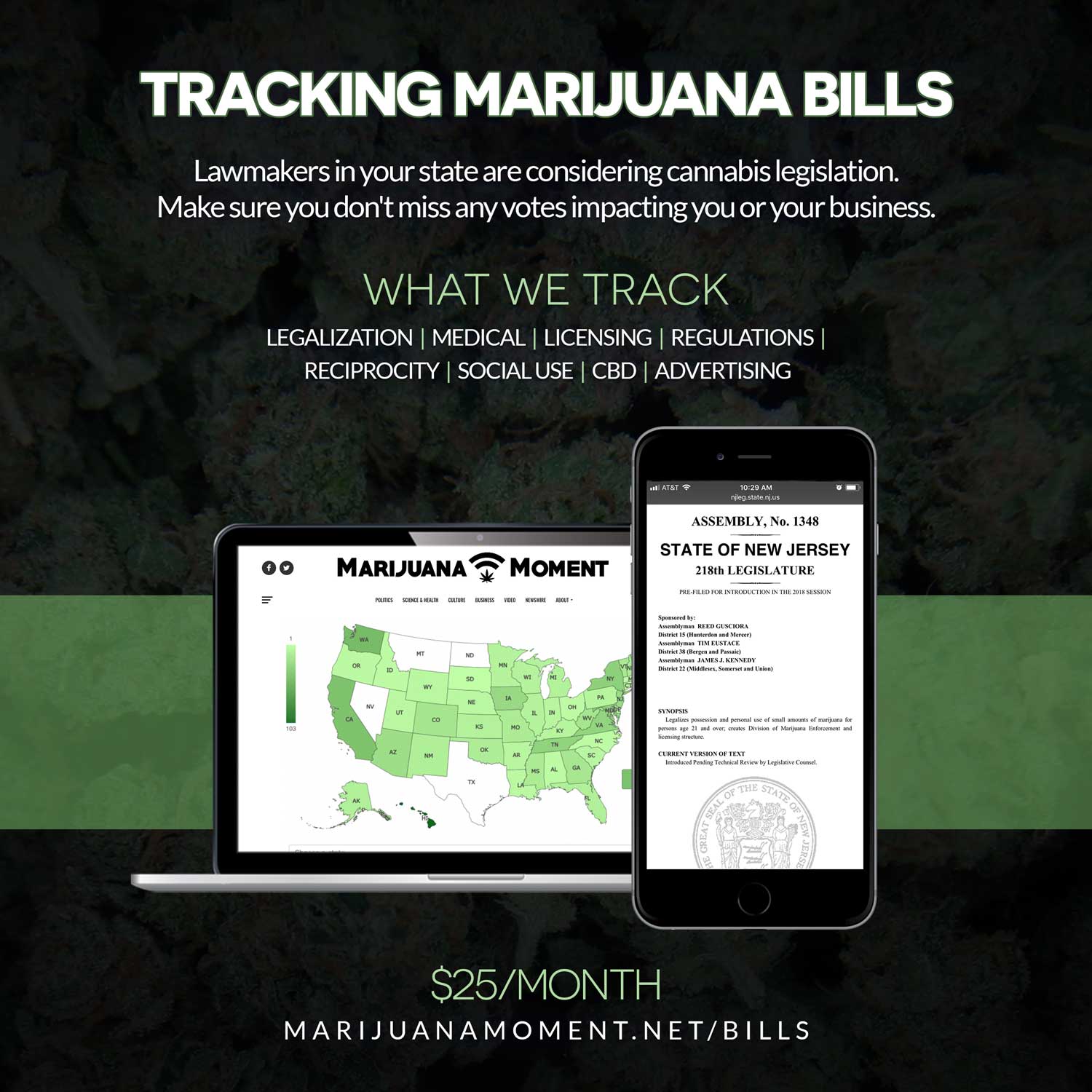 Learn more about our marijuana bill tracker and become a supporter on Patreon to get access.
—
The resolution, which also proposes to eliminate and replace the constitutional amendment that established Missouri's medical cannabis program, states that the reform is in the "interest of the efficient use of law enforcement resources, enhancing revenue for public purposes, and individual freedom."
Legalization should be enacted so that "legitimate, taxpaying business people, not criminal actors, conduct sales of marijuana," it continues. "Marijuana sold in this state shall be subject to testing, labeling, and regulation to ensure that consumers are informed and protected."
If enacted, no police or state funds could be used to assist in the enforcement of federal cannabis prohibition. And the state could no longer allow asset or civil forfeiture for citizens of age who conduct marijuana activities made lawful under the measure.
"Missouri's law enforcement and its courts shall protect marijuana users and such users' property without discrimination and with every effort afforded to every citizen of Missouri and our nation," it continues. There would also be a process to clear the records of people with non-violent marijuana convictions.
Employers would explicitly be allowed to maintain drug-free workplace policies under the measure.
It also says that the "use or possession of marijuana shall in no way impede on a person's legal right to possess a firearm."
The resolution also says that the state legalization law "shall supersede any conflicting city, county, or state statutory, local charter, ordinance, or resolution."
There are some advocates who want to see the legislature take the lead on establishing a regulated marijuana market, but others remain skeptical that will actually happen in the state's GOP-controlled House and Senate. That's why there are currently two separate campaigns working to get legalization initiatives on the state's 2022 ballot.
Legal Missouri 2022 kicked off its campaign on Wednesday, with plans to deploy hundreds of signature gatherers at major cities throughout the state.
"A similar bill from the same sponsor didn't even receive a committee hearing last year, so if Missouri is going to legalize cannabis, it will have to be done through the citizen-led imitative petition process," campaign director John Payne told Marijuana Moment, referring to the Dogan resolution. "That's why Legal Missouri 2022 has built such a broad coalition and will successfully place this question before Missouri voters in 2022."
"Signature by signature, our statewide coalition of activists, entrepreneurs, cannabis patients and criminal justice reform advocates hears the same message from Missouri voters: it's past time to end the senseless and costly prohibition of marijuana," he said separately in a press release.
The group's measure would also let adults 21 and older buy and cultivate cannabis. A six percent tax would be imposed on marijuana products, with the resulting revenue supporting automatic expungements for prior cannabis convictions, veterans healthcare, substance misuse treatment and the state's public defender system.
"Criminal justice reform is a centerpiece of our campaign, which aims to provide a fresh start to tens of thousands of state residents whose criminal records would be wiped clean of low-level marijuana offenses through automatic expungement," Payne said.
New Approach Missouri, which successfully got a medical cannabis initiative passed by voters in 2018, announced its plans to put the reform proposal on the ballot through its new campaign committee Legal Missouri 2022 earlier this summer.
The organization tried to place the issue of legalization before voters last year, but the COVID-19 pandemic derailed that effort.
Despite the health crisis, activists managed to collect 80,000 raw signatures within months, though they needed 160,199 valid signatures to qualify.
A separate campaign, Fair Access Missouri, is separately exploring multiple citizen initiatives with the hopes of getting at least one on the ballot next year. Three of the four would create a system of legalized cannabis sales for adults 21 and older, while another would simply amend the state's existing medical marijuana program.
Aside from recreational marijuana legalization, three of the proposed initiatives would amend the state's medical cannabis program. Among other changes, they would remove licensing caps, repeal the application scoring system, reduce patient fees and allow patients to access a one-year supply instead of 90 day.
Free Access Missouri, which has ties to the Missouri Cannabis Industry Association (MCIA), does seem to be living up to its name based on the measures, which contain provisions that appear to specifically promote industry participation by proposing a system without licensing limits.
For 2022, proposals to amend the state Constitution will need 171,592 valid signatures from registered voters.
GOP Congressman And AOC Team Up On Marijuana Bill To Incentivize State-Level Expungements
Photo courtesy of WeedPornDaily.