The First Marijuana Hearing Of The New Congress Has Been Scheduled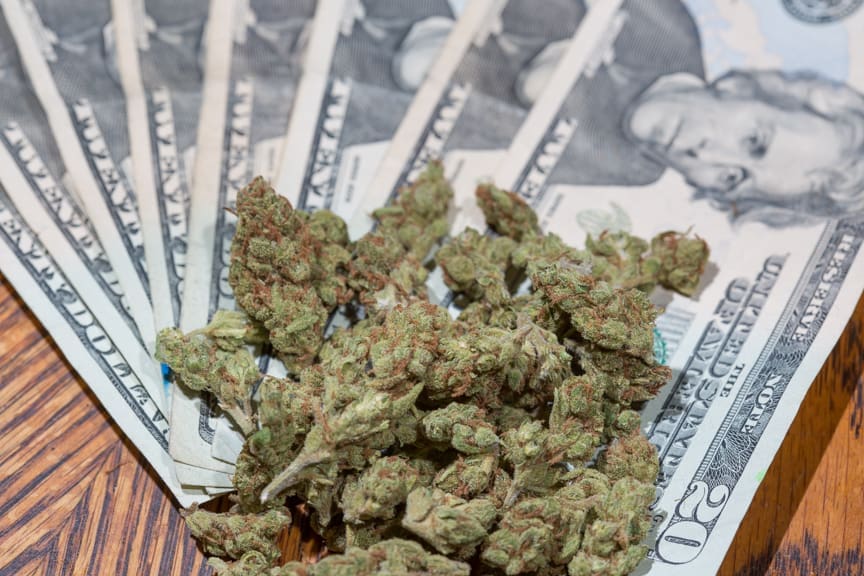 Congressional Democrats are already moving ahead with plans to consider broad changes to federal marijuana laws in 2019.
Whereas the Republican-controlled House for the past several years had blocked votes on most cannabis-related measures, the chamber's new Democratic majority on Wednesday announced it has scheduled a hearing for next week to examine the difficulties that marijuana businesses face in opening and maintaining bank accounts.
Titled, "Challenges and Solutions: Access to Banking Services for Cannabis-Related Businesses," the hearing will take place on February 13 before a subcommittee of the House Financial Services Committee.
Although a growing number of states are moving to legalize marijuana for medical or recreational use, cannabis remains federally prohibited. As a result, and despite a 2014 guidance memo released on the topic by the Obama administration aimed at clearing up the issue, many financial services providers remain reluctant to work with the industry out of fear of violating money laundering or drug laws.
"When we introduced this bill six years ago, we warned that forcing these businesses to deal in cash was threatening public safety. No hearing was given," Rep. Denny Heck (D-WA) said in an email, referring to marijuana banking legislation he and Rep. Ed Perlmutter (D-CO) have filed for the past several Congresses.
He lamented that Republican leadership didn't schedule a hearing on the proposal even after a security guard at a Colorado dispensary was killed during a robbery.
"Chairwoman Waters has made it one of her first priorities to address this urgent and overdue issue, demonstrating that she understands the threat to public safety and the need for Congress to act," Heck said of the committee's new leader. "We have a bipartisan proposal to allow well-regulated marijuana businesses to handle their money in a way that is safe and effective for law enforcement to track. I am eager to get to the work of refining it and passing it into law."
That a hearing on the issue was in the works was first noted earlier this week by Politico, and Marijuana Moment reported that the full committee is also actively planning to vote on a marijuana banking bill in the coming months.
The newly scheduled marijuana hearing is a signal that Democrats intend to move cannabis legislation this year, and is likely to be the first in a series of committee-level actions across the House on the issue.
"The upcoming hearing presents a real opportunity for the Democratic Party to assert their leadership by finally beginning the conversation on how we end the failed policy of marijuana criminalization," Justin Strekal, political director for NORML, said.
While two limited medical cannabis research bills were able to advance out of House committees last year, they never made it to the floor for votes. Meanwhile, Republican leaders consistently prevented members from offering marijuana-related amendments—including ones on banking issues—to larger legislation.
In contrast, Rep. Earl Blumenauer (D-OR) suggested in a memo to party leaders late last year that they pursue a step-by-step approach to legalize marijuana in 2019. His plan recommends that Financial Services and other committees first begin holding hearings on incremental reforms like banking access, research expansion and medical cannabis for military veterans before passing bills on those issues as part of a lead up to ultimately approving broader legislation to formally end federal marijuana prohibition by the end of the year.
A House bill to protect banks from being punished for working with state-legal marijuana businesses that Heck and Perlmutter introduced garnered 95 cosponsors in the last Congress, and 20 senators signed onto a companion bill, but neither were given hearings or brought up for votes.
"Depriving state-legal cannabis businesses of basic banking services and forcing them to operate entirely in cash presents a significant safety risk, not just to those businesses and their employees, but to the public," Don Murphy, director of federal policies for the Marijuana Policy Project, said in an email. "Support for addressing the cannabis banking problem is strong and bipartisan, and it appears Congress may be ready to adopt a real, commonsense solution. Members concerned about public safety should be jumping at the chance to express their support for this legislation."
Congress has held only a handful of hearings on marijuana reform issues in recent years, and never before has any come at a time when broad cannabis reform legislation seemed to be conceivably on its way to passage.
"This hearing is historic for cannabis policy reform advocates, business owners and the banking sector, and could directly lead to the first in what is hopefully a series of positive changes in the 2019 legislative cycle," Morgan Fox, media relations director for the National Cannabis Industry Association, said in an email. "Allowing banks to work with cannabis businesses more easily will benefit public safety, increase transparency, provide more financing options for small businesses and communities that have been targeted by prohibition, and help companies thrive so they can further displace the illicit market."
Outside of the two committee markups of cannabis research legislation last year, which were not preceded by formal hearings on the relevant issues, Senate panels have on a few occasions held lengthy discussions on marijuana.
In 2013, for example, the Senate Judiciary Committee convened a hearing to dig into the fact that a growing number of states were legalizing marijuana in contrast with federal law.
The Senate Caucus on International Narcotics Control, which is not a formal standing committee of the body, hosted a discussion on federal marijuana enforcement in 2016. Its two cochairs, Sens. Charles Grassley (R-IA) and Dianne Feinstein (D-CA), have long been among Congress's most vocal opponents of cannabis reform, though Feinstein began to shift her position last year.
Also in 2016, the Senate Judiciary Committee's Subcommittee on Crime and Terrorism held a hearing on the risks and potential benefits of medical cannabis, but it did not lead to votes on any marijuana legislation.
Meanwhile, pressure to address cannabis banking has been growing. Several top Trump administration officials have indicated they support clarifying the issue.
Treasury Secretary Steven Mnuchin, for example, suggested in testimony before a House committee early last year that he supports letting marijuana businesses store their profits in banks.
"I assure you that we don't want bags of cash," he said. "We do want to find a solution to make sure that businesses that have large access to cash have a way to get them into a depository institution for it to be safe."
In a separate hearing Mnuchin revealed that addressing the issue is at the "top of the list" of his concerns.
Federal Reserve Chairman Jerome Powell said that the growing gap between state and federal marijuana laws "puts federally chartered banks in a very difficult situation… It would great if that could be clarified."
And last month, Comptroller of the Currency Joseph Otting called on Congress to "act at the national level to legalize marijuana if they want those entities involved in that business to utilize the U.S. banking system."
Meanwhile, although many major financial institutions are staying away from the cannabis industry, federal data does show that an inceasing number of banks are beginning to work with marijuana growers, sellers, processors and related businesses.
It hasn't yet been announced who will be testifying at next week's cannabis banking hearing before the Consumer Protection and Financial Institutions Subcommittee.
State Of Montana Launches Online Hemp Marketplace To Connect Buyers And Sellers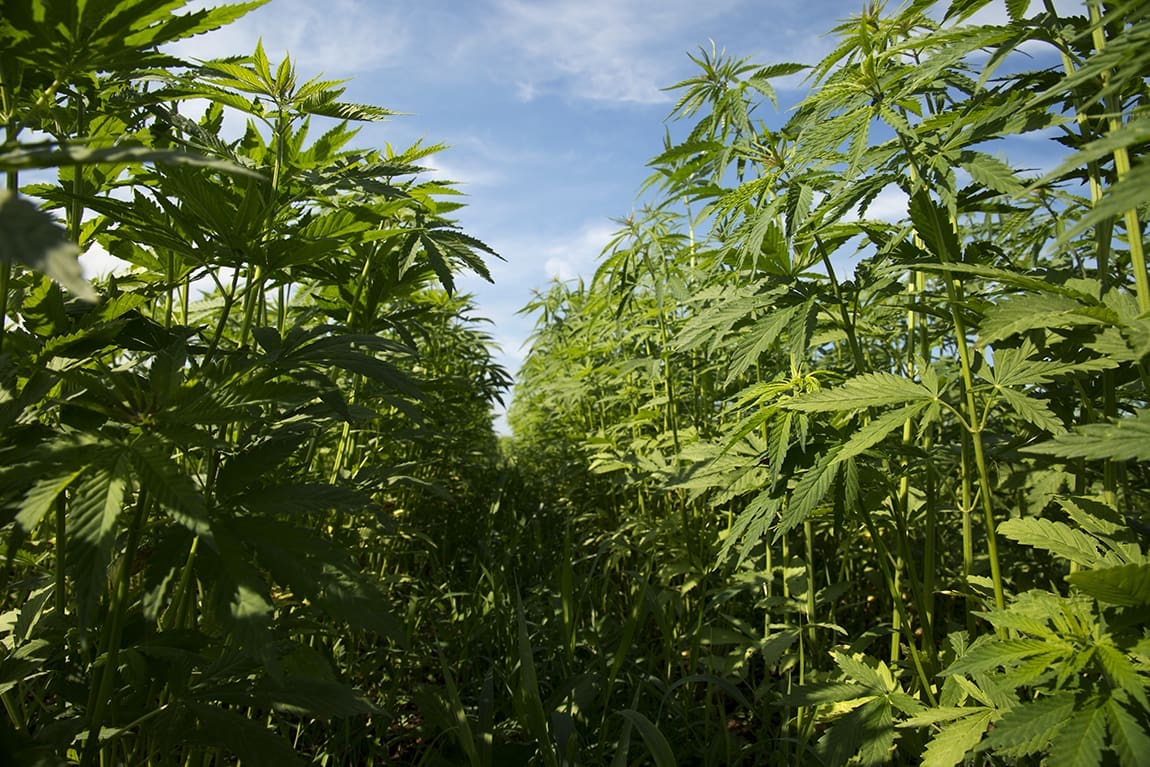 Say you're a Montana farmer who has planted acres of industrial hemp. As harvest nears, you're looking to offload it. Where do you go to find a buyer?
Montana's Department of Agriculture says it has the answer.
The state this week announced the launch of an online "Hemp Marketplace," unveiling an online portal meant to connect the hemp farmers with buyers in search of seeds, fiber and derivatives such as cannabidiol, or CBD.
"The Hemp Marketplace concept originated from the same idea as the department's Hay Hotline," the Agriculture Department says on its website, "only instead of hay and pasture, the online tool connects buyers and sellers of hemp and hemp derivatives."
Listings are free of charge.
Montana farmers have embraced industrial hemp since the state legalized its production under a federal pilot program. The first legal crop was planted in 2017, and in recent years the state has led the country in terms of space dedicated to the plant. In 2018, for example, licensed farmers in Montana grew more acreage of hemp than any other U.S. state. While other states have since eclipsed the state's hemp production—the crop became broadly federally legal through the 2018 Farm Bill—Montana remains an industry leader.
But to make revenue, farmers have to be able to sell their crop. That's where the new hemp marketplace comes in. The online portal is essentially a sophisticated bulletin board for buyers and sellers, split into "Hemp for Sale" and "Hemp to Buy" categories.
"With hemp being a relatively new crop grown in Montana, the department recognizes that these markets are still developing," Department of Agriculture Director Ben Thomas said in a statement. "The Hemp Marketplace was designed to help facilitate connections between buyers and sellers. I'm looking forward to seeing how the marketplace will continue to advance the industry."
Listings include what type of products are on offer (or being sought), whether a given crop is organic and even whether laboratory testing data is available. The portal also organizes products into one of four varieties based on whether the hemp seeds have been certified by regulators. None of the products may contain more than 0.3 percent THC—the upper limit for what qualifies as hemp under both state and federal law.
Meanwhile, Montana voters are set to decide on Tuesday whether the state will legalize hemp's more infamous cousin, high-THC marijuana. According to a poll released this week, passage looks likely: The survey, conducted by Montana State University at Billings, found that 54 percent of likely voters plan to support legal cannabis on the ballot. Another 38 percent said they were opposed, while 7 percent remained undecided.
At the federal level, officials at the Drug Enforcement Administration are still working to revise rules around marijuana and hemp to reflect Congress's move to legalize hemp broadly in 2018. While the public comment on the proposals closed earlier this month, nine members of Congress cautioned the agency against adopting its proposed changes, warning some could put hemp producers at risk of criminal liability. Already a number of arrests and seizures have been made by law enforcement officers confused whether products were legal hemp or illicit marijuana.
The U.S. Department of Agriculture (USDA), meanwhile, has faced separate criticism over its own proposed hemp rules, though it has been more proactive in addressing them. Following significant pushback from the industry over certain regulations it views as excessively restrictive, the agency reopened a public comment period, which closed again this month.
USDA is also planning to distribute a national survey to gain insights from thousands of hemp businesses that could inform its approach to regulating the market.
Montana Marijuana Legalization Ballot Measure Has Solid Lead In New Poll
Photo courtesy of Brendan Cleak
Missouri Launches Medical Marijuana Sales At State's First Dispensaries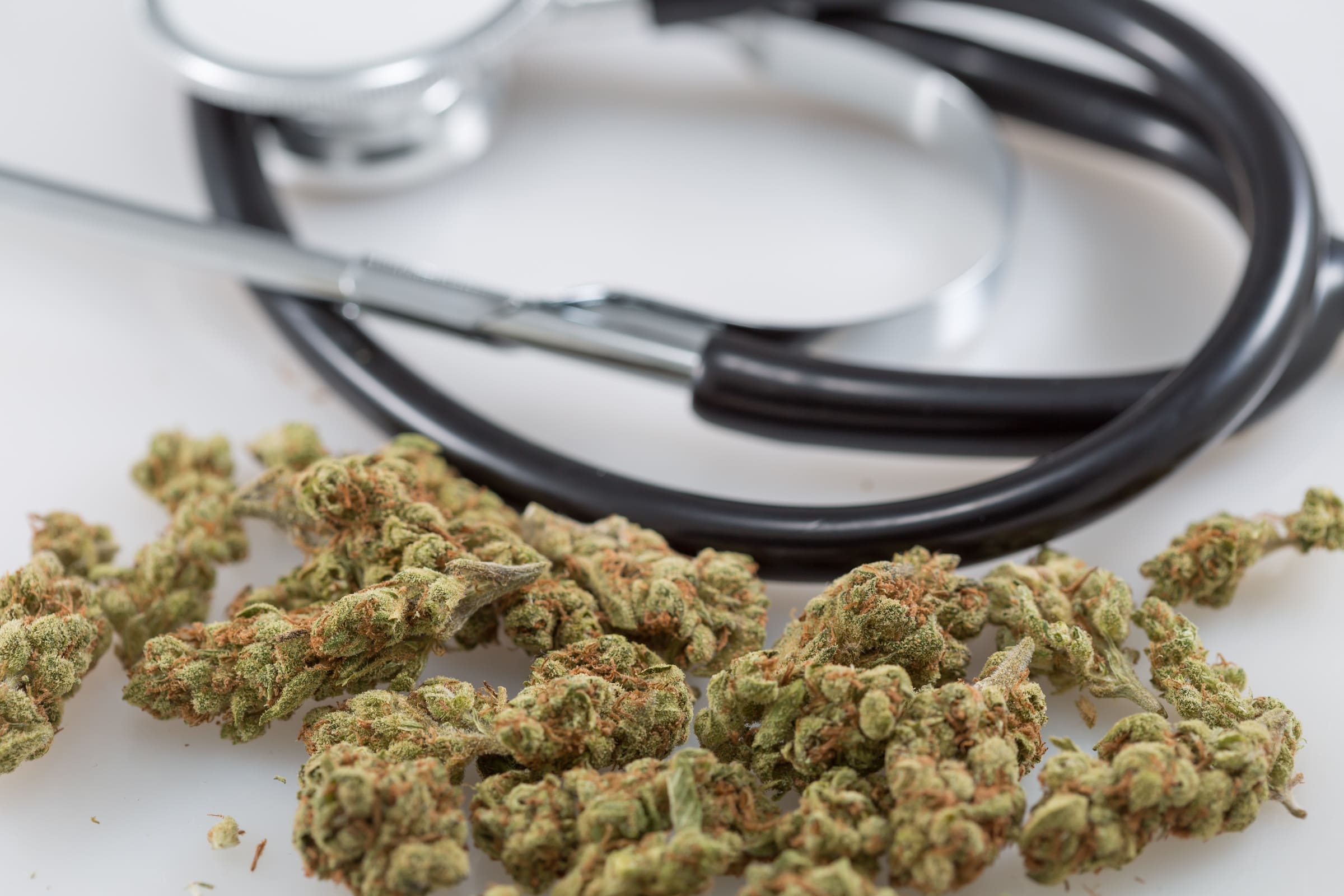 Less than two years after Missouri voters approved a ballot measure to legalize medical marijuana, dispensaries made the state's first cannabis sales to patients on Saturday.
N'Bliss Cannabis opened the doors of two separate St. Louis County locations, in Ellisville and Manchester.
I was honored to watch Larry, a cancer survivor, and his wife Sue, an RN, make the state's first legal medical cannabis purchase this morning in St Louis. @mocanntrade @NewApproachMO pic.twitter.com/rCudrkdbfI

— Jack Cardetti (@jackcardetti) October 17, 2020
"Missouri patients have always been our north star as we work to implement the state's medical marijuana program," Dr. Randall Williams, director of the Missouri Department of Health and Senior Services, said in a press release. "We greatly appreciate how hard everyone has worked so that patients can begin accessing a safe and well-regulated program."
Officials have touted the speed with which they have gotten the voter-approved cannabis program off the ground, saying it is "one of the fastest implementations of a medical marijuana program in the United States."
"A tremendous amount of work has occurred by the licensed facilities and our team to get us to this point, and we continue to hear from more facilities that they are ready or almost ready for their commencement inspection," Lyndall Fraker, director of the Section for Medical Marijuana Regulation, said in a press release. "We look forward to seeing these facilities open their doors to serve patients and caregivers."
First #medicalmarijuana sales to patients in #MO take place today.

DHSS interactive facility map: https://t.co/Os2yc0jBdU pic.twitter.com/tpzztI9sOh

— Mo Health & Sr Srvcs (@HealthyLivingMo) October 17, 2020
The impending launch of sales on Saturday was first announced by the Missouri Medical Cannabis Trade Association on Friday and reported by The Springfield News-Leader.
The wait is finally over! Tomorrow morning at 9am @NBlissCannabis will open the doors to their Ellisville and Manchester locations for the first medical marijuana sales in Missouri! Congrats to the whole N'Bliss team! The #MOMMJ industry is up and running! pic.twitter.com/wyZIcoyLBv

— MoCannTrade (@mocanntrade) October 16, 2020
The state, which has so far licensed 192 dispensaries and expects most of them to open their doors by the end of the year, posted an interactive map that tracks the status of approved medical marijuana businesses.
For months, regulators have been caught up in lawsuits and appeals challenging their licensing decisions, with revenues that would otherwise go to supporting veteran services instead being allocated to covering legal costs.
Missouri isn't the only state to see medical cannabis sales launch this weekend. Virginia's first medical marijuana dispensary also held its grand opening on Saturday.
Meanwhile, recreational sales of marijuana rolled out in Maine last week—four years after voters there approved a legalization ballot measure.
Another New Jersey Poll Shows Marijuana Legalization Passing By A Huge Margin
Illinois Continues Record-Breaking Marijuana Sales Streak, New State Data For September Shows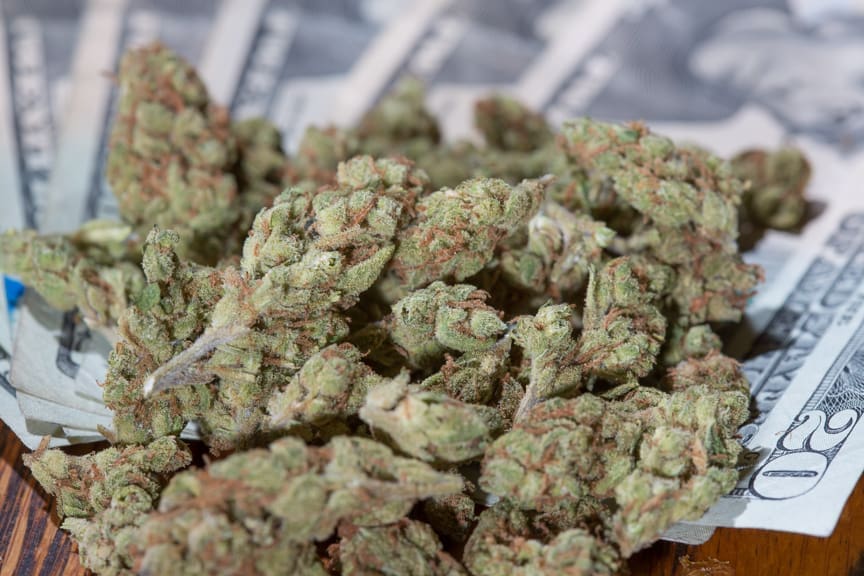 For the fifth month in a row, Illinois is again reporting record-breaking marijuana sales, the state Department of Financial and Professional Regulation announced on Monday.
Despite the coronavirus pandemic, Illinois has seen escalating cannabis sales month-over-month. In September, consumers purchased more than 1.4 million marijuana products worth a total of nearly $67 million. Almost $18 million of those sales came from out-of-state visitors.
In August, the total sales reached about $64 million—the previous monthly record. The new adult-use sales figures don't include data about purchases made through the state's medical cannabis program.
This latest data seems to support the notion that the state's marijuana market is "recession-proof" and "pandemic-proof," as a top regulator said in August.
State officials have emphasized that while the strong sales trend is positive economic news, they're primarily interested in using tax revenue to reinvest in communities most impacted by the drug war. Illinois brought in $52 million in cannabis tax revenue in the first six months since retail sales started in January, the state announced in July, 25 percent of which will go toward a social equity program.
"We were not doing this to make as much money as fast as we possibly could," Toi Hutchinson, senior cannabis advisor to Gov. J.B Pritzker (D), said. "We were actually doing this for people," with a focus on supporting communities most impacted by the drug war.
In May, the state also announced that it was making available $31.5 million in restorative justice grants funded by marijuana tax revenue.
That said, ensuring an equitable market as promised hasn't been easy. Regulators have recently faced lawsuits after dozens of would-be social equity licensees were denied an opportunity to participate in a licensing lottery over alleged problems with their applications. The state said it would approve 75, but only 21 ultimately qualified—and critics complain that the resources it takes to submit an acceptable application creates barriers for the exact people the special licenses are supposed to help.
The governor announced last month that new procedures would be implemented allowing rejected applicants to submit corrected forms. But on Monday, three investors who are finalists from the initial round filed a lawsuit against the state, alleging that the administration's decision to permit resubmissions was politically motivated and illegal.
For now, the out-of-state sales data seems to support Pritzker's prediction during his State of the State address in January that cannabis tourism would bolster the state's coffers.
Prior to implementation, the pardoned more than 11,000 people with prior marijuana convictions.
Over in Oregon, officials have been witnessing a similar sales trend amid the global health crisis. Data released in August reveals that the state saw about $106 million in medical and recreational cannabis sales, marking the third month in a row that sales exceeded $100 million.
Vote For Marijuana Legalization Referendum To Promote Social Justice, New Jersey Governor Says