Marijuana Bill Approved By Congressional Committee, Despite Drug Conviction Restriction Dispute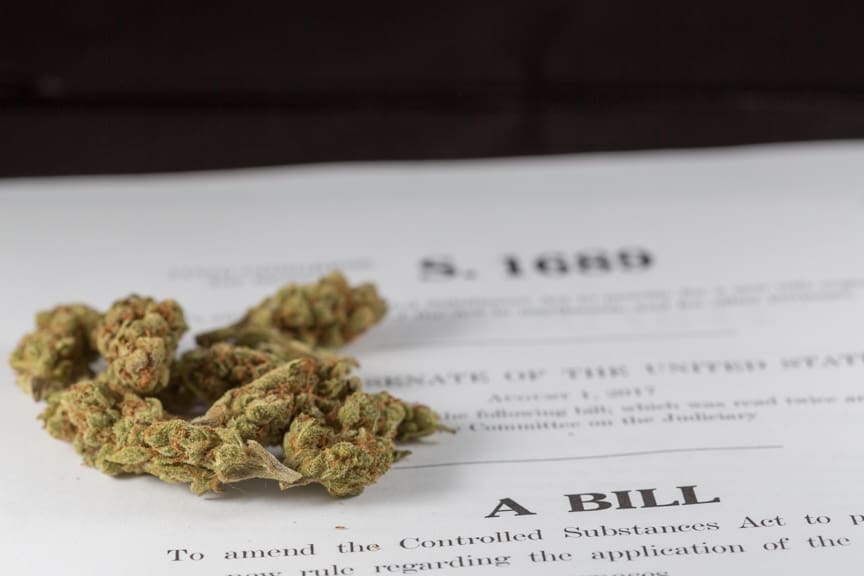 A powerful U.S. House panel that oversees federal drug enforcement efforts approved a bill on Thursday to require the Department of Justice and Attorney General Jeff Sessions to begin issuing more licenses to grow marijuana for research.
Prior to the vote, a bitter dispute broke out over a provision of the legislation that prevents anyone with a "conviction for a felony or drug-related misdemeanor" from being affiliated with cannabis research cultivation operations.
"There is no legitimate health or public safety justification for the inclusion of this language and we urge you to strike this unnecessary, punitive ban on individuals with previous drug law violations," reads a letter sent to the committee's leaders on Wednesday by the American Civil Liberties Union, Human Rights Watch, #cut50, the Drug Policy Alliance and other groups. "To help lower recidivism rates and improve public safety, we should be making it easier for people with records to obtain jobs, not more difficult."
Legalization supporters scrambled this week to build support to amend the bill accordingly, but House Judiciary Committee Chairman Bob Goodlatte (R-VA)—who has long opposed marijuana reform but is a cosponsor of the research legislation—refused to go along with a compromise that would have stripped the restrictions on people with drug misdemeanors while maintaining the ban on those with felony convictions, Capitol Hill staffers and advocates said.
As a result, some drug policy reformers who otherwise strongly support expanding marijuana research balked on the bill, urging lawmakers to vote no.
The legislation as introduced "unfortunately and unjustly expands the collateral consequences of criminal convictions," Rep. Jerrold Nadler (D-NY), the top Democrat on the panel, said at the start of an hour-long debate before the vote.
Citing the racially disproportionate manner in which drug laws have been enforced, he said the restrictions in the bill would "compound this injustice by preventing the very people who have been harmed from participating" in research.
But Goodlatte argued that it is "wholly appropriate that we set a firm standard for those who are supposed to be growing and manufacturing research-grade marijuana."
During the committee markup, Rep. Steve Cohen (D-TN) offered an amendment to remove the words "drug-related misdemeanor" from the provision in question, but ultimately withdrew the proposal instead of forcing a vote after Goodlatte made a commitment to work to revise the restrictions before the bill goes to the House floor. The chairman indicated that he would "probably not object" to a carve-out for people with drug possession convictions.
The overall bill, the Medical Cannabis Research Act, sponsored by Rep. Matt Gaetz (R-FL), was then approved by a voice vote.
"While there are many varying opinions on the issue of marijuana, one thing we all can agree on is that we need qualified researchers to study the science to determine if there are any potential medicinal benefits to chemicals derived from cannabis," Goodlatte said in a statement.
We must ensure that an adequate and uninterrupted supply of research-grade cannabis is available to safe harbor provisions for research facilities. I am proud to lead the efforts to unlock cures through important scientific research.

— Rep. Matt Gaetz (@RepMattGaetz) September 13, 2018
Earlier in the week Gaetz tweeted that "both sides make fair points" about the drug conviction language, but the issue "isn't important" to him.
"What a shame if disagreement on such a small thing kept us from making University/Hospital/Hospice/VA/MedSchool #MedicalMarijuana research collaboration legal with the vibrant, innovative commercial cannabis industry," he wrote.
This isn't important 2 me. Both sides make fair points. But what a shame if disagreement on such a small thing kept us from making University/Hospital/Hospice/VA/MedSchool #MedicalMarijuana research collaboration legal with the vibrant, innovative commercial cannabis industry. https://t.co/i3GB8s1ZMn

— Matt Gaetz (@mattgaetz) September 10, 2018
During the committee hearing on Thursday, Gaetz said that the restriction wasn't included in initial drafts of the bill and its addition was suggested by people in the marijuana industry who "wanted to raise the bar" and not have "people who wandered out of their drug circle or hacky sack endeavor" leading cannabis research.
Morgan Fox, communications director for the National Cannabis Industry Association, said in a text message that his organization "absolutely did not suggest that and does not support that restriction."
It is unclear who did suggest it.
While a number of Judiciary Committee Democrats spoke up to say that they could not support the legislation as written, Rep. Ted Lieu (D-CA) said that he was willing to vote to advance it in the hopes of it being amended later.
Rep. Dina Titus (D-NV), who is not a member of the panel, praised its passage in a tweet, as did Rep. Ken Buck (R-CO), who sits on the committee.
Today the Judiciary Committee passed the Medical Cannabis Research Act. This bipartisan bill I've cosponsored is a small step in removing barriers to federal research, including at our VA facilities. There's more work to do, but this is a commonsense bill that should become law.

— Dina Titus (@repdinatitus) September 13, 2018
Glad to see that HR 5635, The Medical Cannabis Research Act, was adopted by voice in @HouseJudiciary today. This bill wisely regulates medical marijuana research and helps our veterans by allowing the VA to discuss potential medical marijuana trials with them.

— Congressman Ken Buck (@RepKenBuck) September 13, 2018
Legalization advocates, mindful of growing political momentum for marijuana policy reform, said they have moved past the time when they were willing to make major concessions in order to move incremental legislation.
"While the bill's consideration represents progress, it's a drop in the ocean given what we need to do to end federal prohibition and repair the harms of the drug war," Michael Collins of the Drug Policy Alliance said in an interview earlier this week, adding that the restrictive provisions are "egregious, unnecessary and representative of an outdated approach to public policy."
Others cannabis activists cheered the bill's passage but questioned whether more research on marijuana was really needed before Congress moves to change its status under federal law.
"While this vote marks a step forward, it must also be acknowledged that despite existing barriers to research, ample studies already exist to contradict cannabis' federal, schedule I status as a substance without medical utility, lacking acceptable safety, and possessing a high potential of abuse," NORML Deputy Director Paul Armentano said in a press release. "More clinical research is welcome, but unfortunately science has never driven marijuana policy. If it did, the United States would already have a very different policy in place."
For too long, Congress has faced a dilemma with cannabis-related legislation: we cannot reform cannabis law without researching its safety, its efficacy, and its medical uses — but we cannot perform this critical research without first reforming cannabis law.

— Rep. Matt Gaetz (@RepMattGaetz) September 13, 2018
Under current U.S. policy, a University of Mississippi farm has for the past 50 years been the only legal source of marijuana for studies. But researchers have often complained that it is too hard to get approval to use the facility's cannabis products, and that they are often of low quality.
The Drug Enforcement Administration, in the closing months of the Obama presidency, moved to create a process for the federal government to issue additional research cultivation licenses. But the Justice Department under Sessions has blocked the DEA from acting on the more than two dozen applications that have been submitted.
Gaetz's bill, if enacted into law, would force Sessions's hand by requiring the granting of more licenses. It now heads to the House floor.
In addition to the requirement to issue additional cultivation licenses, the bill clarifies that Department of Veterans Affairs (VA) doctors can discuss the medical marijuana with their patients and can refer them to participate in scientific studies on the drug's effects.
The Judiciary Committee vote marks only the second time in history that a congressional panel has approved standalone cannabis reform legislation. Earlier this year, the House Veterans Affairs Committee passed a bill encouraging the VA to conduct research on the medical benefits of marijuana for military veterans.
New Jersey Voters Will Decide On Marijuana Legalization Next Year, Senate Leaders Say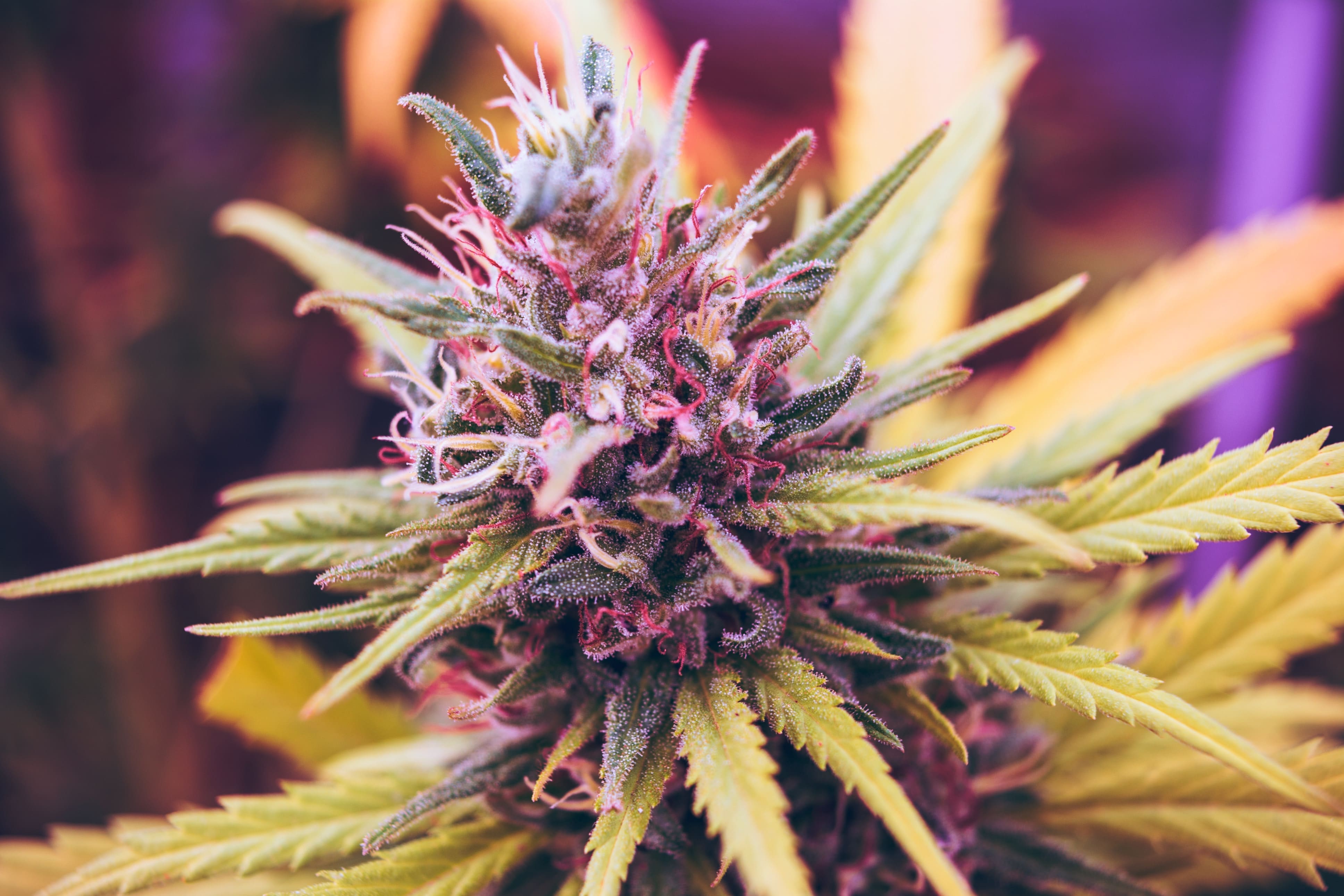 New Jersey lawmakers are giving up on plans to enact marijuana legalization through the legislature and are now seeking to put the question before voters on the 2020 ballot.
Senate President Steve Sweeney (D) and Senate Judiciary Committee Chairman Nicholas Scutari (D) announced on Monday that while they had "made further attempts to generate additional support in the Senate to get this done legislatively," the "votes just aren't there." As a result, they filed a proposal that would allow residents to vote on legalization as a constitutional amendment.
"We are moving forward with a plan to seek voter approval to legalize adult use marijuana in New Jersey," the leaders said in a press release. "We introduced legislation today to authorize a public referendum for a proposal that will lead to the creation of a system that allows adults to purchase and use marijuana for recreational purposes in a responsible way."
Here it is, no recreational marijuana vote in NJ Legislature. Going to the voters a year from now @NBCNewYork @MarijuanaPolicy @_NJCIA @NCIAorg @CannabisWire pic.twitter.com/iWnhSRIDy2

— Brian Thompson (@brian4NY) November 18, 2019
"This initiative will bring cannabis out of the underground so that it can be controlled to ensure a safe product, strictly regulated to limit use to adults and have sales subjected to the sales tax," they said.
The plan, which NJ.com first reported, is to have the legislature to approve the referendum proposal and get the ballot measure set for a vote in the general election next November. Sweeney and Scutari said they are "confident it will be approved by the Senate, the Assembly and the voters."
"We will now move forward with a plan that helps correct social and legal injustices that have had a discriminatory impact on communities of color," they said. "We can make real progress towards social justice at the same time that cannabis is made safe and legal."
After months of negotiation, it became apparent that that progress wasn't going to happen legislatively in the short-term, with Sweeney indicating as early as May that legalization would likely have to be decided through a voter referendum.
Text of the resolution calling for a referendum doesn't offer many details about what the proposed legal cannabis market would look like; rather it generally describes a system allowing adults 21 and older to use and purchase marijuana from authorized retail facilities. The state's Cannabis Regulatory Commission would be responsible for regulating the program. And cannabis sales would be subject to the state sales tax, with no additional excise tax added.
As written, the draft ballot question is worded somewhat confusingly. Voters would be asked: "Do you approve amending the Constitution to legalize a controlled form of marijuana called 'cannabis'?"
"Only adults at least 21 years of age could use cannabis," it continues. "The State commission created to oversee the State's medical cannabis program would also oversee the new, personal use cannabis market. Retail sales of cannabis products in this new market would be subject to the State's sales tax, and no other form of tax."
Prohibitionist group Smart Approaches to Marijuana celebrated news of the legislature abandoning plans to pursue legalization legislatively this session and said it would invest resources into a campaign to dissuade voters from supporting the proposed ballot initiative.
BREAKING: New Jersey State Senate abandons push to legalize marijuana during 'lame duck' session.

The marijuana industry outspent SAM 86-1 in this effort.

Our statement: pic.twitter.com/MPtI2fNIzx

— SAM (@learnaboutsam) November 18, 2019
While adult-use legalization hasn't panned out as advocates hoped, Gov. Phil Murphy (D) did sign a bill significantly expanding the state's medical cannabis program in July. Sweeney had pointed to that reform move as one reason legalization negotiations stalled.
It's not clear how the ballot approach is going to impact discussions about regionally coordinating legalization plans in the Northeast, which has been ongoing since New York Gov. Andrew Cuomo (D) and Connecticut Gov. Ned Lamont (D) met to talk about the issue over the summer.
During a joint meeting of governors from around the region last month, Murphy said that "doing things in an intelligent, coordinated, harmonious way is good for the entirety of not just our states but our residents" and emphasized the need for social justice components in a legal cannabis market.
Read the text of the New Jersey marijuana legalization referendum resolution below:
NJ Marijuana Ballot Bill by Marijuana Moment on Scribd
Sanders Pledges Legal Marijuana 'In Every State' As Biden Faces 'Gateway Drug' Backlash
Sanders Pledges Legal Marijuana 'In Every State' As Biden Faces 'Gateway Drug' Backlash
As former Vice President Joe Biden faces a backlash over his suggestion that marijuana could be a 'gateway' drug, rival presidential candidates such as Sens. Bernie Sanders (I-VT) and Kamala Harris (D-CA), as well as entrepreneur Andrew Yang, are touting their own support for cannabis reform proposals
One day after Biden said he doesn't support national cannabis legalization because there's "not nearly been enough evidence that has been acquired as to whether or not it is a gateway drug," Sanders offered a competing vision, emphasizing in a speech that he wants to "make marijuana legal in every state in the country," rather than allow prohibition to continue in certain states.
The senator also discussed other elements of a cannabis reform plan he released last month, including his pledge to "expunge the records of those arrested for possession of marijuana" and provide funding to promote participation in the legal industry by individuals from communities most impacted by the war on drugs.
"It sounds unfair that when we legalize marijuana, you end up having a handful of corporations controlling that industry," Sanders said during the Sunday event in Las Vegas. "We have built into our criminal justice program an effort to provide many billions of dollars in help to people in the African-American community, Latino community, other communities, the people who have been hit the hardest by the war on drugs, to help them profit off a legal marijuana system."
Watch Sanders's marijuana comments, around 33:00 into the video below: 
Sanders described his three-step plan to prevent large corporations from controlling the cannabis market during an interview on Showtime's Desus & Mero last month.
Separately, he took to Twitter on Sunday to highlight new polling showing that a majority of Americans support legalizing marijuana.
The American people are united on issue after issue. We must legalize marijuana now—and expunge all past marijuana convictions as a matter of racial and economic justice. https://t.co/NQjp7WOko3

— Bernie Sanders (@SenSanders) November 17, 2019
Meanwhile, Harris also appeared to take a direct hit at Biden over his "gateway drug" comment, stating that the debate on that matter is already settled.
Let's be clear: marijuana isn't a gateway drug and should be legalized. Glad to see my bill with Rep. Nadler take the next step in the House this week. https://t.co/d6BcMFlpYT

— Kamala Harris (@KamalaHarris) November 18, 2019
"Let's be clear: marijuana isn't a gateway drug and should be legalized," she tweeted, adding that she's glad that a bill she and House Judiciary Chairman Jerrold Nadler (D-NY) filed earlier this year to federally deschedule cannabis is scheduled for a vote in the House this week.
Harris herself has faced pushback from reform advocates and challengers who point out that the senator was involved in criminalizing cannabis consumers, and opposed legalization, during her time as a prosecutor.
Yang, for his part, presented a visual contrast to Biden on Monday, sharing photos of him smiling, surrounded by dozens of trimmed marijuana plants in an undisclosed facility.
He also wrote in a tweet that cannabis "should be legal nationwide" and linked to a campaign site page laying out his reform plan.
Marijuana should be legal nationwide. It is already legal in several states, it reflects a safer approach to pain relief than opiates, and our administration of drug laws is deeply uneven and racist. https://t.co/0Uhl17MW98

— Andrew Yang🧢 (@AndrewYang) November 18, 2019
"It is already legal in several states, it reflects a safer approach to pain relief than opiates, and our administration of drug laws is deeply uneven and racist," Yang said.
Biden has drawn criticism from lawmakers outside of the presidential race as well, with Rep. Earl Blumenauer (D-OR) calling him out on Monday.
Get with the program, @JoeBiden.

Not only do we have legislation that would solve the issue of research, the American people overwhelmingly support legalizing cannabis—period.

The war on drugs has ruined countless lives. It's past time we end this senseless prohibition.

— Earl Blumenauer (@repblumenauer) November 18, 2019
"Get with the program, @JoeBiden," the congressman, who has spearheaded Capitol Hill efforts to end federal prohibition, said. "Not only do we have legislation that would solve the issue of research, the American people overwhelmingly support legalizing cannabis—period."
"The war on drugs has ruined countless lives," he said. "It's past time we end this senseless prohibition."
Photo courtesy of Facebook/Bernie Sanders.
AOC Calls For Decriminalizing The Use Of All Drugs
Rep. Alexandria Ocasio-Cortez (D-NY) voiced support for decriminalizing the use of all drugs on Sunday.
The freshman congresswoman tweeted that drug decriminalization, as well as marijuana legalization, are "matters of public health."
Marijuana should be legalized, and drug consumption should be decriminalized.

These are matters of public health.

— Alexandria Ocasio-Cortez (@AOC) November 18, 2019
This marks a development in Ocasio-Cortez's drug policy platform. Previously, she called for decriminalizing the use and research of psychedelics, emphasizing the therapeutic potential of the substances.
To that end, she introduced an amendment to a spending bill in June that would remove a rider that advocates argue has inhibited research into the potential therapeutic benefits of Schedule I drugs such as psilocybin and LSD. The House rejected that measure in a floor vote, however.
There's a growing push to decriminalize the personal possession of drugs beyond cannabis. South Bend, Indiana Mayor Pete Buttigieg and Rep. Tulsi Gabbard (D-HI), both Democratic presidential candidates, are in favor of the policy. Entrepreneur Andrew Yang supports decriminalizing opioids as a means to combat the drug overdose crisis.
Ocasio-Cortez recently gave her endorsement to Sen. Bernie Sanders (I-VT). But while the senator was the first major presidential candidate to back marijuana legalization during his 2016 run, he said this year he's "not there yet" on broader drug decriminalization. It's not clear if the congresswoman's role as a surrogate on his campaign will ultimately influence him to adopt the policy.
But as more candidates debate the best way forward on various drug reform proposals, with cannabis legalization being a given for almost all contenders, former Vice President Joe Biden remains several paces behind. He opposes adult-use legalization and said on Saturday that marijuana may be a gateway to other, more dangerous substances.
Photo courtesy of C-SPAN.