Marijuana Banking Measure Rejected By Congressional Committee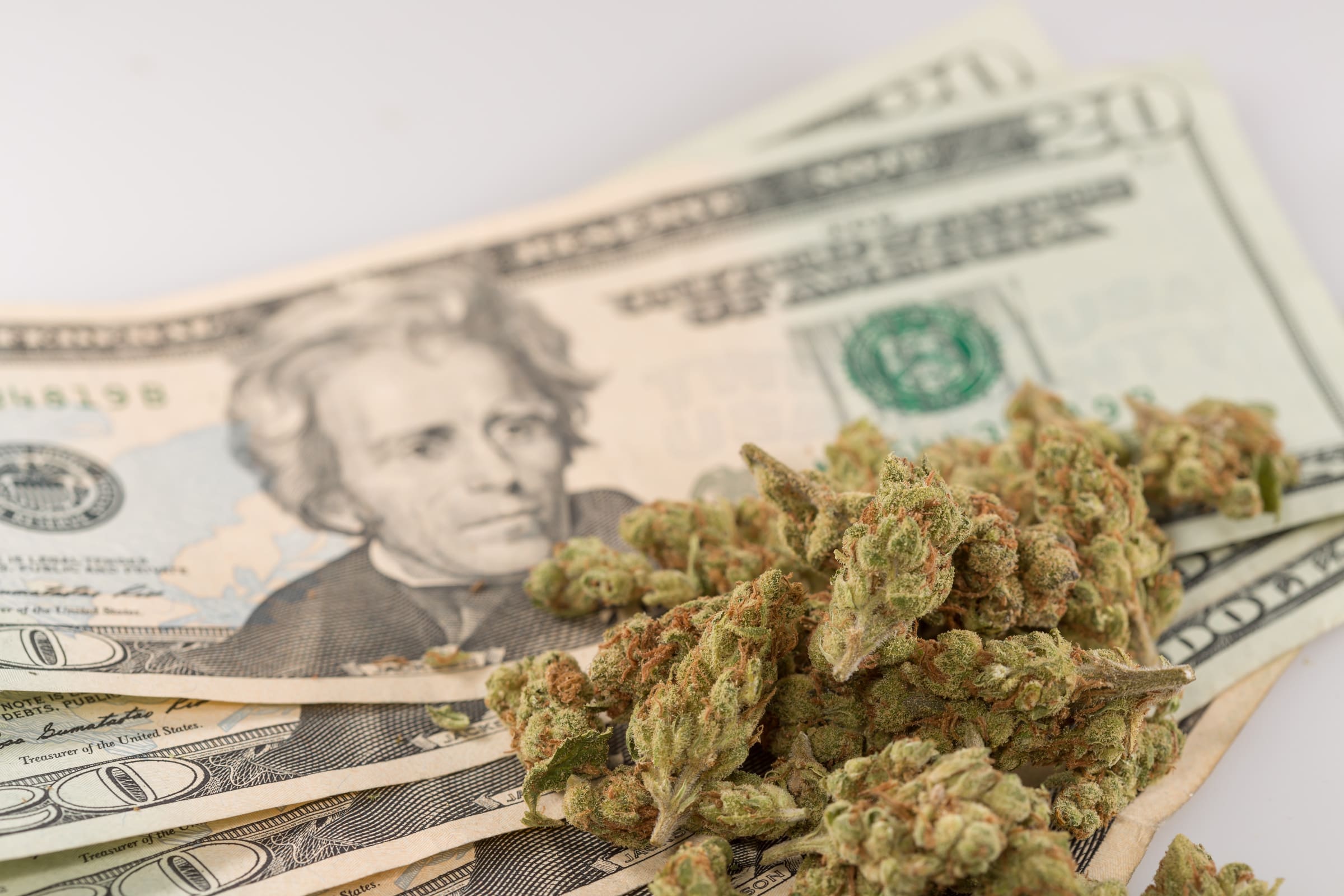 A powerful congressional committee voted on Wednesday to reject a measure to protect banks that open accounts for marijuana businesses from being punished by federal financial regulators. Supporters then scrambled to craft a more limited measure focused on medical cannabis businesses, but it was ultimately withdrawn before a vote could take place.
The broader measure would have prevented the U.S. Department of Treasury from taking any action to "penalize a financial institution solely because the institution provides financial services to an entity that is a manufacturer, producer, or a person that participates in any business or organized activity that involves handling marijuana or marijuana products" in accordance with state or local law.
After a lengthy and impassioned debate during which at least 19 lawmakers spoke, it was defeated on a voice vote by the House Appropriations Committee.
Despite the fact that a growing number of states are legalizing marijuana for recreational or medical use, many financial institutions have remained reluctant to work with cannabis businesses for fear of running afoul of money laundering laws under ongoing federal prohibition.
As a result, many marijuana growers, processors and retailers operate on a cash-only basis, which can make them targets for robberies.
The issue is "not whether or not one approves of marijuana," said Rep. David Joyce (R-OH), the chief sponsor of both banking amendments, before the vote. "This is about public safety and financial transparency."
Either rider, if it were successfully attached to legislation to fund the Treasury Department for Fiscal Year 2019, would have provided added assurance to banks that federal officials won't close them down for working with the cannabis industry.
A similar measure was approved by the full House of Representatives in 2014 by a margin of 231 to 192, but was not included in final spending legislation that year, and congressional Republicans have since blocked floor votes on most cannabis measures.
In the lead up to the Wednesday banking vote, several advocates and Capitol Hill staffers expressed confidence in interviews that the measure would pass. But a number of likely Republican supporters were absent during the debate, and others who are sympathetic to marijuana law reform expressed varying concerns about the specific proposal. As a result, supporters did not force a roll call tally following the defeat on a voice voice.
Joyce then went back to the drawing board and crafted the narrower medical-focused amendment, which he hoped would find enough support to pass. But after a brief debate on the second proposal, Chairman Rodney Frelinghuysen (R-NJ) asked Joyce three times to withdraw the amendment instead of forcing a vote. The Ohio congressman twice pressed ahead and said he wanted the committee to weigh in on the measure, only to give in at the last moment and pull the measure.
By seeking to adopt the language in the appropriations panel, before the overall spending bill heads to the Rules Committee, which is where marijuana amendments have gone to die for the past several years, advocates were attempting to circumvent an effective blockade that has prevented progress on cannabis reform in the House.
In a similar move last month, the Appropriations Committee approved a measure to protect state medical cannabis laws from Justice Department interference following several instances of that measure being blocked by the Rules Committee.
In a separate sign of the mainstreaming of marijuana politics on the other side of the Capitol, on Wednesday the Senate Appropriations Subcommittee on Commerce, Justice, Science and Related Agencies included that far-reaching medical marijuana language in the initial version of the Justice Department funding bill as introduced by Republican leaders, meaning that no vote or amendment will even be necessary to advance the provision in that chamber this year.
The Senate panel is scheduled to take up its version of the Treasury Department funding bill, which is called the Financial Services and General Government Appropriations Act, next week.
The Fraternal Order of Police, which opposes legalization, sent a letter this week urging House lawmakers to reject the cannabis banking move.
Letter to @USRepRodney & @NitaLowey advising them of our strong opposition to any amendment that would allow the marijuana industry full access to the American banking system. Drug cartels will be given the opportunity to launder money under the guise of marijuana normalization pic.twitter.com/y5a0gHPIUi

— National FOP (@GLFOP) June 12, 2018
While U.S. Attorney General Jeff Sessions in January rescinded Obama-era guidance that generally protected state marijuana laws from Justice Department interference, Treasury Department officials have for now kept in place a separate memo that provides some direction and limited protection to banks that work with cannabis businesses.
Also on Wednesday, Federal Reserve Chairman Jerome Powell was asked about cannabis banking issues during a press conference.
"This is a difficult area, because many state laws permit the use of marijuana and federal law still doesn't," he said. "So it puts federally chartered banks in a very difficult situation."
The Fed chairman implied that he would like the issue to be resolved with a change in policy.
"It would great if that could be clarified," Powell said. "Our mandate has nothing to do with marijuana, so we just would love to see it clarified."
Another top Trump administration official, Treasury Sec. Steven Mnuchin, has indicated on a number of occasions that he sees the importance of allowing marijuana businesses to store their profits in banks.
"I assure you that we don't want bags of cash," he testified before a House committee in February. "We do want to find a solution to make sure that businesses that have large access to cash have a way to get them into a depository institution for it to be safe."
In a separate House appearance the same month, he testified that fixing cannabis banking issues is at the "top of the list" of his department's concerns.
Prior to his confirmation by the Senate last year, Mnuchin said in response to written questions from a senator that marijuana businesses' banking and tax issues are "very important."
President Trump himself last week indicated that he supports broader changes to federal marijuana prohibition so that states can set their own legalization laws without interference.
"I really do. I support Senator Gardner," the president said when asked by a journalist if he supports the legislation, filed last week by Sens. Cory Gardner (R-CO) and Elizabeth Warren (D-MA).
The Treasury Department legislation, which also covers funding policy for the District of Columbia, contains provisions that prohibit the city from spending local or federal funds to enact a broader system of legal marijuana sales and from using federal monies to support supervised drug consumption facilities.
Meanwhile, separate standalone bills to permanently solve the marijuana industry's financial services issues have record levels of support. House legislation filed by Rep. Ed Perlmutter (D-CO) has 94 cosponsors and a companion Senate bill  sponsored by Sen. Jeff Merkley (D-OR) has 18 lawmakers signed on.
The marijuana banking amendment, as proposed before the House Appropriations Committee, reads:
"None of the funds made available in this Act may be used, with respect to the States of Alabama, Alaska, Arizona, Arkansas, California, Colorado, Connecticut, Delaware, Florida, Georgia, Hawaii, Illinois, Indiana, Iowa, Kentucky, Louisiana, Maine, Maryland, Massachusetts, Michigan, Minnesota, Mississippi, Missouri, Montana, Nevada, New Hampshire, New Jersey, New Mexico, New York, North Carolina, North Dakota, Ohio, Oklahoma, Oregon, Pennsylvania, Rhode Island, South Carolina, Tennessee, Texas, Utah, Vermont, Virginia, Washington, West Virginia, Wisconsin, and Wyoming, or with respect to the District of Columbia, Puerto Rico, or Guam, to penalize a financial institution solely because the institution provides financial services to an entity that is a manufacturer, producer, or a person that participates in any business or organized activity that involves handling marijuana or marijuana products and engages in such activity pursuant to a law established by a State or a unit of local government."
The medical cannabis banking amendment reads:
"None of the funds made available by this Act may be used, with respect to the States of Alabama, Alaska, Arizona, Arkansas, California, Colorado, Connecticut, Delaware, Florida, Georgia, Hawaii, Illinois, Indiana, Iowa, Kentucky, Louisiana, Maine, Maryland, Massachusetts, Michigan, Minnesota, Mississippi, Missouri, Montana, Nevada, New Hampshire, New Jersey, New Mexico, New York, North Carolina, North Dakota, Ohio, Oklahoma, Oregon, Pennsylvania, Rhode Island, South Carolina, Tennessee, Texas, Utah, Vermont, Virginia, Washington, West Virginia, Wisconsin, and Wyoming, or with respect to the District of Columbia, Puerto Rico, or Guam, to penalize a financial institution solely because the institution provides financial services to an entity that is a manufacturer, producer, or a person that participates in any business or organized activity that involves handling medical marijuana or medical marijuana products and engages in such activity pursuant to a law established by a State or a unit of local government as it pertains to medical marijuana. Any entity that engages in any activity involving marijuana that is not exclusively for medical purposes shall not be covered by this provision."