Texas Lawmakers Pre-File Marijuana Bills For 2021 Session
On the heels of five U.S. states voting to legalize marijuana in some form last week, lawmakers in Texas are getting a head start introducing a number of cannabis-related bills for next year, including several that would legalize it for adult use.
The legalization proposals are among at least 13 pieces of marijuana legislation pre-filed by lawmakers on Monday and Tuesday for the 2021 legislative session, which begins in January. Other bills would legalize high-THC cannabis for medical use, decriminalize small amounts of marijuana and put legalization before state voters on the ballot. Another would shield consumers from existing criminal laws for marijuana possession if they reasonably expected a product to be legal hemp.
Many of the bills would usher in big changes for Texas, which currently allows only certain forms of low-THC medical marijuana to treat specific conditions, but the legalization measure is by far the most sweeping. Sponsored by state Sen.-elect Roland Gutierrez (D), SB 140 would legalize marijuana for adults 21 and older and establish a commercial cannabis industry in the state.
Much of the incoming senator's argument so far for the bill is financial. Gutierrez, currently a member of the state House of Representatives, said Monday that the measure could eventually bring a $3.6 billion boost to the state economy.
A report last month published by the law firm Vicente Sederberg LLP estimated that marijuana legalization in Texas could produce more than $1.1 billion in state tax revenue plus millions more in licensing and other fees. The state is estimated to face a $4.6 billion deficit when the Legislature convenes next year, the state comptroller said in July.
Texas will be facing tremendous budgetary challenges next session. My bill would create 30,000 new jobs for our state and produce $3.2 billion in new revenue WITHOUT raising taxes on everyday Texans!

It's time to join 38 other states and #LegalizeIt!https://t.co/eOVE9O62JE

— Roland Gutierrez (@RolandForTexas) November 9, 2020
"There is going to be a budget shortfall to affect all Texans," Gutierrez said in a statement Monday, according to Fox 29. "In order to best serve our state, we have to look at cannabis legalization as a solution and not keep going back to the taxpayers and raise their taxes."
Technically speaking, the bill effectively would raise taxes on the state's current marijuana consumers, although most would probably think that's a good trade for not being criminalized any longer. Legal sales under Gutierrez's legislation would carry a 10 percent tax on sales, which would fund schools, border security and local law enforcement. Gutierrez said the measure could also generate "at least 30,000 high-paying jobs" in the state.
Last month, Colorado Gov. Jared Polis (D) jokingly said Texas should not legalize marijuana because he wanted tourists to come spend money in his state instead. "Make sure to consider Colorado first in any Texas decisions," he quipped on Twitter.
Rep. Joseph Moody (D), who in past session has led efforts to decriminalize marijuana possession, is now pushing a separate broader cannabis legalization bill, HB 447.
This year, Rep. Erin Zwiener (D) will carry the decriminalization proposal, HB 441.
"This change has the opportunity to save local governments millions of dollars while keeping everyday Texans out of the criminal justice system," she said on Twitter.
(2/2) This change has the opportunity to save local governments millions of dollars while keeping everyday Texans out of the criminal justice system. Rep. Moody previously carried this legislation and I'm excited to work with him to get this over the finish line.

— Erin Zwiener (@ErinForYall) November 10, 2020
Monday was the first day for Texas lawmakers to pre-file legislation to be considered in next year's legislative session, and more marijuana bills are expected to be introduced in coming weeks. Advocates are optimistic the activity means 2021 could be a big year for cannabis reform in Texas.
"We're pleased to see a variety of cannabis related bills introduced so early in the pre-filing period," Heather Fazio, director of Texans for Responsible Marijuana Policy, told Marijuana Moment in an email. "Democratic and Republican lawmakers are making cannabis a priority," she said, "which is a good sign for advocates as we prepare for the upcoming legislative session."
The Texas Legislature only meets every other year, and in 2019 lawmakers considered a handful of major reforms, including decriminalization of small amounts of marijuana and expansion of the state's limited medical cannabis program. By comparison, hemp, which is legal under federal law, includes all cannabis with less than 0.3 percent THC.
The cannabis decriminalization bill passed the Texas House but later died in the Senate without a vote.
The state did legalize hemp that year, however, and advocates said they felt legislators took marijuana reform more seriously than ever.
Other measures pre-filed on Monday reintroduce the subject of medical marijuana reform.
HB 43, sponsored by Rep. Alex Dominguez (D), would expand the current limited program by removing the low-THC cap and allowing doctors to recommend marijuana for any medical condition they see fit.
SB 90, sponsored by Sen. José Menéndez (D), would also remove the state's 0.5 percent THC limit on medical products and expand the program to include post-traumatic stress disorder (PTSD), as well as any other medical condition approved by state regulators. Lawmakers in 2019 rejected repeated calls from veterans and other groups last session to add PSTD to the state's list of qualifying conditions.
#Veterans:
•SB 90-Expanding the medical cannabis program & provides protections for those whom use #medicalcannabis, especially our veterans with #PTSD.
•SB 91-Enforcing coverage of Post-Traumatic Stress Disorder in health insurance, similar to other mental illnesses#txlege

— José Menéndez (@Menendez4Texas) November 10, 2020
A House bill (HB 94) from Rep. Ron Reynolds (D) would introduce similar language in that chamber.
A separate joint resolution (HJR 11) from Reynolds, meanwhile, would ask state voters to decide next November whether to amend the Texas Constitution to legalize the sale and use of medical marijuana.
Another joint resolution, HJR 13, by Rep. Terry Canales (D), would ask voters to legalize the use and commercial sale of recreational marijuana. Unlike the legalization Senate bill introduced by Gutierrez, Canales's resolution is short on specifics. Voters in 2022 would cast ballots on whether to amend the constitution "to authorize and regulate the possession, cultivation, and sale of cannabis." Details would come later.
Two other proposals focus on reducing state penalties for low-level marijuana possession.
HB 99, from Rep. Steve Toth (R), would reduce the possession of up to two ounces of marijuana from a Class B to a Class C misdemeanor, preventing arrest and instead imposing a civil fine. Such violations would no longer prevent Texans from obtaining driving licenses or automatically cause licenses to be suspended. HB 169, filed by Rep. Senfronia Thompson (D), would similarly reduce possession of two ounces or less to a Class C misdemeanor, but it doesn't include HB 99's driver's license protections.
Other decriminalization proposals that have been filed include HB 439 by Canales and SB 151 by Sen. Nathan Johnson (D).
Another bill prefiled on Monday wouldn't affect penalties for possessing marijuana, but it would shield people who buy hemp or hemp-derived CBD products from existing criminal penalties for marijuana if those products were later found to contain too much THC.
HB 307, by Rep. Nicole Collier (D), would provide people charged with cannabis crimes an affirmative defense, allowing them to escape penalties if they could demonstrate that they reasonably thought the product was hemp. A product would need to be labeled as though it was legal hemp, and the person would need to have purchased it "from a retailer the person reasonably believed was authorized to sell a consumable help product."
Prosecutors across Texas this year have dropped hundreds of low-level cannabis cases, due largely to difficulty in distinguishing between newly legal forms of hemp, which contain less than 0.3 percent THC, and illegal marijuana, which can be indistinguishable from hemp without laboratory testing. As the likelihood for cases to be prosecuted has dropped, arrests for simple cannabis possession have also fallen in many jurisdictions.
Meanwhile, popular support for marijuana reform, whether for medical or adult use, has only grown in recent years.
In 2018, even the state Republican Party added a marijuana decriminalization plank to its platform, although this year it was removed. The 2020 platform does still call for federal rescheduling and the expansion of the state's medical cannabis program, however.
Polling of Texas voters, meanwhile, shows strong support for ending prohibition. A University of Texas/Texas Tribune poll published in July found that more than half (53 percent) of surveyed voters were in favor of legalizing cannabis for adult use, while another 31 percent said they would legalize marijuana only for medical purposes. Only 21 percent of those surveyed opposed reducing penalties for simple possession.
In September, state Agriculture Commissioner Sid Miller said he supported drastically expanding the state's medical marijuana program. "If it'll help somebody, I'm for it," he said. "Whatever it is. I mean, a toothache, I don't care."
Across the country last week week, voters approved every major drug reform measure put before them, including marijuana measures in five states, decriminalization of all drugs in Oregon, and decriminalization of psychedelic plants in Washington, DC. Oregon also approved a separate measure legalizing psilocybin for therapeutic use.
The overwhelming popularity of drug reform among a largely divided electorate is already pushing other states to consider reform measures of their own, Congressman Earl Blumenauer (D-OR) told Marijuana Moment last week that the results are likely to encourage reform at the federal level.
On Monday, U.S. House Leader Steny Hoyer (D-MD) seemed to confirm that prediction by announcing that Congress will vote on legislation next month that would end federal cannabis prohibition.
This story has been updated to include additional pre-filed bills.
Congress Will Vote On Federal Marijuana Legalization Next Month, House Leadership Announces
Photo courtesy of Rick Proctor
Marijuana Legalization Could Curb Opioid Crisis In West Virginia, Governor Says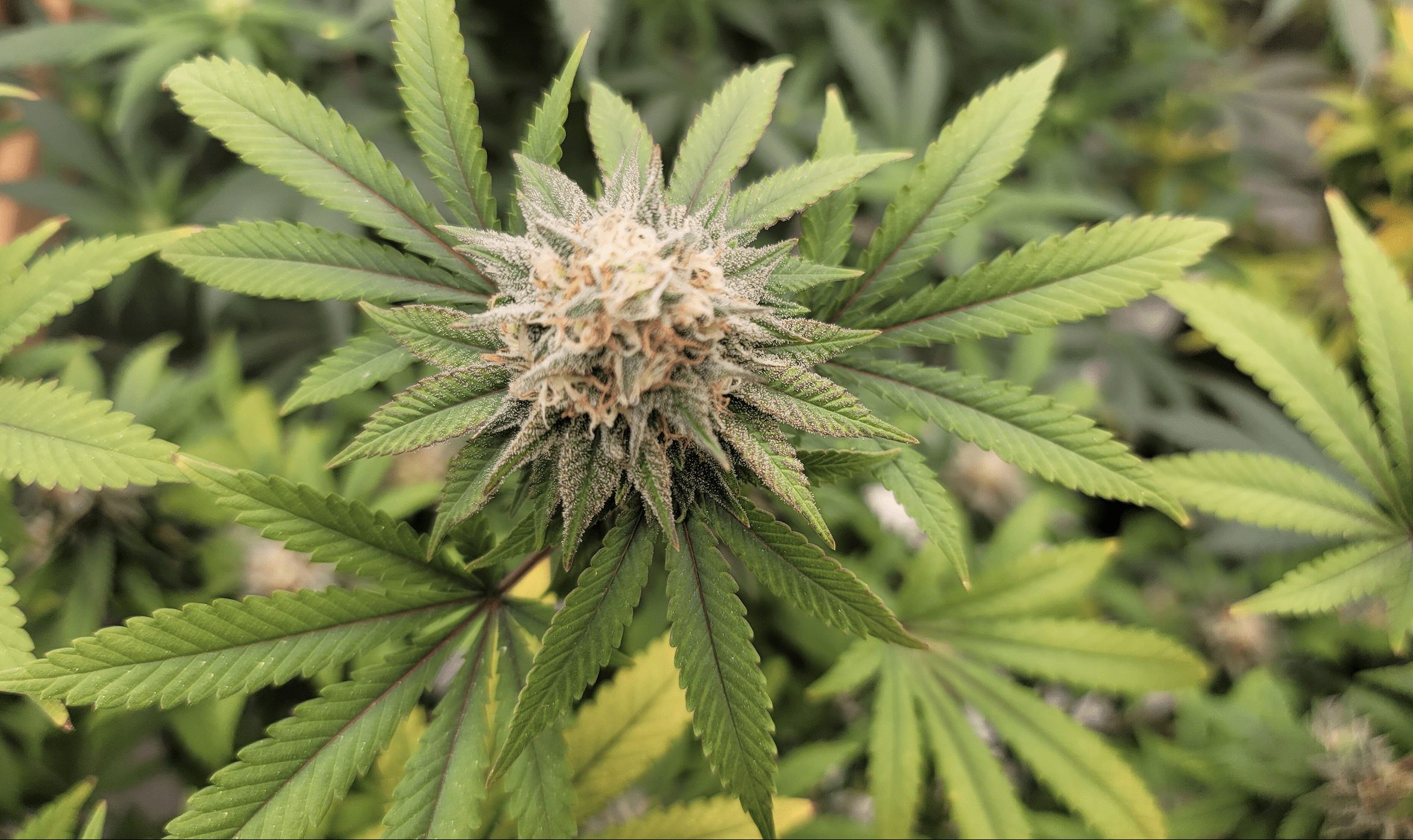 If West Virginia lawmakers send a bill to legalize marijuana to his desk, he will sign it, Gov. Jim Justice (R) said on Tuesday.
While he might not be personally in favor of adult-use legalization, he said in response to a question during a town hall event that he's heard from members of the medical community who feel that regulating cannabis sales could actually reduce "drug-type problems" like the opioid overdose epidemic, which has hit his state especially hard.
"I'll just tell it like it is, I'm not educated enough to make a really good assessment as of yet," he said. "But I can tell you just this: I do believe that that is coming, and the wave is coming across all of our states, and as that wave comes, if our House Republicans and Democrats and Senate Republicans and Democrats would get behind that effort from a standpoint of legalization of recreational marijuana and they would be supportive of that, I would too."
Watch the governor respond to the marijuana legalization question below: 
The governor's point about the broad public health impacts of legalization is substantiated in a growing body of scientific literature that's found that increasing legal access to cannabis—which has been shown to effectively treat conditions such as chronic pain with minimal side effects—leads to fewer opioid prescriptions and overdose deaths.
Tuesday's town hall wasn't specifically about marijuana, however; rather, it centered on the state's push to eliminate the income tax. On that note, House Majority Whip Paul Espinosa (R) recently circulated an internal poll among Republican lawmakers, inquiring about what kind of policies—including marijuana legalization—they'd be willing to support to make up revenue for the state as part of the plan to gut the income tax.
When asked about legalization as a means to raise tax revenue that could theoretically be used to get ride of the income tax, Justice said he's principally opposed to broad reform but "I'm weakening on that position" because while his instinct is to reject regulating marijuana amid the state's drug crisis, the medical community has shifted his perspective.
Experts "tell me that really and truly the legalizing of marijuana in certain areas or certain states that have that, from a recreational standpoint, have lowered their drug-type problems," he said.
"If we could bucket the proceeds [from cannabis tax revenue] and use them in a way, just like this personal income tax reduction…in a really beneficial way for all our people," he would be supportive of that.
—
Marijuana Moment is already tracking more than 700 cannabis, psychedelics and drug policy bills in state legislatures and Congress this year. Patreon supporters pledging at least $25/month get access to our interactive maps, charts and hearing calendar so they don't miss any developments.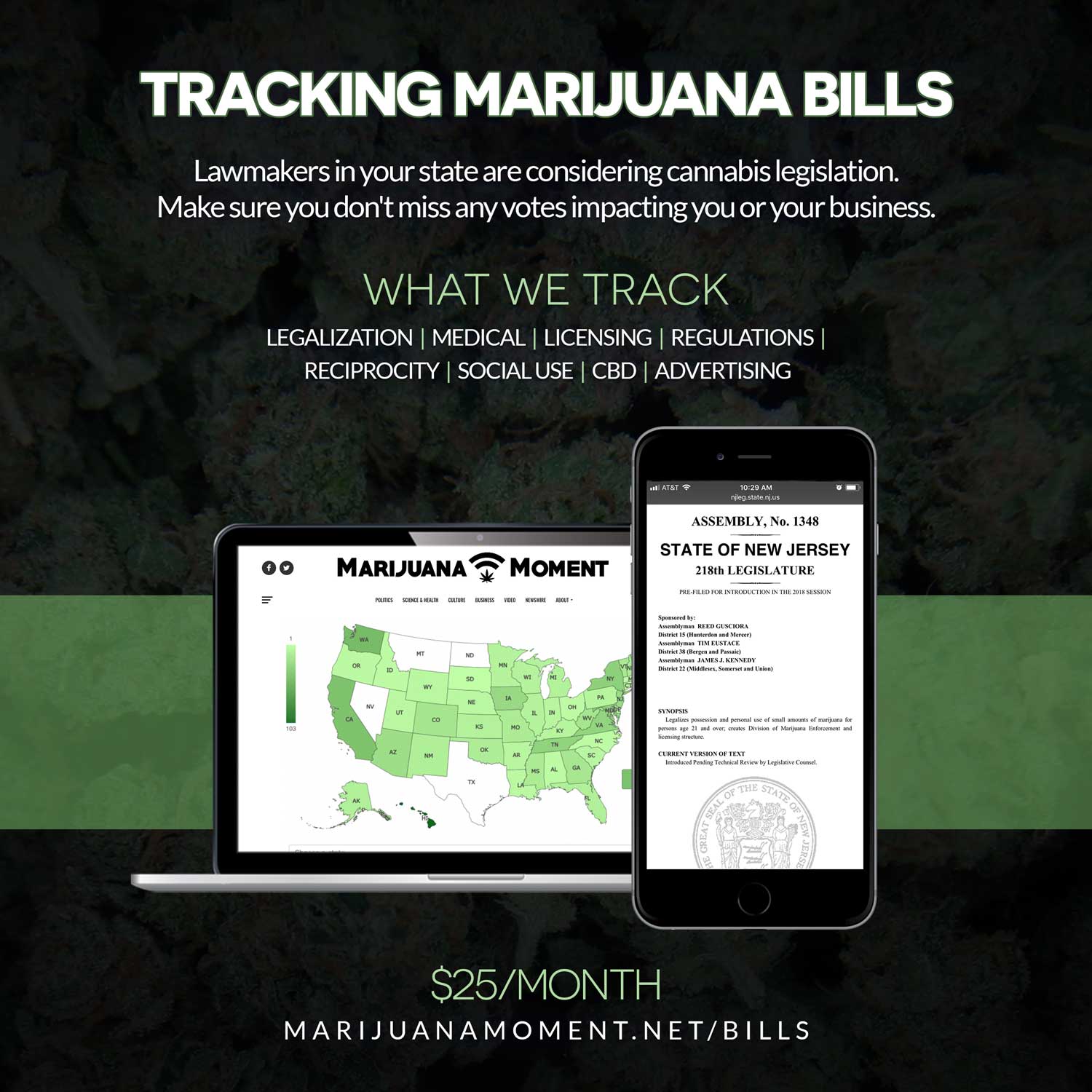 Learn more about our marijuana bill tracker and become a supporter on Patreon to get access.
—
West Virginia approved medical cannabis legalization in 2017, which Justice signed into law, and patients were just recently approved to start registering for the program. That said, the state must still partner with a testing laboratory before marijuana products are made available.
Two Democratic candidates who lost their bids for West Virginia House seats last year had pledged to introduce legislation to legalize marijuana in the state if they were elected.
Chuck Schumer Says Federal Marijuana Legalization Is A Priority In Democrats' 'Big, Bold Agenda'
Photo courtesy of Mike Latimer.
Mississippi House Replaces Senate's Alternate Medical Marijuana Program With What Voters Originally Approved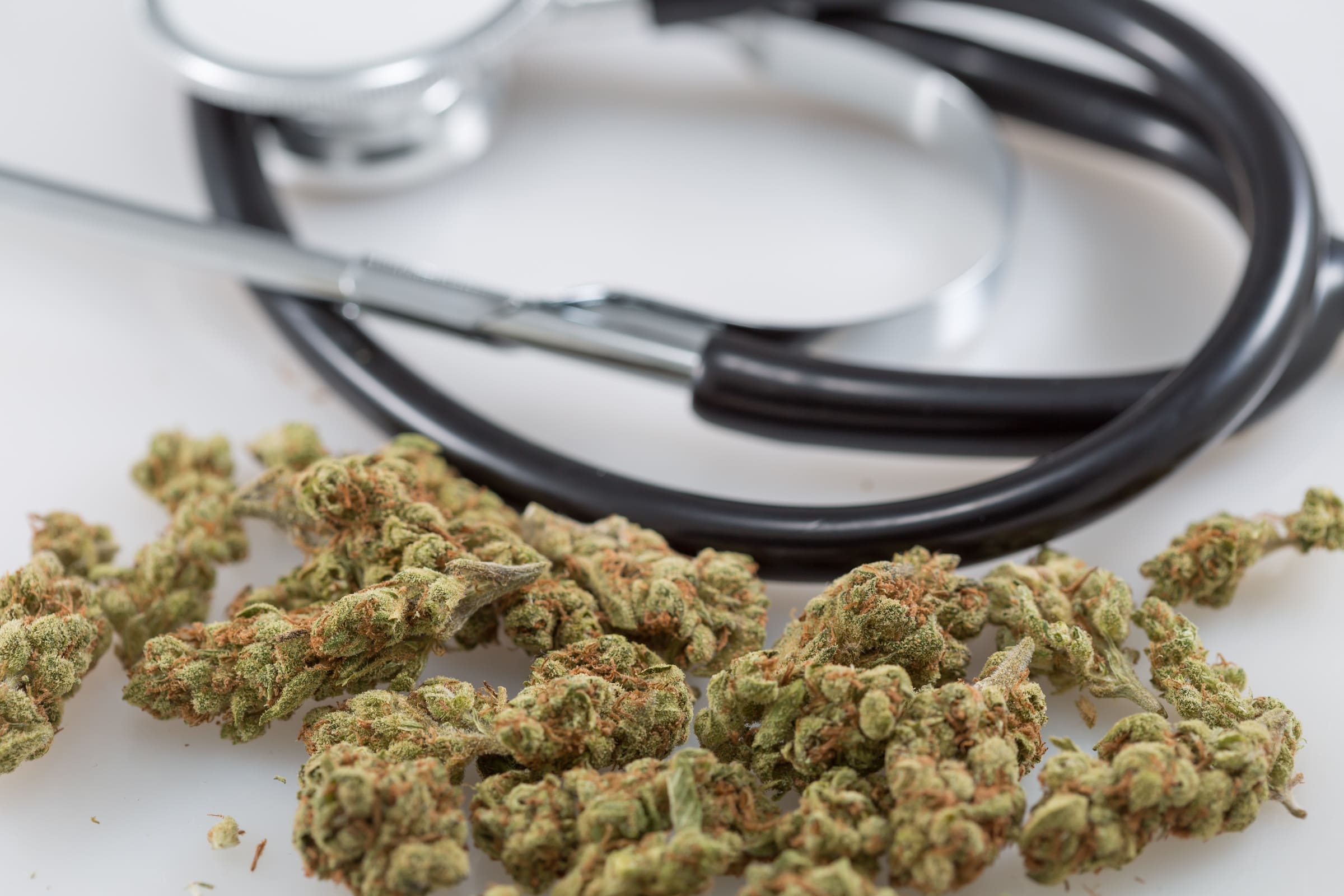 "The people have spoken, with a constitutional amendment about medical marijuana, and that bill went against the spirit of what the people decided."
By Geoff Pender, Mississippi Today
A House panel on Tuesday gutted a Senate medical marijuana proposal and inserted the medical marijuana language voters passed as a constitutional amendment in November.
"I'm interested in seeing that bill die—I think it just did die," said Rep. Robert Johnson III, House minority leader. "The people have spoken, with a constitutional amendment about medical marijuana, and that bill went against the spirit of what the people decided."
Johnson made those statements about Senate Bill 2765 on Tuesday afternoon, when it appeared the bill had died, with no Ways and Means Committee meeting called on the floor for the afternoon to take the bill up. Later, Ways and Means had a meeting and took the bill up, then struck the Senate language and inserted Initiative 65. It now goes to the full House and if passed, back to the Senate in its amended form.
Rep. Joel Bomgar, R-Madison, who helped lead, and fund, the successful citizen initiative to enshrine medical marijuana use in the state constitution, offered the amendment to replace the Senate bill language with Initiative 65's language.
Senate Bill 2765 was originally a legislative alternative to the medical marijuana program voters overwhelmingly approved in November with Ballot Initiative 65, which is now being challenged in the state Supreme Court. The bill passed the Senate only after much wrangling and a "do-over" vote in the wee hours of the morning in mid-February. It was initially drafted to create its own medical marijuana program, regardless of whether the court upholds the voter-passed program. But it was amended during heated Senate debate to take effect only if the courts strike down the voter-passed program.
The legislative move had many Initiative 65 supporters crying foul, claiming the Legislature was trying to usurp the will of the voters. After lawmakers failed for years to approve use of medical marijuana despite a groundswell of public support, voters took matters in hand in November with Initiative 65.
Jessica Rice, director of the Mississippi Cannabis Trade Association was among many watching the legislative alternative marijuana bill with skepticism and trepidation. She questioned whether lawmakers were truly trying to provide a backstop in case courts strike down Initiative 65. If so, she said, they would codify Initiative 65 — as the House panel did — not come up with a proposal with higher taxes and more or different regulations as in the Senate version.
"Our position is that the people have already had an option to vote on a legislative created program, and they chose not to," Rice said last week. "Just because this is up before the Supreme Court does not give the Legislature a second bite at the apple … I think this is about control — they want to be able to be in control of the program, but people have already rejected that."
But many state leaders and lawmakers had lamented that Initiative 65 was drafted to favor the marijuana industry and is just short of legalized recreational use. It puts the Mississippi State Department of Health in charge of the program, with no oversight by elected officials. It also prevents standard taxation of the marijuana, and any fees collected by the health department can only be used to run and expand the marijuana program, not go into state taxpayer coffers. The measure allows little regulation by local governments, no limits on the number of dispensaries and otherwise leaves many specifics … unspecified.
The Senate proposal would have taxed medical marijuana, with a 4 percent excise at cultivation, and with a 7 percent sales tax patients would pay, which was originally 10 percent in earlier drafts of the bill. Most of the taxes collected would have gone to education, including early learning and college scholarships. And the Departments of Agriculture and Revenue would be in charge.
The bill also would have imposed large licensing fees on growers and dispensary shop owners. Originally, those fees would have been $100,000 for growers and $20,000 for dispensaries. Those were reduced to $15,000 and $5,000, respectively, on Thursday night. Other changes were made in an effort to assuage those who believed such fees would keep small businesses and farms out of the game.
The bill barely gained the three-fifths vote it needed to pass the Senate. It faced a Tuesday deadline for the Ways and Means Committee to pass it on to the full House. Ways and Means Chairman Trey Lamar had said late Tuesday he was still undecided on what to do with the bill.
He noted the Ways and Means meeting late Tuesday was not announced on the House floor, as is standard procedure.
"No, it wasn't announced," Lamar said. "We just added it to the schedule. I know that's not the usual way we do it, but I wasn't there to announce it on the floor."
This left many believing the bill had died on deadline without a vote Tuesday—apparently, including House Speaker Philip Gunn.
Gunn said: "The issue, or the challenge here is that the people voted on it in November, and they spoke pretty strongly… I know there is a lawsuit, but that can be dealt with later if we need to. If the Supreme Court throws out that vote, then the Legislature can come back and deal with it. If they uphold it, well then I don't know what the Legislature would have to do with it then."
This story was first published by Mississippi Today.
Biden AG Pick Restates Pledge To Respect State Marijuana Laws, In Writing
Mexican Lawmakers To Vote On Marijuana Legalization Next Week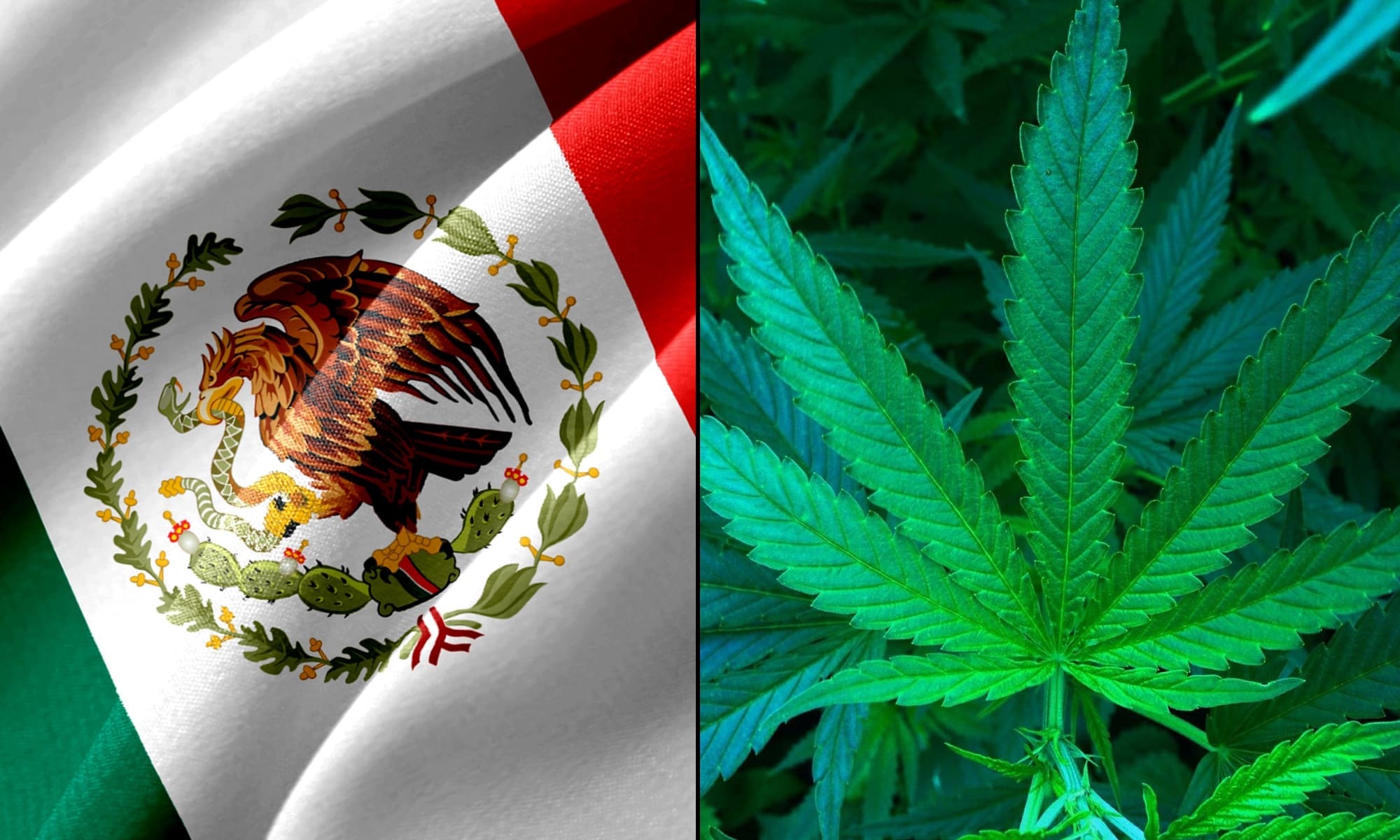 A long-awaited floor vote on a proposal to legalize marijuana in Mexico is being scheduled in the Chamber of Deputies for next week, a move that comes months after the Senate approved the reform.
That said, lawmakers say there is still no formal revised bill for deputies to take up, and it will have to move through the committee process before being potentially returned to the Senate.
Martha Tagle Martínez, a member of the chamber's Health Committee, said on Tuesday that several groups have reached out to her after receiving what appeared to be a draft legislation to regulate cannabis. She clarified that "there is still no formal or definitive document."
The Political Coordination Board, which is established by party leaders to reach consensus on legislative issues, has set floor action for March 9. "But there is still no draft opinion," Martínez said. When there is a bill, it will go to the Health and Justice Committees.
Adicionalmente, la JUCOPO de la @Mx_Diputados ha programado tener la discusión sobre la minuta del senado en materia de #Cannabis para el próximo 9 de marzo, pero aún no hay proyecto de dictamen. Cuando éste circule se deberá convocar a las comisiones unidas de salud y justicia.

— Martha Tagle (@MarthaTagle) March 2, 2021
Those panels will "analyze, discuss, modify and approve the draft opinion" before sending it to the floor.
While it remains to be seen what changes will be made from the Senate version, Martínez said that the current bill as approved in the other chamber does not fulfill the requirements of the Supreme Court, which deemed the prohibition on personal possession and cultivation of marijuana unconstitutional in a 2018 ruling. Lawmakers have since been tasked with ending criminalization, but they've repeatedly pushed back deadlines to enact the policy change.
Hasta ahora, ni la minuta del senado, ni observaciones hechas por el gobierno, atienden la resolución de la @SCJN para garantizar los DDHH y el libre desarrollo de la personalidad de usuarios de #Cannabis.
Es nuestra responsabilidad de @Mx_Diputados centrar la discusión en ello.

— Martha Tagle (@MarthaTagle) March 2, 2021
Now the legislature has until the end of April to legalize cannabis nationwide, and it seems next week's action will set the stage for Congress to make good on its obligation.
In the meantime, the Health Committee already held a preliminary discussion on the issue last month.
EN VIVO / Reunión de Junta Directiva de la Comisión de Salud https://t.co/fToNXQd19B

— Cámara de Diputados (@Mx_Diputados) February 24, 2021
Members of the panel said they wanted to hold four sessions to debate the legislation, but its president, Carmen Medel Palma, has yet to convene them and wants to speed up the process, La Jornada reported.
The Justice Committee also met to discuss the matter on Sunday, according to the group Cáñamo México.
Estimadxs integrantes de la Comisión de @Justicia_Dip, ¿serían tan amables de informarnos lo sucedido en su Reunión Extraordinaria de la Junta Directiva sobre la dictaminación de la Ley Federal para la Regulación del Cannabis sucedida hoy a las 17 horas? @Mx_Diputados #Cannabis

— Cáñamo México (@canamo_mexico) March 2, 2021
The two panels were initially expected to send a revised legalization proposal to the floor last month, but that didn't happen.
➡️ Informa la presidenta de la Comisión de Salud que se prevé que esta semana se convoque a reunión de comisiones unidas para discutir y votar el dictamen a la minuta en materia de regulación de cannabis. https://t.co/2mBuGsv3kj

— Cámara de Diputados (@Mx_Diputados) February 23, 2021
President Andres Manuel Lopez Obrador, for his part, said in December that a vote on legalization legislation was delayed due to minor "mistakes" in the proposal.
He said "there was no time to conduct a review" in the legislature before the prior December 15 Supreme Court deadline, but he noted that issues that need to be resolved are "matters of form" and "not of substance."
The Senate passed the legalization bill in November and transmitted it to the Chamber of Deputies. Several committees took up the bill, with the Human Rights and Budget and Public Account Committees representing one panel that considered and advanced it just before the the court granted lawmakers' latest deadline extension request.
While advocates are eager for lawmakers to formally end prohibition, they hoped the delay would give them more time to try to convince the legislature to address their concerns about certain provisions of the current bill, namely the limited nature of its social equity components and strict penalties for violating rules.
In response to unofficial drafts of the legalization measure that were obtained by advocacy groups, Regulación Por La Paz said the proposals "give way to a regulation designed as a way for the great national and international capital, at the cost of the criminalization of users" and that the draft legislation "prioritizes the interests of the industry over rights and needs of the Mexican citizenship."
⚠ #Comunicado ⚠

Desde #RegulaciónPorLaPaz vemos con preocupación el rumbo que está tomando la discusión en torno a la regulación de #cannabis en la @Mx_Diputados debido a que prioriza los intereses de la industria por encima de los derechos y necesidades de la ciudadanía. pic.twitter.com/zSy3phdNMr

— Regulación Por La Paz (@regulacionxpaz) February 24, 2021
"The worst they propose [is] a registry for self cultivators," Mariana Sevilla of Regulación Por La Paz told Marijuana Moment, adding that she also concerned about the inclusion of vertical integration for cannabis businesses.
Activists also want to increase the percentage of licenses granted to people harmed by prohibition.
"To avoid the formation of corporate oligopolies and promote a horizontal and inclusive market that encourages dignified participation and fair conditions for communities in vulnerable situations, it is essential to incorporate a perspective of social justice," Zara Snapp of the Instituto RIA and #RegulacionPorLaPaz wrote in an op-ed coauthored by ReverdeSer Colectivo Coordinator Amaya Ordorika Imaz.
The legalization bill cleared a joint group of Senate committees prior to the full floor vote in that chamber, with some amendments being made after members informally considered and debated the proposal during a virtual hearing.
Members of the Senate's Justice, Health, and Legislative Studies Committees had approved a prior version of legal cannabis legislation last March, but the coronavirus pandemic delayed consideration of the issue.
In general, the Senate bill would establish a regulated cannabis market, allowing adults 18 and older to purchase and possess up to 28 grams of marijuana and cultivate up to six plants for personal use.
The legislation makes some attempts to mitigate the influence of large marijuana corporations. For example, it states that for the first five years after implementation, at least 40 percent of cannabis business licenses must be granted to those from indigenous, low-income or historically marginalized communities.
The Mexican Institute of Cannabis would be responsible for regulating the market and issuing licenses.
Public consumption of marijuana would be allowed, except in places where tobacco use is prohibited or at mass gatherings where people under 18 could be exposed.
Households where more than one adult lives would be limited to cultivating a maximum of eight plants. The legislation also says people "should not" consume cannabis in homes where there are underaged individuals. Possession of more than 28 grams but fewer than 200 grams would be considered an infraction punishable by a fine but no jail time.
Sen. Julio Ramón Menchaca Salazar of the MORENA party said in April that legalizing cannabis could fill treasury coffers at a time when the economy is recovering from the pandemic.
As lawmakers work to advance the reform legislation, there's been a more lighthearted push to focus attention on the issue by certain members and activists. That push has mostly involved planting and gifting marijuana.
In September, a top administration official was gifted a cannabis plant by senator on the Senate floor, and she said she'd be making it a part of her personal garden.
A different lawmaker gave the same official, Interior Ministry Secretary Olga Sánchez Cordero, a marijuana joint on the floor of the Chamber of Deputies in 2019.
Cannabis made another appearance in the legislature in August, when Sen. Jesusa Rodríguez of the MORENA party decorated her desk with a marijuana plant.
Drug policy reform advocates have also been cultivating hundreds of marijuana plants in front of the Senate, putting pressure on legislators to make good on their pledge to advance legalization.
Chuck Schumer Says Federal Marijuana Legalization Is A Priority In Democrats' 'Big, Bold Agenda'