Congress Will Vote On Federal Marijuana Legalization Next Month, House Leadership Announces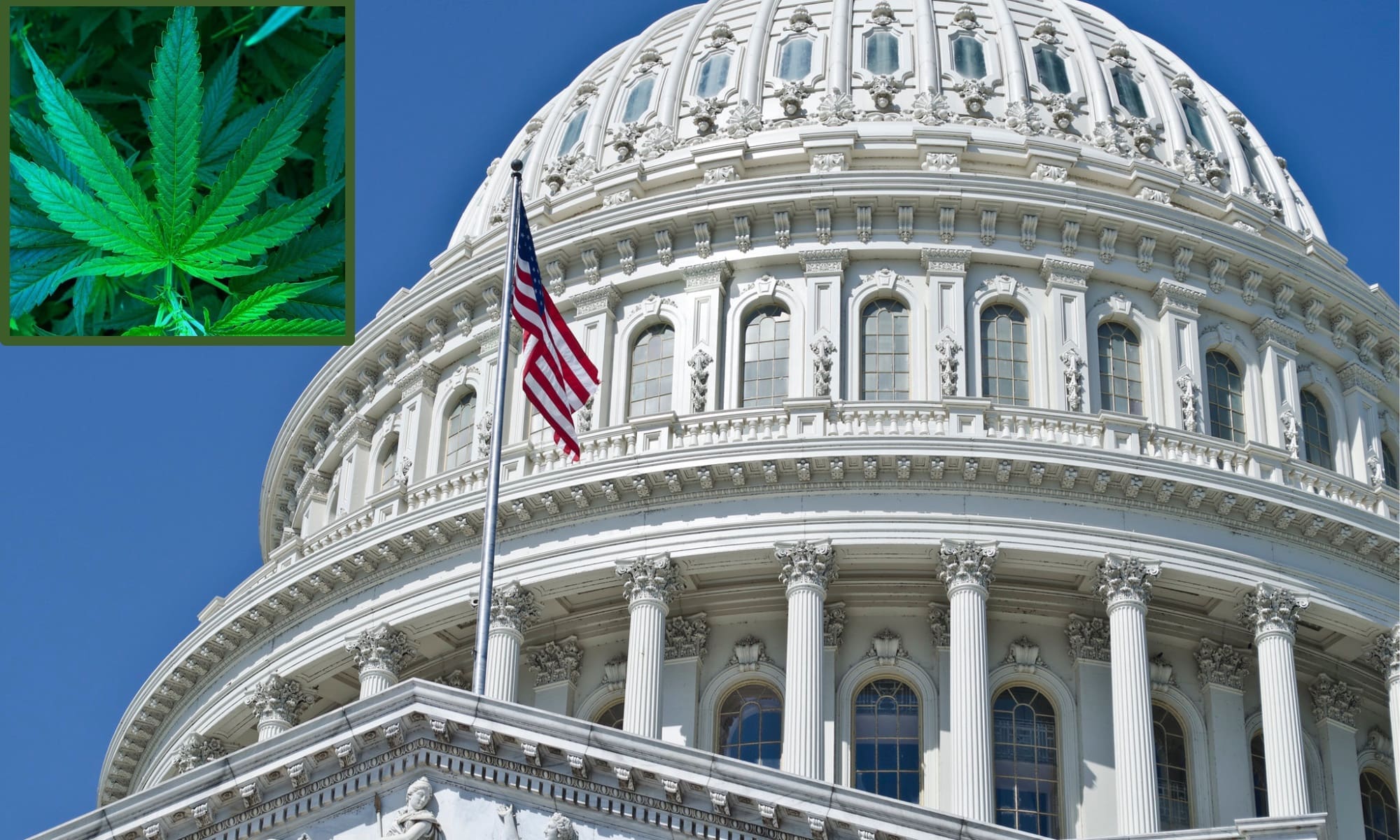 Less than a week after an Election Day in which voters in five states approved ballot measures to legalize marijuana in some form, a top leader in the U.S. House of Representatives announced that the body will hold a floor vote on a bill to end federal cannabis prohibition next month.
While the presidential election has seized national attention, with advocates hoping President-elect Joe Biden will make good on his campaign pledge to pursue modest marijuana reform starting next year, the comprehensive marijuana legalization bill is still in play during the current Congress.
House Majority Leader Steny Hoyer (D-MD) previously announced this summer that the chamber would vote on the Marijuana Opportunity, Reinvestment and Expungement (MORE) Act in September, but that plan was postponed following pushback from certain centrist Democrats who worried about the optics of advancing cannabis reform before passing another coronavirus relief package.
Several of those members were voted out during an election in which voters in red states such as Montana and South Dakota approved cannabis legalization ballot measures, raising questions about the lawmakers' strategic thinking on the issue.
In any case, Hoyer confirmed on Monday that marijuana legalization is still on the table before the presidential transition and will get a vote in December. That could also raise the pressure on Biden to embrace legalization—a policy he's declined to adopt despite supermajority support among Democratic voters.
The House will "vote on the MORE Act to decriminalize cannabis and expunge convictions for non-violent cannabis offenses that have prevented many Americans from getting jobs, applying for credit and loans, and accessing opportunities that make it possible to get ahead in our economy," Hoyer said in a Dear Colleague letter to House members.
The MORE Act, whose lead sponsor is Judiciary Committee Chairman Jerrold Nadler (D-NY), would federally deschedule cannabis, expunge the records of those with prior marijuana convictions and impose a federal five percent tax on sales, revenue from which would be reinvested in communities most impacted by the drug war.
The legislation would also create a pathway for resentencing for those incarcerated for marijuana offenses, as well as protect immigrants from being denied citizenship over cannabis and prevent federal agencies from denying public benefits or security clearances due to its use.
It cleared Nadler's panel almost a year ago and has been awaiting floor action since.
Justin Strekal, political director of NORML, told Marijuana Moment that the organization looks forward "to working with House leadership to ensure the success of the first ever vote to end marijuana on the floor of a chamber of Congress."
Even if the bill does pass in the Democratic-controlled chamber, as it's expected to with some bipartisan support, it remains unlikely that the Senate will follow suit. Majority Leader Mitch McConnell (R-KY) is a champion of the hemp industry but staunchly opposes further marijuana reform.
Even so, a symbolic vote for legalization could send a strong signal to the incoming Biden administration. Vice President-elect Kamala Harris (D-CA) is the lead Senate sponsor of the MORE Act, but she's indicated she would not proactively push the former vice president to evolve further on cannabis reform.
Given Biden's former approach to championing punitive anti-drug legislation as a senator and his ongoing obstinance on marijuana legalization at a time when polls show that a clear majority of Americans favor the policy change, there remains some skepticism about his willingness to make good on his campaign promises to prioritize decriminalization or the other reforms he's discussed.
However, the president-elect has conceded that his work on punitive anti-drug legislation was a "mistake."
Outside of Congress, Biden could also make moves to advance cannabis reform administratively.
He could, for example, reinstate a version of the Obama-era Justice Department memo that directed federal prosecutors to generally not interfere with state marijuana laws, which was rescinded by the Trump administration in 2018. It is also within the power of the executive branch to reschedule marijuana under the Controlled Substances Act. Biden has pledged to make a move to Schedule II, though that would not achieve many of the changes advocates seek.
The president has the unilateral authority to grant acts of clemency, including pardons and commutations, to people who have been convicted of federal marijuana or other drug offenses. He also gets to appoint an attorney general, drug czar and other officials who will make decisions on how the federal government handles the issue—though many of those officials will be subject to Senate confirmation.
For his part, Rep. Earl Blumenauer (D-OR) told Marijuana Moment in August that "the Biden administration and a Biden Department of Justice would be a constructive player" in advancing legalization.
Read Hoyer's letter about the lame duck session schedule, including a marijuana vote, below: 
Dear Colleague:
As Members of the House prepare to return to session next week, I write to share the busy Floor schedule we have for the remainder of the year.
During the week of November 16-20, much will be happening off the Floor, as Members-elect participate in New Member Orientation and leadership elections take place for both Democrats and Republicans for the 117th Congress. Meanwhile, on the Floor, the House will consider legislation to reauthorize the National Apprenticeship Act and create more than 1 million apprenticeship opportunities by 2025. Advanced by the Education and Labor Committee, this bill streamlines standards for apprenticeship programs, encourages employers to participate, and expands recruitment efforts. It is an important component of the Make It In America plan to grow jobs and opportunities for American workers and businesses and will help us build our economy back better from the crisis created by COVID-19.
Following the Thanksgiving District Work Period, the House is scheduled to be in session Tuesday, December 1 through Friday, December 4 and Monday, December 7 through Thursday, December 10. Members should be prepared to be in session past December 10th if needed to complete our work. Our top priority continues to be enacting legislation to provide relief for those experiencing economic hardship due to COVID-19, and I hope the Senate and the Trump Administration will work with the House to reach agreement on a bill along the lines of what we passed in May and October through the Heroes Act. So far, the Republican-led Senate has ignored this pressing challenge, and it is long past time to act. I hope the Senate will change course and do its job.
Also in December, we will be focused on an omnibus appropriations measure to fund the government for the remainder of FY2021 and prevent a government shutdown on December 11, when the current continuing resolution expires. I also expect the House to consider a conference report on the National Defense Authorization Act to reauthorize key defense programs and ensure that our military has the tools needed to keep our nation safe, as well as a conference report on the Water Resources Development Act. In addition, the House will vote on the MORE Act to decriminalize cannabis and expunge convictions for non-violent cannabis offenses that have prevented many Americans from getting jobs, applying for credit and loans, and accessing opportunities that make it possible to get ahead in our economy.
As we look ahead to the November and December legislative work periods, I hope we can finish the 116th Congress with the same energy and record of achievement that characterized the House over the past two years. We have much work still ahead, and I hope we can move forward together in a spirit of bipartisan cooperation and a determination to finish this year on a strong note, on our way to the very busy 117th Congress that awaits us next year.
Sincerely,
Steny Hoyer"
What Joe Biden's Presidential Victory Means For Marijuana In 2021
Image element courtesy of Tim Evanson.
Local Colorado Lawmakers Say Psychedelics Reform Needs To Be Handled At State Or Federal Level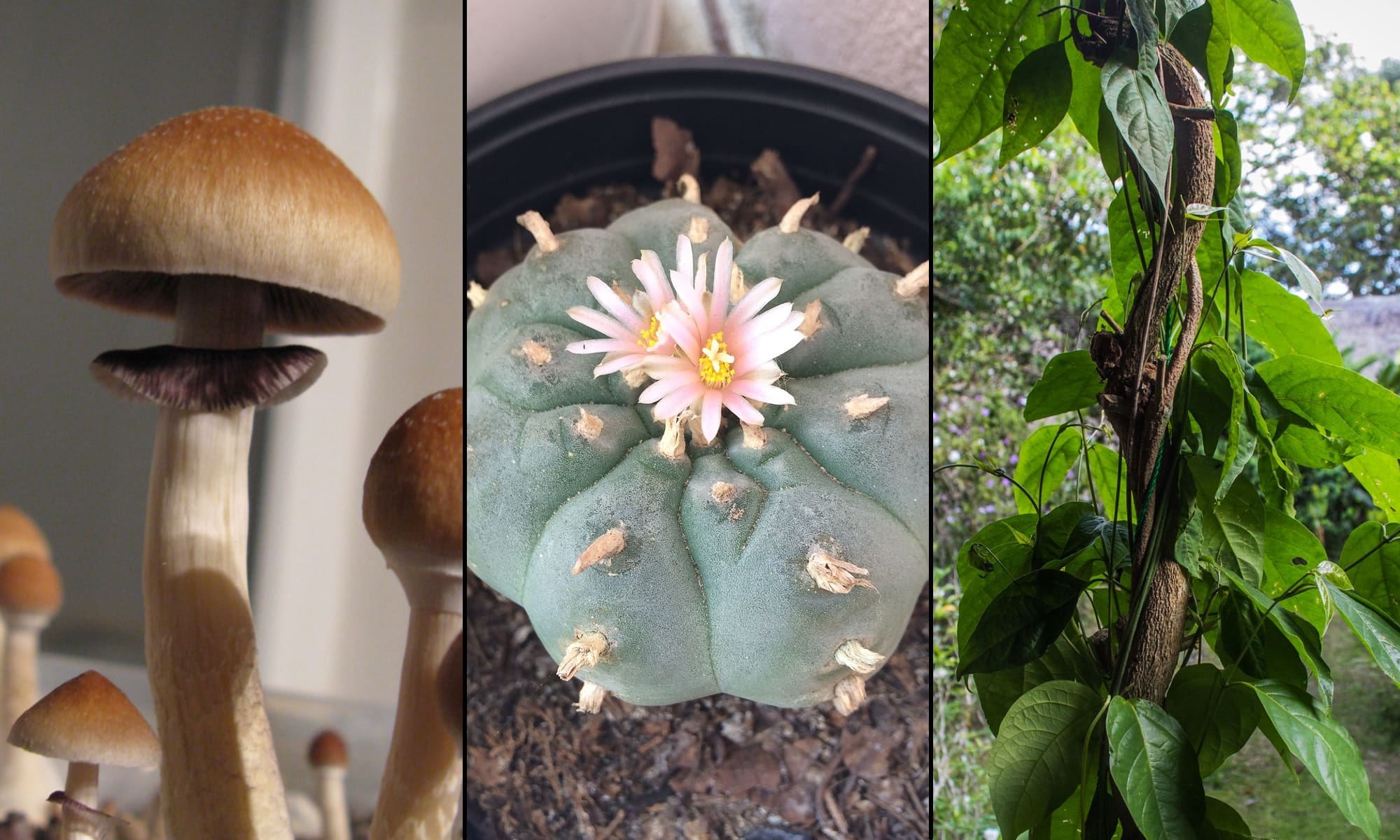 The Aspen, Colorado City Council on Monday discussed the therapeutic potential of psychedelics like psilocybin and proposals to decriminalize such substances. But members said, as it stands, enacting a reform would be more better handled at the state level while entheogens remain strictly federally controlled.
While numerous cities across the U.S. have adopted measures to deprioritize enforcement of laws against entheogenic plants and fungi—and Oregon voted to legalize psilocybin mushrooms for medical use—the local legislators did not take action beyond talking about psychedelics research and outlining the various policy challenges associated with state and federal prohibition.
"We're heading in this direction—it's just research needs to be done and the groundwork needs to be laid," one member said at the work session, which was first reported by Aspen Daily News.
Watch the Aspen lawmakers discuss psychedelics policy, starting around 14:25 into the video below: 
There was considerable discussion during the meeting about Denver's historic move to decriminalize psilocybin in 2019. But while one member said the council "could take similar actions," another member pointed out that there is no municipal law prohibiting the substance as it stands, and so it would require a state law change to actually decriminalize.
Also, if Aspen moved to loosen restrictions on psychedelics on its own, some members worried that could make them targets of federal enforcement.
So instead of moving to independently enact a policy change, members could "informally" express support for "research to see what the benefits of these drugs are and how they can be used in therapy." They could do that "by resolution or not," the member said.
But in the end, there was no direction for council staff to write up a resolution. Several members said it would put too much of a workload on staff, and others said that formally promoting decriminalization could create complications for law enforcement.
Last year, the Colorado Springs City Council also talked about decriminalizing psychedelics—with the body's president sharing a personal anecdote about psilocybin treatment for a relative who had cancer—but no action was taken at that meeting either.
While the Aspen City Council might not be ready to unilaterally advance reform, numerous other local governments have moved to stop criminalizing people over entheogens since Denver became the first city in the nation to decriminalize psilocybin via voter initiative.
The Northampton, Massachusetts City Council is the latest example, with members unanimously adopting a resolution last month to deprioritize enforcement of laws against the possession, use and distribution of a wide range of psychedelics such as psilocybin and ayahuasca.
Two other Massachusetts cities—Somerville and Cambridge—have also moved to effectively decriminalize psychedelics. Outside of that state, four other cities—Oakland, Santa Cruz, Ann Arbor and Washington, D.C.—have also decriminalized possession of plant-and fungi-based psychedelics.
In Oakland, the first city where a city council voted to broadly deprioritize criminalization of entheogenic substances, lawmakers approved a follow-up resolution in December that calls for the policy change to be adopted statewide and for local jurisdictions to be allowed to permit healing ceremonies where people could use psychedelics.
After Ann Arbor legislators passed a decriminalization resolution last year, a county prosecutor recently announced that his office will not be pursuing charges over possessing entheogenic plants and fungi—"regardless of the amount at issue."
At the state level, the Texas House of Representatives approved to a bill last week that would require the state to conduct a study into the therapeutic potential of psychedelics like psilocybin and MDMA.
Meanwhile, two Senate committees in California have recently approved a bill to legalize possession of a wide range of psychedelics and create a working group to study broader reform.
Minnesota Marijuana Legalization Bill Could 'Absolutely' Pass Full Legislature If GOP Senate Allows A Vote, Sponsor Says
Photo elements courtesy of carlosemmaskype and Apollo.
CBD Company's Appeal Could Let Marijuana And Psychedelics Companies Trademark Businesses Pre-Legalization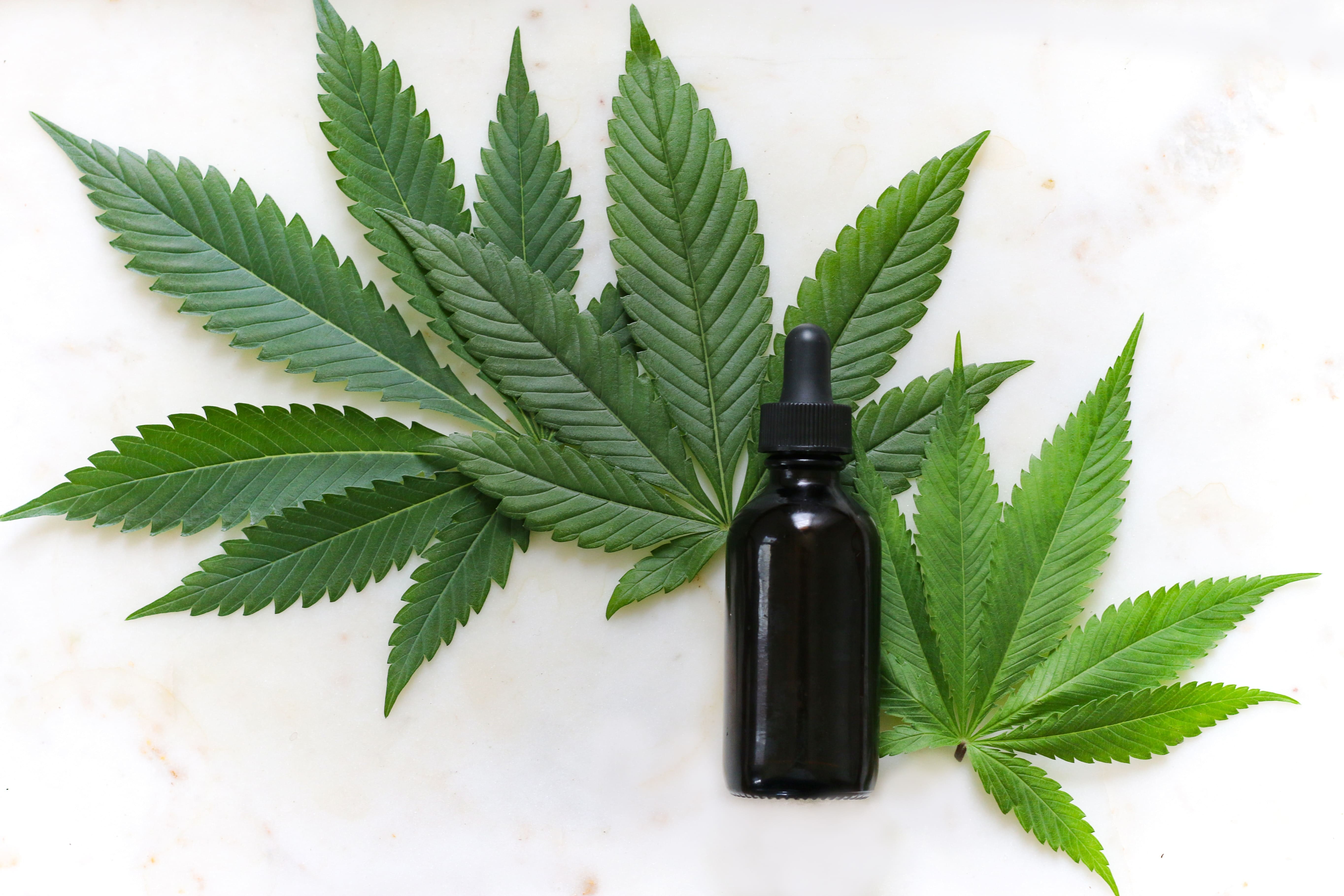 As it stands, you can't trademark a product that's not currently legal under federal law—like marijuana or psychedelics. But a CBD beverage company is appealing that rule, and it could have wide-ranging implications for burgeoning industries surrounding potentially soon-to-be-legal substances.
The U.S. Patent and Trademark Office (USPTO) says that companies cannot secure trademarks for products that aren't lawful for commerce, even if they're simply submitting "intent to use" applications that could take years to process while a pending policy change works its way through Congress or federal agencies.
"While applicant may be anticipating that CBD-based beverages will be made lawful at the federal level within the time frame for filing an allegation of use, that anticipation does not make this application registrable," USPTO wrote in explaining its decision to deny a registration to Joy Tea, which markets hemp-derived CBD drinks. "The lawfulness of the goods is determined at the time the application is filed and not what may or may not be lawful at the federal level years from now."
Joy Tea is appealing the rejection with the Trademark Trial and Appeal Board.
While hemp and its derivatives like CBD were legalized under the 2018 Farm Bill, USPTO denied its trademark request because the Food and Drug Administration (FDA) does not currently have regulations in place that allow for the lawful marketing of cannabinoids in food items or dietary supplements.
While the federal food regulator has said it's working on rules to allow for the marketing of CBD-infused products, USPTO says that for now, "FDA intentions, public opinion in favor of legalization of cannabis, and anticipation of change in the current law have no bearing on the prosecution of a trademark application."
But Larry Sandell, an intellectual property attorney at Mei & Mark LLP who is representing Joy Tea, told Marijuana Moment that it's improper to deny his client a trademark registration in the meantime.
"The general idea as to why [companies submit intent to use applications]—outside the cannabis space—is if you're marketing a new product, and you're starting to lay the groundwork, it would be terrible if somebody could just swoop it up and beat you to the trademark office and steal it out from under you," he said.
Traditional pharmaceutical companies that are interested in selling products that aren't currently approved by FDA have this option—but CBD businesses are barred.
"There's no real logical basis for the split," Sandell said.
But USPTO said the comparison is "misleading because pharmaceuticals are not per se unlawful."
Joy Tea "has not argued or demonstrated that it is seeking or has sought FDA approval for the sale of its CBD-based beverages," the agency said. "Applicant's goods are not merely 'unapproved' but are actually 'unlawful.'"
To resolve the issue, Joy Tea, is seeking an appeal.
"At base, this Appeal seeks to overturn, or at least narrow, this per se rule," the company's filing states. "No statute or applicable regulation supports disqualifying an applicant's bona fide intent that stems from a belief—especially an objectively reasonable belief—that its intended future commerce will be legal future commerce,"
It further argues that "market movement in cannabis-related stocks evinces that—notwithstanding the current law—many people anticipate changes in federal law toward cannabis legalization in the immediate future and have been willing to invest in this belief."
If the appeal succeeds and companies are prospectively able to trademark products that aren't currently legal under federal law, that would have a significant impact on businesses entering the space.
If it fails, however, that would mean that the status quote prevails, putting these companies "in a terrible spot," Sandell said.
It would mean, for example, that a company could preempt another company that plans to sell a cannabis product by taking their business name and using it for a legal, unrelated purpose.
Should Joy Tea's current effort fail, Sandell said they will appeal to a federal circuit court. They're expecting a response to the initial briefing by mid-summer.
Read the text of the appeal on the CBD trademark below: 
CBD Tea Trademark Appeal by Marijuana Moment
Head Of Top Federal Drug Agency Says It's Time To Consider Decriminalization
Photo by Kimzy Nanney.
Minnesota Marijuana Legalization Bill Could 'Absolutely' Pass Full Legislature If GOP Senate Allows A Vote, Sponsor Says
A bill to legalize marijuana in Minnesota is set for a House floor vote this week, and the sponsor of the legislation is optimistic that it could pass the full legislature—if only the GOP-controlled Senate would just allow a vote on it.
This measure—filed by House Majority Leader Ryan Winkler (D), Speaker Melissa Hortman (D) and other lawmakers—has moved through a dozen committees since February. It would allow adults 21 and older to purchase and possess up to 1.5 ounces of cannabis and cultivate up to eight plants, four of which could be mature.
Despite being advanced through 12 House panels, there have been lingering doubts about its prospects in the Senate. But Winkler said in an interview on Sunday that, if Republican leadership in the chamber give it a vote, "it absolutely could pass."
"Support for legalizing cannabis for recreational or personal use, making sure that we have a safe, regulated marketplace, that we are expunging criminal records for people who've been unfairly targeted for law enforcement reasons for cannabis in the past, making sure that we're creating a marketplace that reflects Minnesota's values—all those things are our priorities in this bill, and they are priorities for Minnesotans of all political persuasions," Winkler said.
Pressed on whether the legislation could advance through the Republican-led Senate if it advances through the House, the leader said it "absolutely could pass," citing public polling on the issue and the fact that South Dakota voters approved a legalization initiative last year.
"It cuts across both parties," Winkler said. "I don't see any reason why it wouldn't pass both houses if the vote can come up in the Senate."
But one provision of the legalization bill that the leader isn't willing to cede on concerns expungements for people with prior cannabis convictions.
Convictions for non-violent cannabis offenses push people into a cycle of poverty that cuts them off from housing and jobs.

That's why expunging existing cannabis offenses is a non-negotiable piece of our legalization bill. This is an economic and criminal justice issue.

— Ryan Winkler (@_RyanWinkler) May 10, 2021
He said in a tweet on Monday that "expunging existing cannabis offenses is a non-negotiable piece of our legalization bill," and that "is an economic and criminal justice issue."
While Republican support remains an open question in either chamber, it is the case that the proposal has earned the support of several GOP members as its moved through an extensive committee process.
That's despite the fact that Republicans have generally signaled that they're more interested in revising the state's existing medical cannabis program than enacting legalization of adult use.
But a GOP member of the House Taxes Committee, which approved the broader legalization bill last week, indicated that he felt an amendment he introduced and that was adopted could bolster Republican support.
That revision from Rep. Pat Garofolo (R) directs remaining cannabis revenue to a tax relief account after implementation costs are covered and substance misuse treatment and prevention programs are funded.
—
Marijuana Moment is already tracking more than 1,100 cannabis, psychedelics and drug policy bills in state legislatures and Congress this year. Patreon supporters pledging at least $25/month get access to our interactive maps, charts and hearing calendar so they don't miss any developments.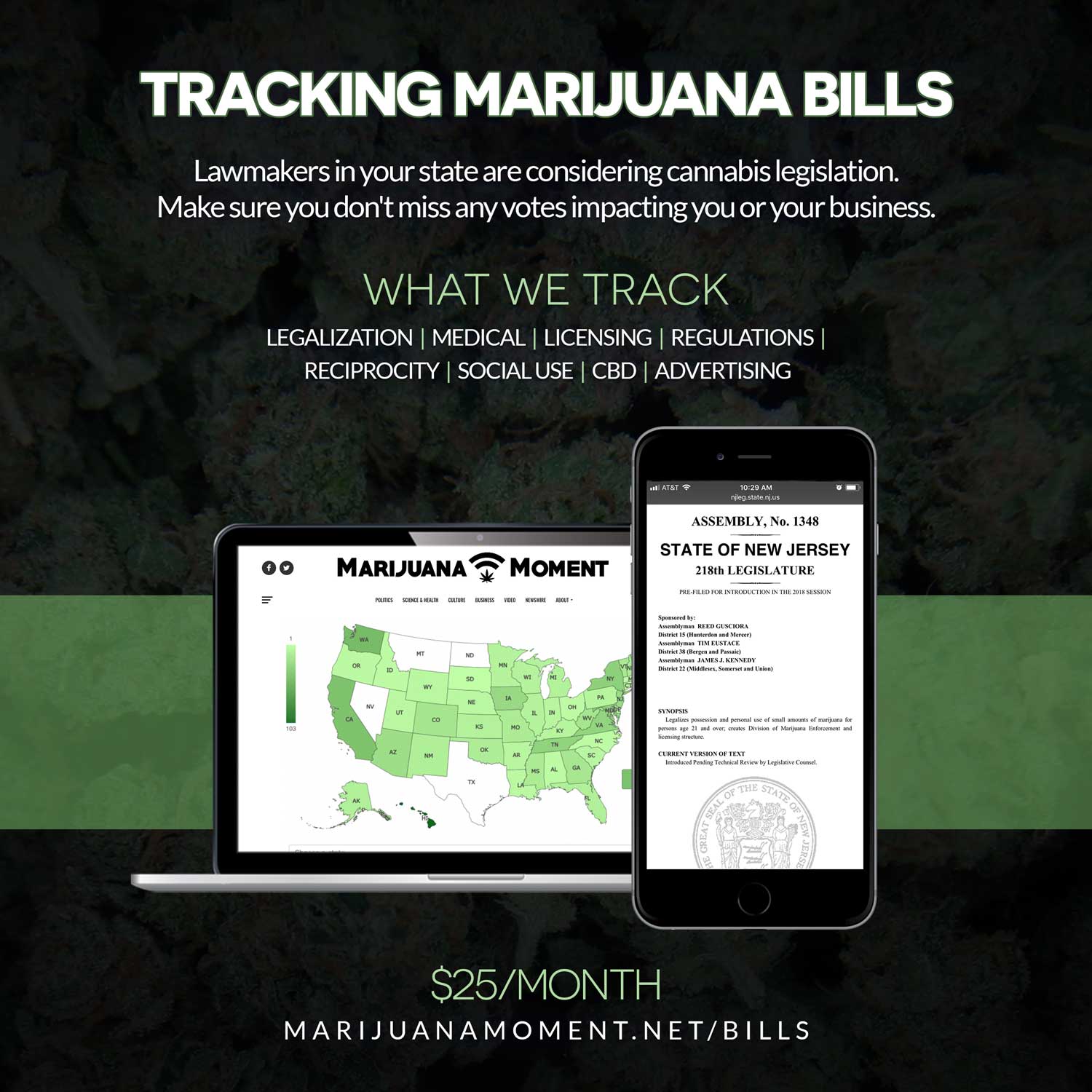 Learn more about our marijuana bill tracker and become a supporter on Patreon to get access.
—
Before the Taxes Committee, the bill passed the Health Finance and Policy Committee, Public Safety and Criminal Justice Reform Finance and Policy Committee, Education Finance Committee, State Government Finance and Elections Committee, Judiciary Finance and Civil Law Committee, Environment and Natural Resources Finance and Policy Committee, Agriculture Finance and Policy Committee, Workforce and Business Development Finance and Policy Committee, Labor, Industry, Veterans and Military Affairs Finance and Policy Committee and Commerce Finance and Policy Committee.
The litany of committees the bill has gone through makes it perhaps the most thoroughly vetted legalization measure to move through a state legislature—and it means that a solid portion of the House has already had the chance to review, propose amendments to and vote on the legislation it as it advances to the floor, presumably increasing its chances of passage in the chamber.
The majority leader's bill as introduced was identical to a proposal he filed last year, with some minor technical changes. Winkler, who led a statewide listening to gather public input ahead of the measure's introduction, called it the "best legalization bill in the country" at the time. It did not advance in that session, however.
Under the legislation, social equity would be prioritized, in part by ensuring diverse licensing and preventing the market from being monopolized by corporate players. Prior marijuana records would also be automatically expunged.
On-site consumption and cannabis delivery services would be permitted under the bill. And unlike in many legal states, local municipalities would be banned from prohibiting marijuana businesses from operating in their areas.
Retail cannabis sales would be taxed at 10 percent. Part of that revenue would fund a grant program designed to promote economic development and community stability.
The bill calls for the establishment of a seven-person Cannabis Management Board, which would be responsible for regulating the market and issuing cannabis business licenses. It was amended in committee month to add members to that board who have a social justice background.
People living in low-income neighborhoods and military veterans who lost honorable status due to a cannabis-related offense would be considered social equity applicants eligible for priority licensing.
Cannabis retails sales would launch on December 31, 2022.
Gov. Tim Walz (D) is also in favor of ending marijuana prohibition, and in January he called on lawmakers to pursue the reform as a means to boost the economy and promote racial justice. He did not include a request to legalize through his budget proposal, however.
Walz did say in 2019 that he was directing state agencies to prepare to implement reform in anticipation of legalization passing.
Winkler, meanwhile, said in December that if Senate Republicans don't go along with the policy change legislatively, he said he hopes they will at least let voters decide on cannabis as a 2022 ballot measure.
Heading into the 2020 election, Democrats believed they had a shot of taking control of the Senate, but that didn't happen. The result appears to be partly due to the fact that candidates from marijuana-focused parties in the state earned a sizable share of votes that may have otherwise gone to Democrats, perhaps inadvertently hurting the chances of reform passing.
In December, the Minnesota House Select Committee On Racial Justice adopted a report that broadly details race-based disparities in criminal enforcement and recommends a series of policy changes, including marijuana decriminalization and expungements.
Head Of Top Federal Drug Agency Says It's Time To Consider Decriminalization