Marijuana Legalization In Texas Would Generate Billions In Tax Revenue, New Economic Analysis Shows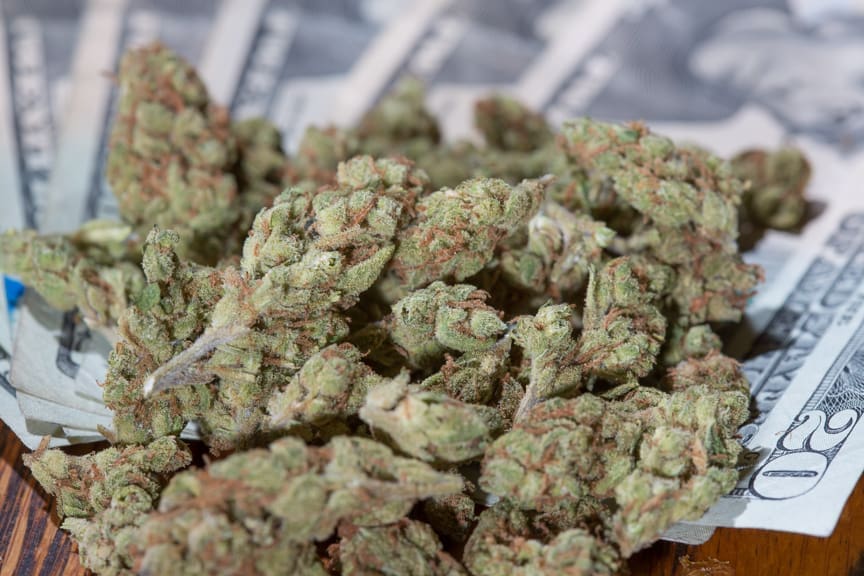 Texas stands to generate billions of dollars in marijuana tax revenue and create tens of thousands of jobs if the plant is legalized, according to a new economic analysis.
While the legislature has been resistant to pursue the policy change, the report from Vicente Sederberg LLP makes a compelling case for legalizing and regulating cannabis sales in the state, at least from an economic perspective.
It finds that, given the estimated adult-use marijuana market, there would be $2.7 billion in cannabis sales annually in Texas. And if the state followed Colorado's tax model, it could bring in more than $1.1 billion in marijuana tax dollars per biennium.
Further, the comparative analysis projects that 20,000-40,000 jobs would be directly created in the legal industry, in addition to ancillary positions for "contractors and construction firms, electrical and water service providers, HVAC manufacturers and installers, processing equipment producers and retailers, and other professionals."
"We also expect it would bolster the hospitality industry, which would benefit communities that rely on tourism; especially those that have recently been severely impacted by the novel coronavirus, such as San Antonio, Houston, and Corpus Christi," the report states.
Beyond tax revenue from cannabis sales, Texas could also see an extra $10 million annually if business licensing fees are set at $5,000.
"In addition to generating revenue and creating jobs, regulating cannabis for adult use would also realize significant criminal justice savings," the report says, adding that Texas would save an estimated $311 million per year in criminal justice resources if marijuana was legalized.
"States across the country are seeing the benefits of legalizing and regulating cannabis," Shawn Hauser, a partner at Vicente Sederberg, said in a press release. "It is inspiring lawmakers in prohibition states to reexamine the efficacy and costs of their current policies and take a closer look at the alternatives."
New report authored by VS economist Andrew Livingston shows the massive potential of legalizing cannabis in the Lone Star Statehttps://t.co/4ZbkcsY9qN#VSInsights #CannabisLegalization #Cannabis #CannabisLaw #CannabisRegulation #Texas #TX #TexasCannabis #TXCannabis

— Vicente Sederberg (@VScannabislaw) October 19, 2020
"A regulated cannabis market would be an economic boon for the Lonestar State," she said. "Hundreds of millions of dollars in new tax revenue and tens of thousands of new jobs would be especially helpful in overcoming the losses stemming from the COVID-19 pandemic. Texas is leaving an enormous amount of money on the table by keeping cannabis illegal."
Marijuana reform could also potentially clear up regulatory complications that have resulted from the state's legalization of the plant's non-intoxicating cousin, hemp.
Because the crops are virtually indistinguishable, it appears that hemp's new legal status has made it difficult for police to determine whether a given seized substance is allowable hemp or still-illegal marijuana, and that has led to fewer cannabis cases overall.
Prosecutors have dismissed hundreds of low-level cannabis cases since hemp was legalized. And state officials announced in February that labs wouldn't be performing testing in misdemeanor cases, with the Texas Department of Public Safety saying it "will not have the capacity to accept those."
Marijuana possession arrests fell almost 30 percent in Texas from 2018 to 2019, according to state data released last month.
The Texas House speaker in July acknowledged that legalizing cannabis could help resolve the state's budget shortfall—but he doesn't support the policy change regardless.
"Repealing marijuana prohibition and replacing it with a reasonably regulated market is a win-win for Texas," Heather Fazio, director of Texans for Responsible Marijuana Policy, told Marijuana Moment. "Even with modest taxation, legal cannabis for adult use would bring in much needed revenue and free up valuable public safety resources."
"Considering our projected budget shortfall, Texas lawmakers should consider this a big opportunity for our pro-business state," she said. "The people of Texas will also benefit when we are no longer saddling responsible cannabis consumers with criminal records that often keep them from accessing education and employment."
Last year, the House voted to approve a decriminalization bill that would've made possession of one ounce or less of cannabis punishable by a $500 fine and no jail time, but it failed to advance to a Senate floor vote by the end of the session.
Meanwhile, the state's Department of State Health Services attempted to impose a ban on the sale of smokeable hemp, but they were sued and a judge gave the plaintiffs a procedural victory in July, temporarily lifting the prohibition. The judge said last month that the ban can't be enforced until the case is heard in court in 2021.
Read Vicente Sederberg's report on the economic impact of legalization in Texas below: 
Economic Benefits of Regula… by Marijuana Moment
Legalizing Marijuana Is Risky, Trump-Appointed Prosecutor Warns Montana Voters Ahead Of Election