Texas Prosecutors End Some Marijuana Prosecutions Under New Hemp Law
The new law changed the definition of marijuana, and prosecutors and crime labs say they don't have the resources to test if a substance is legal hemp or marijuana.
By Jolie McCullough and Alex Samuels, The Texas Tribune
Because of a new state law, prosecutors across Texas have dropped hundreds of low-level marijuana charges and have indicated they won't pursue new ones without further testing.
But the law didn't decriminalize small amounts of marijuana for personal consumption. It legalized hemp and hemp-derived products, like CBD oil.
An unintended side effect of the law is that it has made it difficult for law enforcement to tell if a substance is marijuana or hemp, according to prosecutors. Among other provisions, House Bill 1325 changed the definition of marijuana from certain parts of the cannabis plant to those parts that contain a higher level of tetrahydrocannabinol (THC), the psychoactive ingredient in marijuana that produces a high. It's a difference numerous district attorneys, the state's prosecutor's association and crime labs say they don't have the resources to detect, weakening marijuana cases where defendants could claim the substance is instead hemp.
"The distinction between marijuana and hemp requires proof of the THC concentration of a specific product or contraband, and for now, that evidence can come only from a laboratory capable of determining that type of potency — a category which apparently excludes most, if not all, of the crime labs in Texas right now," stated an advisory released by the Texas District and County Attorneys Association last month.
Some involved in the hemp legislation have countered that there is already available equipment to test suspected drugs, even if it isn't in most crime labs.
Still, top prosecutors from across the state and political spectrum — from Harris to Tarrant counties — have dismissed hundreds of pending misdemeanor marijuana charges since the law was signed by Republican Gov. Greg Abbott and immediately went into effect on June 10. They have also signaled they won't pursue any new charges without testing a substance to indicate if there is more than .3% of THC, the now-legal limit to distinguish between hemp and marijuana.
"In order to follow the Law as now enacted by the Texas Legislature and the Office of the Governor, the jurisdictions… will not accept criminal charges for Misdemeanor Marijuana Possession of Marijuana (4 oz. and under) without a lab test result proving that the evidence seized has a THC concentration over .3%," wrote the district attorneys from Harris, Fort Bend, Bexar and Nueces counties in a new joint policy released Wednesday morning.
#BREAKING District attorneys in four Texas counties – Bexar, Harris, Fort Bend and Nueces – just announced a shared policy to stop accepting charges on misd. marijuana cases in light of the legislative snafu that's complicated drug testing. Here's the policy: pic.twitter.com/8p2zQydL45

— Keri Blakinger (@keribla) July 3, 2019
Tarrant County's District Attorney's Office previously issued a similar statement, and since last month has dismissed 234 low-level marijuana cases. Harris is in the process of dismissing 26, according to a spokesperson. The counties have said they will still pursue felony marijuana cases, and say they have the option to refile and later pursue charges in marijuana arrests if testing resources become available.
For now, it's unclear when that could be, and until a process is put in place, prosecutors will "have all these marijuana cases where someone can argue it's hemp," said Lisa Pittman, a cannabis law attorney.
"They have to just table those cases," she said.
A crime lab scientist said even if he gets new forensic testing equipment right away, there is still a months-long accreditation process to be able to use tested drug evidence in court.
Peter Stout, the CEO and president of the crime lab used by the Houston Police Department, said until the law went into effect on June 10, all that was required to identify something as marijuana was a quick test to check for the presence of cannabinoids in things like a plant, gummy or vape pen oil. Determining how much, if any, THC is present, is much more complicated, he said, and he is unable to do it now.
"The plant stuff is one thing," he said. "All these edibles and infused products is a whole different thing, and I don't know what we do about that."
Testing can be done, Stout said, but equipment to test forensic quality on those types of products — needed to determine if it is a controlled substance under state criminal definitions — costs between $300,000 and $500,000. He estimated more than 20 labs would need such equipment to cover the state, and each would then need to go through the accreditation process.
"People can comply with the law if given the tools to do it, it's just going to cost time and money," said Shannon Edmonds, director of governmental relations for the prosecutor association.
But the Republican Senate sponsor of the hemp legislation, state Sen. Charles Perry of Lubbock, argued there's already sufficient technology readily available for counties that need it to test suspected marijuana. Tarrant County District Attorney Sharen Wilson told the Fort Worth Star-Telegram last month she believed her office had found two labs.
"Although the capacity may not be there yet to receive quick lab results, there are labs ready to receive and test products today," Perry told the Texas Tribune. "We are having daily conversations with law enforcement, prosecutors, and hemp stakeholders to address and solve any concerns that exist as capacity catches up."
He added that under the 2018 Farm Bill, which legalized hemp that contains no more than 0.3% THC at the federal level, hemp and hemp products would have been crossing state lines anyway — even without legislative action.
"Before the Texas Hemp Bill passed, hemp-derived products could enter our state and be bought and sold with little to no oversight," Perry said. "In fact, the 2018 Farm Bill prohibits states from restricting the transportation of hemp with less than 0.3% THC. With the passage of the Texas Hemp Bill, we now have proper regulations in place to protect Texas consumers at every turn."
The state legislation, which called for no funding to purchase crime lab equipment, sailed through the Legislature unanimously largely because of the federal law. Because of the overwhelming support, when Abbott signed the bill on June 10, it went into effect right away — which is part of the problem, according to prosecutors.
"This new law took effect immediately, without the usual grace period during which the procedures and regulations are decided and put in place to support law changes," the Tarrant County District Attorney's Office said in a statement.
Stout said he didn't know about the changing marijuana definition in the bill until after it was too late to testify, since the bill went through agricultural committees, not the ones that handle criminal procedure. Abbott's office did not respond to a request for comment for this story.
The scramble among several district attorneys comes months after lawmakers rejected a bill by state Rep. Joe Moody, D-El Paso, that would have lessened the criminal penalties for Texans found to possess small amounts of marijuana. But prosecutors have noted that the dropped cases and change in policy isn't decriminalization.
Tarrant County's 234 dismissals can be refiled within two years if lab results are able to be produced, according to a spokesperson. And Harris County is continuing its marijuana diversion program, which allows those suspected of possessing small amounts of marijuana to complete a four hour class instead of being arrested. If people decide not to take the class, they can "wait and see if labs will become certified."
But in the meantime, at least in some parts of the state, it appears some marijuana convictions have been placed in limbo.
"You may have to put your marijuana cases on the same 'waiting for lab results' shelf as your felony DNA cases and postpone them until the labs can provide the needed evidence for prosecution," said the prosecutor association advisory.
This article originally appeared in The Texas Tribune.
The Texas Tribune is a nonprofit, nonpartisan media organization that informs Texans — and engages with them — about public policy, politics, government and statewide issues.
Texas Governor Signs Bill To Expand State's Medical Marijuana Program
GOP Senator Shares Photo Of His Dad Harvesting Hemp Decades Ago
A U.S. senator appears to be taking a hit at the governor of his home state over a disagreement on hemp legalization, and he's using a decades-old picture of his own father growing the crop to do it.
Sen. Mike Rounds (R-SD) shared a photo on Facebook last month showing his dad harvesting the crop in South Dakota about 80 years ago. While it might seem benign, some political observers believe the post was a subtle dig at Gov. Kristi Noem (R), who vetoed legislation earlier this year to re-legalize industrial hemp in the state.
The senator referenced the picture during a telephone town hall event, where he was asked about the potential of hemp in the textile industry. Rounds said the plant was used to make ropes for the Navy during World War II.
"It's of my dad (Grandpa Don, left) as a young boy working in a South Dakota hemp field," he wrote of the photo. "We believe it was taken sometime in the late 1930s/early 1940s."
The implication seems to be that the crop has a long history in South Dakota and that generations have relied on it prior for its federal prohibition. But even after hemp and its derivatives were federally legalized under the 2018 Farm Bill, Noem has maintained that it should remain criminalized under state law.
The Argus Leader first connected the Facebook post with Noem's hemp opposition.
Marijuana Moment reached out to Rounds's office for comment, but a representative was not immediately available.
In March, the governor rejected legislation that arrived on her desk to legalize industrial hemp, arguing that the reform move would pave the path toward legalization of adult-use marijuana. The Senate didn't have enough support to override the veto.
Lawmakers have said they plan to introduce similar legislation next year, but Noem pledged in September to veto it again.
As far as Rounds is concerned, South Dakota should be allowed to experiment with industrial hemp. He told the Sioux City Journal last month that "I personally don't see a problem with at least trying it" and he voted in favor of the Farm Bill last year.
Despite Noem's opposition to the non-intoxicating form of cannabis, activists in the state are moving ahead with efforts to more broadly legalize marijuana for medical and recreational purposes. Signatures on two reform initiatives were submitted to the secretary of state last month and, once verified, the issues are expected to be decided by voters during next year's election.
Both measures are being backed by national advocacy groups, and the adult-use legalization proposal is being sponsored by a former federal prosecutor.
Vermont Should Legalize Marijuana Sales, Top Health Department Official Says
Killer Mike Credits Bernie Sanders For Inspiring Marijuana Legalization Movement
Rapper Killer Mike says that the national push to reform marijuana laws in recent years can be largely attributed to Sen. Bernie Sanders (I-VT).
Sanders, who became the first major presidential candidate to call for cannabis legalization during his 2016 run, has continued to raise the issue as he campaigns for the 2020 Democratic nomination. In the years since he first proposed the policy change, numerous states have pursued reform and pro-legalization stances are increasingly commonplace, especially among Democratic lawmakers.
"Marijuana decriminalization was something I never thought I'd see in my lifetime," Killer Mike said in an interview on MSNBC on Sunday. "Yet within four years, I've seen a nationwide push for it, in big part to his campaign."
Watch Killer Mike's marijuana comments, starting around 1:25 into the video below: 
"How does that affect me as the father of a 17-year-old boy? If my son gets caught with marijuana, it could ruin his life for the rest of his life," he said. "Now we have an environment where he literally will get scolded as a child and get a chance to be a fruitful adult without a felony on his record. I think that that resonates in our community."
The rapper, who serves as a surrogate on Sanders's campaign, also talked about the economic potential of legalization and the importance of social equity policies during a town hall event with the candidate in North Carolina in September.
"We have an opportunity this time to take the people that are exiting jail, have expunged records and creating a pathway as wide as this aisle directly to legal marijuana and creating economic sustainability in the same communities that were robbed of that opportunity," he said at the time.
It's not just Sanders who deserves credit for contributing to the cannabis reform movement, Killer Mike said at a panel on free speech in June. Rap artists have also played a key role, featuring the plant in music stretching back decades.
"We know that with national decriminalization of marijuana now, a lot of people are going to get credit for it—a lot of activists, a lot of workers," he said. "But I can show you a line that leads straight back to Cyprus Hill, that leads straight back to Snoop Dogg, that leads straight back to people like Rick James."
Some of the most impactful work that rappers have produced are songs inspired by social issues like the drug war, he and several other artists argued in a brief submitted to the Supreme Court earlier this year in defense of a rapper who was convicted for threatening Pittsburgh police officers in a song.
AOC Says She'll Introduce More Psychedelics Legislation In Congress
Photo courtesy of MSNBC.
Vermont Should Legalize Marijuana Sales, Top Health Department Official Says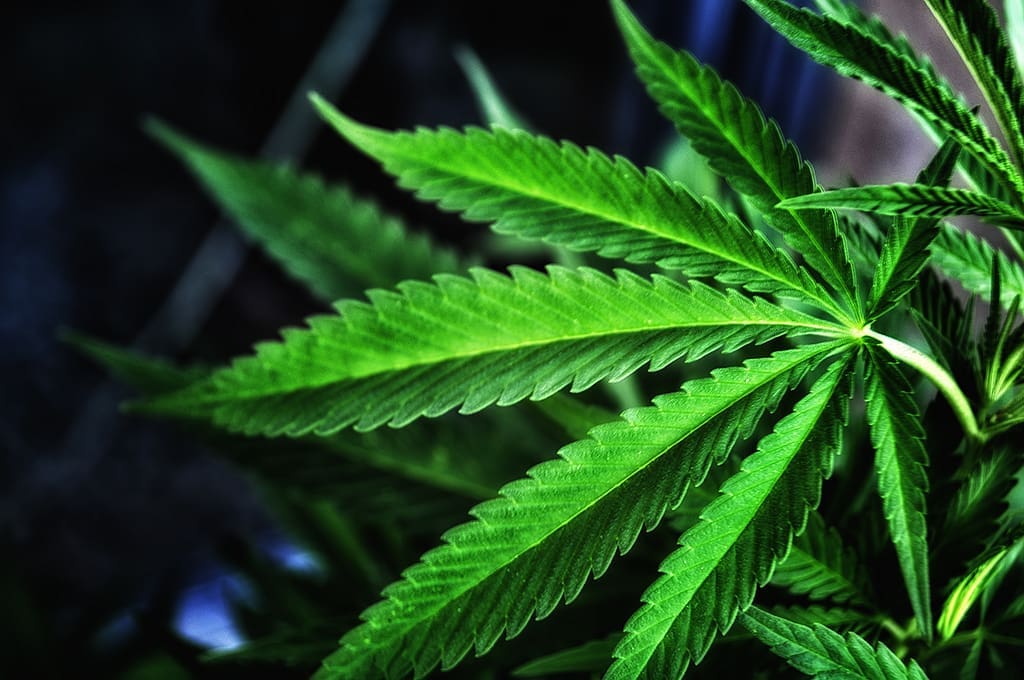 A top Vermont health official is endorsing the legalization of recreational marijuana sales.
During a radio interview on Monday, Cynthia Seivwright, director of the state Department of Health's Alcohol and Drug Abuse Programs, said that regulating cannabis commerce in the state would better protect public health than current policy does.
Monday's discussion on WDEV's Dave Gram Show included the relationship between marijuana-related health consequences and the state's failure to regulate cannabis after lawmakers there became the nation's first to legalize marijuana by an act of legislators in January 2018. Gov. Phil Scott (R) signed the bill, which allows low-level possession and home cultivation but continues to prohibit sales, later that month.
"Without the regulation, we don't know what's in it," Seivwright said when asked whether a regulatory model that is similar to that for alcohol makes sense for cannabis. "We can't control the potency of it. We can't control the access, and we definitely don't want children and adolescents to have access to it."
"Even regulating how it's tested," she said, "should be done by an independent lab. Even the packaging. How do we regulate the packaging so that it isn't desirable for children, to look like candy if it's going to be edible? We at the Health Department support a regulated system."
Listen to Seivwright's marijuana legalization comments at about 1:07:00 into the audio below: 

The Department of Health's support—a first for the state agency—was welcomed by Dave Silberman, an attorney and pro bono drug policy reform advocate from Middlebury.
"Vermonters of all political stripes are eager to enact a strong regulatory system that puts consumer safety at the forefront, and generates significant revenues for the Department's broader addiction prevention and treatment efforts," he told Marijuana Moment. "Rather than burying their heads in the sand and wishing for a drug-free America, the Department seems to finally be taking a facts-based approach to cannabis, rooted in harm reduction instead of stigma. That is a very good thing."
Seivwright's support also comes on the heels of renewed attention to the question of regulating marijuana commerce among Vermont legislators. In January, the state Senate approved a cannabis sales legalization bill. But as the legislative session came to a close in the spring, it became clear that the legislation would not reach the House floor for a vote despite having advanced at the committee level.
Although other Democratic leaders have insisted that a marijuana marketplace legalization bill will advance in 2020, House Speaker Mitzi Johnson (D) said there is no guarantee, VT Digger reports.
In particular, Johnson noted that if the bill is to see a floor consideration in the new year, it will need the 76 votes required for passage in the House—indicating that she doesn't intend to put any muscle into rounding up the support needed to pass it. Concerns such as roadside safety, youth usage and the marijuana production's impact on the environment must also be addressed, she said.
The speaker's stance is in contrast to the Vermont Democratic Party, which adopted support for a legal marijuana marketplace as part of its platform last year.
And last year, when the legal marijuana marketplace bill failed to reach the House floor for a vote, Majority Leader Jill Krowinski (D) reaffirmed her party's commitment to the legislation's eventual passage, promising that lawmakers would "finish it early" in 2020.
Over the weekend, Krowinski doubled down on her prediction that the House will vote on the legislation in the upcoming session.
"A version of that will get to the floor," Krowinski said, according to VT Digger.
Lawmakers File Resolution Demanding Congress Apologize For The Racist War On Drugs
Photo courtesy of Carlos Gracia.