Seven Governors Talk Marijuana Policy At Annual Conference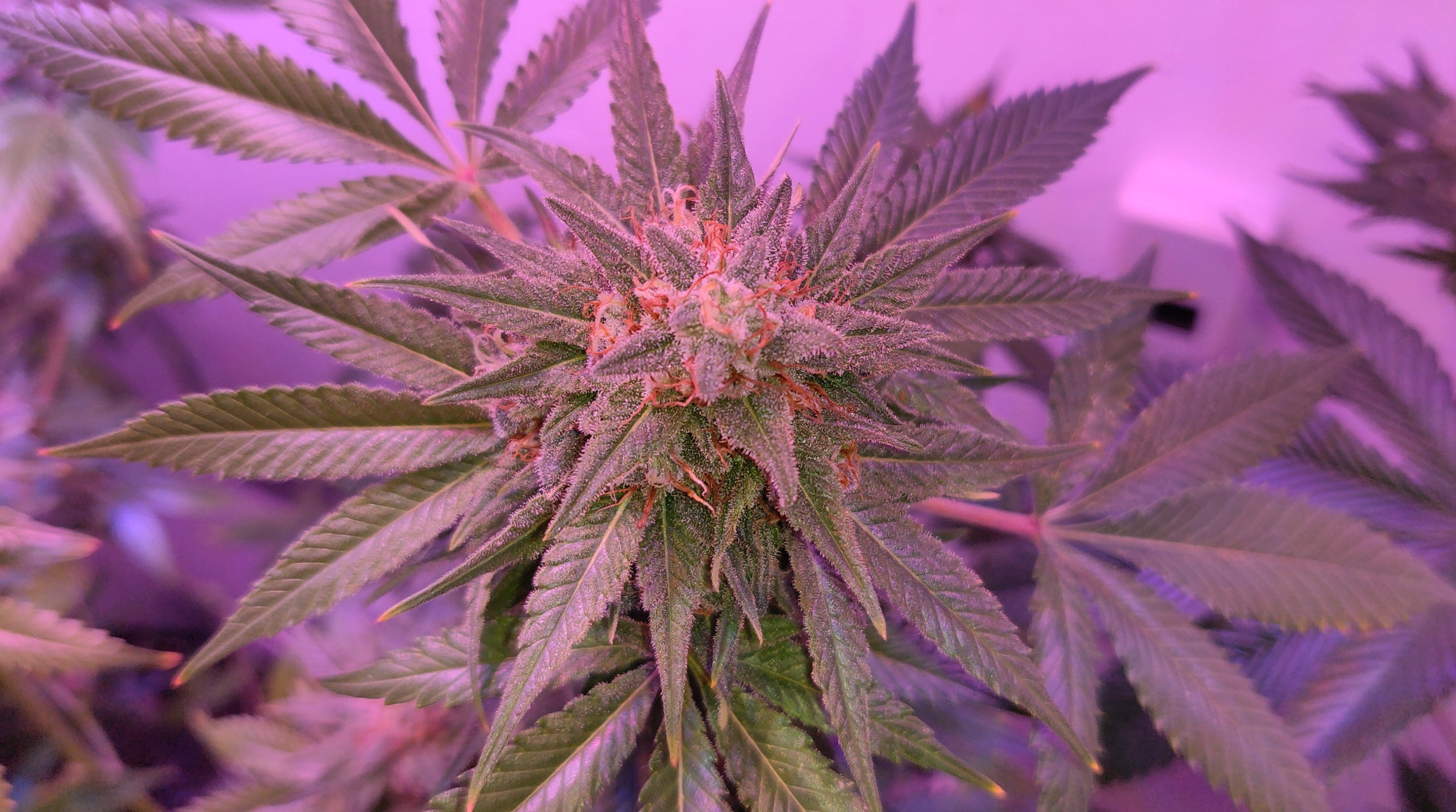 Seven governors from across the country discussed marijuana issues at an annual policy conference on Friday. Like last year's event, the elected officials touched on a wide range of cannabis issues, from social equity to federal reform to competing with other legalized states. One even joked about growing marijuana in the governor's mansion…
Here's a roundup of what the governors said at Politico's State Solutions forum:
Illinois Gov. J. B. Prtizker (D)
The governor spoke extensively about his state's efforts to promote social equity in its adult-use cannabis market. Pritzker, who signed a bill making Illinois the eleventh state to legalize for recreational purposes last year, said equity is the "the prime component" of the policy change.
Mass pardons and expungements are part of the administration's focus, he said. One day before the state's legal marijuana market launched last month, Pritzker announced that his office had pardoned more than 11,000 people. But he said that ultimately an estimated "300,000 people in our state will either be pardoned and have their records expunged or their arrest record will be taken away" under the new system.
Job and housing opportunities are impacted by criminal records for cannabis offenses, he continued, and a disproportionate amount of convictions have fallen on minority communities.
Part of the tax revenue from marijuana sales will go toward those communities, a move aimed at "reversing the damage" of prohibition, the governor said.
Unlike other states that have pursued legalization through a ballot initiative process, Illinois was the first to establish a tax-and-regulate cannabis market through an act of the legislature. Lawmakers took "very intentional" steps over two years in crafting the bill to ensure that its system had equity provisions in place, he said.
"What we wanted to do was make sure that people—not just people of color but people traditionally who haven't been able to get into business from neighborhoods all over the statewide—have a shot at this," he said. "So we created a program that does that."
"The way we started this industry was we wanted to make sure it was highly regulated and that we were managing that regulation properly," he said, adding that part of that process involved allowing existing medical cannabis shops to have a leg up in the adult-use market. The problem, he said, is that the previous governor's administration approved licenses for medical marijuana businesses that were all owned by white males. "There's nothing horribly wrong about it, but there's no diversity," he said.
To increase diversity, Illinois is prioritizing new entrants to the industry who are from communities most impacted by the war on drugs.
"We are very focused on having the social equity component be successful," Prtizker said. "And that's why so many other states that are on the verge of legalizing cannabis are looking at what we did and calling us and asking, 'what did you do—how do we get that done in our state?'"
Pritzker also talked about how regulated markets can combat the illicit trade and also mitigate public health risks associated with buying cannabis products—including vape cartridges associated with lung injuries—that aren't tested for quality standards.
"There's going to be a black market of some sort. The question is are you managing this properly?" he said. "In Illinois, we had deaths from synthetic marijuana. Then there were deaths from the use of illegally manufactured THC cartridges for vaping devices."
"What you get now when you go to a dispensary—a legal dispensary in the state of Illinois—is a product that you know is safe."
"It's safely manufactured," he said. "It's been tested."
"We're being very careful about that and I think that's the advantage people find and the reason you don't want to go find some dealer that's going to sell you something that you don't know what's in it, you don't know where it came from. That's why I think people are showing up at the dispensaries and we had a great first month," he said, referencing Illinois's roughly $40 million in cannabis sales in January.
"We're on our way, and I think we're doing it in the right way and being very careful and we're making adjustments…because this is new thing for Illinois and frankly still relatively new in the nation," Pritzker said.
Colorado Gov. Jared Polis (D)
Polis was asked to share his thoughts on what would be the best option for Colorado marijuana businesses: opening the market nationally or insulting state markets.
"The more we move towards a competitive industry the better. I think Colorado businesses are ready to compete," he said. "If you open up nationally, you have the issue, in many of our neighboring states, it remains illegal. You can't transport it across Kansas if it's illegal in Kansas even if it's legal to take it across the border."
"Colorado says, bring it on. We're excited to move in this direction nationally, and Colorado led the way as one of the first two states to legalize recreational cannabis and we are ready to compete on a national and international stage," he said.
The governor also touted Colorado's "really thriving cannabis industry," which includes industrial hemp.
That said, Polis said he's cognizant of the fact that more states are pursuing legalization and he wants to ensure that Colorado has the most effective system in place.
"We have a more mature industry than other states. We want to keep that advantage because they're going to catch up," he said.
"We want to be ready for the next stage."
Part of the involves opening the marijuana market to outside investors, letting cannabis companies go public and finding solutions to the lack of financial services available to the industry. He addressed those former issues through legislation he signed last year, and Polis said the banking problem could be resolved through House-passed legislation that would protect financial institutions from being penalized by federal regulators for working with state-legal marijuana companies.
"We're doing everything we can under our state authority to make sure that cannabis legal companies have access to financial services," he said.
Polis's administration recently released a roadmap to to provide cannabis businesses in the state with access to financial services.
Rhode Island Gov. Gina Raimondo (D)
The governor, who recently included marijuana legalization language in her annual budget proposal, clarified that she's not personally enthusiastic about ending cannabis prohibition in the state and acknowledged that during her first years in office, "I resisted it." But, she said, Rhode Island is a "tiny state" surround by jurisdictions that have either legalized marijuana or are taking steps to do that, and so regulating the market is necessary.
"If you talk to the state troopers that police our highways or you talk to teachers in schools, they will tell you, 'governor, it is here.' Whether you like it or not, it is here," she said, adding that her office "is about a 10 minute drive" from a dispensary in neighboring Massachusetts, "so to pretend that we don't have adult-use marijuana in Rhode Island is silly."
"Let's have a responsible way to regulate adult-use marijuana."
Raimondo tempered expectations about tax revenue from legal cannabis sales and said "at the end of the day, it's not the money."
"Sometimes it takes more than a year to get a good idea done," Raimondo said, referring to reluctance that leading lawmakers have expressed about legalization. "If we don't do it this year, maybe next year. To my mind it's inevitable and we should just be smart about it."
North Dakota Gov. Doug Burgum (R)
Burgum was asked about how his state's voters approved a medical cannabis ballot measure in 2016 but rejected a broader marijuana legalization initiative in 2018.
"I haven't supported recreational but I did support medical," he said, noting that he also launched a program aimed at pardoning people with past marijuana convictions.
"This war on drugs has turned out to be a war on people who have a disease," he said. "If you've got a chronic, progressive and ultimately fatal disease and we try to handle that problem with punishment and imprisonment it's cost the most and has the leas efficacy for solving it."
Watch Burgum's marijuana comments 49:45 into the video below:
North Dakota voters may see another marijuana legalization measure on the ballot again this year, but Burgum is concerned about the conflict with federal law.
"As long as the federal government is opposing it and you can't bank the dollars that come up, you end up with a huge black market cash economy," he said. "I'd like to have the feds catch up with that."
Maryland Gov. Larry Hogan (R)
Hogan's cannabis conversation focused on how the state's medical marijuana system wasn't effectively implemented despite his support for the policy change.
"It happened actually right before I became governor under the previous governor—it was passed by the legislature and the law just wasn't written very well, so they've had difficulty in awarding the licenses," he said. "There was some concerns about, you know, the way it was implemented. But it's finally starting to happen and it's, you know, it's getting straightened out."
Watch Hogan's marijuana comments 45:50 into the video below:
While lawmakers in the legislature have talked about the prospect of legalizing marijuana for adult use, "it doesn't look as if that's going to move forward any time soon," he said. "The legislature has said they're not going to bring that up."
Utah Gov. Gary Herbert (R)
Herbert discussed his state's steps toward implementing legal medical cannabis after voters overwhelmingly approved a 2018 ballot measure on the topic, which lawmakers then replaced with an alternate legislative proposal.
"It's just a matter of evolving to where we need to be to address the market demands, and that's yet to be determined. So starting small is easier than starting with too many and then having to cut back," he said, referring to how only a handful of dispensaries are set to open next month. "I think we're doing it in the right methodical, careful way."
Asked to address his past opposition to medical cannabis, the governor talked about the need for more scientific research.
"If in fact there's medical properties for use of cannabis, marijuana, we ought to know what they are," he said. "There ought to be testing, scientific analysis and do the things that are necessary to get a drug approved like we do with typical FDA approval. What we have now is just anecdotal story, and that's not to discount the anecdote, but that's not how we in fact decide whether a substance should be controlled, prescribed by a doctor, administered and at what doses."
"If it's going to be a medicine, we ought to treat it like a medicine," he said.
Watch Herbert's marijuana comments 1:03:50 into the video below:
Herbert also criticized the federal government for dragging its feet on cannabis issues and fostering a situation where a growing number of states are changing laws while national prohibition remains in effect.
"We're tired of waiting," he said. "The federal government simply turns a blind eye to the enforcement of the law."
"There's still work to be done and I just think the federal government's been very slow to come to the forefront on this very emotional issue."
"Let's help the banking industry," Herbert continued. "We can't even buy this stuff here without violating federal law and making it a problem for the banks."
Guam Gov. Lou Leon Guerrero (D)
Leon Guerrero, who signed a bill legalizing marijuana in the U.S. territory last year, spoke about how the new law, as well as a medical cannabis one that voters approved in 2014, is still in the process of being implemented.
"We haven't really gotten much revenue from it because we're still working the rules and regulations," she said.
Watch Leon Guerrero's cannabis comments, about 29:40 into the video below:
Noting the fact that possession and low-level home cultivation is legal, she joked that she hasn't personally taken advantage of those provisions of the policy.
"I was looking to see if there's a place at the government house to grow six plants," she said.
Colorado Marijuana Legalization Would Be Overturned By New Ballot Measure
Photo courtesy of Mike Latimer.