Nearly $40 Million Of Marijuana Sold During Illinois's First Month Of Legal Sales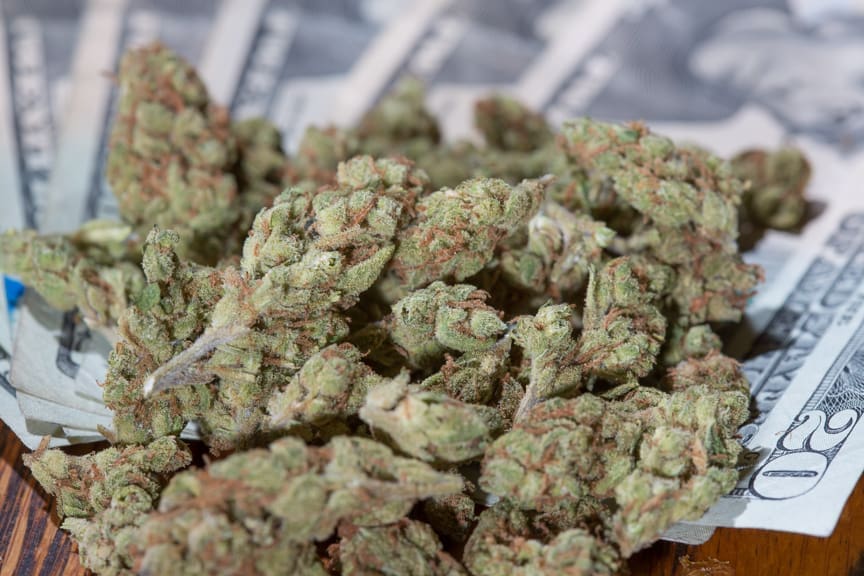 Illinois cannabis shops brought in nearly $40 million in the first month of legal recreational marijuana sales, the state's Department of Financial and Professional Regulation announced on Monday.
During the 31-day period, almost 1 million individual marijuana products were sold across the state. Many of those transactions came from out-of-state cannabis tourists, who purchased $8.6 million worth of marijuana, the department said.
"The successful launch of the Illinois' legal cannabis industry represents new opportunities for entrepreneurs and the very communities that have historically been harmed by the failed war on drugs," Toi Hutchinson, Illinois's cannabis czar, said in a press release. "The administration is dedicated to providing multiple points of entry into this new industry, from dispensary owners to transporters, to ensure legalization is equitable and accessible for all Illinoisans."
The high volume of out-of-state purchases is consistent with Gov. J. B. Pritzker's (D) prediction that Illinois stands to generate significant tax revenue from residents living in neighboring states that do not provide legal access to cannabis. He joked in his State of the State address last week that legalization "gives us a chance to collect tax revenue from the residents of Wisconsin, Missouri, Iowa and Indiana."
Lt. Gov. Juliana Stratton (D) personally contributed to the sale of 972,045 legal adult-use cannabis products in January when she purchased clementine-flavored edible marijuana gummies on the first day of sales.
As the fifth largest state by population, Illinois was expected to become a big player in the marijuana market—and it started out strong during that first day of sales, which topped $3 million. By the end of the first week, about $10 million in cannabis products were sold.
By contrast, Colorado saw about $14 million in marijuana sales in its first month of legal adult-use cannabis commerce in January 2014.
While much as been made of the economic potential of legal cannabis, state officials have emphasized that their main priority in enacting reform is to right the wrongs of the drug war, promoting social equity in the industry while implementing restorative justice provisions.
"A portion of every cannabis sale will be reinvested in communities harmed most by the failed war on drugs," the Department of Financial and Professional Regulation said when reporting the new sales figures.
Pritzker illustrated that point the day before marijuana shops officially went online, announcing that his office had pardoned more than 11,000 people with cannabis convictions.
In the press release about first-month marijuana sales, the finance department also announced that applications for cannabis infuser, craft grower and transporter licenses will be made available later this month. Social equity applicants "will receive additional points on their application and are eligible to receive technical assistance, grants, low-interest loans and fee reductions and waivers," it said.
Liberal Americans Are Six Times More Likely To Smoke Marijuana Than Conservatives, Poll Finds