Senate Schedules Hearing On Marijuana Business Banking Access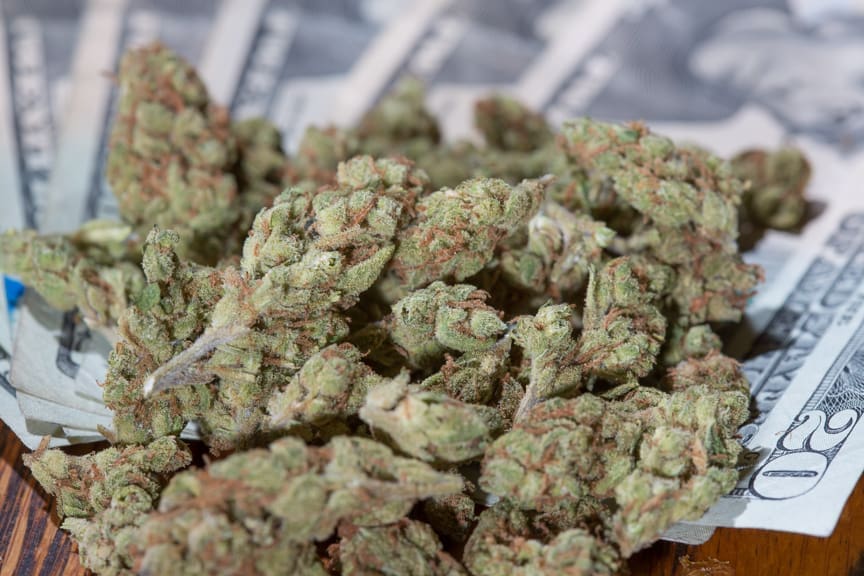 In one of the clearest signs of marijuana reform's growing momentum on Capitol Hill, a Republican-controlled Senate committee has scheduled a hearing for next week that will examine cannabis businesses' lack of access to banking services.
The formal discussion in the Senate Committee on Banking, Housing and Urban Affairs on Tuesday comes as legislation aimed at resolving the marijuana industry's financial services problems is gaining momentum. A House cannabis banking bill that cleared that chamber's Financial Services Committee with a bipartisan vote in March now has 206 cosponsors—nearly half the body—while companion Senate legislation has 32 out of 100 senators signed on.
The move for a hearing is somewhat of a surprise, as Chairman Mike Crapo (R-ID) had refused to commit to schedule time for the issue when asked in April, saying that "as long as cannabis is illegal under federal law, it seems to me to be difficult for us to resolve" the financial services piece.
But pressure has increased, with 50 state banking associations, the National Association of State Treasurers, the top financial regulators of 25 states, a majority of state attorneys general and bipartisan governors of 20 states all endorsing the legislation—the Secure And Fair Enforcement (SAFE) Banking Act—and calling on Congress to act on it.
Advocates point out that preventing banks from servicing state-licensed marijuana growers and retailers forces those businesses to operate on a cash-only basis, which creates public safety risks by making them targets for robberies.
While a House floor vote had been expected on the issue prior to the upcoming August recess, time is running short and no further action has yet been scheduled. That said, Minority Leader Kevin McCarthy (R-CA) last week noted bipartisan support for the legislation.
"There's an issue when it comes to banking, making sure you're able to having accountability within that," he said. "I've heard a lot of bipartisanship in there."
A separate House-passed spending bill also contains a provision seeking to prevent federal financial regulators from punishing banks for working with state-legal marijuana businesses, but its language is seen as less robust than the standalone legislation, which is sponsored by Rep. Ed Perlmutter (D-CO) in the House and Sen. Jeff Merkley (D-OR) in the Senate.
"House Democrats have a robust agenda which has made it tough to get time on the legislative calendar," a spokesperson for Perlmutter said in an email. "But as we continue to talk with people, we keep gaining more and more support and look forward to a strong vote on the floor of the House soon."
Witnesses at the newly scheduled Senate hearing—titled "Challenges for Cannabis and Banking: Outside Perspectives"—will include representatives of the Credit Union National Association (CUNA), Citywide Banks and prohibitionist group Smart Approaches to Marijuana.
"At its heart, cannabis banking is a public safety issue. It's an $8.3 billion industry that's currently being forced to operate almost entirely in cash," CUNA President and CEO Jim Nussle said. "While 33 states, territories and DC have legalized cannabis, it's been overwhelmingly difficult to provide these businesses financial services because handling transactions are currently considered money laundering. Credit unions have been leading the way in helping to get this money off the streets. We are dedicated to finding a solution to this ongoing challenge that impacts every community around the country, and look forward to working with Senate leaders during this hearing and with Congress at large."
Also testifying will be John Lord, CEO of marijuana retail chain LivWell Enlightened Health and chairman of the industry advocacy group the Cannabis Trade Federation (CTF).
Neal Levine, CEO of CTF, said in a statement that he hoped the organization's testimony will "contribute to the growing momentum behind meaningful and historic cannabis policy reform."
"This hearing is yet another sign that Congress is taking the cannabis banking problem seriously and intends to take action to correct it," he said. "Cannabis businesses operating legally under state and local laws should have the same access to banking and financial services as any other type of business."
Merkley and Sen. Cory Gardner (R-CO), the bill's chief GOP cosponsor, will appear at the hearing as well.
Michael Correia, government relations director for the National Cannabis Industry Association, called the hearing "yet another signal of the bill's popularity."
"Chairman Crapo has been clear that he does not support marijuana," he said. "However, this clearly shows that he understands this issue is a banking problem that has serious public safety implications."
Beyond financial services access, support on broader marijuana issues is growing in Congress.
Last week, a House Judiciary subcommittee held a first-ever hearing on ending federal cannabis prohibition at which lawmakers and witnesses expressed a near consensus that far-reaching reforms are needed but voiced some disagreement over specific provisions of pending bills.
Last month, the House approved amendments to protect state, territory and tribal marijuana laws from Justice Department interference and last week passed a measure to let military veterans who work in the cannabis industry apply for government-backed home loans.