Lawmakers And Witnesses Clash On Strategy During Congressional Hearing On Ending Federal Marijuana Prohibition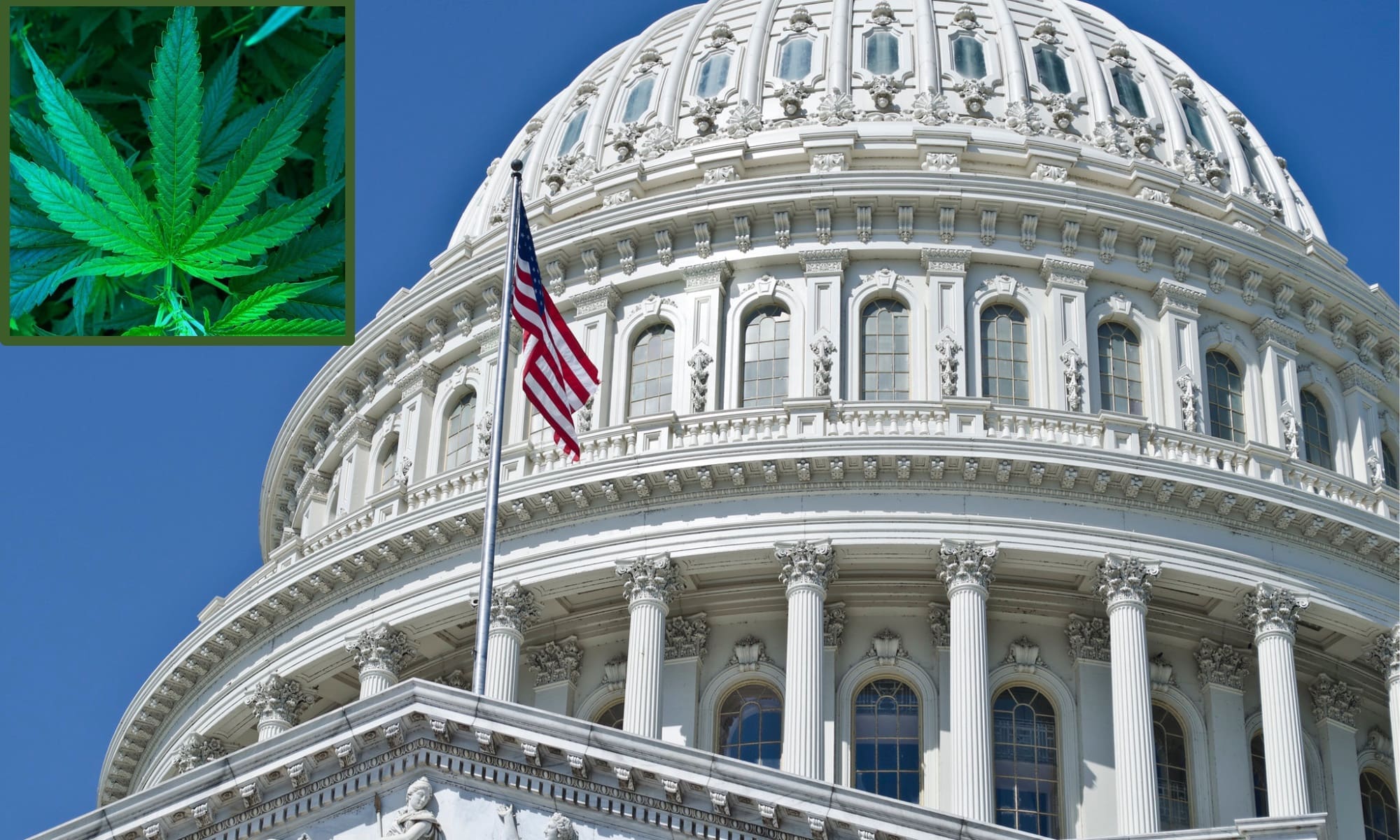 Members of a key congressional committee convened for a first-ever hearing on ending marijuana prohibition on Wednesday, engaging in informed conversations about the issue that largely embraced evidence and avoided resorting to fear mongering, demonstrating a broad consensus that major cannabis reforms are needed.
But there was some disagreement and debate over what reform legislation should look like and the best strategy to advance it.
The meeting of the House Judiciary Crime, Terrorism and Homeland Security Subcommittee marks a significant development in the marijuana reform movement. As advocates suspected in advance, lawmakers seemed to regard the question of whether to reform federal marijuana laws as a given and used the hearing to discuss how to regulate cannabis.
Those issues included social equity in the legal industry, repairing the harms of prohibition and investing in communities that have been disproportionately impacted by the drug war.
"Applying criminal penalties with their attendant collateral consequences for marijuana offenses is unjust and harmful to our society," Judiciary Committee Chairman Jerrold Nadler (D-NY) said. "The use of marijuna should be viewed instead as an issue of personal choice and public health."
Watch the hearing, titled "Marijuana Laws in America: Racial Justice and the Need for Reform" below:
While the meeting didn't largely focus on specific cannabis bills, multiple relevant proposals have been introduced this session—ranging from bipartisan legislation that would simply allow states to set their own marijuana policies to bills that would fully deschedule cannabis and include social equity provisions—and there was some discussion and disagreement raised about certain legislation.
"The war on drugs was racially biased from its inception and has been carried out in a discriminatory fashion with disastrous consequences for hundreds of thousands of people of color and their communities," Chairwoman Karen Bass (D-CA) said in her opening statement.
Rep. Tom McClintock (R-CA), the acting ranking member of the subcommittee, said that marijuana decriminalization "may be one of the very few issues upon which bipartisan agreement can still be reached in this session" and that it "doesn't require endorsing cannabis."
The congressman also argued that Democratic leadership "has decided to play the race card in this hearing" by framing the issue in terms of racial justice and that the "left does enormous harm every time it tries to divide Amerians along racial lines."
Nadler pushed back against McClintock's characterization, emphasizing that "marijuana laws had been done in racially disparate manner."
"To point that out and to seek to cure that is not to inflame racial divisions," he said. "It's simply to point out a fact of life and try to cure it."
"Personally I believe cannabis use in most cases is ill advised," he said. "But many things are ill advised that should not be illegal but should rather be left to the informed judgement of free men and women."
Communities of color have been disproportionately impacted by the failed #WarOnDrugs. It's time to end the ridiculous federal prohibition on cannabis and enact real #MarijuanaJustice.

Thank you @RepJerryNadler for holding this hearing! https://t.co/EQE1lXPo3a

— Rep. Barbara Lee (@RepBarbaraLee) July 10, 2019
Malik Burnett, a Johns Hopkins Bloomberg School of Public Health physician and former Washington, D.C. policy manager at the Drug Policy Alliance's Office of National Affairs, testified at the hearing.
"It is an unmitigated fact that the state of cannabis policy today in best described as a tale of two Americas," Burnett, who serves as the Chief Operating Officer of the minority owned multi-state cannabis business Tribe Companies, said in his written testimony. "In one America there are men and women, most of them wealthy, white and well connected, who are starting cannabis companies, creating jobs and amassing significant personal wealth, and generating billions in tax dollars for the states which sanction cannabis programs."
"In the other America, there are men and women, most of them poor, people of color, who are arrested and suffer the collateral consequences associated with criminal conviction," he said. "Drug policy in America is, and has always been, a policy that is based on racial and social control."
Baltimore State's Attorney Marilyn Mosby also appeared before the panel. Her office announced in January that her office would no longer prosecute cannabis possession cases.
"The test of time has provided us with ample data that there is little public safety value related to the current enforcement of marijuana laws," Mosby said in written testimony. "The data indicates that the disparate enforcement of marijuana laws and overall drug laws not only intensifies already existing racial disparities in the criminal justice system, but exacerbates distrust among communities and law enforcement without increasing overall public safety."
Today, during a congressional hearing on marijuana reform, @MARILYNMOSBYesq provided testimony on the need for federal decriminalization of marijuana, the need for reform specific to marijuana enforcement, and for the necessity for 2nd chances for individuals with drug offenses. pic.twitter.com/QYLOXCvMDw

— Baltimore SAO (@BaltimoreSAO) July 10, 2019
To "right the past wrongs" of failed "war on drugs" policies, SA Mosby suggested congress remove Marijuana as a scheduled controlled substance, regulate it similar to alcohol and tobacco and create economic incentives for reinvestment in communities most adversely impacted. pic.twitter.com/5KCU4zewFI

— Baltimore SAO (@BaltimoreSAO) July 10, 2019
"We have to go beyond decriminalization," she later said during the hearing. "We have to actually legalize this drug."
David Nathan, a physician and board president of the pro-legalization group Doctors for Cannabis Regulation, also shared his perspective with the committee.
"As physicians, we believe that cannabis should never have been made illegal for consenting adults. It is less harmful to adults than alcohol and tobacco, and the prohibition has done far more damage to our society than the adult use of cannabis itself," Nathan said in his testimony.
We legalized #MedicalMarijuana in FL, an industry that has been largely dominated by white, wealthy Americans. But holding marijuana is still considered a crime, disproportionately hurting minority communities in South FL. We need to break this cycle. @HouseJudiciary pic.twitter.com/Tp3kOWjJmJ

— Rep. Debbie Mucarsel-Powell (@RepDMP) July 10, 2019
Finally, Neal Levine, CEO of Cannabis Trade Federation, the minority party's witness, offered testimony. Advocates view his inclusion as the Republican's sole witness at the meeting to be a positive sign, as Levine supports broad marijuana reform.
"The most immediate path to resolving the state-federal cannabis conflict is passage of the STATES Act," Levine said, referring to bipartisan legislation that would allow states to set their own mariijuana policies without fear of federal interference but would not broadly deschedule cannabis. "Immediate passage of the STATES Act could also help spur economic activity in disadvantaged areas in our country."
"With strong bipartisan support for legislation like the STATES Act, it is possible during the current session of Congress to take major steps toward respecting state cannabis laws, protecting workers, and advancing a more secure, vibrant, and equitable cannabis industry," he said. "We hope that Congress will take advantage of the opportunity."
Debate over the best approach to take when it comes to advancing federal marijuana policy legislation has been a subject of strong interest among advocates, some of whom feel pursuing modest reform proposals such as the STATES Act that stand a better chance of passing in the Republican-controlled Senate for now would be more prudent, while others argue that the House should use the opportunity presented by broad support for legalization among its Democratic majority to take up more comprehensive bills.
That conversation reared during the hearing. Rep. Matt Gaetz (R-FL) pressed witnesses on whether they would vote in favor of the STATES Act, which would not deschedule cannabis and does not include social equity provisions.
Burnett stressed the need to pursue legislative fixes that are more comprehensive and emphasize restorative justice. But he did ultimately say he'd vote for the STATES Act "to make progress."
"My deep concern is that concerns over how far to go on some of the restorative elements of our policy could divide our movement," Gaetz said. "If we further divide out the movement then I fear that we'll continue to fall victim to that which has plagued other Congresses where we don't get anything done."
Levine argued that passing the STATES Act "would actually clarify it and focus the conversation" as lawmakers work on more wide-ranging cannabis legislation.
But Mosby emphasized "the need to reinvest into those individuals and those communities that have been disproportionately impacted" and said the STATES Act "does not do that, and that is one of the reasons I'm opposed to it."
Members and witnesses also discussed access to banking services, deterring youth consumption and impaired driving, mitigating opioid abuse and addressing interstate commerce.
Yesterday @HouseJudiciary held a historic hearing on #Marijuana. I've been working on this issue for nearly 40 years. I understand why people want an incremental approach, but it's been long enough. We need to de-schedule #Cannabis & expunge non-violent convictions. #LegalizeIt pic.twitter.com/FpRocZSp9k

— Steve Cohen (@RepCohen) July 11, 2019
Judiciary Committee Ranking Member Doug Collins (R-GA) said that the "legal status of marijuana in the United States is in complete disarray," noting conflicts between federal and state law as well as international treaty obligations that encourage prohibiting cannabis. He said that the STATES Act is "an excellent foundation for legislative reforms."
There were also some lighter moments during the meeting, with some lawmakers reflecting on the progress that the hearing represented.
"Everything in politics seems impossible until it happens," Rep. Ted Lieu (D-CA), said. "If 15 years ago I were to tell you, in 15 years we would have gay marriage in 50 states and, in some of those states, we'd be smoking weed, you'd think I was crazy—but that is in fact what is happening now."
It's a huge waste of federal resources to criminalize #marijuana. It's time we remove it from the Controlled Substances Act! Today in @HouseJudiciary Committee, we discussed this and more. Watch here ⬇️ pic.twitter.com/HNZQe5f9Kf

— Rep. Ted Lieu (@RepTedLieu) July 11, 2019
At @HouseJudiciary Subcommittee hearing on Marijuana. I believe it's a waste of federal resources to criminalize cannabis. Time to remove marijuana from the Controlled Substances Act.#WednesdayWisdom pic.twitter.com/lCEeeu0Ro5

— Ted Lieu (@tedlieu) July 10, 2019
"This has been a historic hearing. I don't think the Judiciary Committee has had a hearing on marijuana," Rep. Steve Cohen (D-TN), said "I've been working on this issue for 40 years, and it's just crazy that we don't just get it all done."
"I appreciate Mr. Gaetz's work on the issue—and I understand incremental— but after 40 years, it's time to just zap straight up, get it all done, Schedule I done," Cohen said.
On Tuesday, 10 leading civil rights and criminal justice reform groups including the ACLU added to that conversation by announcing that they'd formed a coalition designed to promote cannabis reform legislation that places an emphasis on social justice.
"Not since the days of Harry Anslinger has cannabis been such a serious topic on Capitol Hill," Don Murphy, director of federal policies for the Marijuana Policy Project, said in a press release, referring to the former federal anti-drug official who stirred up anti-cannabis hysteria in the 1930s. "With bipartisan support in both chambers, there is no good reason why Congress cannot address this issue before the 2020 election."
The foundation of marijuana policy in America is inherently racist.

FACTS.

Time. To. Decriminalize. pic.twitter.com/9FUmpZgBue

— Hakeem Jeffries (@RepJeffries) July 11, 2019
Aaron Smith, executive director of the National Cannabis Industry Association, said that state cannabis programs are "successfully replacing criminal markets with well regulated businesses across the country and public support for ending prohibition continues to rise."
"It's long past time for Congress to align federal policies with modern state marijuana laws and public opinion by removing cannabis from the Controlled Substances Act so that we can begin the process of developing federal policies that will not only respect state laws, but will defend public health and safety, protect small businesses, and help repair the damage prohibition policies have inflicted on communities of color," Smith said.
The hearing represents a first step that's expected to lead to a markup of one or more bills in the coming months. Nadler is rumored to be working on his own legalization legislation, and his position as the full committee's chairman gives his sizable influence in getting such reform measures to the House floor.
"Today's hearing is monumental in our fight to end cannabis prohibition," Rep. Earl Blumenauer (D-OR) told Marijuana Moment.
"As outlined in our blueprint, every major committee has a role to play in this effort in Congress," he said, referring to a document he circulated to Democratic leadership last year making the case for how the body can advance marijuana reform in the 116th Congress. "We have outlined a pathway forward, and with a Democratic majority, we are making the progress needed."
"We must show the resolve to address the harsh racial injustice that the War on Drugs has inflicted on communities of color," he added. "The federal government needs to get out of the way of the states, get in touch with the American people, and make right its wrongs. We need comprehensive reform to include everyone—cannabis businesses, veterans, and communities of color. Today, is an important step."
The Debate Over How, Not Whether, Congress Should Legalize Marijuana Is Heating Up
Image element courtesy of Tim Evanson.
Bernie Sanders Asks Campaign Rally Audience To Share Stories About Marijuana Arrests
Sen. Bernie Sanders (I-VT) asked an audience in South Carolina to share stories about marijuana possession convictions and then argued that those anecdotes help to demonstrate the case for national legalization.
During a campaign stop in the early primary state on Sunday, the 2020 Democratic presidential candidate asked people to raise their hands if they knew someone who'd been arrested for possessing cannabis. There was no shortage of hands raised.
"Holy God, whoa. That's a lot of people," Sanders said before asking for volunteers to go into detail.
"I got caught with about a joint and they took my license for a year and I lost my job," an audience member said. "Ended up losing my house, and it went worse from there."
The War on Drugs has been a disaster. It is time to legalize marijuana nationwide. pic.twitter.com/tehuM7xjxx

— Bernie Sanders (@BernieSanders) September 17, 2019
"Wow, this is for smoking a joint?" Sanders asked.
"Yeah, I had a little—like a dime bag in my car," the person said.
Another person in attendance who appeared in the campaign video Sanders released on Tuesday said that she visited a guilty plea court and witnessed "three different men get put in at least two years of prison just for anywhere from two grams to eight grams of marijuana found on them."
"That's why all over this country states are doing the right thing and either decriminalizing or legalizing the possession of marijuana," Sanders said to applause.
Since becoming the first major party presidential candidate to call for cannabis legalization in 2015, Sanders has continued to place an emphasis on the need for marijuana reform, with a focus on the racial injustices of prohibition.
Last month, he released a criminal justice reform plan that included proposals to legalize cannabis federally and also provide for safe injection sites to curb opioid overdoses.
But while Sanders has been a leading voice in the drug policy reform movement, he's said twice in recent weeks that he's not ready to embrace decriminalizing possession of drugs beside marijuana.
Joe Biden Says Marijuana Should Remain Illegal As A Misdemeanor At Democratic Debate
Photo courtesy of Lorie Shaull.
New York Gov. Cuomo Hints Marijuana Smoking Ban Could Be Part Of Next Legalization Push
New York Gov. Andrew Cuomo (D) seemed to suggest that he might want a ban on smoking marijuana included in legalization legislation when lawmakers take up the issue again next year.
During an interview with MSNBC on Sunday, the governor was asked whether the spike in apparent vaping-related lung injuries and deaths, which experts attribute to altered nicotine and cannabis oils primarily purchased on the illicit market, has made him reconsider pursuing legalization in the state.
"No," he said, adding that his administration is "not in favor of smoking marijuana" and that there are "ways to get THC without smoking marijuana."
"People are vaping THC, yes that is true," Cuomo said. "We think that from a public health point of view, that is not something that we recommend and we think it's dangerous—smoking of any kind."
"You can legalize marijuana and sell THC in compounds that do not require you to smoke the marijuana, and we do not support smoking of marijuana," he said. "There are compounds that have the THC, which is a compound in marijuana, that you don't smoke."
It's not entirely clear if Cuomo plans to ask for a smoking ban the next time a legalization bill emerges or if he was simply outlining an administrative position advising against smoking. A spokesperson for his office did not respond to Marijuana Moment's request for comment by the time of publication.
But while there was no ban on marijuana smoking included in legalization legislation that he worked to pass earlier this year, it wouldn't be entirely out of character given that he pushed for such a restriction as part of New York's medical cannabis program in legislation enacted in 2014.
The logic behind that policy, according to Cuomo, was that it would prevent people from abusing the program. If he moved to incorporate a ban for adult-use legalization, however, it would presumably be a public health decision.
That could create problems when lawmakers return to the negotiating table. In California, flower and concentrates represent about 70 percent of the marijuana market, meaning any attempt to ban smokeable cannabis will likely be met with pushback from consumers, industry stakeholders and civil liberties-minded reform advocates.
Industry players seemed to have influence when Cuomo included a ban on home cultivation for personal use in his prior legalization proposal—something a major medical cannabis association recommended in a policy statement submitted to the governor.
For the time being, however, there don't seem to be tangible plans to include a smoking ban in future cannabis legislation and it could be that the governor simply ends up pushing for public education campaigns discouraging the activity rather than keeping it illegal.
Cuomo has made clear that legalization would again be an administrative priority after negotiations failed to produce a passable bill last session.
In July, he signed legislation broadening New York's decriminalization law and creating a pathway for expungements for individuals with prior cannabis convictions.
Former White House Drug Czar Offers Marijuana Legalization Advice To Mexico
Photo courtesy of MSNBC.
Mitch McConnell Tells FDA To Clear A Path For CBD Products Though Spending Bill Directive
Senate Majority Leader Mitch McConnell (R-KY) is moving to insert language into a congressional spending report that calls on the Food and Drug Administration (FDA) to clear a path for the lawful marketing of hemp-derived CBD products.
FDA has said that allowing CBD to be sold as food items or dietary supplements would require it to develop alternative regulations that could take years to complete without congressional action. But McConnell, who was the chief proponent of a hemp legalization provision of the 2018 Farm Bill, isn't interested in waiting around.
In draft language shared by the U.S. Hemp Roundtable on Tuesday, the senator is asking FDA to "issue a policy of enforcement discretion with regard to certain products containing CBD" within 120 days—a move that industry stakeholders say will clarify rules so that banks are more willing to service CBD companies.
🚨 BREAKING FDA UPDATE 🚨 After close work with the U.S. Hemp Roundtable, @senatemajldr Mitch McConnell submitted legislation urging the FDA to take action on CBD. Visit the link in bio to take action! pic.twitter.com/zMohlD3NiS

— US Hemp Roundtable (@HempRoundtable) September 17, 2019
The provision of the spending report was marked up in the Senate Appropriations Subcommittee on Agriculture on Tuesday. It will go before the full Appropriations Committee on Thursday.
Prior to issuing its enforcement discretion policy under McConnell's report language, FDA would have to submit a report to the committee within 90 days detailing its "progress toward obtaining and analyzing data to help determine a policy of enforcement discretion, and the process in which CBD meeting the definition of hemp will be evaluated for use in products."
Once those provisional enforcement guidelines are established, they would remain in place until FDA finalizes the regulatory process.
"FDA is encouraged to consider existing and ongoing medical research related to CBD that is being undertaken pursuant to an Investigation New Drug (IND) application in the development of a regulatory pathway for CBD in products under the jurisdiction of FDA and to ensure that any future regulatory activity does not discourage the development of new drugs," the report states.
Outside of McConnell's proposal, the FDA and U.S. Department of Agriculture (USDA) appropriations legislation already sets aside $2 million to support research and regulatory activities surrounding hemp-derived CBD products and $16.5 million for the broader hemp production program.
During the subcommittee meeting on Thursday, Sen. Jeff Merkley (D-OR) praised the bill's support for hemp legalization implementation.
"You might note that this year in Oregon, the hemp industry may well be a billion dollar crop, and that is an incredible addition to income for our agricultural community," he said.
The legalization of hemp and its derivatives has been met with intense interest from manufacturers and lawmakers alike, but limitations on the marketability of CBD has been an ongoing source of frustration.
Last week, a bipartisan pair of lawmakers asked fellow House members to join them in signing a letter to the head of FDA that similarly asks for enforcement discretion guidelines allowing companies to sell CBD products.
The House, which approved its version of appropriations legislation for the upcoming fiscal year prior to the summer recess, included a separate amendment that would require FDA to establish rules providing for the lawful marketing of CBD in food and dietary supplements.
Meanwhile, USDA is expected to soon release its broader hemp regulations soon.
Read McConnell's full CBD report language below:
"As previously mentioned, the Committee provides $2,000,000 for research, policy evaluation, market surveillance, issuance of an enforcement discretion policy, and appropriate regulatory activities with respect to products under the jurisdiction of the Food and Drug Administration which contain cannabidiol (CBD) and meet the definition of hemp, as set forth in section 297A of the Agricultural Marketing Act of 1946 (7 U.S.C. 1639o). Within 90 days, FDA shall provide the Committee with a report regarding the Agency's progress toward obtaining and analyzing data to help determine a policy of enforcement discretion, and the process in which CBD meeting the definition of hemp will be evaluated for use in products. Within 120 days, FDA shall issue a policy of enforcement discretion with regard to certain products containing CBD meeting the definition of hemp as defined by section 297A of the Agricultural Marketing Act of 1964 (7 U.S.C. 1639). Such enforcement discretion shall be in effect until FDA establishes a process for stakeholders to notify FDA for use of CBD in products that include safety studies for intended use per product, and makes a determination about such product. FDA is encouraged to consider existing and ongoing medical research related to CBD that is being undertaken pursuant to an Investigation New Drug (IND) application in the development of a regulatory pathway for CBD in products under the jurisdiction of FDA and to ensure that any future regulatory activity does not discourage the development of new drugs."
Bipartisan Lawmakers Circulate Letter Urging FDA To Back Off CBD Companies
This story was updated to include comment from Merkley.
Photo courtesy of Senate Majority Leader Mitch McConnell.