Rhode Island Lawmakers Approve Safe-Consumption Sites For Drugs As Panel Hears Marijuana Measure
Rhode Island lawmakers passed a bill on Tuesday that would establish facilities where people could test and use illegal drugs under medical supervision. Separately, a House panel weighed a measure that would legalize marijuana for adults in the state.
The first piece of legislation, which would launch a pilot program for safe-consumption sites, passed the full House of Representatives in a floor vote. The chamber later signed off on an amended Senate companion bill approved by that body in March. The two measures now go back to the Senate floor for consideration, according to a press release.
During a panel hearing after the floor session, the House Committee on Finance also heard testimony on one of three proposals introduced this session that would legalize cannabis for adult use. Legislative leaders and the governor's office have indicated they'd like to reconcile the differences between those measures and potentially return to vote on a compromise bill later this year.
Rep. Scott Slater (D), who introduced the House marijuana legalization bill last month, said he purposefully filed the measure late in the session, which is expected to wrap up its business this week. It allowed him to incorporate feedback on a separate Senate legalization bill as well as one introduced by Gov. Dan McKee (D), he said.
"I tried to take everyone's input and compromise the best piece of legislation that I could see for legal adult-use, recreational cannabis," Slater said at the hearing.
The main goal of his bill is to create a system that's "modest and allows for expansion and changes over time," Slater said, explaining that a slow start to the launch of the commercial market would help avoid oversaturation of the market.
The Senate already passed a separate cannabis legalization measure, on a 29–9 vote last week. "It is important that we act expeditiously to enact a regulatory framework," Senate Health and Human Services Chairman Joshua Miller (D) said at the time, noting policy changes in states like neighboring Connecticut, where the state's governor recently signed a legalization bill into law.
House leadership has indicated, however, that the chamber isn't ready to pass a legalization bill just yet.
"Absolutely we can and we should [wait], because all of the proposals are very divergent," House Speaker Joseph Shekarchi (D) said in an interview last week, referring to the House measure, the Senate bill, introduced in March, and the governor's proposal.
Shekarchi indicated, as he has in the past, that finding agreement among lawmakers might take until fall.
"I don't know if there's a combination of the two" bills that could be agreed on, he said. "We'll have to wait and see where everybody can come together."
Slater said before Tuesday's hearing that even if lawmakers don't strike a deal on legalization until later this year, he's glad to see his proposal being heard in the House.
"I am happy about it," he told Marijuana Moment. "I think it puts the bill in play for fall session." He said the key remaining differences between his bill and the Senate measure include who would regulate the new industry, the number of allowed licensees and proposed criminal penalties for violations of a new cannabis law.
Under the bill, H 6370, adults 21 and older could purchase and possess up to one ounce of marijuana in public. They could also grow up to six cannabis plants at home, with a maximum of 12 plants allowed in residences where more than one adult lives.
Unlike the governor's measure and the one filed by Senate leaders, the House proposal calls for automatic expungements for people with prior cannabis convictions.
The Department of Business Regulation, which would oversee the marijuana program, could initially license 15 recreational retailers, five of which would be reserved for social equity applicants. Another license would be issued to a worker-owned cooperative.
The state's three current medical cannabis dispensaries, as well as six additional operators set to be awarded in a planned lottery this summer, would get the remaining adult-use licenses.
No new cultivators would be licensed under the plan for a period of three years.
The Senate measure, meanwhile, would establish a new Cannabis Control Commission to regulate the market and issue business licenses. Existing cultivators would also be protected: Under an amendment approved by the Senate Judiciary Committee earlier this month, there "shall be no new cannabis cultivators' licenses issued prior to July 1, 2023.
Each municipality could have at least three cannabis retailers operating in their jurisdiction under the Senate plan, and additional retailers could be approved for every additional 20,000 residents above a baseline of 30,000.
The Senate bill has also been amended from its original form to require labor peace agreements for marijuana businesses—a provision that could bolster support among progressives. Some who testified during the public comment portion of Tuesday's hearing called for a similar provision in the House bill.
Jared Moffett, campaigns manager for the legalization advocacy group Marijuana Policy Project, urged lawmakers to move swiftly to pass cannabis legislation this year.
"First I just want to sincerely thank Vice Chair Slater for his years of service and work on this issue. Despite the fact that there are difficulties and challenges of crafting a pretty complex piece of legislation like this, he's continued to push forward, and I'm grateful for his commitment to seeing this through," Moffett said.
With more and more Northeast states legalizing cannabis, he said, "Rhode Island is on the verge of being an island of marijuana prohibition in New England, and that's not where the state needs to be. That's why it's crucial that lawmakers prioritize legislation and getting an adult-use market up and running. So there's still time to act but not much."
House leadership and the governor's office have recently indicated that the differences between the bills are likely to be taken up when lawmakers return to the State House later this summer or sometime in the fall. The House Finance Committee previously discussed the governor's proposal to end prohibition at a hearing in April.
"I'm happy for all the input I received today," Slater said as the hearing concluded, adding he'd work to incorporate it into his bill. "I'm willing to address equity issues…but everyone's got to take a step in the direction of there's going to be some sort of compromise."
Meanwhile, the separate House-passed legislation to allow people test their already-obtained illegal drugs for content and purity, then use them in a controlled setting, now goes back to the Senate to approve changes.
—
Marijuana Moment is already tracking more than 1,100 cannabis, psychedelics and drug policy bills in state legislatures and Congress this year. Patreon supporters pledging at least $25/month get access to our interactive maps, charts and hearing calendar so they don't miss any developments.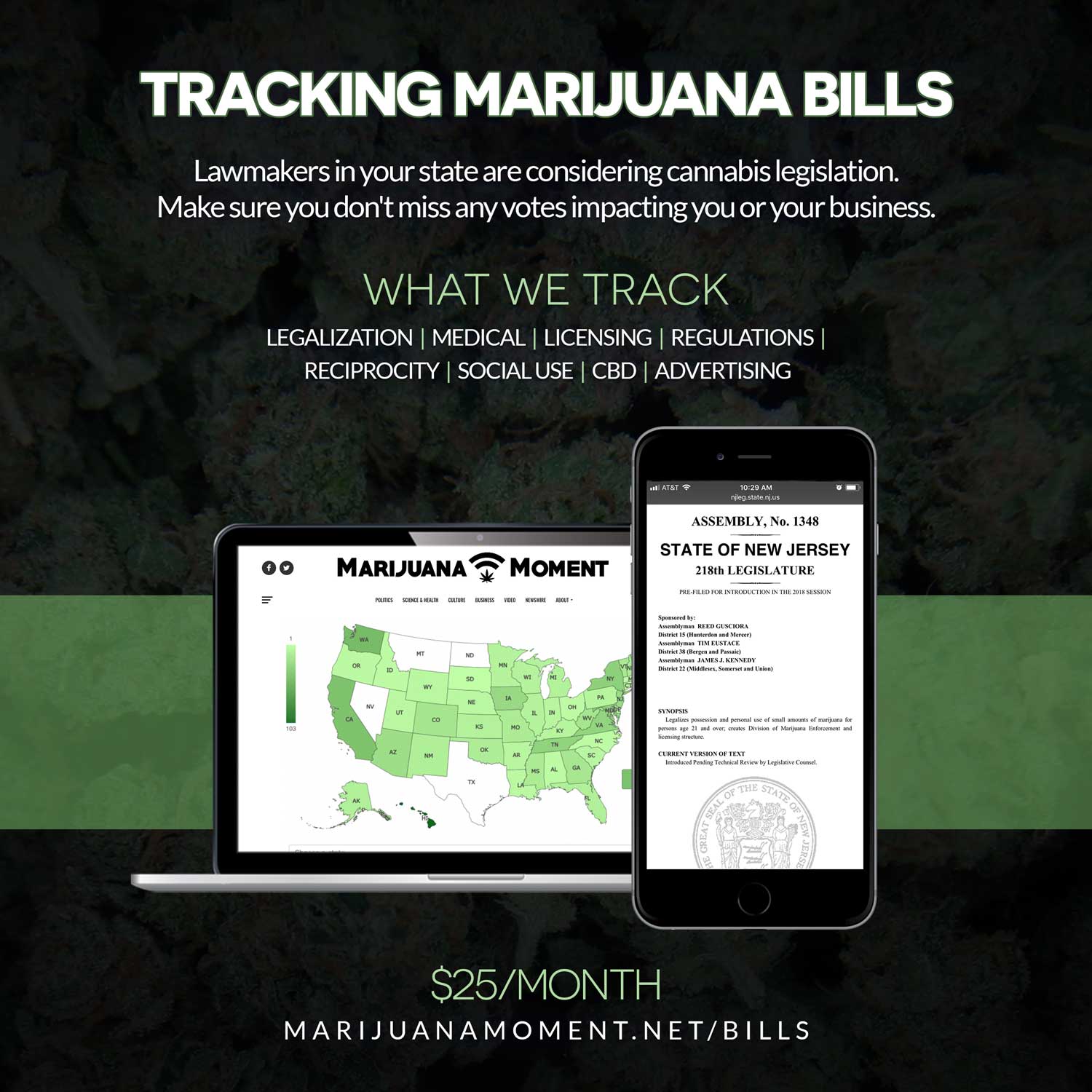 Learn more about our marijuana bill tracker and become a supporter on Patreon to get access.
—
That bill, H 5245, aims to address the high numbers of drug deaths in Rhode Island that have only increased during the pandemic. It cleared the chamber on a 62–9 vote despite sharp protest from some Democrats. The Senate-passed companion bill, S 0016, cleared the House without debate later on Tuesday evening.
Rep. Arthur Corvese (D) called the program a "moral oxymoron" that "flies in the face of common sense" during floor debate on Tuesday.
"We should help them," he said of people with substance use disorders. "There's ways of helping them. And I'm not sure one of the ways of helping them is having the state sanction a program like this."
"This bill will keep people alive," replied the bill's sponsor, Rep. John G. Edwards (D), who said that the proposal was the top recommendation from a recent task force convened by the governor to study how to reduce drug deaths.
"That's the end result," Edwards said. "People who otherwise will die alone somewhere in our state will remain alive."
He stressed that not only would the bill allow people to use drugs in a safe setting, it would also allow people to test their drugs for contents and purity, which Edwards said would prevent deaths from substances that consumers don't know contain fentanyl.
"Fentanyl is in everything," he said. "Fentanyl is what's driving this."
Other Democratic supporters said data from similar experiments indicate the proposal would reduce public consumption of drugs and connect consumers with treatment and recovery services.
The bill also won some Republican backing. House Minority Leader Blake Fillipi said he supports the pilot program, slamming the federal government's war on drugs and arguing that the severity of the state's drug-death crisis requires lawmakers to consider all options.
Meanwhile, the Senate Judiciary Committee held a hearing in March on separate legislation that would end criminal penalties for possessing small amounts of drugs and replace them with a $100 fine, but it has not received a vote.
As for cannabis legalization, McKee, who assumed office after former Gov. Gina Raimondo (D) joined the Biden administration as commerce secretary, put the policy change in his proposed budget earlier this year. He said after taking office that "it's time that [legalization]" happens in the state.
While his predecessor had proposed a first-of-its-kind model that would have Rhode Island itself run the cannabis industry, McKee favors a private, "entrepreneurial strategy."
That said, he's also recently downplayed the importance of the policy change this legislative session. He told reporters last week that while he backs legalization, it is "not like one of my highest priorities," adding that "we're not in a race with Connecticut or Massachusetts on this issue."
This year's debate is the result of discussions begun last legislative session. The Senate Finance Committee began preliminary consideration of legalization late last year in preparation for the current term, with lawmakers generally accepting the reform as an inevitability. "I certainly do think we'll act on the issue, whether it's more private or more state," Sen. Ryan Pearson (D), now the panel's chairman, said at the time.
House Speaker Shekarchi, for his part, said late last year that he was "absolutely" open to the idea of cannabis legalization.
Federal Agencies Should Reconsider Firing Workers For Marijuana, Congressional Committee Urges
An earlier version of this story mistakenly said the safe-consumption sites legislation would proceed to the governor's desk after the House's passage on Tuesday. Because the legislation was amended, it instead goes back to the Senate for consideration. The article has been updated.