Rhode Island Senate Leaders Unveil Marijuana Legalization Bill As Governor Prepares Competing Plan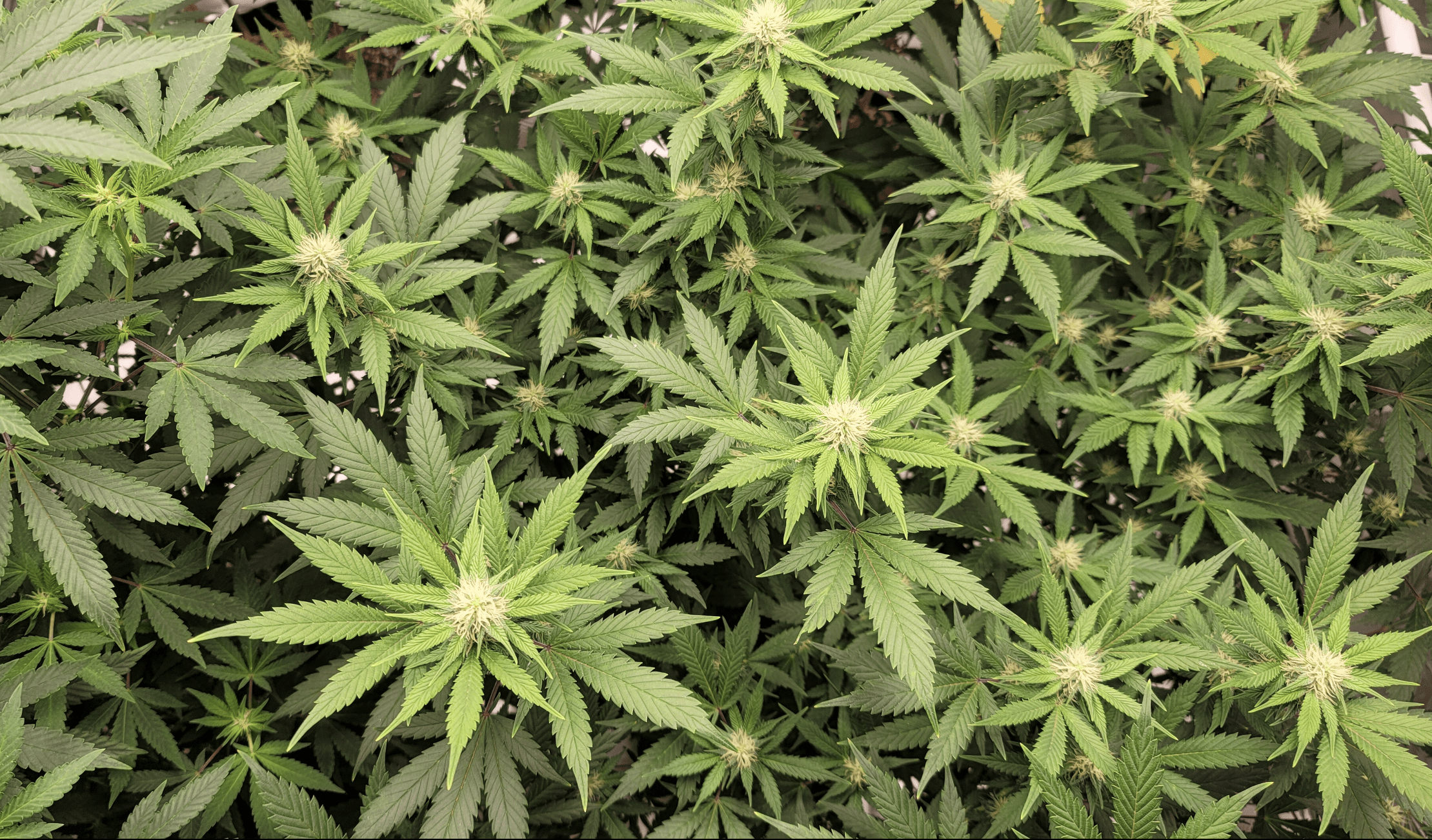 The governor of Rhode Island and legislative leaders in the Senate want to legalize marijuana in the state this year. But they're putting forward diverging plans this week on how best to accomplish that.
Senate Majority Leader Michael McCaffrey (D) and Health & Human Services Chairman Joshua Miller (D) held a press conference on Tuesday to go over the legislation they are filing on Thursday, which is the product of months of collaboration at the behest of Senate President Dominick Ruggerio (D).
The bill would allow adults 21 and older to purchase and possess up to one ounce of cannabis. They could also cultivate up to six plants for personal use.
A Cannabis Control Commission would be established to regulate the market and issue business licenses. Marijuana would be subject to the state's seven percent sales tax, in addition to a 10 percent special tax and a three percent local tax for jurisdictions that allow cannabis firms to operate in their area.
During the press conference, Miller repeatedly referenced Massachusetts marijuana regulations and said their bill contains a number of comparable provisions. Both he and McCaffrey also stressed that they feel the legislation takes an "entrepreneurial" approach to the policy change.
At the same time, newly inaugurated Gov. Dan McKee (D) is planning to announced his own plan this week to legalize cannabis for adult use as part of his budget request, The Providence Journal reported on Monday.
Though the reform proposals are fundamentally aligned on the question of whether to enact legalization, there are some components that are expected to be different. McCaffrey said, however, that he's looking forward to working with the governor as the legislation advances.
Few details are available with respect to the McKee's forthcoming plan, but one area where the bills are likely to differ concerns licensing.
McKee is reportedly proposing to add 25 retail dispensaries to the state over the first three years of implementation, with licenses being awarded through a lottery system. Minority-owned businesses and existing medical cannabis dispensaries would be prioritized in that process.
The Senate legislation would cap licenses at one per 10,000 residents per municipalities. However, each community regardless of its population would be able to have at least three licensed retailers. There is an opt-out provision for local jurisdictions if approved via voter referendum, but they would lose local tax revenue if they did so.
Under the governor's measure, recreational marijuana sales would start in April 2022. For his part, McCaffrey said he could foresee existing medical cannabis dispensaries being able to start adult-use sales sooner, but did not give a specific timeline. Miller said he thinks the state could implement regulations within 16 months of enactment.
In terms of equity, it's not yet clear what kind of funding or programs might be available through McKee's version, beyond the licensing prioritization component. The legislature's version, on the other hand, would create an equity fund from license and application fees to provide "technical assistance and grants" to promote industry participation from "disproportionately impacted areas."
Miller told Marijuana Moment that people from communities most impacted by prohibition would be eligible for assistance in paying licensing fees and putting together the applications; however, those licensing applications wouldn't necessarily be prioritized or given extra scoring points as is the case in some other legal states.
.@SenatorMillerRI and Leader @SenMcCaffrey introduce bill to legalize, tax, and regulate cannabis in Rhode Island; proposal aims to create a competitive, inclusive, and equitable regulatory structure https://t.co/Kh8knJRkfh

— Rhode Island Senate (@RISenate) March 9, 2021
There's some initial concern about how monies will be distributed through the equity fund, as the bill makes it so those dollars are subject to appropriations, rather than being specifically earmarked for various programs and services. That caused challenges in Massachusetts, for example, where regulators saw a slow and gradual process to secure funding for equity purposes.
"The bill seems to have lifted heavily from the Massachusetts model, which is good in some ways but unfortunate with respect to social equity funding," Shaleen Title, a former commissioner with the Massachusetts Cannabis Control Commission, told Marijuana Moment. "Instead of making vague references to social equity funding 'subject to appropriation,' like Massachusetts did, it should create a budget for the technical assistance and grants specified in the bill and ensure that those programs will be funded by cannabis tax revenue without requiring additional legislative action."
"Otherwise, it might end up like Massachusetts which has yet to spend any cannabis tax revenue on loans, grants, or direct reinvestment into disproportionately harmed communities five years and a billion dollars of revenue after passing legalization," she said.
The bill would also limit entities to one license in order to "promote equity, competition, and accountability," a summary states. However, the legislation states that only a single person or entity can own a license, and so a principal at a company that has a license could theoretically branch out and separately obtain another license as an individual.
"Cannabis legalization is a monumental shift in public policy that effectively creates a new economy," Miller said in a press release. "We want to ensure as many Rhode Islanders as possible have the opportunity to participate in this new economy. That is why we set low, tiered licensing fees and we are also calling for the creation of a Cannabis Equity Fund to help individuals who have been directly and indirectly impacted by our past policy of prohibition."
Tax revenue from cannabis sales would go into the state general fund, except for the local tax. Miller said that while they've requested a fiscal analysis, that hasn't been completed yet, though they are anticipating that the state will see an economic boost in part because Rhode Island residents would no longer have to go to neighboring states like Massachusetts to purchase legal cannabis products.
Expungements for prior marijuana convictions would be available through the Senate bill, but individuals would have to petition the courts for the relief. It remains to be seen whether the governor's plan includes an expungements provision.
McCaffrey said that he expects that the bill will receive committee hearings within the next couple of weeks. He also said that if it were to go to the floor today, he anticipates that it would have enough support to be approved.
"Cannabis legalization is as much about reconciliation as it is revenue," he said. "I believe we must ensure any effort to legalize cannabis recognizes and rectifies those wrongs. Low barriers to entry, expungement reform, and broad access to programs designed to increase access for individuals and communities impacted by the failed War on Drugs are an important and necessary component."
Neither system is exactly quite like what former Gov. Gina Raimondo (D) had envisioned for the state, prior to leaving office to join the Biden administration as commerce secretary. Her 2020 budget request called for legalization through a state-run model, but neither legislators nor her replacement are keen on that idea. Raimondo also didn't include a home cultivation option in her proposal.
McKee said in January that "it's time that [legalization] happens" and that he's "more leaning towards an entrepreneurial strategy there to let that roll that way."
House Speaker Joseph Shekarchi (D), meanwhile, has said he's "absolutely" open to the idea of cannabis legalization but also leans toward privatization.
Late last year, the Senate Finance Committee began preliminary consideration of legalization in preparation for the 2021 session, with lawmakers generally accepting the reform as an inevitability. "I certainly do think we'll act on the issue, whether it's more private or more state," Sen. Ryan Pearson (D) said at the time.
The growing momentum in Rhode Island also comes as lawmakers in neighboring Connecticut are also moving toward legalizing marijuana this year. Gov. Ned Lamont (D) included a cannabis legalization plan in his budget request last month, though advocates have been critical of several provisions, particularly as they concern social equity and home cultivation.
Meanwhile in Rhode Island, the Senate approved a bill last month that would allow safe consumption sites where people could use illicit drugs under medical supervision and receive resources to enter treatment. Harm reduction advocates say this would prevent overdose deaths and help de-stigmatize substance misuse.
Read the text of the Senate marijuana legalization bill below: 
Rhode Island Marijuana Lega… by Marijuana Moment
How New York Marijuana Legalization Efforts Could Be Impacted By Cuomo's Scandals
Photo courtesy of Mike Latimer.