Biden's Commerce Secretary Pick Wants Marijuana Sold In Government-Run Stores
President-elect Joe Biden's pick to run the U.S. Department of Commerce is a governor who supports not only legalizing marijuana but selling it through government-run stores.
Biden announced on Friday that Rhode Island Gov. Gina Raimondo (D) is getting the nod for Commerce secretary, a cabinet position where, if confirmed by the Senate, she will be responsible for representing business community interests and promoting economic growth. And while the incoming president might not be in favor of legalization himself, his nominee to lead the country's economic recovery from the coronavirus pandemic has come to embrace the policy change, with a unique twist.
In a budget proposal last year, Raimondo called for a state-run regulatory model for cannabis—rather than allowing sales through a privatized commercial market as is the case in all other states that have legalized to date. Having the government control the industry would "allow the state to control distribution, prevent youth consumption, and protect public health," her proposal to lawmakers said.
The governor wasn't always in favor of comprehensive reform, but the spread of the legalization movement regionally in other Northeast states led to her accept the policy change as an inevitability that should be thoughtfully implemented. Her budget plan for cannabis was not adopted by the legislature, however.
In November 2019, Raimondo described legalization as  "the next logical step" after the growth of the state's medical cannabis program. That came after she partnered with nearby states' governors to develop a regional approach to legalizing cannabis. That year she also included legal cannabis in her budget, but that initial plan did not include the state-run approach that she has come to favor.
"My view: it is only a matter of time," Raimondo told The Providence Journal last month. "I think we should do it. Yes, I support the state-run model because from all the work we have done it is the most controlled way to do it, arguably the safest, and the way to maximize state revenue."
Although the would-be commerce secretary wants the government to make money selling marijuana, she is not herself a cannabis enthusiast. She said in an earlier interview that "I've never used marijuana. I've never smoked. I've never vaped," calling herself a "super boring governor."
The timeline for Raimondo's confirmation for the federal role isn't clear, and so it's possible she could continue to pursue state-level reform while she's still serving as governor in the interim. A new upcoming budget request is due in March, and she's indicated legalization would again be part of that, though it's not clear how the updated cannabis plan will differ from her last one.
Meanwhile, Lt. Gov. Daniel McKee (D), who will become governor if and when Raimondo vacates the office, said in 2019 that he does not support legalizing marijuana. He is in favor of medical cannabis and decriminalization, however.
It remains to be seen how Raimondo will bring her perspective on the economic benefits of legalizing and regulating marijuana to the Biden administration, but at the very least her nomination represents yet another presumably incoming top administration official whose views on cannabis depart from those of the president-elect, which could collectively influence federal policy.
Biden recently selected a nominee lead the Department of Health and Human Services (HHS)—California Attorney General Xavier Becerra (D)—who is amenable to reform. And in his role, he could help facilitate federal cannabis rescheduling. While the Justice Department plays a key role in marijuana's federal scheduling, a medical and scientific review by HHS is binding on the attorney general's subsequent classification decision.
Raimondo was also considered for the HHS role, but Biden went in a different direction.
The president-elect's pick for attorney general, Judge Merrick Garland, has not been especially outspoken about his views on marijuana policy. While advocates expressed concern about his commentary in a 2012 federal appeals case on marijuana scheduling, he doesn't appear to have been publicly hostile to a policy change.
In positive news for advocates, Biden is also set to nominate former prosecutor and civil rights activist Vanita Gupta as associate attorney general. She favors cannabis legalization and has strongly condemned harsh criminalization policies for non-violent drug offenses.
Top Rhode Island Senator Backs Private Marijuana Sales Model As Another Lawmaker Puts 95 Percent Odds On Legalization
Virginia Conference Committee Faces Saturday Deadline To Finalize Marijuana Legalization Proposal
Virginia lawmakers are working to reconcile conflicting House and Senate marijuana legalization bills this week, scrambling to reach deals on matters such as business licensing and criminal penalties ahead of a legislative deadline on Saturday.
Each chamber passed its own legalization bill earlier this month, building off a plan introduced in January by legislative leaders and Gov. Ralph Northam (D), who last year committed to legalizing cannabis in the commonwealth. While the two measures—each spanning more than 500 pages—are substantially similar, key differences remain on a range of hotly debated topics.
"This is one of the largest, most significant pieces of legislation debated in the commonwealth in decades, with years of preparation, study and research leading up to its proposal," Jenn Michelle Pedini, development director for NORML and executive director of the group's Virginia chapter, told Marijuana Moment. "Virginia is one of the single most prepared states to undertake a legalization effort."
Both measures (HB 2312 / SB 1406) would allow adults 21 and older to purchase up to an ounce of marijuana and cultivate up to four cannabis plants (two mature) for personal use. Commercial production and retail sales would be regulated by the state, and tax from the legal industry would fund investment in pre-K education and public health initiatives. The two bills would each create a new agency to regulate cannabis instead of have the state's existing alcohol authority do so as was originally envisioned by Northam.
But as the proposals have made their way through each chamber, amendments have led to competing approaches on the finer details of legalization.
Some disagreements are relatively simple. The Senate bill would legalize personal possession of marijuana later this year, for example, while the House proposal would keep penalties in place until as late as 2024 to align the change with the launch of legal sales.
Other differences are more complex, especially those around how businesses would be licensed and regulated. Vertical integration of businesses—under which a single company could grow, process and sell cannabis products—would be banned under the House bill. The Senate measure, meanwhile, would allow vertical integration only if a business were to pay $1 million fee into a state equity fund.
The decision on that rule would affect how easily the state's existing medical marijuana businesses, which are vertically integrated, could participate in the new adult market.
While both bills would leave the total number of business licenses in the state up to local regulators, the House bill would limit individual license holders to no more than five licenses apiece in an effort to avoid the market being dominated by large marijuana businesses. The Senate bill would only limit the number of cultivation licenses any one individual could hold.
—
Marijuana Moment is already tracking more than 700 cannabis, psychedelics and drug policy bills in state legislatures and Congress this year. Patreon supporters pledging at least $25/month get access to our interactive maps, charts and hearing calendar so they don't miss any developments.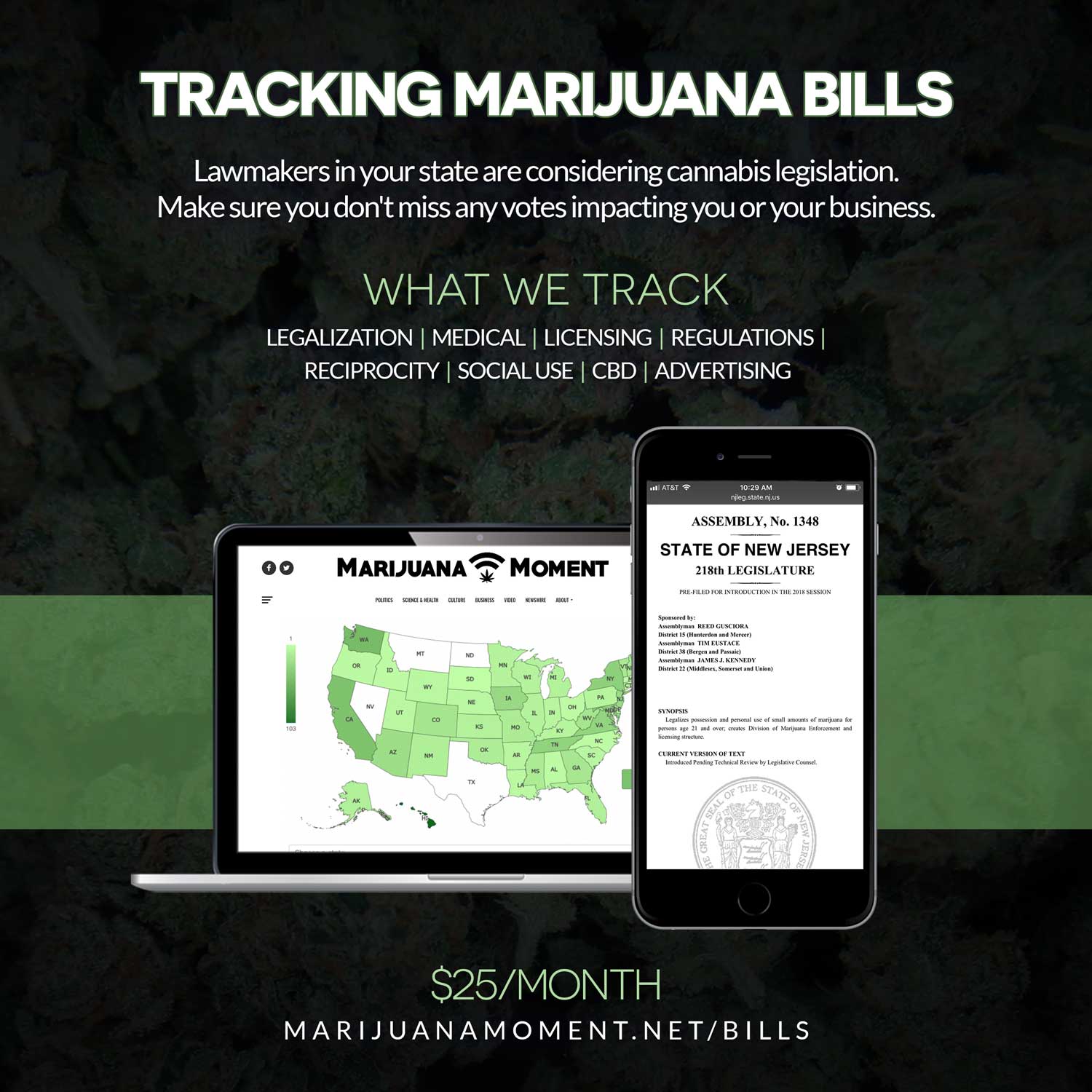 Learn more about our marijuana bill tracker and become a supporter on Patreon to get access.
—
Social equity applicants would be given licensing priority under both versions of the legislation in an effort to recognize the drug war's racial and economic disparities, but who qualifies for equity status isn't settled. Lawmakers have debated whether people who attended the state's historically Black colleges and universities (HBCUs) should be eligible, for example, or whether businesses could qualify simply by employing people impacted by the drug war or giving a portion of profits to equity groups.
The two chambers also differ on the issue of local control. The Senate measure would allow individual cities to ban cannabis companies within its borders, while the House bill would allow businesses statewide, although facilities would still be subject to local zoning requirements.
Further controversy surrounds how violations of the new law would be penalized. The Senate proposal creates a number of new criminal penalties, such as making it a misdemeanor—rather than the state's current $25 fine—for consuming cannabis in public. It would also criminalize consuming cannabis in a moving vehicle, even in the case of a passenger eating a cannabis edible. Driving under the influence of marijuana would remain a crime under both bills.
The House bill also makes clear that adults 21 and older are free to share small amounts of cannabis between them so long as the marijuana isn't exchanged as part of a larger transaction, as in the case of quasi-legal delivery services that have tried to skirt gifting laws in other states.
Penalties for minors caught with cannabis are more restrained under the House bill, with youth subject to a $25 civil fine and referral to a substance education or treatment program. The Senate bill, meanwhile, would impose a $250 fee for a first offense and criminal charges and even jail time for subsequent convictions.
Expungement of prior convictions could occur under both bills, although the House bill specifies that a larger portion of eligible expungements would happen automatically. Separate legislation advancing this session (HB 2113 / SB 1339) would make changes to the state's expungement processes more broadly.
Pedini, at NORML, called the House bill "much better when it comes to post-legalization penalties," noting that the reform group has encouraged the members of the conference committee to avoid rolling back progress recently made with the decriminalization law Northam signed last year, which replaced criminal penalties for possession of up to an ounce of marijuana with a $25 civil fine and no threat of jail time.
Advocates have noted that even as overall marijuana arrests have fallen since the decriminalization law took effect, data from the state Office of the Executive Secretary of the Supreme Court show persistent racial disparities in possession charges. Black Virginians accounted for 52 percent of all such charges, the group Marijuana Justice found, despite just 20 percent of the state's population being Black.
"NORML has long warned that decriminalization, while an important step to reducing marijuana-related arrests, will only do so by about 50 percent, and will unfortunately not address the disparate enforcement of marijuana laws," Pedini said. "The legislature must act swiftly to stop the harm by legalizing the responsible use of cannabis by adults and begin undoing the harms of prohibition inflicted overwhelmingly on poor, young, Black, and Brown Virginians."
Virginia NORML has been tracking several other cannabis-related bills this session, a few of which have already made it to the governor's desk. Most notably, lawmakers on Tuesday signed off on legislation to allow the production and sale of raw, so-called botanical cannabis to medical marijuana patients. Another measure, which passed the House earlier this month and is set to be considered by the Senate on Wednesday, would prevent workers from discharging, disciplining or discriminating against an employee for being a lawful medical marijuana patient. That bill would not restrict an employer's ability to fire someone for being high on the job.
Pedini urged lawmakers considering the legalization bills to adopt clearer language on how to incorporate the state's existing medical marijuana businesses into the state's new market to ensure that both systems flourish.
"The committee has everything they need to reach a resolution in advance of the Saturday deadline," they said. "If they don't reach an agreement or fail to pass the bills, it's purely for political reasons, and reasons that blatantly ignore public opinion."
Some lawmakers, however, have already floated the idea of delaying certain portions of the legislation. The Senate version of the bill contains a clause that would force the legislature to vote again next year before the legal market could move forward, and it would ask voters to weigh in through a nonbinding referendum on next year's ballot.
"We're part-time legislators. It's 46 days and a 13,000-line bill. This bill makes more substantive change in the law than anything I've seen in the whole time I've been down here," Sen. Creigh Deeds (D), told the Richmond Times-Dispatch in an interview earlier this month. "We want to get it right. We need to have it back before us next year."
The focus on legalizing the "right" way has become a common refrain among Virginia officials. Announcing his commitment to enacting policy change, Northam said late last year he was "committed to doing it the right way."
Asked by the Times-Dispatch about the House and Senate bills, a spokesperson for Northam replied: "Both bills would legalize marijuana in the right way."
Democratic lawmakers began formally pushing for legalization last summer, a day after the new state marijuana decriminalization law took effect. In November, a legislative working group issued recommendations to lawmakers and the governor about how best implement a legal cannabis program, and a separate workgroup of state cabinet officials also prepared a study on the issue, which together became the basis for Northam's proposal.
"Legislative leaders in Virginia deserve a big round of applause for their commitment to ending cannabis prohibition and replacing it with sensible regulation," said Matt Simon, senior legislative analyst for Marijuana Policy Project, which is also tracking the differences in the two bills. "There are still a few details that still need to be resolved in the legislation, but overall we are happy with the direction things appear to be going and hopeful that legislators will agree on a policy that works for all Virginians."
Even if state lawmakers pass a reconciled legalization bill in coming days, there would still be a long way to go before legal sales begin. Under both bills, Virginia's first legal adult-use sale wouldn't occur until 2024.
"While this protracted timeline is both unnecessary and far from ideal, what's most important is that the measure succeed. In the next legislative session, we can make improvements," Pedini said. "What we cannot do is continue to kick the legalization can down the road for yet another year."
New Jersey Attorney General Orders Marijuana Cases To Be Dropped Following Legalization Bill Signing
Photo courtesy of Chris Wallis // Side Pocket Images
Minnesota Marijuana Legalization Bill Clears Second House Committee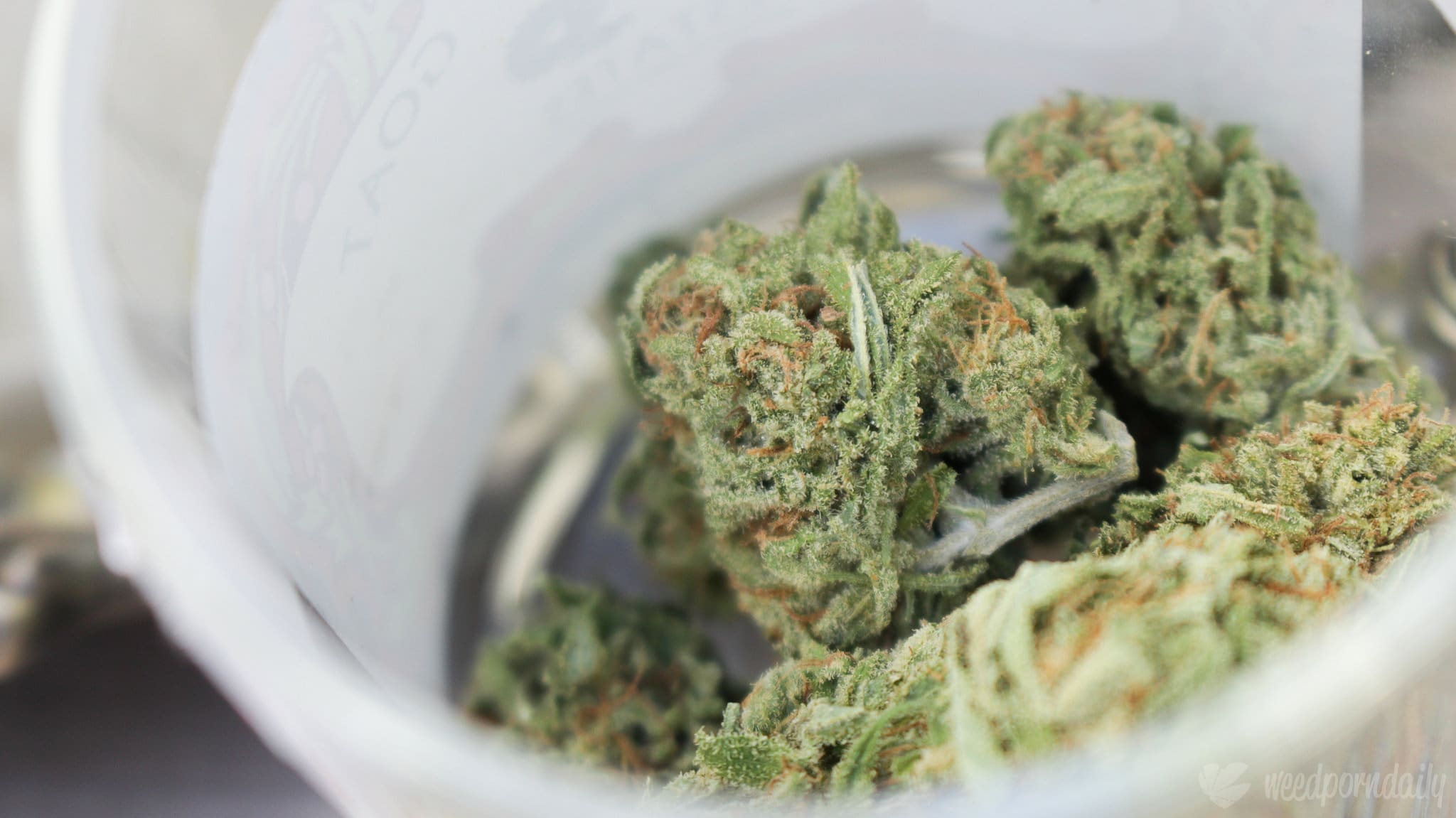 A second Minnesota House committee approved a bill on Tuesday that would legalize marijuana in the state—though several other panels are expected to take up the legislation over the course of the next few weeks before it reaches the floor.
House Majority Leader Ryan Winkler (D), Speaker Melissa Hortman (D) and other lawmakers filed the measure earlier this month. It would allow adults 21 and older to purchase and possess up to 1.5 ounces of cannabis and cultivate up to eight plants, four of which could be mature.
The House Labor, Industry, Veterans and Military Affairs Finance and Policy Committee passed the measure in a 7-5 vote. This comes one week after the Commerce Finance and Policy Committee advanced the legislation. It will next head to the Workforce and Business Development Finance and Policy Committee.
"The fact of the matter is that our laws are the part of this system that don't work," Winkler said on Tuesday. "We criminalize responsible adults who use cannabis for their own purposes. We criminalize people who use cannabis for their health benefits. We criminalize veterans who use cannabis as an alternative to opioids. And we criminalize countless African Americans because of their use of a substance that is common."
"As we look at making updates to the way we treat cannabis and we look at ways to make responsible smart policy choices, we have to make sure that we are actually dealing with cannabis as it is—not as people believe it to be during a period of Reefer Madness in the 20th century," he said. "Things are not that way."
Winkler's bill as introduced was identical to a proposal he filed last year, with some minor technical changes. The majority leader, who led a statewide listening to gather public input ahead of the measure's introduction, called it the "best legalization bill in the country" at the time. It did not advance in that session, however.
Under the proposal, social equity would be prioritized, in part by ensuring diverse licensing and preventing the market from being monopolized by corporate players. Prior marijuana records would also be automatically expunged.
During the latest committee meeting, members approved an amendment that would clarify the process for veterans to qualify for medical cannabis and appropriate funds for job training for the marijuana industry. The bill also underwent other changes during last week's initial hearing.
On-site consumption and cannabis delivery services would be permitted under the bill. And unlike in many legal states, local municipalities would be banned from prohibiting marijuana businesses from operating in their areas.
Retail cannabis sales would be taxed at 10 percent. Part of that revenue would fund a grant program designed to promote economic development and community stability.
The bill calls for the establishment of a seven-person Cannabis Management Board, which would be responsible for regulating the market and issuing cannabis business licenses. It was amended in committee on Tuesday to add members to that board who have a social justice background.
People living in low-income neighborhoods and military veterans who lost honorable status due to a cannabis-related offense would be considered social equity applicants eligible for priority licensing.
Local chapters of Students for Sensible Drug Policy, the United Food and Commercial Workers chapter and Sensible Change Minnesota submitted written testimony in favor of the proposal ahead of Tuesday's hearing.
Gov. Tim Walz (D) is also in favor of ending marijuana prohibition, and last month he called on lawmakers to pursue the reform as a means to boost the economy and promote racial justice. He did not include a request to legalize through his budget proposal, however.
Walz did say in 2019 that he was directing state agencies to prepare to implement reform in anticipation of legalization passing.
Winkler, meanwhile, said in December that if Senate Republicans don't go along with the policy change legislatively, he said he hopes they will at least let voters decide on cannabis as a 2022 ballot measure.
Heading into the 2020 election, Democrats believed they had a shot of taking control of the Senate, but that didn't happen.
The result appears to be partly due to the fact that candidates from marijuana-focused parties in the state earned a sizable share of votes that may have otherwise gone to Democrats, perhaps inadvertently hurting the chances of reform passing.
In December, the Minnesota House Select Committee On Racial Justice adopted a report that broadly details race-based disparities in criminal enforcement and recommends a series of policy changes, including marijuana decriminalization and expungements.
Photo courtesy of WeedPornDaily.
Senator Presses Biden Treasury Nominee On Marijuana As House Omits Banking Protections In COVID Bill
A Democratic senator on Tuesday pressed President Joe Biden's nominee for a top Treasury Department role on revising banking rules for marijuana businesses. But at the same time, House Democrats seem to have abandoned, at least for now, efforts to enact the cannabis financial services reform through coronavirus relief legislation despite their concerted push to attach the issue to COVID bills last year.
During a confirmation hearing before the Senate Finance Committee, Sen. Catherine Cortez Masto (D-NV) asked Treasury deputy secretary nominee Adewale Adeyemo whether he feels 2014 Financial Crimes Enforcement Network (FinCEN) guidance should be updated to "set expectations for financial institutions that provide services to cannabis-related industries" and what steps he would take to that end.
Adeyemo replied, "I look forward, if confirmed, to talking to my colleagues at Treasury about this important issue and thinking through what changes may be needed and doing this in a way that's consistent with the interagency with the president's guidance. In doing that, I look forward to consulting with you and members of this committee on our path forward."
Watch the discussion on Treasury policy on marijuana businesses, starting around 2:17:30 into the video below: 
Under the 2014 Obama-era guidance, financial institutions were advised on how to navigate the Bank Secrecy Act for marijuana businesses operating in compliance with state law. They also received direction on reporting requirements for working with clients in the cannabis industry.
Updating that guidance would represent a positive development for state-legal cannabis markets. But financial issues within the industry would also be resolved if Congress approved a more comprehensive bill to end marijuana prohibition or standalone legislation—such as the Secure and Fair Enforcement (SAFE) Banking Act—to provide protections for banks that service these businesses from being penalized by federal regulators.
It's heartening to see @SenCortezMasto ask Dep. Sec of the Treasury nominee @WallyAdeyemo about updating the 2014 FinCEN guidance related to cannabis. This clarity is much needed, and we cannot wait to get to work with the Department to pass #SAFEBanking this year. pic.twitter.com/3eFOjDyU9P

— National Cannabis Industry Association (@NCIAorg) February 23, 2021
House Democratic leadership included the language of that bill in two pieces of COVID relief legislation it passed during the last Congress, in addition to approving it as a standalone measure prior to the pandemic. Lawmakers, including Speaker Nancy Pelosi (D-CA), defended the inclusion of those provisions on multiple occasions in response to GOP pushback—yet the issue is not addressed in the latest coronavirus package that advanced out of the House Budget Committee on Monday.
That's notable considering that Democrats were accused by Republicans of pushing the issue as part of "messaging bills" that they knew could not be enacted into law last year. And now with control of both chambers of Congress and the White House, leadership seems to have given fuel to that argument by keeping cannabis banking out of legislation they intend to actually send to the president's desk.
The other possibility, however, is that Democrats are pushing for broader reform this Congress, and they would prefer to avoid a piecemeal approach. Ending federal marijuana prohibition through a bill like the Marijuana Opportunity, Reinvestment and Expungement (MORE) Act, for example, would represent a solution that would satisfy both social justice advocates and industry stakeholders facing banking challenges.
A trio of senators—Senate Majority Leader Chuck Schumer (D-NY), Senate Finance Committee Chairman Ron Wyden (D-OR) and Sen. Cory Booker (D-NJ)—are in the process of drafting legislation to federally legalize cannabis. And they recently held a meeting with representatives from a variety of advocacy groups and business associations to get input on the policy change.
But passing such a bill, if it is even possible during the 117th Congress, will take additional time while many cannabis businesses continue to be forced to operate on a cash-only basis without banking protections.
Meanwhile, Morgan Fox, media relations director for the National Cannabis Industry Association, told Marijuana Moment that the lack of cannabis banking language in the new House COVID bill "is probably due to a couple factors."
"There is more support and runway for standalone cannabis legislation now, and even though it is totally appropriate and relevant to the pandemic to include SAFE language in a COVID bill, Dems have an impetus to pass relief legislation quickly and probably want to avoid anything that is going to cause a potential conflict with Senate Republicans after the latter used cannabis banking inclusion to publicly ridicule Dems for the last six to nine months," he said.
Further, it's possible that Democrats would justify the exclusion of marijuana banking language in their coronavirus bill by arguing that it would not fall within the limited scope of issues that can be considered under the budget reconciliation process that they hope to pass the stimulus legislation through in the Senate. Under reconciliation, senators need a simple majority (51 votes) to pass legislation that deals with taxes, spending and debt, and can avoid delays that can usually only be overcome with a 60-vote supermajority.
But while legislators might have decided that adding banking protections for cannabis businesses wouldn't fit the bill in that legislative process, it's also the case that they included provisions to gradually increase the federal minimum wage to $15 dollars per hour—which some have argued is outside the scope of the reconciliation process.
In any case, advocates and lawmakers are optimistic that 2021 could be the year that federal cannabis prohibition finally ends and that ancillary problems like barriers to banking are resolved. Schumer, as Senate majority leader, has already taken steps to show that his chamber is working toward that objective as the new Congress gets underway, but what remains to be seen is how the House—which approved the MORE Act last year—will approach the issue this session.
New Jersey Attorney General Orders Marijuana Cases To Be Dropped Following Legalization Bill Signing