Prior State Marijuana Convictions Are Giving Federal Prisoners Longer Sentences, New Report Shows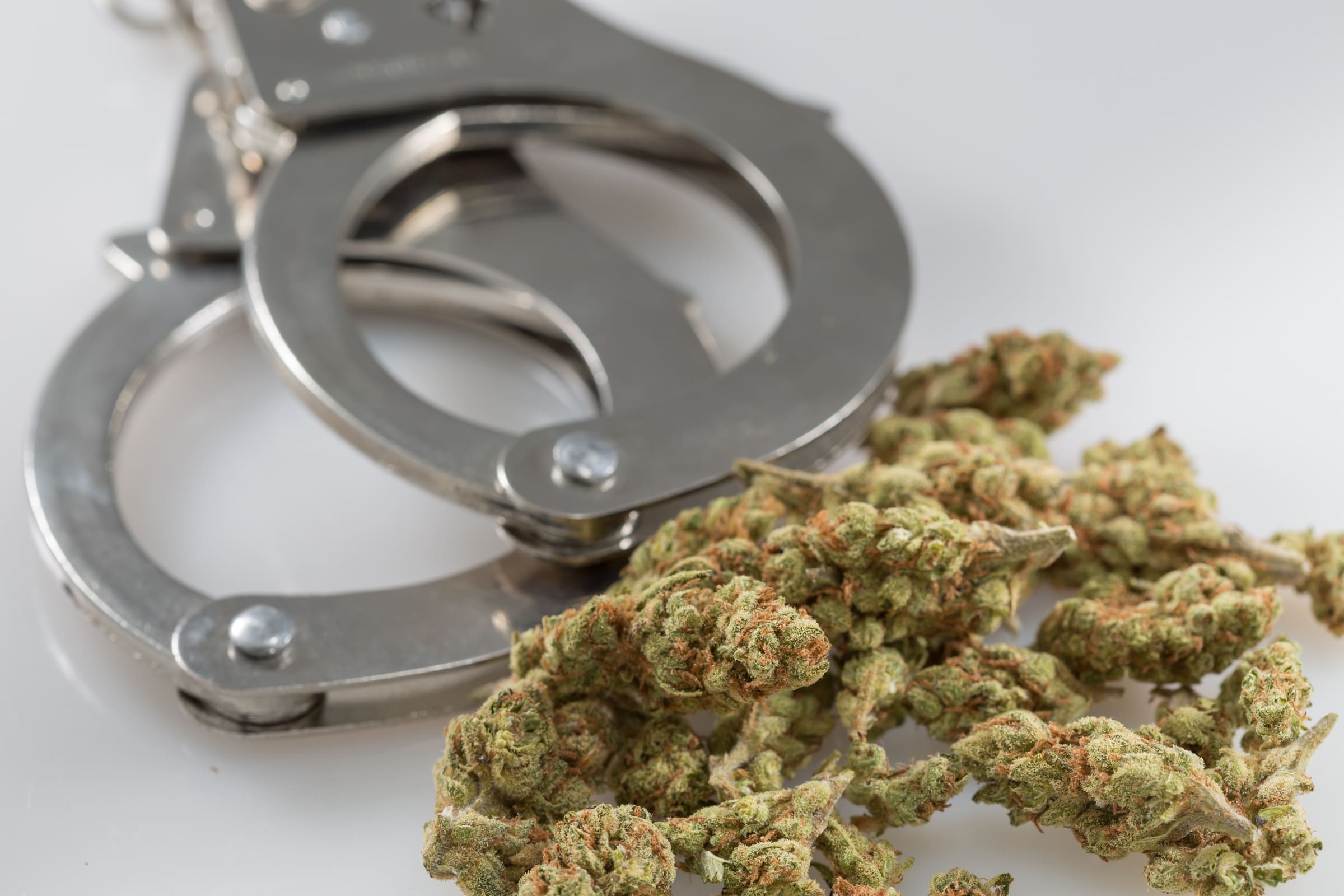 Hundreds of people received more serious federal prison sentences in the last fiscal year because of prior marijuana possession convictions in states that have since reformed their cannabis laws, a new report published on Tuesday by the U.S. Sentencing Commission (USSC) shows.
While federal marijuana possession cases have declined dramatically since 2014 as more state legalization laws have come online, the report highlights the long-term consequences of cannabis convictions in terms of federal sentencing. It also reveals how many federal defendants face enhanced sentencing due to state-level marijuana possession offenses even after their state's policy evolves to decriminalize or legalize cannabis.
USSC said in October that it was looking into revising its guidelines to change how marijuana possession convictions should affect a person's criminal history calculation (CHC) in sentencing decisions. Now it's produced data demonstrating why that reform may be necessary.
This report assesses recent trends in simple possession and describes demographic characteristics, criminal history, and sentencing outcomes of federal offenders sentenced for marijuana possession, comparing them to federal offenders sentenced for possession of other drugs.

— SentencingCommission (@TheUSSCgov) January 10, 2023
In Fiscal Year 2021, there were 4,405 federal offenders who received additional points on their criminal history score because of a cannabis possession conviction, accounting for eight percent of all federal cases. Among those offenders who got extra points, 1,765 were placed in a higher criminal history category that comes with an enhanced sentence.
Almost all of the people who faced more serious federal consequences got their marijuana possession record in a state that has since either decriminalized cannabis (22.2 percent), legalized possession (18.2 percent), allowed medical cannabis (15.1 percent), facilitated expungements (19.7 percent) or some combination of those policy changes.
97% of marijuana possession priors were state convictions, including prior convictions from states that have since changed their laws to decriminalize or legalize simple possession of marijuana. pic.twitter.com/yIetBZxJ1f

— SentencingCommission (@TheUSSCgov) January 10, 2023
To advocates, this finding is another example of how the state-federal marijuana disconnect leaves some people more vulnerable to serious penalties even as states increasingly move to adopt reform and federal prosecutions dwindle despite prohibition.
What's more, USSC's report reveals that, among the 1,765 whose marijuana possession offense affected their criminal history category, 42 percent were Black and 40 percent were Hispanic.
Overall, federal cannabis possession cases have dropped considerably in recent years, particularly as more states have elected to legalize marijuana in some form and after the Justice Department released the so-called Cole memo in 2013 that generally urged discretion in federal cannabis prosecutions.
In Fiscal Year 2014, there were 2,172 federal marijuana possession cases. That dropped to just 145 in this past fiscal year. And 70 percent of people with possession cases over the past five fiscal years received an average prison sentence of five months.
This is consistent with other recent federal data showing a downward trend in marijuana cases, including a recent finding that Customs and Border Protection (CBP) cannabis seizures fell to a record low in Fiscal Year 2022, dropping nearly 95 percent over the past decade.
But USSC added a notable detail about the trend in federal possession prosecutions, showing how the overall decline is largely attributable to reduced enforcement in the District of Arizona, "which accounted for nearly 80 percent (78.9%) of all federal marijuana possession sentencings since 2014."
The number of federal simple possession offenders has remained small and steadily declined from 2,172 in FY14 to 145 in FY21. The trends were largely driven by the District of Arizona, which accounted for 79% of all federal simple possession sentencings since FY14. pic.twitter.com/qY54tuk3Je

— SentencingCommission (@TheUSSCgov) January 10, 2023
"As the number of such cases in the District of Arizona declined from a peak of 1,916 in 2014 to just two in fiscal year 2021, the overall federal caseload followed a similar pattern," the report says.
"For federal offenders sentenced for any crime type, however, prior marijuana possession sentences—both federal and state—often affected their criminal history calculations under the guidelines," USSC said.
10% of these 4,405 offenders had no other criminal history points.

— SentencingCommission (@TheUSSCgov) January 10, 2023
Even though cannabis remains strictly scheduled under the Controlled Substances Act (CSA), "federal policy regarding marijuana possession appears to be shifting," the report says. It noted that President Joe Biden issued a mass cannabis pardon in October and directed an administrative review into federal marijuana scheduling that reflects that shift.
With respect to declining federal marijuana enforcement trends, FBI's Uniform Crime Reporting (UCR) program has similarly shown a notable decrease in cannabis "arrests" that are made at the local and state level as more states enact reform. (However, experts have raised questions about the quality of FBI's data, based on alleged confusion among law enforcement agencies about reporting requirements.)
Another USSC report from last year found that federal marijuana trafficking cases have also continued to decline in 2020 as more states have moved to legalize.
A Congressional Research Service last year said that the spread of legal cannabis states domestically, combined with international reform efforts, has reduced demand for illicit marijuana from Mexico.
As part of its Fiscal Year 2023 performance budget summary submitted to Congress last year, the Drug Enforcement Administration (DEA) also acknowledged that as more marijuana is being produced domestically in the U.S., it's undermining illicit cannabis trafficking across the southern border.
A study released by the Cato Institute in 2018 found that "state-level marijuana legalization has significantly undercut marijuana smuggling."
Federal prosecutions of drug-related crimes overall increased in 2019, but cases involving marijuana dropped by more than a quarter, according to an end-of-year report released by Supreme Court Chief Justice John Roberts that year.
Connecticut's First Adult-Use Marijuana Shops Are Officially Open