FBI Marijuana Arrest Data May Be Critically Flawed, And DOJ Is Being Asked To Investigate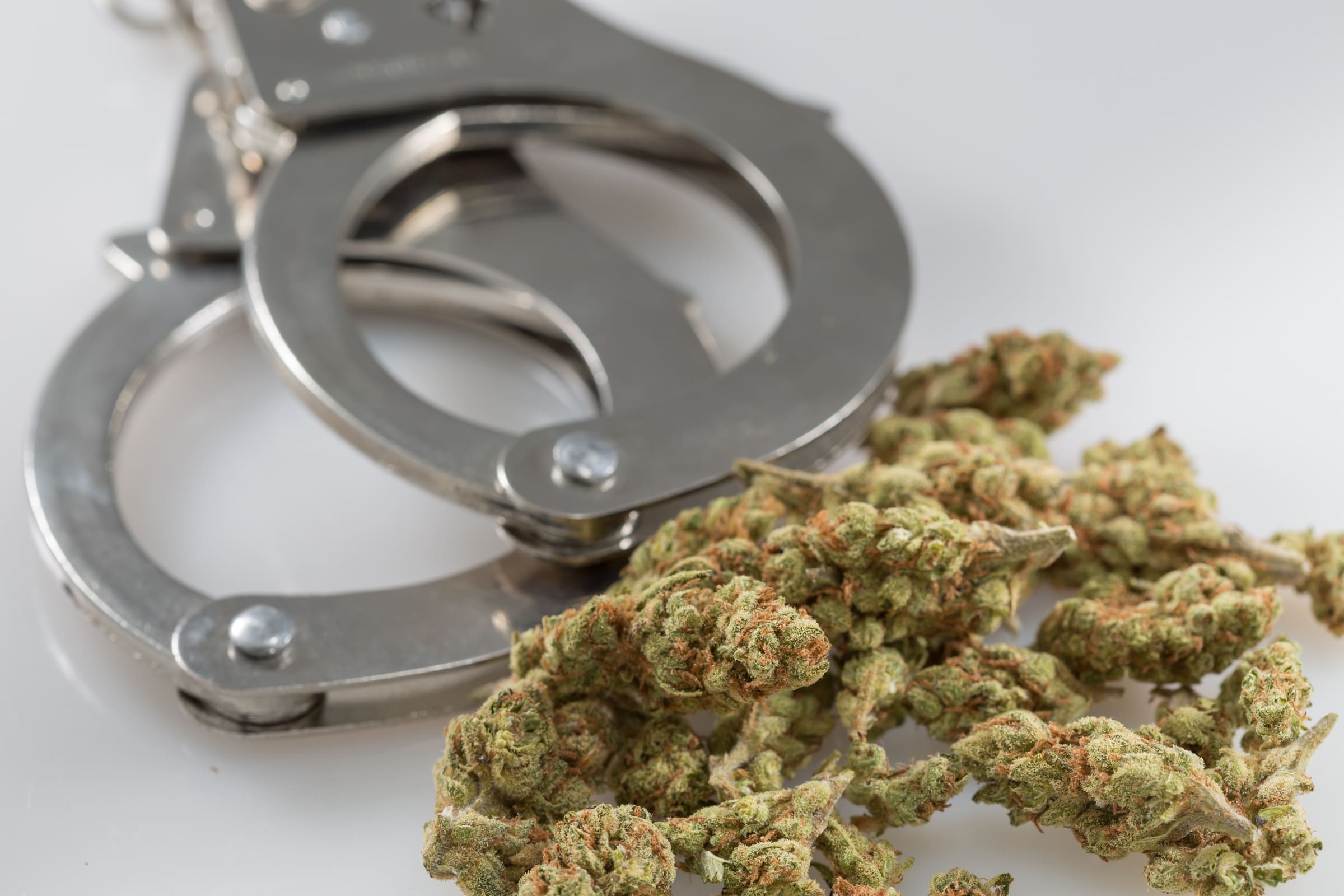 The FBI's system of reporting state and local marijuana arrests may be seriously flawed, and a local Maryland official with extensive drug policy experience is asking the Justice Department Office of the Inspector General to launch a formal investigation into the matter.
What seems to be at the center of the issue is confusion among local law enforcement agencies about whether citations issued for cannabis possession under state decriminalization laws are required to be reported to FBI as "arrests." That has led to inconsistency in the annually released data and, as a result, calls into question its utility as a tool that can inform policymaking when it comes to marijuana.
FBI's Uniform Crime Reporting (UCR) program is widely relied on by lawmakers, researchers and media to understand and contextualize law enforcement trends, with more than 18,000 jurisdictions reporting to the agency on how many, and why types of, arrests are made in a given year.
But when it comes to cannabis "arrests," there appears to be a problem that could have significant implications for policymakers and observers assessing the impacts of decriminalization policies and possibly even federal funding for police departments.
In short, the cannabis arrest data reported through UCR may be inflated, with one state police department telling Marijuana Moment that their interpretation of FBI reporting guidelines means that they need to categorize simple civil violations for cannabis possession as arrests. But an analysis shows that that interpretation isn't being consistently adopted by departments, some of which have started reporting significantly fewer marijuana arrests post-decriminalization.
The apparent problem promoted Eric Sterling, an attorney who currently serves as an appointed member of the Montgomery County, Maryland Policing Advisory Commission, to reach out to local and state law enforcement for answers. What he learned prompted him to demand an investigation from the Justice Department's Inspector General.
Maryland decriminalized marijuana in 2014, making possession of up to 10 grams of cannabis a civil infraction punishable by a fine without arrest or the threat of jail time. But the Maryland State Police (MSP) says they still report the issuance of those fines as arrests. At the same time, one major city in the state, Baltimore, seems to have adopted a different system of reporting, with far fewer cannabis arrests being reported in the years after Maryland enacted decriminalization.
"The Maryland UCR Program follows the National UCR Program guidelines when reporting crime data to the National Program," an MSP spokesperson told Marijuana Moment. "If a civil citation is issued for marijuana, then for UCR purposes, it is cited as an arrest."
The state law enforcement agency cited the FBI's National Incident-Based Reporting System manual that instructs the reporting of "violation of laws prohibiting the production, distribution, and/or use of certain controlled substances and the equipment or devices utilized in their preparation and/or use."
There's no distinction between civil violations and criminal arrests in that definition. So MSP is effectively saying that because marijuana isn't legalized in the state, but simply decriminalized with penalties still on the books, a simple fine is still required "to be reported in a Group A Incident Report as an arrest for a drug/narcotic violation."
But Holly Morris, a public affairs specialist at FBI, told Marijuana Moment on Friday that there's a different page of that guidance that does actually account for three distinct types of "arrests" that agencies are expected to report, including citations. It reads, in part:
Valid Data Values—[Law Enforcement Agency] should enter only one per arrestee:
O=On-View Arrest (apprehension without a warrant or previous incident report)
S=Summoned/Cited (not taken into custody)
T=Taken Into Custody (based on a warrant and/or previously submitted incident report)
Presumably, the "S" valid data value should be the designator that a formal "arrest" wasn't made, but it's not clear that that information is effectively disaggregated on the publicly available UCR report in a way that would give researchers, media and lawmakers the context they need to inform analyses of marijuana enforcement in states that have enacted decriminalization.
Sterling, who filed the new DOJ complaint, told Marijuana Moment that he grew suspicious about how FBI's policy was being applied with respect to the UCR program based on several conversations he's had with law enforcement.
It's why he sent a letter to the U.S. Department of Justice's Inspector General, imploring the division to investigate what he described as "wasteful misconduct" by FBI to require police departments to "wrongfully and inaccurately characterize important law enforcement data, and to publish false and misleading data about a very large and important class of police activity, arrests for marijuana violations."
Sterling told Marijuana Moment in a phone interview that he's yet to hear back from the IG's office. He also reached out to the office of his congressman, Rep. Jamie Raskin (D-MD), who chairs a subcommittee of the House Oversight and Reform Committee and also serves on the Judiciary Committee, both of which would have jurisdiction over this matter. The congressman's office did not respond to Marijuana Moment's request for comment.
The reason that this UCR information matters is multifaceted. Sterling, who previously served as counsel for the House Judiciary Committee, stressed that "because the arrests are being miscounted—arrests in decriminalization states—it does seriously undermine the value of marijuana decriminalization as a cost saving for the police," which is one of numerous arguments that advocates make in favor of reform.
Additionally, Sterling agreed that it's "quite possible" that arrest data from UCR overall may influence federal funding for state and local police departments, under programs like the Edward Byrne Memorial Justice Assistance Grant (JAG). A summary of the JAG program does note that UCR data on "violent" crime as a factor in funding decisions, but it's not clear if that's the exclusive standard.
"It is a profound distortion of police activity. It's an exaggeration of police activity,"  he said. "And in a particular area of intense national conversation and policymaking—that is, how do we control marijuana usage? Should the police be involved? The principal data is being distorted by the supposed premier data gathering intelligence."
It's unclear how many of the thousands of police agencies that participate in UCR share MSP's interpretation of the FBI guidance, but a same-state example of how significant the arrest-to-citation disparity can be based on an individual agency's reporting is the fact that, after marijuana was decriminalized in Maryland in October 2014, reported cannabis arrests in Baltimore City plummeted from 3,680 in 2014 to just 509 in 2015, while in Montgomery County they were reported to have actually increased over the same period, from 3,296 to 3,651.
The 2020 figures from Baltimore City show just 10 marijuana arrests, compared to 1,298 in Montgomery County, which is one of the lower numbers since 2009 but still roughly consistent with certain pre-decriminalization years.
Here's a comparison of marijuana arrests reported to FBI from 2009 to 2020 in the two Maryland jurisdictions: 
| | | |
| --- | --- | --- |
| | Baltimore City | |
| 2009 | 6,823 | 1,717 |
| 2010 | 6,784 | 1,847 |
| 2011 | 7,104 | 1,838 |
| 2012 | 6,586 | 1,751 |
| 2013 | 5,487 | 1,984 |
| 2014 | 3,680 | 3,296 |
MARIJUANA DECRIMINALIZED OCT. 2014
| | | |
| --- | --- | --- |
| 2015 | 509 | 3,651 |
| 2016 | 478 | 4,718 |
| 2017 | 563 | 5,135 |
| 2018 | 82 | 5,030 |
| 2019 | 25 | 3,715 |
| 2020 | 10 | 1,298 |
FBI did not respond to a follow up request for further clarification on the reporting guidelines.
"The actual number of marijuana arrests is a statistic of great policy making importance, regularly referred to by Members of Congress in debating legislation, and by state legislators and officials in debating state marijuana policy," Sterling wrote in his letter to the DOJ Inspector General.
"Assertions about the civil rights consequences of these arrests and the degree to which they are being made in a racially disproportionate manner is a major issue of national controversy. Falsity in this data is distorting important national debate about the conduct of the nation's police and the degree to which the laws are enforced impartially, or not," he said.
"The IG should investigate why the FBI has corrupted the national reporting on arrest data to exaggerate the number of arrests generally, the number of drug arrests by requiring the false characterization of the issuance of civil citations for which no criminal penalty attaches as 'arrests' equivalent to custodial arrests for heroin trafficking, rape or murder. This policy should be ended so that local police will report accurately the details of marijuana possession arrests."
"Ideally, the IG should require that this data be recalculated and a corrected version issued," the letter concludes.
To be sure, FBI's UCR has shown a notable decrease in cannabis "arrests" that are made at the local and state level as the marijuana legalization movement has expanded. But if other police agencies in states that have merely decriminalized—and not yet fully legalized—marijuana are reporting citations as arrests, the picture that the annual UCR report paints may be seriously skewed.
Read Sterling's letter to the DOJ Inspector General on investigating FBI UCR data collection issues below: 
Marijuana Research Has Exploded In Recent Years Despite Barriers Caused By Prohibition, New Study Finds