Connecticut's First Adult-Use Marijuana Shops Are Officially Open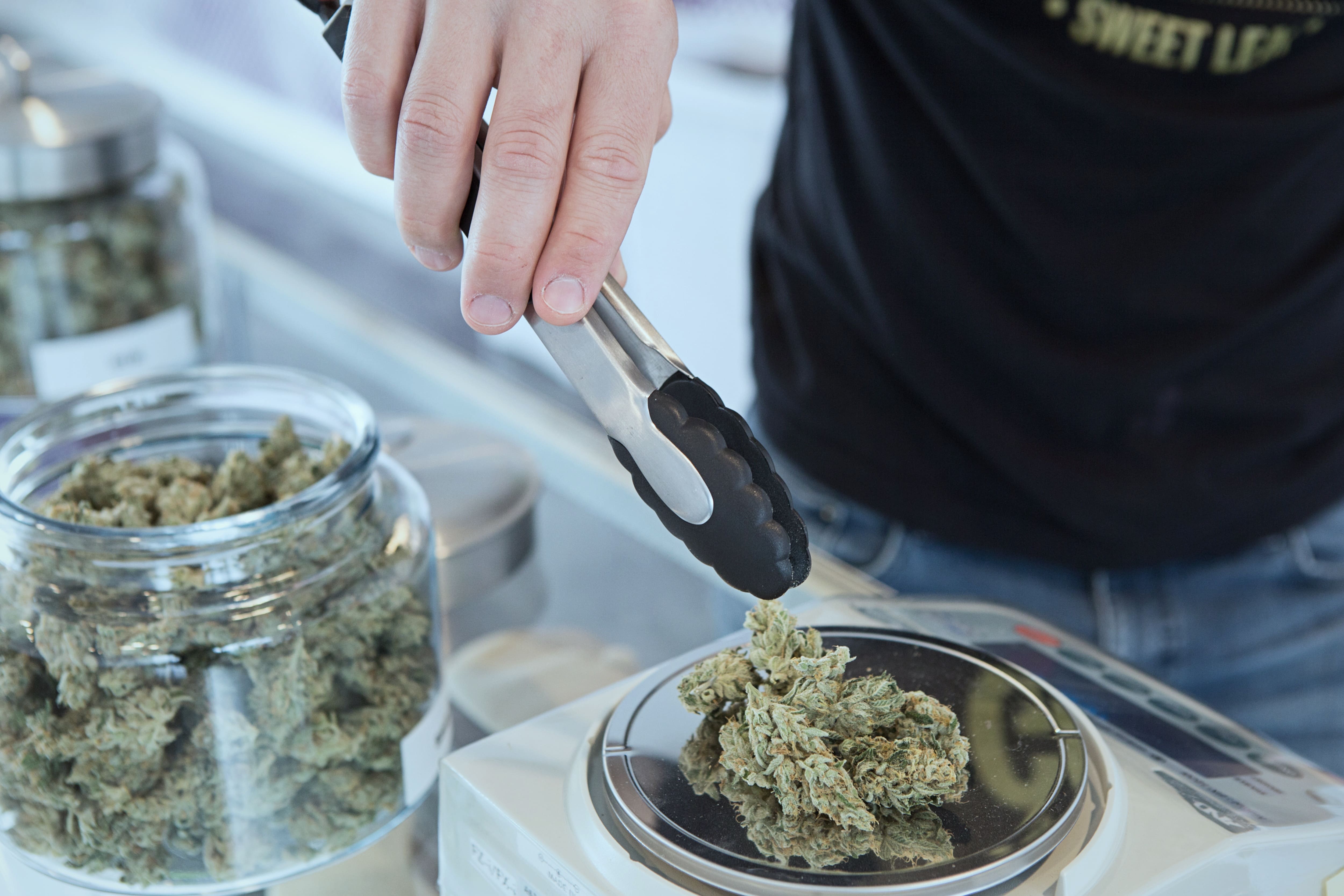 Connecticut's first adult-use marijuana sales launched on Tuesday—the latest state in the region where recreational shops have started opening their doors in recent months.
This development comes about a month after the state Department of Consumer Protection (DCP) notified existing medical cannabis dispensaries that obtained a hybrid license that they'd soon be able to start selling to the adult-use market.
DCP's Social Equity Council voted last month to approve hybrid licenses for all of the state's current medical cannabis producers to supply both markets. Six existing marijuana companies, with a total of nine locations, met the requirements to obtain hybrid licenses that will allow them to serve adult consumers—though a handful of them are not ready to begin recreational sales as of Tuesday.
Adults are able to buy up to one-fourth of an ounce of cannabis flower or its equivalent per transaction. Medical marijuana patients are able to buy up to five ounces per month.
"Today marks a turning point in the injustices caused by the war on drugs, most notably now that there is a legal alternative to the dangerous, unregulated, underground market for cannabis sales," Gov. Ned Lamont (D), who signed legalization legislation into law, said in a press release.
"Together with our partners in the legislature and our team of professionals at the Department of Consumer Protection, we've carefully crafted a securely regulated market that prioritizes public health, public safety, social justice, and equity," he said. "I look forward to continuing our efforts to ensure that this industry remains inclusive and safe as it develops."
Adult-use cannabis sales started today at licensed retailers. We're reminding the public to use these products responsibly, including safe storage and disposal.https://t.co/95OJvoY5yx

— Connecticut Department of Consumer Protection (@CTDCP) January 10, 2023
Ahead of the official launch, DCP officials issued an advisory to medical cannabis patients on Friday, encouraging them to stock up in order to "avoid long lines and traffic that may develop around hybrid retailers."
"While we hope there will be no disruption or inconvenience to patients, it is always best to be prepared," DCP Commissioner Michelle Seagull said. "Patients who can make purchases ahead of time, or have their medicine delivered, are advised to do so."
Meanwhile, Lamont announced earlier this month that the state has cleared nearly 43,000 records for marijuana-related convictions. The legalization legislation that he signed into law in 2021 empowered the state government to facilitate mass cannabis conviction relief.
The state also launched a web portal on Monday that provides residents with information about the status of their cannabis records and also guides those with older eligible convictions that weren't automatically erased through the process of petitioning the courts for relief.
Lt. Gov. Susan Bysiewicz (D) said that an "old conviction for a low-level cannabis possession shouldn't hold someone back from pursuing their career, housing, professional, and educational aspirations," adding that "Governor Lamont and I welcome this change to help people regain their freedom and the opportunity to pursue the careers and jobs they rightfully deserve."
Here are the cannabis dispensaries that are licensed to sell to adults over the age of 21 as of Tuesday:
Affinity Health and Wellness (New Haven)
The Botanist – Danbury (Danbury)
The Botanist – Montville (Montville)
Fine Fettle Dispensary – Newington (Newington)
Fine Fettle Dispensary – Stamford (Stamford)
Fine Fettle Dispensary – Willimantic (Willimantic)
RISE Branford (formerly Bluepoint Wellness of Connecticut) (Branford)
Still River Wellness (Torrington)
Zen Leaf Meriden (formerly Willow Brook Wellness) (Meriden)
It remains to be seen if the governor will participate in the legal marketplace, at least for now.
Before signing the bill to create a regulated cannabis industry, Lamont was asked in 2021 if he'd partake himself when marijuana was officially legal—and he didn't rule it out, saying "not right now, but we'll see."
Meanwhile, the governor also signed a large-scale budget bill last year that includes provisions to set the state up to provide certain patients with access to psychedelic-assisted treatment using substances like MDMA and psilocybin.
A Connecticut representative filed a bill for the new session to legalize "the use of psilocybin for medicinal and therapeutic purposes, including, but not limited to, the provision of physical, mental or behavioral health care."
When it comes to marijuana, the State Police and other officials are warning people to avoid impaired driving as legal sales launch.
You've heard the news. Starting on 01/10/2023, licensed retailers may begin selling cannabis products to adults over the age of 21.
If you plan to consume cannabis products, remember that driving while high is still a DUI. Always plan ahead for a safe ride home. pic.twitter.com/wl7DhDl9vd

— CT State Police (@CT_STATE_POLICE) January 9, 2023
Lamont also hammered home the driving message in a Twitter post.
"Remember: Driving while impaired by ANY substance, whether legal or illegal, is deadly. This includes cannabis products," he said. "If you drive high, you will get a DUI. Always plan ahead for a safe ride home."
Remember: Driving while impaired by ANY substance, whether legal or illegal, is deadly. This includes cannabis products. If you drive high, you will get a DUI.

Always plan ahead for a safe ride home. pic.twitter.com/al2zo09Rsj

— Governor Ned Lamont (@GovNedLamont) January 10, 2023
Connecticut isn't the only state where marijuana sales are getting started in the region.
New York's first legal adult-use marijuana sales got underway late last month, with the inaugural purchase being made by the state's top cannabis regulator. Broader sales to the general public began later in the afternoon at the symbolic time of 4:20 PM.
Also, Rhode Island's first recreational cannabis sales started at the beginning of December.
Minnesota's Governor Wants People To Sign A Marijuana Petition Asking Lawmakers To Put Legalization On His Desk