Maryland House Debates Bill To Put Marijuana Legalization Referendum On November Ballot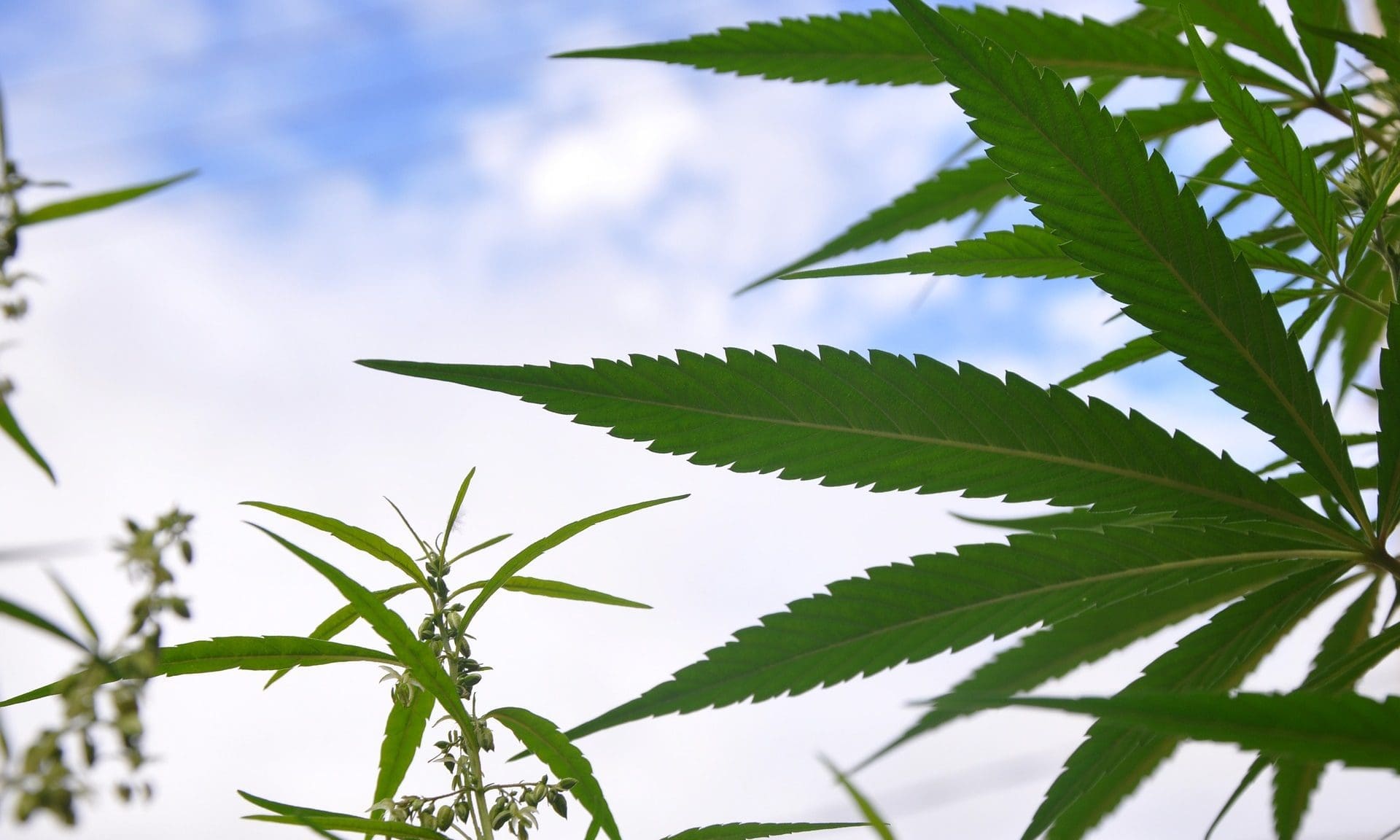 The Maryland House of Delegates on Wednesday debated a pair of bills to put marijuana legalization on the state's 2022 ballot and begin setting up details for the program if voters approve it. The chamber also defeated a number of proposed amendments from Republican members.
The chamber discussed the measures, both sponsored by Del. Luke Clippinger (D), on second reading days after the House Judiciary Committee—which the sponsor chairs—reported them out favorably. The legislation is now cleared for third reading and consideration of final passage to advance to the Senate, which is expected this week.
After defending HB 1 (cannabis referendum) and HB 837 (cannabis reform) on the floor of the House of Delegates, these bills now move to third reader for final passage in this chamber. We're one step closer to delivering on the promise to end the war on cannabis in Maryland. https://t.co/65nGiVxOgy pic.twitter.com/9Nf6LhFhif

— Luke Clippinger (@LukeClippinger) February 23, 2022
Members of the full House were initially set to take up the bills on Tuesday, but motions to put them on special order for Wednesday were agreed to so that amendments could be drafted.
The first of the chairman's proposals, HB 1, would ask voters to approve an amendment to the state's constitution to legalize cannabis use and possession by adults at least 21 years old. It would further direct lawmakers to set laws to "provide for the use, distribution, regulation, and taxation of cannabis within the state."
Two amendments to that bill were defeated on the floor. The first from House Minority Leader Jason Buckel (R) would have allowed local governments in counties that vote against the referendum to affirmatively act to continue criminalization even if the state legalizes.
Now the GOP is proposing an amendment to make the marijuana referendum be county by county. This goes against all rules of state governance. #WasteOfTime #LetsGetBackToRealWork

— Anne R. Kaiser (@DelegateKaiser) February 23, 2022
Another failed amendment would have required that the ballot question include a notice about legalization not taking effect immediately if voters approved the measure.
Clippinger's second measure, HB 837, is designed to get started on the work of implementing legalization if voters approve the policy change. It specifies that the purchase and possession of up to 1.5 ounces of cannabis would be legal for adults, and it would remove criminal penalties for possession of up to 2.5 ounces. Past convictions for conduct made legal under the proposed law would be automatically expunged, and people currently serving time for such offenses would be eligible for resentencing.
—
Marijuana Moment is already tracking more than 1,000 cannabis, psychedelics and drug policy bills in state legislatures and Congress this year. Patreon supporters pledging at least $25/month get access to our interactive maps, charts and hearing calendar so they don't miss any developments.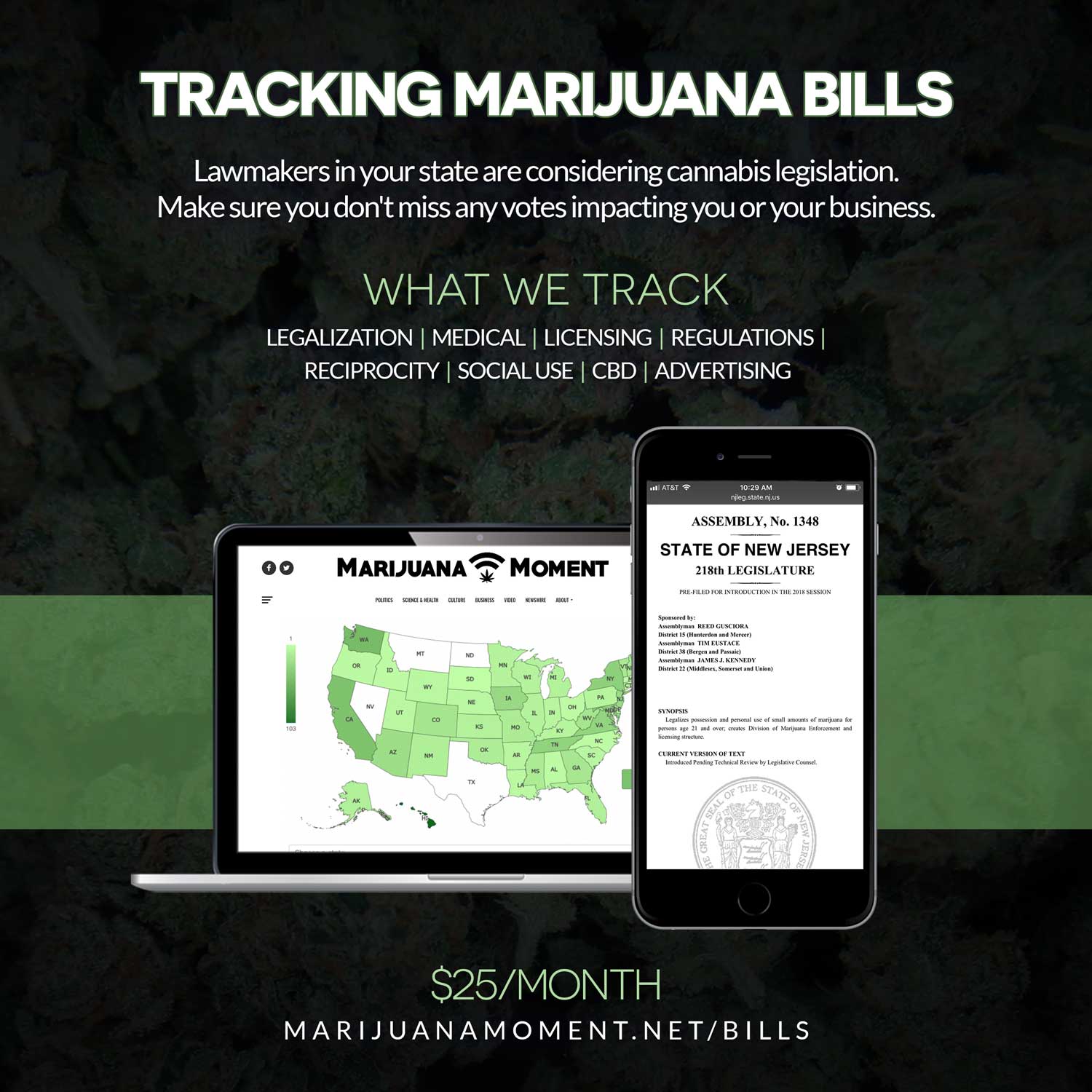 Learn more about our marijuana bill tracker and become a supporter on Patreon to get access.
—
Buckel also filed an amendment this bill to increase the proposed penalties for publicly smoking marijuana to include the possibility of jail time instead of a fine only. It was rejected in a 40-90 vote.

Del. Mike Griffith (R) tried to get the chamber to adopt another amendment to stipulate that law enforcement can conduct a traffic stop if they observe someone smoking marijuana while driving. It was also rejected, with Clippinger explaining that police would not lose that authority under the bill as already drafted.
We're underway with floor debate on HB 837 – Cannabis Reform. Join us via livestream for this important policy discussion here: https://t.co/XZZ94rp9vK https://t.co/JpjqcKhLb9

— Luke Clippinger (@LukeClippinger) February 23, 2022
Griffith filed another amendment to codify that police would have probable cause to search a vehicle based on the smell of marijuana coming from a vehicle. It, too, was defeated on the floor.
Del. Brian Chisholm (R) sought to attach an amendment to clarify that people cannot drive while impaired by cannabis. Again, the sponsor explained that driving while intoxicated from marijuana or any other drug is already illegal, and that wouldn't change if legalization is enacted. The amendment was defeated.
Another failed amendment would have required that cannabis-infused foods be packaged in child-resistant containers and prevented them from having the appearance of candy or snack foods while banning marketing to children.
Marylanders will decide whether we continue the failed war on cannabis *OR* take the equitable path to legalization. @mdhousedems @MDSenate #ThisOrThat #WarOnCannabis #LegalizeIt #AllBlueIn22 #MDDemsDeliver #MDGA22 #Working4MD pic.twitter.com/rlMLSBRL2g

— 🗳 Maryland Democratic Party🗳 (@mddems) February 23, 2022
The bill was previously amended in committee to allow adults 21 and older to grow up to two plants for personal use, gift cannabis to other adults and reduce the time before a person with a marijuana conviction for possession with intent to distribute could petition the courts for expungement.
Under current statute, that timeline is 15 years after time served before a person could submit such a petition; the original bill would have lowered that to four years, and the committee accepted an amendment to further lower that to three years.
Other amendments were adopted in committee to reduce the penalty for public consumption and legalize cannabis paraphernalia. Ahead of last week's vote, the panel held an extensive discussion about the reform proposals.
The bill as drafted would further establish a Cannabis Business Assistance Fund to support equity initiatives for minority- and women-owned businesses. That fund would go toward incubator and educational programs to promote participation in the industry by people most impacted by criminalization.
Legal cannabis means lasting equity.
In addition to a referendum question, we need companion legislation that creates a clear & equitable path to legal adult recreational cannabis which addresses criminal justice & public health issues facing legalization HB1 & HB 837 #MDGA22 pic.twitter.com/Wgs6GNyIiZ

— Del. Maggie McIntosh (@DelMaggie43) February 23, 2022
To study the effects of legalization on the state and its residents, the new statutory bill would also establish various studies, including into youth impacts, use patterns, impaired driving, advertising, labeling, quality control of products and barriers to entering the industry. A baseline study would be conducted before legalization, and updates would be sent to the governor every two months.
If voters approved legalization in November, it wouldn't take effect immediately. Possession of small amounts of cannabis would become a civil offense on January 1, 2023, punishable by a $100 fine for up to 1.5 ounces, or $250 for more than 1.5 ounces and up to 2.5 ounces. Legalization for up to 1.5 ounces wouldn't kick in for another six months. That's a problematic timeline, as far as advocates are concerned.
Meanwhile, there are at least three other competing legalization bills that have been filed in the state legislature this session.
On the Senate side, meanwhile, Sen. Brian J. Feldman (D) earlier this month introduced SB 833, which would also ask voters to approve a constitutional amendment legalizing cannabis for adults. That measure, like Clippinger's plan, would go to voters in November and take effect in July 2023.
Feldman's 83-page bill would allow home cultivation of up to four plants per adult, with a maximum of eight plants per residence. It would also package the constitutional amendment and basic regulatory framework in a single piece of legislation, unlike Clippinger's bifurcated package.
Feldman was a lead author on a separate legalization measure last year that was co-sponsored by Senate President Bill Ferguson (D).
Ferguson, for his part, said last year that he favored legalizing cannabis through the legislature rather than waiting to ask voters on November's ballot.
Another Senate bill in play this session, SB 692, from Sen. Jill Carter (D), would set higher possession amounts of up to four ounces of marijuana and would allow home cultivation of up to six cannabis plants. Possession in excess of those limits would carry no more than a $150 fine, and past criminal records would be cleared for certain cannabis-related charges.
Both Senate bills are set to be discussed March 3 in the Senate Finance Committee.
A competing legalization bill on the House side, HB 1342, was introduced earlier this month by Del. Gabriel Acevero (D).
Legalizing cannabis in Maryland isn't enough.

Expunging records isn't enough.

Legalization must include an equitable framework, automatic expungement, a plan to release those incarcerated for non-violent drug offenses & reparations for the intentional drug war.

— Del. Gabriel Acevero (@GabrielAcevero) February 22, 2022
Read more about HB 1342 here: https://t.co/Hion5WnHVk

Committee Hearing 3/8 at 1pm—Judiciary

— Del. Gabriel Acevero (@GabrielAcevero) February 22, 2022
Legalization began to advance through Maryland's legislature last session, but no votes were ultimately held. The Senate Finance Committee held a hearing last March on a legalization bill sponsored by Feldman and Ferguson. That followed a House Judiciary Committee hearing on a separate cannabis proposal in February.
Lawmakers then worked to reconcile the differences between the House and Senate proposals in hopes of getting something to the desk of Gov. Larry Hogan (R). Hogan has not endorsed legalization but has signaled he may be open to considering the idea.
A poll in October found that the state's residents are on board with the policy change. Two-thirds (67 percent) of Marylanders now back legalizing cannabis, according to a Goucher College survey. Just 28 percent are opposed.
Maryland legalized medical marijuana through an act of the legislature in 2012. Two years later, a decriminalization law took effect that replaced criminal penalties for possession of less than 10 grams with a civil fine of $100 to $500. Since then, however, a number of efforts to further marijuana reform have fallen short.
A bill to expand the decriminalization possession threshold to an ounce passed the House in 2020 but was never taken up in the Senate.
Also that year, the governor vetoed a bill that would have shielded people with low-level cannabis convictions from having their records publicized on a state database. In a veto statement, he said it was because lawmakers failed to pass a separate, non-cannabis measure aimed at addressing violent crime.
In 2017, Hogan declined to respond to a question about whether voters should be able to decide the issue, but by mid-2018 he had signed a bill to expand the state's medical marijuana system and said full legalization was worth considering: "At this point, I think it's worth taking a look at," he said at the time.
As for Maryland lawmakers, a House committee in 2019 held hearings on two bills that would have legalized marijuana. While those proposals didn't pass, they encouraged many hesitant lawmakers to begin seriously considering the change.
Top Federal Drug Agency Funds Research On Differing Legal Marijuana Regulatory Models
Photo courtesy of Max Pixel.