Marijuana Banking Bill Reintroduced In Senate, With Nearly A Third Of The Chamber Signed On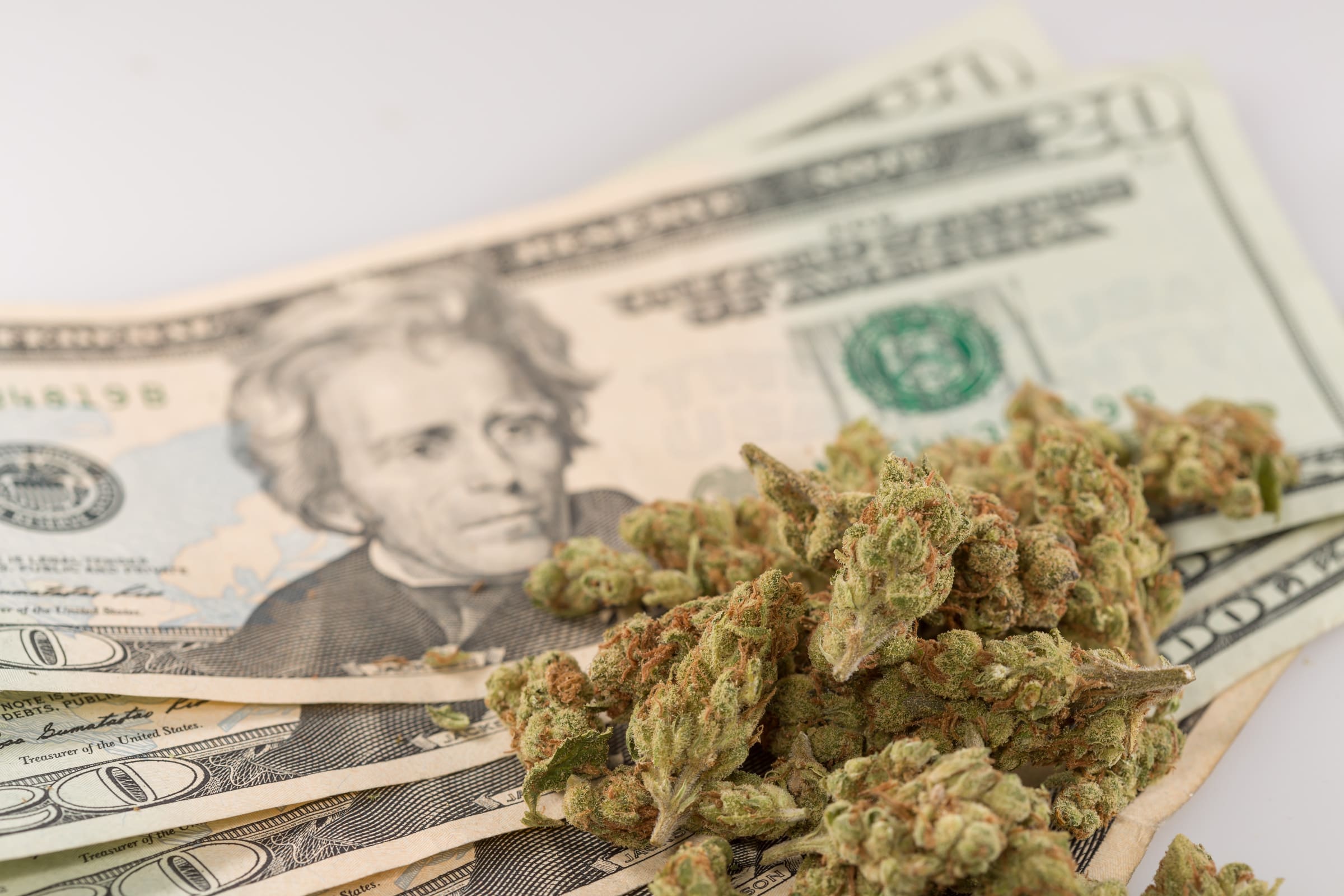 A bill to protect banks that service state-legal marijuana businesses from being penalized by federal regulators has been reintroduced in the Senate—with nearly a third of the chamber as cosponsors. It's a development that takes on a new light now that Democrats are back in control the chamber.
This comes days after the Secure and Fair Enforcement (SAFE) Banking Act was refiled in the House, where it passed with bipartisan support as a standalone bill in 2019 and also as part of two COVID-19 relief bills.
The Senate version is being sponsored by Sens. Jeff Merkley (D-OR) and Steve Daines (R-MT), and it currently has 27 other cosponsors. In the House, the legislation has more than 100 members who've signed on as cosponsors.
The SAFE Banking Act would ensure that financial institutions could take on cannabis business clients without facing federal penalties. Fear of sanctions has kept many banks and credit unions from working with the industry, forcing marijuana firms to operate on a cash basis that makes them targets of crime and creates complications for financial regulators.
"No one working in a store or behind a register should have to worry about experiencing a traumatic robbery at any moment," Merkley said in a press release. "That means we can't keep forcing legal cannabis businesses to operate entirely in cash—a nonsensical rule that is an open invitation to robbery and money laundering. Let's make 2021 the year that we get this bill signed into law so we can ensure that all legal cannabis businesses have access to the financial services they need to help keep their employees safe."
I'm working on this bill with @SteveDaines to remove the barriers to capital and ensure that all communities can operate legal cannabis businesses. Learn more ⬇️https://t.co/xYu0Vcc4EP

— Senator Jeff Merkley (@SenJeffMerkley) March 23, 2021
Daines added that "Montana businesses shouldn't have to operate in all cash—they should have a safe way to conduct business."
"My bipartisan bill will provide needed certainty for legal Montana cannabis businesses and give them the ability to freely use banks, credit unions and other financial institutions without the fear of punishment," he said. "This in turn will help increase public safety, reduce crime, support Montana small businesses, create jobs and boost local economies. A win-win for all."
Our bipartisan bill will help increase public safety, reduce crime, support Montana small businesses, create jobs and boost local economies. A big win for our communities.

— Steve Daines (@SteveDaines) March 23, 2021
With Democrats now in control of both chambers of Congress and the White House, industry stakeholders are optimistic that the legislation stands a solid chance of becoming law this year.
The Senate represented the bill's most significant obstacle last session under GOP control.
After it passed the House last Congress, advocates and stakeholders closely watched for any action to come out of the Senate Banking Committee, where it was referred after being transmitted to the chamber. But then-Chairman Mike Crapo (R-ID) did not hold a hearing on the proposal, despite talk of negotiations taking place regarding certain provisions.
Crapo said he opposed the reform proposal, but he signaled that he might be more amenable if it included certain provisions viewed as untenable to the industry, including a 2 percent THC potency limit on products in order for cannabis businesses to qualify to access financial services as well as blocking banking services for operators that sell high-potency vaping devices or edibles that could appeal to children.
Sen. Sherrod Brown (D-OH), who took the top seat in that panel after Democrats secured a majority in the Senate, told reporters in February that he's "willing" to move the cannabis banking bill, "but with it needs to come sentencing reform."
"I don't think we move on legalization the way that Colorado and some other states want us to, unless we really look more seriously at who's in prison for how long for those kinds of offenses and we don't do one without the other," he said.
The committee's ranking member, Sen. Pat Toomey (R-PA), said in November that "I am open to working with my colleagues on how we could enable businesses that are operating legally in their respective states to be able to have ordinary banking services" and that "I think that's something we should work on."
Beside the chief sponsors, here's who's signed on to this latest version so far: Sens. Kyrsten Sinema (D-AZ), Ed Markey (D-MA), Alex Padilla (D-CA), Patrick Leahy (D-VT), Dick Durbin (D-IL), Ron Wyden (D-OR), Mazie Hirono (D-HI), Tina Smith (D-MN), Angus King (I-ME), Catherine Cortez Masto (D-NV), Michael Bennet (D-CO), Bob Menendez (D-NJ), Jon Tester (D-MT), Jacky Rosen (D-NV), Kevin Cramer (R-ND), Dan Sullivan (R-AK), Kirsten Gillibrand (D-NY), Elizabeth Warren (D-MA), Chris Murphy (D-CT), Gary Peters (D-MI), Bernie Sanders (I-VT), Brian Schatz (D-HI), Patty Murray (D-WA), Amy Klobuchar (D-MN), Rand Paul (R-KY), Bill Cassidy (R-LA) and Cynthia Lummis (R-WY).
Businesses operating legally in #VT should be able to use the banking system. I'm proud to again cosponsor the SAFE Banking Act to give businesses access to the financial services they need in the dozens of states that have legalized cannabis businesses, including Vermont.

— Sen. Patrick Leahy (@SenatorLeahy) March 23, 2021
At the end of the last Congress, the prior version of the SAFE Banking Act had garnered a total of 35 senators signed on, including now-Vice President Kamala Harris.
Proud to cosponsor @SenJeffMerkley's SAFE Banking Act.

It's about time that we remove the financial limitations on legitimate marijuana-related businesses and allow them to access banking services that are key to their survival.https://t.co/95I1McdNS8

— Senator Bob Menendez (@SenatorMenendez) March 23, 2021
When legislative leaders announced that the SAFE Banking Act was getting a House vote in 2019,  there was pushback from some advocates who felt that Congress should have prioritized comprehensive reform to legalize marijuana and promote social equity, rather than start with a measure viewed as primarily friendly to industry interests.
Rep. Earl Blumenauer (D-OR), co-chair of the Congressional Cannabis Caucus and an original cosponsor of the bill, said on Friday that the plan is to pass the banking reform first this session because it "is a public safety crisis now," and it's "distinct—as we've heard from some of my colleagues—distinct from how they feel about comprehensive reform."
Meanwhile, congressional lawmakers are simultaneously preparing to introduce legislation to end federal cannabis prohibition.
Senate Majority Leader Chuck Schumer (D-NY), Senate Finance Chairman Ron Wyden (D-OR) and Sen. Cory Booker (D-NJ) are in the process of crafting a legalization bill, and they've already met with advocates to get feedback on how best to approach the policy change. Wyden is the only member of the trio to be listed as an original cosponsor of the new SAFE Banking Act.
Schumer has said lawmakers must pursue broad justice-focused cannabis legislation and not stop at the industry-favored financial reform.
"Congress should not enact banking reform alone and think the job is done," he tweeted in 2019. "We need decriminalization at the federal level, criminal justice reform, and investment in opportunity for minority & women-owned small businesses."
It's not clear if those views indicate that he opposes moving the SAFE Banking act ahead of a bill to end prohibition, or if he would allow it to come to the floor with the understanding the broader reform would follow.
House Judiciary Chairman Jerrold Nadler (D-NY) also recently said that he would be reintroducing the Marijuana Opportunity, Reinvestment and Expungement (MORE) Act, which would federally deschedule cannabis and contains a number of social equity provisions. That proposal passed in the House last year.
"With new Senate leadership now firmly in favor of cannabis policy reform, we are optimistic that this narrowly tailored—but absolutely necessary—legislation will be allowed to progress through the hearing process without delay," Aaron Smith, co-founder and chief executive officer of the National Cannabis Industry Association, said in a press release. "This bill is a meaningful first step that will have immediate benefits in terms of safety, transparency, fairness, and much-needed economic opportunities while Congress continues working toward more comprehensive solutions to end prohibition and sensibly regulate cannabis."
The American Bankers Association (ABA), for its part, says it's important to advance marijuana banking reform. While the group doesn't have a formal position on broader reform, it said in a letter to the House SAFE Banking Act sponsors last week that the cannabis financial services issue "has become a challenge for so many of our nation's communities and the banks that serve them."
"The bipartisan SAFE Banking Act would be an important step toward enabling financial services for cannabis-related businesses," ABA wrote. "The SAFE Banking Act is not a cure all for the cannabis banking challenge, but it is a measure that helps clarify many issues for the banking industry and regulators."
"Providing a mechanism for the cannabis industry to access the banking system would help those communities reduce cash-motivated crimes, increase the efficiency of tax collections, and improve the financial transparency of the cannabis industry," the group said.
The office of Rep. Ed Perlmutter, chief sponsor of the House version of the bill, said the legislation is also being supported by the Credit Union National Association, Independent Community Bankers of America, National Association of Realtors, United Food and Commercial Workers and other groups.
As more states have legalized marijuana for recreational or medical use, financial institutions have relied on 2014 guidance from the Financial Crimes Enforcement Network (FinCEN) that requires them to submit suspicious activity reports if they elect to provide financial services to cannabis businesses. In the years since, the number of depositories taking on marijuana clients has gradually increased—until a more recent downward trend that now seems to be stabilizing.
The head of the Internal Revenue Service (IRS) told Congress last month that the federal agency would "prefer" for state-legal cannabis firms to be able to pay taxes electronically, as the current cash-based system under prohibition is onerous and presents risks to workers.
Former Treasury Secretary Steven Mnuchin similarly said in 2019 that he'd like to see Congress approve legislation resolving the cannabis banking issue, and he pointed to the fact that IRS has had to build "cash rooms" to deposit taxes from those businesses as an example of the problem.
Read the full test of the new Senate SAFE Banking Act below:
Senate SAFE Banking Act by Marijuana Moment
Colorado Governor Signs Marijuana Social Equity Bill As Lawmakers Vote To Increase Possession Limit