Key Senate Chairman Lays Out Possible Marijuana Banking Bill Changes
A powerful Senate committee chairman said on Wednesday the he opposes House-passed marijuana banking legislation and laid out potential changes he would like to see to the bill before he takes it up in his panel.
Among other amendments being floated for public feedback is a 2 percent THC potency limit on products in order for cannabis businesses to qualify to access financial services as well as blocking banking services for operators that sell high-potency vaping devices or edibles that could appeal to children.
"I remain firmly opposed to efforts to legalize marijuana on the federal level, and I am opposed to legalization in the State of Idaho," Sen. Mike Crapo (R-ID), who chairs the Senate Banking Committee, said in a press release. "I also do not support the SAFE Banking Act that passed in the House of Representatives. I have significant concerns that the SAFE Banking Act does not address the high level potency of marijuana, marketing tactics to children, lack of research on marijuana's effects, and the need to prevent bad actors and cartels from using the banks to disguise ill-gotten cash to launder money into the financial system. I welcome input from all interested parties on how to thoughtfully address these concerns."
The Secure And Fair Enforcement (SAFE) Banking Act, which would shield banks from being punished by federal regulators for working with state-legal marijuana businesses, passed the House in September with strong bipartisan support.
Crapo's committee held a hearing on cannabis businesses' access to financial services in July, though he had previously said that he did not support taking up the legislation in his panel while marijuana remains federally illegal. He then said he wanted to bring it up by the end of 2019, though later indicated in an interview with Marijuana Moment last month that impeachment could delay things. Now, he is taking the step of floating amendments to the House-passed proposal before moving forward with a vote.
The new document from the chairman largely tracks with comments he made in another Marijuana Moment interview in October in which he said laid out some areas of concern.
"The things we're looking at are, first of all, to make sure we improve and clarify the interstate banking application of all of this," Crapo said at the time. "Secondly, money laundering issues with regard to legacy cash to make sure how that is managed properly. [Financial Crimes Enforcement Network] issues and other related issues. And then finally the health and safety issues about what is going to be banked."
"Take tobacco for example, every state I think has some kind of regulatory parameters around the utilization of tobacco, even if it's just an age limit on who can purchase it or what have you and the types of products that are going to be allowed," he continued. "That gets into a legal issue that I think the states need to be more engaged in, but it also impacts the question on what would be banked. Those kinds of issues—health and safety, interstate commerce and money laundering."
Crapo is also floating new federal studies on marijuana and its effects, clarifying hemp businesses' banking access and measures to deal with legacy cash and interstate commerce, among other areas for potential amendments. He also suggested that measures requiring studies on study on diversity and inclusion in the cannabis industry be removed from the legislation.
"I appreciate Chairman Crapo's concerns and willingness to work on this important issue. However, there is an urgent public safety risk facing the majority of communities and Americans today that needs to be resolved, and I believe our bill, which passed the House with 321 Democratic and Republican votes, responsibly addresses the conflict between state marijuana laws and federal banking laws," said Rep. Ed Perlmutter (D-CO), who is the lead sponsor of the SAFE Banking Act in the House. "This issue requires a pragmatic approach that takes into the account the will of voters across the country. I look forward to working with Chairman Crapo and my colleagues in the Senate as we work to resolve these differences and enact legislation to protect businesses, residents and communities."
Legalization advocates were not pleased with the proposals.
"These guidelines are essentially gutting the intention of this bill," National Cannabis Industry Association Director of Government Relations Michael Correia told Marijuana Moment.
"While the chairman may oppose broader cannabis policy reform, he clearly recognizes the problems created by lack of access to banking services," he said. "The SAFE Banking Act, which has already been passed by an overwhelming bipartisan majority of the House, addresses many of the chairman's concerns, particularly public safety and transparency. We're happy to discuss these items with the Senate Banking Committee in a markup, but every day that goes by without addressing this particular issue results in small businesses suffering and unnecessarily puts people's lives at risk."
Financial services industry trade associations also reacted to the news.
"We respect Chairman Crapo's request for additional public input on the SAFE Banking Act, and we look forward to providing the Senate Banking Committee with the information it needs," James Ballentine, the executive vice president of congressional relations for the American Bankers Association, said in a statement. "ABA, like many other stakeholders, has already provided the committee relevant information on several of the issues identified by the chairman including legacy cash, interstate commerce and 'Operation Chokepoint.' We continue to believe that the SAFE Banking Act responsibly addresses the current legal limbo over cannabis banking, and a strong bipartisan majority in the House shares that view. We urge the committee to gather this information in a timely manner so the Senate can follow the House's lead and pass legislation that will help protect communities across the country from an increasing public safety threat."
Ryan Donovan, chief advocacy officer for the Credit Union National Association, said that his group "appreciate[s]" Crapo sharing his concerns.
"America's credit unions are eager to continue engaging with the chairman as he seeks a solution that enhances community safety through access to mainstream financial services," he said.
Crapo is asking interested parties to send feedback on the new proposals to [email protected], though his office did not list a date by which responses are requested.
Read Crapo's full statement on marijuana banking below:
Chairman Crapo Outlines Concerns with Cannabis Banking Legislation
Requests feedback on potential changes to address public health and safety
WASHINGTON – Senate Banking Committee Chairman Mike Crapo (R-Idaho) is inviting public feedback on ways to address public health and money laundering concerns with cannabis banking. Input is also requested on "Operation Choke Point," an Obama-era initiative in which federal agencies devised and relied upon a list of politically disfavored merchant categories (e.g., firearm manufacturers, payday lenders, etc.) with the intent of "choking-off" these merchants' access to payment systems and banking services.
"I remain firmly opposed to efforts to legalize marijuana on the federal level, and I am opposed to legalization in the State of Idaho," said Chairman Crapo. "I also do not support the SAFE Banking Act that passed in the House of Representatives. I have significant concerns that the SAFE Banking Act does not address the high level potency of marijuana, marketing tactics to children, lack of research on marijuana's effects, and the need to prevent bad actors and cartels from using the banks to disguise ill-gotten cash to launder money into the financial system. I welcome input from all interested parties on how to thoughtfully address these concerns."
Currently, 33 states have some form of legal marijuana for a variety of uses. This has created challenges for businesses in those states and has resulted in increased pressure for depository and financial institutions to provide financial services to both state-sanctioned businesses and ancillary services providers that may provide services to state-sanctioned businesses. The ancillary service providers offer a variety of services to state-sanctioned businesses, such as legal services, plumbing services, fertilizers and other agricultural supplies, real estate, and leasing, among many others. As a result, Senators Jeff Merkley (D-Oregon) and Cory Gardner (R-Colorado) introduced S. 1200 on April 11, 2019. While marijuana would still be illegal at the federal level, this proposed legislation seeks to provide legal certainty for banks who wish to serve not only marijuana companies, but also the ancillary service providers, meaning that banks can accept cash from legally-operating state cannabis companies and related service providers without the fear of adverse actions being taken against them by federal financial regulators.
On July 23, 2019, the Senate Banking Committee held a hearing titled, "Challenges for Cannabis and Banking: Outside Perspectives." At the hearing, Senator Crapo discussed his concerns with the public health and safety issues surrounding marijuana; legacy cash and money laundering; FinCEN guidance and rulemaking; interstate commerce and banking; and initiatives similar to "Operation Choke Point."
Options for addressing these concerns include, but are not limited to, the following:
Add public health and safety solutions as a requirement for banks to do business with legally-operating state cannabis companies. Options to consider include THC potency; clear and conspicuous disclosures on products; marketing; effects on minors, unborn children and pregnant women; and age restrictions, among other considerations.
Prevent bad actors and cartels from using legacy cash and the financial system to disguise ill-gotten cash or launder money.
Update 2014 FinCEN rulemaking and guidance regarding marijuana-related businesses, and ensure FinCEN has all of the necessary tools it needs to prosecute money launderers and promulgate rulemakings.
Respect state rights in interstate commerce and banking for institutions who operate in multiple states with different state rules.
Eliminate "Operation Choke Point" and preventing future "Operation Choke Point" Initiatives. Under fear of retribution, many banks have stopped providing financial services to members of lawful industries for no reason other than political pressure, which takes the guise of regulatory and enforcement scrutiny.
Public feedback is requested on the following issues that include potential options for addressing concerns and questions outlined below. Interested parties may submit proposals to Committee staff at [email protected]
Issue 1: Options for addressing public health and safety concerns.
There is a lack of federal research evaluating marijuana and its effects. The National Institute on Drug Abuse has found that marijuana use significantly impairs a user's judgment, motor skills and reaction time. Other studies have found a direct relationship between blood THC concentration and impaired driving ability. Additionally, the Surgeon General released an advisory on Marijuana's Damaging Effects on the Developing Brain, noting that THC binds to receptors in the brain, producing a euphoria and a variety of harmful effects, including intoxication, and memory and motor impairments. The Surgeon General also noted the harmful effects of THC use during pregnancy and on young developing brains. Surgeon General Adams also released an Advisory on e-cigarette use among youth, and the recent surge in the market, which he states is a cause for great concern.
The appropriate federal agencies shall conduct a national study on the effects of marijuana and publicly report on considerations related to public health and safety of cannabis, cannabis products and their delivery mechanisms, including as it pertains to the marketing and varying potency of cannabis and cannabis products, particularly, but not limited to, minors, pregnant women and effects on unborn children. The federal government agencies, within the study, should also make recommendations on the manufacturing and marketing practices of the cannabis industry to minimize their appeal to minors and harm to minors, pregnant women and unborn children.
The studies shall include the following:
a. The types and delivery mechanisms (e.g., smoking, vaping, edibles, drinking, etc.) for all cannabis and cannabis products currently available or under development in the marketplace;
b. The potency of the cannabis and cannabis products, available in their final form, and how the potency has changed over time, including how it impacts addiction;
c. How various potencies and serving sizes may impact individuals' health and safety, and whether different potencies and serving sizes are harmful to individuals' health and safety, including how human physiology affects impairment, particularly as it relates to minors and pregnant women;
d. How different types of products and delivery mechanisms have affected minors' access to cannabis and cannabis products, and how it impacts purchasing decisions over an individual's lifetime;
e. The degree to which different levels of potency, serving sizes or consumption impair individuals' judgment or cognitive reasoning, and trends of the prevalence of individuals operating a vehicle or machinery under the influence of cannabis; and
f. The extent to which other jurisdictions with various levels of cannabis legalization have made determinations, as reflected in law or public policy, on the health and safety effects of cannabis or cannabis products, require disclosure of potency or serving sizes, and have restricted or otherwise limited the potency of cannabis cultivated, sold, or purchased in their respective jurisdictions.
Question: Are there any other additional health considerations, other than those explicitly stated in the outline, that should be considered, and which federal agencies are most appropriate to be involved in the aforementioned study?
Considerations for addressing health and safety concerns associated with financial institutions who provide financial services to cannabis-related legitimate businesses:
a. Each state must implement clear and conspicuous disclosure of THC potency of cannabis and cannabis products (on a percentage and milligram basis in final products) through a label on the final packaged products at the point of sale. Among the contents of any state labeling requirements should be proper warnings, contaminants, potency and serving sizes, and ingredients;
b. A potency threshold of 2 percent THC content on a percentage and milligram basis in the final product;
c. The 2 percent threshold will apply until each state legislature affirmatively determines the appropriate level of THC potency for cannabis and cannabis products (on a percentage and milligram basis in final products) that appropriately addresses the health and safety risks to its citizens;
d. Preventing distribution to anyone under the age of 21;
e. Preventing the banking of edibles that are in many kid-friendly forms like candies and gummies; and
f. Preventing the banking of high potency THC vape and e-cigarette products.
Question: Are there any other additional health considerations that should be attached to the safe harbor?
Issues 2, 3: Options for addressing legacy cash and money laundering.
FinCEN Rulemaking and Guidance: Amend the Act to direct FinCEN to promulgate a rulemaking within a specified period of time, after enactment of this Act, to address issues pertaining to the provision of financial services to the marijuana industry and ancillary businesses, including Suspicious Activity Reports (SARs) and dealing with legacy cash.
FinCEN will retain meaningful oversight authority of the activities between cannabis-related legitimate businesses (CRLBs) and their financial institutions. FinCEN will be required to promulgate rulemakings and update their guidance pertaining to Bank Secrecy Act (BSA) expectations for marijuana-related businesses to address the following:
a. Requiring thorough customer due diligence standards;
b. Thorough processes and procedures to ensure funds from cannabis-related businesses and service providers are not associated with illicit activities;
c. Clearly delineating the BSA obligations of financial institutions when engaging in business with cannabis-related businesses or individuals who engage with cannabis-related businesses, including for indirect relationships such as ancillary businesses;
d. Requiring the filing of SARs in a manner that preserves FinCEN's ability to address illicit activity; and
e. Clarifying the treatment of hemp.
Additionally, Section 7 of S. 1200 should be amended to ensure that the Federal Financial Institutions Examination Council (FFIEC) must consult with FinCEN on its development of uniform guidance and examination procedures for depository institutions as they relate to CRLBs and service providers.
Suspicious Activity Reports: Amend Section 6 of the Act regarding FinCEN's guidance to ensure the guidance does not impair the ability of FinCEN to deter illicit activity, consistent with the rulemaking described above.
Question: In such a rulemaking, what additional requirements are needed for financial services firms to ensure that bad actors are not accessing the financial system, the sources of cash entering the financial system are fully understood and validated, Suspicious Activity Reports continue to be appropriately filed, and expectations for indirect relationships are clear commensurate with their risk?
Issue 4: Options for addressing interstate commerce and banking.
Interstate Commerce: Amend the Act to clarify that financial institutions must comply with all applicable laws related to cannabis and cannabis products in each respective state in which they operate, and ensure that nothing in the Act would facilitate interstate commerce of cannabis.
Additionally, given the tension between the state legality of cannabis and federal illegality, it should be made clear that the federal banking regulators should consult with state regulators ahead of any implementation, or give some notice.
Question: Does the bill, as drafted, facilitate interstate commerce? Should there be an explicit statement in the bill clarifying that the bill does not permit interstate commerce of marijuana?
Issue 5: Options for addressing hemp provisions and "Operation Choke Point."
Add the following new provisions:
a. House hemp provision; and
b. The Financial Institution Customer Protection Act language included in the House-passed version of H.R. 1595, but with the following additional amendments: (1) change the term "may" to "shall"; and amend to reflect and add the following:
(1)An appropriate Federal banking agency shall not formally or informally request or order a depository institution to terminate a specific account or group of customer accounts or to otherwise restrict or discourage a depository institution from entering into or maintaining a banking relationship with a specific customer or group of customers unless –
(A) the institution is engaging in unsafe or unsound practices or violating a rule, law, regulation or other condition imposed in writing due to its relationship with the specific customer.
(B) an appropriate Federal banking agency shall not take any action under (A) with respect to a group or category of customers and shall only take action under (A) after it has made a determination in writing with respect to specific customer that the conditions set forth under (A) are satisfied.
(C) for purposes of (A), reputational risk shall constitute neither an unsafe or unsound practice nor a violation of rule, law, regulation or other condition imposed in writing.
Under (b) Notice Requirement, amend (2) to reflect the following: (2) Justification Requirement – A justification described under paragraph 1(A) should only be based on if the institution engaged in an unsafe or unsound practice or violated a rule, law, regulation or other condition imposed in writing.
Under (c) Customer Notice, add the following: (2) In the written notice and determination, the depository institution shall also provide the determination and justification for why the termination is needed, including any specific laws or regulations, or unsafe and unsound practices, the depository institution believes are being violated by the customer or group of customers.
Question: Do the proposed amendments to the Financial Institution Customer Protection Act, as passed in the House, adequately curb potential future choke point scenarios?
Additional amendments for consideration:
Studies: Strike Sections 8, 9 and 10 directing studies. Section 8 of S. 1200 requires the Federal banking regulators to issue an annual report to congress on diversity and inclusion; Section 9 of S. 1200 requires the Government Accountability Office (GAO) to conduct a study on diversity and inclusion; and Section 10 requires the GAO to conduct a study on the effectiveness of reports on suspicious transactions filed.
Preserving Regulatory Actions: Amend the Act to clarify that federal banking regulators can still take certain actions, including enforcement actions, against depository institutions, such as those actions related to poor underwriting and engaging in unsafe or unsound practices.
###
This story was updated to include reaction from advocates.
Louisiana House Approves Marijuana Decriminalization Bill As Other Reforms Advance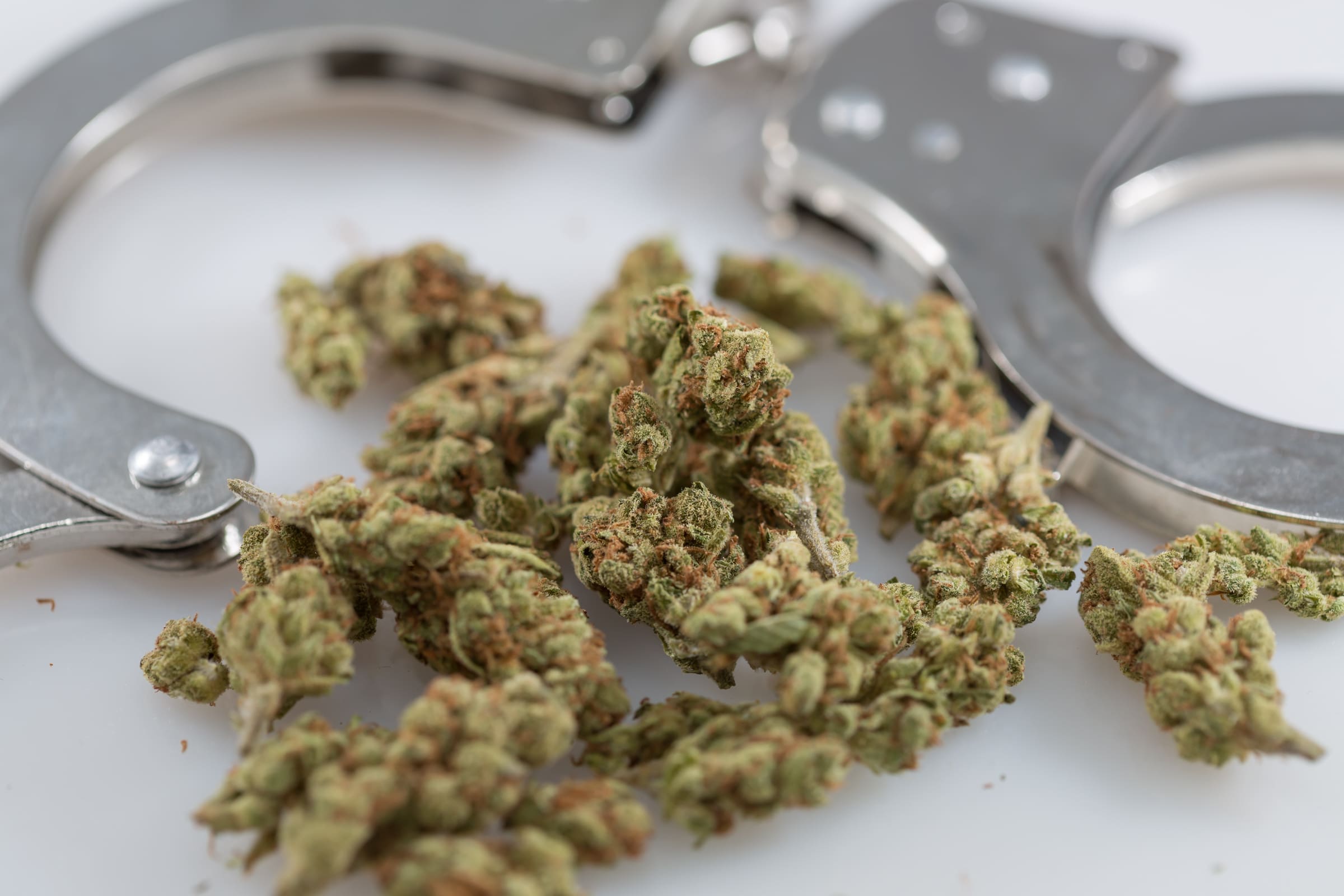 The Louisiana House of Representatives on Tuesday approved a bill to decriminalize marijuana possession, while a committee advanced separate legislation to impose taxes on cannabis sales if the state ends up enacting broader legalization.
Meanwhile, a measure to legalize marijuana sales is scheduled for a vote on the House floor on Wednesday after being delayed from earlier consideration while the sponsor has worked to build support.
Tuesday's action on the narrower decriminalization bill is the latest example of marijuana reform advancing in the traditionally conservative legislature this session.
The proposal, sponsored by Rep. Cedric Glover (D), has gone through several changes since its introduction.
Originally it would have made it so possession of up to 14 grams of cannabis punishable by a $50 fine and no jail time. And while it was gutted in committee last week to maintain a penalty of $300 and/or 15 days in jail, a floor amendment was approved on Tuesday that again removed the threat of incarceration and set the fine at $100.
Members approved the revised bill in a 67-25 vote.
"This bill is about common ground," Glover said prior to the vote. "You know there are all different iterations of us in here today, black, white, male, female, big, small, conservative, progressive—and many of us who may not agree on as much as 90 plus percent of any given topic, especially when it comes to something as controversial as marijuana."
"The possession of a small amount of marijuana should no longer result in two things," he said. "One is setting out a result, and a path, that leads you to becoming a convicted felon. And neither should it set you on a path to go to prison."
—
Marijuana Moment is already tracking more than 1,100 cannabis, psychedelics and drug policy bills in state legislatures and Congress this year. Patreon supporters pledging at least $25/month get access to our interactive maps, charts and hearing calendar so they don't miss any developments.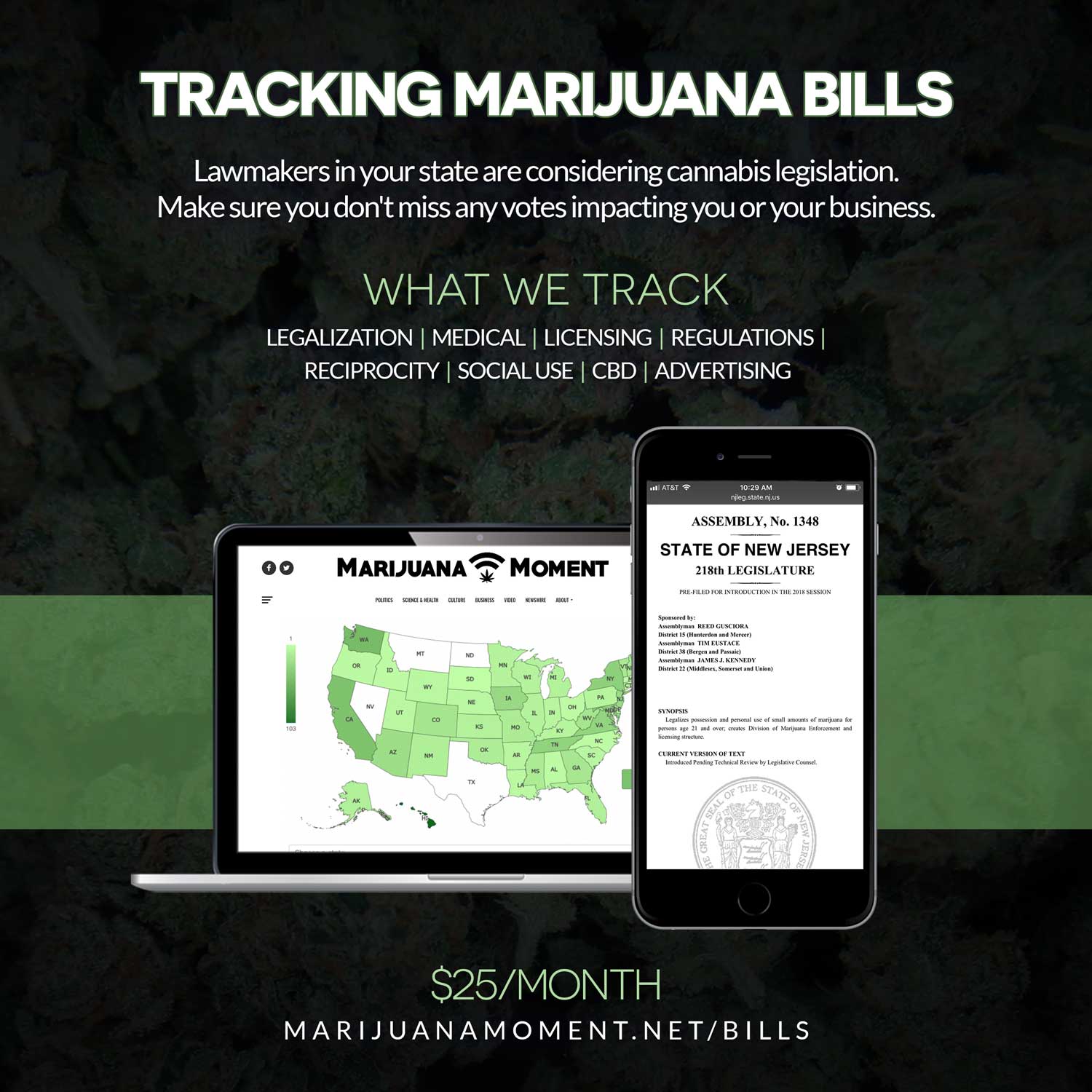 Learn more about our marijuana bill tracker and become a supporter on Patreon to get access.
—
In the House Ways and Means Committee, legislation to impose taxes on cannabis sales if Louisiana ends prohibition passed by a voice vote.
As amended by the committee, adults would pay a 15 percent sales tax on cannabis products, in addition to state and local taxes. The resulting revenues would be split between the state general fund and the local local jurisdictions where sales take place, with a chunk of the latter going to support law enforcement. The panel also advanced separate legislation to repeal a current law that requires illicit cannabis sellers to purchase tax stamps for their products. It would only take effect if legalization passes.
Meanwhile, the House approved a bill from Speaker Clay Schexnayder (R) on Monday that is meant to align Louisiana's hemp program with U.S. Department of Agriculture rules for the crop that were finalized and took effect in March.
Additionally, a Senate committee advanced a bill on Monday that would impose taxes on raw marijuana flower if those smokeable products are legalized for medical use under another measure that cleared the House last week.
Advocates are closely monitoring each of these developments, but the adult-use legalization bill from Rep. Richard Nelson (R) is receiving the most attention.
It would allow adults 21 and older to purchase and possess marijuana from licensed retailers. Possession of up to two and a half pounds of cannabis would be lawful. Regulators would be tasked with creating a permit for adults to grow up to six plants for personal use.
The measure has twice been rescheduled for House floor action at the request of Nelson, who has worked on amendments intended to increase support in what is expected to be a close vote. One proposal that has been posted would remove the home cultivation provisions to address concerns that have been raised by law enforcement.
A separate measure from Nelson that the chamber is set to consider this week would establish a $2,500 annual fee for cannabis business licenses and a $100 annual fee for a personal cultivation permit.
There is an additional decriminalization bill moving through the legislature as well.
That legislation, sponsored by Rep. Candace Newell (D), would simply remove the existing criminal penalties for possession, distribution and dispensing of cannabis "if the legislature provides for a statutory regulatory system for the legal sale and distribution of marijuana and establishes a sales tax on those sales."
When it comes to broader legalization, while advocates have generally expected resistance from the governor, who has repeatedly expressed opposition to the reform, he did say last month that he has "great interest" in the legalization proposal, and he pledged to take a serious look at its various provisions.
Last year, the legislature significantly expanded the state's medical marijuana program by passing a bill that allows physicians to recommend cannabis to patients for any debilitating condition that they deem fit instead of from the limited list of maladies that's used under current law.
Gov. John Bel Edwards (D) signed the measure in June 2020 and it took effect weeks later.
As state lawmakers have continued to advance these marijuana reform bills, two recent polls—including one personally commissioned by a top Republican lawmaker—show that a majority of voters are in favor of legalizing cannabis for adult use.
Top Connecticut Lawmaker Says Marijuana Legalization Bill Could Get Bumped To Special Session
Schumer Reiterates That Marijuana Legalization Must Pass Before Cannabis Banking Reform
With Democrats in control of the Senate this session, Majority Leader Chuck Schumer (D-NY) doesn't plan to jeopardize a marijuana legalization bill he's working on by advancing a more modest cannabis banking measure first.
In an interview with The Ringer that was released on Tuesday, the senator reiterated that he and his colleagues will be "introducing our bill shortly" to end cannabis prohibition—and he said banking reform legislation that's been filed will have to wait because "we're not going to bargain against ourselves."
Schumer made a similar point in an interview with Marijuana Moment last month, arguing that passing a measure that protects banks that service state-legal cannabis businesses first could jeopardize the chances of advancing comprehensive reform. The thinking is that Republicans and moderate Democrats who are on the fence about a bolder policy change might be less inclined to vote for it if they have an opportunity to pass a more modest bill like the Secure and Fair Enforcement (SAFE) Banking Act instead.
Senate Majority Leader @SenSchumer and @Bakari_Sellers discuss the possibility of legalizing marijuana pic.twitter.com/MWnyFsXiIX

— The Ringer (@ringer) May 11, 2021
The House has already approved the marijuana banking bill this session along largely bipartisan lines.
"We want a strong, comprehensive bill. We'll introduce it," the leader told podcast host Bakari Sellers, adding that "there's huge support" for legalization, including in conservative states like South Dakota where voters approved a reform initiative last year.
"We're going to get some support from the right on this as well we hope, and we're going to push it," Schumer said. "It's going to take a little while. We're going to need a mass campaign. But there's real excitement in the country to do this."
Schumer has been working with Senate Finance Committee Chairman Ron Wyden (D-OR) and Sen. Cory Booker (D-NJ) to draft a legalization bill over the course of the past few months. He's been making the case for reform everywhere from the Senate floor to a cannabis rally in New York City.
Beyond ending prohibition, Schumer said the proposal he and his colleagues are working on will "ensure restorative justice, public health and implement responsible taxes and regulations," similar to what New York lawmakers sought to accomplish in a legalization bill that the governor signed into law late last month.
The senator also said last month that the legalization bill they're working on will be brought to the floor of his chamber "soon."
He, Wyden and Booker formally started their reform efforts by holding a meeting earlier this year with representatives from a variety of advocacy groups to gain feedback on the best approach to the reform.
Schumer made a point in March to say that it will specifically seek to restrict the ability of large alcohol and tobacco companies to overtake the industry.
Instead, it will prioritize small businesses, particularly those owned by people from communities most impacted by prohibition, and focus on "justice, justice, justice—as well as freedom," he said.
He also urged voters to reach out to their congressional representatives and tell them that "this is long overdue."
On the House side, Judiciary Chairman Jerrold Nadler (D-NY) said recently that he plans to reintroduced his legalization bill, the Marijuana Opportunity, Reinvestment and Expungement (MORE) Act, which cleared the chamber last year but did not advance in the Senate under GOP control.
Top Connecticut Lawmaker Says Marijuana Legalization Bill Could Get Bumped To Special Session
Top Connecticut Lawmaker Says Marijuana Legalization Bill Could Get Bumped To Special Session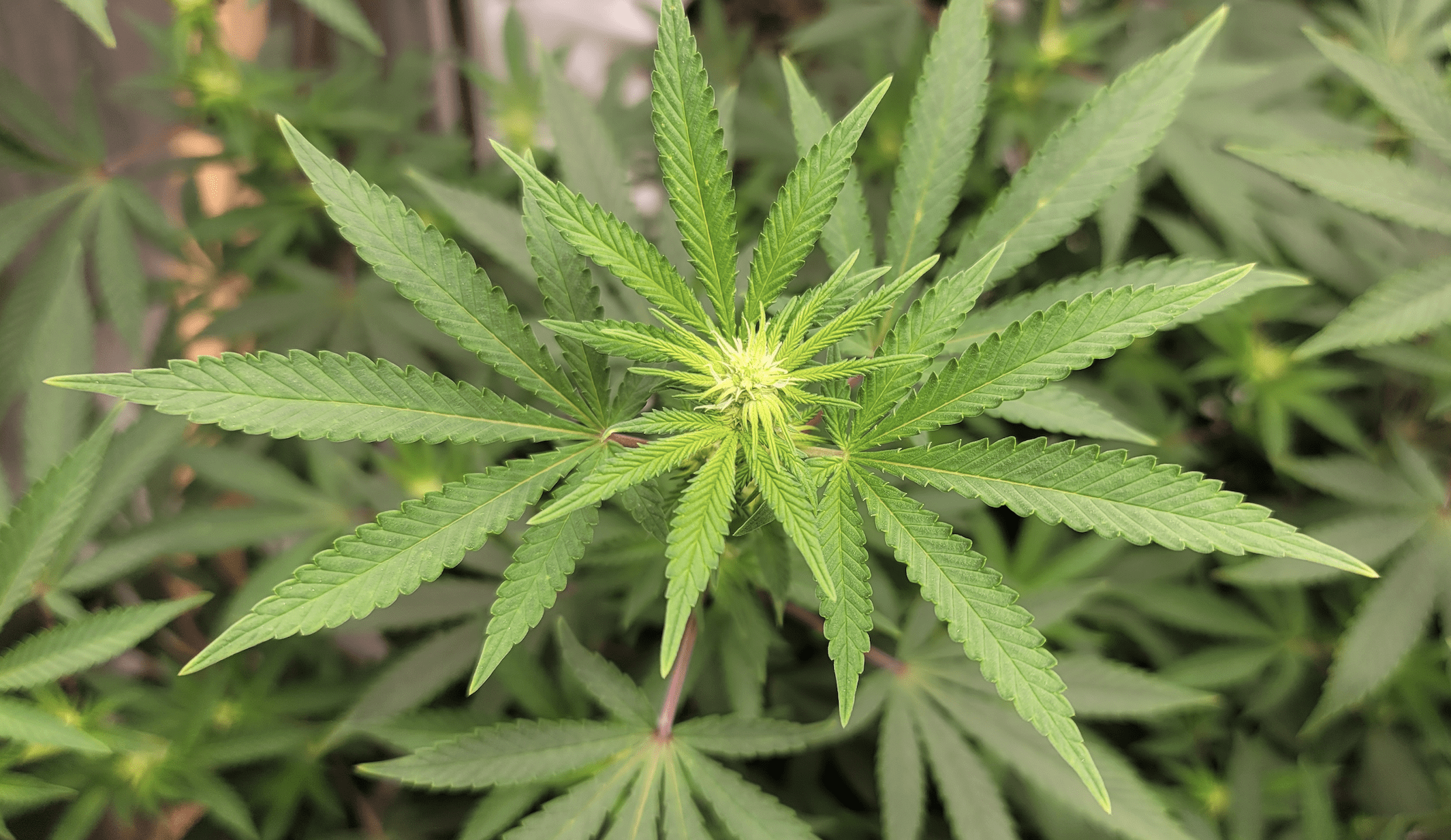 Facing a tight deadline, a top Connecticut lawmaker said on Tuesday that a bill to legalize marijuana may be taken up in a special session after the legislature completes its regular business for the year.
With the June 9 end of the legislative session less than a month away, House Majority Leader Jason Rojas (D) was asked about the prospects of passing legislation to end cannabis criminalization in 2021—and he said lawmakers have been having "great conversations" with Gov. Ned Lamont's (D) administration as they work through competing reform proposals.
"It's just one of those issues that we're working through some of the details that were of concern to everyone over the past couple months, but we're making progress," Rojas told a reporter from CT News Junkie during a press conference.
House Speaker Matt Ritter (D) chimed in to say that "if we can find a path to a deal, it's the kind of thing that I think you could always go into overtime if you had to," adding that "we'd all be comfortable coming to special session for that issue."
Watch the Connecticut lawmakers discuss marijuana legalization, starting around 24:40 into the video below:
But while some progress has been made in reconciling competing reform proposals from the governor and the legislature, it's not clear how close lawmakers are to reaching a deal and moving a proposal to floor votes—and Lamont is still waiting to review updated legalization legislation that's in the process of being drafted, he said on Monday.
"I can tell you that [administration staff has] put together a very complete law for consideration by the legislature," the governor said, referring to his own legalization proposal. "It's sitting on their desk, and we're ready for some decisions."
Lamont's chief of staff added that administration officials have been "meeting with legislative negotiators," and they're "waiting for them to provide us a revised draft" of a reform bill.
A bill to legalize marijuana for adult use that the governor is backing cleared the Judiciary Committee last month after being amended by the panel. But if a legalization measure isn't enacted this year, Lamont said that he anticipates that the issue could go before voters.
"Marijuana is sort of interesting to me. When it goes to a vote of the people through some sort of a referendum, it passes overwhelmingly. When it goes through a legislature and a lot of telephone calls are made, it's slim or doesn't pass," Lamont said. "We're trying to do it through the legislature. Folks are elected to make a decision, and we'll see where it goes. If it doesn't, we'll probably end up in a referendum."
Ritter similarly said last year that if the legislature isn't able to pass a legalization bill, he will move to put a question on the state's 2022 ballot that would leave the matter to voters.
A competing legalization measure from Rep. Robyn Porter (D), which is favored by many legalization advocates for its focus on social equity, was approved in the Labor and Public Employees Committee in March.
—
Marijuana Moment is already tracking more than 1,100 cannabis, psychedelics and drug policy bills in state legislatures and Congress this year. Patreon supporters pledging at least $25/month get access to our interactive maps, charts and hearing calendar so they don't miss any developments.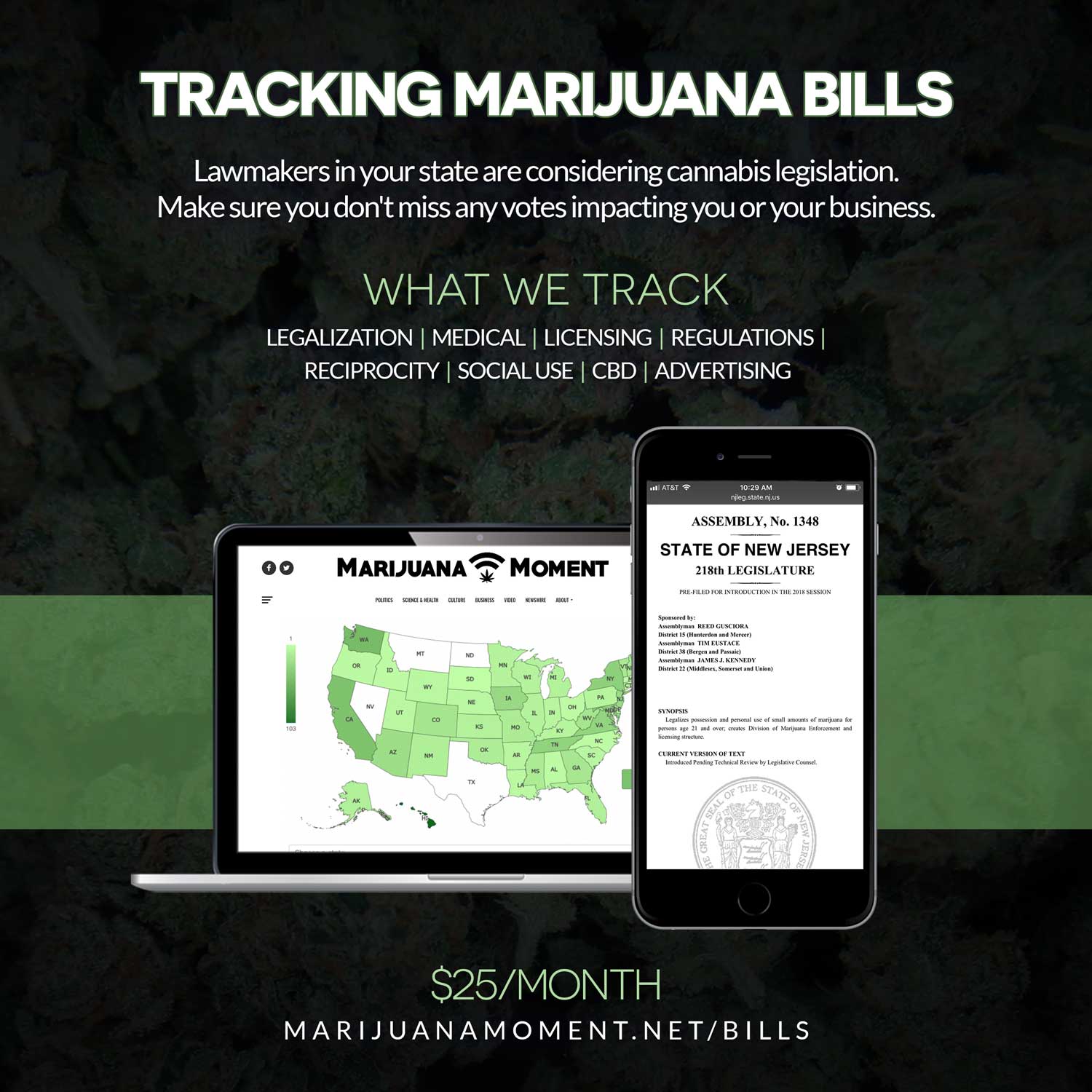 Learn more about our marijuana bill tracker and become a supporter on Patreon to get access.
—
A survey from Sacred Heart University (SHU) that was released last month found that about 66 percent of people in the state favor legalizing cannabis for adult use, while 27 percent are opposed.
Lamont, who convened an informal work group in recent months to make recommendations on the policy change, initially described his legalization plan as a "comprehensive framework for the cultivation, manufacture, sale, possession, use, and taxation of cannabis that prioritizes public health, public safety, and social justice."
But while advocates have strongly criticized the governor's plan as inadequate when it comes to equity provisions, Ritter said in March that "optimism abounds" as lawmakers work to merge proposals into a final legalization bill.
Rojas also said that "in principle, equity is important to both the administration and the legislature, and we're going to work through those details."
To that end, the majority leader said that working groups have been formed in the Democratic caucuses of the legislature to go through the governor's proposal and the committee-approved reform bill.
In February, a Lamont administration official stressed during a hearing in the House Judiciary Committee that Lamont's proposal it is "not a final bill," and they want activists "at the table" to further inform the legislation.
The legislature has considered legalization proposals on several occasions in recent years, including a bill that Democrats introduced last year on the governor's behalf. Those bills stalled, however.
Lamont reiterated his support for legalizing marijuana during his annual State of the State address in January, stating that he would be working with the legislature to advance the reform this session.
Ritter said in November that legalization in the state is "inevitable." He added later that month that "I think it's got a 50–50 chance of passing [in 2021], and I think you should have a vote regardless." The governor said in an interview earlier this year that he puts the odds of his legislation passing at "60-40 percent chance."
The governor has compared the need for regional coordination on marijuana policy to the coronavirus response, stating that officials have "got to think regionally when it comes to how we deal with the pandemic—and I think we have to think regionally when it comes to marijuana, as well."
He also said that legalization in Connecticut could potentially reduce the spread of COVID-19 by limiting out-of-state trips to purchase legal cannabis in neighboring states such as Massachusetts and New Jersey.
CBD Company's Appeal Could Let Marijuana And Psychedelics Companies Trademark Businesses Pre-Legalization
Photo courtesy of Mike Latimer.