Marijuana Banking Bill Has A Chance In The Senate, Republican Lawmakers Say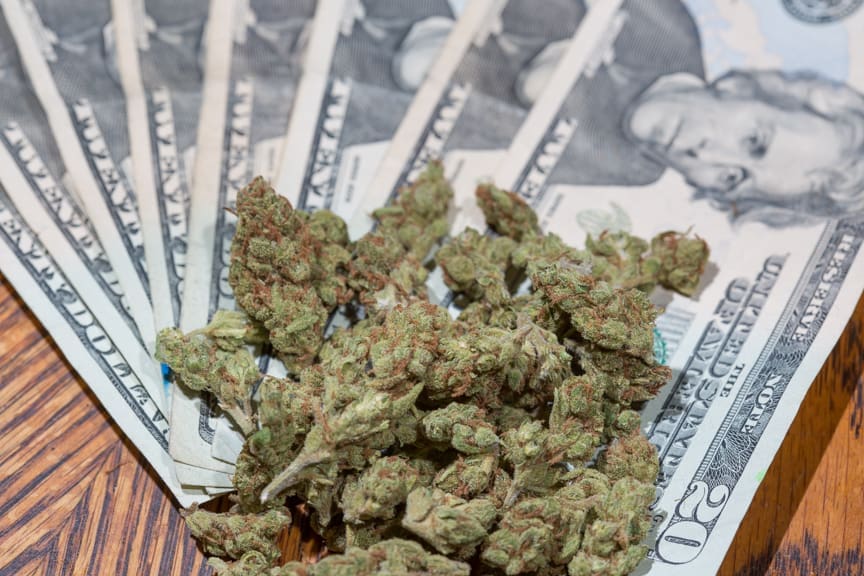 Some Republican senators say there is a chance that Sen. Mike Crapo (R-ID), who chairs the Senate Banking Committee, will schedule legislation aimed at increasing marijuana businesses' access to financial services for a hearing in his panel if it passes the House of Representatives.
Sens. Kevin Cramer (R-ND) and Rand Paul (R-KY) both told Marijuana Moment they discussed the cannabis banking legislation with Crapo and are hopeful he will bring the bill forward.
"I've talked with Senator Crapo about it," said Sen. Paul. "I think there's a good chance they're going to bring it up."
The proposal—the Secure And Fair Enforcement (SAFE) Banking Act—could be the first piece of standalone cannabis legislation to pass Congress, and has bipartisan support in both chambers. If enacted, it would provide an avenue for banks to open accounts for and offer loans to cannabis businesses in states where marijuana is legal. The House version of the bill passed through the Financial Services Committee by a large margin in March and is expected to be approved when brought to a floor vote, which advocates believe will happen sometime this summer.
Groups representing state treasurers and attorneys general have urged Congress to pass the legislation, as have all 50 state banking associations. The measure is also being backed by the American Bankers Association.
On Friday, the Congressional Budget Office scored the legislation, estimating that it would result in a boost in deposits in banks and credit unions, and would end up saving the federal government money following some initial implementation expenses.
Crapo, though, has not yet said his committee will formally discuss the bill. Politico first reported in April that the chairman would not commit to taking up the legislation.
"We want to see how we can resolve this difference between criminal law and our financial law," he said at the time.
Cramer, a member of the Senate Banking Committee and a cosponsor of the Senate version of the bill, told Marijuana Moment that he and Paul had a conversation with the chairman about bringing the bill up for a hearing. The point of the talk, Cramer said, was to help make Crapo "more comfortable" with the idea of considering the legislation specifically within the confines of banking, despite marijuana's federal illegality.
"He didn't say 'hell no,'" recounted Cramer. "I thought he was quite open-minded to it."
Amongst the committee's Republican membership, however, it appears that Crapo is only facing pressure from Cramer at the moment.
Sens. Tim Scott (R-SC), Tom Cotton (R-AK), Ted Cruz (R-TX) and John Kennedy (R-LA)—all members of the panel—either had no comment or were not familiar with the bill when approached by Marijuana Moment.
"Ask me next week," Sen. Thom Tillis (R-NC), who also sits on the committee, said as he boarded the Senate subway Thursday.
And fellow member Sen. Richard Shelby (R-AL) said that questions about what the Banking Committee would discuss should be asked directly of Crapo.
"I try to support him," said Shelby.
Crapo's home state of Idaho is one of only a handful of remaining U.S. states that does not allow for even limited use of medical cannabis products such as those comprised of non-intoxicating CBD.
Cramer, whose state of North Dakota legalized medical marijuana via a ballot measure in 2016, said that the main issues he had heard from Crapo were regarding the "clumsiness" of dealing with something that is federally illegal, and whether passing a law allowing banking for cannabis businesses would be legalizing it by proxy in some way.
He said he and Paul had tried to convince the chairman that the committee could and should approach it simply from a banking standpoint, and not attempt to deal with the holistic question of federal descheduling.
"My two cents-worth," he explained, "is that I think [federal legalization] can be sorted out, but shouldn't prevent us from discussing the banking-specific piece of it."
Marijuana Banking Bill Would Save Federal Money, Congressional Budget Office Says