Bipartisan Group Of 29 Congressional Lawmakers Pushes Biden To Back Marijuana Legalization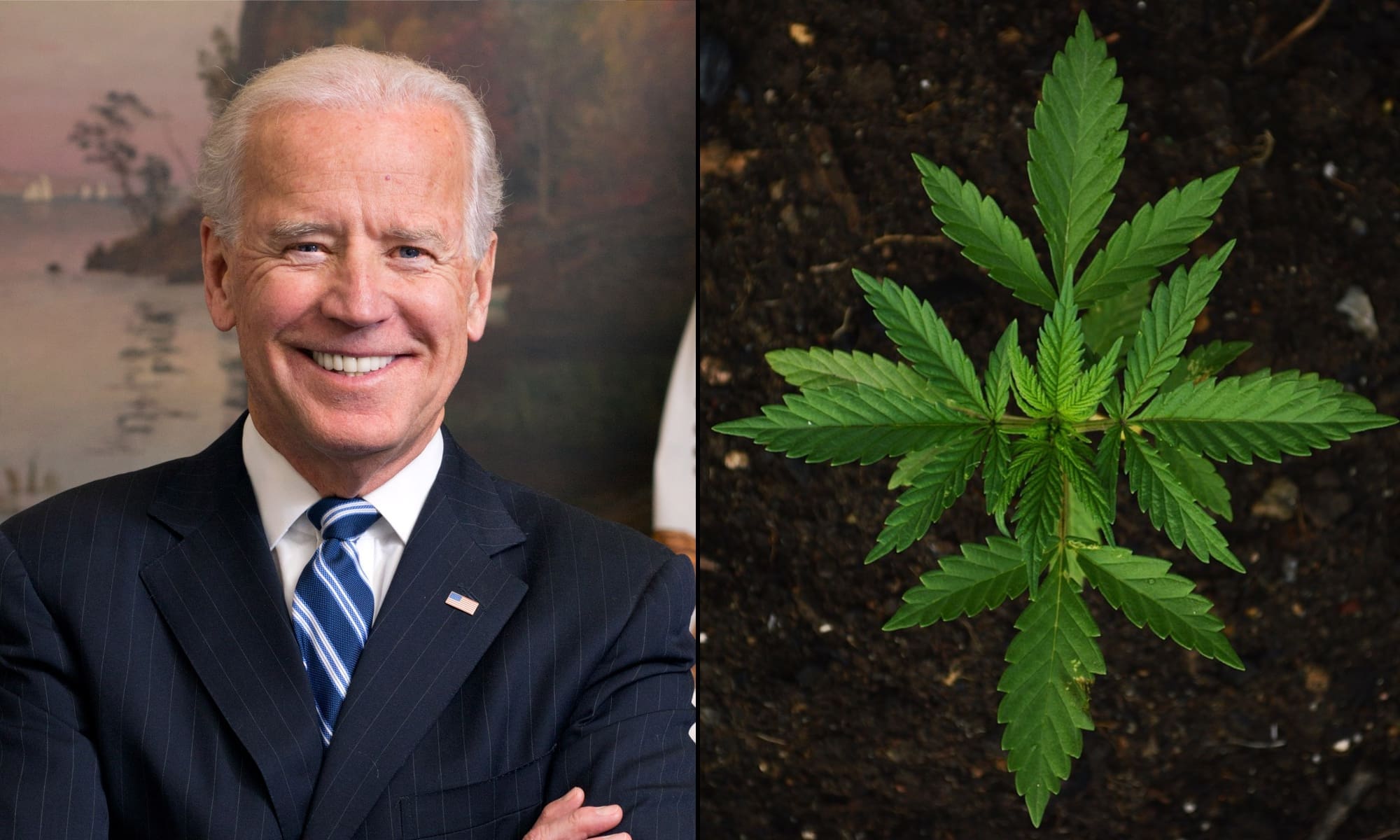 A bipartisan group of 29 congressional lawmakers from both the House and Senate sent a letter to President Joe Biden on Thursday, asking that he formally back federal marijuana legalization as the administration carries out a review of cannabis scheduling at his direction.
The letter, the text of which was obtained by Marijuana Moment last week, was circulated by Congressional Cannabis Caucus co-chairs Reps. Earl Blumenauer (D-OR), Dave Joyce (R-OH), Barbara Lee (D-CA) and Brian Mast (R-FL), as well as Sen. Elizabeth Warren (D-MA), and has gained about two dozen additional signatories.
"While we do not always agree on specific measures, we recognize across the aisle that continued federal prohibition and criminalization of marijuana does not reflect the will of the broader American electorate," the letter says. "It is time that your administration's agenda fully reflect this reality as well."
Here's the complete list of signatories on the letter: 
Rep. Earl Blumenauer (D-OR)
Rep. David Joyce (R-OH)
Sen. Elizabeth Warren (D-MA)
Rep. Barbara Lee (D-CA)
Rep. Brian Mast (R-FL)

Sen. Cory Booker (D-NJ)

Sen. Ron Wyden (D-OR)
Sen. Jeffrey Merkley (D-OR)
Rep. Nancy Mace (R-SC)
Rep. Jim McGovern (D-MA)
Rep. Nikema Williams (D-GA)
Rep. Jared Huffman (D-CA)
Rep. Dina Titus (D-NV)
Rep. Troy Carter (D-LA)
Rep. Eleanor Holmes Norton (D-DC)
Rep. Jan Schakowsky (D-IL)
Rep. Katie Porter Member (D-CA)
Rep. Matt Gaetz (R-FL)
Rep. Seth Moulton (D-MA)

Rep. Bonnie Watson Coleman (D-NJ)

Rep. Lou Correa (D-CA)
Rep. Mike Quigley (D-IL)
Rep. Steve Cohen (D-TN)
Rep. Marie Newman (D-IL)
Rep. Mark Pocan (D-WI)
Rep. Angie Craig (D-MN)
Rep. Dwight Evans (D-PA)
Rep. Salud Carbajal (D-CA)
Rep. Cori Bush (D-MO)
"Marijuana does not belong in Schedule I of the Controlled Substances Act, a classification intended for exceptionally dangerous substances with high potential for abuse and no medical use," the lawmakers' letter to the president says. "The decision to schedule marijuana was rooted in stigma rather than an evidence-based process, and it is time to fully remedy this wrong."
"Descheduling marijuana can uphold federal and state authority to regulate cannabis, while also authorizing states that wish to continue to prohibit cannabis production and sales the right to do so," it continues, noting that the House has twice passed legislation to federally legalize, tax and regulate cannabis.
"Additionally, unjust scheduling of marijuana and normalizing federal cannabis regulation go hand-in-hand—like ending restrictions placing disproportionate burden on researchers seeking to study marijuana compared to other Schedule I substances. The federal government must correct this prohibition and the continued criminalization of otherwise legal marijuana—allowing research to meaningfully advance, creating legal job opportunities, promoting public safety not unjust incarceration, and upholding established state regulation of cannabis production, taxation, and sales."
"We cannot negate the need for legislative action and federal guidance on many of these components, but all branches of the federal government must recognize the need for the descheduling of marijuana and in a manner that protects the will of each state and the markets and regulations that are within their authority to establish," the lawmakers wrote.
The letter was sent to the president and the key cabinet officials following a pair of major setbacks for advocates, with lawmakers failing to attach marijuana banking and other reforms to either the National Defense Authorization Act (NDAA) or omnibus appropriations legislation this month.
Senate Majority Leader Chuck Schumer (D-NY), who has been working to finalize the so-called SAFE Plus bill, said on Tuesday that two top Republican senators—Senate Minority Leader Mitch McConnell (R-KY) and Sen. Pat Toomey (R-PA)—were ultimately to blame for keeping marijuana banking out of the spending package. He also pledged to "go back at it next year."
A Senate source had said last week that the majority leader was "making a last ditch effort" to attach the cannabis banking language to the spending bill—but the majority leader wasn't able to get the deal done. He said the issue would need to wait until the next Congress, which will see Republicans in control of the House.
In the meantime, the bipartisan congressional coalition wants to see Biden become a proactive partner in pushing for federal legalization.
The letter to Biden doesn't necessarily ask that he take unilateral action to end prohibition, but it suggests that his support for the issue could make a critical difference. As it stands, the president supports decriminalization and letting states set their own policies—but he's been unwilling to back federal legalization so far.
"Descheduling is necessary to end the harmful federal marijuana prohibition and help our law enforcement officers appropriately prioritize public safety," the coalition of lawmakers says. "Descheduling also provides the clearest path to address the legal uncertainty facing small businesses in states with regulated cannabis markets. by creating opportunities for regulating and taxing commercial marijuana activities."
"We expect the Departments of Health and Human Services and Justice to continue to expeditiously conduct your directed review of marijuana's scheduling. While Congress works to send you comprehensive cannabis legislation, the urgency of full descheduling should inform the Administration's position on overall cannabis reform. Marijuana's continued inappropriate scheduling is both arcane and out-of-touch with the will of the American people. We look forward to your Administration working transparently and proactively with Congress to enact this crucial step."
U.S. Health and Human Services (HHS) Secretary Xavier Becerra, who is CCed on the letter, recently tweeted a link to a Marijuana Moment article that discusses the president's administrative cannabis scheduling directive.
"We're going to take a look at what science tells us and what the evidence tells us," Becerra, who has a considerable record supporting cannabis reform as a congressman and as California's attorney general, said at the recent overdose prevention event. "That will guide what we do—and we hope that will guide what the federal government does."
Following the president's cannabis pardons and scheduling announcement, the secretary said that the department would "work as quickly as we can" to carry out the scientific review. And he's already discussed the issue with the head of the Food and Drug Administration (FDA) to that end.
Attorney General Merrick Garland, whose Justice Department is also leading the scheduling review, is also CCed on the lawmakers' letter.
Separately, the White House drug czar said recently that that the president's action was "historic," adding that there are "clearly" medical benefits of cannabis.
Like HHS, DOJ has similarly committed to quickly carrying out the separate scheduling review the president directed, which could result in a recommendation to place cannabis in a lower schedule or remove it altogether, effectively legalizing the plant under federal law.
Separately, Biden recently cheered a move by Oregon's governor to grant tens of thousands of marijuana pardons this month, which followed his own federal clemency action. And he says other states should "follow Oregon's example."
The president also officially signed a marijuana research bill into law this month, making history by enacting the first piece of standalone federal cannabis reform legislation in U.S. history.
A series of polls have shown that Americans strongly support the president's pardon action, and they also don't think that marijuana should be federally classified as a Schedule I drug.
Read the letter to Biden on marijuana legalization below: 
Twitter Stops Suggesting People Who Search For 'Marijuana' May Need Drug Treatment