2018 Was A Major Year For Cannabis Legislation And 2019 Is Shaping Up To Be Much Bigger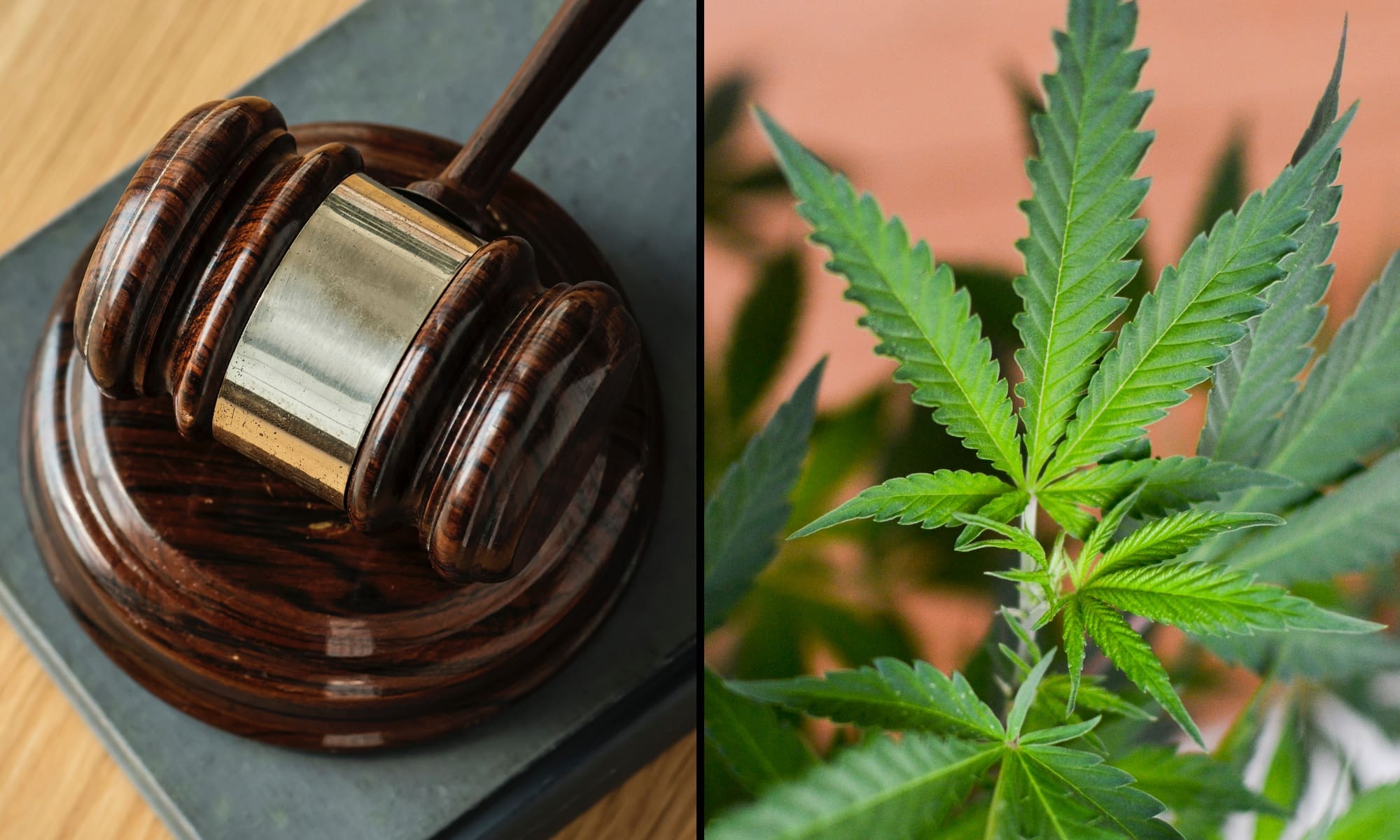 Lawmakers across the country are introducing, debating and voting on more marijuana legislation than ever before.
In 2018, Marijuana Moment tracked 915 bills in state legislatures and Congress concerning cannabis, medical marijuana and hemp. According to our legislative analysis platform, a huge majority of states—92 percent—took up cannabis reform bills of some kind during the year.
This year, legislators in state capitols and on Capitol Hill have already filed more than 350 cannabis-related proposals for 2019 sessions that in most cases began only weeks ago. If 2018 is any indication, this year should see a sizable number of those bills making it to governors' desks for enactment.
In 2018, a significant percentage of filed marijuana legislation moved forward, with at least 147 bills being signed or enacted in 35 states and the District of Columbia.
Those that made it across the finish line ranged from far-reaching proposals such as the legalization of cannabis possession and home cultivation in Vermont to more modest regulatory measures like Colorado bills concerning marijuana waste recycling and water use for hemp cultivation.
Twenty-eight of the bills that were enacted concerned hemp, while 48 were related to medical cannabis or cannabidiol (CBD).
Others had to do with regulating newly legal markets. Not surprisingly, California had the most legislation passed (26 bills), as the state attempted to implement its voter-approved legalization system. Among the enacted legislation in the Golden State were items touching on issues like medical cannabis recommendations by veterinarians, marijuana advertisements and cannabinoid-infused alcoholic beverages. An additional 29 bills died or were vetoed by Governor Jerry Brown.
Colorado was next, with 18 bills signed and three vetoed.
Hawaii, it turns out, dealt with the greatest volume of cannabis bills overall. Six were enacted but an astonishing 103 additional proposals died in committee, failed or were vetoed. That number accounts for 11 percent of all the cannabis bills we tracked across the country in 2018.
While a few states like South Dakota only had one bill, fourteen individual states dealt with 20 or more pieces of legislation each.
New Jersey saw 57 cannabis-related bills, with only one making it all the way to the end of the legislative process: A measure to create a pilot program to research industrial hemp cultivation.
California lawmakers considered 55 bills, New York weighed 48 and Washington State saw 45 pieces of cannabis legislation filed.
States that dealt with 20 or more pieces of cannabis legislation in 2018:
| | |
| --- | --- |
| State | |
| Hawaii | 109 |
| Federal | 64 |
| New Jersey | 57 |
| California | 55 |
| New York | 48 |
| Washington | 45 |
| Maryland | 32 |
| Colorado | 31 |
| Tennessee | 31 |
| Iowa | 28 |
| Michigan | 28 |
| Virginia | 28 |
| Arizona | 22 |
| Maine | 20 |
Justin Strekal, political director for NORML, told Marijuana Moment that the organization's chapters across the country are seeing "increased interest and increased support from lawmakers from every part of the political spectrum."
"As politicians see the public moving ahead of them, they are rapidly evolving their stance regarding marijuana."
There is plenty of political resistance remaining, however. A majority of cannabis-related legislation introduced last year—529 bills—failed, died or were vetoed.
Maine was the only state where legislators overrode a gubernatorial veto in order to implement a regulatory system for the recreational marijuana law that the state's voters approved in 2016.
Meanwhile, Vermont became the first state to legalize marijuana via an act of lawmakers as opposed to through a ballot measure. Legislators in the Commonwealth of the Northern Mariana Islands, a U.S. territory, followed by passing a legalization bill of their own.
"Last year's tremendous amount of legislative activity surrounding cannabis, hemp and CBD legislation reflected that elected officials are increasingly getting the message that the harsh criminalization of marijuana in all its forms is misguided and out of step with the the wishes of voters," Karen O'Keefe, director of state policies for the Marijuana Policy Project, told Marijuana Moment.
At the federal level, 2018 marked the first time stand-alone cannabis bills advanced though congressional committees.
In May, the House Veterans' Affairs Committee approved legislation encouraging the federal government to study the benefits of medical cannabis for military veterans. Then, in September, the House Judiciary Committee passed a bill that would force the Department of Justice to approve new businesses to cultivate marijuana to be used in scientific research.
Neither proposal ended up getting a floor vote, but their historic committee approvals demonstrated momentum ahead of the new 116th Congress, in which advocates are more hopeful than ever before that marijuana legislation could advance to enactment.
An additional 59 cannabis-related congressional bills stalled without hearings or votes, though it is also worth noting that lawmakers approved, and President Trump signed, a large-scale Farm Bill renewal that included language legalizing industrial hemp and its derivatives.
Back at the state level, O'Keefe is optimistic that efforts made in 2018 will pay off in 2019. "Several states saw committee wins or other progress that will help set the ground for eventual passage," she said.
In New Jersey, for example, Senate and Assembly committees approved a bill to legalize marijuana in November but, due to an ongoing inability to agree with Gov. Phil Murphy (D) on tax rates and regulatory matters, legislative leaders didn't bring the proposal to the floor of either chamber by the end of the year. Those negotiations are still underway, with advocates hopeful that agreeable language can be worked out early in 2019.
—
Marijuana Moment is currently tracking more than 350 key cannabis bills in state legislatures and Congress for 2019 sessions. Patreon supporters pledging at least $25/month get access to our interactive maps, charts and hearing calendar so they don't miss any developments.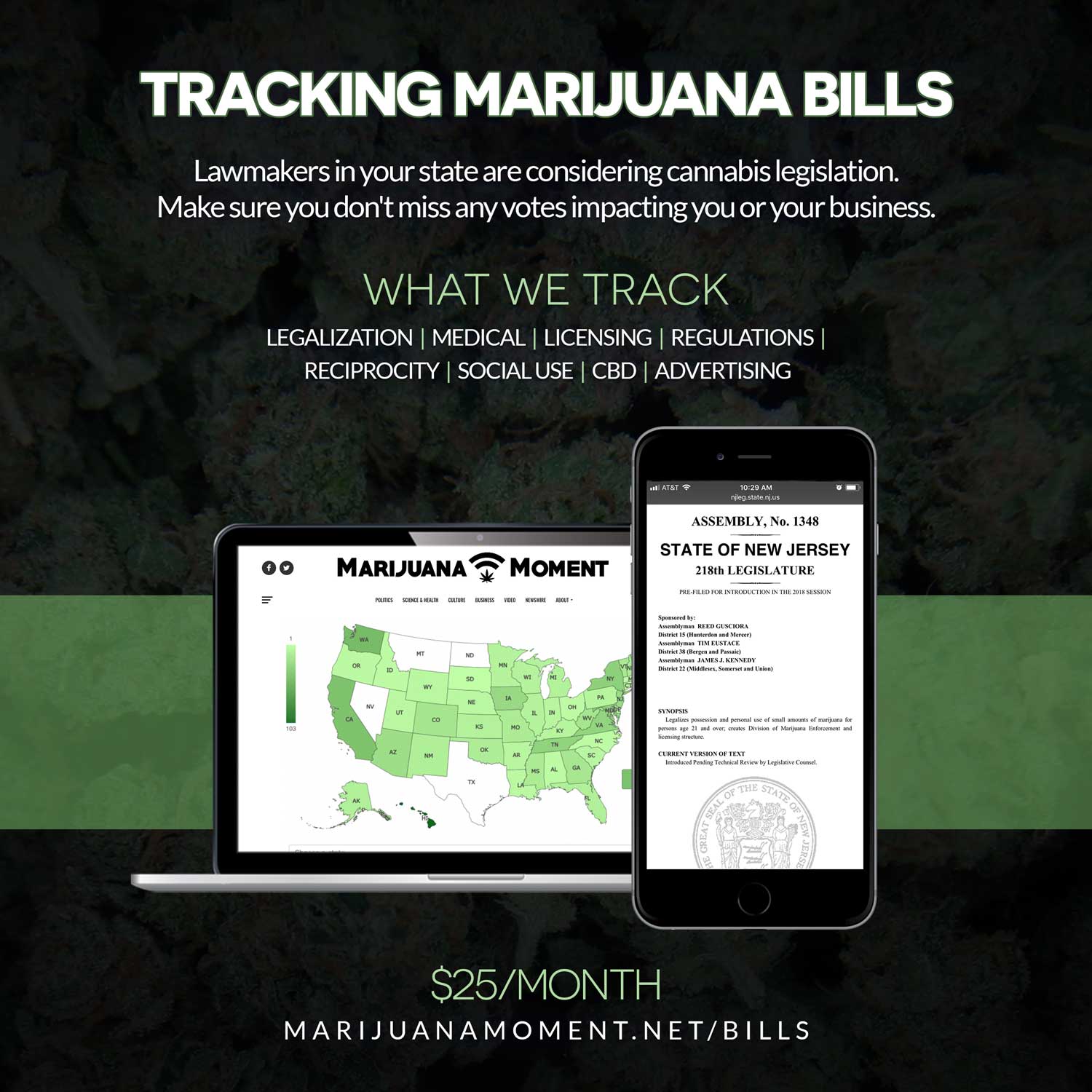 We followed more than 900 pieces of cannabis legislation in 2018. Learn more about our marijuana bill tracker and become a supporter on Patreon to get access.
—
Strekal agrees that this year will be another especially active one for cannabis legislation. "There will be greater numbers of legislation introduced," he predicts, as well as an increase in those pieces of legislation "receiving hearings, passing committees, being passed by legislative votes and being enacted by governors."
Status of cannabis bills considered in 2018, by state:
Photo elements courtesy of rawpixel and Philip Steffan.
New York And Connecticut Governors Talk Marijuana Legalization On Fishing Trip
The governors of New York and Connecticut went fishing and talked about marijuana legalization on Tuesday.
The conversation comes after lawmakers in both states were unable to pass legalization legislation before their respective sessions' ends this year, despite having the support of New York Gov. Andrew Cuomo (D) and Connecticut Gov. Ned Lamont (D).
"We talked about policy issues like the marijuana issue, which is obviously also relevant to contiguous states," Cuomo said at a press conference following the fishing trip. "What Connecticut does on marijuana is relevant to New York, what New York does is relevant to Connecticut so we talked about that and a lot of issues. So we had fun."
Watch Cuomo's marijuana comments at about 5:00 into the video below:
Cuomo had described legalization as a top legislative priority for 2019 and included it in his state budget proposal. But after months of negotiations with lawmakers, the plan fell through, due in part to disagreements about how to allocate tax revenue and whether to allow individual jurisdictions to opt out of allowing cannabis businesses.
The governor did sign legislation in July that expands the state's marijuana decriminalization policy and provides a pathway for expungements of past marijuana convictions.
Over in Connecticut, Lamont campaigned on legalization during his election bid last year and described it as one of his administration's "priorities" after he took office. But as with neighboring New York, the legislature failed to advance a legalization bill beside multiple successful committee votes and hearings throughout the year.
The specifics of what the governors talked about during their fishing expedition on Lake Ontario aren't clear, but both are presumably gearing up for another round of legislative efforts marijuana over the coming year and could take lessons from each other as reform talks continue.
Another East Coast state, New Jersey, has also struggled to move legalization legislation forward, with lawmakers saying that the issue should be taken up by voters in 2020 rather than pushed through the legislature, though there has been discussion lately about another try at moving a bill before year's end. Gov. Phil Murphy (D) did sign a decriminalization and expungements bill in May, however.
Federal Data Shows Youth Marijuana Use Isn't Increasing Under Legalization
Photo courtesy of CBS 6.
GOP Congressman Will Meet Attorney General To Discuss Expanding Marijuana Research
Rep. Matt Gaetz (R-FL) said on Monday that he will soon be speaking with the U.S. attorney general about expanding marijuana research.
The congressman, a close ally of President Trump, is a vocal proponent of medical cannabis and has argued that the federal drug scheduling system is hampering research into the plant's therapeutic potential.
"I will be meeting with Attorney General Bill Barr in the coming weeks to discuss the Department of Justice's approach to unlocking more research grants so that we can have American innovation applied to our health care in a way that can get people off of some of these devastating opioids and painkillers, and on to a more natural product," he said following a radio town hall event.
Even under the framework of prohibition, the Justice Department is able to promote research by, for example, approving additional marijuana manufacturers—something the Drug Enforcement Administration (DEA) said it would do three years ago.
Barr has voiced support for expanding the number of federally authorized cannabis manufacturers.
"I think we're going to move forward on it," the attorney general said in April. "I think it's very important to get those additional suppliers."
Earlier this year, Gaetz joined congressional colleagues in leading a letter addressed to Barr and the head of DEA expressing frustration that the Justice Department has declined to take action despite its pledges. The lawmakers implored DEA to "do whatever you can to speed up and improve the research application process."
Gaetz also introduced legislation that would force DEA to approve additional facilities to produce research-grade cannabis. A version filed last year cleared the Judiciary Committee in a voice vote, and he reintroduced the bill in January but it has not yet been acted upon.
Listen to Gaetz's new cannabis comments, about 1:20 into the audio below:
DEA is facing two lawsuits regarding its approach to marijuana, including one that concerns the lack of diversity of research-grade cannabis since only one manufacture is currently authorized. The agency was ordered to respond to the suit by August 28.
Separately, a group of patients and advocates sued DEA over marijuana's Schedule I status under the Controlled Substances Act, with a federal court directing the agency to "promptly" consider reclassifying cannabis.
Gaetz also spoke about the need to more broadly reform cannabis laws during the Monday remarks.
"The federal government listing marijuana as a Schedule I drug impairs financial transactions, it impairs research and it stops us from being able to unlock cures for some of America's most vulnerable people," the congressman said, adding that he's a cosponsor of legislation that would deschedule marijuana that was introduced by Judiciary Chairman Jerry Nadler (D-NY).
Gaetz, who is also a member of the Judiciary Committee, said he is requesting that the panel hold a hearing on cannabis legislation. That'd mark the second such meeting after a Judiciary subcommittee convened last month to discuss paths to ending federal prohibition.
The congressman's staff wasn't able to provide Marijuana Moment with additional details regarding the meeting with Barr.
Congressman Says Marijuana Could Be Legal Sooner If Trump Stops Tweeting
Photo courtesy of Meredith Geddings.
Elizabeth Warren's Criminal Justice Plan Involves Legalizing Marijuana And Safe Injection Sites
Legalizing marijuana, granting clemency to people convicted of drug offenses and investing in harm reduction programs such as safe injection sites are part of a criminal justice reform plan that Sen. Elizabeth Warren (D-MA) released on Tuesday.
The 2020 Democratic presidential candidate stressed that the war on drugs has been carried out in a racially discriminatory manner, writing that it's unfair that "a kid with an ounce of pot can get thrown in jail, while a bank executive who launders money for a drug cartel can get a bonus. It's long past time for us to reform our system."
"This failure [of the drug war] has been particularly harmful for communities of color, and we need a new approach," she said. "It starts with legalizing marijuana and erasing past convictions, and then eliminating the remaining disparity between crack and powder cocaine sentencing."
What's more, the drug war "has criminalized addiction, ripped apart families—and largely failed to curb drug use" when a more effective system would treat addiction as a public health issue.
Next, we have to rethink what we choose to criminalize. That starts with repealing the 1994 crime bill—the bulk of which needs to go—and legalizing marijuana. Overcriminalization has filled prisons and devastated communities—and it's time for it to end.

— Elizabeth Warren (@ewarren) August 20, 2019
That includes diverting people who've been convicted of non-violent drug offenses to treatment programs and providing evidence-based resources for people suffering from addiction. For example, Warren's plan calls for safe injection sites where people can use illicit drugs under the supervision of medical professionals who can help prevent fatal overdoses and get people into treatment. She also said needle exchange programs and expanding access to buprenorphine would reduce the opioid crisis.
"Instead of locking up people for nonviolent marijuana crimes, I've proposed putting pharmaceutical executives on the hook to report suspicious orders for controlled substances that damage the lives of millions."
She also called for the abolition of certain mandatory minimum sentences and said that "people who struggle with addiction should not be incarcerated because of their disease."
"Mass incarceration has not reduced addiction rates or overdose deaths, because substance abuse disorder is a public health problem — and it's long past time to treat it that way," the plan says. "We know that diversion programs are both more humane and a better investment than incarceration — for every dollar we invest in treatment programs, we can save $12 in future crime and health care costs."
"And rather than incarcerating individuals with substance abuse disorders, we should expand options that divert them into programs that provide real treatment."
Like Sens. Bernie Sanders (I-VT), Cory Booker (D-NJ) and South Bend, Indiana Mayor Pete Buttigieg, Warren's criminal justice reform proposal also mentions executive actions she could unilaterally take.
Specifically, she wrote that the Justice Department should not hold authority to make clemency recommendations and it should instead be left up to an independent clemency board so that those eligible for a pardons and commutations are more quickly identified.
The president can grant clemency and pardons herself. I'll empower a clemency board to make recommendations directly to the White House, identifying broad classes of potentially-deserving individuals for review, such as those serving mandatory minimums that should be abolished.

— Elizabeth Warren (@ewarren) August 20, 2019
"I'll direct the board to identify broad classes of potentially-deserving individuals for review, including those who would have benefited from retroactivity under the First Step Act, individuals who are jailed under outdated or discriminatory drug laws, or those serving mandatory minimums that should be abolished," she said.
The plan's unveiling comes two days after Sanders released his criminal justice reform proposal, which also called for marijuana legalization and the implementation of harm reduction policies such as safe consumption facilities.
Buttigieg's plan stands out from his fellow Democratic candidates in at least one regard: the mayor said drug possession should broadly be decriminalized.
Warren also released a separate plan for Indian tribes last week that involves protecting tribal cannabis programs from federal intervention.
Bernie Sanders Calls For Legalization Of Marijuana And Safe Injection Sites
Photo courtesy of Edward Kimmel.