Where Presidential Candidate Bill de Blasio Stands On Marijuana
New York City Mayor Bill de Blasio (D) announced on May 16, 2019 that he was running for the 2020 Democratic presidential nomination. He ended his campaign on September 20.
While the mayor was initially opposed to legalization, he made several attempts to reduce cannabis-related arrests in the city, but the policy changes never ended up achieving a key desired outcome of reducing racial disparities in marijuana enforcement. De Blasio finally came out in support of legalization in 2018, just days after Gov. Andrew Cuomo (D) reversed his own longtime opposition.
This piece was last updated on October 9, 2019 to include the candidate's statements and policy actions on marijuana since joining the race.
Here's a detailed look at where de Blasio stands on marijuana.
Legislation And Policy Actions
One of the first actions de Blasio took to change the city's marijuana policies was to instruct the New York Police Department (NYPD) to issue summons for individuals caught possessing 25 grams or less of cannabis in lieu of making arrests, with certain exceptions. That policy took effect in November 2014.
He campaigned on the reform promise, stating that marijuana convictions "have disastrous consequences," particularly on minority communities.
"When people are stopped by the police and they empty their pockets and suddenly they get arrested for a small amount of possession, we need to end that practice," he said. "People don't need an arrest record for that kind of small thing."
Police could still arrest people for public consumption or if they determined the individual's intent was to sell cannabis or if the possession occurred in certain areas such as school zones. And apparently NYPD took advantage of that discretion, as a 2017 report from the Drug Policy Alliance showed that cannabis possession arrests during the de Blasio administration were higher from 2014 to 2016 than they were under then-Mayor Rudy Giuliani from 1994 to 1996.
What's more, racial disparities remained strong despite de Blasio's promises. Black and Hispanic New Yorkers represented 85 percent of the arrests, despite similar rates of consumption among white people.
De Blasio repeatedly pushed back against the report and disputed its findings.
I want to clear something up: marijuana possession arrests are down 37% since 2013, with fewer people arrested than the previous admin.

— Bill de Blasio (@BilldeBlasio) August 5, 2017
"The report ignores how this administration's approach to enforcement has resulted in both a safer city and fairer enforcement of state criminal law, which continues to prohibit recreational marijuana use," his office wrote in a blog post. "It also ignores the fact that New Yorkers makes tens of thousands of calls to 911 each year to complain about marijuana."
Discussing racial inequities in enforcement, de Blasio told Politico that "anyone who says we want to make sure that the arrests are handled the same in communities of all different backgrounds, they are absolutely right."
"I don't tolerate disparity," @BilldeBlasio says of racial disparities in marijuana arrests. Solution: "implicit bias training"

— Laura Nahmias (@nahmias) February 7, 2017
"That is the vision of this department and this administration. And we are going to keep driving that vision," he said.
He also falsely claimed that his administration had ended arrests for low-level marijuana possession, saying that the administration has "been very consistent about moving away from arrest for low-level possession versus the other charges, which are entirely different."
In 2018, de Blasio acknowledged that "there's much more to be done" about disparities in policing and announced that NYPD would "overhaul and reform its policies related to marijuana enforcement."
Mayor BDB announces that the NYPD will be further overhauling its approach to marijuana enforcement – taking dead aim at disparity still embedded in our justice system. pic.twitter.com/vS7HL4fzjk

— Eric Phillips (@EricFPhillips) May 15, 2018
The resulting policy change was that NYPD would no longer arrest people for smoking cannabis in public. Instead, it would issue summonses. Additionally, de Blasio announced that a working group would begin laying the groundwork for legalization.
He had hinted at giving his support for legalization in April 2018 even though he'd been previously opposed.
"The question keeps coming up and I think it's fair that we need to do a deeper analysis and come up with an updated response, I want to do that," he said at the time.
Two days after Cuomo announced that he was in favor of legalizing cannabis in New York, de Blasio said he also had a change of heart and that he too backs replacing prohibition with a regulated market.
"The legalization of marijuana in New York State is likely inevitable," he said in May 2018. "Our city has to get rules in place before this happens and be prepared for the public safety, public health and financial impact."
The legalization of marijuana in New York State is likely inevitable. Our city has to get rules in place before this happens and be prepared for the public safety, public health and financial impact. pic.twitter.com/5y40VlYhjG

— Mayor Bill de Blasio (@NYCMayor) May 22, 2018
He also predicted that legalization would happen "as early as" 2019.
When his office finally released its report on what a legal system would look like in the city, de Blasio said the focus should be on creating opportunities for communities that have been disproportionately impacted by prohibition.
Legalizing marijuana in New York is a change that must happen — and it must happen the right way. It's time to rewrite the rules of the past and marry opportunity with justice. pic.twitter.com/xrB4Vz3EWo

— Mayor Bill de Blasio (@NYCMayor) December 20, 2018
"We have a once-in-a-generation opportunity to get a historic issue right for future New Yorkers. Legal cannabis is coming to New York State," he wrote in a cover letter to the report from his task force on cannabis. "When it does, we must do all we can to make sure that happens in a way that is safe, takes the health of New York City residents into account, and above all, provides opportunity while righting historic wrongs."
The people who suffered most from the war on drugs should benefit the most from the legalization of cannabis. Read the full report from the Mayor's Task Force on Cannabis Legalization here: https://t.co/TW8gMgzZNp pic.twitter.com/iPNFNX7jEx

— NYC Mayor's Office (@NYCMayorsOffice) December 20, 2018
But while his proposed plan includes several provisions aimed at social equity—such as expunging the records of individuals with prior marijuana convictions—it also generated some controversy among reform advocates after he suggested using tax revenue from legal cannabis sales to improve the Metropolitan Transportation Authority.
There's no way we can fix our subways and improve service without a new source of revenue. Congestion pricing, an internet sales tax and a tax on legalized marijuana are part of our plan to get trains running again – because New Yorkers have places to go.https://t.co/xat4vmaLOa

— NYC Mayor's Office (@NYCMayorsOffice) February 28, 2019
"There's no way we can fix our subways and improve service without a new source of revenue," he wrote. "Congestion pricing, an internet sales tax and a tax on legalized marijuana are part of our plan to get trains running again—because New Yorkers have places to go."
Also in 2018, de Blasio said the city would move toward allowing safe consumption sites for illegal drugs to mitigate overdose deaths.
"After a rigorous review of similar efforts across the world, and after careful consideration of public health and safety expert views, we believe overdose prevention centers will save lives and get more New Yorkers into the treatment they need to beat this deadly addiction," he said in a statement.
More recently, the mayor said he supported city council initiatives to ban pre-employment drug testing for certain jobs in the city and also prohibit the Department of Probation from conducting drug tests for cannabis. Despite his stated support and a pledge to sign the legislation into law, however, the proposals were enacted without his signature.
On The Campaign Trail
In May, de Blasio expressed concerns about how the New York State plans to implement legalization, stressing that it "it cannot lead to a new corporate reality."
"It has to be done in a way that really empowers community-based businesses, particularly in communities of color that suffered for so long because of draconian laws that sent people to prison for low-level drug offenses," he said.
He added that he doesn't want to create "a new tobacco industry or a new opioid industry, done the wrong way."
The mayor reiterated his concerns 11 days prior to the close of the legislative session in June. While he said he was advocating for lawmakers to pass legalization before the session ended, he went on to say he wants "to see it done in a way that doesn't create a new monster corporate class."
We need to legalize marijuana the RIGHT way. That means making sure corporations can't dominate a new industry — and that communities most hurt by draconian drug laws have economic opportunity. pic.twitter.com/PoW9x6AD48

— Mayor Bill de Blasio (@NYCMayor) June 3, 2019
Later that month, de Blasio announced that police will limit arrests of students for low-level offenses such as marijuana possession.
"This is a moment of change, this is a moment where students are going to get the support they need to be their best selves," he said of the policy change. "It's going to help us build a stronger and fairer city."
In October, the mayor told The Las Vegas Sun that he supports passing legislation allowing banks to service cannabis businesses while Congress continues to work toward ending federal marijuana prohibition.
"I think we need a method of legalization at the federal level that, in fact, uses the power of the law to disincentivize corporations and to support small businesses and community-based businesses, including in a lot of the communities that have suffered the brunt of draconian criminal justice legislation," he said. "I see this as an opportunity to right a lot of wrongs, but to do that we've got to get the banking piece right."
"If you don't legalize banking for this industry here and now, you're keeping it a cash industry, which is a boon to organized crime, it's a boon to folks who want to not pay their taxes," he added. "It's absolutely backward. So while we're sorting out the bigger issue, let's legalize the banking for the states that have it on the way to legalizing it federally with a fair banking system and with those safeguards we need for everyone else."
Previous Quotes And Social Media Posts
While de Blasio is striving to project an image of a reform-minded cannabis legalization advocate today, just a few years ago he was not quite so friendly to the idea of ending marijuana prohibition.
In August 2017, he said that he's "not there yet" when it comes to legalization.
"There's a major experiment happening in some states and some major American cities that's going to tell us a lot," he said. "But if you talk about the pros and cons, there are obviously some good arguments for legalization, but there's also a lot of unanswered questions both about what it would mean for young people to have access to that drug and also what it would mean in terms of public safety."
"I'm not convinced that that's the right direction to go in yet, but it's something I'm willing to keep considering as we get more information from the places that have gone through it," he said.
The next month, he said at a Democratic mayoral debate, de Blasio said he opposed legalization and that "the laws we have now are the right laws."
After being confronted by a Staten Island resident about the scent of cannabis that he claimed could be smelled across the city, the mayor responded "the question is, how do you fix the quality of life for me, the guy who's always followed the rules against the guy who's not following the rules and is bombarding me with this marijuana smoke every house, everywhere I go throughout the city?"
"What we changed about marijuana is we focused on making fewer arrests," he said. "But there are summonses and there still is intense quality-of-life enforcement."
De Blasio said he was "skeptical" about broad marijuana reform in January 2018. And he described the arrest rate for possession in New York City as "a normal level in the sense of what we were trying to achieve."
You can listen to those remarks starting around 19:45 into the audio below:
Even as late as April 2018, the mayor continued to maintain that he's "not there yet" on legalization, even as his wife voiced support for regulating cannabis.
He also expressed concerns that allowing legal cannabis sales would lead to corporations trying to "hook" young people on the product similar to the actions of the tobacco industry.
.@BilldeBlasio says if pot were legalized, it would become a corporate business and there would be efforts to hook young people ala the tobacco industry.

— Erin Durkin (@erinmdurkin) April 17, 2018
"I think it raises questions when any child dabbles with" drugs such as alcohol and marijuana, de Blasio said. "Those things go without saying as a parent."
"As a parent it all worries me," says de Blasio. His own daughter has gone public with her own struggles with substance abuse. https://t.co/tPaN38reod

— Inside City Hall (@InsideCityHall) May 7, 2018
By the end of the year, however, de Blasio changed his tune. He said he's become "convinced that we can establish a regulatory framework that keeps our streets safe, rights the wrongs of the past and gives economic opportunity to communities hit hardest by the war on drugs."
"Legal cannabis is coming to New York State," he said. "When it does, we must do all we can to make sure that happens in a way that is safe, takes the health of New York City residents into account, and above all, provides opportunity while righting historic wrongs."
He detailed some of the nuances of his policy position in an interview with WNYC in December 2018. On home cultivation, the mayor said he believes "people should have the right to it," but that "there needs to be limits."
"My goal is that we avoid the corporatization of the marijuana industry," he said during a speech in January 2019.
He expanded on that point during an appearance on HBO's Real Time with Bill Maher the next month.
"For years and years, broken laws sent a huge number of Americans to jail, most of them were young people of color, and we've got an industry that now is just licking it's chops, waiting to come in and corporatize marijuana—to do exactly what the tobacco industry did with cigarettes, to do exactly what the pharmaceutical industry did with things like Oxycontin," he said. "What we need is legalize marijuana without corporatized marijuana."
Speaking about his proposal to use tax revenue from cannabis sales to fund the MTA, de Blasio attempted a joke playing on stereotypes about marijuana consumers.
"Anyone who thinks our existing transit system can handle all that [population growth] is somebody who thinks marijuana has already been legalized in New York state, and is smoking some," he said. "The fact is it's impossible to do what we have to do in the city if we don't expand mass transit options."
Even before de Blasio got around to endorsing marijuana legalization, he was speaking out against the U.S. Justice Department's drug policy moves under then-Attorney General Jeff Sessions.
The first "War on Drugs" didn't work. Sessions' version won't either. It's immoral and discriminatory. We should fight any effort to go back

— Bill de Blasio (@BilldeBlasio) May 15, 2017
"Jeff Sessions' sentencing policies will enrich private prison executives—and they'll make our communities less safe," he wrote on Twitter in 2017. "The first 'War on Drugs' didn't work. Sessions' version won't either. It's immoral and discriminatory. We should fight any effort to go back."
He characterized Sessions's hostility to marijuana reform as a "vendetta" and said that it "is an attack on minority communities." The comments came after Sessions rescinded Obama era guidance to federal prosecutors on priorities for cannabis enforcement in early 2018.
Jeff Sessions' vendetta against legalized marijuana is an attack on minority communities. We know what the war on drugs does to communities of color. This is a step backward.

— Mayor Bill de Blasio (@NYCMayor) January 5, 2018
"We know what the war on drugs does to communities of color," he said. "This is a step backward."
De Blasio also said that he spoke with President Donald Trump personally and urged him not to deport immigrants for low-level offenses, including marijuana possession.
The mayor said that he "emphasized that what we wanted to guard against was individuals who had done exceedingly low level crimes—and I'll give you examples, someone has a small amount of marijuana, some who committed a traffic offense that did not cause any harm to anyone else."
Personal Experience With Marijuana
De Blasio admitted to using marijuana "once or twice" while he was a student at New York University. But he's denied rumors that he and his wife have smoked cannabis in the mayor's office.
"I haven't smoked marijuana since I was at NYU," he said in 2015. "I think this job is truly 24/7, and you have to be alert at all times." He jokingly said in 2017 that "some days I wish I did" still smoke cannabis.
Rumors about the mayor's alleged marijuana use were bolstered after it was reported that de Blasio is a fan of reggae-style music from artists such as Bob Marley.
NYC Mayor @BilldeBlasio reveals to @gravesmeredith that he stans @chancetherapper: pic.twitter.com/hAhLzETy0l

— MTV NEWS (@MTVNEWS) May 10, 2017
De Blasio's daughter has struggled with alcohol and marijuana misuse, she said.
Marijuana Under A De Blasio Presidency
The mayor has undergone a significant evolution in his stance on marijuana policy over time. His support for legalization in New York indicates he would now be supportive of, or at least not vocally opposed to, broad federal reform if he were to assume the office of the presidency. However, speculation abounds as to whether his relatively recent anti-prohibition evolution was earnest or politically motivated in light of its following shifts by other politicians, which raises questions about how intensively he would prioritize drug policy reform from the Oval Office.
Where Presidential Candidate Steve Bullock Stands On Marijuana
Photo elements courtesy of Kevin Case and Pixabay.
White House Completes Review Of CBD Guidance From FDA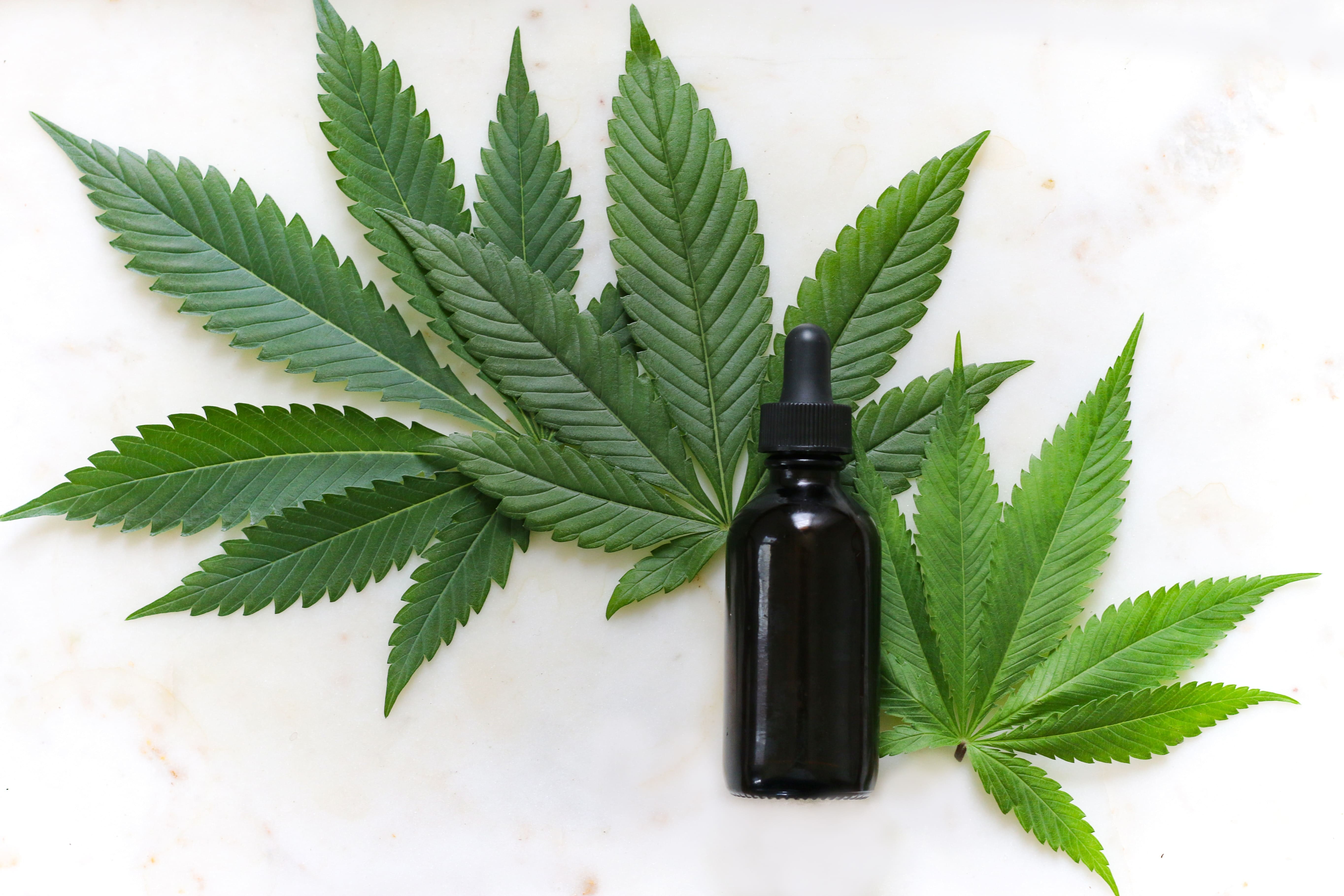 The White House recently completed its review of pending Food and Drug Administration (FDA) guidance on marijuana and CBD research—though it remains to be seen whether the draft document will ultimately be released to the public.
FDA submitted its proposed plan—titled "Cannabis and Cannabis-Derived Compounds: Quality Considerations for Clinical Research"—to the Office of Management and Budget (OMB) in May. Few details are known about its contents, but an FDA spokesperson previously told Marijuana Moment that it could inform the agency's approach to developing regulations for the marketing of CBD.
OMB finished its review last week, as first reported by InsideHealthPolicy. This comes days after a spending bill for FDA was released that includes a provision providing "funding to develop a framework for regulating CBD products."
Despite the review being finalized, however, an FDA representative told Marijuana Moment on Friday that the agency "cannot provide an update of when (or even if) this guidance will issue."
"It will be announced via the Federal Register should it move to publication," they said.
It's not entirely clear why the guidance wouldn't be published in the end, but it may take some time for FDA to implement any edits suggested by the White House over the past month, and it's possible there are additional layers of review beyond OMB that could determine when and whether it will be finalized.
It also remains to be seen whether FDA plans to wait for this specific guidance to be finalized and for the resulting research to be completed before it gets around to issuing final rules for CBD products in general. Stakeholders have been eagerly awaiting those regulations so they can fully take advantage of the legalization of hemp and its derivatives.
Former FDA Commissioner Scott Gottlieb said in May that White House policies requiring OMB to review scientific documents in the first place represent an onerous step that's delayed the issuance of guidance.
Beyond sending the draft research plan to the White House for review, FDA is also soliciting public input about the safety and efficacy of CBD in comment period it has decided to keep open indefinitely. The agency said in an update to Congress in March that it has several specific questions it wants answered before deciding whether the cannabidiol can be lawfully marketed. That includes questions about the impact of different methods of consumption and drug interactions.
This week, FDA submitted a report to Congress on the state of the CBD marketplace, and the document outlines studies the agency has performed on the contents and quality of cannabis-derived products that it has tested over the past six years.
In the meantime, FDA is maintaining enforcement discretion when it comes to action against companies that sell CBD products regardless of the lack of regulations and has said it is currently targeting sellers that make especially outlandish or unsanctioned claims about the therapeutic value of their products.
It sent a warning letter to a CBD company owned by a former NFL player after advertisements it displayed suggested its products could treat and prevent a coronavirus infection, for example.
FDA sent a letter warning to a company about its marketing of injectable CBD products that led to a voluntary recall in May.
The agency also publicized a voluntary recall of another CBD product from a different company, notifying consumers about potentially high levels of lead in a batch of tinctures.
FDA has previously issued warnings to other CBD companies that have made unsubstantiated claims about the therapeutic potential of their products.
Veterans Working In Marijuana Industry Aren't Automatically Blocked From Home Loans, VA Says
Photo by Kimzy Nanney.
Veterans Working In Marijuana Industry Aren't Automatically Blocked From Home Loans, VA Says
The U.S. Department of Veterans Affairs (VA) recently clarified to Congress that it does not have a policy automatically barring veterans from receiving home loans solely because they work in the marijuana industry—and now a key House committee is asking the department to better communicate that to lenders and would-be borrowers.
For the past year, Rep. Katherine Clark (D-MA) and other lawmakers have been pressing VA on difficulties some veterans have faced in securing the benefit, with at least one constituent telling Clark that they were denied a home loan because of their work in the state-legal cannabis market. That prompted the congresswoman to circulate a sign-on letter and introduce an amendment to resolve the problem.
However, in a report submitted to Congress last month that was obtained by Marijuana Moment, VA said there is no policy on the books that calls for home loan denials due to employment at a cannabis business. Instead, the department clarified that conflicting state and federal laws makes it "difficult to prove the stability and reliability of cannabis-derived income," which are key factors in determining loan eligibility.
"VA is committed to working diligently to serve our Nation's Veterans by providing eligible Veterans with home loan guaranty benefits," VA said. "There is nothing in VA statutes or regulations that specifically prohibits a Veteran whose income is derived from state-legalized cannabis activities from obtaining a certificate of eligibility for VA home loan benefits. However, given the disparity between Federal and State laws on cannabis, determining whether such a Veteran is able to obtain a loan has become a complex issue."
A person's "reliance on [marijuana-derived] income may hinder a Veteran's ability to obtain a VA-guaranteed home loan, a result that is consistent with other federal housing programs," the report states. "VA also notes that many lenders have established their own income thresholds and policies on overlays, which are often more stringent than VA's requirements, to ensure that the VA-guaranteed loan will be purchased by an investor in the secondary mortgage market."
In other words, individual lending companies may be denying home loans to veterans because the cannabis industry-derived income they would use to pay back loans isn't necessarily stable and reliable due to the fact that federal officials could shut down their employers at any time.
If that's the case, then it doesn't appear it would be necessary to pass legislation targeting the narrow issue in the way lawmakers did last year. Clark's amendment to address the problem was approved by the House as part of a defense spending bill—though leaders in the chamber agreed to scrap it after the Senate didn't include it in its version of the legislation.
The House Appropriations Committee also approved report language last year attached to the bill that funds VA expressing concern that the department "has never publicly stated its position on this matter, hindering Veterans' ability to fully understand and consider how employment decisions could affect future eligibility for earned benefits."
The newly released explanation from VA is a result of that provision.
Now, for the next fiscal year, a new report attached to the latest Military Construction, Veterans Affairs, and Related Agencies spending bill acknowledges VA's recent policy clarification—but lawmakers are asking the department to do more.
"The Committee understands that as directed by House Report 116–63, VA has clarified that nothing in VA statutes or regulations specifically prohibits a Veteran whose income is derived from state-legalized cannabis activities from obtaining a certificate of eligibility for VA home loan benefits," the report states. "The Committee directs the VA to improve communication with eligible lending institutions to reduce confusion among lenders and borrowers on this matter."
Clark told Marijuana Moment that "no veteran should be denied benefits simply because they work within the legal cannabis industry."
"This must be crystal clear in our laws and communicated directly to both borrowers and lenders," the congresswoman said. "By including this language, we're eliminating any doubt about the rights of our service members and protecting their ability to access what they've rightfully earned."
In other veterans and cannabis news this year, the Congressional Budget Office released an analysis on a marijuana research bill for veterans and determined that it would have no fiscal impact. And a federal commission issued recommendations to promote research into the therapeutic potential of both cannabis and psychedelics such as psilocybin mushrooms and MDMA.
Read VA's report on its home loan policy for veterans working in the marijuana industry below:
VA Response On Home Loans F… by Marijuana Moment on Scribd
Photo courtesy of Mike Latimer.
Idaho Medical Marijuana Activists Ask State For Electronic Signature Gathering Option Following Court Ruling
Idaho activists have formally requested that the state allow them to collect signatures electronically for a medical cannabis legalization initiative following a series of federal court rulings on the issue in a case filed by a separate campaign.
While the signature submission deadline passed in May, advocates for an education funding campaign filed a suit against the secretary of state, arguing that social distancing restrictions that were put in place due to the coronavirus pandemic meant the state should give them more time to digitally petition. The judge agreed and ordered the state to allow them to do so for 48 days starting Thursday.
The marijuana reform campaign feels that the same relief should be extended to them as well, and an attorney representing the group sent a letter to the secretary of state this week, asking that the Elections Division also provide cannabis activists with the digital petitioning and deadline extension concessions that the federal judge granted to the education funding group.
In one of the latest developments, the state's request to the U.S. Court of Appeals for the Ninth Circuit to temporarily force the suspension of electronic signature gathering was denied on Thursday, though the appeal on the broader case is ongoing. That's given the cannabis activists more hope as they pursue legal routes to have the lower court's ruling apply to them.
BREAKING: State of Idaho's request to block our e-signature drive for K-12 funding DENIED by the Ninth Circuit Court of Appeals. It's time to give Idaho voters a chance to do what those in power refuse to do: Save our schools from deep budget cuts & invest in our children. #idpol

— Luke Mayville (@lukemayville) July 9, 2020
Russ Belville, campaign spokesperson for the Idaho Cannabis Coalition, told Marijuana Moment that the group was "thrilled" to see the appeals court refuse to stay the electronic signature gathering decision.
"Our attorneys are working to convince the state to provide our Idaho Medical Marijuana Act petition the same electronic signature gathering relief, as we have suffered the same infringement of our petitioning rights," he said. "It's a shame it takes a pandemic to even consider allowing electronic signatures on petitions. Idaho should make every effort to make exercising our rights as easy as possible, especially for sick, disabled, elderly, infirm and rural folks without easy access to an in-person petitioner."
In the new letter to Idaho Secretary of State Lawerence Denney, attorney Bradley Dixon said his client "has standing to pursue a remedy given the impact that the COVID-19 restrictions have had upon it." The campaign "can show (1) they have suffered an injury in fact, which is both concrete and particularized, and actual or imminent; (2) their injury is fairly traceable; and (3) their injury will likely be redressed by a favorable outcome."
"Moreover, just like Reclaim Idaho, as illustrated above, our client can show that it was diligent in collecting signatures and had adopted a thorough plan to achieve ballot success in advance of the unforeseeable coronavirus outbreak. Considering the merits of a possible case, our client's First and Fourteenth Amendments rights have been harmed because the State of Idaho and its agents did not provide an alternative means to signature collection during the stay at home order, or during any of the phased reopening stages."
The state's stay-at-home order "made it impossible to retrieve all statutorily-required signatures because of both the reduction in time to collect such signatures, and the deadline date to obtain signatures falling on the same day as the end of the stay at home order," the attorney said.
If the campaign is ultimately allowed to proceed with signature gathering, they will need 55,057 valid signatures to qualify for the November ballot. Activists said they have about 45,000 unverified signatures on hand at this point, and they're confident that can fill the gap if they get the deadline extension and electronic petitioning option.
The group has indicated it is prepared to seek relief directly from the courts if the secretary of state does not comply with their request to his office.
Under the proposed ballot measure, patients with qualifying conditions could receive medical cannabis recommendations from physicians and then possess up to four ounces of marijuana and grow up to six plants.
Advocates say that passing medical cannabis in one of the remaining states without such policies on the books would be a significant victory for patients in its own right—but it could also have outsized federal implications. A House-passed bill to protect banks that service state-legal cannabis businesses from being penalized by federal regulators is currently pending action in a Senate committee chaired by a senator who represents the state.
Creating a medical marijuana program in Idaho, which is one of small handful of states that don't yet even have limited CBD laws, could put additional pressure on Senate Banking Committee Chairman Mike Crapo (R-ID) to move the financial services legislation in Congress.
Read the letter to the secretary state on allowing electronic signature gathering for medical marijuana below:
Idaho Secretary of State Re… by Marijuana Moment on Scribd
Oregon Voters Will Decide On Legalizing Psilocybin Therapy In November, State Announces