Congressional Committee Approves Bill To Remove Marijuana As Barrier To Federal Employment Or Security Clearances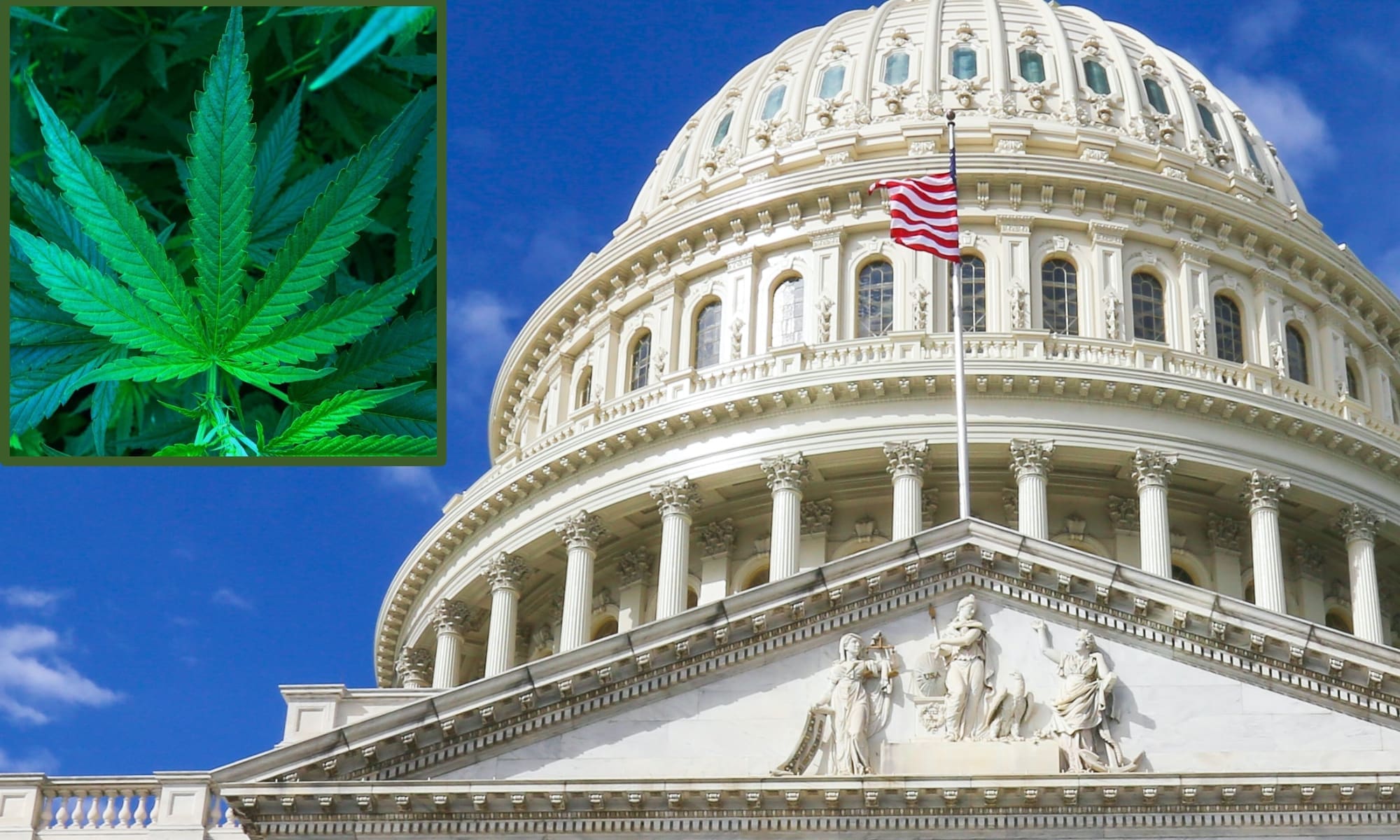 A key House committee has approved a bipartisan bill on Wednesday that would prevent the denial of federal employment or security clearances based on a candidate's past marijuana use.
The House Oversight and Accountability Committee passed the Cannabis Users' Restoration of Eligibility (CURE) Act—sponsored by Reps. Jamie Raskin (D-MD), Nancy Mace (R-SC) and Earl Blumenauer (D-OR)—in a 30-14 vote. All Democrats backed the measure, along with ten Republicans.
However, prior to passage, members first adopted an amendment from Chairman James Comer (R-KY) to scale back certain provisions.
As introduced, the CURE Act would prevent security clearance and federal employment denials over a person's past or current cannabis use. The chairman's amendment in the nature of a substitute (ANS), however, limits the protections to prior marijuana use alone, so federal workers and holders of security clearances could continue to be penalized for active consumption.
The amendment additionally removes certain language related to agencies' responsibility to review whether past security clearance or employment denials were based on marijuana use alone.
While federal agencies have taken steps to adjust cannabis-related employment policies, "many young and talented applicants are discouraged from applying for national security jobs because they are confused about federal hiring policy, and I don't blame them," Comer said in opening remarks on Wednesday.
"Federal hiring policies are confusing enough, and this is one area where we can work in a bipartisan way to clarify and codify what is largely an existing practice," the chairman said.
Watch the committee markup of the CURE Act in the video below:
Raskin said that "the basic issue is that the majority of states have now decriminalized or legalized or endorsed the medical use of marijuana, but federal agencies are still disqualifying people from federal government employment or denying them security clearance simply for honestly answering that they've used marijuana in the past."
"Now, despite the rapid expansion of all of these laws across the country, thousands of our constituents every year are being denied federal security clearance or losing the chance of obtaining federal employment solely because they admit honestly to having used marijuana in the past, even if and when it was completely lawful for them to do that," he said. "Our constituents should never be denied the opportunity to serve our country simply because they've once used marijuana, as at least half of Americans report they've done."
Mace described the legislation as "crucial and critical."
🙌 Great work today in Oversight! https://t.co/D2mkFy8Xvu

— Rep. Nancy Mace (@RepNancyMace) September 20, 2023
"It's crazy to me that if you didn't want to get addicted to painkillers like opioids prescribed by your doctor, and you wanted to take a few gummies for that pain, that you would be prohibited from getting a clearance in a federal job," she said. "That is wild that we cannot hire people where it's been legalized for these kinds of positions, and we need common sense solutions on cannabis in this country."
Rep. Robert Garcia (D-CA), who has championed a number of appropriations amendments this session to prevent marijuana testing of federal job applicants, said that "this bill is just one of many steps that we need to take to really update all of our drug laws."
"Current laws harm the federal government and even our national security. They keep out some of the best and brightest and most qualified applicants for key government positions," he said. "We need to hire the best people possible, especially when we have labor shortages, and deliver our services for all constituents everywhere across the country. Now, the idea that someone who has used marijuana is automatically a security risk is, quite frankly, just silly."
Over 155 million Americans live in states that have decriminalized cannabis use. So why is the federal government still turning away qualified applicants who used marijuana? It's time to modernize this system. pic.twitter.com/4dj8benmvS

— Congressman Robert Garcia (@RepRobertGarcia) September 20, 2023
Rep. Pete Sessions (R-TX), an adamant prohibitionist who blocked numerous pieces of marijuana reform legislation from floor consideration during his time as House Rules Committee, said that he has "serious concerns" about the CURE Act.
"The underlying legislation seems to be a reaction to societal shifts regarding the acceptance of marijuana use, increase usage and corresponding shrinkage of potential applicants for federal jobs," the congressman, who led a recent letter to the Drug Enforcement Administration (DEA) encouraging it to keep cannabis in Schedule I amid an administrative review, said.
Sessions filed an amendment to the CURE Act that would have further restricted the reform by making it so marijuana use within three years of applying for federal employment or security clearance could still be used as the basis of a denial. It was defeated in a 28-15 vote.
This is not a debate about the potential legality of marijuana. Members who support H.R. 5040 are obfuscating the issue.

Bottom line: individuals who show a willful disregard for federal law should not be entrusted with our most sensitive intelligence. pic.twitter.com/z1QkvOoY2O

— Pete Sessions (@PeteSessions) September 20, 2023
Rep. Mike Turner (R-OH), chairman of the House Intelligence Committee, also voiced opposition to the legislation. He questioned the efficacy of the reform in light of recent internal administrative changes and said that the bill "actually doesn't 'cure' anything here—it actually creates a problem."
Rep. Gary Palmer (R-AL) similarly spoke out against the legislation, arguing that high potency cannabis is a "serious, serious issue," and it's a "huge concern for me that we're taking the step without some clear safeguards."
Rep. Chuck Edwards (R-NC), who recently sponsored legislation to slash certain federal funding to states and tribes that legalize adult-use marijuana, also voiced opposition to the CURE Act during Wednesday's markup.
"What message does it send when Congress won't even enforce its own laws?" he said. "Marijuana remains a dangerous gateway drug that has a multitude of negative impacts on states that have legalized its possession and use, and I don't believe that we should move toward it becoming more acceptable in the eyes of the federal government."
The bill as introduced would require agencies, within one year of enactment, to create a process to review each past decision to deny security clearances or job opportunities over cannabis use going back to January 1, 2008.
They would also need to maintain a website so that people could request a review of a decision made in their situation, and the agency would need to "reconsider such individual's security clearance or employment application" within 90 days if they find that they were denied because of marijuana use alone.
But Comer's amendment simply requires the review of past cases, without provisions mandating reconsideration of the security clearance or employment decisions. The amendment also omits a section that calls for the establishment of an appeals process.
In the original legislation, a person who is denied clearance or employment following the agency's reconsideration would have 30 days to appeal that decision to the Merit Systems Protection Board (MSPB). The board would then need to review the case within 120 days, and if it determines that marijuana use was the basis of the denial, it would need to "order the Federal agency to immediately redetermine the individual's request for reconsideration."
None of that language appears in the ANS, raising questions about what steps, if any, agencies would need to take if they found a person's denial was based on the past policy.
Nonetheless, a staffer for the GOP sponsor, Mace, told Marijuana Moment on Tuesday that the congresswoman will be supporting the chairman's amendment. Raskin said at Wednesday's markup that he also supports the "narrowing amendment" as a way to advance the bill in the GOP-controlled House.
While advocates would have preferred the original language that provided protections for federal workers who use cannabis after accepting the job, passage of the ANS would still represent a major achievement in marijuana policy reform, with bipartisan lawmakers finding common ground that recognizes the reality that many Americans, particularly young workers, have used cannabis at some point—and that does not make them inherently less qualified for federal employment.
"It is simultaneously exciting that the issue of employment discrimination is finally beginning to be addressed by Congress and also infuriating to see how prohibitionists like Pete Sessions and Chuck Edwards trying to scare people with their reefer madness tactics to maintain criminalization and incarceration," Justin Strekal, founder of the BOWL PAC, told Marijuana Moment.
(Disclosure: Strekal supports Marijuana Moment's work through a monthly pledge on Patreon.)
The CURE Act represents an expansion of an amendment that Raskin filed as part of a House-passed cannabis legalization bill last year. That measure would have only covered security clearances instead of also including overall employment decisions as is the case under the new legislation. However, the retroactivity would have required a review of denials going back further, to 1971, instead of 2008. The amendment was narrowly defeated on the House floor.
In July, the Senate approved legislation that would prevent intelligence agencies from denying security clearances to applicants solely due to their past marijuana use.
Sen. Ron Wyden (D-OR) filed a broader amendment last year that would have prevented employment discrimination based on prior or present cannabis use at any federal department, not just those dealing with intelligence. But the provision was scaled back under a second-degree amendment from the panel's chairman before being adopted by the committee. And then the reform was ultimately quashed when two GOP senators objected to attaching the broader bill to the National Defense Authorization Act (NDAA) on the floor if it included the marijuana language.
Passage of the CURE Act through the House Oversight Committee, meanwhile, would mark a significant win for advocates who have seen multiple cannabis reform measures blocked from House floor consideration by the Rules Committee under GOP control.
This month, that panel prevented two amendments aimed at preventing marijuana testing of federal job applicants from being considered as part of a large-scale defense bill, for example. However, amendments on promoting psychedelics research were made in order for the floor.
Rep. Robert Garcia (D-CA) also proposed an amendment to a spending bill for Military Construction, Veterans Affairs and Related Agencies (MilCon/VA) earlier this year that would have similarly prohibited the use of funds for cannabis drug testing. It was not allowed to advance to the floor, though bipartisan lawmakers have cheered the House's passage of the underlying legislation that included separate marijuana and psychedelics measures.
One of those House-passed amendments would allow VA doctors to issue medical cannabis recommendations to veterans, and the other would encourage research into the therapeutic potential of psychedelics like psilocybin and MDMA.
More than a dozen marijuana and psychedelics amendments to the House version of the NDAA were blocked by the Rules Committee in July. That includes a measure introduced by Garcia that would have prevented security clearance denials for federal workers over prior cannabis use.
—
Marijuana Moment is tracking more than 1,000 cannabis, psychedelics and drug policy bills in state legislatures and Congress this year. Patreon supporters pledging at least $25/month get access to our interactive maps, charts and hearing calendar so they don't miss any developments.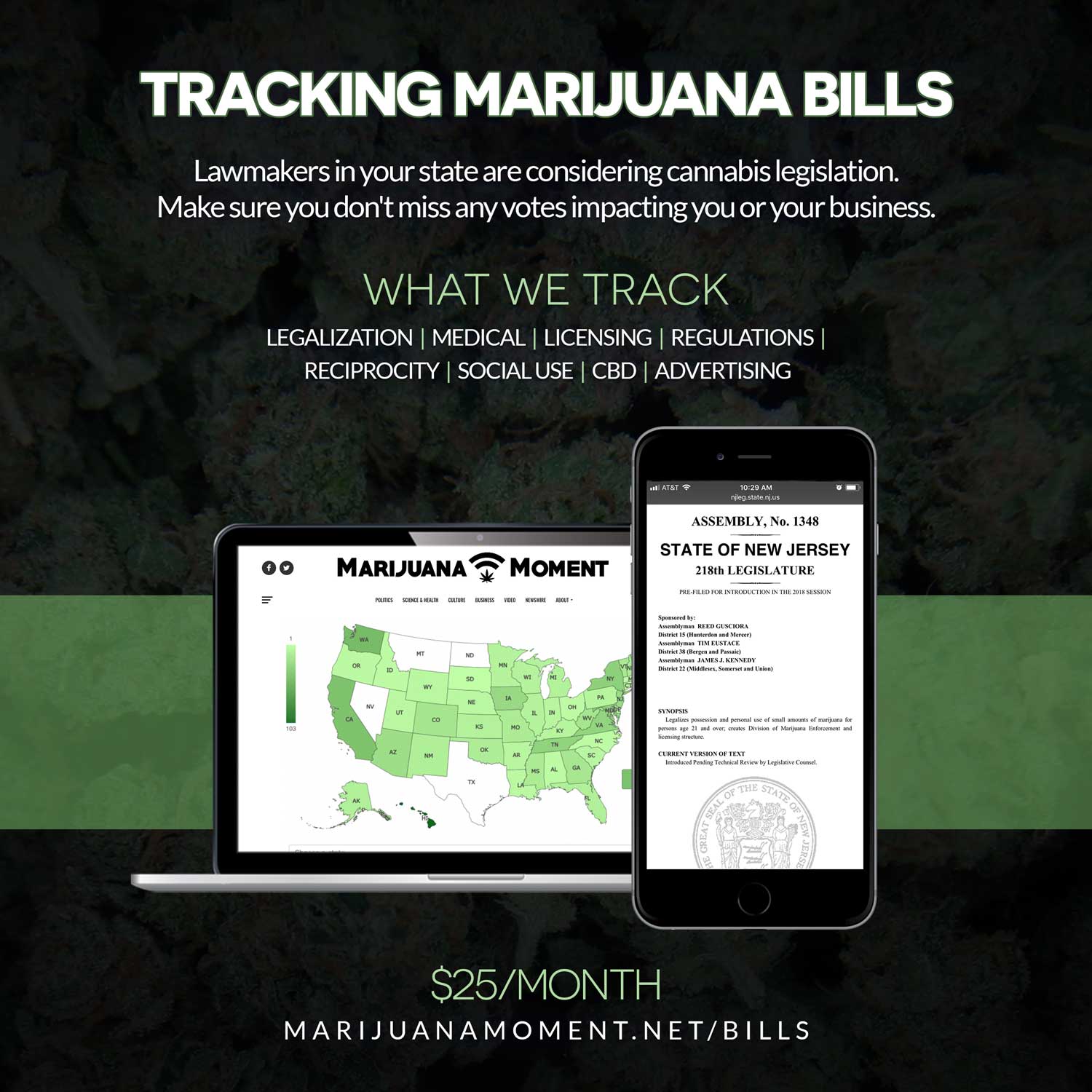 Learn more about our marijuana bill tracker and become a supporter on Patreon to get access.
—
The Director of National Intelligence (DNI) issued a memo in 2021 saying that federal employers shouldn't outright reject security clearance applicants over past use and should also use discretion when it comes to those with cannabis investments in their stock portfolios.
Meanwhile, the U.S. Secret Service (USSS) recently updated its employment policy to be more accommodating to applicants who've previously used marijuana, making it so candidates of any age become eligible one year after they last consumed cannabis. Previously, there were stricter age-based restrictions.
The federal Bureau of Alcohol, Tobacco, Firearms and Explosives (ATF) has also revised its cannabis rules for job applicants. Applicants who've grown, manufactured or sold marijuana in compliance with state laws while serving in a "position of public responsibility" will no longer be automatically disqualified.
FBI updated its hiring policies in 2020 to make it so candidates are only automatically disqualified from joining the agency if they admit to having used marijuana within one year of applying. Previously, prospective employees of the agency could not have used cannabis within the past three years.
Late last year, draft documents obtained by Marijuana Moment showed that the federal Office of Personnel Management (OPM) was proposing to replace a series of job application forms for prospective workers in a way that would treat past cannabis use much more leniently than under current policy.
The Biden administration instituted a policy in 2021 authorizing waivers to be granted to certain workers who admit to prior marijuana use, but certain lawmakers have pushed for additional reform.
A recent survey found that 30 percent of those between the ages of 18 and 30 have either declined to apply or withdrawn applications for federal jobs because of strict marijuana policies required for security clearances.
Some attorneys also believe that if the Drug Enforcement Administration reschedules marijuana, as the Department of Health and Human Services recently recommended, that could push federal agencies to further review their employee drug policies.
Wednesday's House Oversight Committee vote on the CURE Act will be the first of two markups of marijuana reform legislation this month alone. The Senate Banking Committee is scheduled to vote on a bipartisan cannabis banking bill on September 27 before potentially advancing it to the floor.
California Governor Will Decide On 17 Marijuana And Psychedelics Bills By October 14
Photo courtesy of Martin Alonso.