Tulsi Gabbard Files Bill To Study Hemp's Uses For Just About Everything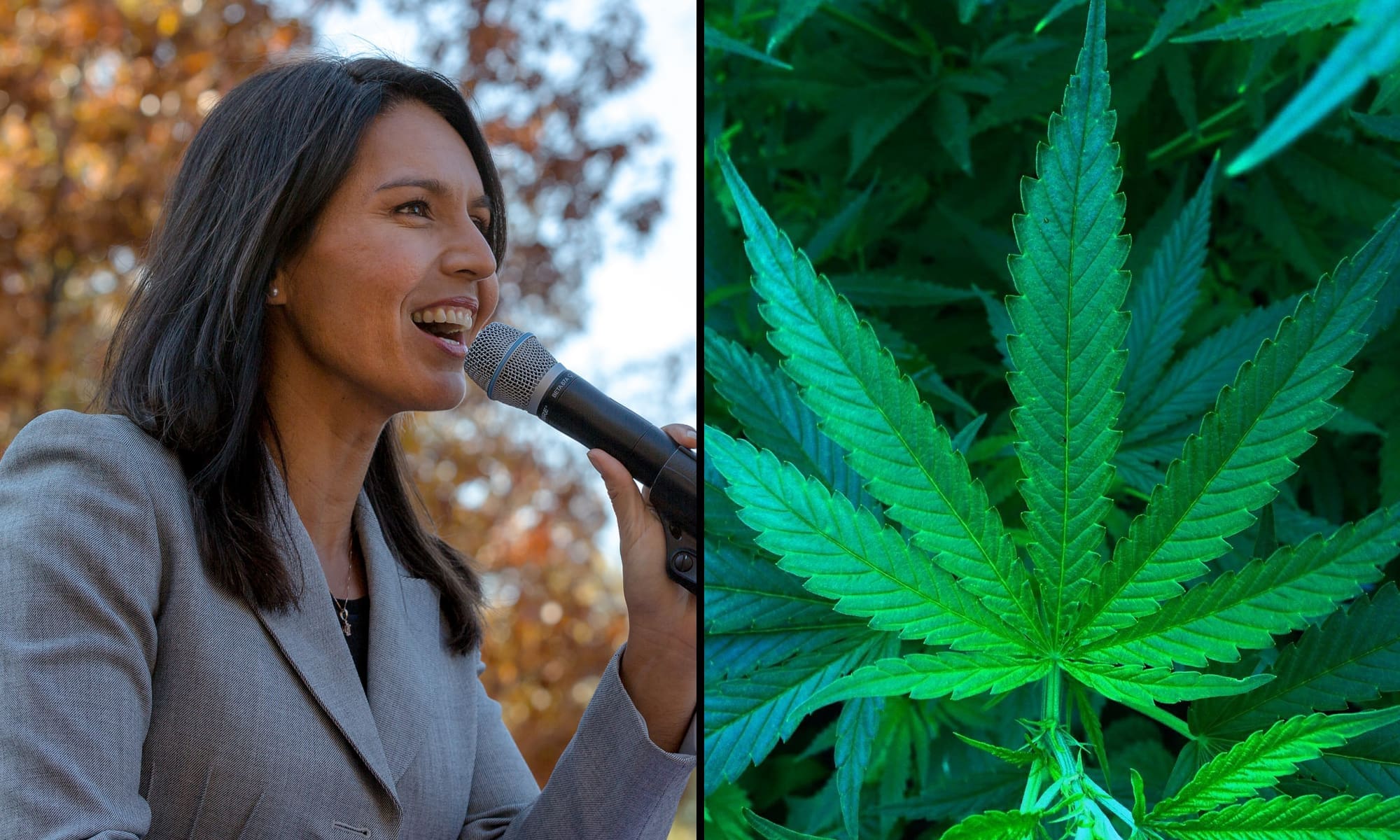 Rep. Tulsi Gabbard (D-HI) introduced a bill on Tuesday that would modernize the hemp industry, develop specific guidelines and encourage federal research into a wide-range of potential applications for the crop.
Among other areas of investigation, it would mandate research into everything from the use of hemp food products for public school lunches to the potential therapeutic value of the crop's extracts for veterans suffering from post-traumatic stress disorder to even its ability to clear contaminants from nuclear sites.
The legislation, titled the "Hemp for Victory Act," also focuses on research into the plant as an alternative to plastics and its ability to prevent soil erosion. And it would establish grant programs to develop studies on hemp's potential as a domestic agricultural commodity and to create tools to protect farms growing it.
While the 2018 Farm Bill federally legalized hemp and its derivatives, the U.S. Department of Agriculture (USDA) and Food and Drug Administration (FDA) are actively developing regulations for the crop. USDA rules are expected to be released ahead of the 2020 planting season, and FDA has indicated that regulations providing for the lawful marketing of hemp as food items or dietary supplements may take years without congressional action.
Gabbard's proposal goes far beyond simply developing baseline regulations to cultivate, process and sell hemp products, though. Here's what the 2020 Democratic presidential candidate's legislation entails for each federal department, according to a summary of the 24-page bill circulated by her office:
U.S. Department of Agriculture
—Establish a grant program for universities to "conduct research on establishing hemp as a domestic agricultural commodity."
—Study the nutritional value of hemp foods, drinks and supplement products.
—Study whether such hemp products could be used as "low-cost healthy alternatives" for public school lunches for low-income students.
—Research whether items being used by the federal government its contractors could be substituted by hemp-based products.
—Study the potential of hemp "for soil erosion control and as a windscreen."
—Create guidance for cultivating organic hemp.
—Designate hemp as a "high priority research" crop eligible for grants that would be used to "develop and disseminate science-based tools and treatments to combat noxious species that impact hemp farms, and to establish and areawide integrated pest management program."
—Research the economics of the international hemp market.
—Study the "use and presence of agricultural chemicals and pathogens" in hemp to inform public safety standards.
—Make hemp available for grants to conduct research "on the cultivation of hemp as a commodity, including production guidance for underserved and rural communities and technical assistance for available grants."
—Integrate hemp into market research publications.
—Study how to create "buffer zones" between marijuana and hemp farms to avoid cross-pollination.
U.S. Department of Health and Human Services 
—Study the "presence of pathogens in hemp-based and hemp-blended products and their impact on the health and safety of consumers."
—Study whether hemp can be used as a substitute for health care industry products used to deliver, create, store or administer prescription drugs.
Small Business Administration 
—Develop guidance manuals for individuals interested in creating a small business, "which will focus on Native Hawaiians, Indian Tribes and veterans."
U.S. Department of Defense
—Study what items used by the DOD could be substituted with hemp.
—Study the impact of using hemp and derivatives such as CBD "on military preparedness."
—Study the use of hemp as an "alternative to current health supplements with regard to the armed forces deployed in support of contingency operations, and its effect on preparedness, physical and mental health, and safety," which includes active and non-active service members diagnosed with conditions such as post-traumatic stress disorder and chronic pain.
—Study hemp's potential to "clear contaminants from nuclear sites and heavy metal contamination."
U.S. Department of Labor
—Issue a report on the application of federal laws in states with hemp programs to "ensure the health and safety of individuals working in the hemp industry."
—Issue a report on the application of federal laws in states with hemp programs to "ensure fair, equitable and proper treatment of individuals working in the hemp industry."
U.S. Environmental Protection Agency
—Study how the cultivation of hemp can assist in weed control, reducing ecological damage, detoxifying carbon dioxide and preventing soil erosion.
—Study how hemp can be used to "clear impurities in water, wastewater, sewage effluent and post-disaster relief due to flooding or animal waste."
—Study whether hemp could be used as a substitute for certain plastics and also research whether such a substitute could reduce "landfill waste and ocean pollution."
U.S. Department of Housing and Urban Development
—Study the "the use of hempcrete for affordable and sustainable housing."
U.S. Department of Veterans Affairs
—Study the potential benefits of hemp in the treatment of conditions such as post-traumatic stress disorder, chronic pain, depression and anxiety among veterans.
Gabbard has been a long-standing advocate for cannabis. She filed a bipartisan bill in March that would federally deschedule marijuana, and she repeatedly spoke in favor of legalizing hemp prior to the passage of the Farm Bill.
The congresswoman spoke during her presidential campaign launch speech about how the criminal justice system "puts people in prison for smoking marijuana while allowing corporations like Purdue Pharma, who are responsible for the opioid-related deaths of thousands of people, to walk away scot-free with their coffers full."
Read the full text of Gabbard's hemp bill below: 
Gabbar 023 XML by on Scribd
Photo element courtesy of Lorie Shaull.
IRS Chief Says Agency Would 'Prefer' If Marijuana Businesses Could Pay Taxes Electronically
The head of the Internal Revenue Service (IRS) told Congress this week that the federal agency would "prefer" for state-legal marijuana businesses to be able to pay taxes electronically, as the current largely cash-based system under federal cannabis prohibition is onerous and presents risks to workers.
During an oversight hearing before the House Appropriations Financial Services and General Government Subcommittee on Tuesday, IRS Commissioner Charles Rettig was asked about the lack of banking access for marijuana businesses and what steps could be done to normalize the market.
Rep. David Joyce (R-OH), who serves as a co-chair of the Congressional Cannabis Caucus, said that barring marijuana companies from traditional financial services is "inefficient for business and the IRS alike, obviously, not to mention ample opportunity for fraud and abuse it creates, as well as potential for criminal acts as far as robbing and stealing from those."
Rettig replied that "the IRS would prefer direct deposits moreso than receiving actual cash payments."
"It's a security issue for the IRS. It's a security issue for our employees in our taxpayer assistance centers, [which] is actually where we receive these payments," he said. "We created special facilities in the tax to receive the payments. Then we similarly have to transport the payments themselves."
Watch the IRS commissioner talk about marijuana tax challenges below: 
"Money is fungible. We have to receive it. We don't make a determination as to what is or is not legal, but the tax payments do come in and we would rather have direct deposits if we could," the commissioner said.
Former Treasury Secretary Steven Mnuchin said in 2019 that he'd like to see Congress approve legislation resolving the cannabis banking issue and he pointed to the fact that IRS has had to build "cash rooms" to deposit taxes from those businesses as an example of the problem.
Marijuana finances also came up this week during a confirmation hearing for President Joe Biden's pick for deputy secretary of the Treasury.
Sen. Catherine Cortez Masto (D-NV) asked the nominee, Adewale Adeyemo, whether he feels 2014 Financial Crimes Enforcement Network (FinCEN) guidance should be updated to "set expectations for financial institutions that provide services to cannabis-related industries" and what steps he would take to that end.
"I look forward, if confirmed, to talking to my colleagues at Treasury about this important issue and thinking through what changes may be needed and doing this in a way that's consistent with the interagency with the president's guidance," Adeyemo replied. "In doing that, I look forward to consulting with you and members of this committee on our path forward."
IRS released updated guidance on tax policy for the marijuana industry last year, including instructions on how cannabis businesses that don't have access to bank accounts can pay their tax bills using large amounts of cash.
This update appears to be responsive to a Treasury Department internal watchdog report that was released in April. The department's inspector general for tax administration had criticized IRS for failing to adequately advise taxpayers in the marijuana industry about compliance with federal tax laws. And it directed the agency to "develop and publicize guidance specific to the marijuana industry."
The IRS's commissioner of the Small Business/Self Employed Division participated in a cannabis-focused event in December in which he noted the legalization movement's continued momentum, saying that it will potentially succeed in ending prohibition in "all states."
As far as banking is concerned, House Democrats did approve a bill in 2019 that would have protected financial institutions that service the marijuana industry from being penalized by federal regulators. Leadership also attached that measure's language to two pieces of coronavirus relief legislation last year, but they declined to add it to their latest version, despite having reclaimed the majority in both chambers of Congress and control of the White House.
Many of these financial services issues would also be resolved if Congress passed legislation to federally deschedule cannabis—and there's a plan in the works on the Senate side to get that done this year.
A trio of senators—Senate Majority Leader Chuck Schumer (D-NY), Senate Finance Committee Chairman Ron Wyden (D-OR) and Sen. Cory Booker (D-NJ)—are in the process of drafting a legalization bill. And they recently held a meeting with representatives from a variety of advocacy groups and business associations to get input on the policy change.
Connecticut Governor Touts Marijuana Legalization Bill Ahead Of First Hearing
Missouri Bill Would Add MDMA, Psilocybin Mushrooms And LSD To Right-To-Try Law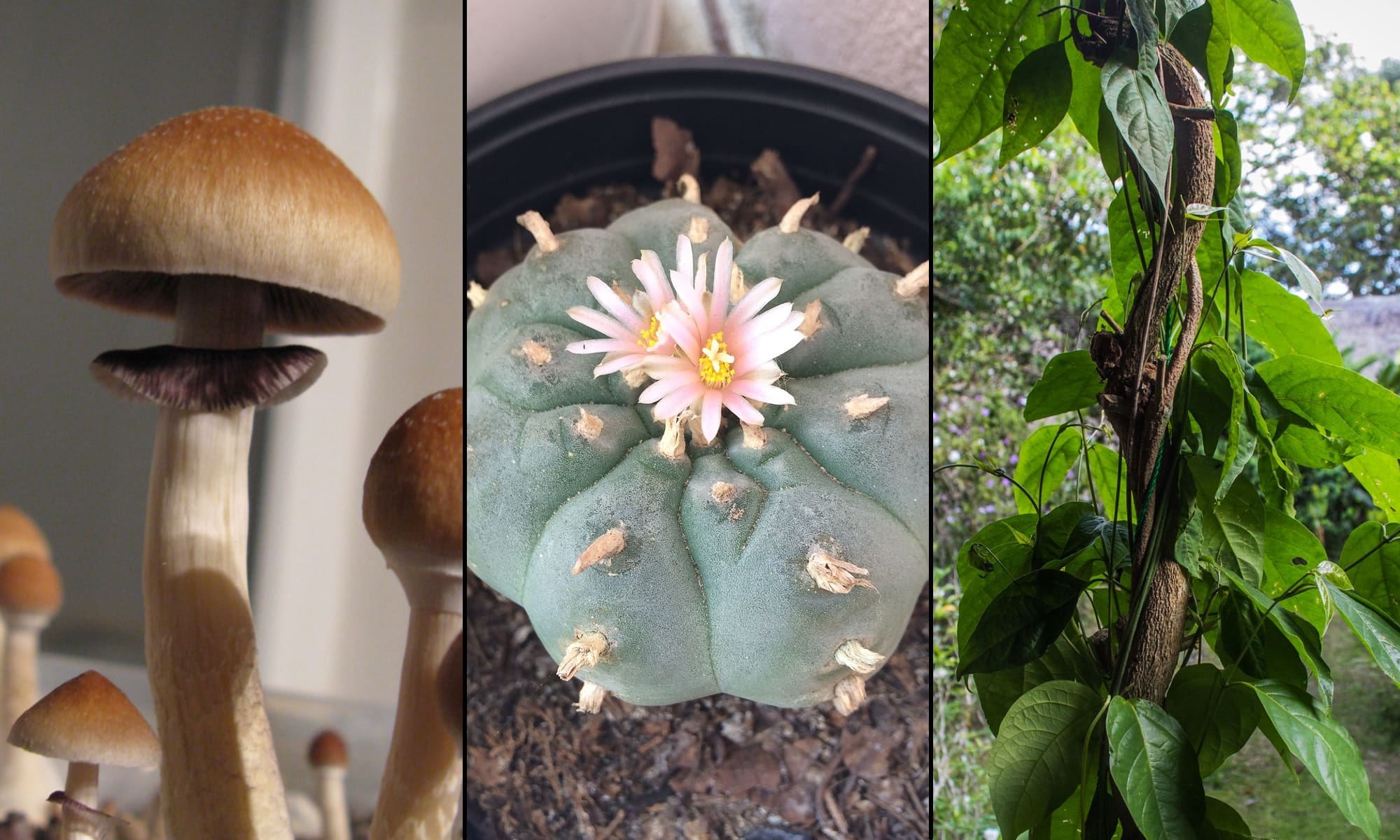 Missouri residents with debilitating, life-threatening or terminal illnesses could gain legal access to an array of psychedelic drugs under new legislation aimed at expanding the state's existing right-to-try law.
A bill introduced last week by Republican Rep. Michael Davis of Kansas City would allow seriously ill people to use substances such as MDMA, psilocybin mushrooms, LSD, DMT, mescaline and ibogaine with a doctor's recommendation after exhausting all other approved treatment options. It would also remove felony penalties statewide for simple possession of the drugs, reclassifying low-level offenses as misdemeanors.
Supporters at Crossing Paths PAC, a political action committee that supports "pro-drug policy and criminal justice reform campaigns and candidates," said the bill would allow patients to try therapies "considered promising in the treatment of a variety of mental health conditions," including post-traumatic stress disorder (PTSD) and depression.
In a statement put out by the group, Davis said the bill "protects the liberty interests of Missourians who believe these drugs offer valuable options in the treatment of numerous conditions."
Missouri State Representative Michael Davis Files Psychedelic "Right to Try" Access Billhttps://t.co/gjpAEz49s8 #moleg #mogov@tomangell @kylejaeger @MAPS pic.twitter.com/cMeRvIi7uD

— Crossing Paths PAC (@DrugReformMO) February 19, 2021
"Many psychedelic drugs have decades of clinical research supporting their efficacy and safety profiles," Davis said, "yet the FDA has been slow to act to reschedule these drugs."
HB 1176 would build on the state's 2014 right-to-try law, Republican-led legislation that allows patients with terminal illnesses to access "investigational drugs and devices" that are not approved by the U.S. Food and Drug Administration (FDA).
President Donald Trump signed a federal "Right to Try Act" in 2018, allowing certain patients to access drugs that have not yet been approved by the Food and Drug Administration for broad use.
The current Missouri law specifically forbids the use of Schedule I controlled substances.
The new bill would remove that provision and expand eligibility to include patients with "debilitating" or "life-threatening" illnesses. A patient with a doctor's recommendation who "has considered all other treatment options" would be exempt from the state's laws against possessing the drugs.
Drug manufacturers could also legally produce the substances under state law, and physicians and pharmacies could lawfully distribute them.
For people who aren't qualifying medical patients, the measure appears to reduce existing criminal penalties for possessing the listed substances. Under HB 1176, possession of up to 10 grams would be a class D misdemeanor, which carries a maximum $500 fine. Possession of between 10 and 35 grams would be a class A misdemeanor, punishable by up to a year in jail and a maximum $2,000 fine.
Under current law, possessing any amount of the listed psychedelics is class D felony, which can mean up to seven years in prison.
The Missouri measure is similar to a bill introduced in Iowa last week that would expand that state's right-to-try law to include psilocybin, MDMA, LSD, DMT, peyote and other currently illegal drugs. The Iowa bill's sponsor, Rep. Jeff Shipley (R), who earlier this month introduced legislation to remove psilocybin from the state's list of controlled substances, recently described the right-to-try legislation to Marijuana Moment as "the most conservative approach to usher in the new age of mental and emotional healthcare."
—
Marijuana Moment is already tracking more than 700 cannabis, psychedelics and drug policy bills in state legislatures and Congress this year. Patreon supporters pledging at least $25/month get access to our interactive maps, charts and hearing calendar so they don't miss any developments.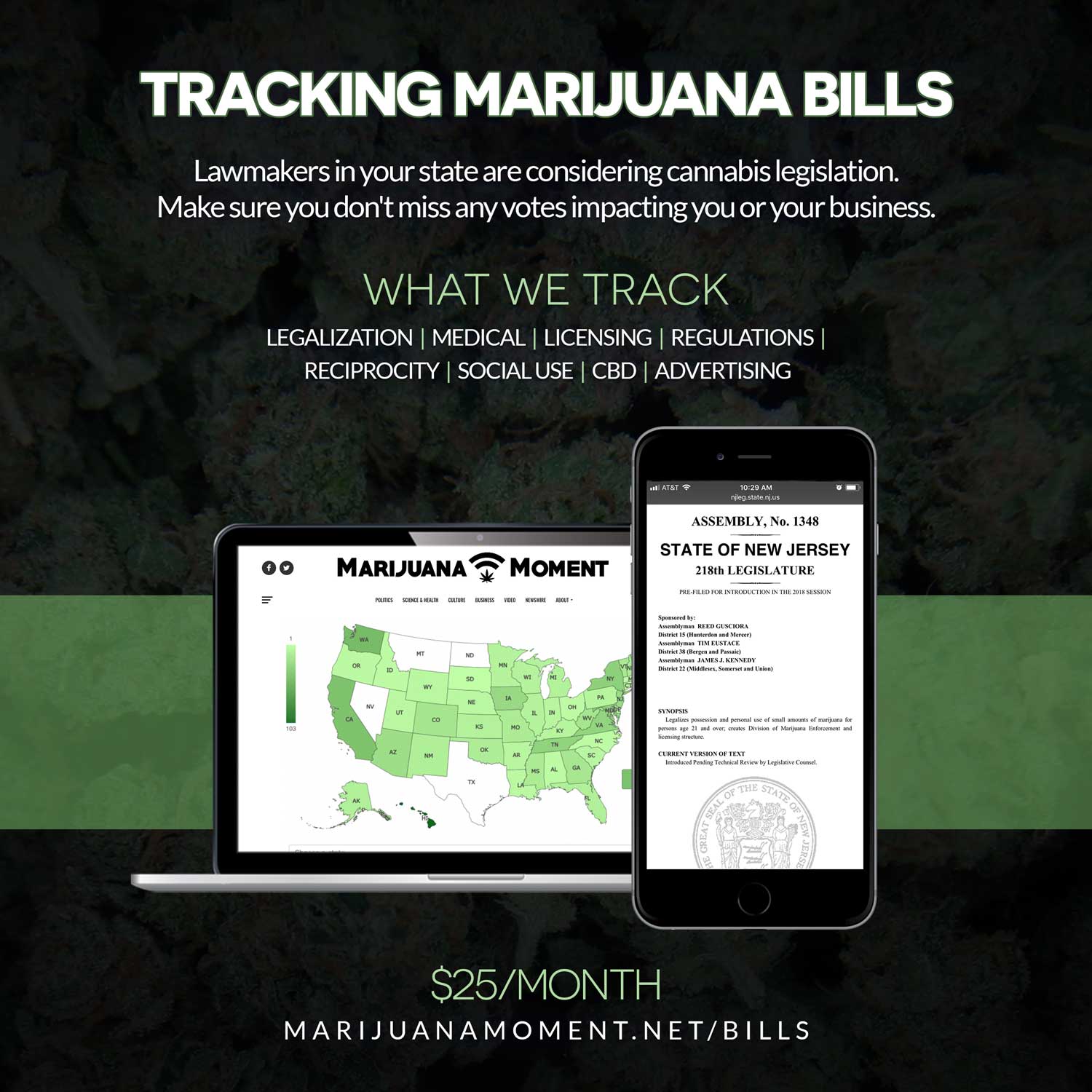 Learn more about our marijuana bill tracker and become a supporter on Patreon to get access.
—
Missouri's HB 1176 is one of more than a dozen bills related to drug policy to have been introduced in the state this year, including measures to put marijuana legalization on the 2022 ballot and allow medical marijuana consumption at hotels and Airbnb lodgings.
Other bills being considered this session, according to a summary of legislation being tracked by Crossing Paths PAC, would expunge marijuana-related offenses, prohibit the disclosure of medical marijuana patient information to unauthorized parties, reduce penalties for drug possession, protect medical marijuana patients in family court matters and adjust rules around medical marijuana licensing, taxes and banking.
"While other crises took precedence in terms of media attention," the group said in a blog post last week, "2021 will go down in history as the year Missouri lawmakers—Republican and Democrat—began to take serious action to end the War on Drugs."
Elsewhere across the country, lawmakers are considering similar reforms to roll back drug penalties or carve out legal access for therapeutic use.
Last week, a California lawmaker, state Sen. Scott Wiener (D) introduced legislation that would legalize the possession and social sharing of a number of drugs, including psilocybin mushrooms, LSD, ketamine, mescaline, ibogaine, DMT and MDMA. It would also provide for the expungement of past criminal records for possession or use. The state would establish a task force under the proposal to study potential future regulatory systems around psychedelics, with a report due in 2024.
Also last week, Massachusetts lawmakers introduced two drug-reform proposals, one to remove criminal penalties for all drugs and another to establish a task force to explore legalizing plant- and fungi-based psychedelics.
Earlier this month, a Texas state legislator introduced a bill to require the state to study the therapeutic potential of psilocybin, MDMA and ketamine in the treatment of certain mental health conditions.
Legislators in Connecticut, Florida, Hawaii, Kansas, Washington State and Virginia are also considering psychedelics and drug policy reform bills for the 2021 session.
Vermont lawmakers, meanwhile are expected to introduce a number of drug reform bills this session, including a measure to decriminalize all drugs and a separate proposal, expected Tuesday, that would remove psychedelic plants and fungi from the state's list of regulated substances.
Biden Cabinet Pick Defends Proposal To Use Marijuana Tax Dollars To Fund Schools
Photo elements courtesy of carlosemmaskype and Apollo
Connecticut Governor Touts Marijuana Legalization Bill Ahead Of First Hearing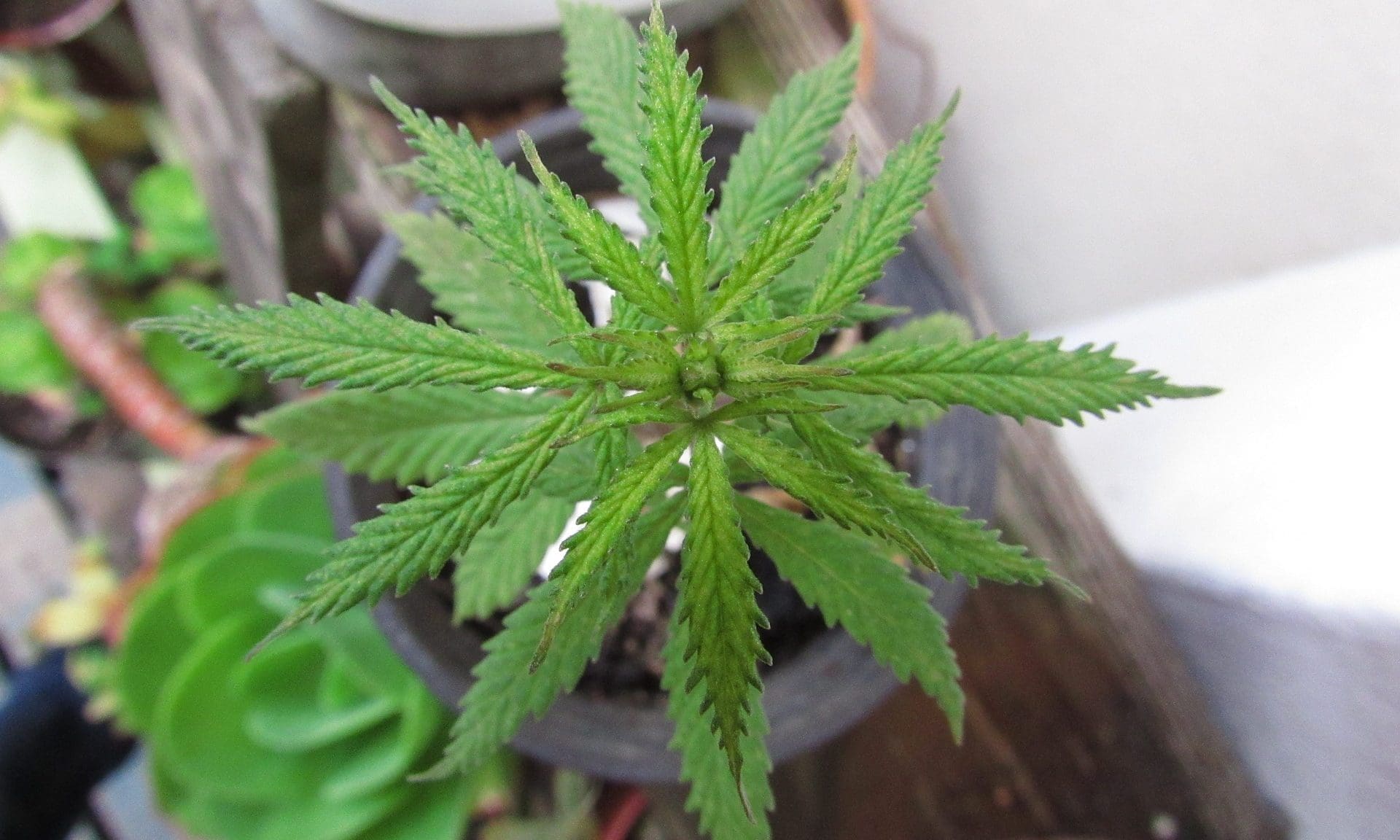 At a press conference on Wednesday to build support for his plan to legalize marijuana in Connecticut, Gov. Ned Lamont (D) and other backers described the proposal as a thoughtful, data-driven measure designed to address decades of disproportionate harm to the state's Black and brown residents. While the bill is set for its first committee hearing on Friday, some social justice advocates have deep concerns about how the legal market would be structured.
"This has been a long time coming," the governor said of his proposal. "We've been talking about this for ages, and I think now is the time to legalize adult-use recreational marijuana in a carefully regulated way with an emphasis upon equity and justice. Now is the time."
Lamont, who began circulating a draft of the legalization bill last month, described the state's enforcement of current laws against cannabis as "erratic with prejudice" and "fundamentally unfair" to people of color.
"I'm proud of what we've done in terms of justice and in terms of erasure of those convictions," the governor said of the bill, SB 888. "We can do this in a safe way…that redresses some of the wrongs of the past and gives folks who have been hardest hit an opportunity to get back on their feet."
Lamont introduced the legalization proposal as part of his budget plan earlier this month, after calling for the policy change earlier this year during his State of the State address.
"This is a comprehensive bill but it has three main and very logical components: decriminalization, regulation and revenue generation," Rep. Michael D'Agostino (D), chair of the House General Laws Committee and a lead coordinator on the governor's legalization proposal, said at Wednesday's event. "One animating principle and theme that's embedded through all of those components is equity."
Among equity advocates, however, not everyone is impressed. Jason Ortiz, who served as chair of a cannabis licensing working group convened by the governor late last year, described the press event as "a disgusting display of naked greed," adding that "SB 888 must be stopped if we are ever going to have a serious conversation on equity."
"I am deeply disappointed and quite frankly insulted that the work of the equity discussion group would be used to support a bill that denies our community economic opportunities that they are handing over to the rich white men who control the Connecticut medical industry," Ortiz, who is also the political director for advocacy group CT United for Reform and Equity, told Marijuana Moment in an email. "This is corruption plain and simple, and they are exploiting the suffering of my community in order to line their pockets."
Under SB 888, Connecticut's existing medical marijuana businesses would be able to begin selling to adults before the rest of the legal market is up and running, a head-start intended to begin legal sales as soon as possible. Critics warn the approach would create obstacles to smaller operators trying to enter the newly legal market.
The details of how communities most impacted by the war on drugs could gain from the legal industry would be mostly determined after officials receive a report from a new equity commission, and advocates are worried that big businesses may have cornered the market by then.
The Judiciary Committee scheduled a hearing on Gov. Lamont's legalization bill on Friday. We will be imploring the committee to advance the bill, but to first make revisions to make it stronger and more explicit on equity. Witnesses can sign up here: https://t.co/tZ9ZopqlWk

— Regulate Connecticut (@Regulate_CT) February 23, 2021
Rather than give people impacted by the war on drugs priority in licensing, as some other states have attempted to do, Connecticut's initial plan would use a portion of cannabis tax revenue to fund local governments and programs in so-called impact zones, geographic areas that have seen disproportionate arrests and convictions under the war on drugs.
"What we heard in conversations with regulators in other states, and in talking to folks in these communities, is that this social equity plan needs to be broad-based and focus not merely on who gets these businesses and licenses at the end of the day, but what our community impact is," Arunan Arulampalam, deputy commissioner of the Department of Consumer Regulation, said at Wednesday's press conference.
"We're going to use the revenues from this to get back into the community, get back to municipalities, hold down property taxes and help some of the communities that have been hardest hit get back on their feet" added Lamont. "I think that's an important piece of the equity justice that we mean to do."
"I think now is the time for legalized adult-use recreational marijuana in a carefully regulated way with an emphasis on equity and justice." https://t.co/1xYyEaV6g6

— Governor Ned Lamont (@GovNedLamont) February 24, 2021
In a Facebook post after Wednesday's event, Ortiz called attention to recommendations he made as chair of the governor's marijuana licensing task force that didn't make it into the bill, including proposals to establish a capital fund to provide zero-interest loans to equity applicants and a provision to require equity applicants to control at least half of all licenses before any legal sales could begin.
"Ask the governor and everyone of the rich white men stumping for his bill to point to the specific line in SB888 where these recommendations were implemented," he wrote. "The bill literally says only a handful of rich white men get to sell cannabis, but the office of the governor is going to claim equity advocates like myself are the BARRIER to community investment?"
In a separate post, Ortiz drew attention to a competing marijuana bill, HB 6377, which includes additional equity measures, including priority application and funding for low-interest loans among equity applicants. "The difference between these two approaches to politics and governance," he wrote, "could not be more stark."
HB 6377 was introduced on February 2, more than a week before SB 888, and referred to the Joint Committee on Labor and Public Employees. The panel held a February 9 public hearing but has not yet voted on the measure.
Lamont's bill will be heard on Friday by the legislature's Joint Judiciary Committee.
—
Marijuana Moment is already tracking more than 700 cannabis, psychedelics and drug policy bills in state legislatures and Congress this year. Patreon supporters pledging at least $25/month get access to our interactive maps, charts and hearing calendar so they don't miss any developments.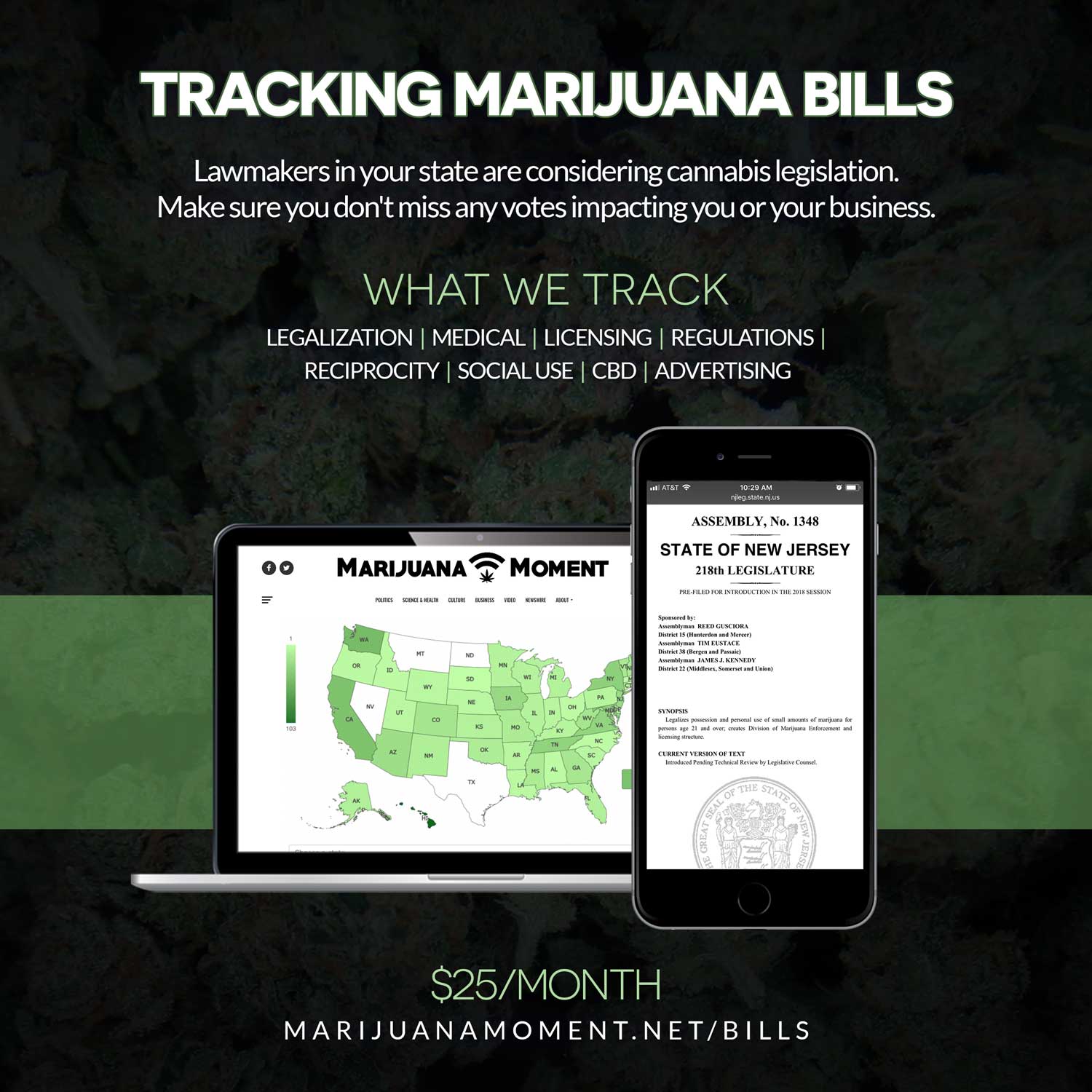 Learn more about our marijuana bill tracker and become a supporter on Patreon to get access.
—
Mike Taylor, a professor of criminal justice at the University of New Haven, said Wednesday that more than 7,500 people were arrested and charged in Connecticut with some form of marijuana possession in 2020. "That's a number equal to about 10 percent of the business of our criminal courts," Taylor said.
Other speakers at Wednesday's press event included Department of Consumer Regulation Commissioner Michelle Seagull, who discussed marijuana packaging and advertising limits meant to discourage use by minors.
A reporter for Hartford-based CBS TV affiliate WFSB asked Seagull whether the bill would allow advertising on billboards along interstates, noting that some businesses have already put up billboards in Connecticut inviting residents to buy marijuana across the border in Massachusetts.
"The restrictions here would apply just to the Connecticut businesses that we're licensing. That's sort of the universe we can control," Seagull replied. "We can't regulate what those [Massachusetts] businesses are putting up in Connecticut to attract people."
Lamont interjected, saying he didn't think cannabis companies from either state should be advertising their businesses on billboards.
"Let me talk to Gov. Charlie Baker about that," he said, referring to his Massachusetts counterpart, "because that makes no sense that he can advertise in Connecticut and our guys can't. I don't think either should be doing billboard advertising. I think it's the wrong way to go, and I'll make that case."
ICYMI: Watch today's discussion on Governor Lamont's proposal to responsibly and equitably legalize and regulate the adult use of marijuana in Connecticut.

📺Video: https://t.co/CXjoR1xVi2

📑Details on the proposal: https://t.co/PohRQDlxRp pic.twitter.com/kt9ePrkq07

— Governor Ned Lamont (@GovNedLamont) February 24, 2021
Despite disagreement over the details of the policy proposal, many expect legalization to happen Connecticut's near future. House Speaker Matt Ritter (D) said in November that legalization in the state is "inevitable." He added later that month that "I think it's got a 50–50 chance of passing [in 2021], and I think you should have a vote regardless."
Should this year's effort fail, Ritter said he will move to put a constitutional question on the state's 2022 ballot that would leave the matter to voters. A poll released last year found that nearly two-thirds of voters (63.4 percent) either "strongly" or "somewhat" supported recreational legalization.
New York Marijuana Legalization Proposals Get First Joint Legislative Hearing Of 2021