FDA Chief Warns CBD Rulemaking Could Take Years Without Congressional Action
The outgoing head of the Food and Drug Administration (FDA) suggested on Tuesday that it would take several years for the agency to come up with rules around allowing hemp-derived cannabidiol (CBD) in food products—unless Congress steps in.
At a Brookings Institution event, FDA Commissioner Scott Gottlieb recognized that there's strong interest among the cannabis industry and lawmakers in developing a regulatory framework through which CBD from hemp could be extracted, sold and introduced into the food supply. The problem is that "CBD didn't previously exist in the food supply, and it exists as a drug under the statute."
"It can't just be put into the food supply," he said, arguing that current law only allows the FDA to "contemplate putting a drug that wasn't previously in the food supply into the food supply if it goes through a rulemaking process."
That rulemaking process can take two to three years for conventional products, and so because CBD is "more complex"—due to its association with marijuana—and has already been approved by the FDA as a drug to treat epilepsy (in the form of Epidiolex), it could theoretically take much longer to develop those regulations.
"We've never done this before," Gottlieb said. "It would be a highly novel rulemaking process."
In the meantime, the FDA is putting together a "high-level work group" that will work to identify "some potential legislative pathways might be to create a framework for allowing CBD into the food supply."
Gottlieb said he expects the group to release some recommendations by the summer, as Business Insider first reported.
The commissioner said the work group will be formally announced within the next week and would involve a public meeting to solicit comments from stakeholders.
While Congress might have intended to permit the marketing of hemp-derived CBD through the 2018 Farm Bill, the commissioner indicated that additional legislation that specifically addresses CBD regulations would be necessary to allow the ingredient in the food supply. He said there's precedent for such actions, citing legislation around human growth hormone and fish oil.
"I think you need to come up with a framework that defines concentration levels, where you would create some kind of cut off, and that would be up to the agency to do," he said. "Congress would obviously give directions to the agency to do that."
"CBD in high concentrations isn't risk-free, and in low concentration, it probably is safe—I don't want to make a declaration here. It's also a question of whether it's providing any kind of therapeutic benefit in those concentrations, although people seem to believe that it has some value. But this is a process that the agency would have to work through. I think the most efficient way to get to a pathway would be through legislation, probably that would just be legislation that would specifically address CBD."
Gottlieb made similar comments in response to questions from members of a House Appropriations subcommittee last month, where he announced that the agency would hold a public meeting in April to gather input from stakeholders on CBD regulation.
In the new comments, the commissioner also added that he felt the Drug Enforcement Administration (DEA) would have to "formally de-schedule" hemp-derived CBD before moving forward with regulatory changes, in spite of the fact that the agriculture legislation shifted regulatory responsibility for the crop and its derivatives from the Justice Department to the U.S. Department of Agriculture.
"I think the prevailing view is that the plain language of the statute [of the Farm Bill] intended for that, but I'm not sure that DEA has done that yet," he said. "But that's another step that would have to take place. DEA would have to formally de-schedule CBD derived from hemp."
The desire for clarity around CBD's legality post-Farm Bill passage has been widespread. For example, the U.S. Postal Service issued an advisory earlier this month spelling out rules for mailing hemp-derived CBD. Representatives from state agriculture departments also heard talk about "alternative approaches" to regulating the compound at a conference last month.
In his remarks at Brookings, Gottlieb announced that the CBD work group would be co-chaired by Amy Abernethy, FDA's principal deputy commissioner, and Lowell Shiller, the agency's acting associate commissioner for policy.
In the meantime, it is clear that lawmakers want FDA to move on the issue.
"Every meeting I go into on Capitol Hill, almost every meeting, I get asked about this," Gottlieb said.
U.S. Postal Service Issues Advisory On Mailing Hemp-Derived CBD
Photo courtesy of YouTube/Brookings Institution.
Marijuana Arrests Decline Nationally For First Time In Four Years, FBI Data Shows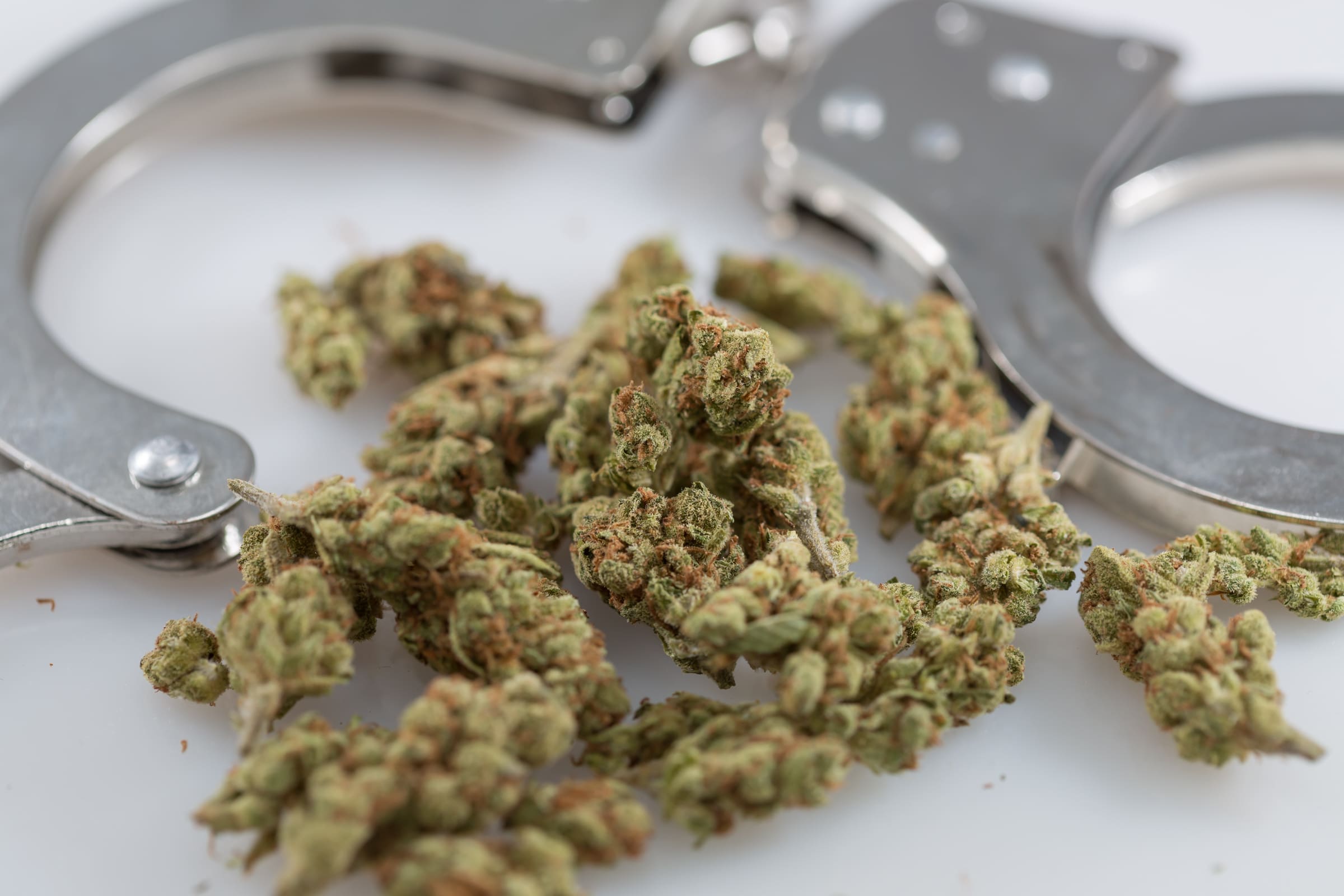 Marijuana arrests in the U.S. declined in 2019 for the first time in four years, a new federal report shows.
While many expected the state-level legalization movement to reduce cannabis arrests as more markets went online, that wasn't the case in 2016, 2017 or 2018, which each saw slight upticks in marijuana busts year-over-year. But last year there was a notable dip, the data published this week shows.
There were a total of 545,601 marijuana arrests in 2019—representing 35 percent of all drug arrests—according to FBI's Uniform Crime Reporting program. That's down from 663,367 the prior year and 659,700 in 2017.
Put another way, police across the country made a cannabis bust every 58 seconds on average last year. Of those arrests, 500,394 (92 percent) were for possession alone.
"A decline in cannabis related arrests is better than seeing an increase for a fourth year in a row, but the amount of these arrests is still abhorrent," Marijuana Policy Project Executive Director Steve Hawkins told Marijuana Moment. "There is no reason to continue punishing adults for consuming a substance that is less harmful than alcohol. Arresting adult cannabis consumers has a dramatically disproportionate impact on communities of color, is a massive waste of law enforcement officials' time and resources and does nothing to improve public health or safety."
Overall, arrests for drug sales, manufacturing and possession amounted to 1,558,862 for the year—approximately 15 percent of all busts reported to FBI from local and state law enforcement agencies. That's one new drug case every 20 seconds.
Before 2016, the country had seen a consistent decline in marijuana arrests for roughly a decade. It should be noted, however, that not all local police participate in the federal agency's program, so these figures are not holistic.
Nonetheless, this data shows that American law enforcement carried out more arrests for marijuana alone than for murder, rape, robbery, burglary, fraud and embezzlement combined.
"At a time when a super-majority of Americans support marijuana legalization, law enforcement continues to harass otherwise law abiding citizens at an alarming rate," NORML Political Director Justin Strekal told Marijuana Moment. "Now is the time for the public to collectively demand that enough is enough: end prohibition and expunge the criminal records to no longer hold people back from achieving their potential."
While there's no solitary factor that can explain the recent downward trend in cannabis cases, there are one-off trends that could inform the data. For example, marijuana possession arrests fell almost 30 percent in Texas from 2018 to 2019, and that seems to be connected to the legalization of hemp and resulting difficulties police have had in differentiating the still-illegal version of the cannabis crop from its newly legal non-intoxicating cousin.
At the federal level, prosecutions for marijuana trafficking declined in 2019, and drug possession cases overall saw an even more dramatic decline, according to a report published by the U.S. Sentencing Commission in March.
Federal prosecutions of drug-related crimes increased in 2019, but cases involving marijuana dropped by more than a quarter, according to an end-of-year report released by Supreme Court Chief Justice John Roberts in December.
A study released by the Cato Institute in 2018 found that "state-level marijuana legalization has significantly undercut marijuana smuggling."
Mixed Arizona Marijuana Polls Raise Questions About Legalization Ballot Measure's Prospects
California Governor Approves Changes To Marijuana Banking And Labeling Laws
California Gov. Gavin Newsom (D) signed a handful of marijuana bills into law on Tuesday, making a series of small adjustments to the nation's largest legal cannabis system. More sweeping proposals such as overhauling the state's marijuana regulatory structure will have to wait until next year, the governor said.
Among the biggest of the new changes are revisions to banking and advertising laws. With many legal marijuana businesses are still unable to access financial services, Newsom signed a bill (AB 1525) to remove state penalties against banks that work with cannabis clients.
"This bill has the potential to increase the provisions of financial services to the legal cannabis industry," Newsom wrote in a signing statement, "and for that reason, I support it."
Democrats in Congress, meanwhile, have been working for months to remove obstacles to these businesses' access to financial services at the federal level. A coronavirus relief bill released by House Democratic leaders on Monday is the latest piece of legislation to include marijuana banking protections. Past efforts to include such provisions have been scuttled by Senate Republicans.
In his signing statement on the banking bill, Newsom directed state cannabis regulators to establish rules meant to protect the privacy of marijuana businesses that seek financial services, urging that data be kept confidential and is used only "for the provision of financial services to support licensees."
Another bill (SB 67) the governor signed on Tuesday will finally establish a cannabis appellation program, meant to indicate where marijuana is grown and how that might influence its character. The system is similar to how wine regions are regulated.
Under the new law, growers and processors under the new law will be forbidden from using the name of a city or other designated region in product marketing unless all of that product's cannabis is grown in that region. Similar protections already apply at the county level.
For outdoor growers, the new law recognizes the importance of terrior—the unique combination of soil, sun and other environmental factors that can influence the character of a cannabis plant. For indoor growers, it provides a way to represent a hometown or cash in on regional cachet.
Most of the other new changes that the governor signed into law are relatively minor and will likely go unnoticed by consumers. One, for example, builds in more wiggle room on the amount of THC in edibles (AB 1458), while another would allow state-licensed cannabis testing labs to provide services to law enforcement (SB 1244).
The bills were approved by state lawmakers earlier this month, as the state's legislative session drew to a close.
Other pieces of cannabis legislation passed by the legislature this session were met with the governor's veto. On Tuesday, Newsom rejected a proposal (AB 1470) that would have allowed processors to submit unpackaged products to testing labs, which industry lobbyists said would reduce costs. Currently products must be submitted in their final form, complete with retail packaging. Newsom said the proposal "conflicts with current regulations…that prevent contaminated and unsafe products from entering the retail market."
"While I support reducing packaging waste, allowing products to be tested not in their final form could result in consumer harm and have a disproportionate impact on small operators," Newsom said in a veto statement.
Those changes to testing procedures should instead be considered next year, Newsom said, as part of a pending plan to streamline California's cannabis licensing and regulatory agencies.
"I have directed my administration to consolidate the state regulatory agencies that currently enforce cannabis health and safety standards to pursue all appropriate measures to ease costs and reduce unnecessary packaging," he wrote. "This proposal should be considered as part of that process."
Newsom also last week vetoed a bill (AB 545) that would have begun to dissolve the state Bureau of Cannabis Control, which oversees the legal industry. In a statement, the governor called that legislation "premature" given his plans for broader reform.
"My Administration has proposed consolidating the regulatory authority currently divided between three state entities into one single department," Newsom wrote, "which we hope to achieve next year in partnership with the Legislature."
Earlier this month, the governor signed into law one of the industry's top priorities for the year—a measure (AB 1872) that freezes state cannabis cultivation and excise taxes for the entirety of 2021. The law is intended to provide financial stability for cannabis businesses in California, where taxes on marijuana are among the highest in the nation.
The state's leading marijuana trade group, the California Cannabis Industry Association (CCIA), applauded the governor's moves. All the bills approved by Newsom this week had the industry group's support.
"We thank Governor Newsom for prioritizing these bills, which seek to reduce regulatory burdens, improve enforcement, expand financial services and enhance the state's cannabis appellation's program," CCIA Executive Director Lindsay Robinson said in a message to supporters on Wednesday. "Like so many, the cannabis industry has faced a series of unexpected challenges and setbacks in 2020. We look forward to continuing to work with the Newsom Administration, and the Legislature, as we pursue a robust policy agenda in 2021."
New Jersey Governor Works To Get Out The Vote For Marijuana Legalization Referendum
Image element courtesy of Gage Skidmore
Mixed Arizona Marijuana Polls Raise Questions About Legalization Ballot Measure's Prospects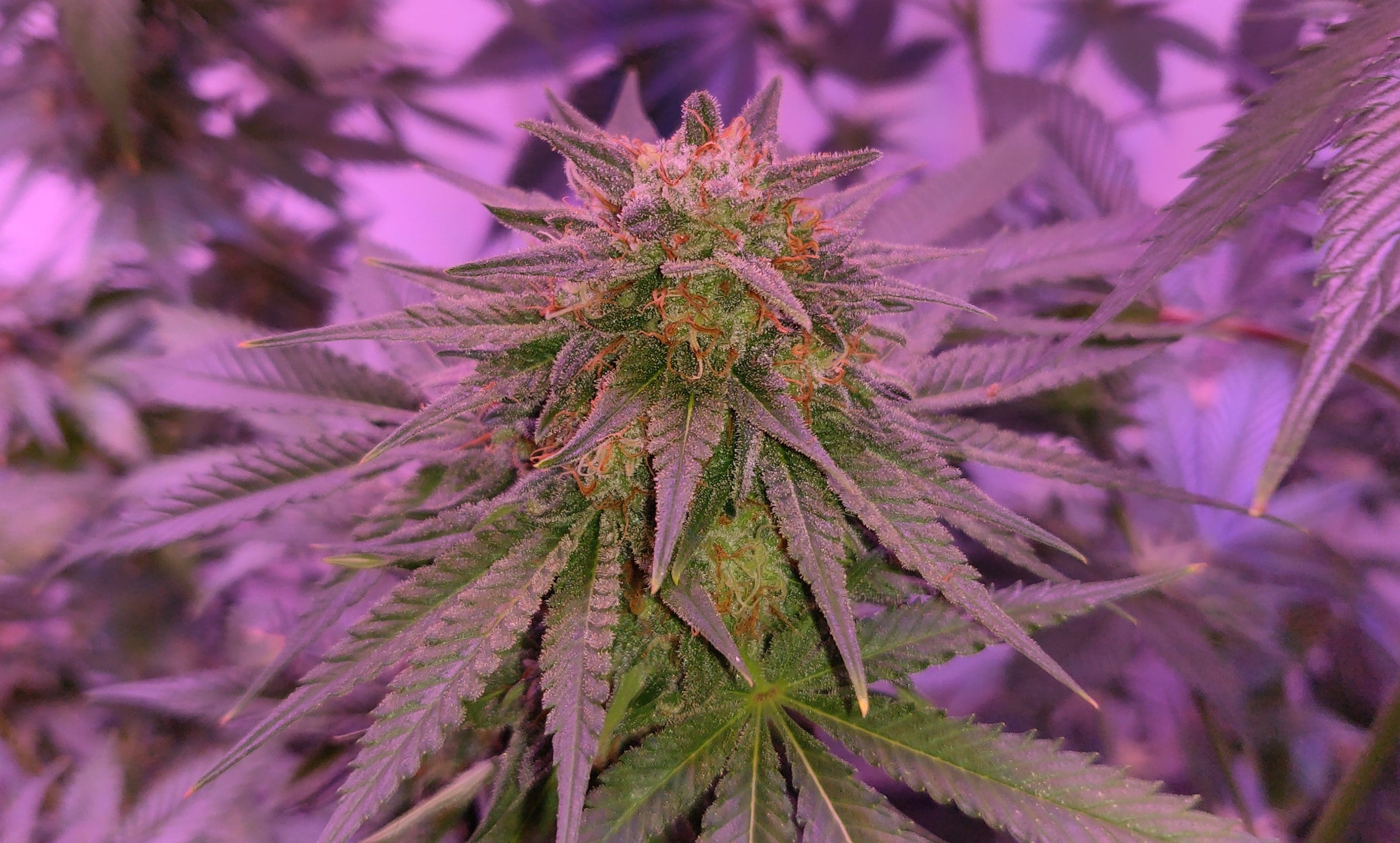 Reform advocates are anxious to see how a marijuana legalization initiative in Arizona will fare this November. But predicting the outcome is complicated by a new pair of dueling polls that show mixed results.
The campaign behind the legalization measure, Smart and Safe Arizona, shared an internal poll on Wednesday with Marijuana Moment that showed 57 percent of likely voters in support for the effort, with 38 percent in opposition.
The survey, which was conducted September 24-29, shows that 83 percent of supporters say they are certain to vote for the measure. Opposition was just as certain, however, by a margin of 82 percent to 12 percent.
Seventy-two percent of Democrats support the legal cannabis initiative, as do 70 percent of independents and 42 percent of Republicans.
But while those results are largely consistent with several surveys this year have shown varying degrees of majority support for adult-use legalization among Arizona voters, a separate poll released on Tuesday that's being touted by opponents indicates that the margin is slimmer than advocates would hope—with 46 percent of respondents saying they want the policy change and 45 percent saying they don't.
#AZPOP #POLL: Support for legalizing Marijuana in the State of Arizona

Yes: 46%
No: 45%
Unsure: 9%

n= 600 LVs, MOE +/- 4.0%, Survey Conducted 9/8- 9/10

Read our full analysis here: https://t.co/ofCA0ieH6g pic.twitter.com/8lGykiJo45

— OHPI (@OHPredictive) September 29, 2020
When the same firm, OH Predictive Insights (OHPI), conducted a poll asking the same basic question about legalizing cannabis in July, 62 percent of likely voters said they favor legalization. The month prior, about 65 percent said they back the legal cannabis ballot measure in a survey from a different pollster, HighGround.
The notable dip based on the new OHPI poll appears to be largely attributable to declining support among people over 55, those who live in rural areas, independents and Republicans.
"As election day nears, voters appear to be focusing on what's on the ballot. And while the campaign to oppose marijuana legalization is anemic compared to 2016, voters still have concerns about the effort," OHPI Chief Mike Noble said in a press release, referring to an earlier legalization initiative that Arizonans rejected four years ago after a campaign in which the opposition received significant funding, including from a pharmaceutical company.
#AZPOP #POLL: "As election day nears, voters appear to be focusing on what's on the ballot, and while the campaign to oppose marijuana legalization is anemic compared to 2016, voters still have concerns about the effort," says @MikePNoble

Poll here: https://t.co/ofCA0ieH6g pic.twitter.com/3lbTjLIpXd

— OHPI (@OHPredictive) September 29, 2020
But the reform campaign isn't deterred. Far from it, actually. In addition to sharing their internal poll, a spokesperson told Marijuana Moment that the memo for the separate survey showing dwindling support actually bolstered its contributions by another $250,000—in the early part of the day alone.
"We're giving this poll as much credence as we should—none. It's absurd to think that while Arizona is on pace to sell a record amount of cannabis ($1.25B) to a record number of cardholders, popularity is waning," Smart and Safe Arizona Campaign Manager Stacy Pearson told Marijuana Moment, referring to purchases in the state's existing medical cannabis system. "Cash register receipts and internal polling do not align with OH's prediction."
"That said, their polling memo has certainly helped our cause. We have generated more than $250,000 in contributions today, and it's not even noon," she said on Tuesday morning.
In the campaign's internal poll, 65 percent of those surveyed believe the measure, Prop. 207, would have a positive effect on the state's economy, compared to 26 percent who said it would have a negative effect.
The OHPI poll involved interviews with 600 likely Arizona voters from September 8-10. The internal campaign poll involved 800 respondents.
Colton Grace, communications associate for the prohibitionist group Smart Approaches To Marijuana, told Marijuana Moment after viewing only the OHPI poll that it's "great to see that the support for marijuana legalization—which is never as popular as the industry claims it is in the first place—is dropping rapidly ahead of the vote in Arizona."
"This effort is no different than that of 2016 in that it is nothing more than a for-profit scheme that benefits a select group of investors while unleashing serious harms on the majority of the state," he argued.
Another survey released this month from a separate firm showed that a slim majority of voters (51 percent) support the ballot measure.
Under the legalization initiative, adults could possess up to an ounce of marijuana at a time and cultivate up to six plants for personal use.
The measure also contains several restorative justice provisions such as allowing individuals with prior marijuana convictions to petition the courts for expungements and establishing a social equity ownership program
Cannabis sales would be taxed at 16 percent. Tax revenue would cover implementation costs and then would be divided among funds for community colleges, infrastructure, a justice reinvestment and public services such as police and firefighters.
The Department of Health Services would be responsible for regulating the program and issuing cannabis business licenses. It would also be tasked with deciding on whether to expand the program to allow for delivery services.
Read the full internal poll from the Arizona marijuana legalization campaign below:
Arizona Marijuana Poll by Marijuana Moment on Scribd
Montana Marijuana Legalization Initiative Endorsed By Environmental Conservation Groups
Photo courtesy of Mike Latimer.