Joe Biden Endorses Marijuana Decriminalization And Rescheduling—But Not Legalization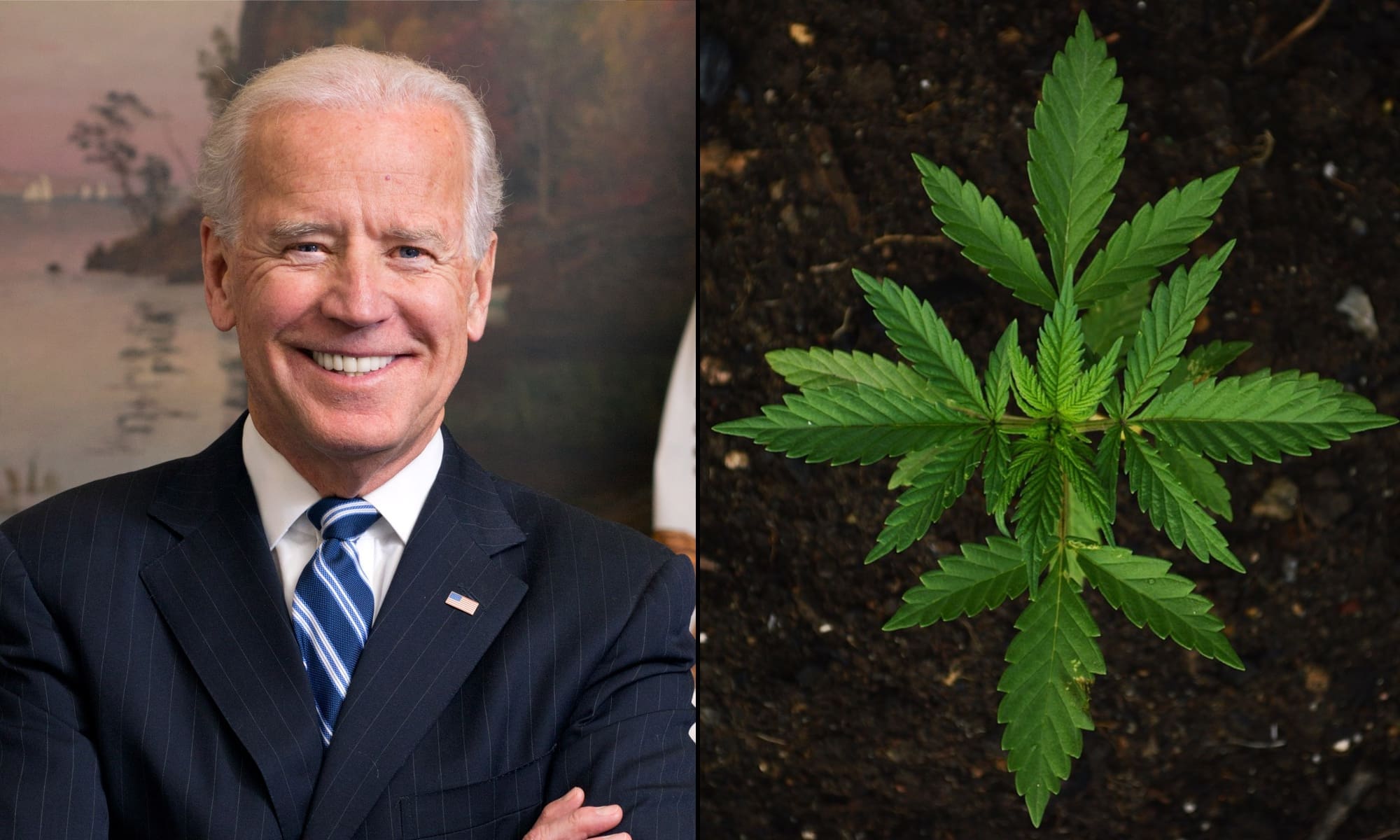 Former Vice President Joe Biden remains opposed to legalizing marijuana but said through a spokesperson on Thursday that he supports decriminalizing cannabis, expunging the records of individuals with prior possession convictions and letting states set their own policies.
He also would move to reclassify marijuana under federal law to Schedule II—a slightly less restrictive designation than its current Schedule I status—a move that would remove some roadblocks to research on the drug.
The 2020 Democratic presidential candidate has taken heat from drug policy reform advocates over his long-standing opposition to modernizing the country's marijuana laws and for his role in championing legislation to ratchet up the war on drugs.
As recently as April, Biden applauded a professor who dismissed the idea that cannabis can be used as an alternative to opioid painkillers.
But in a new statement to CNN, a spokesperson for the former vice president said that he now "supports decriminalizing marijuana and automatically expunging prior criminal records for marijuana possession, so those affected don't have to figure out how to petition for it or pay for a lawyer."
"He would allow states to continue to make their own choices regarding legalization and would seek to make it easier to conduct research on marijuana's positive and negative health impacts by rescheduling it as a schedule 2 drug," the representative said.
This marks a somewhat significant development for Biden, who helped craft some of the most consequential anti-drug laws during his time as a senator and who declined to pursue decriminalization or rescheduling while serving as the de facto criminal justice portfolio manager for the Obama White House.
That said, the evolution still places Biden far behind his Democratic primary opponents, most of whom have fully embraced marijuana legalization at this point. Many fellow contenders have sponsored or cosponsored legislation to completely deschedule and remove marijuana from the Controlled Substances Act—a far more significant step than Biden's proposal to slightly downgrade its scheduling status.
"It's not enough to casually support marijuana decriminalization. That's a 2008 position," Michael Collins, director of national affairs for Drug Policy Action, told Marijuana Moment. "Biden should recognize that marijuana must be legalized through the lens of social justice, with expungement and industry diversity as the key planks of any position. That's what most of the other candidates support and it's what the base wants so there's no excuse."
Erik Altieri, executive director of NORML, agreed, telling Marijuana Moment that it would only be a "half measure" to move cannabis to Schedule II.
"While Biden's latest comments on marijuana represent an evolution away from the stronger prohibitionist comments he made in the past, they are far too timid to truly address the issue at hand and still leave him lagging far behind his fellow primary competitors, many of whom are true leaders on ending our nation's failed prohibition," he said.
"Democratic primary voters in particular have demonstrated they want someone who will provide a progressive and bold vision for attacking the problem of mass incarceration being driven in no small part by the over 600,000 marijuana arrests made annually," he continued. "Biden's new comments illustrate a lack of vision and seriousness of approach that would be more at home a decade ago than in 2019. Joe: Do better."
Biden first voiced his support for decriminalization at a campaign stop in New Hampshire on Tuesday.
"Nobody should be in jail, in my view, nobody should be in jail for a crime that's not a crime of violence," he said. "Nobody should be in jail for smoking marijuana. That's why I set up the drug courts…to divert, and we put a lot of money in there for rehabilitation."
See Biden defend his criminal justice record and discuss marijuana about 20:50 into the video below:
Prior to endorsing the policy change, the closest Biden got to backing decriminalization was saying that the government shouldn't prioritize using its resources to prosecute low-level marijuana offenders, which became policy under the Obama administration when the Justice Department released a memo outlining its enforcement priorities with respect to state legalization laws.
Biden hasn't come out in support of any particular legislative efforts to achieve decriminalization, but his comments raise questions about whether something resembling legislation from Sens. Cory Booker (D-NJ) or Chuck Schumer (D-NY), who are seeking to deschedule marijuana entirely, would make it past his desk if he was president.
Rep. Earl Blumenauer (D-OR), who released a congressional "blueprint" to ending federal cannabis prohibition in 2019, told Marijuana Moment in an earlier interview that he doesn't think "there will ever be another president who will be anti-cannabis."
When asked specifically about Biden, the congressman reiterated that "[n]obody is going to survive the nominating process who doesn't have a reasonable position on cannabis."
Kentucky GOP Congressman Touts 'High Hemp IQ' Of His Constituents
Rep. James Comer (R-KY) says that he proved his political advisors wrong when he decided to champion hemp legalization.
When he served as Kentucky's Agriculture Commissioner before joining Congress and first contemplated "making hemp a reality," he was told that people would conflate the crop with marijuana and he'd face a backlash, Comer said during an interview that aired this week.
"They said the people of Kentucky will never know the difference. They'll think you're talking about marijuana and you're done," he said during the Kentucky Educational Television appearance. "You can't be a Republican and do this."
"But people in Kentucky are smarter than some people give us credit for, and the people in Kentucky knew the history of hemp," he said, noting that his own grandparents cultivated the crop.
"We have a high hemp IQ in Kentucky, and people across America are now learning the difference between hemp and marijuana."
One of the areas that Comer said he hopes to see expanded is the use of hemp fibers to create products such as furniture and car parts. He mentioned one example of a Kentucky company that's creating hardwood flooring out of hemp, and House Agriculture Committee Chair Collin Peterson (D-MN) is going to tour that facility with him soon.
Shortly before becoming the panel's chair, Peterson said he was considering growing hemp on his own farm.
Most of the existing hemp facilities in Kentucky are producing CBD oil, which Comer said he also takes to treat minor pain.
While hemp and its derivatives were federally legalized under the 2018 Farm Bill, businesses are still awaiting guidelines from the U.S. Department of Agriculture (USDA) and the Food and Drug Administration (FDA). And that regulatory uncertainty has led some financial institutions to deny credit lines to hemp companies.
To that end, Comer said he and Senate Majority Leader Mitch McConnell (R-KY) are working closely to resolve the problem. That includes pushing for the Secure And Fair Enforcement (SAFE) Banking Act, which would protect banks that service state-legal cannabis businesses from being penalized by federal financial regulators.
"We teamed up with the marijuana people in the states," Comer said.
Watch Comer's hemp comments, starting around 5:30 into the video below:
"They've legalized marijuana. They're selling marijuana. They're not allowed to deposit the cash. They're not allowed to take credit card transactions at those marijuana stores," he said. "We have worked with them to try to create a system where you can have financial transparency, and that bill is making its way through Congress now."
The SAFE Banking Act was approved by the House Financial Services Committee in March. And on Tuesday, the Senate Banking Committee took advocates by surprise after it announced that it would hold a hearing on marijuana banking issues next week, with just days left before the August recess.
Separately, the Senate Agriculture Committee will meet to discuss hemp production two days later.
McConnell has been an especially vocal advocate for hemp and CBD. For example, he led the head of USDA on a tour of a Kentucky hemp facility that produces CBD oil earlier this month.
Comer also claimed in the new interview that large pharmaceutical companies feel threatened by hemp-derived CBD as more consumers gravitate toward it as a "natural supplement" that could be a substitute for prescription painkillers.
"Now what you are having up here in Washington as we speak, the big drug companies are like, 'Wow, people are buying this CBD oil and not buying our drug,'" the congressman said. "So they're demanding that the FDA regulate it."
He and McConnell are working to "keep the FDA off the backs of people," Comer said.
While former FDA Commissioner Scott Gottlieb stressed that creating a regulatory pathway that allows for the lawful marketing of CBD as a food item or dietary supplement would take years without congressional action, the agency recently said that it is speeding up the rulemaking process and will issue a progress report by early fall.
USDA similarly recognized the intense interest from lawmakers and stakeholders in developing regulations for the crop, and it plans to issue an interim final rule for the crop in August.
Photo courtesy of KET.
Psychedelics Decriminalization Moves Forward In Cities Around The U.S.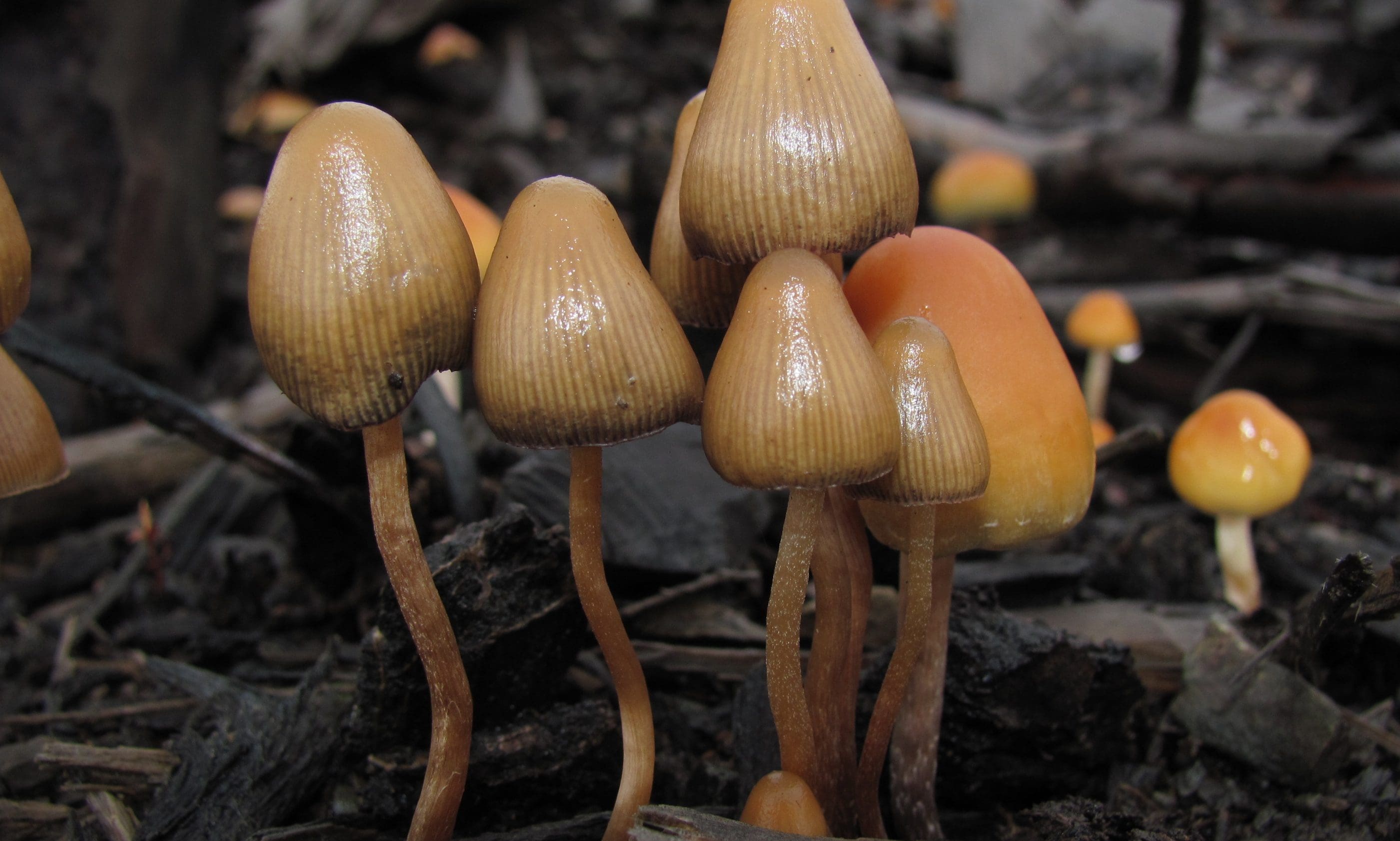 Activists in Berkeley, California and Port Townsend, Washington took steps this week to get psilocybin mushrooms and other psychedelics decriminalized, following in the footsteps of successful similar efforts in Denver and Oakland.
In Berkeley, a decriminalization resolution advanced in a City Council committee on Wednesday, and organizers in Port Townsend spoke about their proposal at a county public health board meeting on Thursday, with plans to formally present it to the City and County Council.
The Berkeley measure would prohibit city departments and law enforcement from using any funds to enforce laws against possession, propagation and consumption of psychedelics by individuals 21 or older. Members of the City Council Public Safety committee unanimously voted to send the resolution to the body's Public Health Committee for further consideration.
If that panel approves the measure, the full Council will schedule a hearing and vote on final passage. Decriminalize Nature, the group behind this resolution as well as the successful passage of neighboring Oakland's psychedelics decriminalization effort last month, said they hope the Council will act on the measure by early November.
Separately, activists in Port Townsend announced that they delivered a speech about their psychedelics decriminalization proposal during a meeting of the Jefferson County Board of Health.
Beyond prohibiting the use of government funds to criminalize adults for using and possessing the substances, the local Washington resolution also calls on the city administrator to "instruct the City's state and federal lobbyists to work in support of decriminalizing all Entheogenic Plants and plant-based compounds that are listed on the Federal Controlled Substances Schedule 1."
"We are overwhelmed by the support of our community. Our group of supporters filled up half the audience," the Port Townsend Psychedelic Society said in an Instagram post. "We are currently making plans to speak with the county health officer to talk about next steps in presenting in front of city and county council."
Alex Williams, who is leading the decriminalization effort in Berkeley, told Marijuana Moment that Wednesday's Council committee meeting there "went better than I had anticipated" and that he feels "there is an excellent chance of the resolution passing."
Watch the Berkeley Public Safety Committee discuss psychedelics, starting at about 42:00:
While Williams said two members of the committee seemed to be under the impression that the resolution is singularly geared toward recreational use and meant to "capitalize on a new market," Decriminalize Nature plans to address those misconceptions, emphasizing that the measure would not provide for commercial manufacturing or sales and that "this process is very important to allowing safe, equitable access to marginalized communities."
"It is essential that entheogenic substances be treats as sacred spiritual practices and healers," he added.
The resolution defines entheogenic substances as "plants and natural sources such as mushrooms, cacti, iboga containing plants and/or extracted combinations of plants similar to ayahuasca; and limited to those containing the following types of compounds: indoleamines, tryptamines, phenethylamines."
Two Councilmembers, Rigel Robinson and Cheryl Davila, are sponsoring the measure.
"You can imagine a day where, years from now, doctors working with patients with serious depression or veterans dealing with PTSD could actually offer them a more realistic and comprehensive suite of potential treatments, which may include some of these plants as the research over the last several decades has indicated," Robinson said at the meeting.
While Berkeley might seem like an obvious target for psychedelics reform given the city's decades-long close association with counterculture, the movement to remove criminal penalties is gaining steam nationally. Decriminalize Nature is maintaining a map of jurisdictions throughout the country where activists have expressed interest in pursuing a similar model.
Time to update the outreach board! Close to 100 locations have reached out now, some already speaking with their City Councilmembers. Great job everyone! #DecriminalizeNature #yourcity #DNUSA pic.twitter.com/D7lbCpdi3c

— Decriminalize Nature (@DecrimNature) July 16, 2019
Also this week, a resident spoke at a Columbia, Missouri City Council meeting, asking the body to consider a resolution to decriminalize psychedelics. At least one councilmember expressed interest in following through, and he called the therapeutic potential of the natural substances "very promising."
Individuals from nearly 100 cities have reached out to the organization for assistance advancing their own decriminalization efforts.
Voters in Denver kicked things off by approving the nation's first-ever ballot measure to decriminalize psilocybin mushrooms in May.
Activists are currently pursuing efforts to place psilocybin-focused measures on statewide ballots in California and Oregon for next year.
More Than 100 Marijuana Businesses Urge Congress To Include Social Equity In Legalization
Photo courtesy of Wikimedia/Mushroom Observer.
Top Democratic Party Leader Flops With Attempted Joke About Trump Smoking Hemp
The chairman of the Democratic National Committee (DNC) apparently thinks that hemp gets you high—and that getting high makes you dumb.
In an attempted dig at President Donald Trump, who said last week that farmers struggling amid a trade war were "over the hump," DNC Chair Tom Perez said he thought the president "was smoking some hemp when he said they were over the hump."
"If you smoke some hemp, I guess that would stimulate certain farm economies here," he added during his remarks at a press conference in Wisconsin.
Watch Perez's hemp comment at about 6:45 into the video below:
Because hemp contains only trace amounts of THC, the main psychoactive ingredient in marijuana, it wouldn't get you high, as Perez implied. But legalization advocates say it's especially problematic that a party leader is treating marijuana as a laughing matter in the first place.
"I would need to be smoking something a hell of a lot stronger than hemp to find Tom Perez's weak attempt at a marijuana joke funny," Erik Altieri, executive director of NORML, told Marijuana Moment.
"At a time when over 600,000 overwhelmingly black and brown Americans are still being arrested every year for simple possession, our failed and racist prohibition is no laughing matter," he said. "While we have made great progress in winning elected officials nationwide to our cause, Perez illustrated that we have a lot of work left to do when it comes educating them about the issue and still a bit of a road to go down before we can stop dealing with dad jokes and bad weed puns."
Don Murphy, director of federal policies for the Marijuana Policy Project, echoed that point.
"We need more leadership and action at the federal level, not more stupid jokes, puns and inaccurate comments about hemp's ability to get you high," he told Marijuana Moment. "Luckily that is something that many of his party's presidential candidates understand," he said. "Sadly, Mr. Perez does not."
Perez's position on cannabis policy isn't quite clear, as he's remained largely silent on the issue. In contrast, many 2020 Democratic presidential candidates are campaigning on broad marijuana reform proposals.
The DNC chair made his attempted hemp quip during a press availability in Milwaukee, where he is meeting donors and coordinating preparation for next year's Democratic National Convention.
Photo courtesy of Flickr/Gage Skidmore.