The War On Ballot Initiatives Has Marijuana In The Crosshairs (Op-Ed)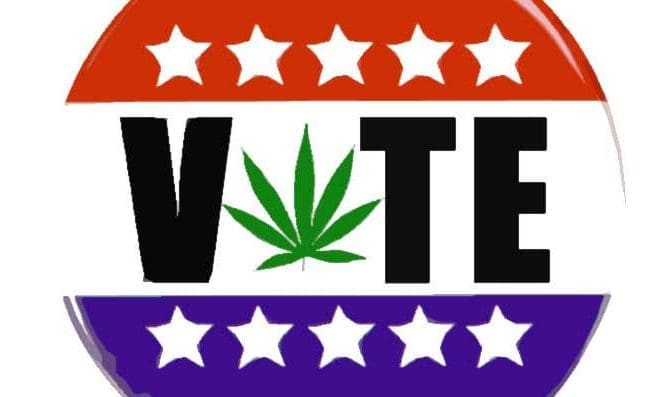 Cannabis reform opponents are seeking to block measures from appearing on the ballot and trying to overturn them after they pass.
By Matthew Schweich, Marijuana Policy Project
There is often a clear and direct contradiction between the will of the people and the laws of the people. For over one hundred years, Americans have used the ballot initiative process to correct these situations by directly enacting policies that politicians have rejected or ignored.
Cannabis legalization has been a notable example over the past decade. Between 2012 and 2020, voters in thirteen states approved ballot initiatives to legalize cannabis for adults 21 and over. Five more states have legalized through legislative action.
And yet, based on public opinion, the number of legalization states should be much higher and cannabis should have been legalized at the federal level years ago.
But due to the unique history of the war on cannabis, politicians have lacked the courage to address this issue even when their constituents demand action. The ballot initiative process, which exists in 24 states, was the key to making major progress on cannabis legalization in the United States.
Many other issues have also managed to overcome establishment opposition through hard-fought ballot initiative campaigns. In recent years, voters in states across the political spectrum have approved initiatives for Medicaid expansion, paid medical and family leave, restoring voting rights of former felons, and increasing the minimum wage.
A ballot initiative is a pure expression of the will of the people. Described simply, it requires a group of dedicated and hard-working citizens to do three things: write a law, collect a large number of signatures from registered voters in order to qualify for the ballot and then earn the approval of a majority of voters at the next election.
Unfortunately, the war on drugs may have partly inspired a war on democracy. Across the country, ballot initiatives on a range of issues are under attack. This assault on the will of the people takes four main forms, and cannabis reform provides an example of each.
First, our opponents are working to restrict future ballot initiatives. In Idaho, politicians have enacted new geographic distribution requirements that will make ballot initiative signature drives extremely difficult to complete. The Idaho Legislature also came close to proposing a constitutional amendment (which would have required voter approval next year) to ban any and all future drug policy reform ballot initiatives including medical cannabis.
Second, our opponents are filing lawsuits to prevent initiatives from qualifying for the ballot. Last year, the Nebraska Supreme Court, in a widely criticized decision, disqualified a proposed medical cannabis ballot initiative that had already collected 190,000 voter signatures.
Third, our opponents are filing lawsuits to overturn ballot initiatives after they have been approved by voters. This month, the Mississippi Supreme Court rejected any concept of common sense or fairness and used an outdated signature drive geographic distribution requirement to overturn a medical cannabis policy that was enacted by voters at the 2020 election. In doing so, the justices also suspended all future ballot initiatives in Mississippi until politicians allow them to be restored.
In South Dakota, Governor Kristi Noem (R) is using taxpayer money to fund an ongoing lawsuit to overturn Amendment A, the cannabis legalization policy approved by 54 percent of voters last year. Her lawyers are arguing for a very narrow and unreasonably strict interpretation of an existing law requiring that initiatives only address one area of policy. They are making this case despite the fact that every component of Amendment A relates to the cannabis plant.
Fourth, our opponents are trying to pass legislation to delay or undo the laws enacted through ballot initiatives. Noem, in her never-ending quest to trample on the will of her constituents, provides yet another example. After orchestrating the lawsuit against Amendment A in late 2020, Noem launched a legislative attack on Measure 26, the medical cannabis policy approved by 70 percent of South Dakotans last year (in 2020, South Dakota became the first state to legalize recreational cannabis and medical cannabis at the same time).
For the first several months of 2021, Noem worked very hard to pressure lawmakers into passing a bill that would severely delay implementation of Measure 26, including legal protections for patients.
Despite her actions to undo Amendment A and delay Measure 26, she offered no compromise in the form of an interim decriminalization policy. In effect, her position was that South Dakotans with serious health conditions including cancer, epilepsy and many others should continue to face a maximum penalty of one year in county jail for possession of even one gram of cannabis.
The South Dakota cannabis reform movement fought back hard. Voters contacted their state representatives and state senators and demanded that they reject the governor's proposed delays. In the end, Noem's attack on medical cannabis was defeated. But the outcome of the Amendment A lawsuit is still unknown—a ruling from the South Dakota Supreme Court is expected soon.
Noem's actions reflect a broader trend within America's conservative establishment. Many Republican politicians, inspired by former President Donald Trump, have embraced a win-at-all-costs philosophy that extends beyond policy debates and into the underlying structure of our republic. They are actively working to thwart the will of the people. In doing so, they are rejecting core American values of liberty, justice and self-determination.
The Declaration of Independence states, quite rightly, that governments derive "their just powers from the consent of the governed." Ballot initiatives are an effective protection against governments that betray this ideal.
Matthew Schweich is deputy director of the Marijuana Policy Project.
Biden Budget Keeps Medical Marijuana Protections But Would Block D.C. From Legalizing Recreational Sales
Photo courtesy of Democracy Chronicles.