State Lawmakers Push Marijuana Referendums
Advocates in several states are collecting signatures to place marijuana questions on this year's ballots, and legislators in others have advanced bills to legalize cannabis. Elsewhere, lawmakers are pursuing a hybrid approach of approving legislation that would then allow voters to decide on marijuana ballot measures.
Last week, for example, a key New Mexico Senate committee approved a bill to forward a cannabis legalization referendum to voters.
On Monday, a Maryland senator introduced legislation to put a legal marijuana question on the state's November ballot.
This week, Arizona representatives filed a bill to let voters decide whether to end cannabis prohibition.
Rep. Cardenas and Rep. Clodfelter Introduce Bipartisan Legislation to Allow Voters to Decide the Legalization of Marijuana #azleg pic.twitter.com/h4BvOQlH05

— Arizona House Democrats (@AZHouseDems) February 8, 2018
The Illinois Senate is considering legislation for a marijuana referendum.
Georgia senators are also pushing a bill to refer cannabis legalization to voters.
Minnesota lawmakers are considering two different proposals to forward marijuana legalization constitutional amendments to voters.
In Nebraska, the unicameral is weighing a medical cannabis referendum.
In Wisconsin the Senate and Assembly are considering medical marijuana referendum proposals.
To date, eight of the nine states with marijuana legalization have approved those laws via voter-initiated ballot measures. Only Vermont has ended cannabis prohibition solely through an act of lawmakers.
Not every state allows voters to collect signatures to place measures on the ballot, though, and lawmakers in some states are still skittish about proactively voting for legalization bills.
That's why the referendum approach appears increasingly attractive in states that have not yet ended prohibition. It's a way to advance the legalization debate that allows politicians to give deference to their constituents to decide the matter without actually having to vote to end prohibition themselves.
It remains to be seen whether the legislation that advanced in New Mexico last week will move further toward enactment, or if the referendum proposals in other states will gain traction. But even if no state legislatures passes a marijuana referendum bill this year, five or more states could still see voter-initiated cannabis measures on their 2018 ballots.
You can follow progress on the marijuana referendum measures and other pending cannabis bills in states across the country and Congress with Marijuana Moment's Legislative Tracking Tools, available to Patreon supporters pledging at least $25/month.
Photo courtesy of Democracy Chronicles.
West Virginia Marijuana Legalization Bill Filed By Congressional Candidate
An Army veteran who already successfully pushed West Virginia to allow medical cannabis is now campaigning for Congress, and full marijuana legalization is part of his platform.
Richard Ojeda, currently a state senator who sponsored medical marijuana legislation enacted last year, filed a broader legalization bill on Monday.
The legislation, if enacted, would allow adults over 21 years of age to possess up to four ounces of marijuana at home and two ounces in public. They could also grow four mature cannabis plants and four seedlings.
The proposal is similar to the noncommercial marijuana legalization law recently enacted in Vermont, which also does not allow sales.
Ojeda, a Democrat, is running for Congress in West Virginia's 3rd congressional district. Incumbent Congressman Evan Jenkins (R) is running for U.S. Senate, so the seat is opening up.
While the district has gone back and forth between the two major parties over time, most recently being held by a Democrat in 2015, it is currently considered "Solid Republican" or "Likely Republican" by political tracking groups.
But anything can happen between now and November.
At least three other Democrats are currently running for their party's nomination for the seat, including a state delegate who voted for Ojeda's medical cannabis bill.
Ojeda's campaign site says that enacting medical cannabis "was only the beginning" of his his marijuana reform work.
"Through comprehensive cannabis legislation, encompassing decriminalization, medical, and industrial use, we can utilize one of the most medically beneficial and economically viable plants on Earth to fight the opioid epidemic, generate revenue to fund new education and infrastructure initiatives, and address the problem of overpopulation within our state correctional facilities," it says. "With a comprehensive approach to cannabis policy, we can put West Virginia on a path to a prosperous future and grow a new economy that will benefit the people of our state for generations to come."
Ojeda's campaign released a video last month about the need to reform marijuana laws:
VA Admits It "Can Look At Marijuana As An Option For Treating Veterans"
Despite repeated claims to the contrary, the U.S. Department of Veterans Affairs (VA) is now admitting that it "can look at marijuana as an option for treating Veterans."
The stance, which comes in the form of new content uploaded to a VA webpage last week, contrasts with a letter that Veterans Affairs Sec. David Shulkin sent to members of Congress in December, less than two months ago.
"Federal law restricts VA's ability to conduct research involving medical marijuana, or to refer veterans to such projects," he claimed at the time.
There have been no changes to federal cannabis laws in the interim.
The VA Office of Research & Development's webpage on Post-Traumatic Stress Disorder (PTSD) now says that earlier research on medical cannabis "found limited evidence that marijuana use might alleviate neuropathic pain in some patients, and that it might reduce spasticity associated with multiple sclerosis, but found insufficient evidence to assess the effects of marijuana on PTSD."
"VA is not currently able to prescribe medical marijuana to Veterans," it continues, "but can look at marijuana as an option for treating Veterans."
A cached previous version of the same page doesn't mention marijuana at all.
The update to the webpage comes as Shulkin and the department are under increasing pressure on medical cannabis and completely unrelated issues.
A group of members of Congress are pushing the VA to allow its physicians to recommend medical cannabis, or at least to refer veterans to studies on the drug's potential.
And a VA inspector general's report released last week found that Shulkin made "serious derelictions" that resulted in improper use of taxpayer money to cover portions of an overseas trip he and his wife took to Denmark and the UK last year.
The report, which included portions of Shulkin's travel agenda, happened to reveal that on July 19 he met with British officials to discuss medical cannabis as part of the trip.
Under an internal VA administrative directive, the department's policy is that its "providers are prohibited from recommending, making referrals to or completing paperwork for Veteran participation in State marijuana programs."
Shulkin has repeatedly tried to pass the buck to Congress when asked about the issue.
During a White House briefing last year, for example, he said that state medical cannabis laws may be providing "some evidence that this is beginning to be helpful, and we're interested in looking at that and learning from that." But he added that "until time the federal law changes, we are not able to be able to prescribe medical marijuana for conditions that may be helpful."
The distinction between recommendation and prescription is an important one. No physician in the U.S. — government or private — can prescribe marijuana, because prescription is a federally-regulated process and cannabis currently falls under the Controlled Substances Act's restrictive Schedule I, a category that is supposed to be reserved for drugs with a high potential for abuse and no medical value.
That's why the 29 states with medical cannabis access allow doctors to simply recommend the drug, circumventing the prescription process.
Shulkin has the unilateral authority to rescind the internal ban and clear the way for VA doctors to recommend medical cannabis to veterans in states where it is legal, but he has repeatedly claimed that federal law — without citing a particular statute — blocks him from doing so.
The secretary's unwillingness to move on marijuana goes beyond just letting doctors who work for him recommend it. He has also thus far refused to help lift institutional roadblocks preventing the department from participating in scientific research on cannabis's uses.
In an interview last year, he said that it is "not within our legal scope to study that in formal research programs."
That position has led to recruitment issues for researchers conducting trials. For example, one such study on marijuana's effects on PTSD has been prevented from reaching veterans at the Phoenix, Arizona VA hospital.
"This study needs 50 more participants and the Phoenix V.A. is in the best possible position to assist by simply allowing principle investigators to brief [VA] medical staff on the progress of the study, and by allowing clinicians to reveal the existence of the study to potential participants," the American Legion, which represents more than 2.4 million military veterans, wrote to Shulkin in September. "Your immediate attention in this important matter is greatly appreciated. We ask for your direct involvement to ensure this critical research is fully enabled."
And John Hudak, a researcher with the Brookings Institution said that despite Shulkin's claims, "doctors and researchers at the VA or in VA hospitals could conduct research into the medical efficacy of marijuana while remaining completely compliant with federal laws, regulations, and the United States' obligations under international agreements."
In December, VA issued an updated policy offers physicians greater encouragement to discuss cannabis with their patients.
The new directive urges government doctors to "discuss with the Veteran marijuana use, due to its clinical relevance to patient care, and discuss marijuana use with any Veterans requesting information about marijuana."
But it maintains the longstanding departmental ban on physician recommendations.
V.A. Issues New Medical Marijuana Policy For Military Veterans
The new website language, however, and the revelation that Shulkin discussed the issue on his overseas trip, shows that VA's opposition to cannabis is not necessarily set in stone, at least when it comes to research, though the implications aren't immediately clear.
"No other arguments have worked in the past so this may be a breakthrough," Sue Sisley, the researcher running the Arizona PTSD trial, told Marijuana Moment in an interview, referring to the webpage update. "VA can definitely be more helpful if they wanted to. There is nothing blocking them."
Marijuana Opponent Kennedy Reconsiders State Legalization Protections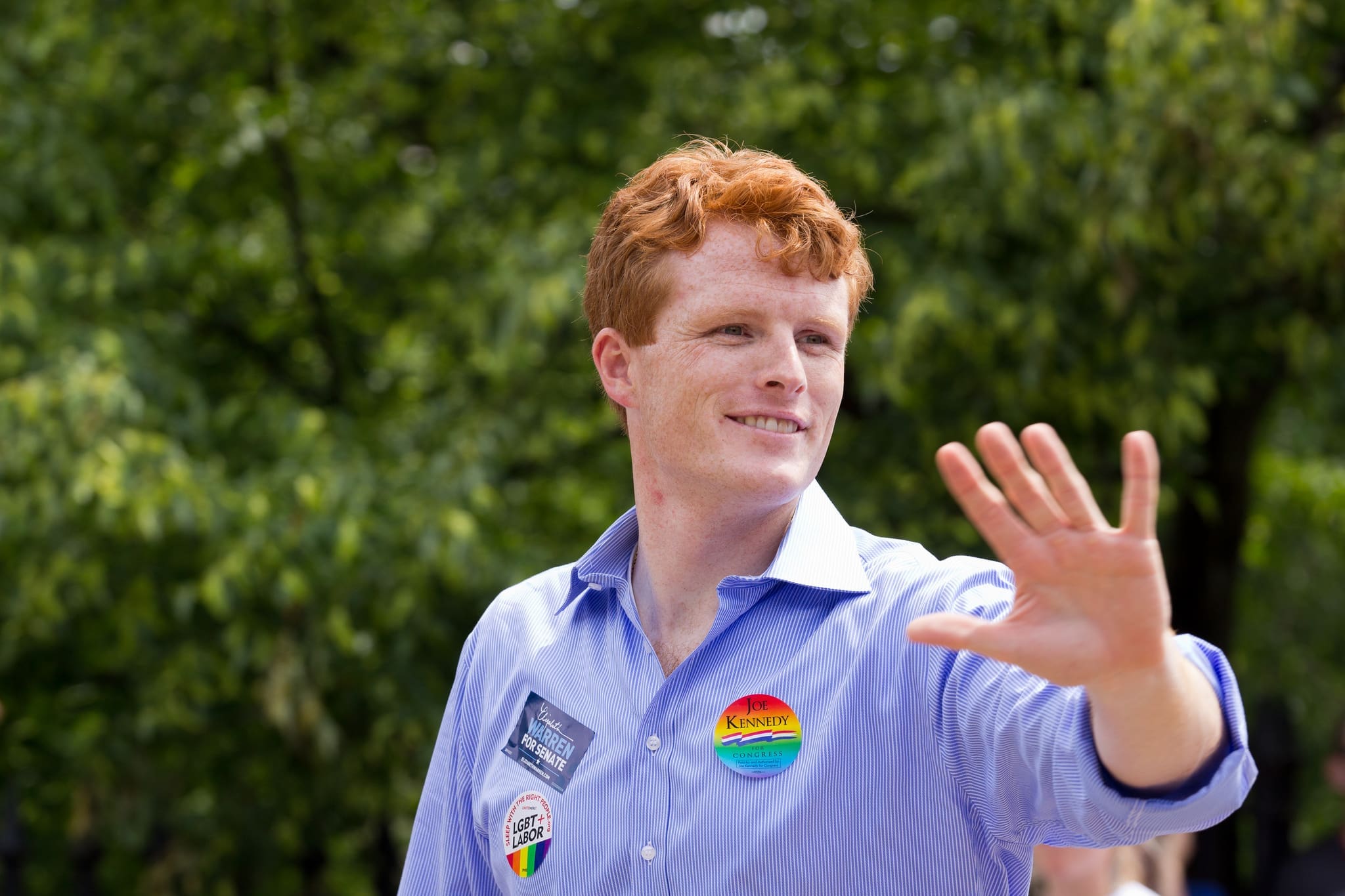 A Democratic congressman who has acknowledged he is out of step with his party on marijuana policy now says that he doesn't necessarily support federal crackdowns on states with legalization, even though he has repeatedly voted to allow such enforcement actions.
"The federal government policy on this is incoherent, and the federal government needs to get far more coherent on this," Congressman Joe Kennedy III (D-MA) said in an interview this week. "For states that have put in place the proper safeguards and procedures, I'd be inclined to support those states."
Legalization supporters were upset when Democrats tapped Kennedy last month to deliver the party's response to President Trump's State of the Union address.
As a member of Congress, Kennedy has not only opposed his state's move to legalize marijuana, but has voted against amendments to shield state medical marijuana laws from federal interference, allow military veterans to access medical cannabis and protect children who use non-psychoactive cannabidiol extracts to treat severe seizure disorders.
One of only a handful of Democrats to oppose those proposals, Kennedy knows that his views on cannabis are out of step with the party.
"I come at it a little bit differently, obviously, than the vast majority of my colleagues," he said in a separate interview this month. "I think the party is clearly moving in that legalization direction. It might already be there."
But in the new interview this week, Kennedy made clear that he still has a lot of concerns about legalization, which he campaigned against in Massachusetts.
"There's a pretty robust voice in the addiction community that points out some of the challenges and how it has had negative impacts on folks," he said. "Those voices should be listened to as well."
He also isn't sold on medical cannabis, which voters legalized in his state in 2012.
"If we are going to treat something like a medicine, it needs to go through the proper medical trials," he said. "We're not going through that process."
But although Kennedy has repeatedly voted in Congress to allow the Department of Justice to arrest and prosecute medical cannabis patients and providers, he says he doesn't necessarily want the DEA to launch large-scale raids.
"Assuming there are communities that are doing this in a safe and effective way, I certainly could see myself allowing that go forward," he said. "I don't want to upend the access to care that these patients need."
Although he's "not proposing a crackdown on it," Kennedy acknowledged that his overall skepticism about cannabis is "not necessarily reflective of the voters of Massachusetts."
"I want to make sure that we go about this in the right way with the right safeguards in place to not end up in a circumstance where we can get ourselves in trouble," he said.
Kennedy's grandfather, former U.S. Attorney General Bobby Kennedy, criticized the hypocrisy underlying marijuana criminalization half a century ago.
Bobby Kennedy Questioned Marijuana Criminalization 50 Years Ago
Photo courtesy of Martin Grondin.