These States Will Probably Vote On Marijuana In 2018
In November 2016, nine statewide marijuana ballot initiatives went before voters, and eight were approved.
In 2018, voters in a number of additional states are likely to see cannabis questions when they go to their polling places.
Here's an in-depth look at those states that have the best chance of qualifying marijuana initiatives, followed by some brief info on a few that seem like longer shots…
(Note: Additional states that don't allow voter initiatives or referenda could see legalization or medical cannabis measures approved by legislatures. A future post will examine those opportunities.)
MICHIGAN
The Michigan Regulation and Taxation of Marihuana Act would allow adults over 21 to possess, grow and use small amounts of marijuana legally.
Specifically, they could grow up to 12 total marijuana plants in a single residence, possess 2.5 ounces outside their homes and store 10 ounces at home (in addition to what they grow legally).
State regulators would grant business licenses for cultivators, processors, testing facilities, secure transporters, retail stores and microbusinesses (i.e. small businesses cultivating a low number of plants from which they would sell product directly to consumers).
Municipalities would be empowered to regulate or ban cannabis businesses.
Retail sales would be subject to a 10 percent excise tax in addition to the state's regular six percent sales tax. Revenues would cover the cost of regulation and additionally fund schools, roads, local governments and FDA-approved research on medical marijuana's role in helping military veterans struggling with PTSD and other conditions.
Path to ballot: Organizers need to collect 252,523 valid signatures from registered voters to qualify the measure but, because voters sometimes sign petitions incorrectly and signatures are disqualified, organizers turned in more than 360,000 in late November. State officials will now verify that a sufficient number are valid.
Who is behind the campaign: The Coalition to Regulate Marijuana Like Alcohol is organized by Washington, D.C.-based Marijuana Policy Project (MPP), which has spearheaded many previously successful cannabis initiatives. MPP worked to garner buy-in for the effort from grassroots activists with MI Legalize who narrowly failed to qualify a legalization measure for the state's 2016 ballot.
Polling: Several surveys have shown majority support for legalization, including one this May that found likely voters back ending prohibition by a margin of 58 percent to 36 percent.
Another Michigan measure: A second legalization campaign is also collecting signatures but the team behind it doesn't appear to have the funding it will likely take to qualify their measure for the ballot.
MISSOURI
A proposed constitutional amendment would allow doctors to recommend medical cannabis for any condition.
Qualified patients, after getting physician approval, would receive identification cards from the state that last for one year, subject to renewal. Patients and their primary caregivers would be allowed to cultivate up to six marijuana plants and purchase at least four ounces of cannabis from dispensaries on a monthly basis.
The state would issue licenses for medical cannabis cultivation, testing, infused products manufacturing and dispensing businesses.
The measure sets up a four percent retail tax on medical cannabis sales, with all revenue going toward services for military veterans after implementation and regulations costs are covered.
Path to ballot: Organizers need to collect 160,199 valid signatures from registered voters to qualify the measure. As of late September, the campaign had collected nearly 75,000 raw signatures.
Who is behind the campaign: New Approach Missouri is working to put the measure before voters. The organization narrowly failed to qualify a similar measure for 2016's ballot.
Polling: A number of polls have found majority support for medical cannabis, including a July 2016 survey showing voters favored an earlier proposed ballot measure by a margin of 62 percent to 27 percent.
Other Missouri Measures: A second medical cannabis constitutional initiative being organized by physician, lawyer and former lieutenant governor candidate Brad Bradshaw appears that it may qualify as well. His campaign says that it has already collected nearly 150,000 signatures. A third measure, a statutory one involving former House Speaker Steve Tilley, is also in play. And there are also a number of other competing marijuana initiatives seeking ballot access, including several that would legalize recreational marijuana in addition to medical cannabis, but there is no indication that these measures have enough funding to qualify.
OKLAHOMA
A proposed statutory initiative would allow would allow doctors to recommend medical cannabis for any condition.
Qualified patients, after getting physician approval, would receive identification cards from the state, and would be allowed to possess three ounces of marijuana on their person and eight ounces at home. They could also cultivate six mature plants and six seedlings. And they would be allowed to possess one ounce of cannabis concentrates and 72 ounces of marijuana edibles.
Homebound patients could designate a caregiver who could purchase, grow or possess marijuana for them.
People who are caught with 1.5 ounces or less of cannabis and who don't have medical marijuana cards but can state a medical condition would be met with misdemeanor offenses punishable by no more than a $400 fine.
The state would issue licenses for medical cannabis cultivation, processing, transportation and dispensing businesses.
A seven percent retail tax on medical cannabis sales would be levied. After covering implementation and regulation costs, additional revenue would fund education and drug and alcohol rehabilitation programs.
Path to ballot: The measure has already qualified. There was a chance it could have appeared before voters in 2016 but, because a dispute over the measure's official ballot title with then-Attorney General Scott Pruitt (now U.S. Environmental Protection Agency administrator) was not resolved by the state Supreme Court in time, its consideration was delayed until the next election. Gov. Mary Fallin (R) placed the measure on the June 26 primary ballot.
Who is behind the campaign: Oklahomans for Health qualified the measure and is running the campaign to pass it.
Polling: A Sooner Poll found that 62 percent of Oklahomans support the ballot initiative.
UTAH
The Utah Medical Cannabis Act would allow doctors to recommend medical marijuana to patients with cancer, HIV/AIDS, multiple sclerosis, PTSD, chronic pain and other specifically enumerated conditions.
Qualified patients, after getting physician approval, would be issued state identification cards and be allowed to purchase two ounces of cannabis or products containing 10 grams of cannabidiol or tetrahydrocannabinol from a dispensary during any 14-day period. Patients who do not live within 100 miles of a dispensary would be allowed to grow six plants. The measure would create an affirmative defense that could be used by patients before identification cards become available.
Smoking medical cannabis would not be allowed. Patients could designate caregivers who would help grow, obtain and administer cannabis.
The state would issue licenses for medical cannabis cultivation, processing, testing and dispensing businesses.
Municipalities would be allowed to regulate, but not ban, marijuana businesses.
Medical cannabis would be exempt from sales taxes. Revenues generated by licensing fees are expected to offset implementation and regulation costs.
Path to ballot: Organizers need to collect 113,143 valid signatures from registered voters to qualify the measure. As of October, they had turned in roughly 20,000 signatures.
Who is behind the campaign: The Utah Patients Coalition is the driving force behind the measure, and is primarily funded by the Marijuana Policy Project.
Polling: Numerous polls have shown strong majority support for medical cannabis. An October Salt Lake Tribune survey found that 75 percent of the state's registered voters back medical marijuana.
OTHER POSSIBILITIES
Commonwealth of the Northern Mariana Islands: Lawmakers in the U.S territory are considering legislation that would place a measure legalizing marijuana and allowing medical cannabis before voters in 2018.
Maryland: State legislators are considering putting a marijuana referendum on the ballot so that voters can decide to enact legalization.
Rhode Island: Some lawmakers in the state have in years past floated the idea of placing a nonbinding legalization referendum on the state ballot so that voters could weigh in on the issue. Activists prefer for the legislature to simply pass a bill to end prohibition, but if that doesn't seem possible as the 2018 session goes on, they may pursue the referendum approach. If a referendum were to pass, lawmakers would likely feel increased pressure to enact a bill in 2019.
South Dakota: Activists with New Approach South Dakota are circulating petitions for two ballot measures: One to allow medical cannabis and one to legalize recreational marijuana.
Photo courtesy of Democracy Chronicles.
Rand Paul Pushes Marijuana Amendments On Funding Bill
As Congress works to end a federal government shutdown that began at midnight on Friday, a Republican senator is trying to insert marijuana into the process.
Sen. Rand Paul of Kentucky has filed two far-reaching cannabis amendments that he wants to be part of a deal to reopen the government.
One measure would prevent the Justice Department from interfering with state recreational legalization and medical cannabis laws, a big concern in the wake of U.S. Attorney General Jeff Sessions's recent rescission of Obama-era guidance that has generally allowed local marijuana policies to be implemented without federal harassment:
                                ______
                                 
  SA 1910. Mr. PAUL submitted an amendment intended to be proposed by 
him to the bill H.R. 195, to amend title 44, United States Code, to 
restrict the distribution of free printed copies of the Federal 
Register to Members of Congress and other officers and employees of the 
United States, and for other purposes; which was ordered to lie on the 
table; as follows:

       At the appropriate place, insert the following:
       Sec. __.  None of the funds made available by this Act to 
     the Department of Justice may be used, with respect to any of 
     the States of Alabama, Alaska, Arizona, Arkansas, California, 
     Colorado, Connecticut, Delaware, Florida, Georgia, Hawaii, 
     Illinois, Iowa, Kentucky, Louisiana, Maine, Maryland, 
     Massachusetts, Michigan, Minnesota, Mississippi, Missouri, 
     Montana, Nevada, New Hampshire, New Jersey, New Mexico, New 
     York, North Carolina, North Dakota, Ohio, Oklahoma, Oregon, 
     Pennsylvania, Rhode Island, South Carolina, Tennessee, Texas, 
     Utah, Vermont, Virginia, Washington, West Virginia, 
     Wisconsin, and Wyoming, to prevent the State from 
     implementing State laws that authorize the use, distribution, 
     possession, or cultivation of marijuana on non-Federal lands 
     within the respective jurisdiction of the State.
                                 ______

Paul's other amendment concerns the ability of banks to open accounts for marijuana businesses without running afoul of federal regulators:
                                ______
                                 
  SA 1909. Mr. PAUL submitted an amendment intended to be proposed by 
him to the bill H.R. 195, to amend title 44, United States Code, to 
restrict the distribution of free printed copies of the Federal 
Register to Members of Congress and other officers and employees of the 
United States, and for other purposes; which was ordered to lie on the 
table; as follows:

       At the appropriate place, insert the following:
       Sec. __.  None of the funds made available by this Act may 
     be used by the Department of Justice for activities that are 
     not in compliance with the February 14, 2014, Department of 
     Justice memorandum from James M. Cole, Deputy Attorney 
     General, entitled ''Guidance Regarding Marijuana Financial 
     Crimes'', and the memoranda incorporated therein.
                                 ______
A top Treasury Department official testified before senators this week that the Trump administration is currently weighing whether to tear up an Obama-era memo on cannabis banking in line with Sessions's move to rescind the broader Justice Department guidance on state marijuana laws.
It is unclear if either of Paul's amendments will actually be considered and voted on as part of a deal to re-open the federal government following the Friday shutdown.
The lapse in spending legislation has put medical cannabis patients and providers at greater risk because an existing protection preventing the Justice Department from undermining medical marijuana laws has now expired, but drug enforcement has not. Under a federal contingency plan, anti-drug agents and prosecutors are exempt from furlough.
If Congress passes another bill to fund the government, the medical cannabis protections will go back into effect through whatever date to which the legislation continues spending levels. People complying with broader full-scale marijuana legalization laws will remain at risk of federal enforcement actions, however, unless Paul's relevant amendment is adopted.
Earlier this week, House leaders effectively blocked an amendment to protect state marijuana laws from federal interference from being considered on the floor.
Photo courtesy of Gage Skidmore.
Marijuana Is Safer Than Alcohol, Tobacco Or Sugar, Americans Say In New Poll
Americans think marijuana is less dangerous than alcohol, tobacco or sugar. That's according to a new NBC News/Wall Street Journal poll released Friday.
When asked in a survey which substance is most harmful to health, 41 percent chose tobacco, 24 percent said alcohol and 21 percent flagged sugar.
Just nine percent believe cannabis is the most dangerous of the four options.
The poll also asked about American's views on legalizing marijuana in their state, with 60 percent saying they would favor the policy.
When the news organizations polled the same question in 2014, 55 percent were on board.
The new numbers are in line with other recent polls showing growing support for ending cannabis prohibition.
In October, a Gallup poll found that 64 percent of Americans back legalizing marijuana.
Earlier this month, in the wake of the Trump administration's decision to rescind Obama-era guidance that has generally allowed states to implement their own marijuana laws, three separate national polls found broad opposition to federal interference in local cannabis policies.
On Marijuana, Voters Want Feds To Butt Out Of State Laws, Polls Find
See the full NBC News/Wall Street Journal poll below:
18033 NBCWSJ January Poll (1!19!18 Release) by Carrie Dann on Scribd
Government Shutdown Would Let Sessions Attack Medical Marijuana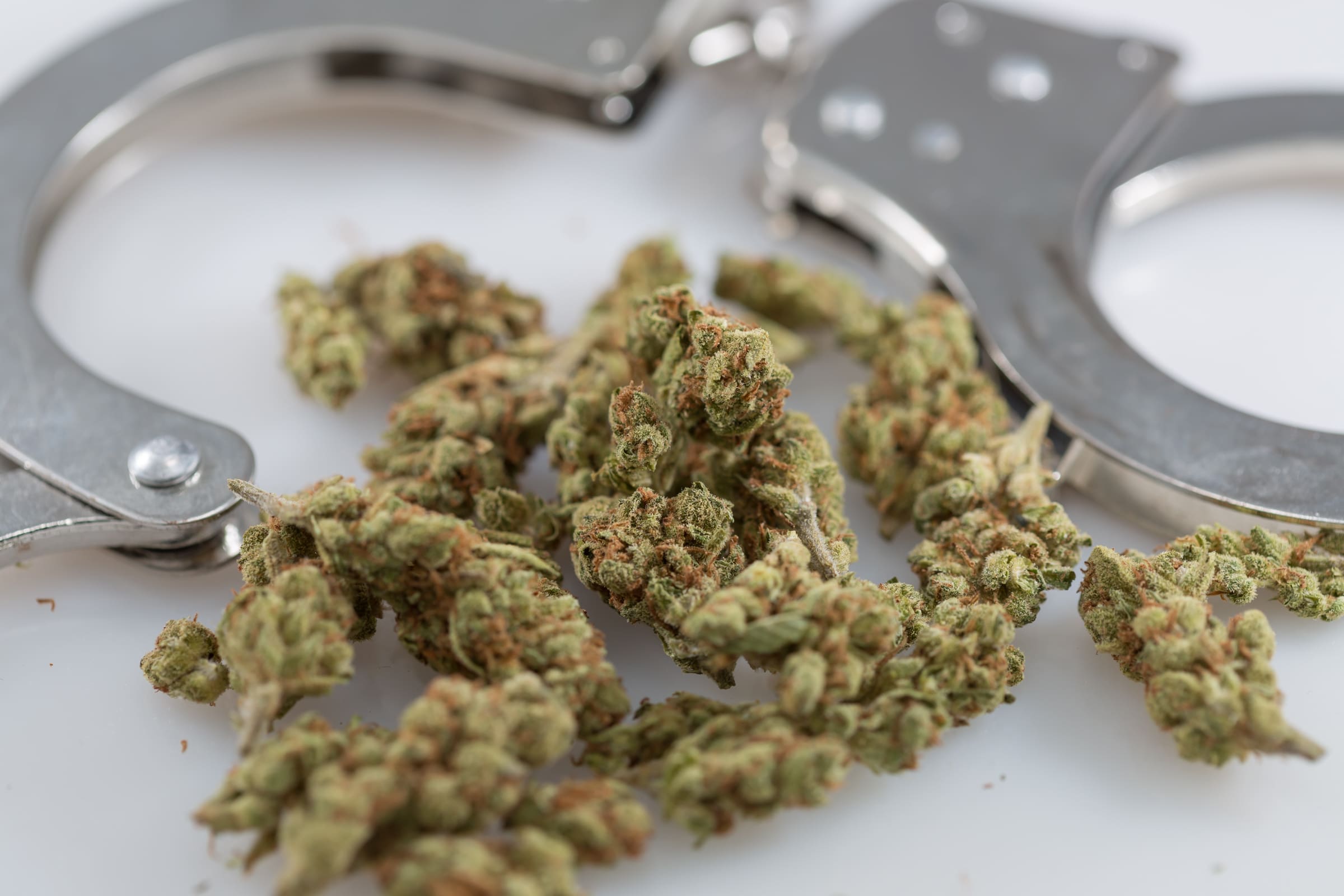 The federal government will shut down at midnight on Friday, barring an unexpected, last-minute bipartisan deal. That puts medical marijuana patients and providers at risk of being arrested, prosecuted and sent to prison by Jeff Sessions's Justice Department.
Here's why:
Under a shutdown scenario, an existing budget provision that prevents the Drug Enforcement Administration (DEA) and other agencies from spending money to interfere with state medical cannabis laws would expire. But federal drug enforcement and prosecution actions, which are exempted from furloughs, would continue.
Why Might The Government Shut Down?
A bill to extend federal funding levels and policy riders like the marijuana one through February 16 was approved by the House on Thursday. But a heated dispute over immigration issues has jeopardized its passage in the Senate, where a significant number of Democrats are refusing to support any bill that does not provide protections to people who were brought to the U.S. as children.
Earlier this month, Attorney General Sessions rescinded Obama-era guidance that has generally allowed states to implement their own cannabis laws without federal intervention. That has left recreational marijuana businesses and consumers without a key protection they've relied on since 2013, but the ongoing existence of the medical cannabis spending rider has continued to keep patients and providers safeguarded from federal attacks.
Until now.
An unintended consequence of Senate Democrats' move to block the funding extension bill and shut down the government over immigration issues is that medical marijuana patients and industry operators would be at much greater risk, as soon as this weekend.
Why Would Drug Enforcement Continue Under A Shutdown?
"All agents in DEA field organizations are excepted from furlough because they support active counternarcotics investigations. This encompasses 21 domestic divisions, 7 regional foreign divisions, critical tactical support groups including the El Paso Intelligence Center and the Special Operations Division, forensic sciences, and technical surveillance support," a Justice Department shutdown contingency plan says. "DEA investigations need to continue uninterrupted so that cases are not compromised and the health and safety of the American public is not placed at risk."
The same goes for federal prosecutors.
"As Presidential Appointees, U.S. Attorneys are not subject to furlough," the shutdown document reads. "Excepted employees are needed to address ongoing criminal matters and civil matters of urgency throughout the Nation. Criminal litigation will continue without interruption as an excepted activity to maintain the safety of human life and the protection of property."
Politics Of Marijuana And Immigration Collide
Democrats, especially those considering 2020 presidential bids, are facing enormous pressure from their progressive base not to go along with yet another bill in a series of short-term funding extensions that do not include protections for young immigrants known as "DREAMers." Because Republicans hold only 51 seats in the chamber, and a handful of GOP members are also opposing the spending resolution, leaders need support from Democrats to reach the critical 60-vote threshold to advance legislation.
The medical cannabis budget rider was first enacted into law in late 2014, and has since been extended for each subsequent fiscal year. Last May, Sessions sent a letter to congressional leaders asking them not to continue the medical marijuana rider into Fiscal Year 2018.
"I believe it would be unwise for Congress to restrict the discretion of the Department to fund particular prosecutions, particularly in the midst of an historic drug epidemic and potentially long-term uptick in violent crime," he wrote. "The Department must be in a position to use all laws available to combat the transnational drug organizations and dangerous drug traffickers who threaten American lives."
Setting aside the important question of whether the medical cannabis rider will be included in full Fiscal Year 2018 spending legislation that congressional leaders continue to negotiate — and it is a big question, since House leaders blocked lawmakers from even voting on whether to include the policy in that chamber's version of Justice Department spending legislation — the current budget brinksmanship on Capitol Hill means the medical marijuana protections could disappear as soon as Saturday morning.
A Shutdown Allows Old Federal Marijuana Prosecutions To Resume
If the provision lapses, it wouldn't just allow new actions against people violating federal marijuana laws. It would also allow earlier medical cannabis prosecutions that were suspended under to the rider to resume.
A federal judge in a California case last August, for example, wrote that the prosecution of two marijuana growers would be "stayed until and unless a future appropriations bill permits the government to proceed. If such a bill is enacted, the government may notify the Court and move for the stay to be lifted."
The failure to enact a new bill continuing the protections would have the same effect under a shutdown scenario, given that enforcement of federal drug laws would still continue.
Long-Term Status Of Marijuana Protections Unclear
The Senate Appropriations Committee voted in July to include the medical cannabis rider in its version of the 2018 Justice Department funding bill. But without the provision being approved on the House side, its long-term continuance will be determined behind closed doors by a bicameral conference committee that merges the two chambers' proposal into a single bill to be sent to President Trump.
Advocates have also pushed to expand the protection to encompass all state marijuana laws, not just those focused on medical access. A measure to do that came just nine flipped votes of passage on the House floor in 2015, and the number of states with legalization has doubled since then. However, Republican congressional leaders have blocked subsequent cannabis measures from advancing to floor consideration, including as recently as this week.
Bipartisan Lawmakers Push For Marijuana Protections In Funding Bill
In the meantime, medical cannabis patients and providers will wait to see if Jeff Sessions and his DEA agents will regain the ability to come after them for the first time since 2014 this weekend.