Seattle Doctor Files DEA Petition To Reschedule Psilocybin For Medical Use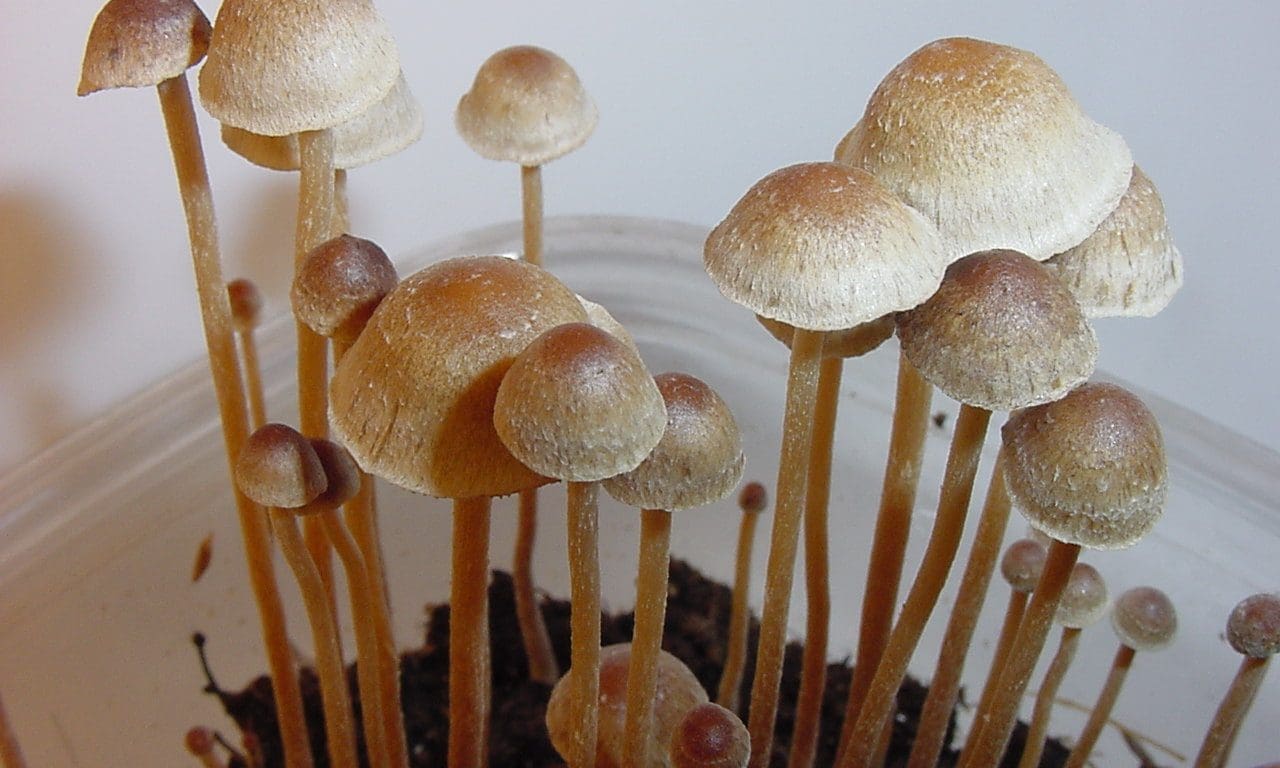 A Seattle doctor specializing in end-of-life care filed a formal petition with the U.S. Drug Enforcement Administration (DEA) this week challenging the government's Schedule I classification of psilocybin, the main psychoactive component of psychedelic mushrooms.
The petition, dated Tuesday, requests the agency to reschedule psilocybin as a less-restricted Schedule II drug, pointing to its relatively low potential for abuse and "exceptional promise in relieving debilitating symptoms in those with intractable and otherwise untreatable illness," including the severe anxiety and depression that can result from a terminal illness.
"The original placement of psilocybin," the document says, "was the result of a substantial overestimation of the risk of harm and abuse potential, not rigorous science."
Rescheduling would also help remove significant federal barriers into psilocybin research, the petition argues, allowing a better understanding of efficacy and safety. It cites recent comments by the director of the National Institute on Drug Abuse (NIDA) that a Schedule I drug's designation "detracts researchers who want to investigate it, because it's just much more cumbersome than doing studies with other substances." Volkow, the nation's top drug research official, said even she herself hesitates to study Schedule I substances because of the hurdles.
Lawyers for Dr. Sunil Aggarwal filed the federal petition almost immediately following a decision Monday by the U.S. Court of Appeals for the Ninth Circuit that dismissed on procedural grounds a lawsuit Aggarwal and two of his terminally ill cancer patients filed against DEA last year. In that case, plaintiffs argued they should be allowed legal access to psilocybin under state and federal right-to-try laws, which are intended to let patients with terminal conditions try investigational medications that have not been approved for general use.
Congress and 41 states have passed right-to-try laws.
As part of the suit, attorneys general from eight U.S. states and the District of Columbia filed a friend-of-the-court brief in support of the patients, noting the therapeutic potential of not only psilocybin but also other currently illegal drugs, including as MDMA.
"Here, dying patients seek access to promising new treatments still in the investigative process—access expressly permitted under both state and federal law—to help them live in peace," the amicus brief said.
Separately, a bipartisan group of members of Congress sent a letter last month urging DEA to let terminally ill patients have access to psilocybin. The agency, lawmakers said, is "obstructing access to psilocybin for therapeutic use consistent with the letter and intent Right to Try (RTT) laws."
"Research demonstrates that psilocybin provides immediate, substantial and sustained relief from debilitating anxiety and depression in individuals with terminal illnesses," they wrote. "We strongly believe that our constituents suffering such illnesses should have access to this investigational drug should they decide to pursue such a course of treatment."
Psilocybin is currently listed under the federal Controlled Substances Act as a Schedule I drug, a category reserved for substances with a high potential for abuse, no currently accepted medical use in the United States and no accepted safety standards for use of the drug under medical supervision. The petition argues that's a poor fit.
Beyond a growing body of research indicating its therapeutic promise, it says, psilocybin is also an "eligible investigational drug" under federal law and "numerous FDA-approved clinical trials and studies" have shown the substance to be safe for use under medical supervision. More than half a century of research, the petition adds, indicates psilocybin has a low potential for abuse compared even to substances in Schedule II, which includes fentanyl, cocaine, amphetamines and opium.
"Although psilocybin should be rescheduled as a matter of law, it is also good policy," the petition says. "Rescheduling psilocybin will not make the substance widely available as a prescription medicine or as a drug of abuse."
Reclassifying psilocybin as a Schedule II drug would open a very limited window for patients to legally access and use psilocybin, at least at first. As the petition acknowledges, the U.S. Food and Drug Administration (FDA) has not approved any drug containing psilocybin, and DEA registration would be required to produce and handle the substance even for research purposes. It describes practical controls around Schedule II substances as "nearly identical to schedule I controls."
"While rescheduling alone would not make psilocybin available as prescription medicine in interstate commerce, it would give the federal regulators maximum flexibility to work with state governments, as opposed to silently against them," the petition says. "For example, the federal government could create limited pilot programs to be administered in a state or allow state programs to organically grow with federal oversight or guidance."
The change would also open a clear path for patients like Aggarwal's to legally access psilocybin "as contemplated by state and federal Right to Try laws, with DEA supervision but without the need for a waiver or exception from DEA."
While the petition is aimed at rescheduling psilocybin federally, lawyers for Aggarwal have also said they'll file an individual request for waiver with DEA on behalf of his patients. That move is designed to force DEA to issue a formal decision on psilocybin, which could later be challenged in court, attorney Kathryn Tucker said in a statement earlier this week. The Ninth Circuit panel that rejected Aggarwal's suit on Monday ruled that an earlier statement by DEA—telling the doctor there was no legal way for his patients to access psilocybin—wasn't subject to court review.
"Given that the interests of terminally ill patients are at stake, where the advance of illness makes time short, there is an urgency for DEA's action," Tucker said in the statement. "We hope congressional interest in this matter will continue, and possibly include Congressional Oversight Hearings."
As Aggarwal's petition points out, the legal landscape around psilocybin at the state level is already shifting: "Local jurisdictions are decriminalizing and legalizing psilocybin use," it says, noting Oregon's 2020 initiative that legalized therapeutic psilocybin services as well as ongoing reform efforts in states such as Washington, Connecticut, New York and Texas.
"It is imperative that scientists be able to examine the risks and dangers of real-world psilocybin being used in these jurisdictions in real-time," the petition says. "By rescheduling psilocybin, DEA can relieve some of these burdens and participate in the process as a regulator."
Both progressive and more conservative states are exploring psilocybin as a possible therapy. On Thursday, a House committee in Utah approved a bill that would study the therapeutic potential of psilocybin and other psychedelic drugs and consider possible regulations for their lawful use.
Washington State lawmakers had been considering a bill to legalize what the legislation calls "supported psilocybin experiences" for adults 21 and older, but that bill failed to pass out of committee by a deadline this week. Aggarwal told Marijuana Moment in a statement shortly after the bill was introduced, that the bill had "too many details to comment on" but was a step in the right direction.
Seattle recently became the largest U.S. city to decriminalize psychedelics following a City Council resolution in October.
Washington lawmakers last legislative session considered a bill that would have removed all penalties for possession of relatively small, "personal use" amounts of drugs and instead invested in treatment and recovery services. While that legislation died in committee, lawmakers from both parties acknowledged at the time that the state's drug control apparatus was broken.
Shortly thereafter, the state Supreme Court overturned Washington's felony law against drug possession completely, sending lawmakers scrambling to replace the law. Ultimately they approved a modest reform, reducing the state's felony charge for drug possession to a misdemeanor and earmarking more money for treatment. But the law's criminal penalties will expire in 2023, an effort to encourage lawmakers to revisit the policy.
Since Denver in 2019 became the first U.S. city to decriminalize psilocybin mushrooms, a number of states and municipalities have made similar changes.
Oregon voters passed a pair of initiatives in 2020 to legalize psilocybin therapy and decriminalize possession of all drugs, and Washington, D.C. voters approved a ballot measure that year to deprioritize enforcement of laws criminalizing psychedelics.
Other states have passed more moderate measures, for example Connecticut, which last year passed a law requiring the state to carry out a study into the therapeutic potential of psychedelics. Texas also adopted a law last year to study the benefits of psychedelics for military veterans.
California made a push to legalize psychedelics possession last year, but that measure was put on pause. The bill's sponsor, however, says he has plans to move it across the finish line this year.
Lawmakers in other large states, including Florida and New York have recently filed psychedelics reform bills.
In terms of right-to-try laws, meanwhile, a new Republican-led bill in Missouri would expand that state's existing right-to-try law to allow residents with serious illnesses access psychedelic drugs such as psilocybin, ibogaine and LSD.
Utah Lawmakers Vote To Study Benefits Of Psychedelics In Treating Mental Health Disorders
Photo courtesy of Wikimedia/Workman.