Oregon Governor Issues Marijuana Pardons For 45,000 People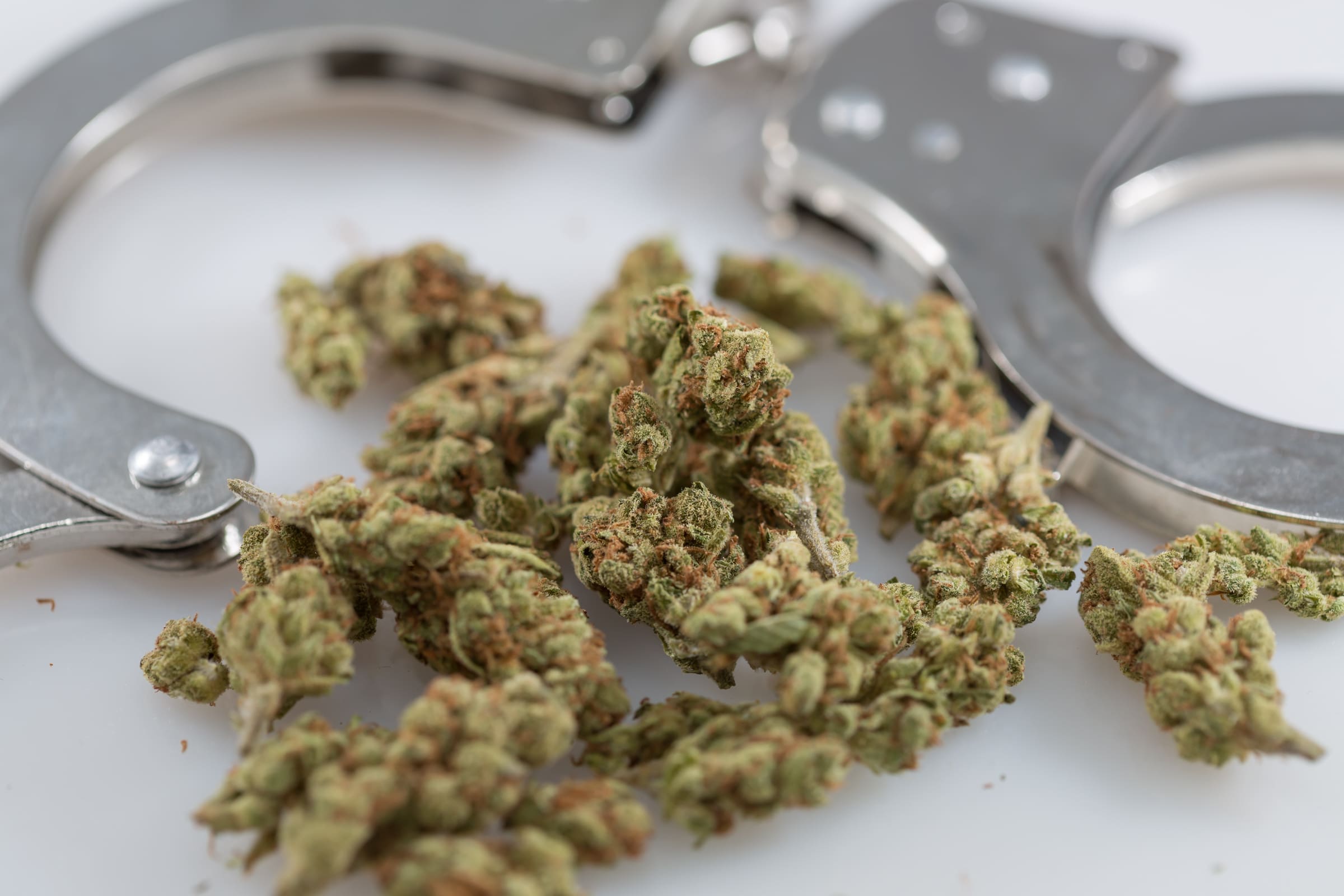 The governor of Oregon is granting a mass pardon for state-level marijuana possession offenses that will provide relief to an estimated 45,000 people, her office said on Monday.
Gov. Kate Brown's (D) cannabis clemency action—which also involves forgiveness for more than $14 million in fines and fees—comes about a month after President Joe Biden issued thousands of pardons for federal marijuana possession cases and called on governors to follow suit.
"No one deserves to be forever saddled with the impacts of a conviction for simple possession of marijuana—a crime that is no longer on the books in Oregon," Brown said in a press release. "Oregonians should never face housing insecurity, employment barriers, and educational obstacles as a result of doing something that is now completely legal, and has been for years."
No one deserves to be saddled with the impacts of a simple possession of marijuana conviction—a crime that is no longer on the books in Oregon. I am pardoning these prior Oregon offenses, an act that will impact an estimated 45,000 individuals. https://t.co/mT9bcYzCcV

— Governor Kate Brown (@OregonGovBrown) November 21, 2022
"My pardon will remove these hardships," she said, adding that "while Oregonians use marijuana at similar rates, Black and Latina/o/x people have been arrested, prosecuted, and convicted at disproportionate rates."
Pardons typically provide more limited relief than expungements, but the governor said the the Oregon Judicial Department will additionally be working with courts to formally seal all applicable possession records.
Brown's office says that they've identified 47,144 convictions for possession of up to one ounce of marijuana that took place before 2016 that will be cleared from the records of an estimated 45,000 people.
"We are a state, and a nation, of second chances. Today, I am taking steps to right the wrongs of a flawed, inequitable, and outdated criminal justice system in Oregon when it comes to personal marijuana possession," the governor said on Monday. "For the estimated 45,000 individuals who are receiving a pardon for prior state convictions of marijuana possession, this action will help relieve the collateral consequences arising from these convictions."
The fact that the estimated relief for possession cases alone in one state is in the tens of thousands underscores what advocates have been pointing out in the weeks since Biden's clemency announcement: the vast majority of marijuana convictions take place at the state level, which the president has no power to remedy.
Governors from states across the U.S. have given mixed responses about their plans for marijuana clemency in light of the president's directive, with some pledging to analyze their options and others noting that their authority is limited.
Congressional researchers released a report last week that provides a point-by-point overview of the limitations of the president's mass marijuana pardon, including that state restriction.
Following Biden's pardon proclamation, the federal U.S. Sentencing Commission (USCC) released a detailed analysis showing the geographic and demographic breakdown of those who are eligible for relief.
Consistent with the estimates highlighted by the White House last month, USSC found that 6,577 U.S. citizens have committed the covered offense. The independent federal organization further identified 1,122 cases involving what it described as "resident/legal alien offenders."
Activists with Students for Sensible Drug Policy (SSDP), Last Prisoner Project (LPP) and DCMJ staged protests outside of the White House last month to demand that Biden also release the estimated 2,800 people currently in federal prison for marijuana convictions that aren't limited to simple possession.
The presidential clemency is also limited by the fact that non-citizens with cannabis possession records were specifically excluded from pardons—an issue that's been identified by numerous advocacy groups and lawmakers.
For example, nine congressional lawmakers sent a letter to Biden last week, imploring him to extend his pardons include immigrants who have citizenship status issues. They are also urged him to "prioritize" decriminalization or descheduling.
Rep. Alexandria Ocasio-Cortez (D-NY) previously called for an expansion of the president's pardons, stressing the importance of having a Democratic Party that proactively stands up for Latino communities, including the immigrant population. Part of that means enacting inclusive policies, she said, which was a missing element of the president's mass cannabis pardon.
Earlier this month, more than 130 immigrations and civil rights organizations sent a letter to Biden, similarly imploring him to extend his marijuana possession pardon proclamation to anyone regardless of immigration status.
Biden has been routinely touting the pardon action, and at one point he erroneously suggested that he did facilitate expungements to seal a person's record altogether, rather than simply pardoning them and providing formal forgiveness with fewer practical implications.
A series of polls have shown that Americans strongly support the president's pardon action, and they also don't think that marijuana should be federally classified as a Schedule I drug.
Back in Oregon, Brown and other state officials were sued last week by a cannabis company that is seeking to overturn the state's ban on exporting and importing marijuana to and from from other states.
Brown has shown interest in opening up the state's marijuana market for interstate commerce, signing a bill in 2019 that would authorize the governor to enter into such agreements with other legal states once federal law permits it.
Congressional Researchers Lay Out Six Key Limitations Of Biden's Marijuana Pardons