Biden Says His Marijuana Pardons Have Improved Black Americans' Lives, But He Overstates Real-Life Impact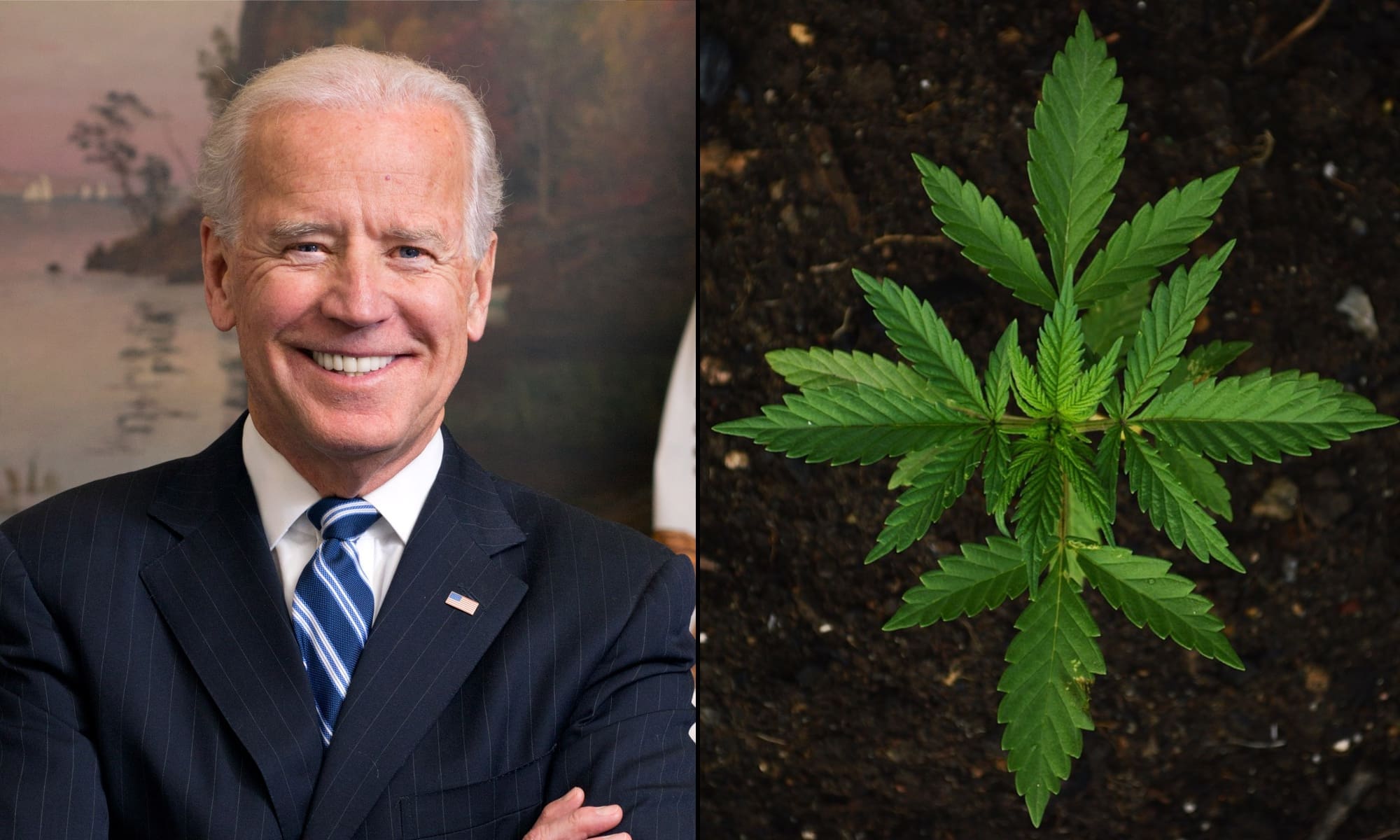 President Joe Biden says that issuing mass pardons for federal marijuana possession offenses is one of the top things he's done to improve the lives of Black Americans since taking office. However, he appears to be to overstating the practical impact of his action.
In a radio interview on The Rickey Smiley Morning Show on Tuesday, the host pressed Biden on what he's done help the Black community at this point, nearly two years into his term. The president quickly responded by citing the cannabis pardon proclamation he issued last month.
"Well, I hope I've improved the lives of African Americans like I said I would do," he said. "For example, too many African Americans were denied everything from Pell Grants, student loans, housing, et cetera, because they were arrested for possession of marijuana—many too many. Whites as well."
"So anybody who was ever arrested just for the possession of marijuana, their record is expunged," he said. "They don't have to list it anymore, and it's going to free up a lot of opportunities."
While a presidential pardon represents formal forgiveness for the covered offense—in this case, simple possession of marijuana—it's not the same thing as an expungement where the crime is wiped from a person's record, contrary to Biden's claim in the radio interview.
A Congressional Research Service (CRS) report published in 2016 discusses conflicting interpretations of the impact of a pardon, with the general consensus being that it may restore certain rights but it does not clear a person's record in the same way as an expungement.
The report says that "a pardon recipient may still encounter hurdles when character is a factor of eligibility because a pardon does not eliminate underlying guilt or the commission of the offense itself."
When it comes to ongoing collateral consequences of a conviction, CRS said that there may be circumstances where employment could still be affected, even with a pardon.
"The continued presence of a conviction on a person's record, notwithstanding a pardon, could still raise barriers with respect to such person's suitability," it says. In contrast, "an expungement of one's records generally appears to go a step beyond the effect of a pardon and removes the record of the conviction as well as the underlying guilt."
A pardon is believed to restore certain rights, however, such as the ability to buy and possess firearms. In that example, there's specific federal statute in place that provides for that relief.
With respect to expungement, a key House committee approved a series of criminal justice reform bills in September—including bipartisan proposals to clear records for prior federal marijuana convictions and provide funding for states that implement systems of automatic expungements.
While advocates have cheered the president's current clemency move, as well as his comments asking governors to provide take similar actions at the state level and directing an administrative review of marijuana scheduling, many have pointed out that the relief Biden provided is significantly limited in scope.
As the U.S. Sentencing Commission (USSC) pointed out in a report last month, the president's action directly impacts about 6,500 U.S. citizens who've committed federal cannabis possession offenses and 1,100 people described as "resident/legal alien offenders," in addition to those who've violated the law in Washington, D.C.
A demographic breakdown further shows that, among those convicted of at least one marijuana offense under the relevant federal code, 41.3 percent are white, 31.8 percent are Hispanic and 23.6 percent are Black.
Still, it remains notable that Biden is explicitly recognizing marijuana reform as a racial equity issue, citing the pardons as the first example of how he's worked to improve the lives of the Black community in the new interview. He went on to list his administration's student loan relief action and appointment of the first female Black Supreme Court justice.
Biden has been routinely touting his cannabis clemency action, saying at one point that he's "changed the lives of thousands of people." But he's strongly indicated that he's unwilling to provide further relief for those with marijuana sales convictions.
Activists with Students for Sensible Drug Policy (SSDP), Last Prisoner Project (LPP) and DCMJ staged protests outside of the White House last week to call attention to that issue, demanding that Biden release the estimated 2,800 people currently in federal prison for marijuana convictions that aren't limited to simple possession.
Rep. Alexandria Ocasio-Cortez (D-NY) said last week that Biden's marijuana pardon proclamation should be "applauded," but the action is nonetheless critically limited because it exempts non-citizens who constitute the vast majority of federal possession cases.
Meanwhile, the White House drug czar recently cheered Biden's "historic" move to issue a mass marijuana pardon and direct an administrative review of the drug's scheduling status. And he is again highlighting that there are "clearly" medical benefits of cannabis—which he says shouldn't be ignored because of separate concerns about youth use.
The Justice Department and U.S. Department of Health and Human Services (HHS) have committed to quickly carrying out the separate scheduling review the president directed, which could result in a recommendation to place cannabis in a lower schedule or remove it altogether, effectively legalizing the plant under federal law.
HHS Secretary Xavier Becerra has said officials will "work as quickly as we can" to complete the analysis of cannabis scheduling per the president's directive.
The Department of Justice, for its part, "will expeditiously administer the President's proclamation, which pardons individuals who engaged in simple possession of marijuana, restoring political, civil, and other rights to those convicted of that offense," a department spokesperson said.
Labor Secretary Marty Walsh said that officials will be working diligently to ensure that people who received a pardon for federal marijuana offenses under the presidential proclamation are not impeded from future job opportunities.
Vice President Kamala Harris said last month that voters should elect lawmakers who support marijuana reform so that Congress can enact a "uniform approach" to the issue in light of the president's cannabis pardons.
A series of polls have shown that Americans strongly support the president's pardon action, and they also don't think that marijuana should be federally classified as a Schedule I drug.
Congressman Predicts Colorado Psychedelics Legalization Initiative Will Pass Next Week, And The Trend Will 'Continue'