New Mexico Marijuana Legalization Bill Heads To Senate Floor Following Contentious Committee Hearing
During a marathon hearing that stretched into the early hours on Thursday, a New Mexico Senate panel narrowly approved a bill to legalize marijuana, setting up a floor vote with just days to go before the end of the legislative session.
The Senate Judiciary Committee advanced the measure, House Bill 12, on a 5–4 vote, with Chairman Joe Cervantes (D) siding with the panel's three Republican members in opposition. Many saw the Judiciary Committee, where a similar legalization bill died last year, as the legislation's biggest obstacle on its path to becoming law.
The proposal has already passed the House of Representatives last month and earned the backing of key Senate leaders. Gov. Michelle Lujan Grisham (D) has also repeatedly called for the policy change and included legalization in her 2021 legislative agenda.
The NM Senate Judiciary Committee voted to do-pass (5-4) CS/CS/HB 12/aaaaa. The bill enacts the Cannabis Regulation Act, a plan for regulation and licensing of commercial #cannabis production / distribution / sale / consumption by people 21+. #nmleg #nmpol #nmlegis #nmgov pic.twitter.com/7lZrSL0y0j

— NM Senate Democrats (@NMSenateDems) March 18, 2021
The bill has three major components, lead sponsor Rep. Javier Martínez (D) said at the hearing: protecting existing medical marijuana patients, ensuring racial justice in how cannabis is legalized and establishing smart regulatory and tax systems.
"Is this bill perfect? Probably not," he acknowledged. "Should this bill move forward, should we legalize cannabis in New Mexico this year, I can assure you that we will all be up here next year, making tweaks. That's the way it should be…because good policy and good law should be evolving, especially when we attempt to do something as big as this."
If passed as amended, the bill would legalize possession and personal cultivation of marijuana, as well as sales from licensed retailers. Sales would be scheduled to begin April 1, 2022, initially at existing medical marijuana dispensaries and newly licensed small businesses, then opening up more widely.
The panel adopted a number of changes to the bill at the hearing, although language of the amendments weren't immediately made available online.
One change forbids licensed cannabis producers or manufacturers from also owning a cannabis testing lab, which would create conflicts of interest. Another enacts a temporary plant limit for growers, which would be imposed only for the first three years of the program and set based on a calculated average of what other states allow. A third amendment prevents entrepreneurs from stacking multiple licenses, a provision aimed at preventing large companies from dominating the market.
A criminal justice-focused amendment, meanwhile, is aimed at ensuring that individuals don't inadvertently publicize their past cannabis convictions while trying to have them expunged. It allows people whose convictions aren't erased automatically under HB 12 to petition the court under seal or using a pseudonym, which supporters said will better allow individuals to clear their names.
Another technical change adjusts how cannabis taxes would be collected, restructuring multiple state- and local-level taxes into a single tax that would then be distributed back to localities. The amendment does not affect tax rates or where the revenue goes, but lawmakers said it would save the state roughly $2 million in administrative costs by structuring the system more efficiently.
The legalization proposal now proceeds to the Senate floor. If it passes, the House would then need to agree to the changes made in the Senate, or lawmakers from both chambers would need to form a conference committee to reconcile the differences between the bills. From there, the approved bill would go to the governor.
But lawmakers will need to move fast. The legislative session ends at noon on Saturday.
As Cervantes did with last year's legislation, the chairman used his committee's hearing to rail against the legalization bill as poorly written, going so far as to allege that its sponsors didn't understand their own proposal and telling them to "work harder."
"I just don't think your bill has been very carefully read," he said.
Cervantes and Sen. Linda Lopez (D), indicated they intend to bring additional amendments for consideration on the Senate floor.
Lopez's amendment, which she introduced at the hearing but later said would reserve for a floor amendment, would create an equity fund for certain rural communities and make other changes requested by the New Mexico Acequia Association. HB 12's sponsors agreed with the spirit of the amendment but said some details might need to be modified.
—
Marijuana Moment is already tracking more than 900 cannabis, psychedelics and drug policy bills in state legislatures and Congress this year. Patreon supporters pledging at least $25/month get access to our interactive maps, charts and hearing calendar so they don't miss any developments.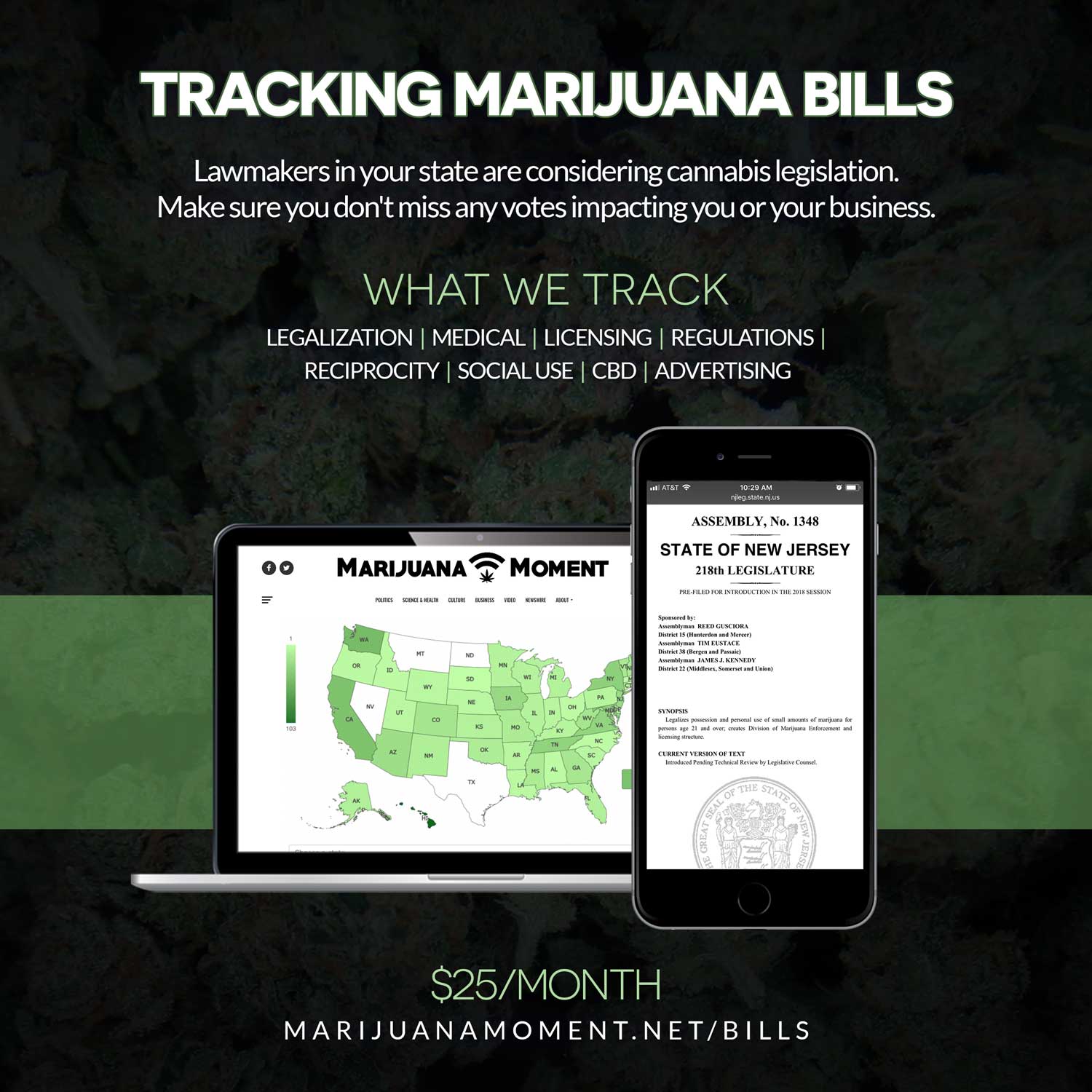 Learn more about our marijuana bill tracker and become a supporter on Patreon to get access.
—
In days leading up to the hearing, HB 12 was added and then removed from the committee agenda multiple times. Cervantes tweeted Wednesday morning that the delays were because he was waiting on amendments from the bill's sponsors. A day earlier, he told NM Political Report that "the bill in its present form is not ready to become a law."
For those interested in marijuana bills, know I'm waiting to receive amendments to HB12 from the sponsors, and that we received other amendments this morning. In Judiciary we must analyze and read the bills, but need to receive them first.

— Sen. Joe Cervantes (@SenJoeCervantes) March 17, 2021
Cervantes emphasized at the hearing that his goal wasn't to torpedo the proposal procedurally, as he acknowledged some were beginning to expect.
"I think all of you know that philosophically, I don't believe New Mexico's ready for this," he said, "but I would never be so arrogant to think that my personal beliefs would be a reason that we would not hear the bill or that I would hold the bill."
Competing marijuana legislation, SB 288, by Sen. Cliff Pirtle (R), appears to have been abandoned this session. It was not voted on during the hearing despite being listed on the committee agenda. Pirtle at one point introduced an amendment to HB 12 that would have replaced the House measure with language from his own bill, but colleagues voted that down.
In comments to Marijuana Moment before the hearing, Pirtle echoed Cervantes's criticisms of HB 12, calling it "a very poorly written piece of legislation."
"I think it's something that I've probably put more effort into than anybody in thinking through the regulation and process with regard to actual cannabis," he said. "It seems like the focus of House Bill 12 is social justice and not how to properly regulate cannabis."
Pirtle, the ranking Republican member of the Judiciary Committee, said he thinks lawmakers should address equity in separate legislation rather than interweave it into the cannabis bill. "I think if we could separate those, we would have much more intelligent conversations and really get down to the nitty gritty on how we need to do that, as well," Pirtle said at the hearing.
The Senate Judiciary Committee rejects (3-6) Amendment #2 (PIRTLE) introduced to CS/CS/HB 12/a, CANNABIS REGULATION ACThttps://t.co/doc2Uzqu04#nmleg #nmpol #nmlegis #cannabis #nmcannabis

— NM Senate Democrats (@NMSenateDems) March 18, 2021
"I really appreciate that attitude, what you're talking about," replied Sen. Mimi Stewart (D), "but I don't see that happen. In actuality, I don't see any social justice reform coming from your side of the aisle."
HB 12, meanwhile, has social justice "embedded throughout" its various provisions, said sponsor Martínez. It would expunge many past cannabis convictions, often automatically, and includes steps designed to encourage participation in the legal industry by people most impacted by the drug war's harms, particularly communities of color
Polling indicates that voters are ready for the policy change. A survey released in October found that a strong majority of New Mexico residents are in favor of legalization with social equity provisions in place, and about half support decriminalizing drug possession more broadly.
Gov. Lujan Grisham, meanwhile, has repeatedly talked about the need to legalize as a means to boost the economy, especially amid the coronavirus pandemic. She said during a State of the State address in January that "a crisis like the one we've experienced last year can be viewed as a loss or as an invitation to rethink the status quo—to be ambitious and creative and bold."
The governor also included cannabis legalization as part of her 2021 legislative agenda and said earlier this year that she's "still really optimistic about cannabis" this session despite past setbacks.
That optimism is bolstered by the fact that several anti-legalization Democrats, including the Senate president pro tem and the Finance Committee chair, were ousted by progressive primary challengers last year.
Additional pressure to end cannabis prohibition this year is coming from neighboring Arizona, where voters approved legalization in November and where sales officially launched in January. New Mexico shares another border with Colorado, one of the first states to legalize for adult use. Cannabis is also expected to be legalized across the southern border in Mexico, with lawmakers facing a Supreme Court mandate to end prohibition by the end of April.
Before last year's failed effort, New Mexico's House in 2019 approved a legalization bill that included provisions to put marijuana sales mostly in state-run stores, but it died in the Senate. Later that year, Lujan Grisham created a working group to study cannabis legalization and issue recommendations.
In May of last year, the governor signaled she was considering actively campaigning against lawmakers who blocked her legalization bill in 2020. She also said that she's open to letting voters decide on the policy change via a ballot referendum if lawmakers can't send a legalization bill to her desk.
Congressional Marijuana Banking Bill Will Be Reintroduced On Thursday