New Jersey Marijuana Sales Will Start Day After 4/20, And AG Says Police Can Use While Off Duty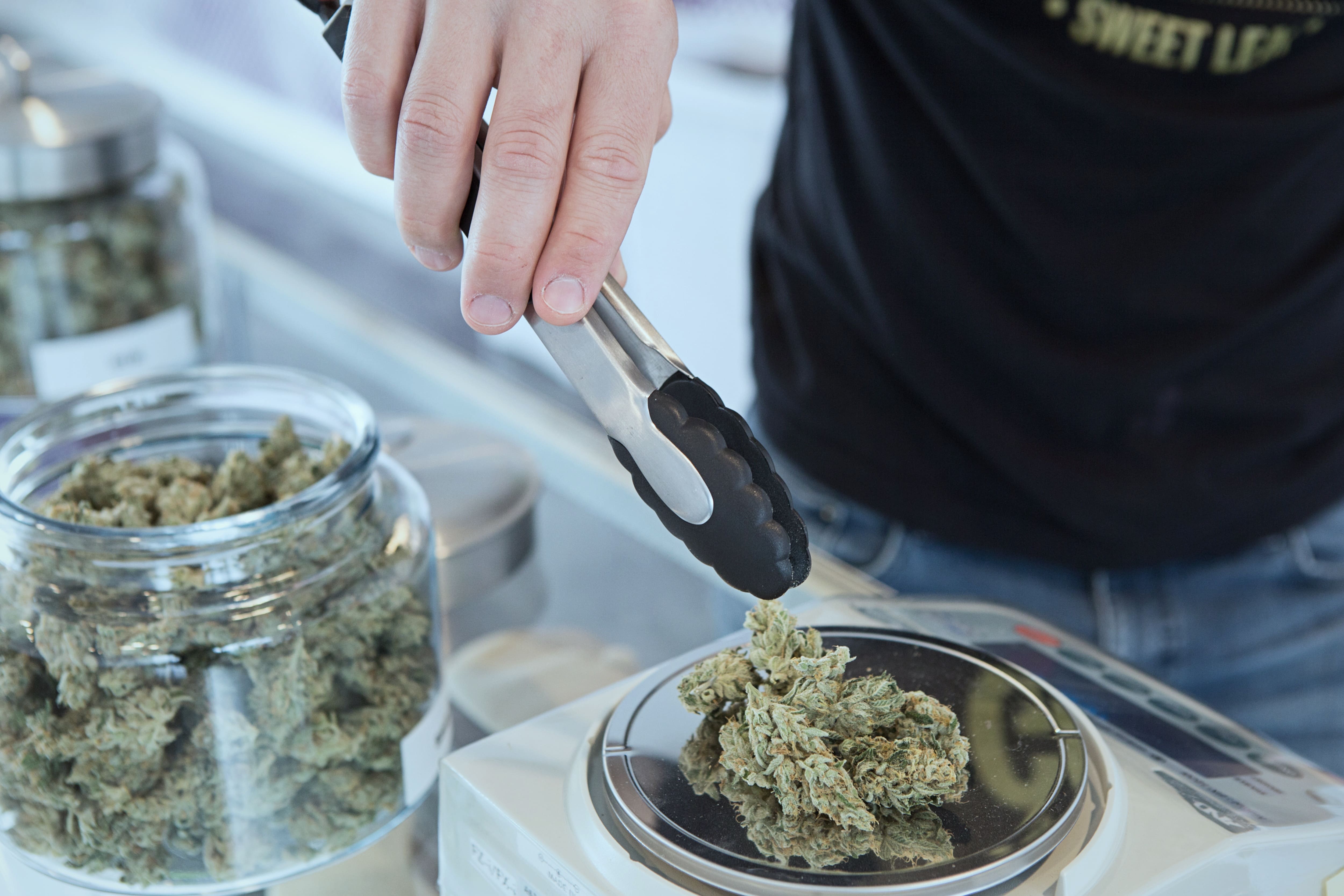 The governor of New Jersey on Thursday announced that adults 21 and older will be able to buy marijuana from select dispensaries starting on April 21—the day after the unofficial cannabis holiday 4/20. And a new memo from the state attorney general's office says that police can partake, too, as long as they're off duty.
Gov. Phil Murphy (D) touted the long-awaited first round of adult-use retailer approvals from the New Jersey Cannabis Regulatory Commission (CRC), calling the action a "historic step in our work to create a new cannabis industry."
Starting on April 21st, adults ages 21+ will be able to legally purchase cannabis and cannabis products without a medical card.

This is a historic step in our work to create a new cannabis industry. Learn more: https://t.co/MsSRlUBPZ8.

— Governor Phil Murphy (@GovMurphy) April 14, 2022
Seven existing medical cannabis businesses have been cleared to begin servicing the recreational market at 13 dispensaries across the state.
"This is an exciting time for New Jersey," CRC Executive Director Jeff Brown said in a press release. I am very proud of the work the Commission has done over the past year to open the market. We have been intentional and deliberate to do everything in our power to set the market on good footing to start."
Advocates, stakeholders and consumers have been eager to see regulators make this move, as it comes more than a year after voters approved a legalization referendum at the ballot. Ensuring that equity is built into the industry—and making sure that there is enough supply to ensure access for medical cannabis patients—are some of the reasons for the delayed rollout, the governor and officials have said.
"We remain committed to social equity," CRC Chair Dianna Houenou said. "We promised to build this market on the pillars of social equity and safety. Ultimately, we hope to see businesses and a workforce that reflect the diversity of the state, and local communities that are positively impacted by this new and growing industry."
There's been significant focus on the timeline for adult-use implementation—but Thursday's announcement also coincided with reporting on a new memo from the state attorney general's office on what police can and cannot do once recreational storefronts open.
Acting Attorney General Matthew Platkin (D) issued a memo on Wednesday clarifying that state law mandates that New Jersey police who legally buy or use marijuana on their own time cannot be penalized after the adult-use market launches.
That clarity highlights a notable component of cannabis-related workplace protections including in the Garden State's marijuana laws—and one that also raises questions about potential federal ramifications related to firearm laws.
The top prosecutor's memo says that while on-the-job possession or use of marijuana remains prohibited, law enforcement agencies "may not take any adverse action against any officers because they do or do not use cannabis off-duty."
The memo, which was first reported by The Asbury Park Press, makes clear that "there should be zero tolerance for cannabis use, possession, or intoxication while performing the duties of a law enforcement officer."
Further, "there should be zero tolerance for unregulated marijuana consumption by officers at any time, on or off duty, while employed in this State." That means that any cannabis that police buy and use needs to come from licensed businesses and not from the traditional unregulated market.
"The safety of our communities and our officers demands no less," the memo states. "Should there be reasonable suspicion of an officer's use of cannabis while engaged in the performance of their duties, or upon finding any observable signs of intoxication related to cannabis use (including following a work-related accident subject to investigation by the agency), that officer may be required to undergo a drug test."
But even if the state's top prosecutor says police will be permitted to buy and use cannabis from licensed businesses when the market launches, workplace protections for this category of workers present their own set of potential federal complications.
After all, the federal government has made clear that people who admit to using marijuana as part of a required background check process are prohibited from purchasing or possessing firearms. State-level changes would not preempt that policy for police officers who carry guns.
In 2020, the federal Bureau of Alcohol, Tobacco, Firearms and Explosives (ATF) issued an advisory specifically targeting Michigan that requires gun dealers to conduct federal background checks on all unlicensed gun buyers because it said the state's cannabis laws had enabled "habitual marijuana users" and other disqualified individuals to obtain firearms illegally.
In New Jersey, attorney general's office has been closely monitoring marijuana policy as the state prepares to implement an adult-use market.
For example, last year then-Attorney General Gurbir Grewal sent warning letters to companies that were effectively circumventing the state's cannabis laws by "gifting" marijuana in exchange for non-marijuana-related purchases such as overpriced cookies, brownies and stickers.
Shortly after Murphy signed marijuana implementation legislation into law, Grewal directed prosecutors to drop cases for cannabis-related offenses and issued separate guidance for police on how to proceed under the updated laws.
For those following New Jersey marijuana developments in recent weeks, it's been a whirlwind.
Prior to CRC's announcement on Thursday, New Jersey Senate President Nick Scutari (D) said late last month that delays in the rollout were unacceptable, and he said he'd be forming a special legislative committee to explore the issue through oversight hearings. The top lawmaker has said he will still go forward with the hearings even though sales are now set to begin.
CRC was initially expected to approve a first round of adult-use retail licenses for certain existing dispensaries last month, but they temporarily decided against it. The commission separately gave conditional approval to 68 marijuana cultivators and manufacturers last month.
There's been a mix of feelings about the timeline for legalization implementation among stakeholders. As regulators have worked to approve the first round of licenses, some advocates have pushed for expediency while others feel it's important not to rush the process to ensure that the industry that emerges is equitable and not dominated by large corporations.
Murphy, meanwhile, has repeatedly urged patience and insisted that the adult-use market will open within "weeks." He made similar remarks going back to February, but now there's a set date of April 21.
The governor stressed that "equity is a huge part of our proposition here, and I know that may take longer than folks otherwise would like." He's also talked about being open-minded to permitting adults to grow their own marijuana for personal use down the line, but that it would take action by the legislature. Murphy similarly talked about being open to home grow late last year.
CRC's Houenou previously said that if the state had moved to open standalone adult-use shops earlier, the industry would have become "dominated" by large, multi-state operators.
Murphy, for his part, said that there were "lots of reasons" for the delayed rollout. That includes "equity and making sure we have an industry that looks like our state that is not just in words, but it is an action—a step tangibly toward undoing the damage from the war on drugs."
"That's that's easier said than done," he said. "We want to get more right than any other state."
U.S. Rep. Donald Payne (D-NJ) recently criticized New Jersey regulators about the diversity issue, saying he's "outraged" over the lack of minority representation in the industry.
Separately, Murphy also recently touted the fact that the courts have expunged more than 362,000 marijuana cases since July 1, when a decriminalization law took effect that mandated the relief for people who have been caught up in prohibition enforcement.
Last month, CRC also held a series of public meetings where it received feedback on how best to allocate marijuana tax revenue after the recreational market opens.
Read the New Jersey attorney general's memo on marijuana policy for law enforcement officials below: 
Feds Agree To Return $1 Million In Marijuana Dispensary Cash Seized From Armored Car Transports