Nebraska Advocates Launch Signature Drive For 2022 Medical Marijuana Ballot Measures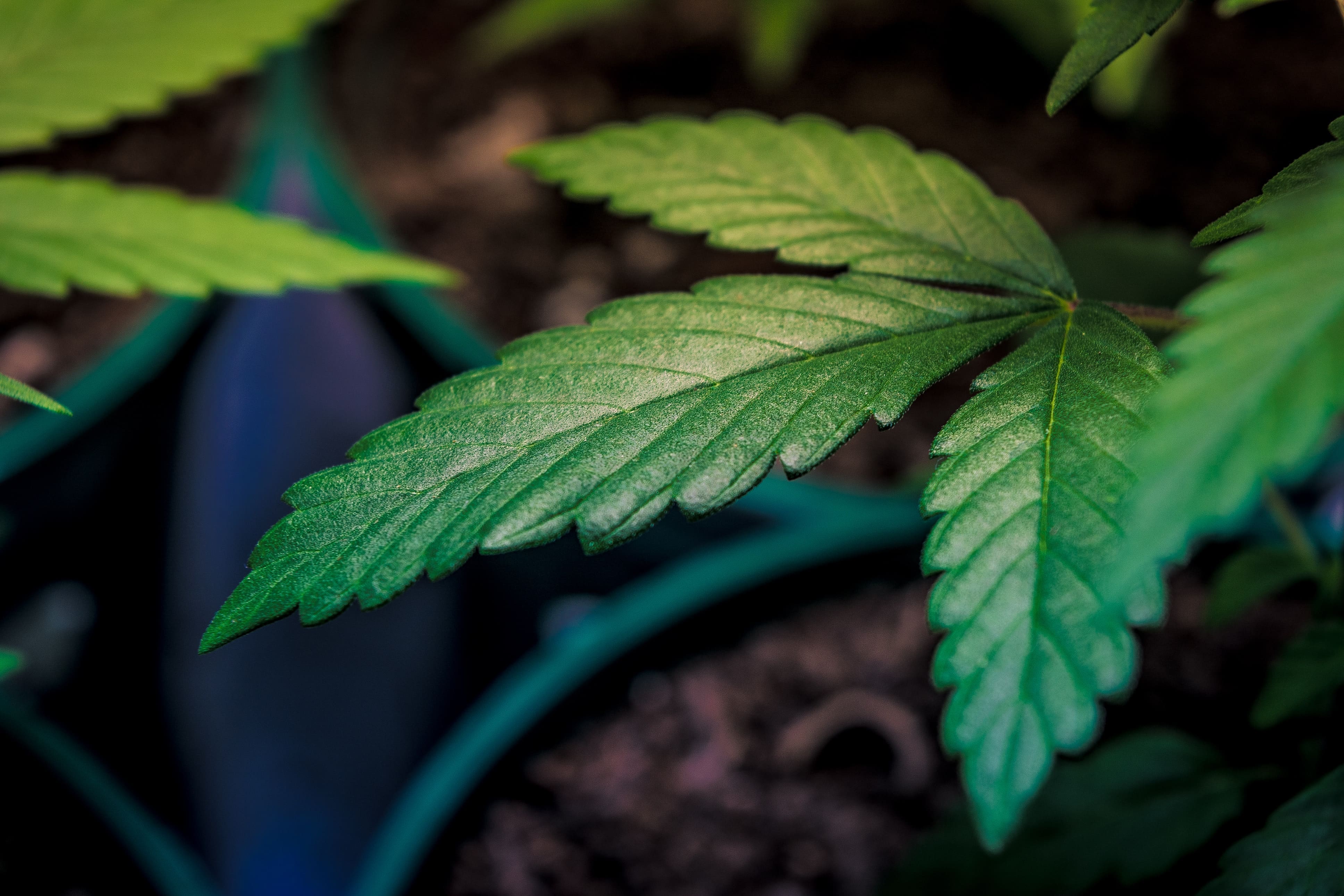 Activists in Nebraska on Friday unveiled the language of a pair of initiatives to legalize medical marijuana in the state. Supporters now have until July of next year to gather thousands of voter signatures to put the measures on the 2022 ballot.
The petitioning drive to qualify the two initiatives will begin Saturday in Lincoln, near a University of Nebraska football game at Memorial Stadium, where advocates say they plan to "take advantage of the crowds" to "kick off the effort."
Together, the two initiatives from Medical Marijuana (NMM) would protect qualified patients from legal consequences for cannabis and regulate businesses that produce, distribute and sell marijuana products to those patients. Advocates say they're done waiting for lawmakers to act on the issue and will instead take the issue directly to voters.
"It is frustrating that politicians have ignored the will of the people and denied my son and thousands of other patients the compassion they deserve," said Nicole Hochstein, NMM's volunteer coordinator for Cedar County and the mother of an 11-year-old child diagnosed with epilepsy. "But this ballot campaign provides hope to families like ours. We are seeing democracy in action today."
Repeated pushes to legalize through the state's unicameral legislature have fizzled, most recently in May following a Republican-led filibuster. And in 2019, the state's attorney general argued in an opinion that efforts to legalize medical marijuana would be preempted by federal law and "would be, therefore, unconstitutional."
Nebraskans for Medical Marijuana announced the new ballot campaign just hours after the most recent legislative effort failed. The group revealed in August that it would pursue the policy change through the a two-initiative campaign, and early last month it submitted the proposed ballot measures to state officials for initial approval. Language of the two initiatives, however, were not made public until Friday.
This is Nebraskans for Medical Marijuana's second time pursuing the ballot for cannabis reform. While they collected enough signatures to qualify a medical marijuana legalization measure for the 2020 ballot, the state Supreme Court invalidated it on the grounds that it violated the state's single-subject rule, which limits the scope of citizen initiatives. That's why the current campaign has split the proposal into two measures, which advocates hope to qualify and pass as a package.
The proposed initiatives work together, with one removing legal penalties around cannabis for any qualified patients and the other establishing a new agency, the Nebraska Medical Cannabis Commission, to register and regulate businesses that provide cannabis to patients.
Under the first measure, the Medical Cannabis Patient Protection Act, patients would be defined as anyone with a physician's recommendation to use cannabis for therapeutic purposes, though people under 18 would also need written permission from a parent or legal guardian. It would declare that under both state and local law, patients would be allowed to "use, possess, and acquire an allowable amount of cannabis and cannabis accessories for the alleviation of a medical condition, its symptoms, or side effects of the condition's treatment." Designated caretakers could also possess and acquire cannabis for patients.
The proposal would set the "allowable amount" of marijuana at up to five ounces, not including the weight of non-cannabis ingredients in infused food, beverages, topicals or other products. It does not appear to contain any provision that would enable patients to grow their own cannabis.
The second measure, the Medical Cannabis Regulation Act, would set up a state system to oversee the medical marijuana market itself. It would establish the Medical Cannabis Commission, which would adopt rules, regulations and standards by July 2023. The body would be required to begin granting registrations—effectively licenses to engage in cannabis activity—by October of that year.
New 2022 petition sheets — hot off the press! Excited to launch our signature drive this weekend! pic.twitter.com/UpOI52rm27

— Nebraskans for Medical Marijuana (@NebraskaMJ) September 30, 2021
While regulatory details would be set by the commission, the proposed initiative says that cannabis products would include edible products, ointments and tinctures, among others. It also specifically mentions product delivery.
The measure would make it legal for registered cannabis businesses, along with their employees and agents, to "possess, manufacture, distribute, deliver, and dispense cannabis for medical purposes, provided such conduct complies with applicable rules and regulations adopted and promulgated by the Nebraska Medical Marijuana Commission." It does not include any mention of taxes or fees.
The Commission would consist of the three members of the Nebraska Liquor Control Commission and up to two additional members appointed by the governor and confirmed by a majority of lawmakers.
In a video streamed to Facebook this week, the group outlined how Nebraska's initiative process works and encouraged supporters to get involved.
State Sen. Anna Wishart (D), who's been working with NMM on the effort and is scheduled to join the signature-gathering effort in Lincoln on Saturday, said in a statement that the proposal is "fundamentally about having compassion for people who are suffering."
"I have talked personally about this issue with voters from dozens of counties across Nebraska, including some of the most rural parts of the state," Wishart said. "There is an outpouring of grassroots support for this issue—regardless of someone's political background or views on other issues."
She and fellow Democratic Sen. Adam Morfeld said late last year that they would also work to put the question of legalizing marijuana for adult use before voters in 2022, but it's not clear whether or not a recreational measure is still in the works.
Crista Eggers, signature drive director for Nebraskans for Medical Marijuana, told Marijuana Moment in June that the plan was to "hit the ground running on a mass scale" beginning this summer to gather signatures.
The group previously floated the idea of adding a short constitutional amendment into the mix that would simply declare people "in the state of Nebraska shall have the right to cannabis in all its forms for medical purposes." But that plan was shelved in favor of the new twin measures.
Under last year's blocked Nebraska medical cannabis initiative, physicians would have been able to recommend marijuana to patients suffering from debilitating medical conditions. Those patients would then have been allowed to possess, purchase and "discreetly" cultivate marijuana for personal use.
Each of the two newly unveiled ballot measures will need 87,000 signatures of support from registered voters to qualify for the 2022 ballot. By comparison, when Nebraskans for Medical Marijuana qualified its prior measure for the ballot—only to be thwarted by the court—they submitted nearly 200,000 signatures.
Looking ahead to 2022, Nebraska isn't the only state where voters could see cannabis reform on the ballot.
Florida activists recently filed a ballot measure to legalize marijuana for adult use.
South Dakota marijuana activists are now ramping up for a signature gathering effort to put marijuana legalization on the 2022 ballot as the state Supreme Court continues to consider a case on the fate of the legal cannabis measure that voters approved last year.
New Hampshire lawmakers are pursuing a new strategy to legalize marijuana in the state that involves putting a proposed constitutional amendment on the ballot for voters to decide on in 2022.
Lawmakers in Maryland are also crafting legislation to place a marijuana legalization referendum on the 2022 ballot after the House speaker called for the move.
Ohio activists recently cleared a final hurdle to begin collecting signatures for a 2022 ballot initiative to legalize marijuana in the state.
Missouri voters may see a multiple marijuana initiatives on the state's ballot next year, with a new group filing an adult-use legalization proposal that could compete with separate reform measures that are already in the works.
Arkansas advocates are collecting signatures to place adult-use marijuana legalization on the ballot.
Activists in Idaho are working to advance separate measures to legalize possession of recreational marijuana and to create a system of legal medical cannabis sales. State officials recently cleared activists to begin collecting signatures for a revised initiative to legalize possession of marijuana that they hope to place before voters on the 2022 ballot. Meanwhile, a separate campaign to legalize medical cannabis in the state is also underway, with advocates actively collecting signatures to qualify that measure for next year's ballot.
After a House-passed bill to legalize marijuana in North Dakota was rejected by the Senate in March, some senators hatched a plan to advance the issue by referring it to voters on the 2022 ballot. While their resolution advanced through a key committee, the full Senate blocked it. However, activists with the group North Dakota Cannabis Caucus are collecting signatures to qualify a constitutional amendment to legalize cannabis for the 2022 ballot.
Oklahoma advocates are pushing two separate initiatives to legalize marijuana for adult use and overhaul the state's existing medical cannabis program.
Wyoming's attorney general recently issued ballot summaries for proposed initiatives to legalize medical marijuana and decriminalize cannabis possession, freeing up activists to collect signatures to qualify for the 2022 ballot.
And it's not just marijuana measures that reform activists are seeking to qualify for state ballots next year. A California campaign was recently cleared to begin collecting signatures for an initiative to legalize psilocybin. And advocates in Washington State have announced plans to put a proposal to decriminalize all drug before voters.
Read the full text of the Nebraska medical cannabis ballot measures below:
Click to access nebraska-medical-cannabis-ballot-measures.pdf
Bill To Federally Legalize Marijuana Approved By Key House Committee