Most Legal Marijuana States Had Fewer Vaping-Related Lung Injuries, Study Finds
States that have enacted marijuana legalization were generally less likely to see spikes in vaping-related lung injuries that occurred over the past year compared to states where cannabis remains prohibited, according to a new study.
The paper, published Tuesday in the journal Addiction, seems to bolster arguments from reform advocates that legalizing and regulating marijuana mitigates the risk to consumers of using contaminated and potentially dangerous products.
The study also concluded that apart from state policies, "neither higher adult vaping rates nor higher rates of recent cannabis use predicted increased" e-cigarette or vaping product use-associated lung injury, or EVALI.
"If e-cigarette or marijuana use per se drove this outbreak, areas with more engagement in those behaviors should show a higher EVALI prevalence," Abigail Friedman, the study's author and an associate professor at the Yale School of Public Health, said in a press release. "This study finds the opposite result."
In fact, some of the earliest adopters of adult-use cannabis legalization ranked among the lowest in terms of reported lung injuries from the outbreak, with fewer than one in 100,000 cases for residents aged 12 to 64.
The average state prevalence for these lung injuries was 1.4 cases per 100,000 residents in that age group.
By contrast, none of the states with the highest rate of cases have recreational marijuana markets in place.
"A negative relationship between EVALI prevalence and rates of pre-outbreak vaping and marijuana use suggests that well-established markets may have crowded-out use of riskier, informally sourced e-liquids," the press release on the study says. "Indeed, the five earliest states to legalize recreational marijuana—Alaska, California, Colorado, Oregon and Washington—all had less than one EVALI case per 100,000 residents aged 12 to 64. None of the highest EVALI-prevalence states—Utah, North Dakota, Minnesota, Delaware and Indiana—allowed recreational marijuana use."
"Only one of the ten states where recreational cannabis use was legal prior to 2020 is in the top quintile (Massachusetts), with several such states in the lowest quintile (Nevada, Washington, Colorado, and Alaska)."
A ban on smokeable cannabis products in two of the states with the most cases that only allow medical marijuana could also have contributed to the lung injuries by leaving consumers with options only available in the illicit, unregulated market.
"If such policies induced people who previously smoked cannabis to switch to vaping THC e-liquids (e.g., to evade detection of illicit use), that behavior change could have increased effected states' EVALI incidence when contaminated e-liquids entered their markets," the study says.
Friedman, the new paper's author, elaborated in an email to Marijuana Moment.
"Medical and recreational marijuana policies' implications for public health are likely to depend, not simply on whether a policy is present or not, but on how the policy is structured," she wrote. "Policymakers need to pay careful attention to marijuana policy attributes: which types of cannabis products are and are not allowed; how product safety will be assessed and ensured; licensing and enforcement mechanisms; etc."
"These regulatory details are critical, and may affect both the licit and illicit markets for cannabinoids," she said.
All told, the Centers for Disease Control and Prevention has identified more than 2,800 cases and 68 deaths related to contaminated vape products. The agency has identified vitamin E acetate added to illicit market cartridges as being "strongly linked" to the spate of vaping-related lung injuries.
"These findings are consistent with evidence linking the EVALI outbreak to vitamin E acetate and informally purchased or modified THC e-liquids, as opposed to use of well-established nicotine e-cigarettes," the study states. "Specifically, if a nationally marketed and commonly used vaping product caused these illnesses, one would expect a positive relationship between vaping rates and the disease."
"Absent this association, geographically distinct clusters of elevated EVALI prevalence are more consistent with a dangerous additive in regionally distributed e-liquids (e.g., those purchased off the street). Indeed, this mechanism might explain the negative association with states' rates of vaping and cannabis use if a strong market for legal nicotine e-liquids or cannabis crowds out black-market products."
A separate study published in April similarly found that people in states where recreational marijuana is legal were significantly less likely to experience vaping-related lung injuries than those in states where cannabis is still banned.
The conflict between state and federal marijuana laws actually inhibited research into how to address EVALI cases, complicating shipments of vaping specimens, a top CDC official said late last year.
Youth Marijuana Use Stable Amid Legalization's Expansion, Feds Report
Image by Lindsay Fox from Pixabay.
Feds To Send Marijuana And Hemp Samples To Labs As Part Of Large-Scale Testing Accuracy Study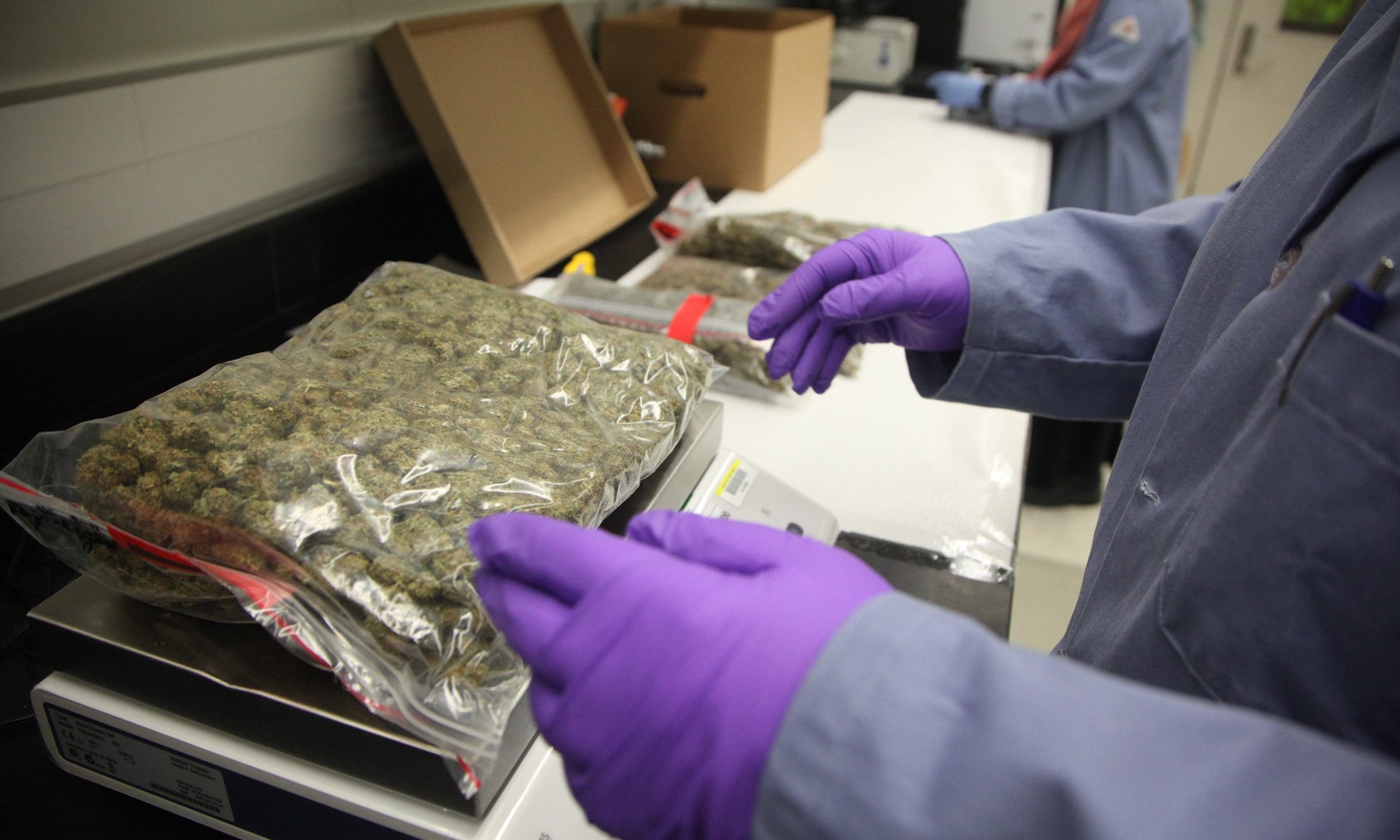 A federal science agency is inviting labs to participate in a large-scale study to assess their ability to accurately analyze marijuana and hemp samples for their cannabinoid profile and possible contaminants.
The National Institute of Standards and Technology (NIST) said in a notice on Thursday that it will provide samples of cannabis that it's already analyzed to labs and then ask them to run their own tests. Once that's complete, NIST will reveal the actual data and compare the numbers to identify any disparities.
The point of the study isn't to expose labs that fail to provide accurate analyses; rather, it's intended to help forensic analysts and the cannabis industry develop best practices. NIST, which is part of the U.S. Department of Commerce, said it's especially important given that hemp was federally legalized under the 2018 Farm Bill, while its higher THC cannabis cousin marijuana remains federally illegal.
"If you're going to confiscate a farmer's crop, or subject a person to prosecution, you want to be sure that measurement is accurate," NIST research chemist Brent Wilson said in a press release.
Is it hemp or is it marijuana? Legally, there's a big difference. Now, NIST is helping labs increase the accuracy of the measurements they make to answer that question. Find out how: https://t.co/3tQZzzcleL pic.twitter.com/ntsmZuuGUb

— National Institute of Standards and Technology (@NIST) January 14, 2021
The agency has previously led research on analyzing hemp oil, but this one involving both hemp and marijuana will target flower, which is more challenging for labs. To get the samples for this new study, NIST ground down various cannabis buds and sorted them—"like a baker sifting flour"—to separate the material by particle size.
Wilson then "blended the powders into batches and carefully measured how much of each compound and contaminant was present in each batch."
"NIST will send samples from those batches to participating labs," the agency said. "All labs will receive legal hemp samples. Labs that are licensed to handle controlled substances can also request marijuana samples."
Labs interested in participating in the study have until February 5 to enroll. Samples will be distributed in April.
While determining THC content is a central concern, the research will also look at CBD and other cannabinoids so that cannabis companies are able to ensure that their products meet legal standards and are properly labeled for consumers.
After a lab has analyzed the samples, it will report back to NIST with the results as well as information about the testing method it used. The results will be published, but they will be anonymized. The public will "be able to see the amount of variation across labs but not how any specific lab performed."
"Our goal is to provide a learning opportunity for labs, not to publicize their performance," NIST research chemist Melissa Phillips said.
Following the study's completion, the agency will investigate which testing methods produce the most accurate results to inform the industry. Then it will re-run the test, which is expected to show "less variability in the lab measurements, as labs overall improve their methods."
A description of the study exercise states that participating labs "may also elect to report only selected analytes (e.g., only reporting total THC, but not all cannabinoids)."
"Participants will be asked to report triplicate results for each sample provided using measurement procedures and calculations normally performed in their laboratories," it says. "In addition, participants will also be asked to identify the type of sample preparation and analytical methods employed in their testing to facilitate conclusions about potential method bias."
There are currently 46 labs that are listed as participants in NIST's cannabis research program. That includes multiple private labs as well as one police department and a division of the U.S. Department of Agriculture. There are also facilities from Canada and the Netherlands enrolled.
In December, the Department of Justice announced that it was awarding NIST a grant to help to develop a method of differentiating hemp and marijuana.
The previous year, the Drug Enforcement Administration similarly announced that it was seeking a device to "provide specificity to distinguish between hemp and marijuana" since the former crop was legalized.
The complications resulting from hemp legalization is especially apparent in Texas, where marijuana possession arrests fell almost 30 percent from 2018 to 2019 following the state-level legalization of the non-intoxicating cannabis crop.
Prosecutors in the state have dismissed hundreds of low-level cannabis cases since hemp was legalized. And officials announced last year that labs wouldn't be performing testing in misdemeanor cases, with the Department of Public Safety saying it "will not have the capacity to accept those."
USDA Announces Grant To Collect 'Superior Performing' Hemp Seeds
Photo courtesy of National Institute of Standards and Technology.
Best Music Playlists For Psychedelic Therapy Are Explored In New Johns Hopkins Study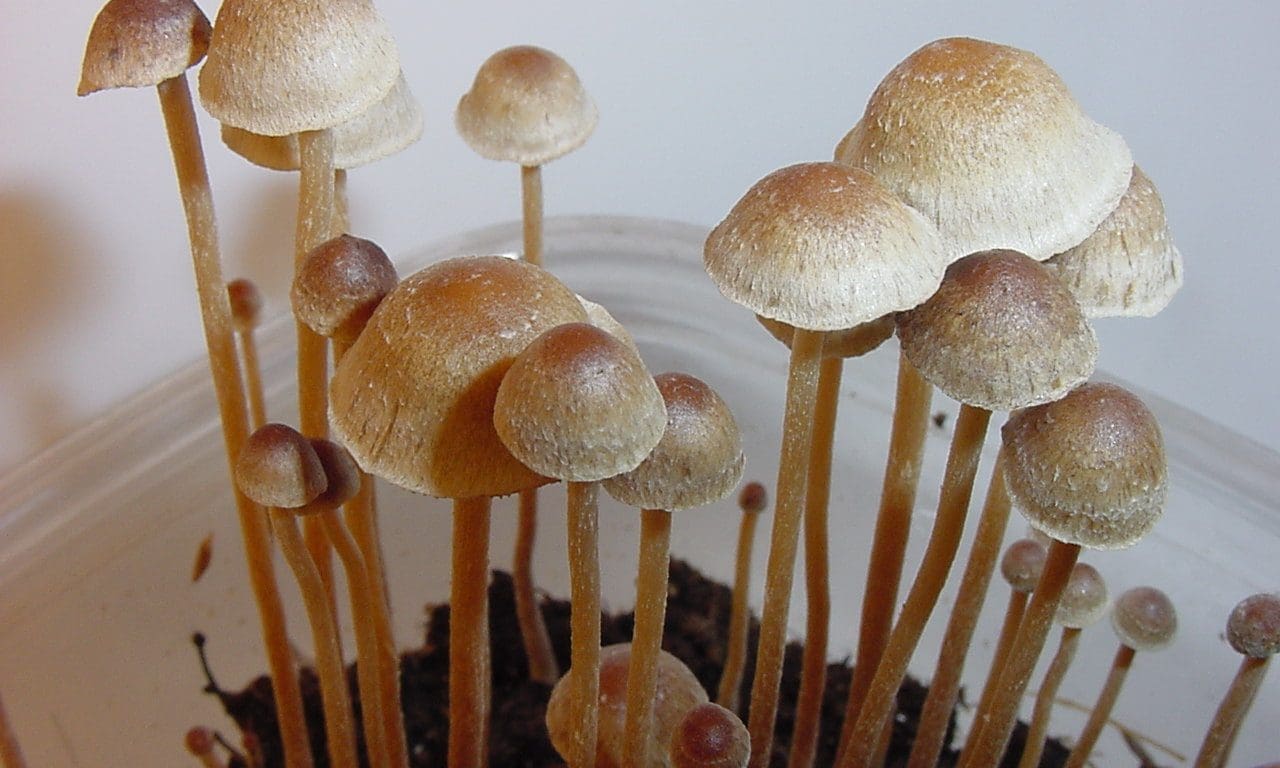 Psychedelic therapy sessions often incorporate music—and typically that music is of the classical genre. But new research out of the Johns Hopkins University School of Medicine suggests there may in fact be no special value in playing a Mozart concerto or Chopin étude for tripping patients.
Gongs could work just as well, if not better, the study found.
"Western classical music has long been assumed to be the standard in psychedelic therapy," researchers wrote in the study, published Tuesday in the American Chemical Society (ACS) journal Pharmacology and Translational Science. "The present data challenge this notion that Western classical music, or for that matter any specific genre of music, is an intrinsically superior form of music to support psychedelic therapy, at least for all people at all times."
Analyzing a 10-person trial involving the use of psilocybin therapy to help people quit smoking tobacco, the Johns Hopkins team compared sessions featuring classical music with those involving overtone-based music, featuring instruments such as gongs, Tibetan singing bowls or the didgeridoo, among others.
"Although we found no significant differences between the two musical genres studied here," the team wrote, "several trends suggested that the overtone-based playlist resulted in somewhat better outcomes and was preferred by a larger portion of this small sample of participants."
Spoiler alert – they did about the same but a hint that the overtone playlist (gong etc.) did a bit better than Western classical. Apparently classical music is not such a sacred cow for psychedelic therapy. With @juststrickland and Albert Garcia-Romeu.

— Matthew W. Johnson (@Drug_Researcher) December 30, 2020
In other words, while the results don't prove that overtone-based music yields better outcomes than classical, the findings nevertheless "call into question whether Western classical music typically played in psychedelic sessions holds unique benefit."
As one of the study's authors, Johns Hopkins researcher Matthew Johnson, put it in a recent tweet: "Apparently classical music is not such a sacred cow for psychedelic therapy."
The researchers said the study "provides the first contemporary and within-subject experimental manipulation of session set and setting factors in psychedelic research" and is the "first fully randomized test of different musical genres supporting psychedelic therapy."
Participants each had three therapy sessions, one featuring classical music, another featuring overtone music and a third session for which they could choose between the two genres. Psilocybin doses were between 20 milligrams and 30 milligrams per 70 kilograms of body weight.
Among the data researchers analyzed were participants' evaluations of their own experiences, including "mystical experiences"—such as feelings of unity and transcendence of time and space—as well as "challenging experiences," such as feelings of panic or losing sanity.
"Visual inspection of individual and average data indicated higher overall scores for overtone-based sessions compared to Western classical sessions," the authors wrote. "This difference was of a medium effect size but was not statistically significant."
As described in the paper there is about 25% overlap with the classic playlist we compared it to, link below. Most of that overlap was near onset and come down. A few tracks on the older classical playlist already fit the overtone-based genre.https://t.co/rKUsd6N005

— Matthew W. Johnson (@Drug_Researcher) December 31, 2020
Researchers also analyzed smoking abstinence outcomes based on the music genre participants selected for their third psychedelic therapy session, after sampling both genres. Participants who chose to listen to overtone music during the third session were more successful at quitting smoking—both immediately after treatment (83.3 percent) and over a period of about 30 months afterward (66 percent). By comparison, half of participants who chose Western classical music quit smoking immediately, and all of those people were still not smoking after 30 months.
Experts have long stressed the role of set and setting in a psychedelic experience, noting how both a person's psychological state as well as their environment can affect the behavioral and clinical effects of entheogenic drugs. "Traditional laboratory contexts that contain overtly 'sterile' stimuli (e.g. white walls and medical equipment," the authors note as one example, "have been suggested to increase the likelihood of negative reactions."
While music is a standard feature of clinical psychedelic therapy, the new study says, the default by therapists to predominantly Western classical playlists is "likely due to recommendations present in early guidelines," which specifically mentioned classical music.
But it may not be music at all, but instead a collection of sounds, that complements the psychedelic experience.
"The lack of superiority of the Western classical playlist is even more interesting considering that some of the overtone-based playlist tracts consisted of sounds without traditionally identifiable melody and/or rhythm and therefore might not be classified as songs or music by some," the study says. "This suggests that the sounds capable of supporting psychedelic therapy sessions may go beyond the bounds of traditionally defined musical genres."
The researchers concluded that the study lends support to the idea that "developing a process for generating patient-specific musical selections rather than providing standardized music may improve therapeutic outcomes."
"For example, future work could evaluate how patient-selected music impacts therapeutic effects or identify individual factors predictive of response to varying musical genres or musical features other than genre to individualize session selections," the wrote. "More broadly, these findings emphasize the need for the parametric study of psychedelic session components to either provide improved standardized conditions, or to individualize conditions to improve the therapeutic effects of psychedelic therapy across diverse and varied populations."
Johns Hopkins University, where the study analysis was done, is widely regarded as a leading institution on psychedelic research. In 2000, it became the first U.S. institution to gain federal approval to reinstitute research into psychedelic drugs using subjects who didn't already have a history of using the drug, and last year it launched the country's first-ever psychedelic research center.
Canada Will Let Health Care Professionals Legally Use Psychedelic Mushrooms, Health Minister Says
Photo courtesy of Wikimedia/Workman
Youth Marijuana Use Remains Stable Amid Surge Of State-Level Legalization, Feds Report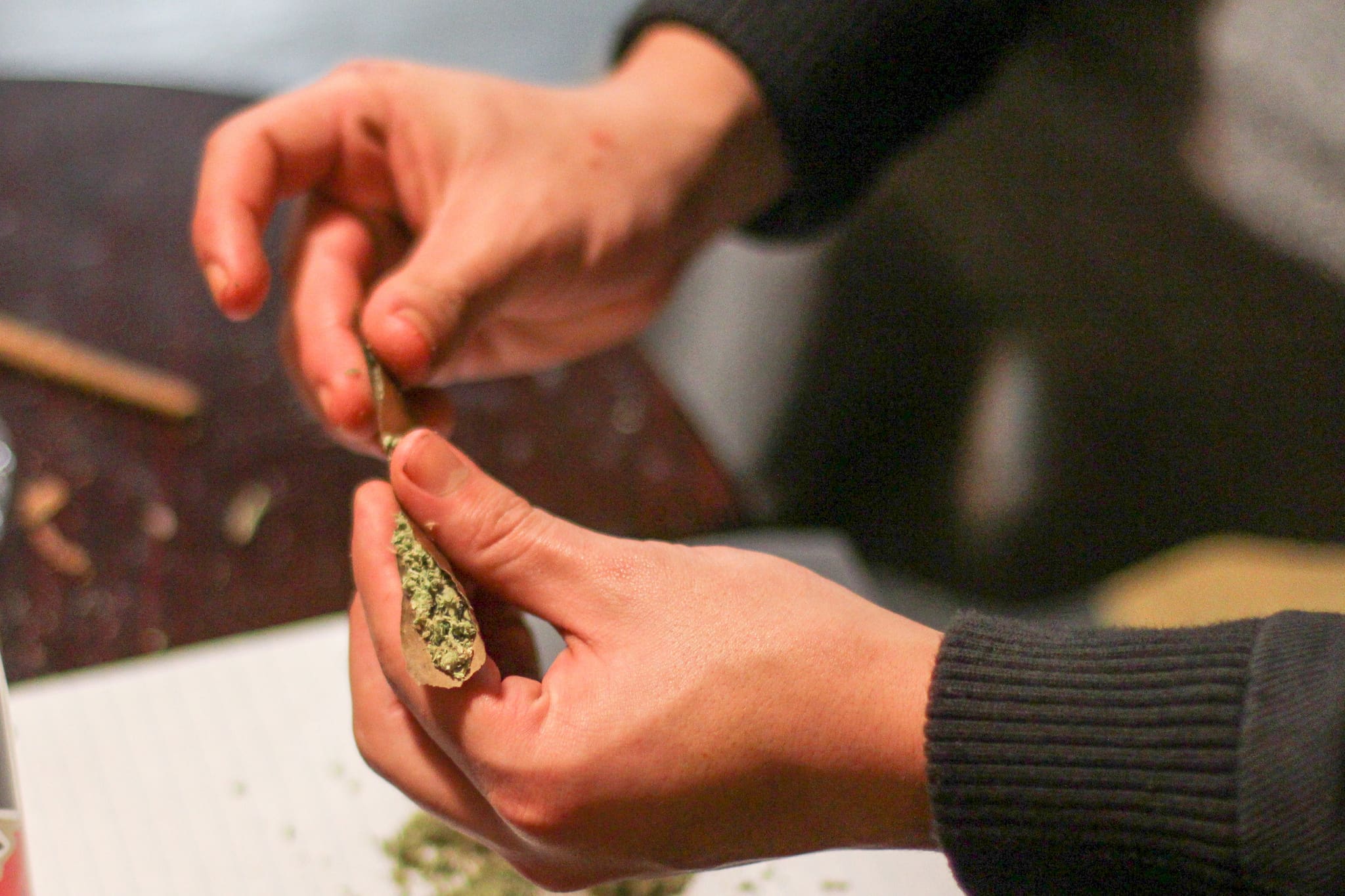 Youth marijuana use continues to be stable, even as more states move to legalize the plant, according to the latest edition of an annual survey funded by the federal government.
The Monitoring the Future (MTF) report, released on Tuesday, found that cannabis consumption among adolescents "did not significantly change in any of the three grades for lifetime use, past 12-month use, past 30-day use, and daily use from 2019-2020." That's based on self-reports from 8th, 10th and 12th grade students.
What's more, daily marijuana vaping actually decreased by more than half during that time period for 10th and 12th graders. It's down to 1.1 percent and 1.5 percent, respectively.
NEWS: Rates of past-year #nicotine and #marijuana vaping among high schoolers remained steady from 2019 to early 2020, although they are still high. See the latest #MonitoringTheFuture survey results on teen drug use:https://t.co/giFEFnZaeB#MTF2020 pic.twitter.com/9epVIQbnzu

— nidanews (@NIDAnews) December 15, 2020
For all three grades, lifetime cannabis use, past 30-day consumption and daily use either remained the same or slightly decreased from 2019 to 2020, the survey shows. The only exception is daily use among 12th grade students, which ticked up by half a percentage point.
Perceptions of the harmfulness of marijuana also generally remained stable.
These results run counter to the narrative that prohibitionists have consistently put forward, arguing that the state-level legalization movement will lead to significant increases in youth cannabis use because it would normalize the behavior.
Advocates have countered that establishing regulated marijuana programs would restrict access to underage people, while at the same time mitigating the influence of the illicit markets where policies like ID checks are not required.
The 2018 MTF survey, which is conducted by the University of Michigan and funded by the National Institute on Drug Abuse, also revealed that fewer adolescents are using marijuana now compared to 2012, when the first states moved to legalize cannabis.
These results are consistent with other federal data from the Centers for Disease Control and Prevention (CDC). The agency's biennial Youth Risk Behavior Survey found that marijuana consumption among high school students declined during the peak years of state-legal recreational cannabis legalization.
There was "no change" in the rate of current cannabis use among high school students from 2009-2019, the survey found. When analyzed using a quadratic change model, however, lifetime marijuana consumption decreased during that period.
The prohibitionist argument that cannabis legalization would embolden young people to use cannabis has been repeatedly debunked in research. And the claim becomes all the more shaky each year as more states legalize legislatively or through the ballot.
Colorado and Washington were the first two states to legalize marijuana, in 2012. Since then, additional states have come on board with every election cycle. Most recently, Arizona, Mississippi Montana, New Jersey and South Dakota voters elected to enact the reform via the ballot last month.
Another study released by Colorado officials in August showed that youth cannabis consumption in the state "has not significantly changed since legalization" in 2012, though methods of consumption are diversifying.
An official with the White House Office of National Drug Control Policy's National Marijuana Initiative went even further in July, admitting that, for reasons that are unclear, youth consumption of cannabis "is going down" in Colorado and other legalized states and that it's "a good thing" even if "we don't understand why."
Past studies looking at teen use rates after legalization have found declines in consumption or a similar lack of evidence indicating there's been an increase.
Last year, for example, a study took data from Washington State and determined that declining youth marijuana consumption could be explained by replacing the illicit market with regulations or the "loss of novelty appeal among youths." Another study from last year showed declining youth cannabis consumption in legalized states but didn't suggest possible explanations.
Federal Marijuana Legalization Is 'Inevitable,' Voters In States That Passed Cannabis Measures Say In New Poll
Photo courtesy of Martin Alonso.